Beefy overbuilt folders have their place, but sometimes you just want something that you can slip in your pocket and never notice it is there. The easier something is to carry, the more likely you will actually have it with you when you need to cut something, and thanks to modern manufacturing you can still get a lot of capability without a lot of weight. With many of these folders weighing less than 2.5 ounces – sometimes much less! – you've got no reason to never have a blade with you.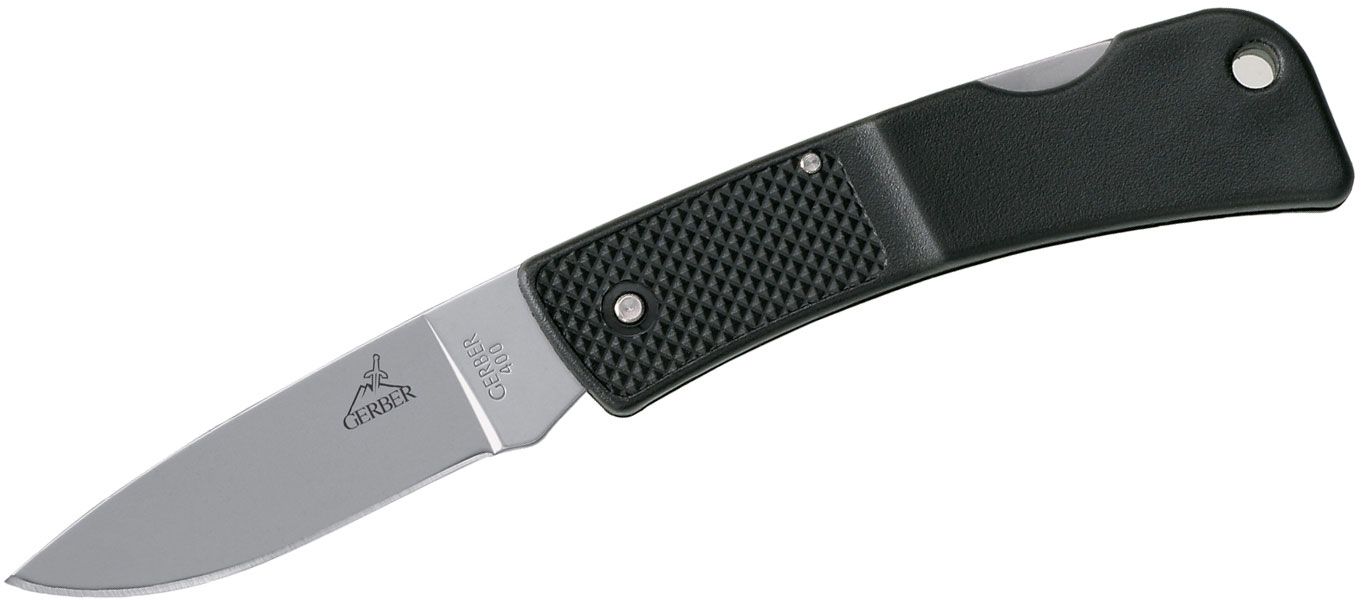 We'll start with the forefather of modern ultralight knives. There was nothing like it on the market when the Gerber LST was released. It may not have the most impressive materials by today's standards but this game-changing design is still worth your attention.
Two sizes are available. The standard version with a 2.6-inch blade is perfect for a compact pocketknife. It weighs a scant 1.2 ounces. They small version is even lighter at merely 0.6 ounces. With its 2-inch blade it makes a perfect keychain knife. The handles are made from linerless glass-filled nylon to keep things strong and lightweight. They house a 420HC blade with a pinned pivot and a traditional back lock for security.
Simplicity is key to the success of this knife, and the template they laid down has been picked up by other companies and is still going strong today
---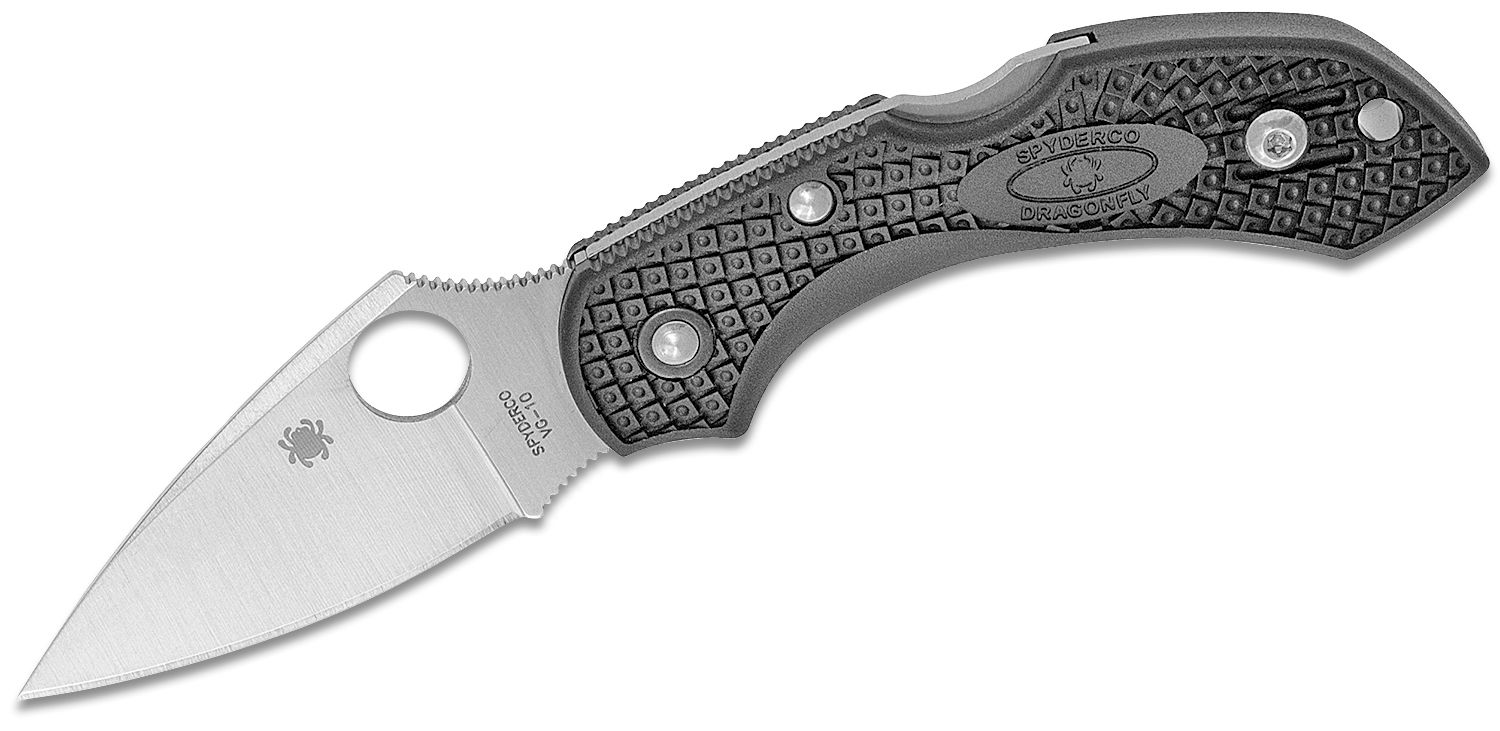 This brings us to Spyderco with their long history of making lightweight lockback models, with their Dragonfly 2 being perhaps their most highly regarded ultralight model, coming in at just 1.2 ounces for the FRN handles variants.
This is a small knife that can perform like a bigger knife when needed thanks to one of Spyderco's hallmark features – a full-size finger choil that gets rid of dead space around the pivot and makes room for your index finger. This lets you get a full grip on the knife so you can put the smaller 2.28-inch blade to work with confidence.
This model comes with easy one hand opening, mid-mounted lock with the David Boye dent which helps prevent accidental closure, and a wire pocket clip (on most models) that is reversible.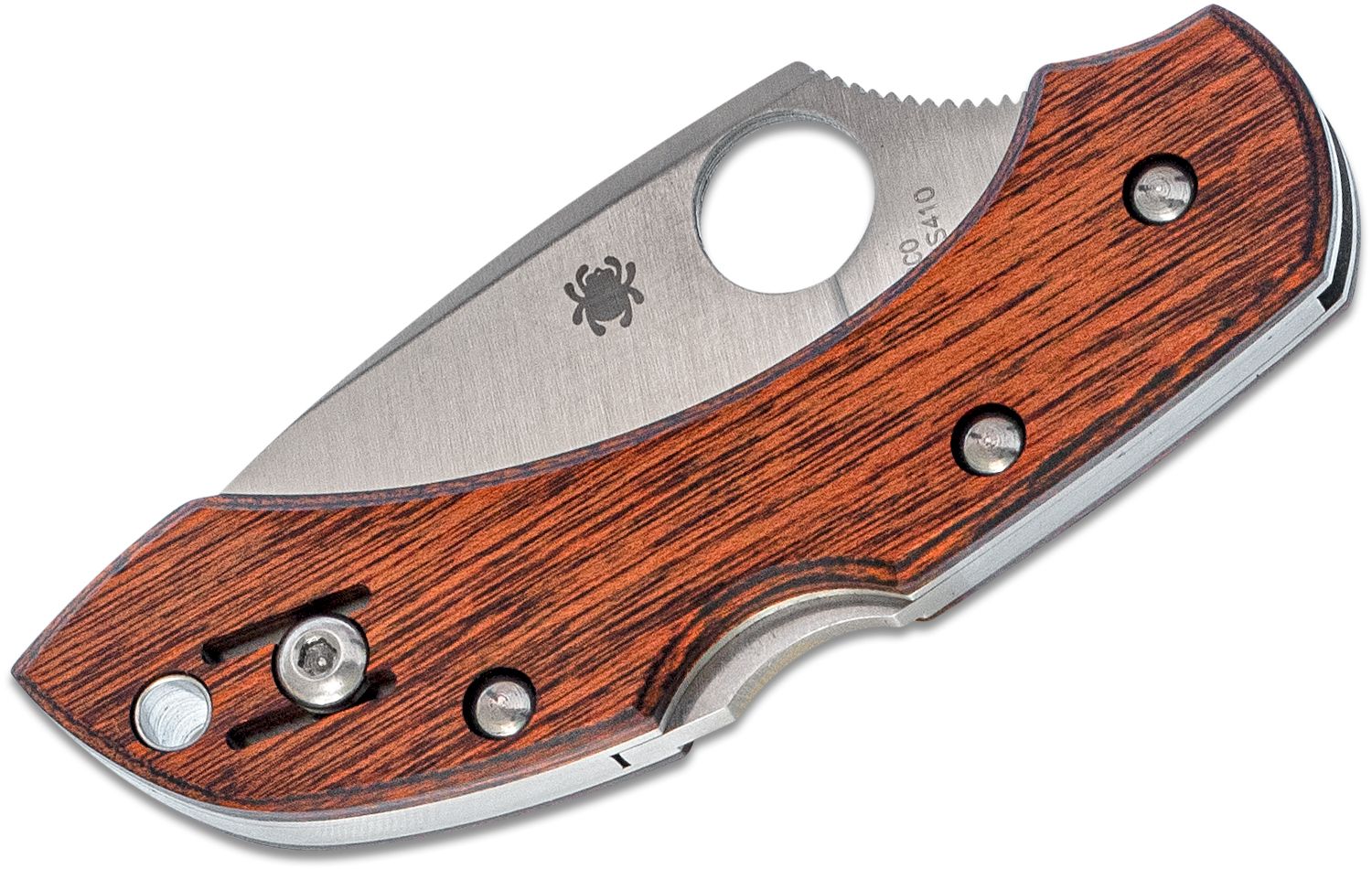 In typical Spyderco fashion, there are plenty of options for handle material, blade steel, and even blade shape. Take your pick of FRN handles with bi-directional texturing for the most grip and least weight, or upgrade to G10 for a more premium texture with only a slight weight penalty. Even our KnifeCenter-Exclusive version with a laminated HAP40/SUS410 blade and Pakkawood handles is still less than 2 ounces.
No matter which steel you pick, almost all of them feature a full flat grind and Spyderco's instantly identifiable leaf-shaped blade, providing excellence in the slicing department
---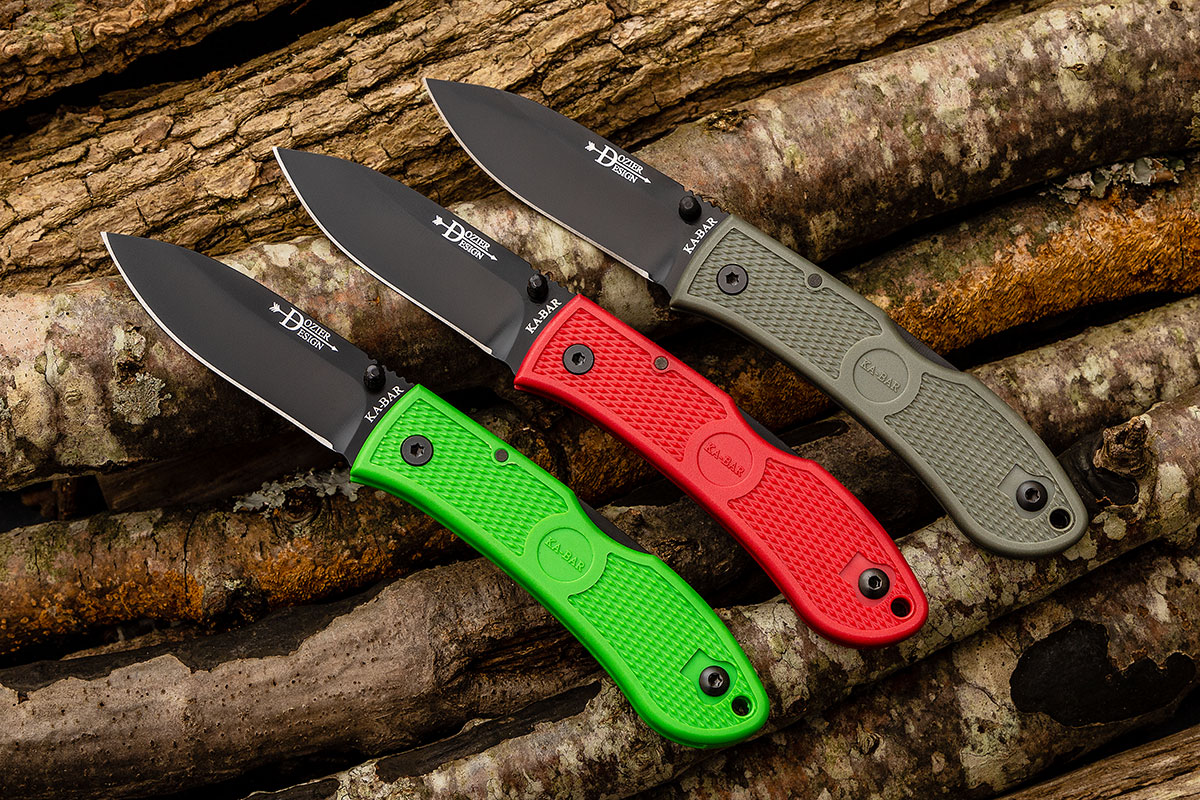 For a more affordable take on the modern ultralight lockback, we present KA-BAR's lineup of Bob Dozier-designed folders. This series features two sizes with a few different blades shapes, finishes, and colors to choose from, all a few bucks on either side of 20 bucks at the time of publishing. Even the largest of these knives only tips the scales at 2.2 ounces.
The Dozier folders are not only affordable, but they are also extremely useful across a range of applications. The lightweight Zytel handles feature a neutral shape that will fit pretty much any hand out there. They pair this with a spear point blade that is packed with versatility in mind, and it is made from AUS-8 stainless steel, a great choice in this price range with decent edge holding and easy maintenance.
Despite being in the same ballpark pricewise as the Gerber LST, the Dozier offers more nods to modern convenience in the form of a right-side thumb stud for one-handed opening and a reversible pocket clip that sits in a pocket in the handle, allowing them to use just a single screw to keep that weight under control
---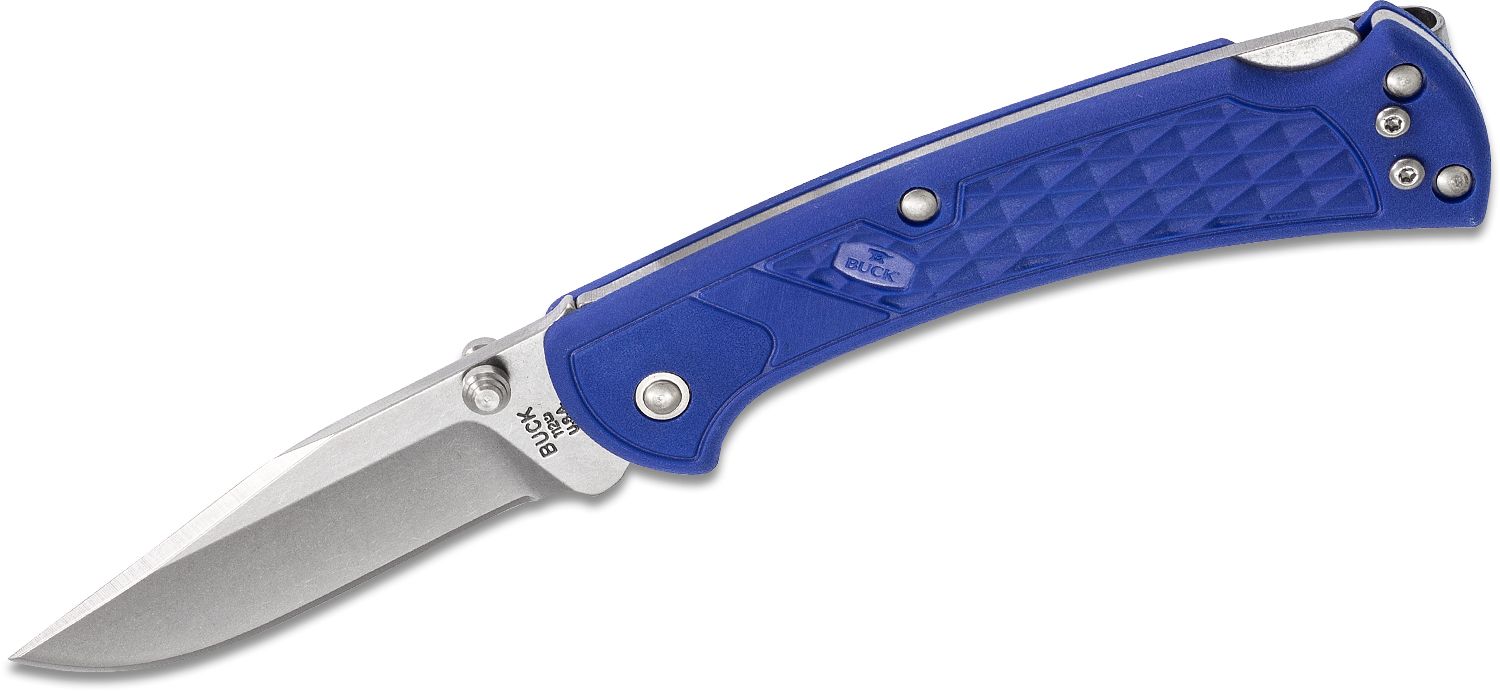 The all-American Buck 112 Ranger is a bona-fide classic that has recently been reimagined as an ultralight lockback. Dubbed the 112 Ranger Slim Select it hits the top end of our weight ceiling – a full 2.5 ounces – and feels robust for its weight.
The classic 112 features brass bolsters and wood scales. The Slim Select ditches those in favor of colored GFN and adds dual-thumb studs and a deep carry pocket clip. The blade has also been tweaked to be a little more EDC friendly with a straight clip point profile, rather than more aggressive scoop of the original. They have also given it a stonewashed finish for rugged longevity.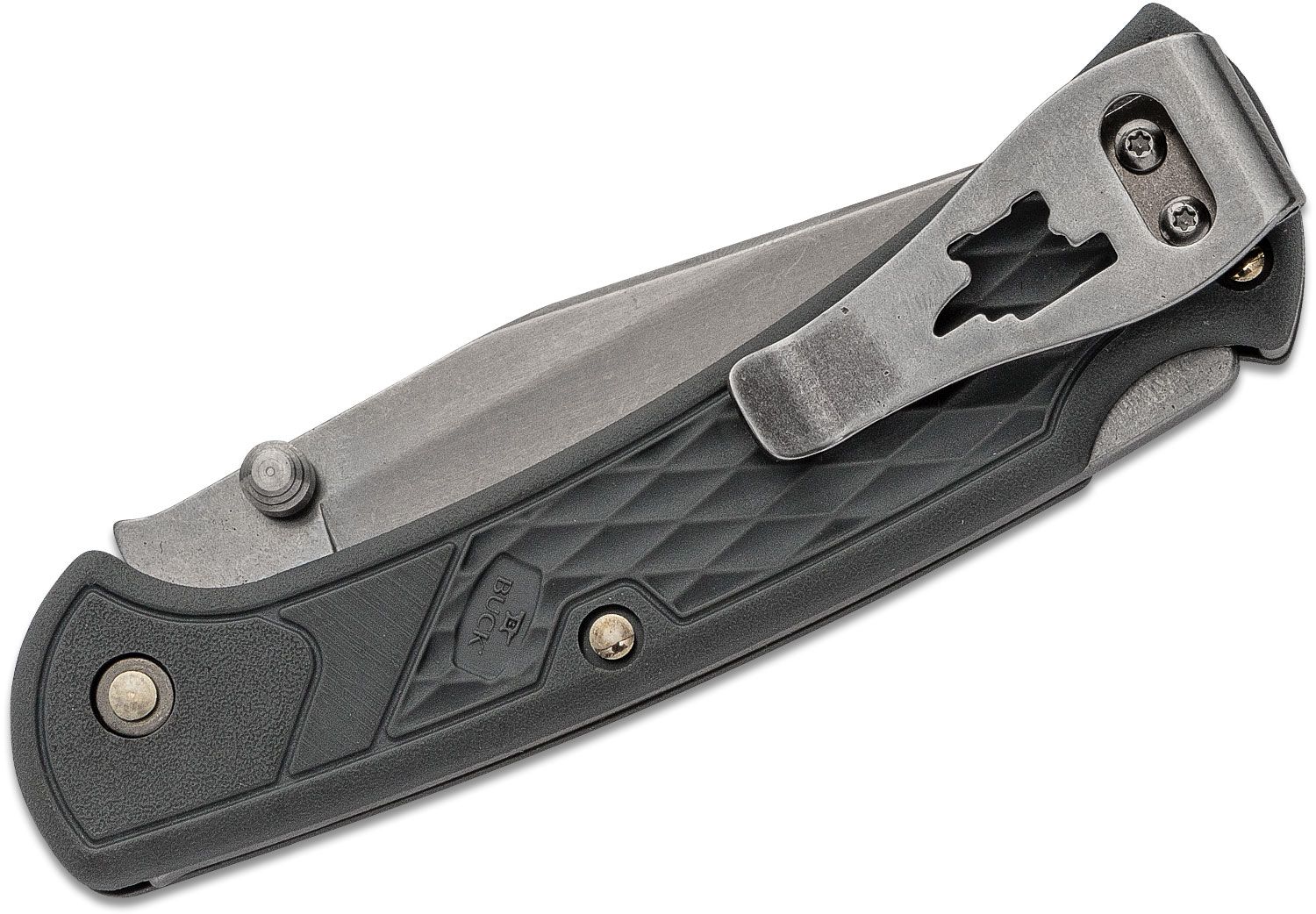 The new shape is still paired with their same great 420HC steel, and with their Paul Bos heat treat protocol, many regard Buck Knives as having the best performance of this steel of anyone out there. Upgraded versions of this knife are available with S30V for more edge retention and Micarta or G10 handles for a more premium feel, but the weight does creep up a bit past our limit. They are still definitely worth checking out if you are a fan of the design.
---
CRKT CEO: Elegant Executive Knife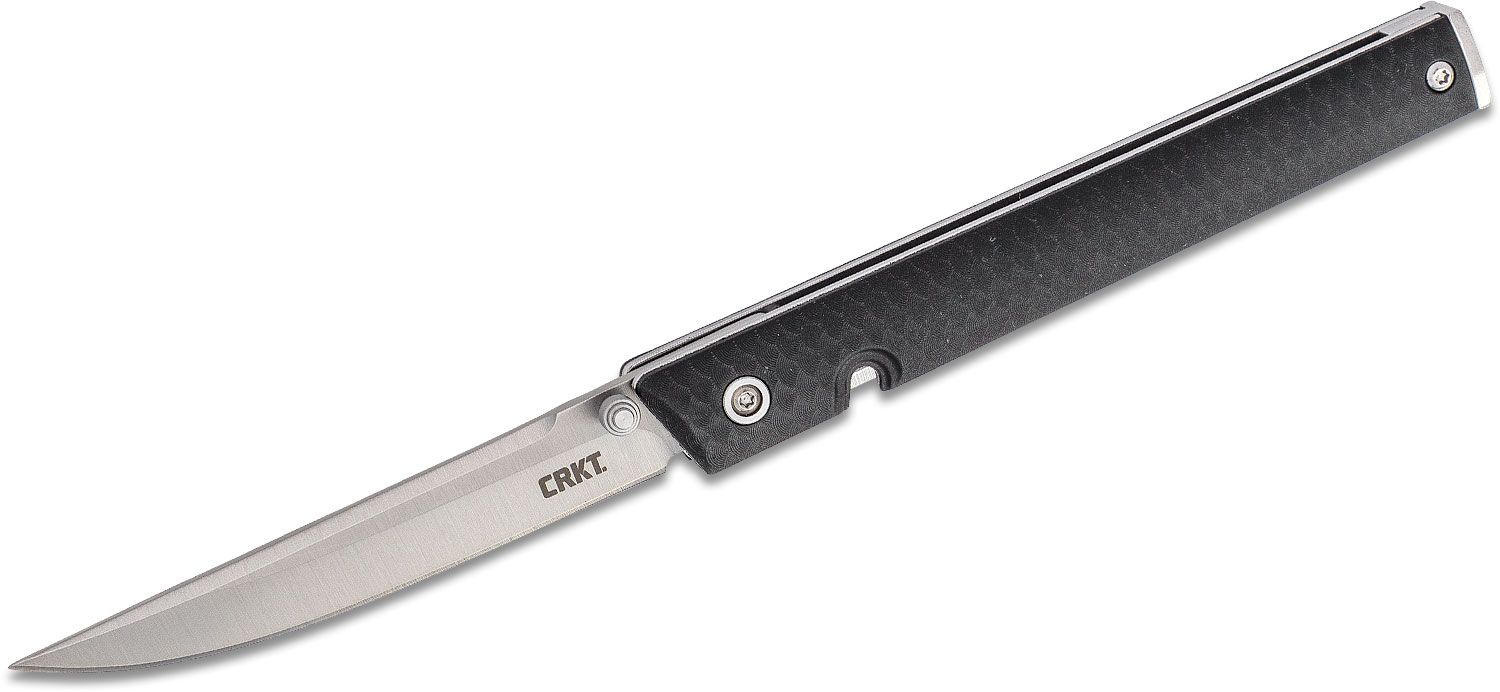 Representing the liner lock on this list is the excellent CEO from CRKT, weighing 2.1 ounces, a beautiful and slim gentleman's knife.
The blade is a bit over 3-inches long. Featuring an almost kwaiken style of blade, it is thin and elegant which gives it a lot of precision. Steel is 8Cr13MoV (similar to AUS-8) and the action is quite good. IKBS bearings in the pivot work together with a perfectly placed thumbstud that lets you pop this blade open with a very satisfying feel.
The handles are made with GRN to keep the cost down but it looks more premium. Thanks to a subtle pattern molded in the surface, you get a little extra traction and a vibe that suggests carbon fiber.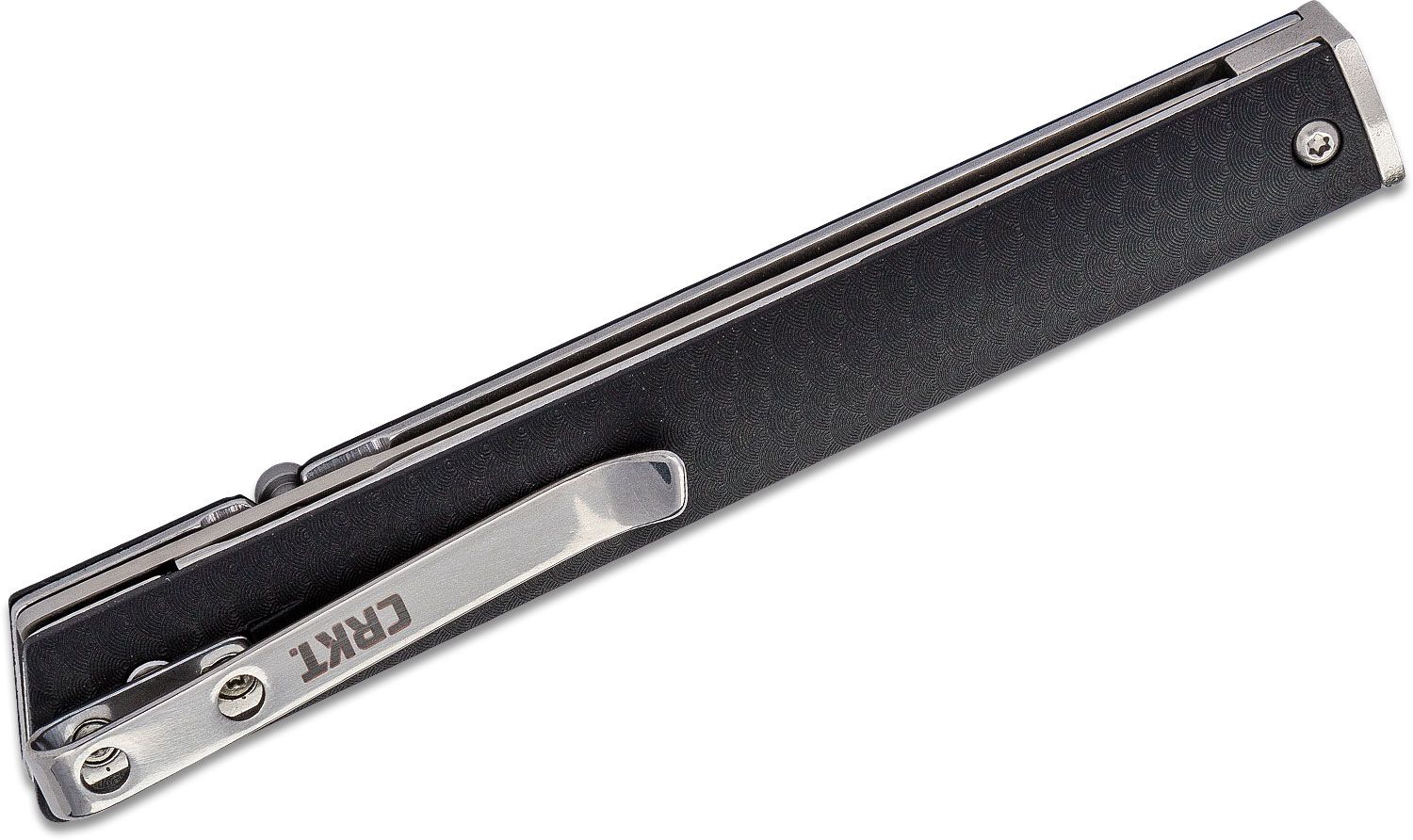 It will look just as classy in the pocket too. When folded, the blade completely disappears within the handle and a deep carry clip lets you carry it without taking up any more room in your pocket than a nice ink pen.
---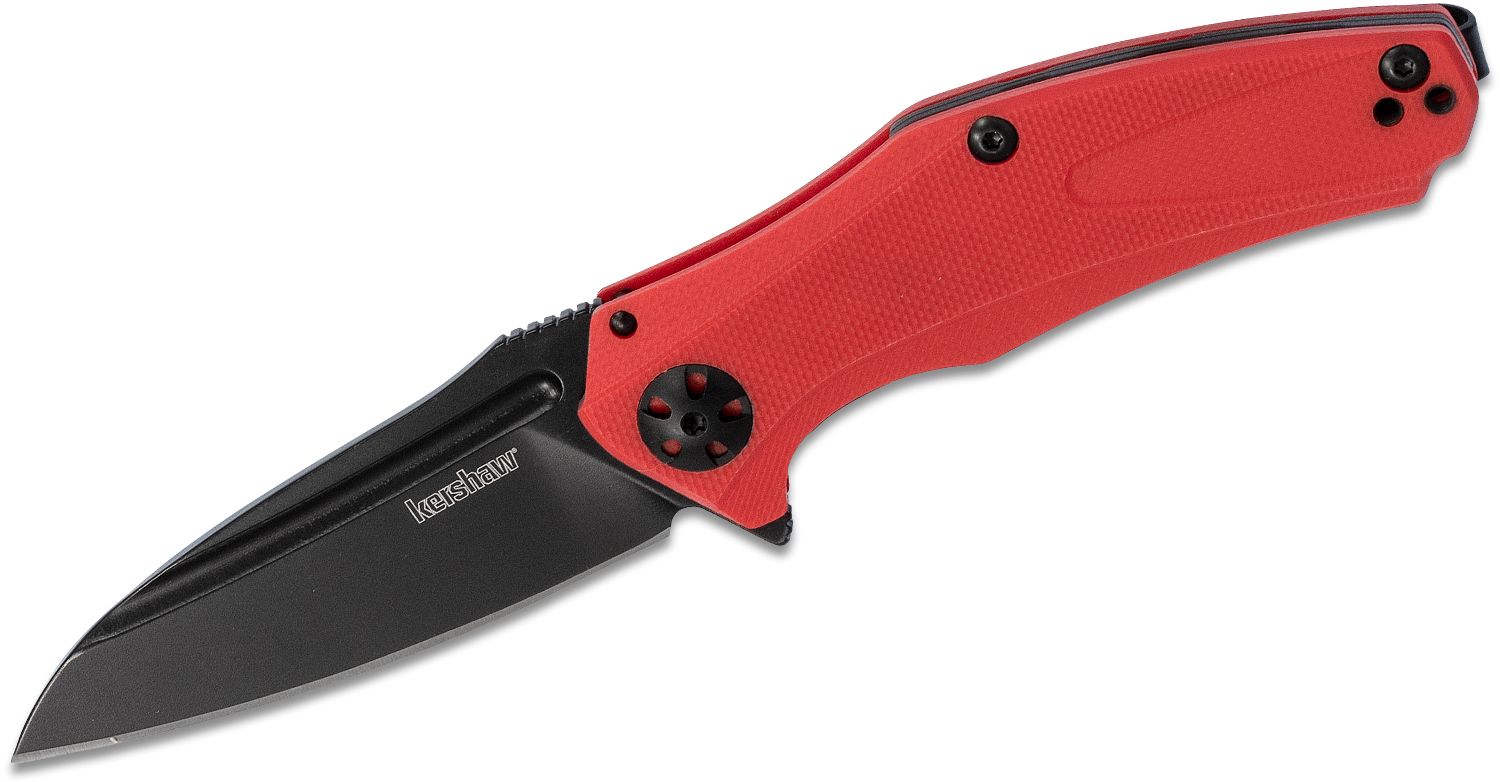 While a lot of frame locks usually carry a little extra weight, the Natrix XS gets around that with its patented Sub-Frame Lock. By anchoring a full-size lock bar to a back made from the same sculpted G10 as on the front of the knife, Kershaw keeps this knife to just 1.9 ounces while offering the locking strength you need without the weight penalty.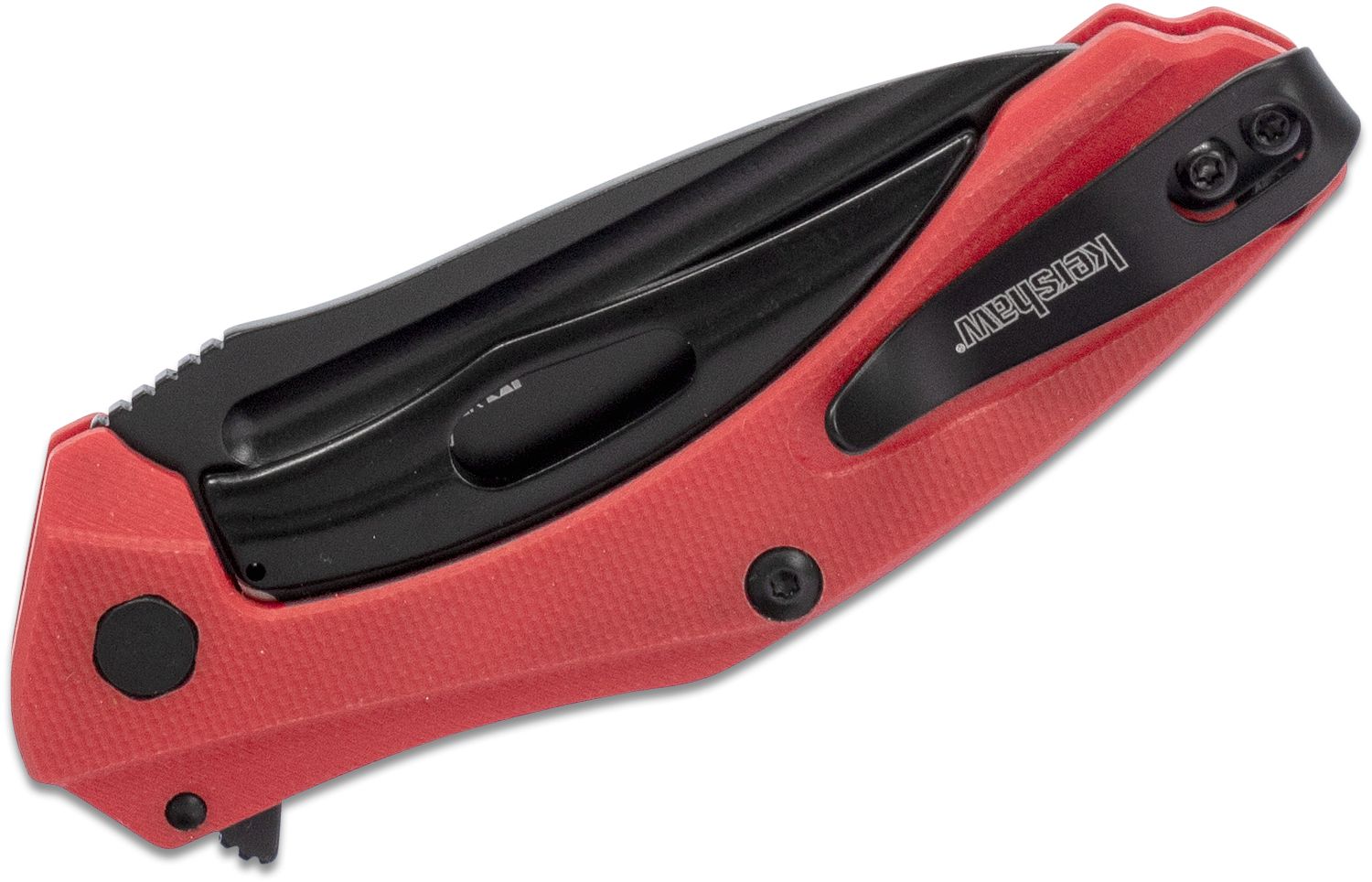 The blade design is very striking – essentially a modified Wharncliffe – and very usable for everyday carry with 2.75 inches of 8Cr13MoV steel and nice action thanks to KVT bearings in the pivot and a manual flipper. It is not as unobtrusive as the CEO but the sub-3-inch blade it is a great length for places where longer blades are frowned upon, and a reversible deep carry clip means it will stay out of the way until you need it.
---
Fox Suru: Carbon Fiber Frame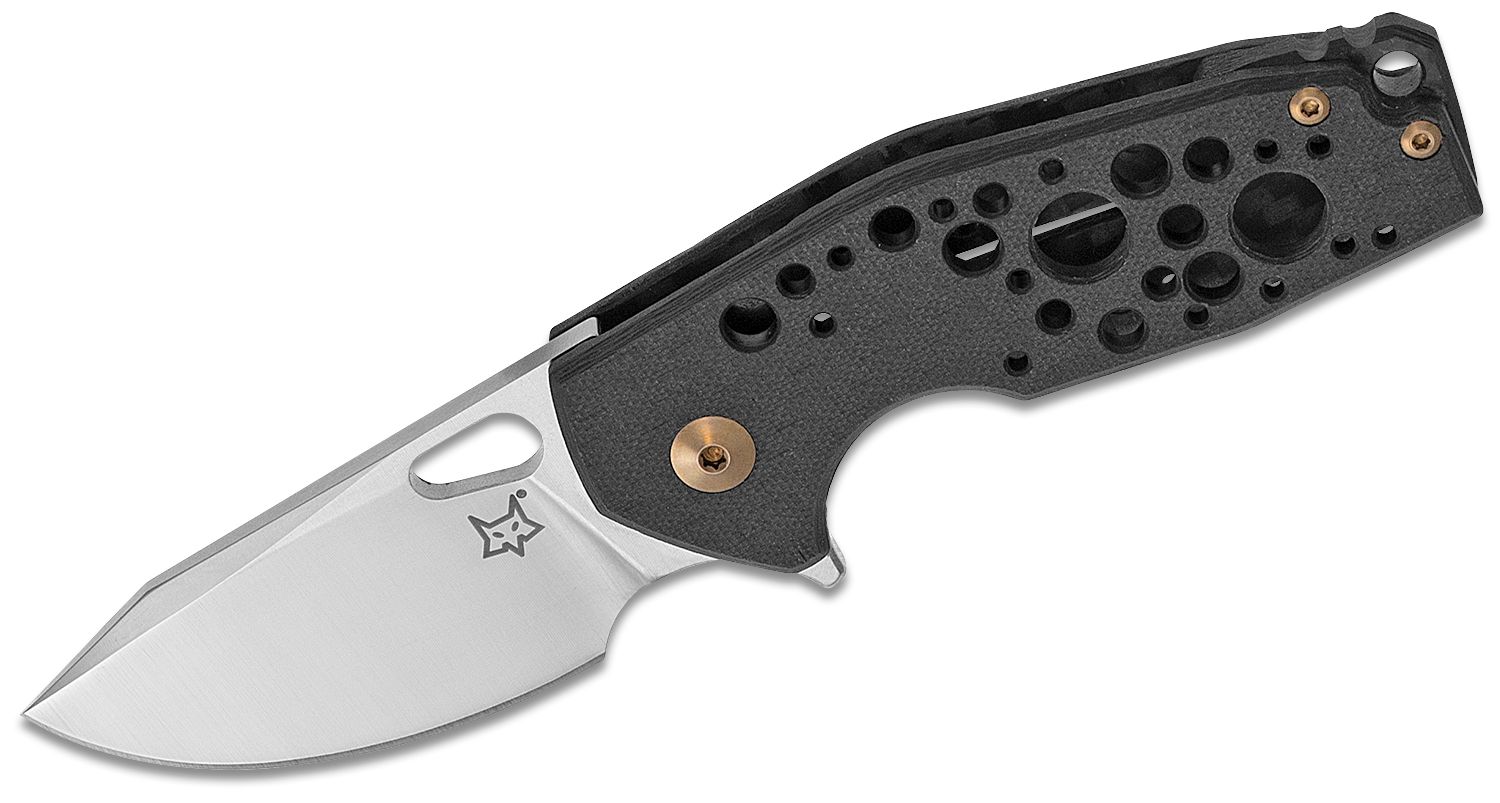 This next framelock gets around the weight penalty by ditching the metal lockbar altogether. Top-end versions of Fox Knives' Italian-made Suru flipper, a Jesper Voxnaes design, use entirely carbon fiber for both sides of its handles. This includes the lockbar itself, with only a small steel insert at the end to provide the actual locking interface with the blade.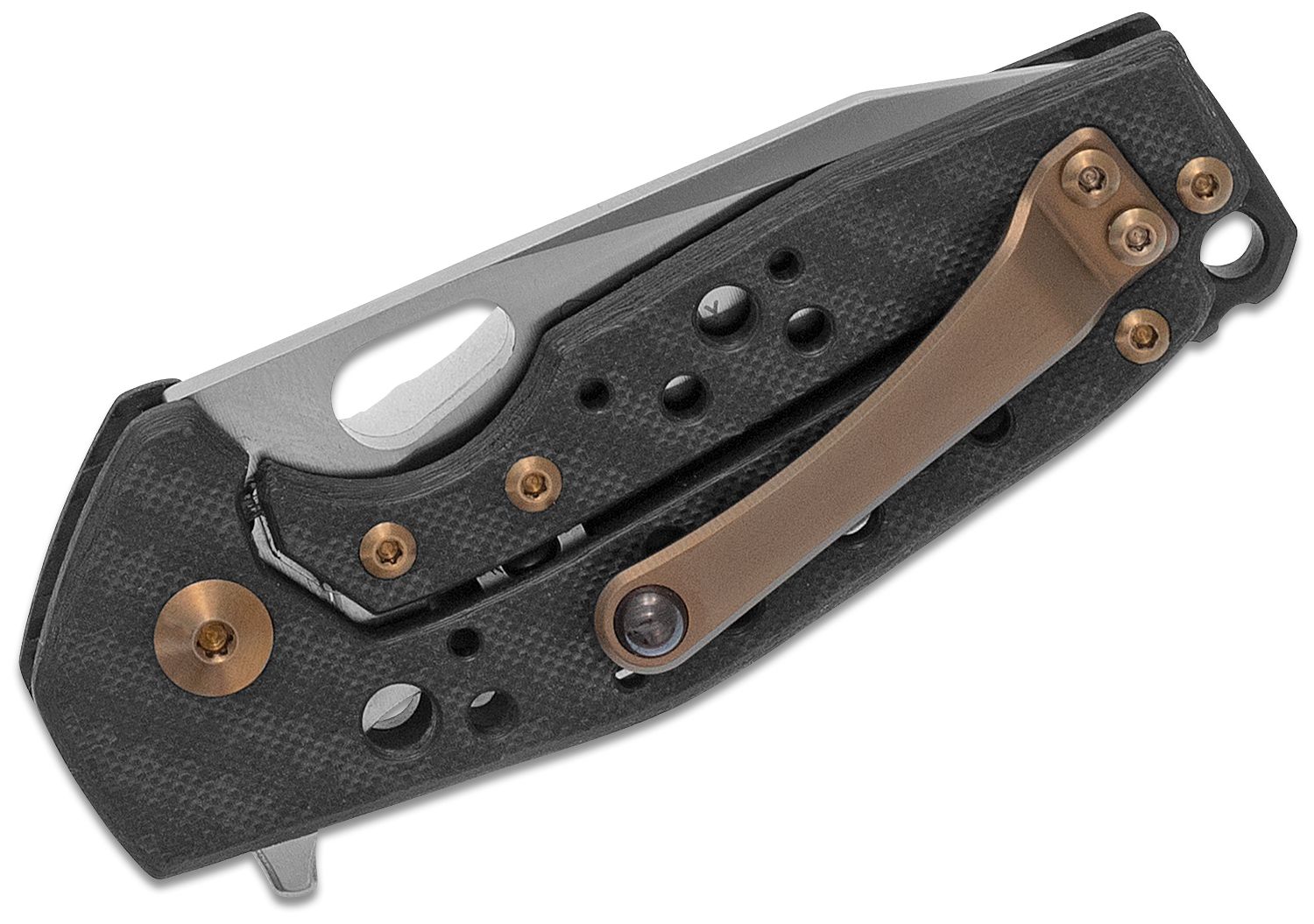 This innovation won them the BLADE Show 2018 Knife of the Year Award and lets them bring weight down to 2.1 ounces. Most of that is down to the broad 2.3" blade which they've kept a little thicker for extra durability. High-performance M390 steel, the go-to for performance on premium knives these days, helps complete the uniquely high-end experience of this design.
As for usability, the flipping action is quite good thanks to a ball-bearing equipped pivot, and in a nod to Spyderco, the full-sized choil allows for a four-fingered grip. The carbon fiber even feels special to the touch, with a peel-ply texture, and it is set off by a gorgeous pocket clip with a zirconium ball on the end.
---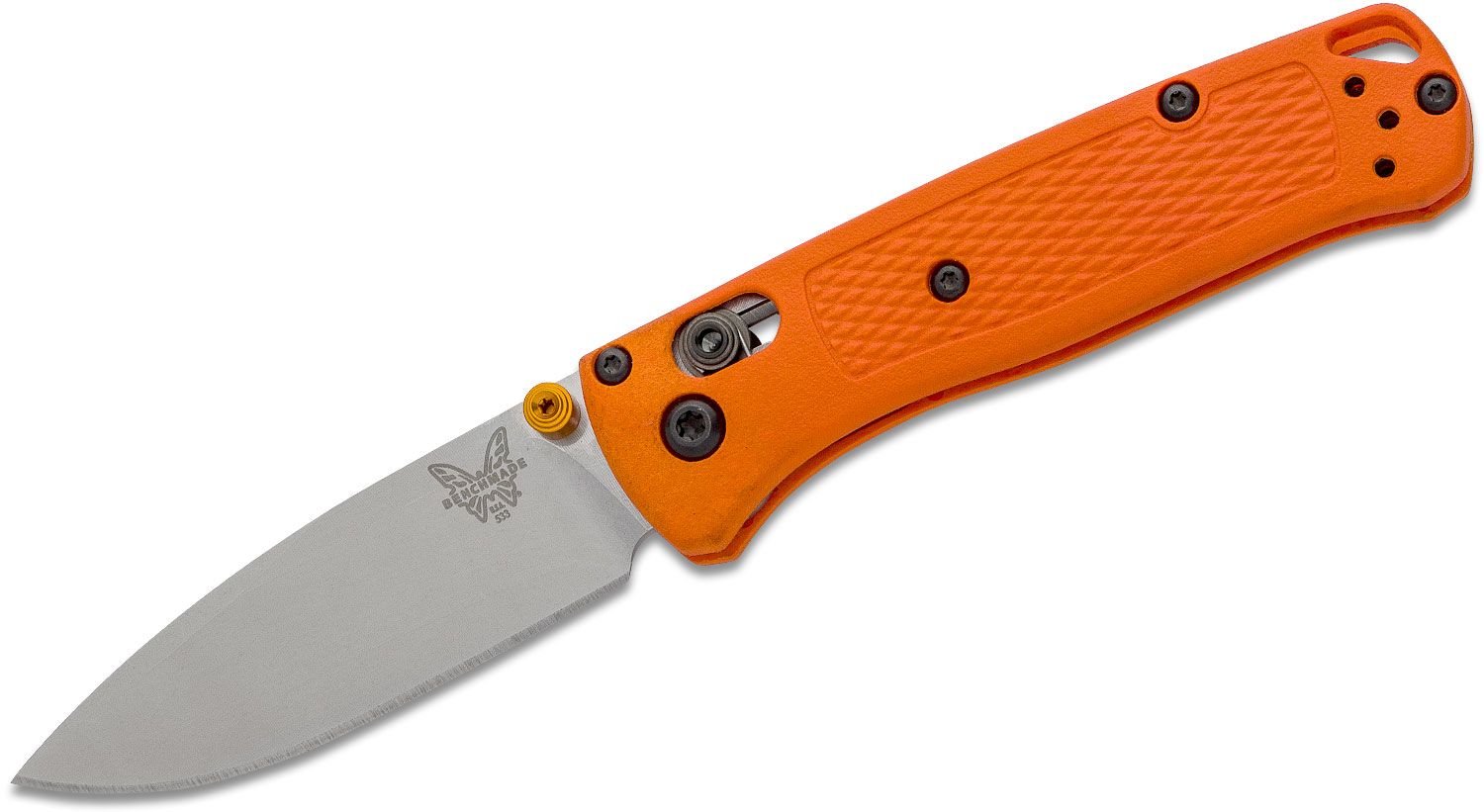 Benchmade's release of the original Bugout made waves by offering a full-sized blade while only weighing 1.85 ounces. But even more than that knife, the new Mini Bugout is the perfect poster child for the modern ultralight pocket knife, with a blade just under 3 inches long and weighing 1.5 ounces.
Blade steel is S30V for solid edge retention and the drop point shape is not only versatile, but highly efficient at slicing thanks to a high flat grind and thin blade stock. Handles are Grivory and are slim and comfortable to hold. A mini deep carry pocket clip is reversible and holds the knife securely.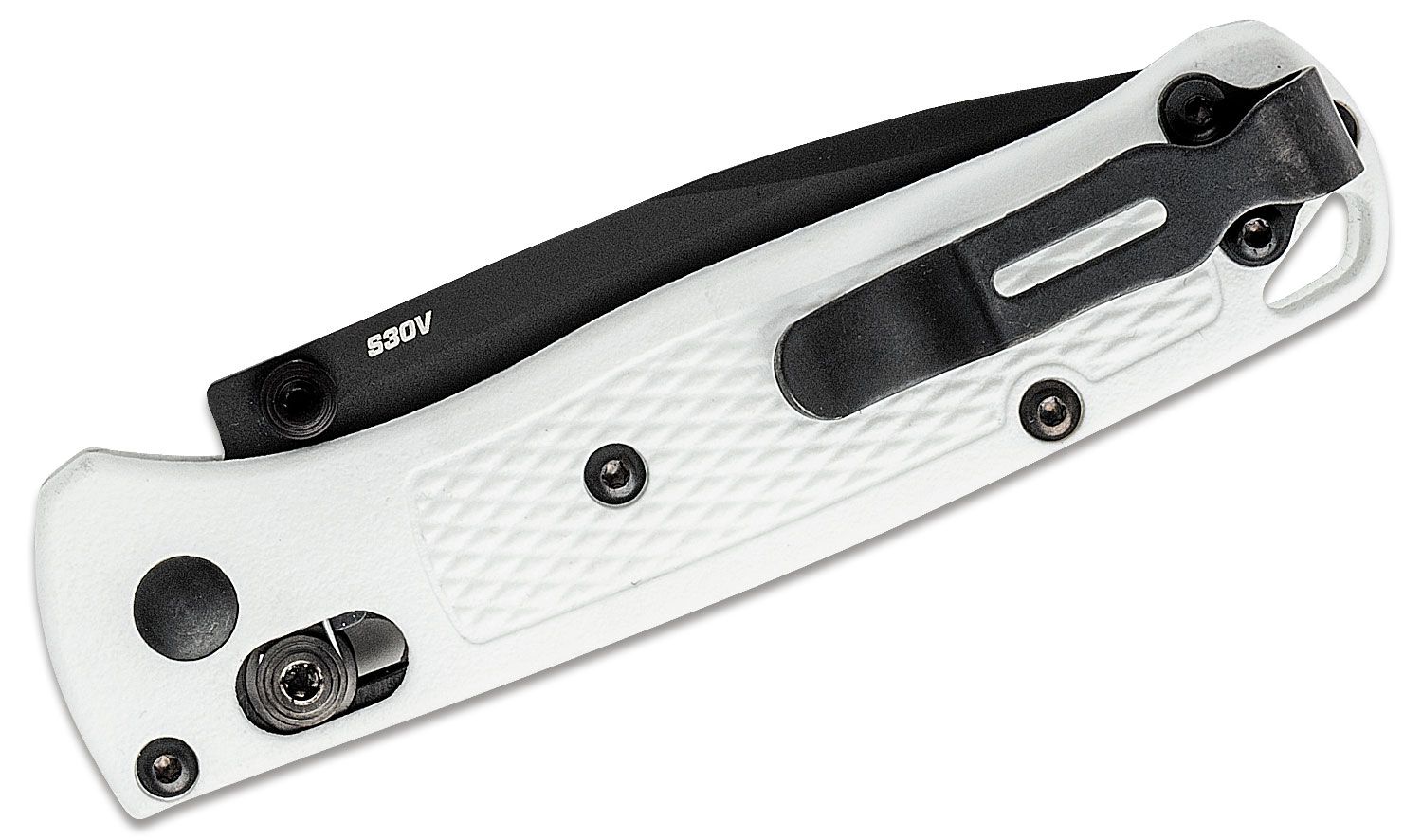 At the heart of it all is Benchmade's AXIS Lock with its ambidextrous crossbar running through both sides of the handle.This allows easy unlocking with either hand and also facilitates easy wrist-flicking of the blade open or closed if you wish. Crucially, it also allows you to keep your fingers completely away from the edge when closing the knife for extra inherent safety
---
SOG Ultra XR: Crossbar Lock Money Clip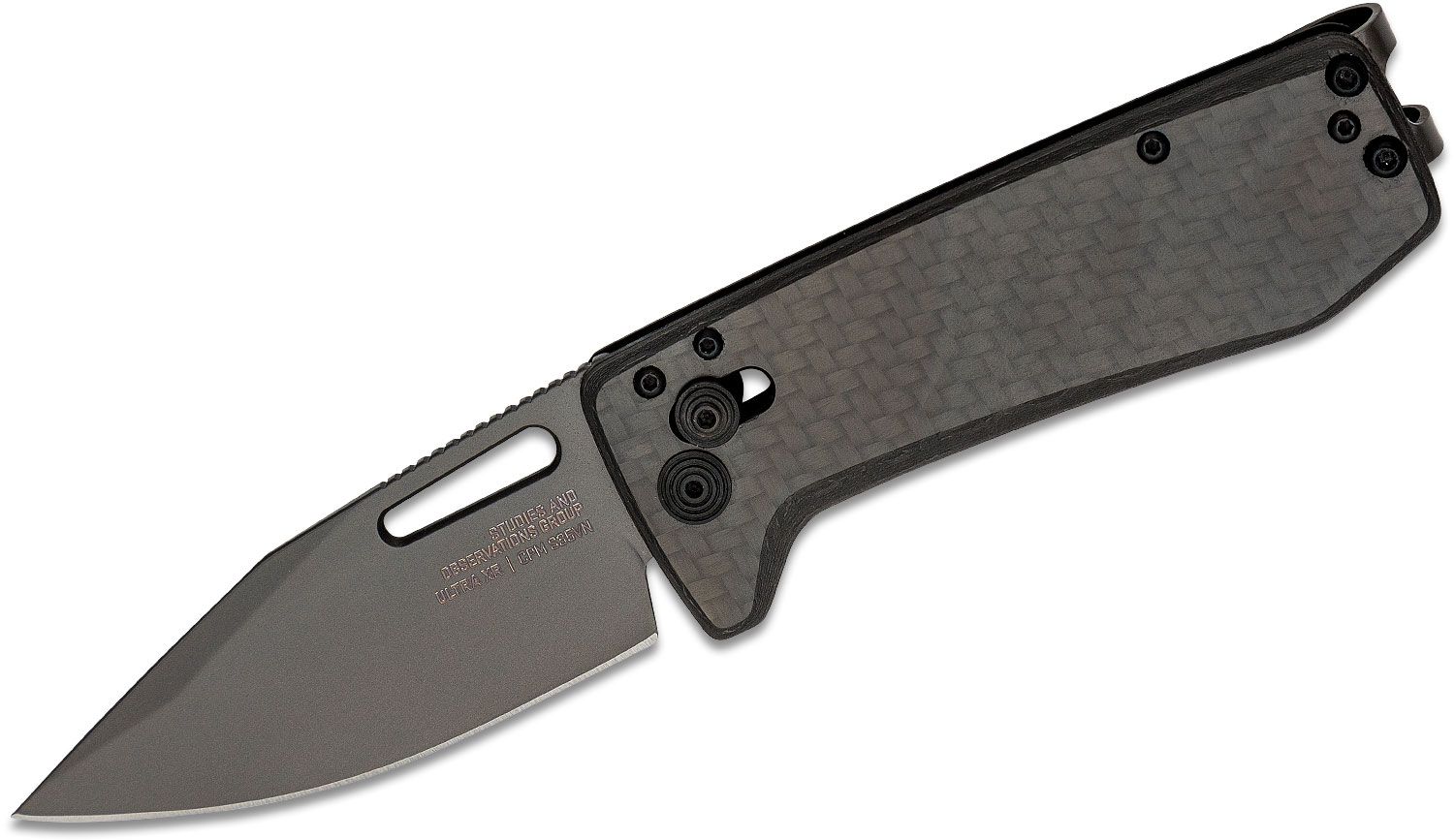 SOG also does a great ultralight crossbar locking knife with their Ultra XR, a recent upgrade to their Cash Card money clip knives. Weight on these is a mere 1.2 ounces, mostly achieved by speccing the materials as thin as possible The linerless carbon fiber handles are only millimeters thick, and the blade is also extremely thin in the cross-section to keeps the slicing performance up and weight down.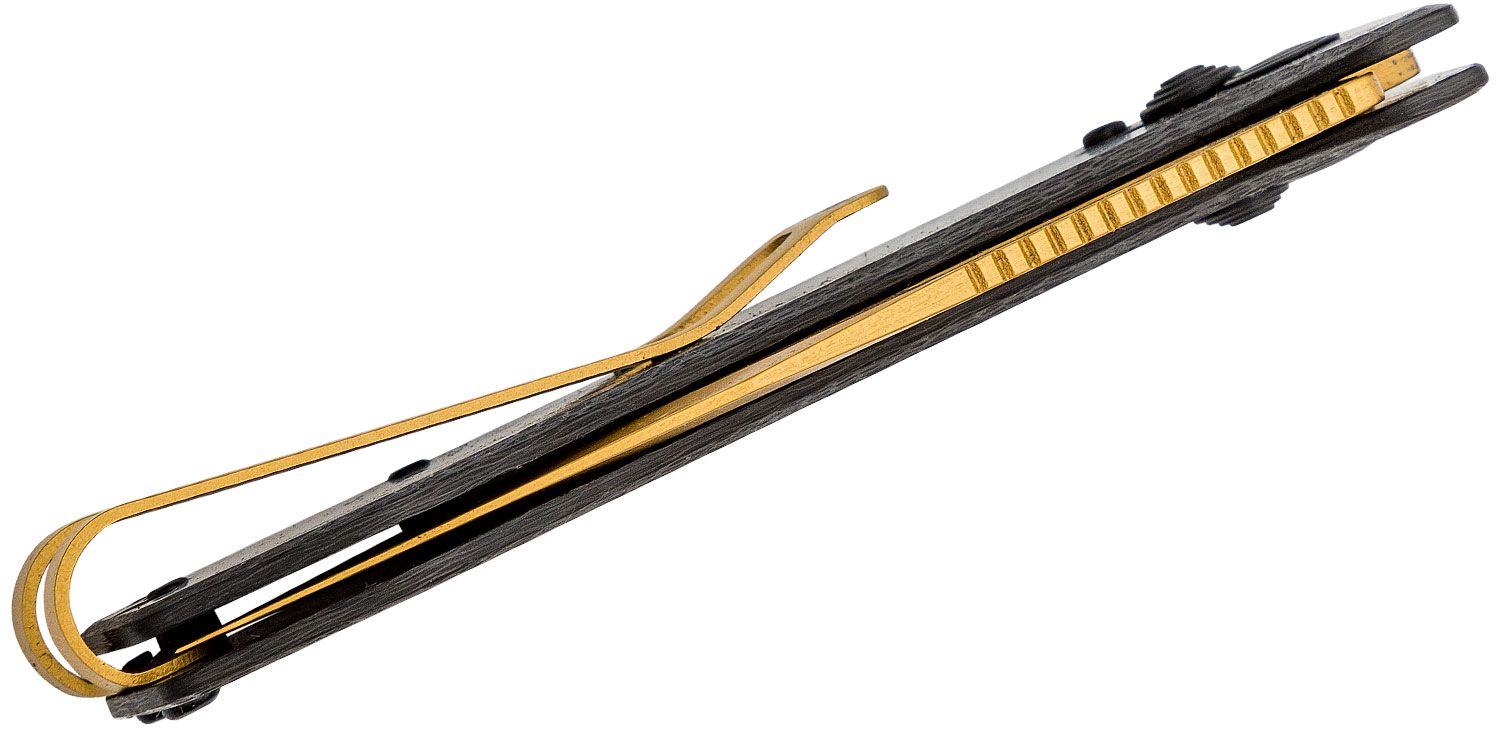 Steel is S35VN and it comes in just under the 3 inch mark so you won't have to worry about carrying it most places. Two titanium nitride coating options are available. Graphite has been the most popular but I personally like the gold even more.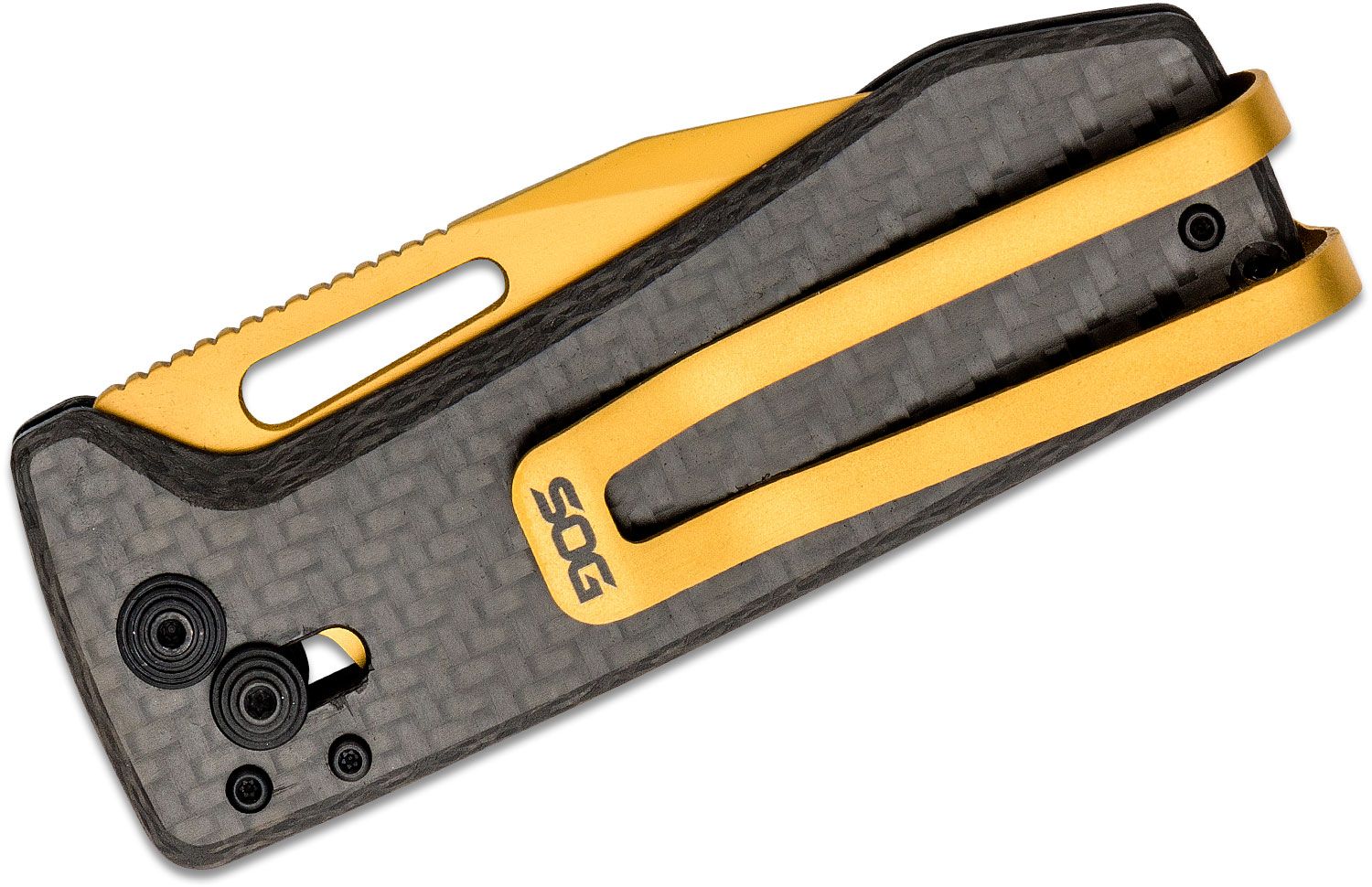 The reversible clip is wide and deep enough to fit a few cards or bills, or you can just use it like a standard pocket clip, and not a money clip. You could even go a step further and remove the clip which would allow you to slip this knife virtually anywhere and it will really disappear until you need to cut!
---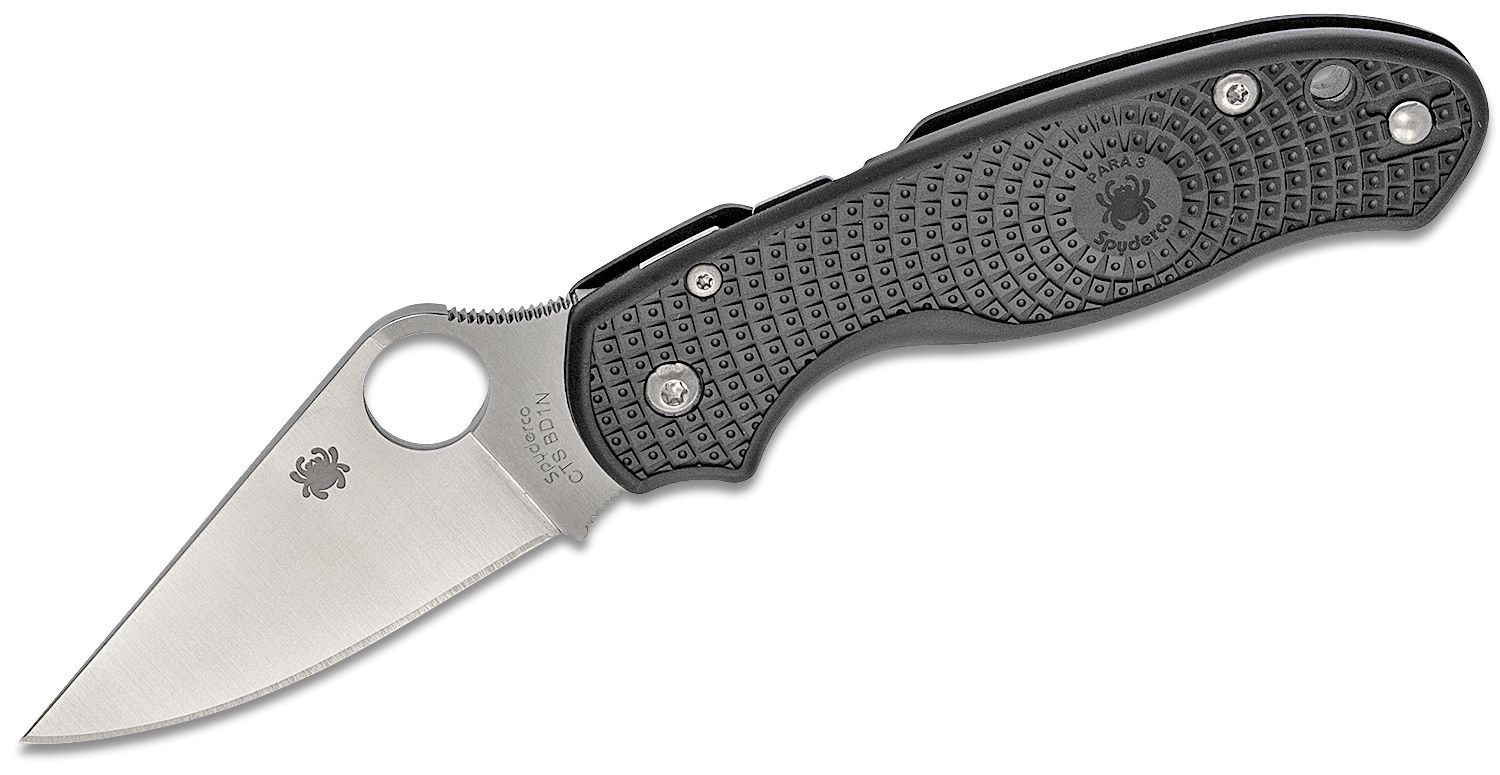 We have to revisit Spyderco briefly because we can't talk about their Lightweights without mentioning the Para 3 LW. It has the same great characteristics as the Dragonfly 2 from earlier – bi-directional FRN handles, wire clip, finger choil, and great slicing geometry – only in a larger size and featuring Spyderco's Compression Lock, adding up to 2.4 ounces in the pocket.
The Compression lock is operated similarly to a liner lock, but it is disengaged from the spine side of the knife rather than the belly side. Because of this it retains the flickability and the finger clearance as the crossbar lock models that we just looked at.
The blade on the Para 3 is a hair under 3 inches, and made from BD1N stainless steel. While not offering as long lasting an edge as something like S30V, it is a definite step up from the AUS-8 and 8Cr models we've looked at – still very easy to maintain but with more edge retention.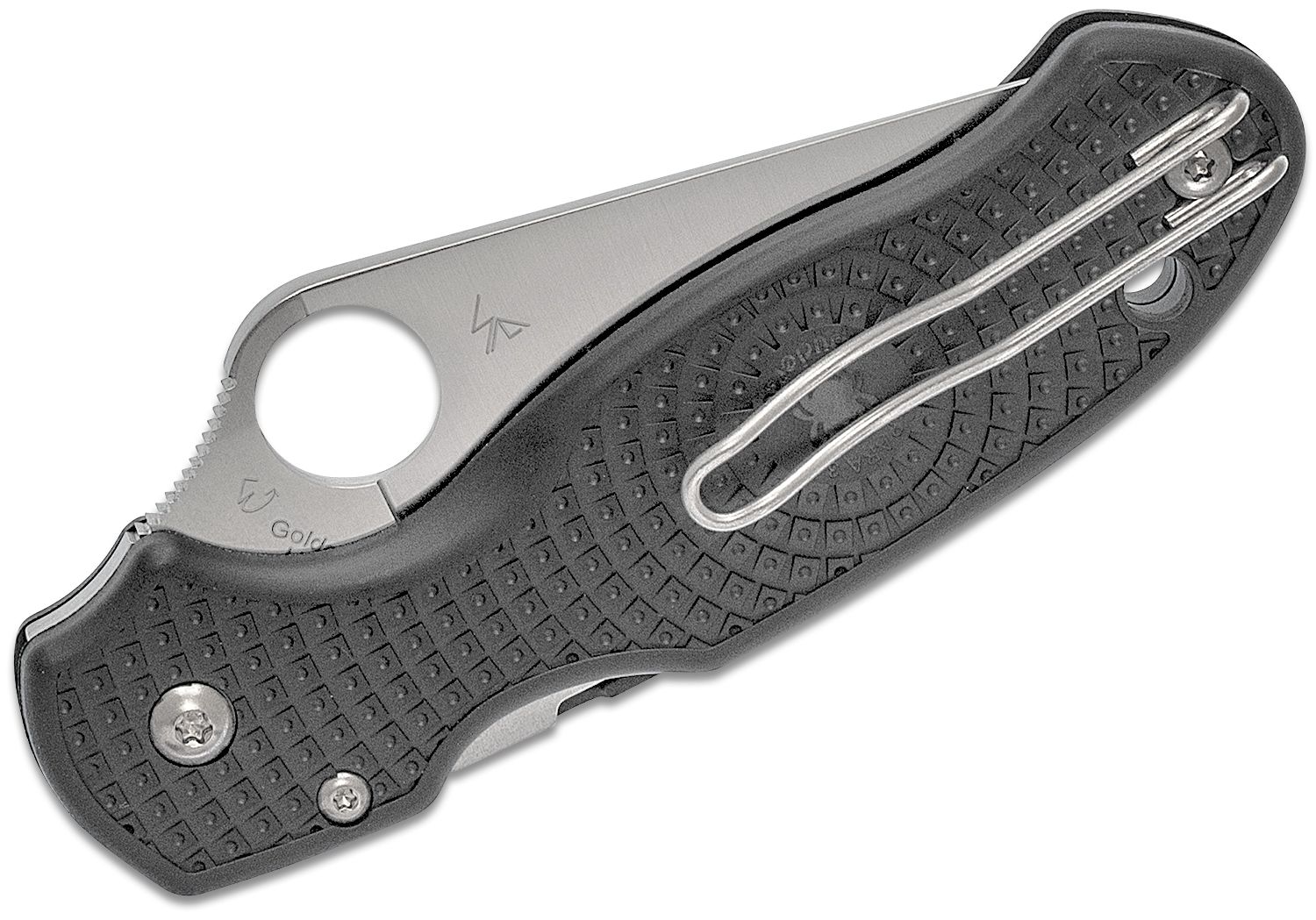 More than perhaps anything else in Spyderco's lineup, or on this whole list for that matter, this is THE small knife to get if you like the feel of a bigger knife thanks to the size of its handle, which truly offers a hand-filling grip. Sometimes though, you actually do need a bigger blade, and that is where the next two knives come in.
---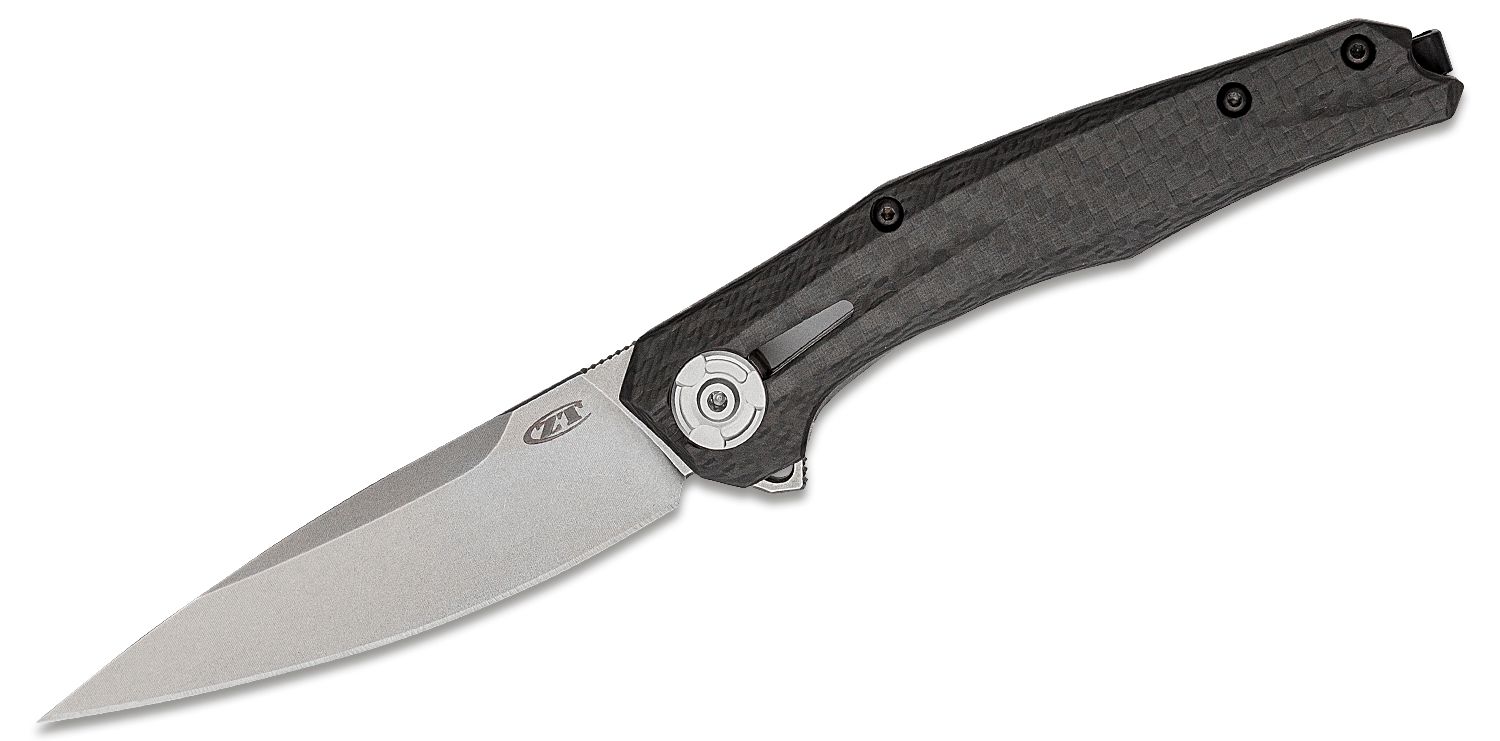 For a big and still lightweight knife, the American-made 0707 from Zero Tolerance brings a lot to the table by featuring a 3.5-inch blade with a titanium frame lock. Tipping the scales at just 2.3 ounces, they keep the weight down by going with a slender profile and carbon fiber on the front side of the knife. This makes for a nice look in a "gentlemanly" setting, but it is also made with ZT's typical rugged build quality so it is tough enough to work very hard
The blade is made with CPM-20CV steel, an American equivalent to M390, and features some edge curvature at the heel of the blade before coming to a very fine tip in a shape reminiscent of the Pattada style of Sardinian knives from that region in Italy. This profile has a good amount of power and a lot of precision in the same package which makes it a compelling option for a large EDC knife.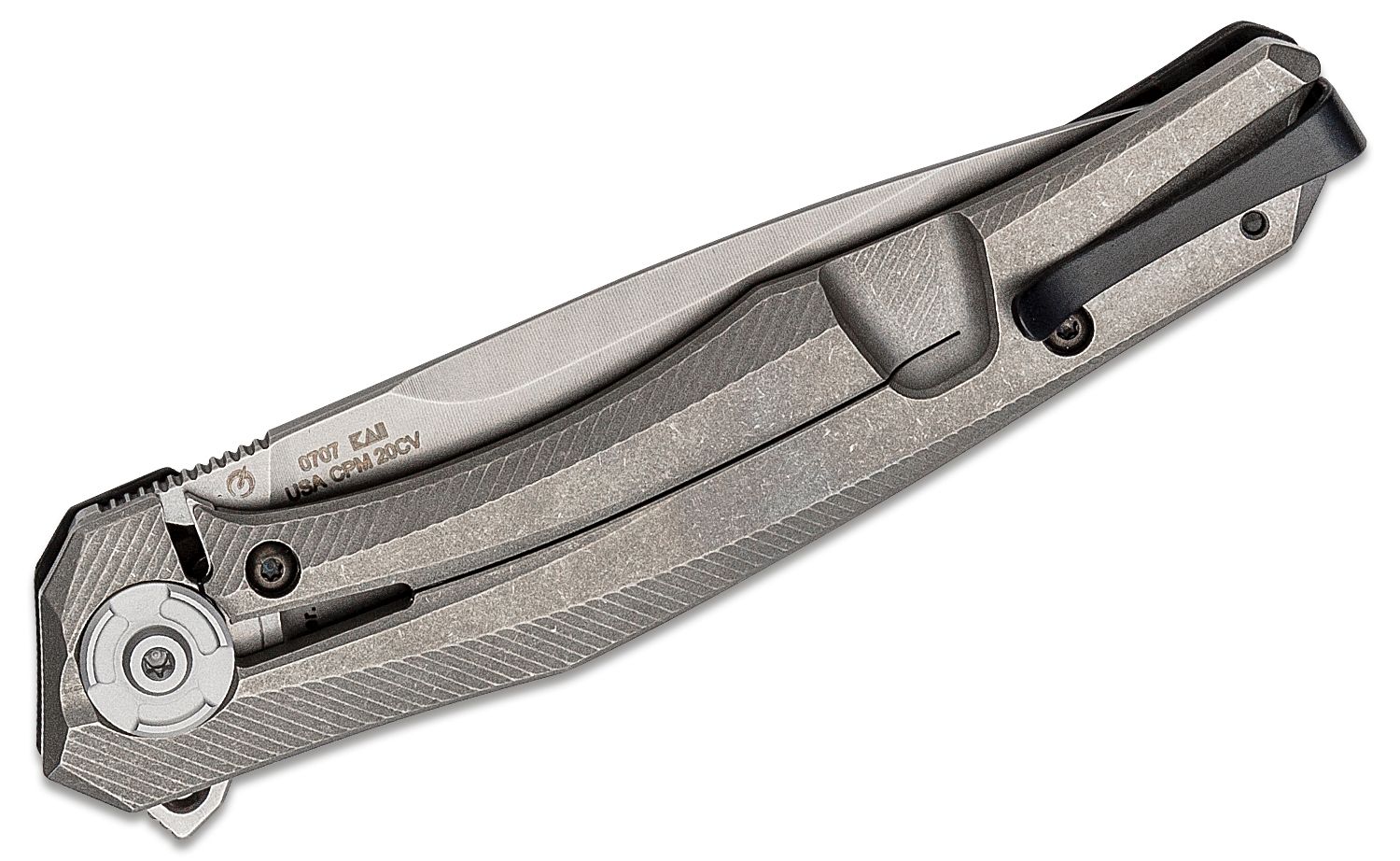 It rockets out with a press on the flipper tab too,-partly due to the KVT bearings in the pivot, but also due to the Tuned Detent System. WIth a lot of framelocks, if you put too much pressure on the lockbar it can actually make it harder to engage the flipper. ZT gets around this by placing the detent on the carbon fiber side of the knife, rather than being part of the lockbar itself. This means you can put a good amount of pressure on the bar itself without impeding the action.
Rounding out the knife is a reversible deep carry clip mounted from the inside of the knife. This keeps the outside looking clean with no exposed screwholes and they've kept the clip itself minimal and sleek so it really blends in when clipped to your pocket.
---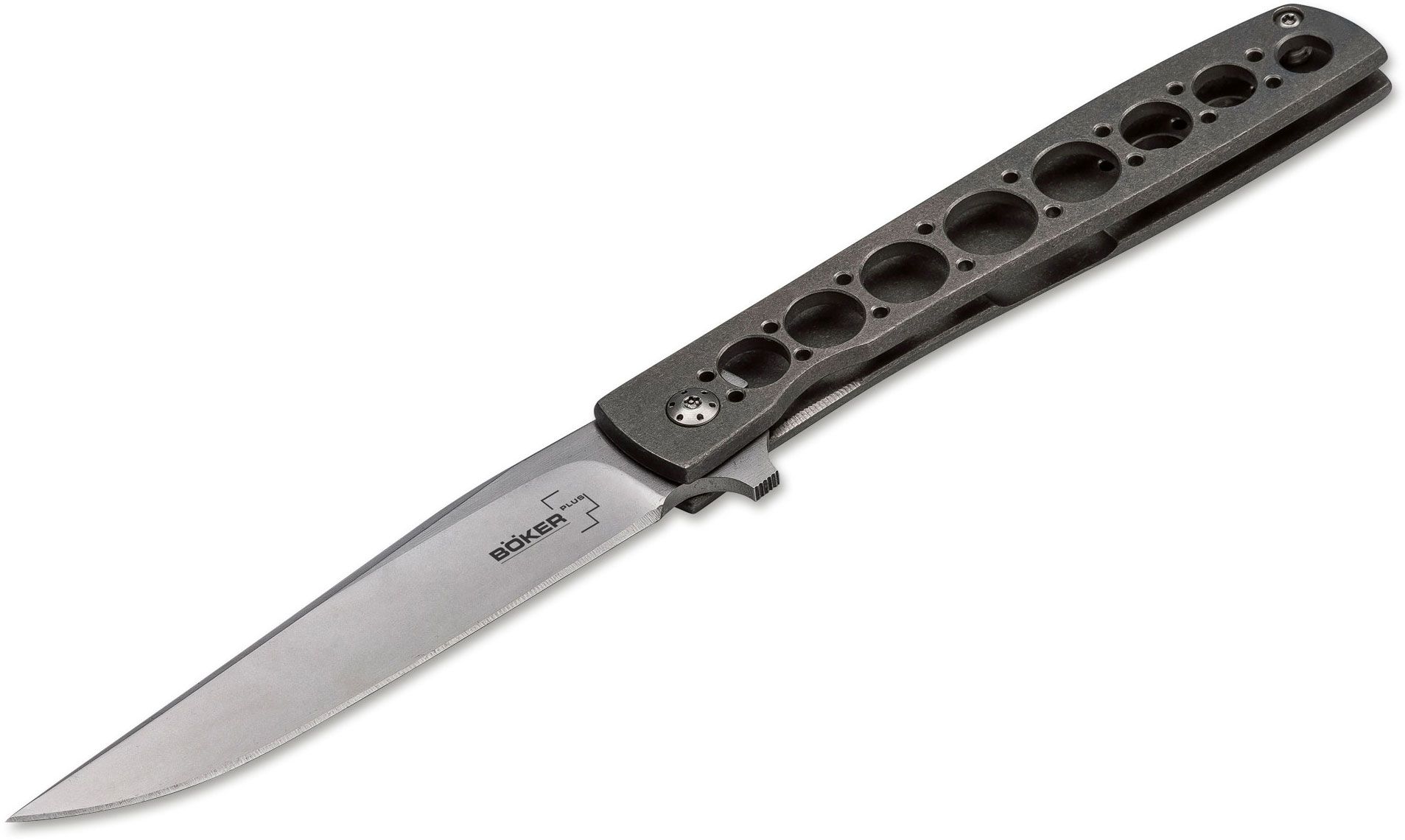 Offering even more reach than the ZT is another framelock, the Brad Zinker-designed Urban Trapper Grand from Boker Plus. This knife offers nearly four-inches of blade length in a titanium frame that has been heavily drilled to remove weight, getting it down to just 2.43 ounces. If you don't need quite so much length there are 3.5" and 2.75" versions too, the lightest of which is a mere 1.1 ounces.
The blade on this knife flippers open easily, and it has a very refined feel for such a large knife, offering mechanical precision rather than brute force. VG10 stainless steel is on board here, which joins BD1N as one of the best steels you can get before making the jump upwards to powder metallurgy alloys like S30V.
Premium touches go a long way to helping this knife stand out from the crowd. The pivot itself looks great while the blade itself includes horizontal satin finish that mimics a hand-rubbed custom finish, and a crowned spine for comfort and visual interest.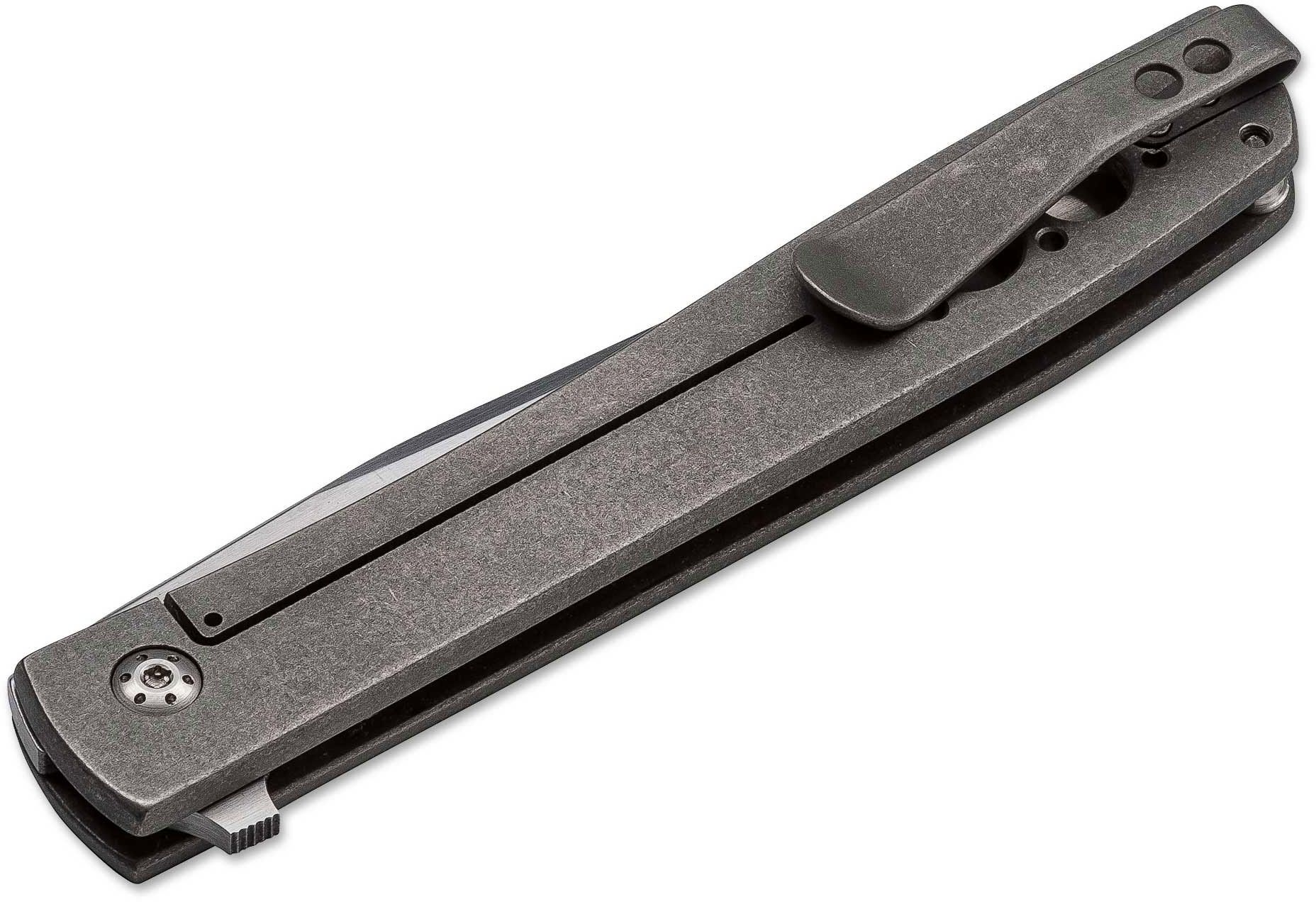 Despite all the capability this knife offers, it is actually incredibly easy to carry. The deep carry clip holds the whole package nice and deep, the narrow profile takes up virtually no space side to side, and the thin construction lays nice and flat inside your pocket.
---
Let us know what your favorites were below!