Kershaw were one of the first to bring assisted opening knives to a broader market with their SpeedSafe mechanism, which was designed by Hall of Fame knife maker Ken Onion. This mechanism ushered in a sea change in the knife industry and the Leek is one of the knives that has endured since those early days, not just because of its snappy action but because it's a fantastic design. With slim handles and a narrow blade, it makes a highly refined EDC. It's perfect as a gentleman's pocket knife and it also makes a fantastic example of what we like to call an executive knife. As with any knife that has endured for as long as the Leek, you expect to see some variants and you won't be disappointed by what the Leek series has to offer.
The Classic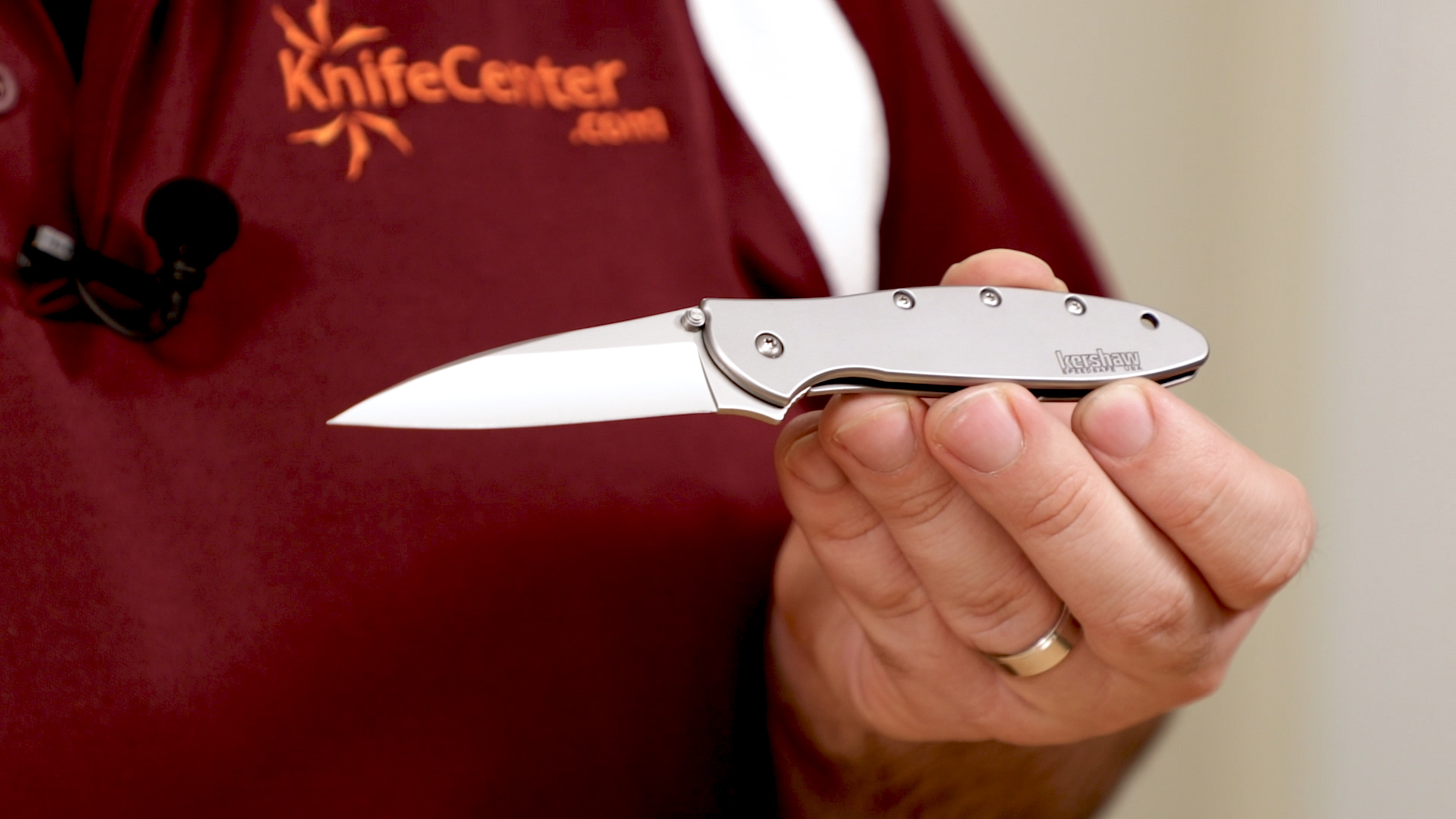 The standard model features an aluminum frame with an integral frame lock and a Swedish steel blade… Sandvik's excellent 14C28N to be exact. This fine-grained steel can take a wickedly sharp edge quite easily and has very respectable edge retention. The blade itself is a modified Wharncliffe design with a very acute point. It will pierce very well and is perfect for opening packages and envelopes, breaking down boxes or even doing a little bit of food prep.
The SpeedSafe assisted opener has been a key part of this knife since its introduction and Kershaw knows how to dial it in for super fast deployment. The blade can be opened either with the small thumb studs or with a press on the flipper tab which also creates a nice small finger guard when it's open. If you're a little nervous about a spring-assisted blade sitting in your pocket Kershaw offers a simple and effective solution for locking things down with their Tip-Lock slider that will prevent the blade from accidentally opening.
Pop of Color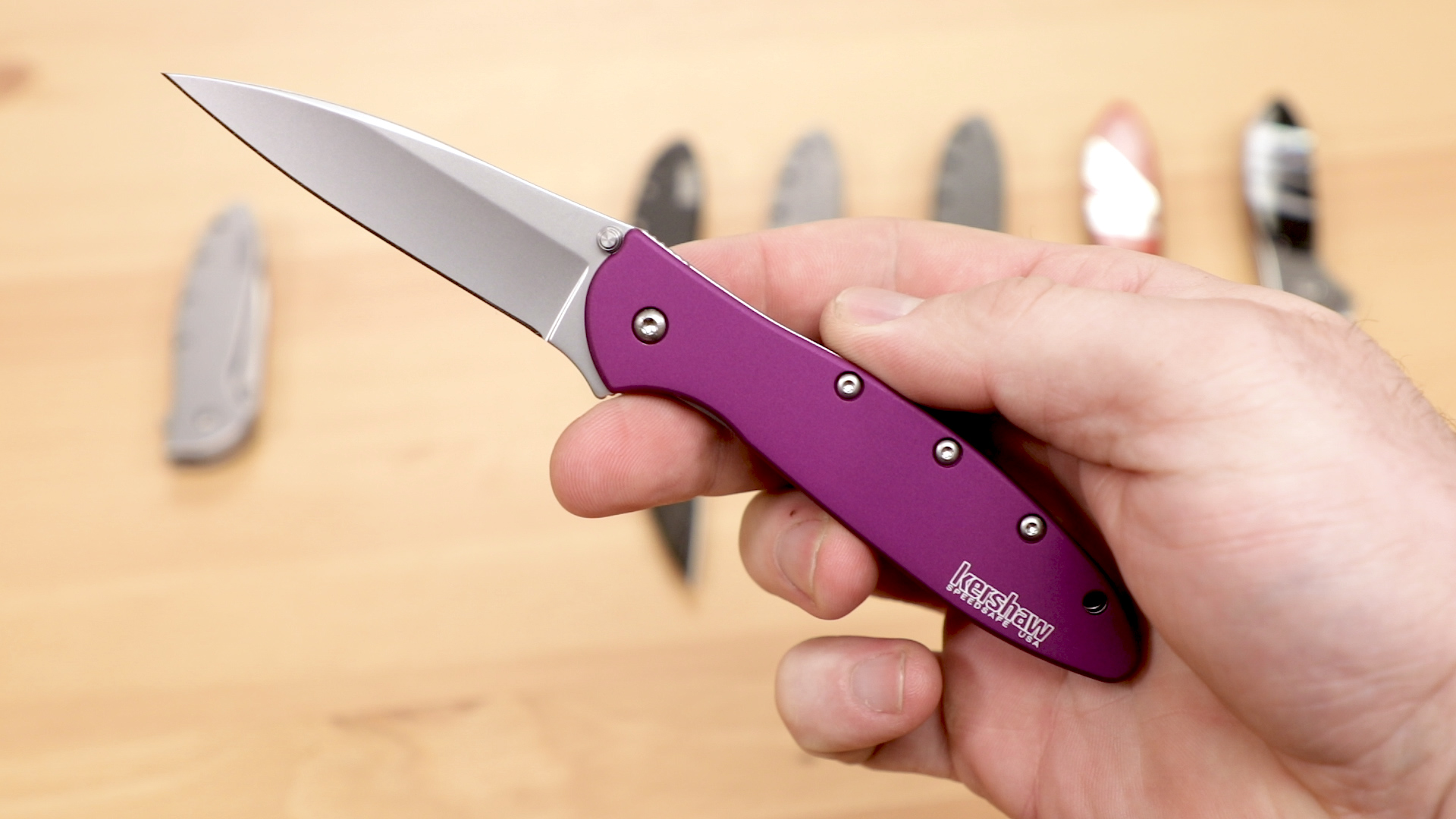 In addition to the frame lock models, Kershaw also makes versions with a liner lock and anodized aluminum scales. It's always nice seeing extra color options on knives beyond the typical blacks and grays and there are plenty to choose from with the Leek. You can get it in purple, orange, or green among others.
Both the liner lock and frame lock versions are slim and narrow. Although the liner-lock version is a little bit thicker, they're both unobtrusive in your pocket, with smooth surfaces that are going to be kind to your clothes. Either one of these look great out of the box but they really come into their own after they've been carried for a while and it picked up some scuffs and light scratches. This really gives them a lot of character.
Exotic Damascus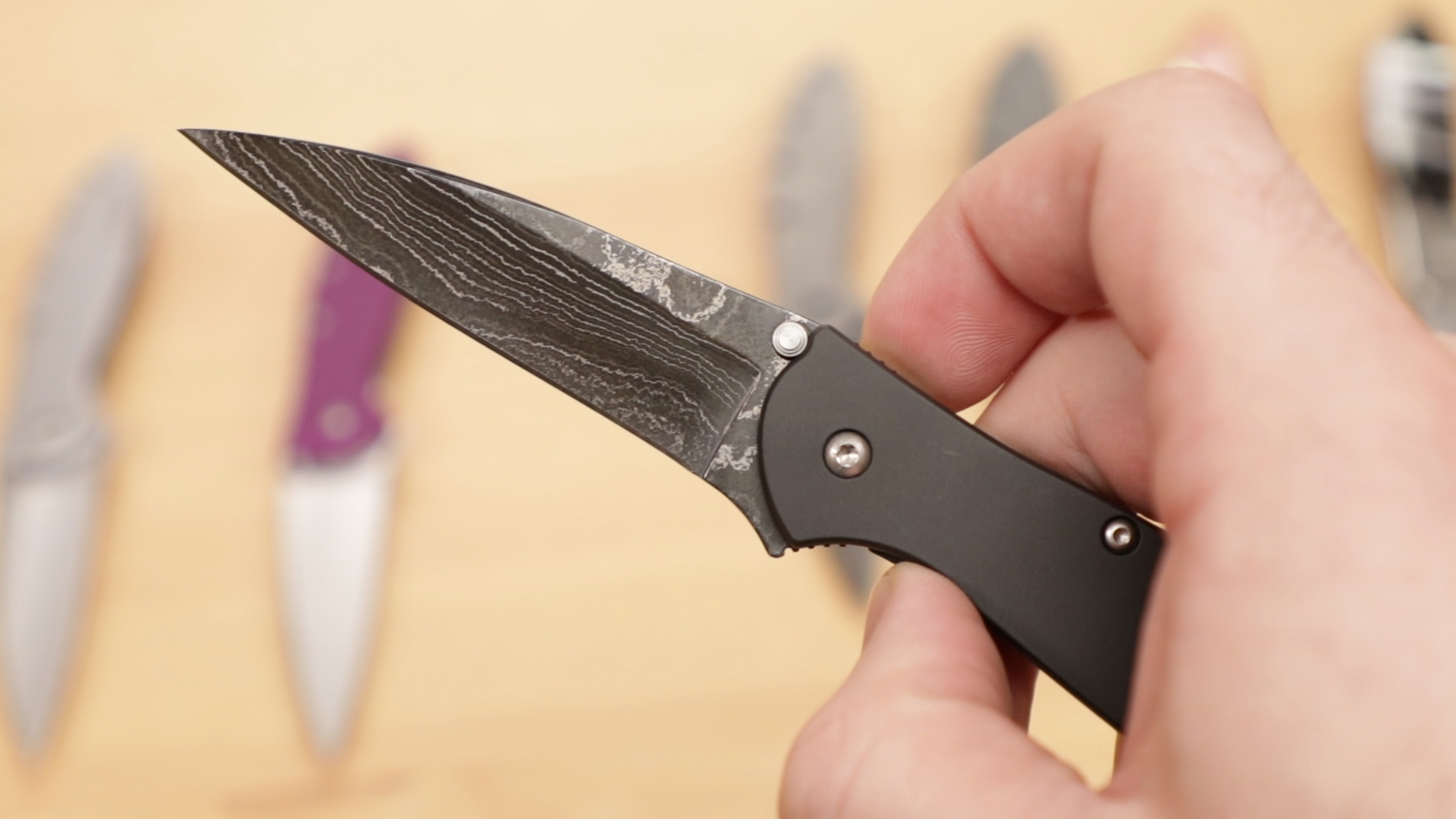 Stepping up the food chain to some more exotic steels, Kershaw also offers this knife with a black DLC coated frame lock with an Alabama Damascus steel blade. This Damascus is made from 416 layers of steel including layers of 5160 and 52100. This carbon steel base will require a bit more upkeep, but the look it creates is stunning and the performance doesn't take a back seat. You get a very keen blade with an extremely tough edge, and thanks to that DLC coating on the frame it's going to stand up even better to heavy use.
Diverse Steel Selection
The Leek has also received upgrades from Kershaw's go-to back of tricks, and their composite blade version with BlackWash finish is a great example.
The BlackWash finish is applied to both the frame and the blade, which makes it look "broken in" right out of the box. The composite blade features a top section and a bottom section that fit together like a puzzle and are then braze welded together. Not only does this create a cool visual effect but it also puts high-performance steel right at the edge where you need it most and in this case we get CPM-D2.
Unlike standard D2, which is prized for its edge holding but can be a little more difficult to sharpen, CPM-D2 features a much smaller grain structure thanks to its particle metallurgy makeup. This allows it to achieve a fine edge, hold it for longer, and sharpen easier when it does come time to hone your blade. Apart from the shakeup with the steel, we also see them switch to a flat grind on this knife which offers a little bit more strength and it really shows off the lines of the weld.
The Hot Rod Variant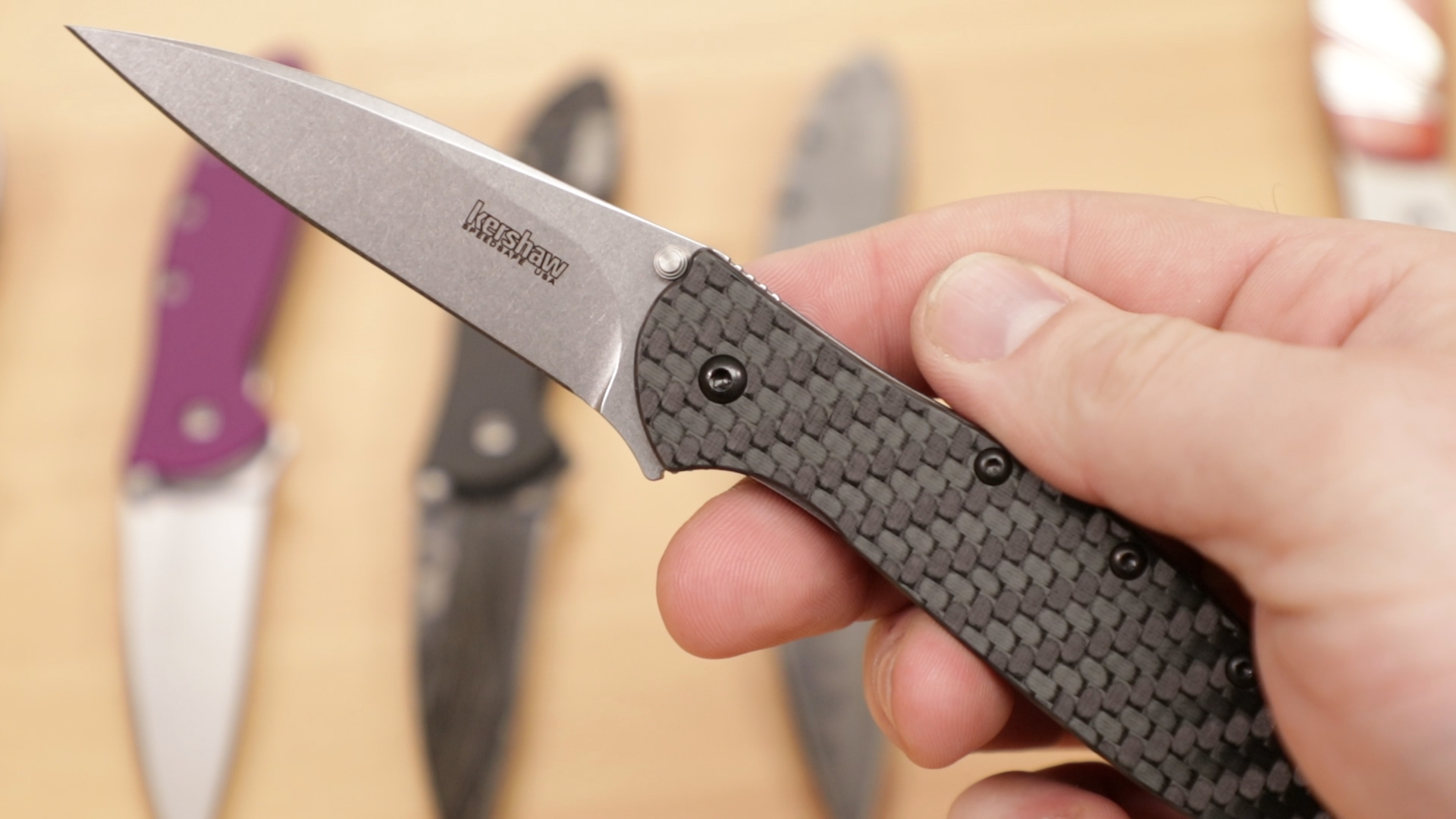 A favorite of ours is the carbon fiber scaled version that uses a liner lock and a CPM-154 steel blade with a stonewashed finish. Not only is this a great looking finish on a great looking knife but it's also my preferred blade finish. Not only will it help to minimize the appearance of scratches as you actually use the blade, but because this process is, in a sense, a random pattern mild polishing, it helps to seal the surface pores on the steel and actually increases its corrosion resistance. It's a pretty good two-for-one trick.
Spare No Expense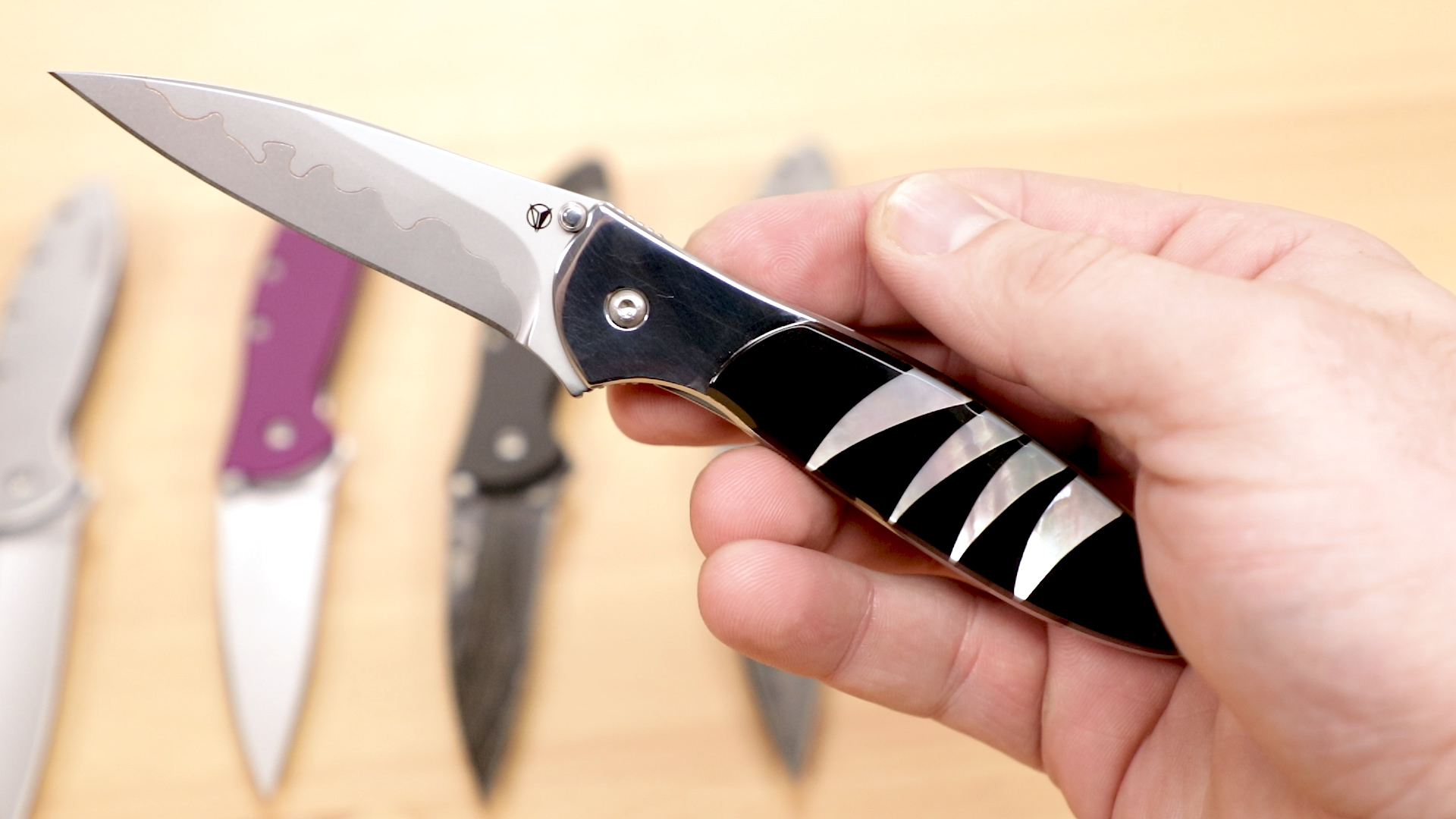 If any of these options aren't quite fancy enough for you, you'll want to check out the versions which have been customized by Santa Fe Stoneworks featuring stunning overlays on one side of the frame.
There are several to choose from including a red coral and mother-of-pearl variant with a 14C28N blade, as well as a gorgeous black jet and mother-of-pearl version with a CPM-D2 composite blade and a polished frame. Whichever one you choose, these art knives are just as worthy of a place of honor on display in your collection as they are a place in your pocket
This is just the tip of the iceberg when it comes to the Kershaw Leek Series. There are countless blade and handle options to choose from, which means there is sure to be a Leek out there for you.
If you want to get your hands on any of them click here head over to knifecenter.com