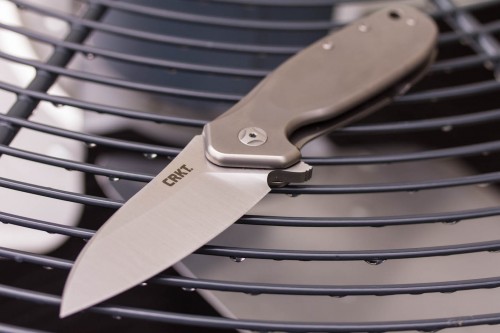 It's a "rip and tear your way out of a bad situations" sort of beautiful. And that's exactly how
Ken Onion designed it
. The
Hi-Jinx
is a gentleman's beast of burden blade with all the classical curves and subtle elegance that has become the anthem of
Ken Onion knife design
. With a sand blasted 6AL4V titanium handle and premium Sleipner blade steel, satin drop point blade that is flat ground and measures nearly a quarter inch thick along the spine. 
The Hi-Jinx™
is made in Maniago, Italy with centuries of knife-making expertise milled into the scalloped handles. The blade opens with a flipper and includes an
IKBS™ ball bearing
pivot system that facilitates fast and smooth opening. A
titanium frame lock
seals this knife in the open position like a bank safe and a lock overdraft protection is built into the ornamental pivot to avoid overextending the lock. The stainless steel pocket clip is reversible for left or right handed tip up carry and is designed to sit deep in the pocket.
Ken Onion designed the Hi Jinx™ knife
to stroll comfortably into a business meeting with all the confidence and beefy brawn necessary to cut a hole through the wall for a fast getaway– should the need arise. Check it out at 
www.knifecenter.com