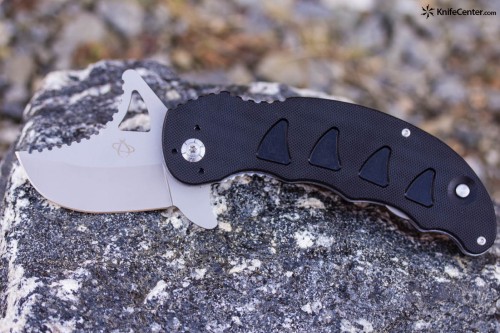 The Snaggletooth series are very interesting folding pocket knives. In the realm of knife fighting, these are very effective weapons. The "bump" on the top of the blade is used in a variety of ways, generally the opponent's body is utilized to open the main blade. These also have a "little finger" ring that is revealed with a button. This allows for other handling of this knife. It's a great product and well made and reasonably priced, which is pretty typical of the Mantis products. The KnifeCenter offers a large selection of Mantis products and we ship then around the world.
Here is more information from Mantis:
Description
MNTMKF815

: MKF-815 Snaggletooth 3
Mantis Knives
Why has no one previously thought to make the finger ring on a karambit retractable? This allows the knife to be carried so much more comfortably–and covertly–but still ready to be deployed at a moments notice.The designer of this very special knife is Mr. Morgan Thomas. Morgan came to us over a year ago with the idea, from there we made it a reality.Morgan says:
It is a pocket knife
It is a control and command use of force tool
It converts to a Karambit
Mantis uses their M-vx steel on the blade of this knife It features a unique shark tooth design carved into the handle of the G-10. This style uses our M-vx steel and has a bead blasted look to the blade. The finger hole has a push button release that we have patented and you will find this feature on more knives to come from Mantis.
Specifications
Overall Length: 7.75″
Blade Length: 2.75″
Blade Material: MvX
Blade Style: Modified Drop Point
Handle Material: Black G10
Lock Style: Liner Lock
Carry System: Pocket Clip
Weight: 9 oz.
Special Features: Patented automatic finger hole release