Curious to see the best new knives that hit our shelves this week? Then read on for our picks, including the re-launch of legendary brand Al Mar, an impressive new design from Reate, a utility knife on steroids from Cold Steel, and charming new fixed blades from L.T. Wright. Let's take a closer look.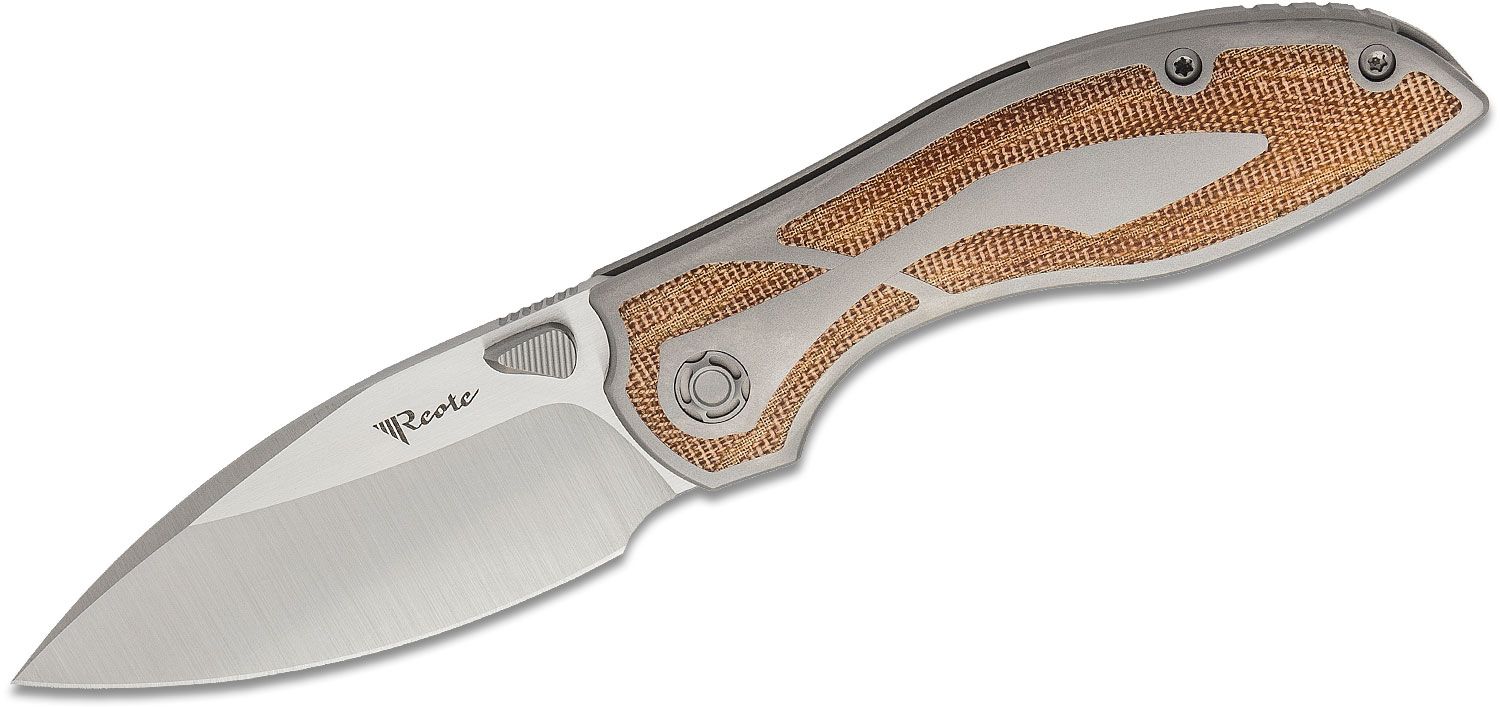 Over the past couple years, Reate has really refined their catalog. They're releasing fewer new designs, but the designs are better than ever. So, when a new Reate knife hits our shelves these days, we pay attention. The all-new Iron is truly impressive, even compared against the uncanny perfection of their usual work. Materials, ergonomics, and design are all top-notch – this is my favorite Reate knife, ever.
There are two variants of the design: one with a thumbstud, and one with a flipper. The flipper ones operate perfectly – as you'd expect – but personally I prefer the thumbstud version. The ambidextrous thumbstuds are custom to this design, and perfectly shaped to cradle your thumb or finger. Rotating on ceramic bearings, the blade easily snaps open.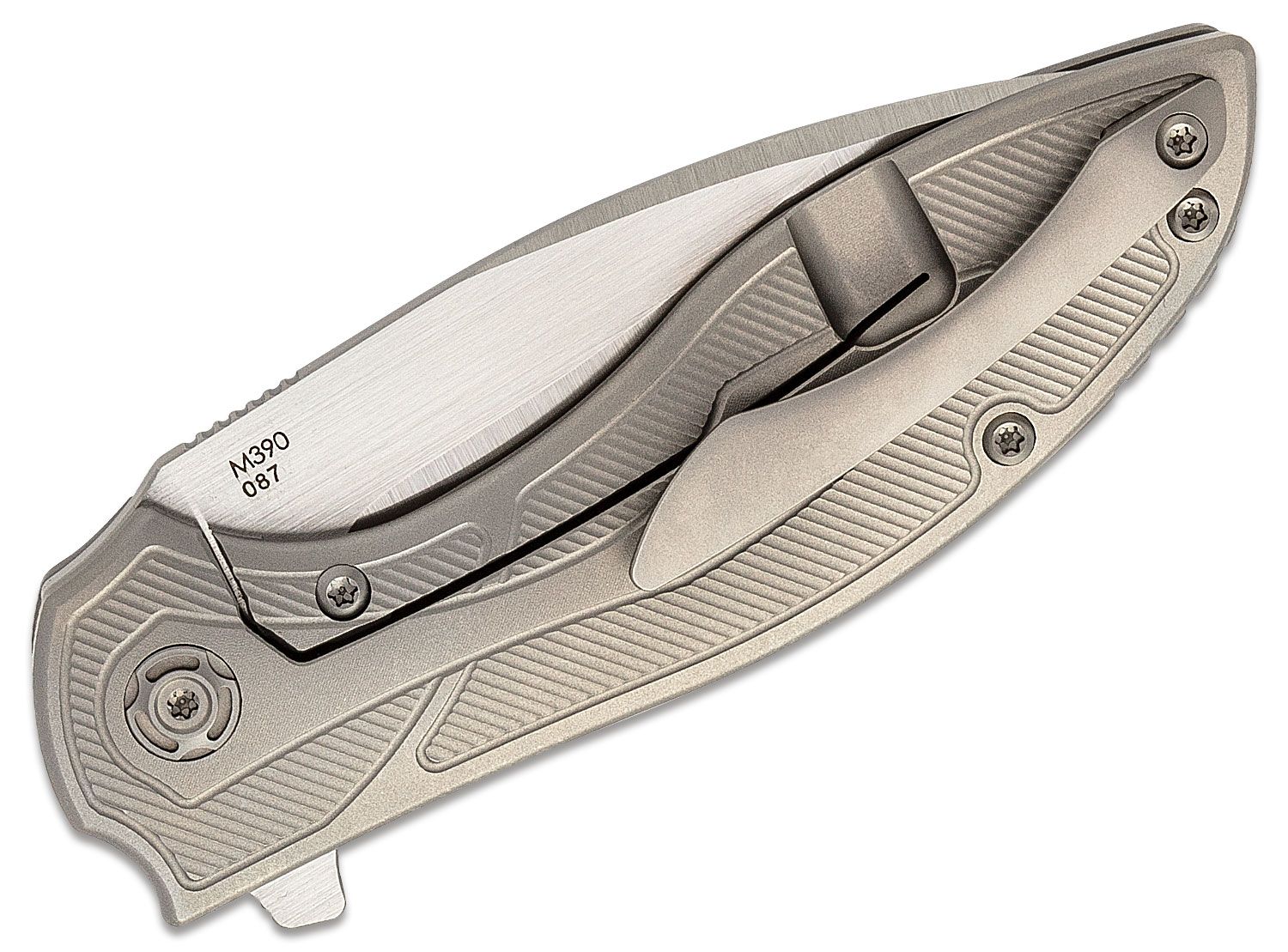 The M390 blade is well-sized for a folder at 3.25" long, and has a nice utilitarian spear point shape, with an edge that's all belly. There's a generous finger choil, and the titanium handle shape is comfortable to hold in just about any position. Also, the pocket clip works thoughtlessly. We've got a number of configurations in stock now with Micarta or carbon fiber inlays.
Blade Length: 3.25″
Cutting Edge: 3.15″
Closed Length: 4.29″
Overall Length: 7.53″
Blade Material: Bohler M390 Stainless Steel
Blade Thickness: 0.157″
Blade Hardness: 61HRC
Blade Grind: Flat
Blade Finish: Satin
Handle Thickness: 0.55″
Locking Mechanism: Frame Lock
Pivot Assembly: Ceramic Bearings
Pocket Clip: Titanium (Tip-Up, Right Carry)
Weight: 4.7 oz.
Bead Blasted Titanium Hardware
Made in China
---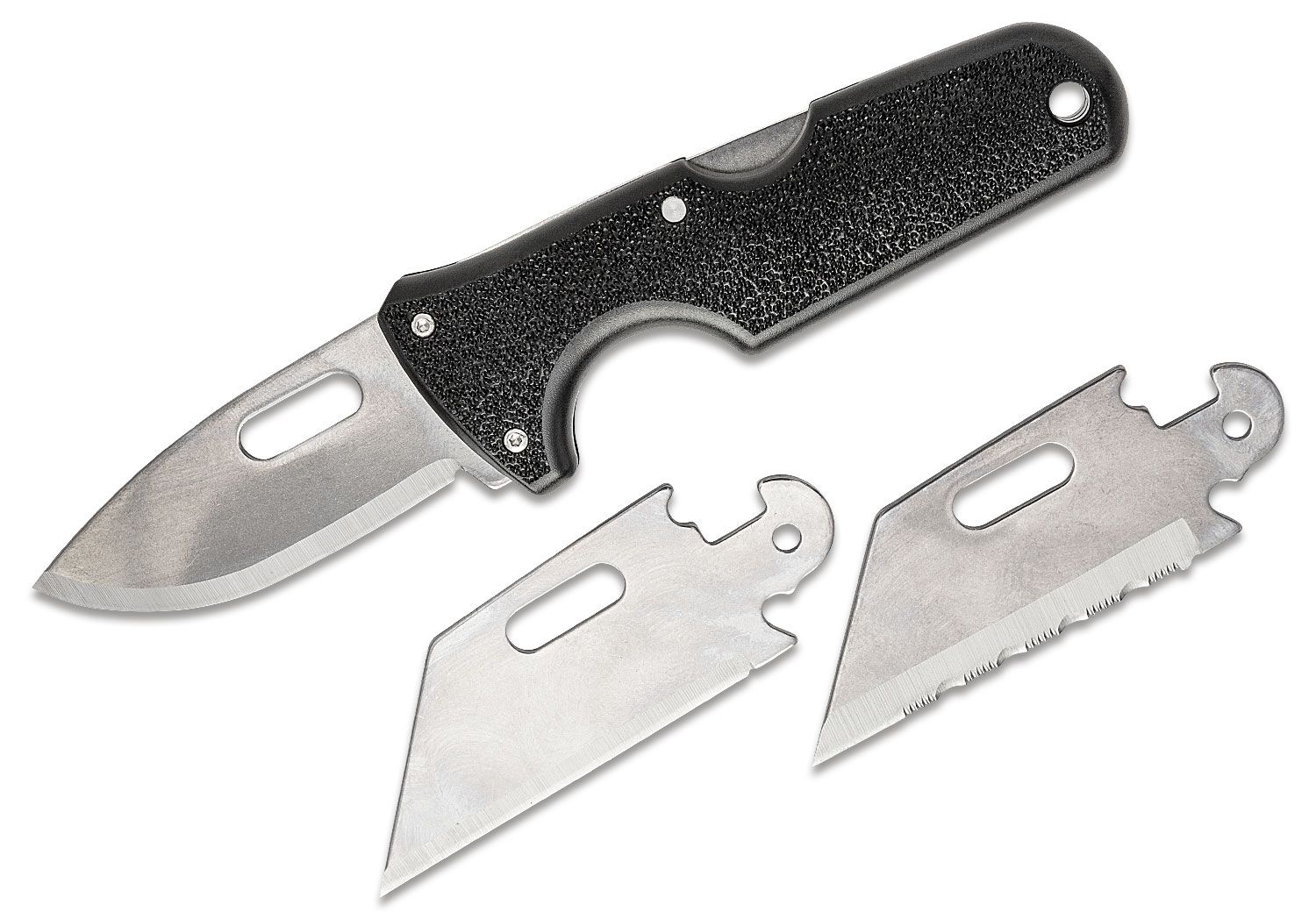 Utility knives have their place, but they have a few drawbacks that make them less than ideal: they're weak, and the handles they're attached to are often mediocre. Cold Steel offers a solution to both problems with their new Click N Cut series.
First the blades: available in either plain edge Wharncliffe, serrated Wharncliffe, or drop point shapes, they're twice as thick as a typical utility razor blade refill, and made from 420J2 steel – an inexpensive but dependable stainless alloy that should make them easy to resharpen, should you wish to do so. If you want a bulked-up version of a utility knife, the Wharncliffe blade is a natural choice, but it's nice to see the addition of a drop point blade as well. I could see the drop point working well for hunters who want a fresh edge for skinning work, or just anyone who wants a general-purpose knife that they can abuse with the confidence that comes from knowing the blade can quickly be replaced.
The handle is made from tough ABS plastic, with a prominent finger groove to keep your hand securely in place. What looks like a lockback is actually the blade release – even though the mechanism is inspired by Cold Steel's bulletproof Tri-Ad lock, the Click N Cut doesn't fold. Instead, the blades lock into position like an interchangeable fixed blade. For carry, the Click N Cut comes with a sheath that holds up to three extra blades as backup.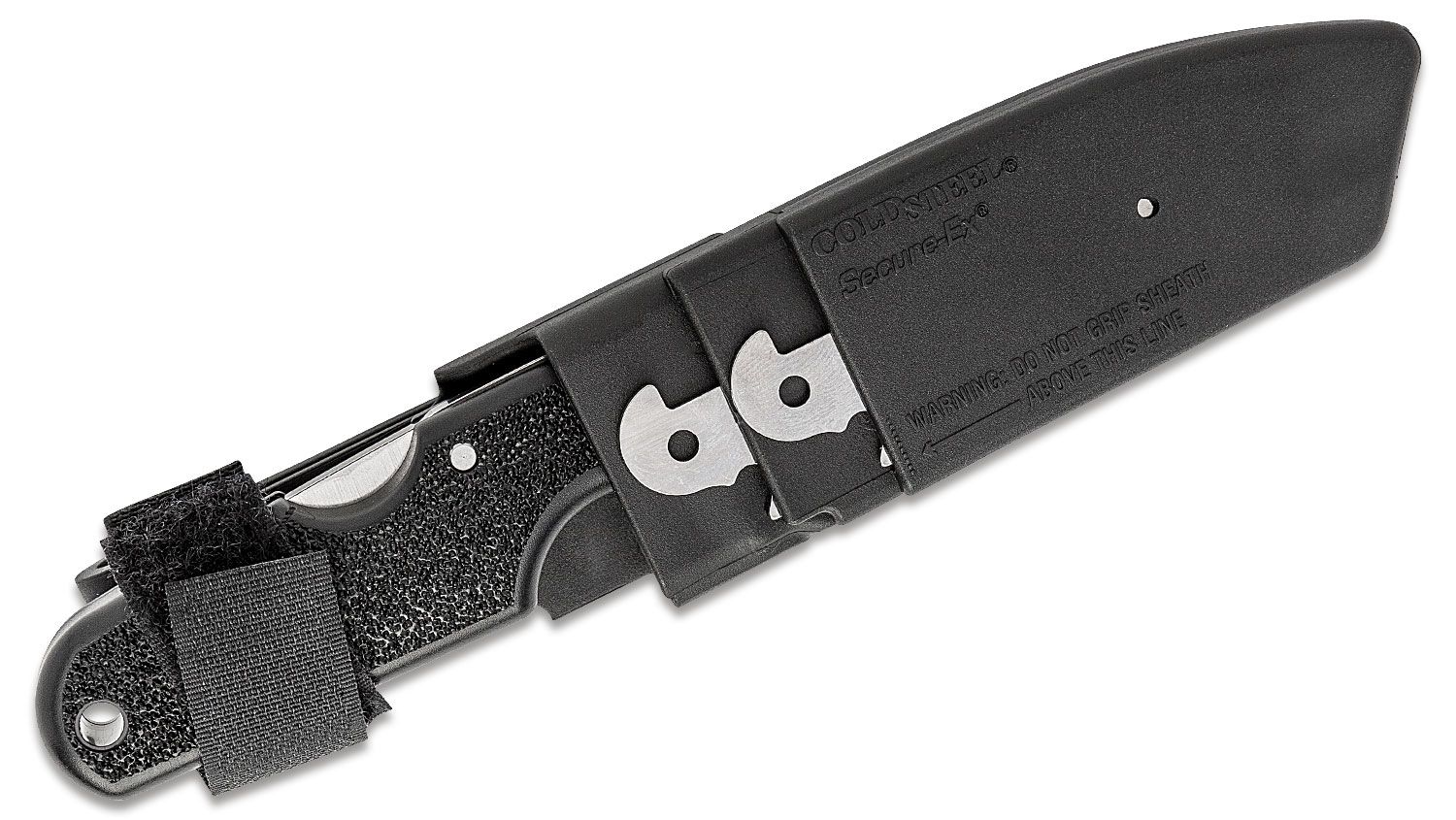 Blade Length: 2.50″
Blade Thickness: 1.5 mm
Overall Length: 6.50″
Steel: 420J2 Stainless Steel
Weight: 2.0 oz.
Handle: 4.0″ Long, made from high impact ABS
Locking Mechanism: Lockback
Sheath: Secure-Ex with 3 Interchangeable Blades
Made in Taiwan
---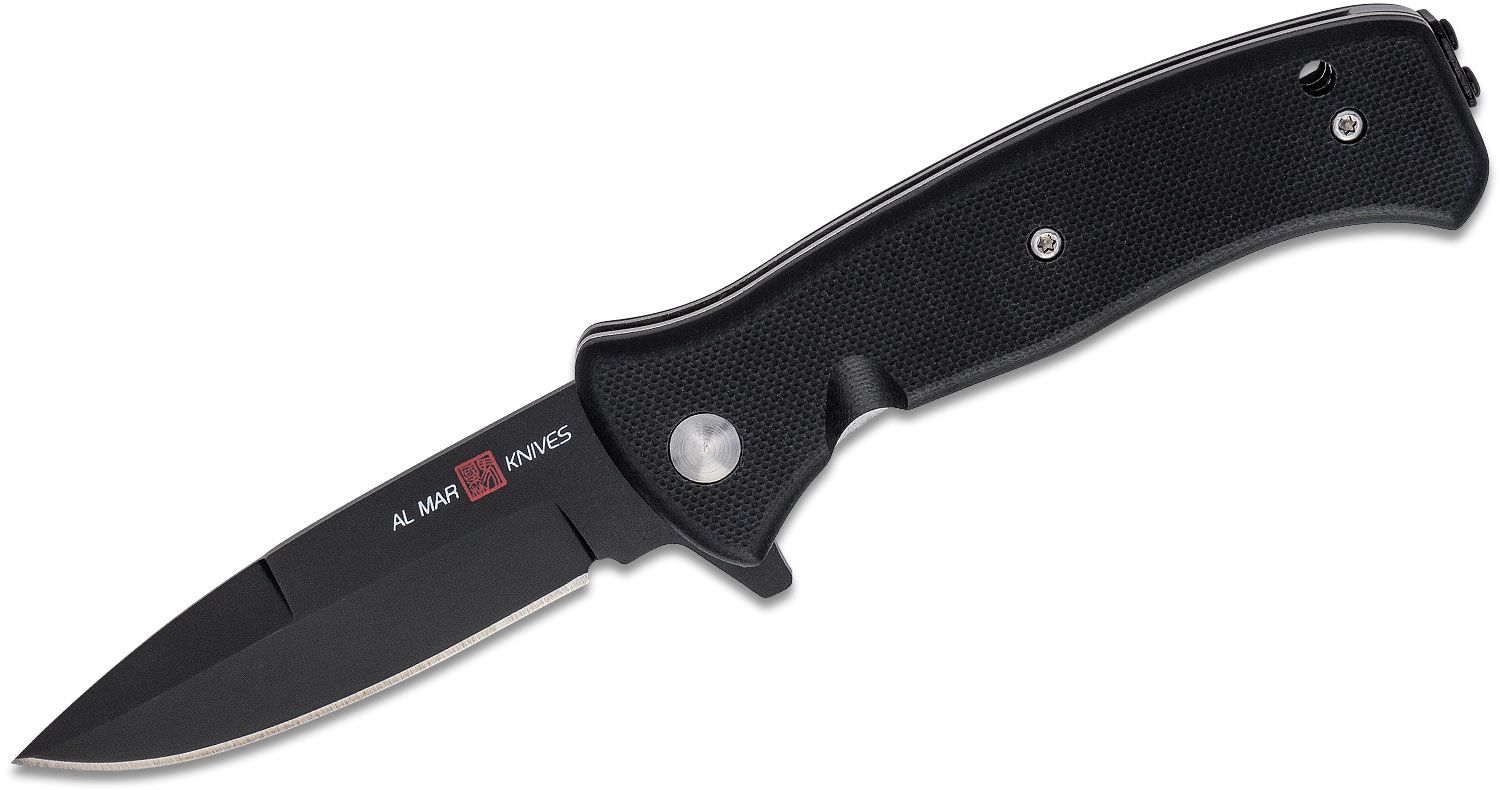 Al Mar Knives are back! Al's designs were ahead of their time, but were expensive and relatively hard to find, especially over the past few years when the company's future seemed uncertain. Now, his most popular knives have been retooled and are available again, including his famous SERE and Ultralight folders.
The 2020 SERE models have the same burly proportions of the originals, but have been tweaked to add assisted-opening flipper deployment for reliable operation. Available in small (3" blade) and large (3.6" blade) sizes, these have the same sturdy liner lock and ultra deep-carry pocket clip that made the design such a classic in the first place. Instead of the VG-10 steel found on the originals, these 2020 models all feature D2 steel, either satin finished or coated.
The new Ultralights come in two sizes – the 3.8" Eagle and 3.2" Falcon – with FRN or titanium scales and manual flipper deployment. The titanium versions feature D2 steel, while the FRN versions have 8Cr13MoV. They're definitely still made in the spirit of the original Ultralights: high performance modern folders that weigh next-to-nothing. The fact that they cost a fraction of the price is the cherry on top!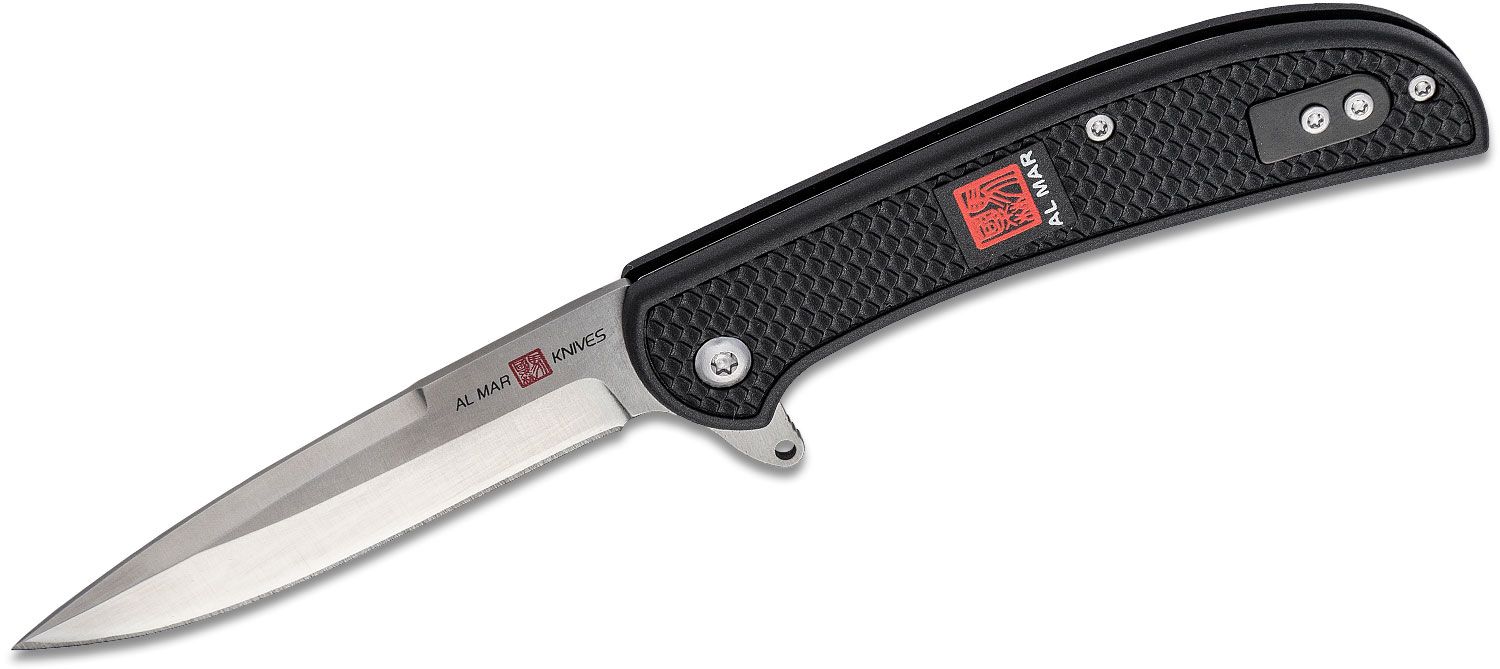 There are too many new Al Mar knives to list here, so click HERE to see them all – keychain fixed blades, bone-handled gentlemans' folders, and more!
---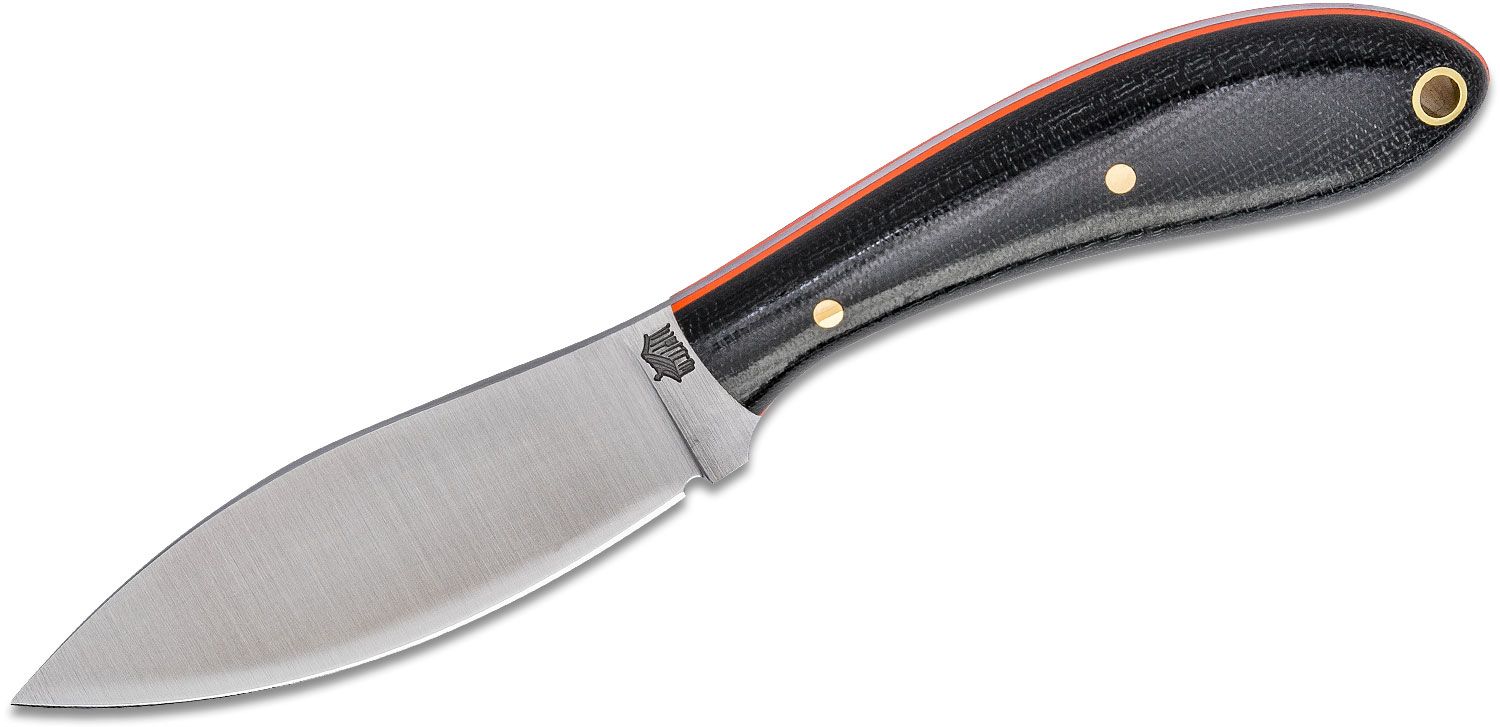 The Canadian Belt Knife is a unique fixed blade pattern that handles work with finesse and grace, despite its odd proportions. The Northern Hunter is L.T. Wright's spin on the pattern, and it really brings out the best in the blade. If you're looking for a hunting/outdoors knife or everyday carry fixed blade and are willing to try something a little more adventurous than the typical drop point hunter, this fixed blade should be on your shortlist.
The steel is AEB-L, a steel with a rare combination of high stainlessness and toughness, and the micarta handle is expertly finished by the craftsmen at L.T Wright. As with all their knives, the spine is crisp for striking a firesteel or scraping. There's just something inviting about the slender, yet curvaceous design of the Northern Hunter. Don't sleep on these if you're interested – stock is limited and we're not sure when they'll be back!
| | | |
| --- | --- | --- |
| | SMALL | LARGE |
| Blade Length | 3.5″ | 4.375″ |
| Cutting Edge | 3.125″ | 3.875″ |
| Handle Length | 3.625″ | 4.625″ |
| Overall Length | 8.125″ | 9″ |
| Blade Material | AEB-L Stainless | AEB-L Stainless |
| Blade Thickness | 0.08″ | 0.12″ |
| Blade Grind | Flat Grind | Flat Ground High Saber |
| Handle Thickness | 0.6″ | 0.9″ |
| Sheath | Leather | Leather |
| Weight | 2.8 oz. | 6.4 oz. |
---
Want to See More Great New Knives?