Boker is a company with a product range that is very wide. From their German made knives to the Argentinean made Arbolito knives and the more affordable Boker Plus brand, their products range from traditional fixed blade patterns, slipjoints, kitchen knives, multi-tools, tactical knives and more. It's too much to cover in just one session so we're going to be focusing on our favorite modern folders and pocket knives from their Boker Plus line here. Keep reading to see our picks
The Best Boker Plus Folding Knives Are:
Boker Plus Kwaiken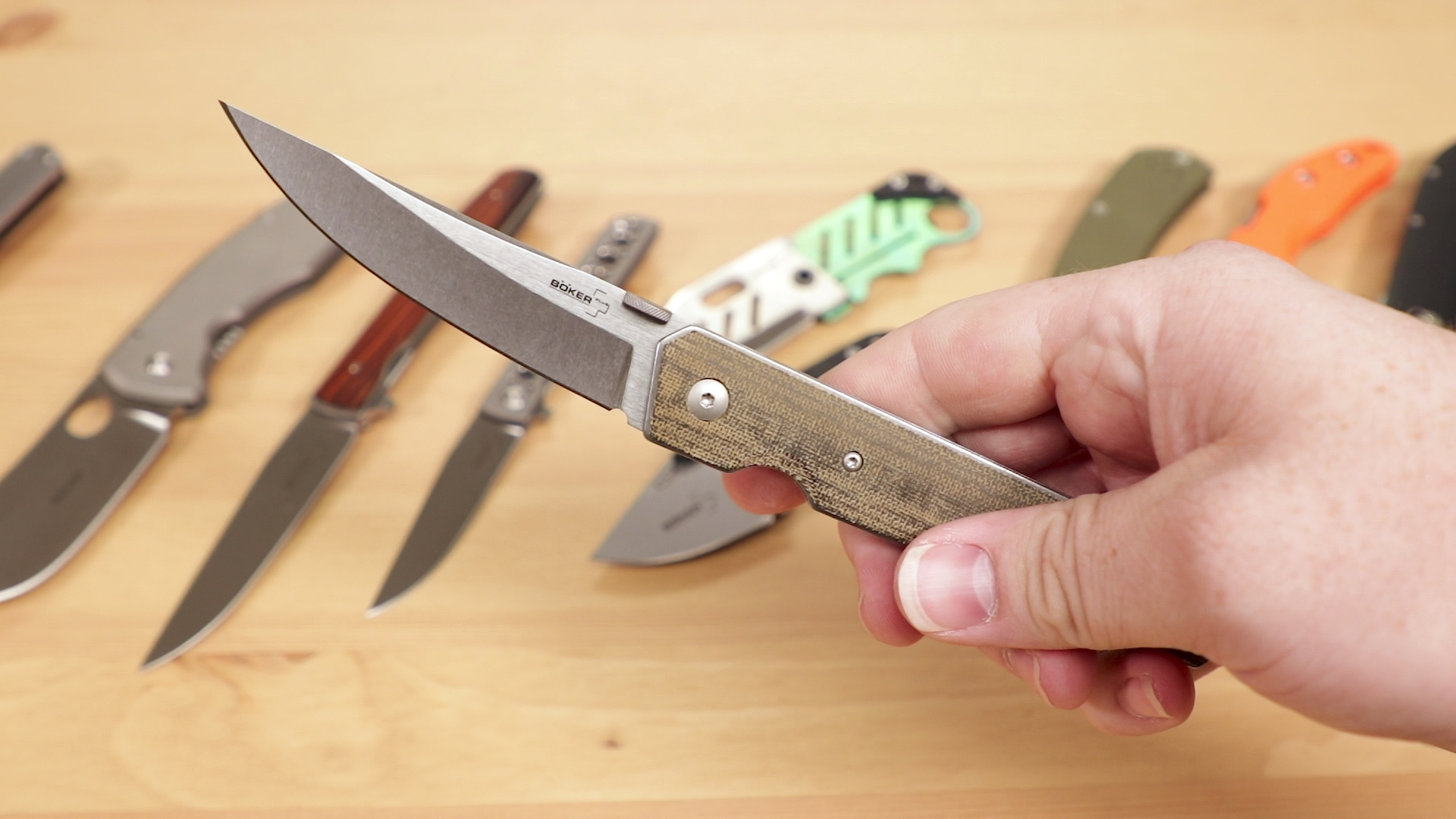 The Boker Plus Kwaiken takes inspiration from classic Japanese daggers, featuring a straight-backed blade and slender handle profile. Designed by Lucas Burnley, it has helped catapult the Kwaiken pattern to wider acclaim in recent years.
Like many of the blades Boker offers there is a ton of variation within this series utilizing a range of steels and handle materials, including simpler versions featuring stonewashed stainless steel handles, a frame lock, and a three-and-a-half inch D2 blade. You can step up to models with titanium frames, carbon fiber accents, and more premium steels, even automatic versions and models with a thumb-plate opener as opposed to a flipper. Pictured above is that version which sports green Micarta overlays that add a little bit of girth compared to some of the other versions. 
Boker Plus F3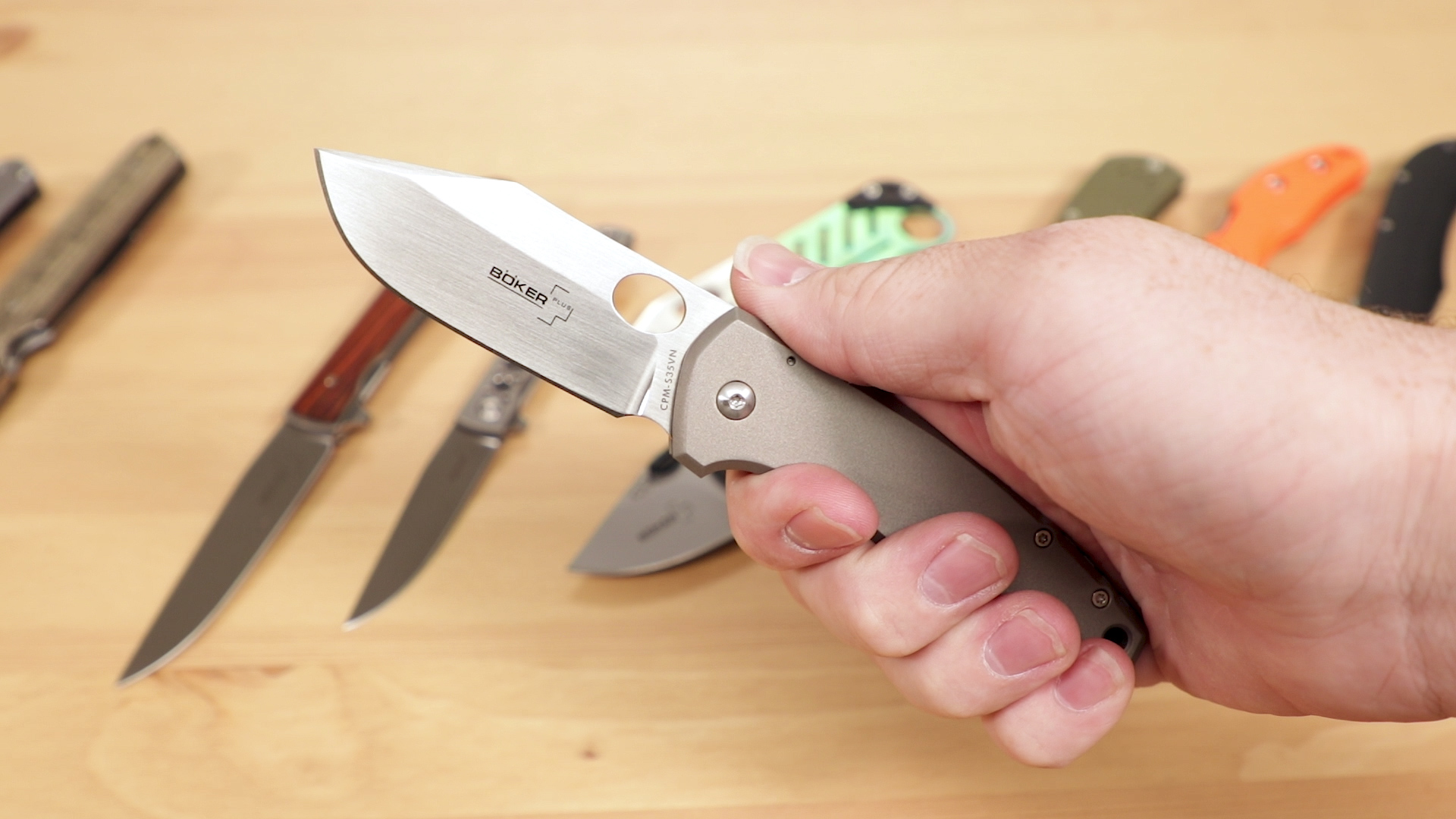 Burnley isn't the only big name they've collaborated with. They also worked with Jesper Voxnaes on the Boker Plus F3 and the slightly smaller F3 II. This is a titanium handled frame lock knife that is both stout and stylish, with fit and finish a lot better than its price tag would suggest.
There are a few nice features that help set this knife apart. The blade shape is instantly recognizable as a Vox design and it's made with S35VN steel. The blade also features a horizontal satin finish which you don't see too often outside of custom knives with a hand rubbed finish. We also have a blue anodized back spacer and pocket clip with two positions for tip-up or tip-down carry.
Boker Plus Urban Trapper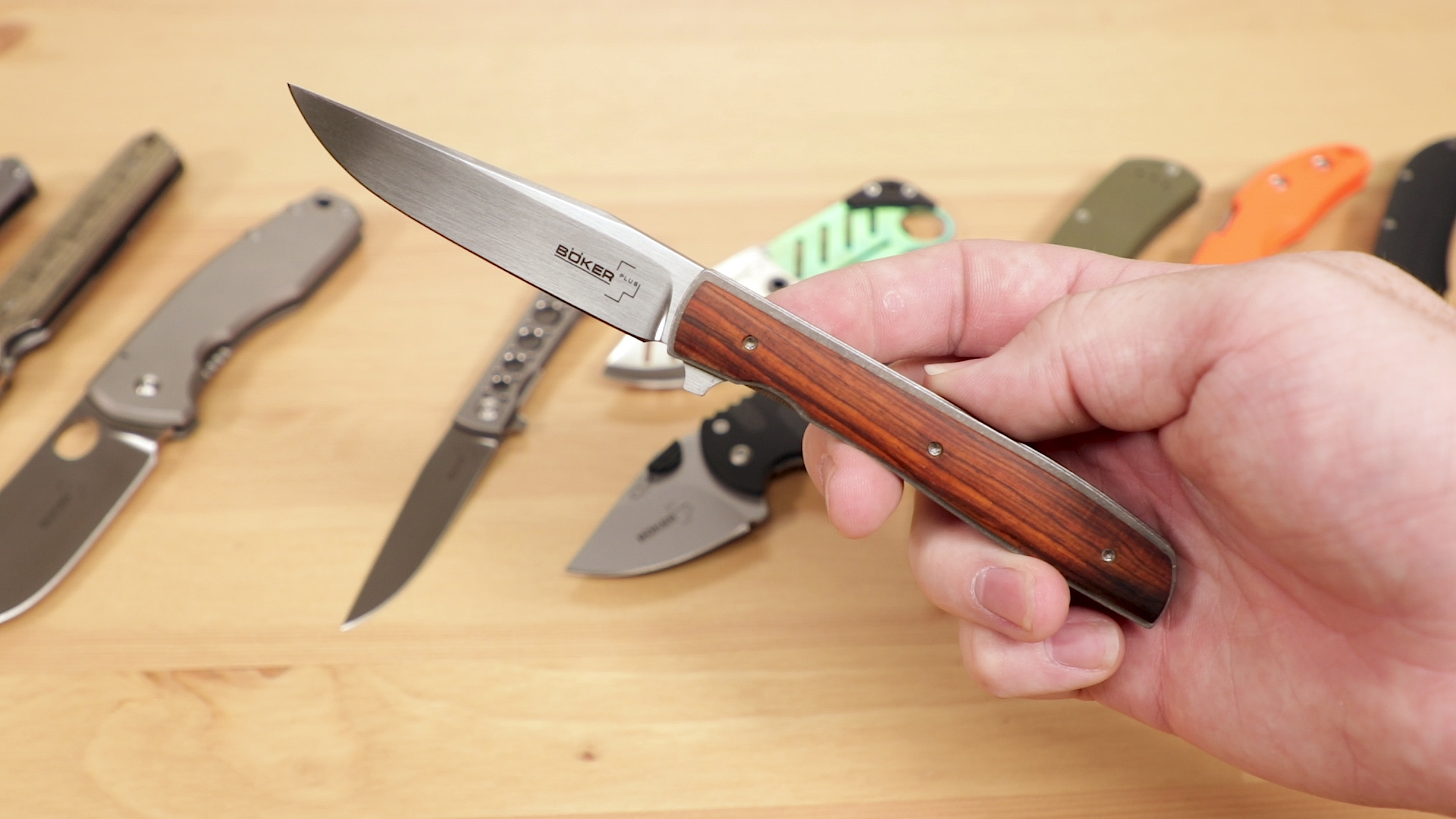 The Urban Trapper series designed by Brad Zinker is one of our favorite executive knife designs. It trades in the stout nature of the F3 for a more refined aesthetic with slim handles and a narrow profile that enable precise cutting and easy carry in your pocket. It's available in three different sizes with multiple handle options available across the range.
The Urban Trapper Petite has a two and three-quarter inch VG10 blade and our favorite version features a drilled and stonewash titanium frame. It absolutely disappears in the pocket thanks to that slim construction and a deep carry pocket clip.
The Urban Trapper Grand comes with a nearly four-inch blade, but the classic Urban Trapper comes in at a hair over 3.4 inches, and to us, it's the perfect size for this knife. You can get it in plain titanium or with carbon fiber scales or cocobolo scales across the range. They have features and niceties that you might not expect at this price point including the titanium frame, that same great horizontal satin finish, a crowned spine and some nice jimping on the flipper tab and lock bar. Thanks to the materials and construction, any Urban Trapper makes a great gentlemen's knife at a very attainable price point.
Boker Plus Credit Card Knife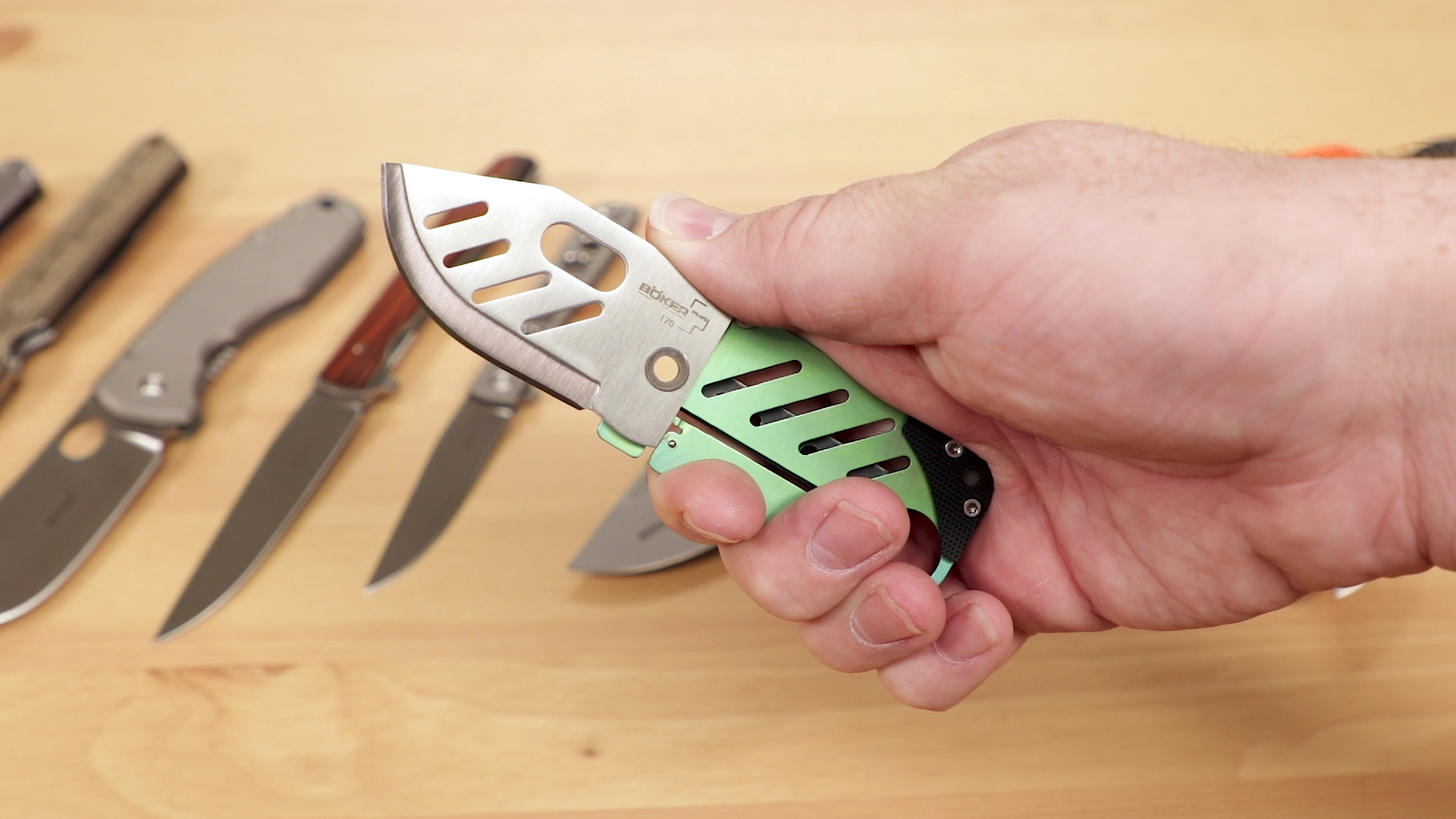 This knife is a little out of left field: the Boker Plus John Kubasek Credit Card Knife. It does come with a deep carry pocket clip and it can live very nicely in your jeans (especially in that little fifth pocket that doesn't get much other use) but if you want to remove the clip, this knife truly could live inside your wallet.
With the clip on it would also make a great money clip and it features a single-sided titanium frame lock and a single bevel 440C blade. Everything you need in a pinch to get some cutting done. There are also plenty of color options for the titanium handle, making it easy to find one that suits your preference.
Boker Plus Subcom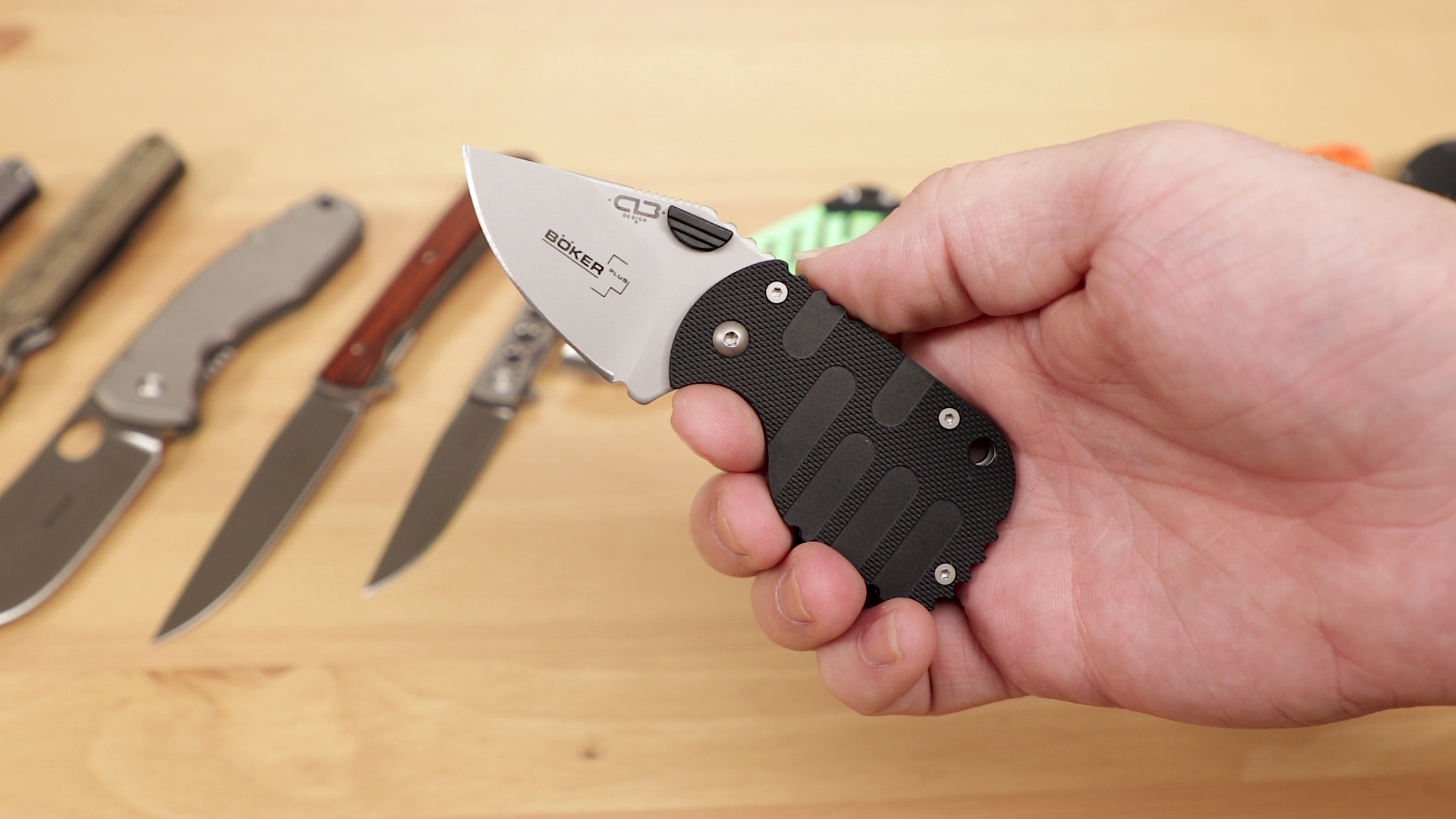 This next knife is one of the cornerstones of the Boker Plus lineup and that's the Subcom by Chad Los Banos. This is also great for that fifth pocket in your jeans and it was designed with a municipal friendly 1 7/8-inch blade. What's impressive about the Subcom is that it manages to feel very secure in the hand despite the short length. Because of the height of the handle, prodigious jimping and textured G10, your hand really locks into place with this knife. Overall it's a great option for those who need a smaller blade and it would be great in a bag or purse, a tool kit, glove box or even a backup blade for your everyday carry.
Boker Plus CLB XS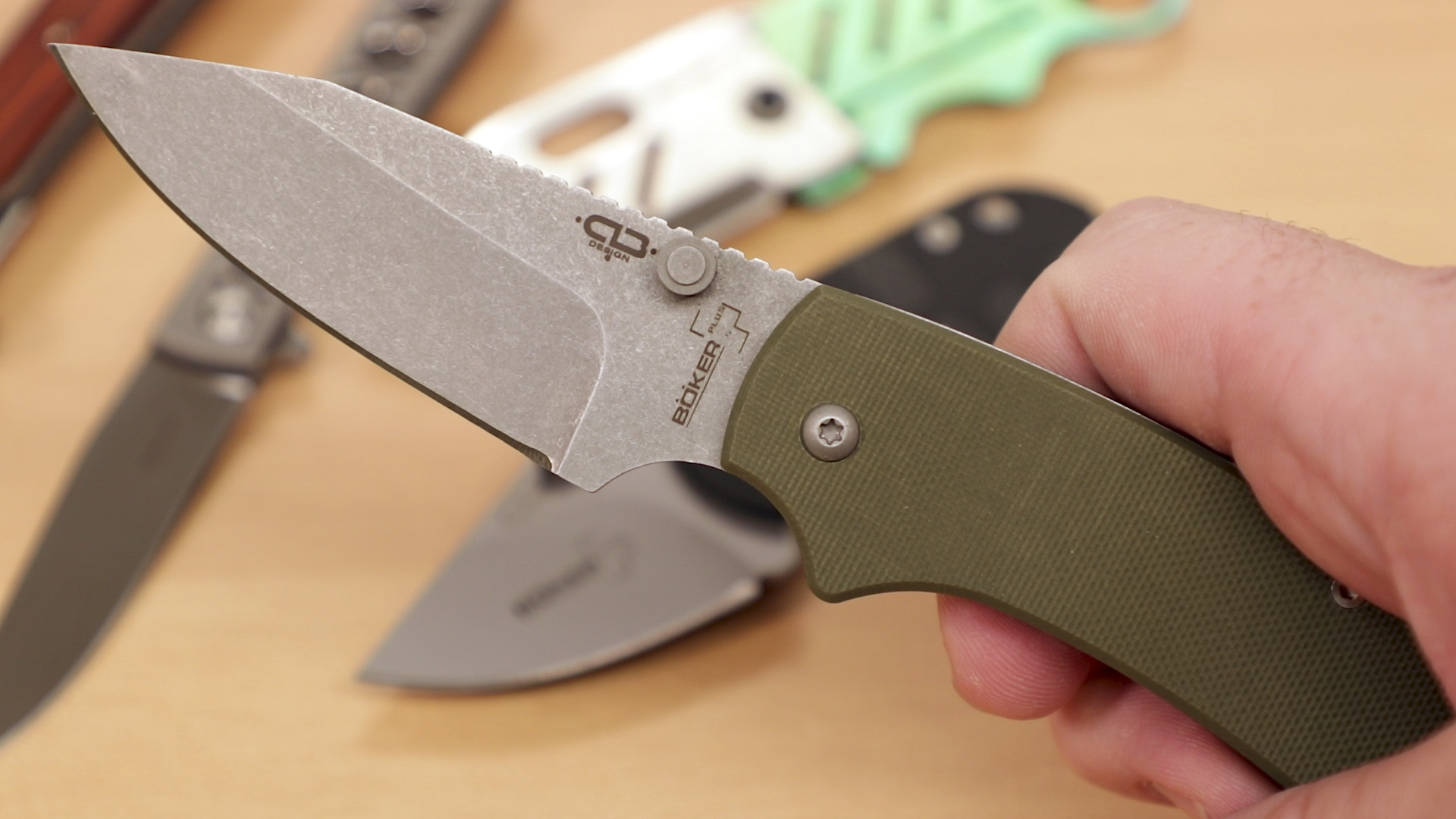 Another great Chad Los Banos design is the Bokor Plus CLB XS. It's a fully modern slip joint with a one-hand opening 440C blade and G10 handle scales. This is perfect for locales that restrict locking mechanisms on knives or even if you prefer the simplicity of a knife without a lock.
This knife can still be put to hard work though, an that's all thanks to the full-sized handle and a finger choil that spans the handle and the heel of the blade to create a stop against accidental closure.
Boker Plus USA Folding Knife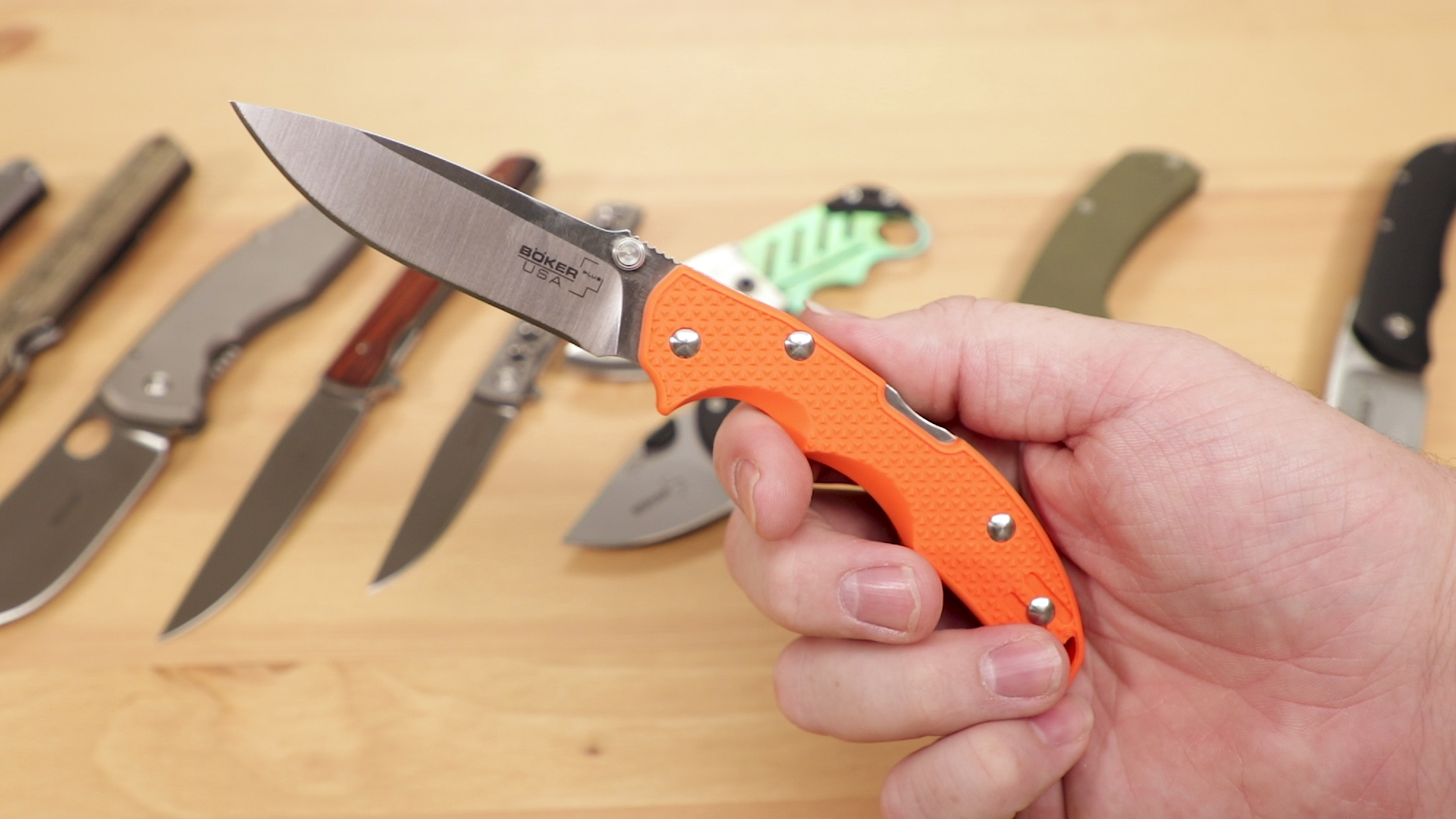 The American-made Boker Plus USA Folding Knife Series is built to work with fiberglass reinforced nylon handles in multiple colors and 154CM steel. There's a nice amount of texture on the handles and thanks to the finger grooves, it enables a firm handhold. The mid-mounted lock back on this knife even features a David Boye dent to help prevent accidental closure.
The star of the show is the shape of the drop point blade. This shape is universal and there's just enough length at 3 3/8 of an inch to handle nearly anything. Also, even though there's not a full-sized finger choil in front, there is enough space to pinch up with your index finger to enable even finer cutting.
Boker Plus Exskelibur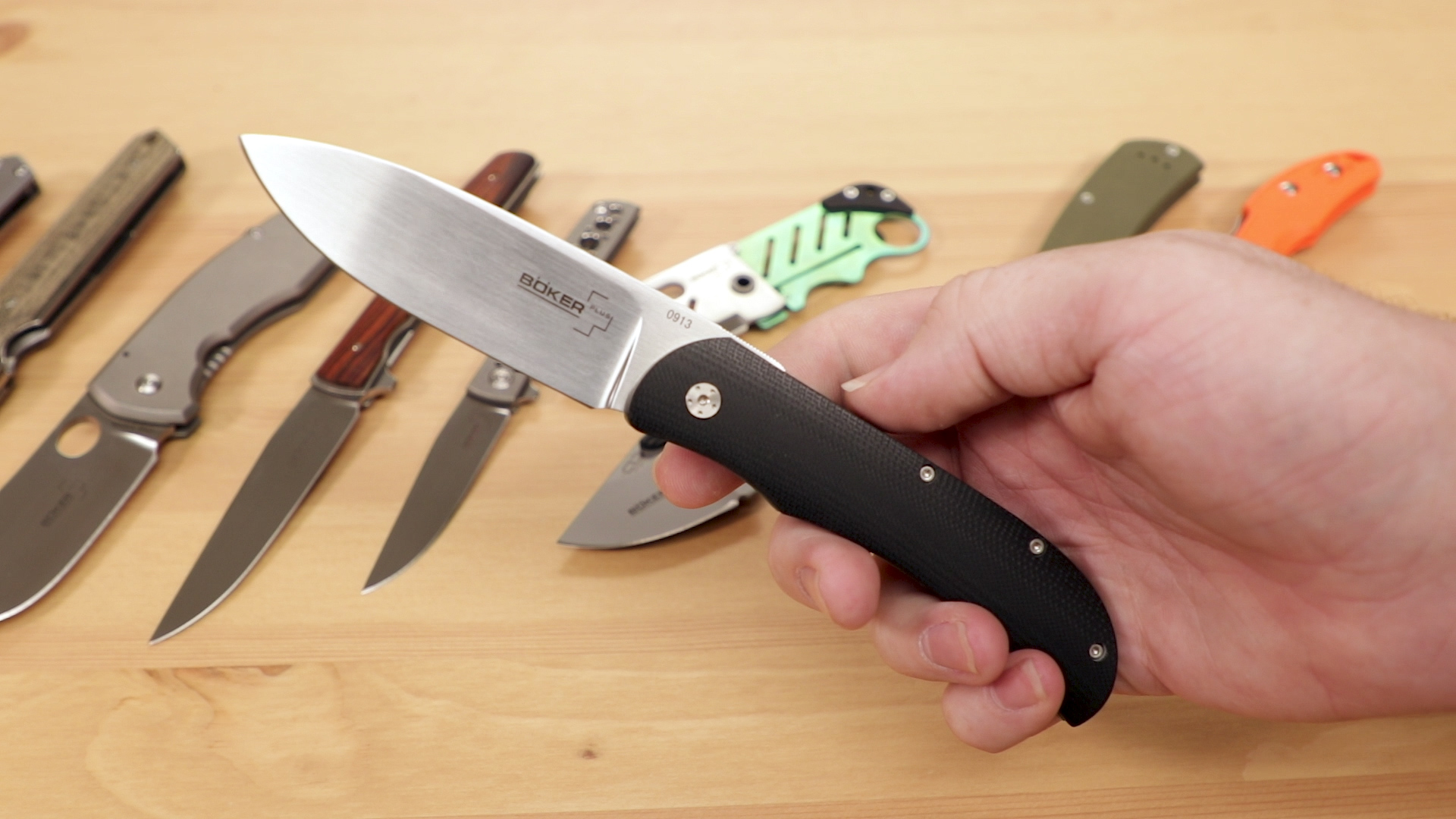 The Exskelibur Series provides the perfect bridge between the modern Boker Plus designs and the more traditional Solingen-made German Boker knives. Because of the success of this series you can find a lot of variety.
The Exskelibur I features a 3 1/2 inch blade with a front flipper design. The version pictured above features a VG10 drop point blade with a high hollow grind and that great horizontal satin finish. It also features a nice radiused G10 handle that is streamlined and very comfortable in the hand for an extra touch of class. The knife also has a brass anodized titanium pocket clip and liner lock along with a nice pop of red with another thin liner next to the G10 backspacer.
The smaller Exskelibur II is even more pocket-friendly with a two and three-quarter inch blade and it trades in the front flipper for a nail nick for two-handed operation. There are also upgraded models that feature a titanium handle, frame lock, S35VN blade steel, and open-backed construction.
As you can see there's a lot of variety in the Boker Plus lineup and the way they bring these products out at a very competitive price is compelling indeed. If you want to get your hands on any of these knives or what other knives they have for sale click here to head over to KnifeCenter.com