We are back from BLADE Show 2019 and we saw some really cool stuff while we were there. If you want to know the best knives and gear from the show we've broken it down for you. These are my personal favorites, in no particular order, from BLADE Show 2019.
The Best of BLADE Show 2019
Spyderco Endela
The first is the Spyderco Endela. If there was a theme to Spyderco's offerings this time around it was definitely the lightweight variants of some of their most popular models.
The Endela perfectly splits the difference between the smaller Delica and the larger Endura models to create a knife that many are saying is just the right size. It has all the same features that have made those other two knives a lasting part Spyderco's lineup. Bi-directional FRN, a strong lock back, four-position pocket clip and a VG-10 blade with a full flat grind.
Cold Steel FGX Tanto Balisong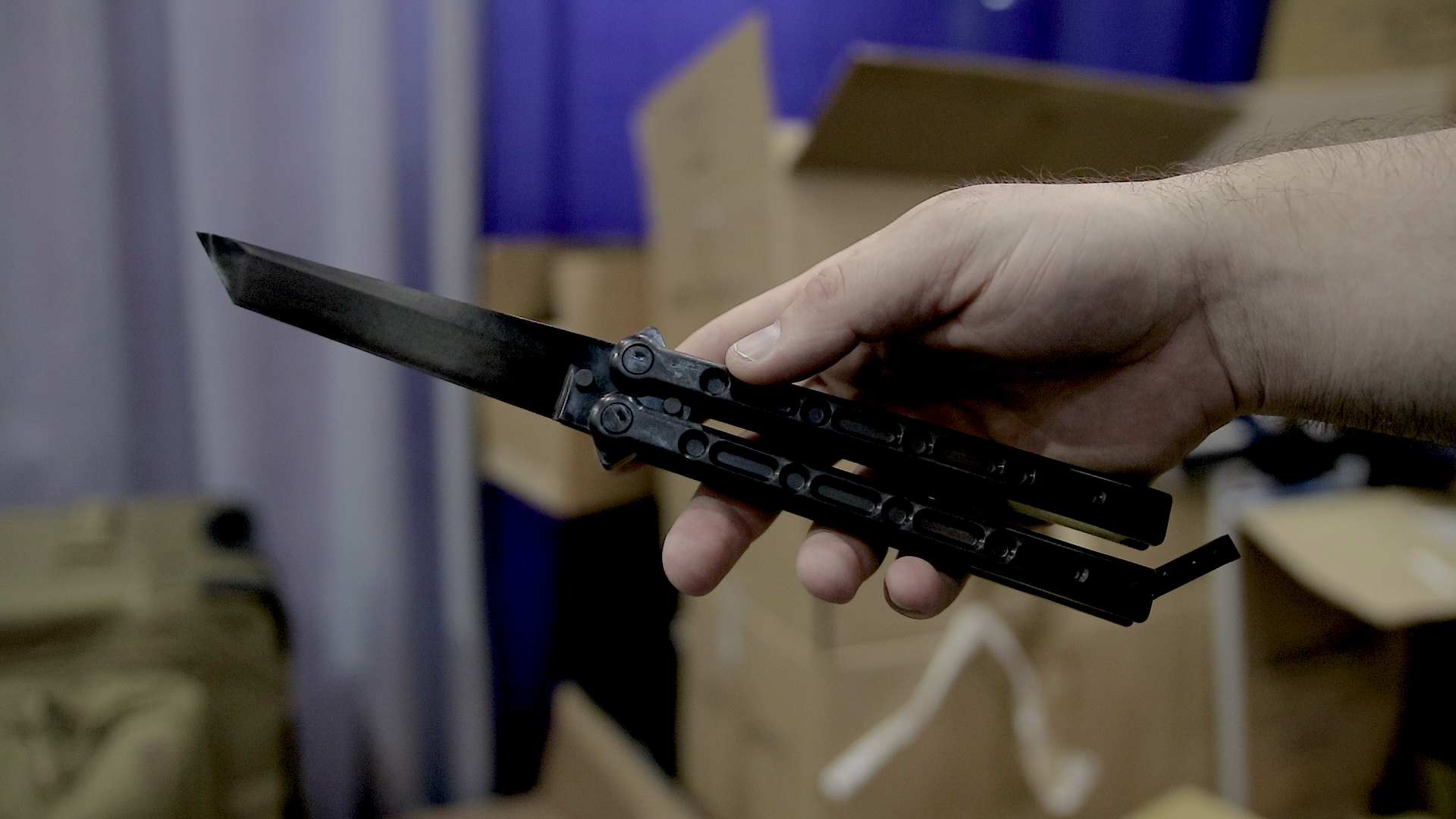 Keeping with the lightweight theme, the next thing I'm excited about is a new variant of the FGX Balisong from Cold Steel. The FGX Balisong contains no metal parts at all, being made entirely from synthetic materials. The first version featured a serrated, double-edged spear point blade, but the new FGX Balisong Tanto features a plain edge synthetic tanto blade. These are fun to flip and functional too but they're not a toy. There were piles of cardboard at the Cold Steel booth that could attest to how sharp this blade is!
BRS Nexus
Speaking of balisongs, we got to see a prototype of a new offering from BRS, the Nexus. Their aim was to create a butterfly knife that was built for top-notch flipping without the sticker shock of many of the capable knives out there today.
They're going to be using GFN handles, stainless liners, and 440C blade steel. The pricing hasn't been announced yet but they are aiming to be highly competitive with this product. We can't wait for these to come out.
Artisan Cutlery CJRB Line
Now speaking of highly competitive pricing, by now you've probably seen a lot of great things from Artisan Cutlery. They already do a lot with high-end materials, but they are looking to bring their great build quality to an even lower price point.
To that end, they're launching a new sub-brand called CJRB. They're going to be using materials like G10 and D2 steel to keep the prices down but they're going to be built with the same ceramic pivots and put together by the same people that build the Artisan knives.
The prototypes we saw at the show didn't have any names or finalized pricing yet, but I was really impressed by the feel and the action of all of them. I was especially impressed by the drop point model and how versatile it looks like it's going to be. Once it's released it's going to be a contender for the budget knife to beat.
CRKT 25th Anniversary Homefront
Now let's get into some higher-end things and we're gonna start with CRKT. That's right, CRKT is making a push into the higher end by collaborating with LionSteel.
In celebration of their 25th anniversary, they are releasing a limited run of the award-winning Homefront designed by Ken Onion. It still features that same great Field-Strip mechanism that allows you to disassemble the knife with no tools, but now it features a full titanium frame with a frame lock instead of a liner lock. It also features a stonewashed M390 blade, a definite upgrade. I've always loved the Homefront and the original is still awesome, but this limited version is truly premium and puts the design in a whole new light.
We Knife Co. Synergy 2
This next knife is technically an update as well. We Knife Company has released the Synergy 2, a modernized version of the SpeedTech Synergy.
This design was originally released in 1999 and was way ahead of its time, winning the Most Innovative American Design at the BLADE Show that year. It was the first fully integral knife from a production company and it featured a button lock and a floating ball bearing pivot. Those things may be common today but they certainly weren't at the time.
Since that was the only knife that SpeedTech ever produced and they only made 200 of them, the design was ripe for bringing back into production, and Jim O'Young (the knife's designer) found an eager partner with We Knife Company.
The Synergy 2 still features integral construction, although it uses titanium instead of the aluminum on the original. It comes with a sturdy frame lock rather than the button lock, and instead of a thumb stud, it is equipped with a flipper. We Knife Co. does flippers very well and the action is excellent. Blade steel is M390 and in addition to the trailing point blade like the original, there will also be a tanto blade. The history behind the knife is cool enough on its own but it certainly helps that the profile is still distinctive and eye-catching even after all these years.
Chris Reeve Sebenza 31
One of the biggest pieces of news from the show is the new version of the classic Chris Reeves Sebenza. The new Sebenza 31 looks great and it's going to supersede the Sebenza 21.
It still looks like a Sebenza should but small improvements have made it even better. They've incorporated the ceramic lock bar interface that appears in the Inkosi for more longevity and they've also angled the pocket clip so that it no longer rests on the lock bar.
The biggest visual difference comes on the inlaid models. Rather than the two strips of inlay like you see on the 21, they've fitted a larger, single-piece inlay that can really show off the grain of the wood when using some of those nicer materials. All in all, it looks like the Sebenza 31 is set to maintain its position as one of the most desirable production knives in the world.
Benchmade/Work Sharp Edge Maintenance Tool
Next up are a few items that are on my short list to purchase myself. First is the EDC Edge Maintenance Tool from Benchmade and Work Sharp. I'm a big advocate of using a strop to maintain a keen edge but they've never been easy to carry in a pocket until now.
This little unit folds out to reveal not only a compound loaded strop but also a ceramic honing rod. It has angle guides to help you maintain the right degree of precision and thanks to the pocket clip, this is a great option for carrying an edge touch-up tool wherever you go.
Hogue Deka
Next is the Hogue Deka, celebrating their 10th year in the knife business. The prototype they brought along was very nice. It featured slim handles, a thin 20CV clip point blade, and their ABLE-Lock which is a joy to use. I really loved the size for EDC – not too big or small – and the version they had at the show had a really cool set of G10 handle scales with a copper inlay pattern. I can easily see this becoming one of Hogue's most popular designs.
Liong Mah KUF 2
Last but not least is a knife designed by Liong Mah and made by Reate Knives. The Liong Mah Designs KUF 2. KUF stands for kitchen utility folder and with my love of cooking, I was instantly drawn to the blade.
Let's be honest I probably use a kitchen knife more than any other blade, and even if I don't wind up using this knife for any sort of food prep, the blade shape is both different and new yet instantly familiar.
The handles are titanium, as you would expect, with a frame lock and M390 steel. If that wasn't enough, a cool top flipper puts a new spin on the front flipper. Between it and the large blade cutout, this knife has a ton of opening options for plenty of fidgeting fun.
Beyond that, it looks ready to work. The inlays are nice and the shape of the handles felt great. I'm eager to put this knife through its paces.
Tell Us What You Think
So those are my favorites from BLADE Show 2019. Let us know what you think of the picks and let us know what your favorites were. In the meantime keep an eye out on KnifeCenter.com. If these items aren't already up they will be soon.