Tired of trashing cheap pocket knives? This list is for you! These hard use knives are built to tackle jobs that might wreck weaker tools. If you want a pocket knife you can treat with impunity, here are our picks for the best options available in 2020: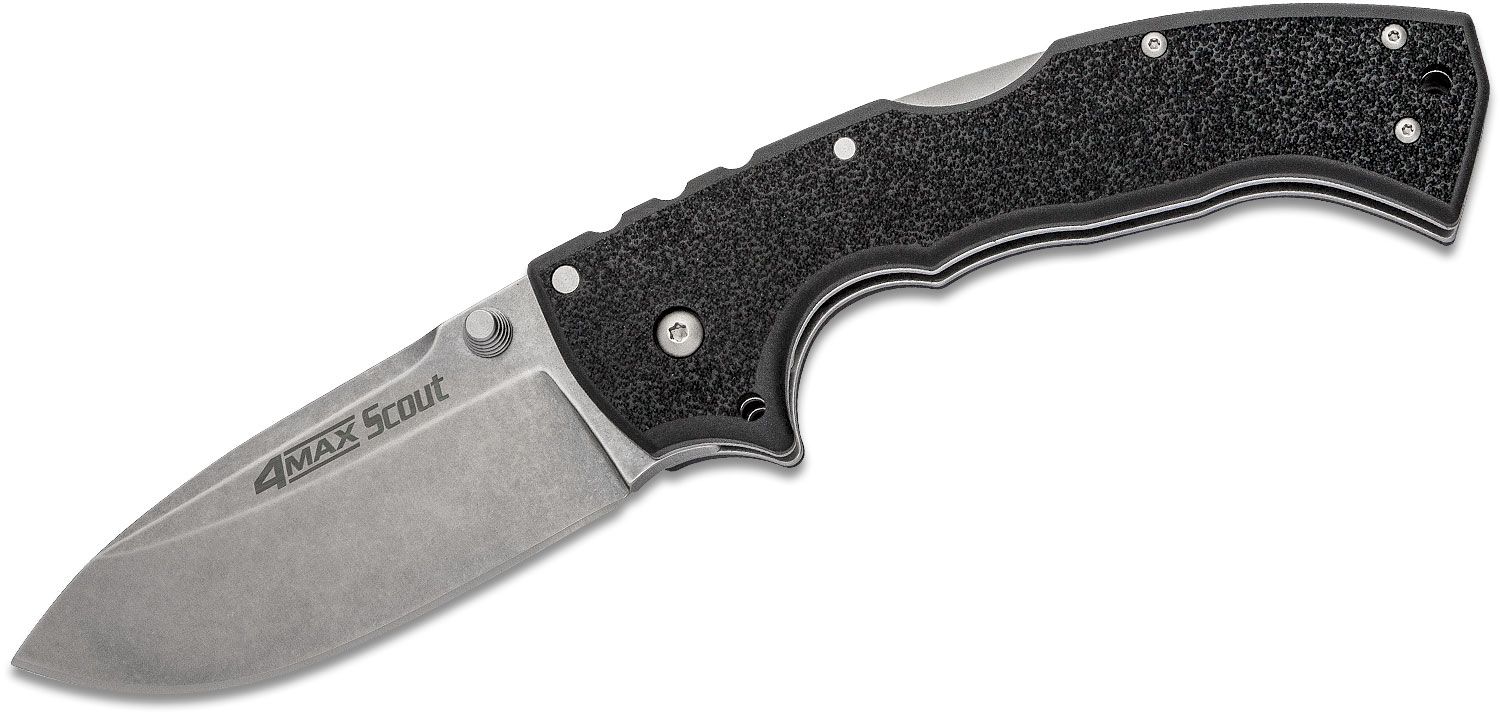 Kicking the list off with a heavy thud is the Cold Steel 4Max, a gargantuan folder with strength to match. When it was first introduced, Cold Steel billed the 4Max as the toughest folder they ever made. Coming from them, that's quite the boast – their other Tri-Ad lock knives are already some of the strongest out there.
The 4Max gets its name from Andrew Demko's original idea for the design: a four-inch folding blade with the maximum amount of edge. In hand, it's impressively big, especially the handle, which provides more than enough leverage to power through tough cuts. You can carry it clipped to a pocket, but you might not want to – this is a serious pocket hog. Still, for the size and weight, the 4Max has outsized capability.
New for 2020, the 4Max Scout is a big improvement over the original in one key area: price! The original 4Max – made in the USA, then Italy, from premium materials – was priced too high for many. The titanium liners, sculpted G10 handles, and 20CV blade steel of the original are awesome (and it's still in stock as of now), but the 4Max Scout – made in Taiwan and priced at $110 – makes more sense for most people. It may not have the same top-shelf materials and finishing, but it's just as strong and much more affordable.
Item Number: 62RQ
Blade Length: 4.0″
Blade Thickness: 4.8 mm
Overall Length: 10.0″
Steel: AUS-10A Stainless Steel
Weight: 10.2 oz
Handle: 6.0″ Long, made from Griv-Ex polymer
Locking Mechanism: Tri-Ad
Pocket Clip: Tip-Up, Right/Left Carry
Made in Taiwan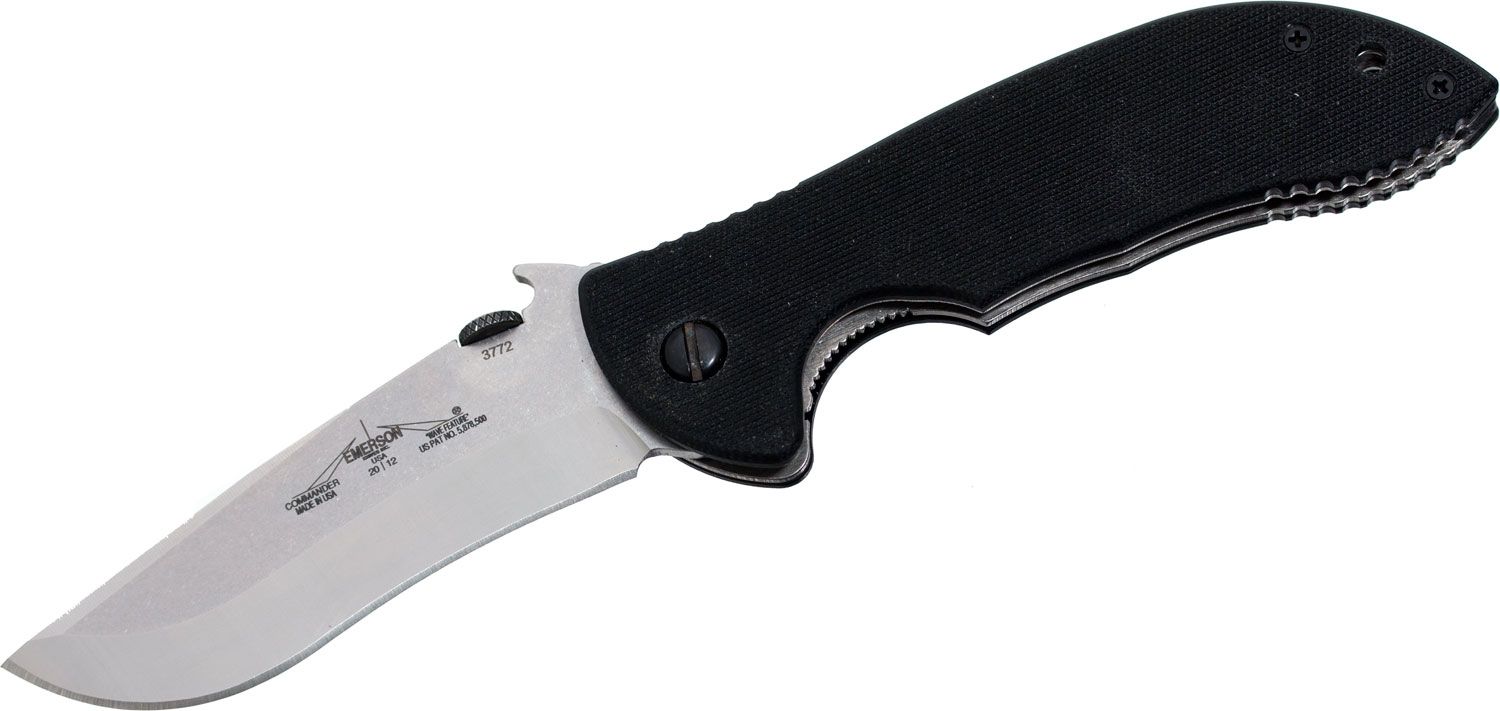 If the Cold Steel 4Max specializes in strength, the Emerson Commander specializes in speed. The Commander design was the first to feature Emerson's patented Wave opener, which works to deploy the blade as you pull it out of your pocket. With practice, there's no faster way to open a knife than the Emerson Wave. It's fun, too – the knife cracks out with whip-like speed, moving from pocket to task in a single, uninterrupted motion.
Ernest Emerson designs his knives with user serviceability in mind. You can take them apart and put them back together with commonly available screwdrivers (Standard and Phillips – no special Torx bits required). The liners and hardware are oversized for strength. His choice of blade steel, 154CM, is corrosion-resistant, tough, and easy to sharpen; perfect for a hard use application. Even the trademark asymmetrical Emerson edge is designed with maintenance in mind, and meant to be simpler to "field sharpen" on whatever abrasives are at hand.
We could have selected any one of a number of Emerson designs for this list, but we picked the Commander because of its exceptional ergonomics and the fact that it's available in a range of sizes, from the Mini-Commander up to the Super Commander listed below. Overall, if you want a hard use knife that is literally battlefield-tested, you won't go wrong with an Emerson Commander.
Overall Length: 9.5″
Blade Length: 4″
Blade Thickness: 0.125″
Hardness: 57-59 RC
Weight: 6.8 oz.
Designer: Ernest Emerson
Made in the USA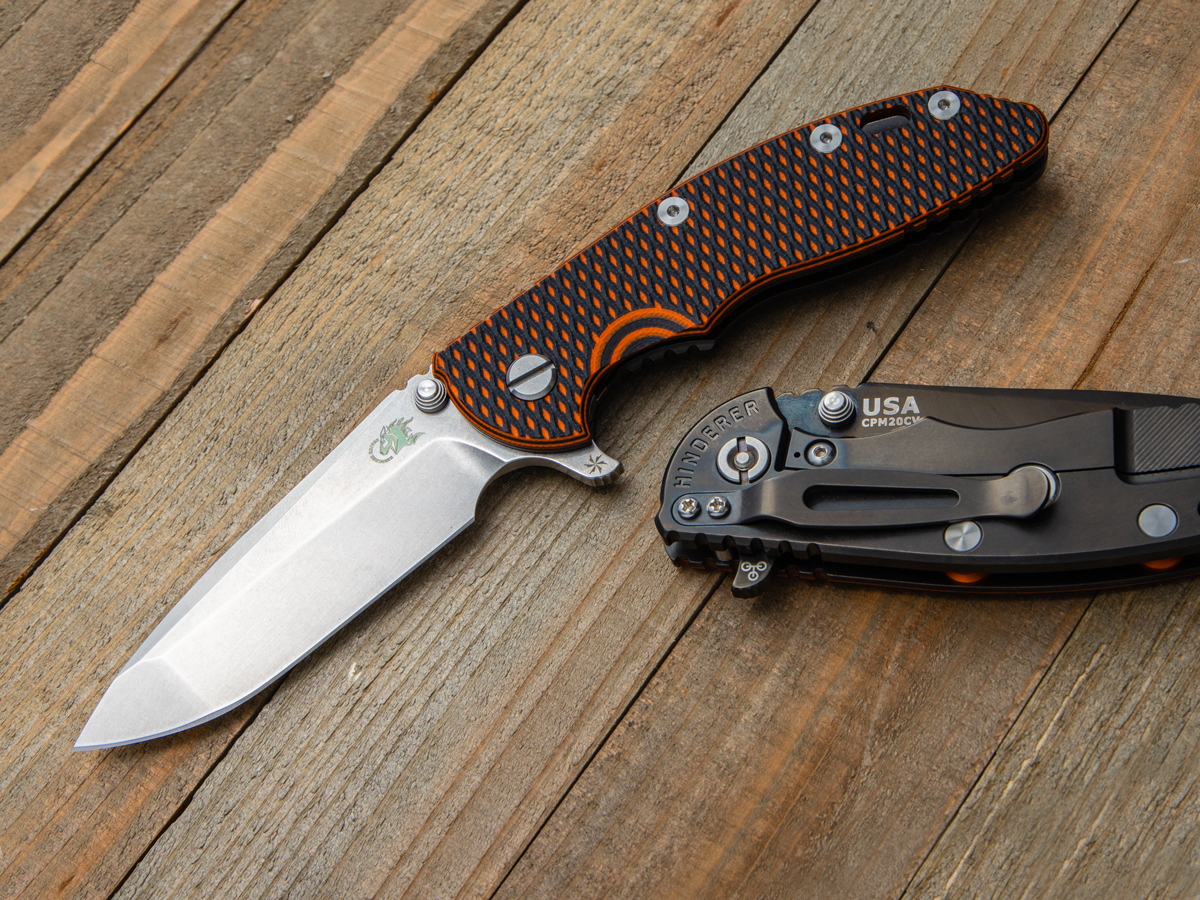 No list of hard use knives would be complete without mentioning the Hinderer XM-18. This is THE knife that kicked off the titanium framelock flipper craze, and to this day, few production knifemakers can match it.
Some of you may remember the days when Hinderer knives were impossible to order unless you were a first responder – when demand was high and supply was tight, Hinderer would only take orders from the customers he felt needed his products the most: firefighters, police, military, and EMTs. The ergonomics, materials, and blade geometry of Hinderer's knives are optimized for hard use, and they feature innovations built specifically to stand up to rough work.
As he tells it, Rick Hinderer – a firefighter himself – went to use his knife one day when he noticed that its lock bar had been bent beyond repair. In an adrenaline-fueled moment, he had overextended the lockbar without noticing or thinking about it. Disappointed in a tool that needed attention he couldn't afford to give it in the heat of the moment, he invented the Hinderer lockbar stabilizer, the trademark disk on the lock side of his knives that keeps the lockbar in place and prevents it from ever being bent too far.
Since the original XM-18 took the market by storm, Hinderer has continued improving his knives, iteration after iteration. The latest batch of XM-18s are unquestionably the best yet, featuring steel lockbar inserts for stable lockup over time, and the new Tri Way pivot system for exceptionally smooth and fast operation. Attention to details like those are why so many people buy Hinderer knives, and why the XM-18 is still worth considering if you need a high-end hard use knife.
Blade Length: 3.50″
Cutting Edge: 3.25″
Closed Length: 4.75″
Overall Length: 8.25″
Blade Material: CPM-20CV Stainless Steel
Blade Thickness: 0.165″
Blade Hardness: 60-61HRC
Handle Material: G10 and titanium
Handle Thickness: 0.53″
Liner Material: Titanium
Locking Mechanism: Frame
Pivot Assembly: Bearings
Pocket Clip: Titanium (Tip-Up/Down, Right Carry)
Weight: 5.5 oz.
Designer: Rick Hinderer
Made in the USA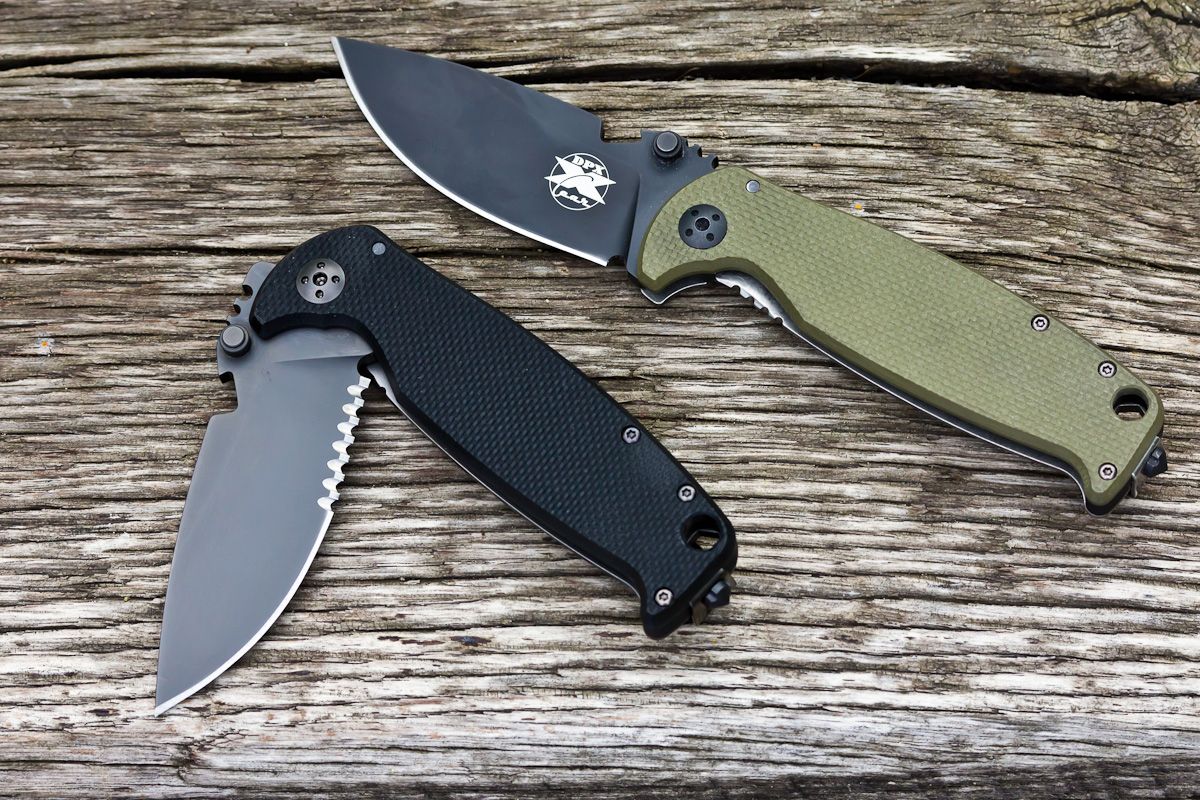 The DPx HEST (short for Hostile Environment Survival Tool) is the smallest knife on this list, but no less overbuilt. Manufactured by LionSteel in Italy for DPx to designer Robert Young Pelton's specifications, it definitely punches above its weight class.
In fact, the HEST is more than just a knife – it cleverly integrates extra functionality into the design without getting in the way of its primary role as a cutting tool. The lanyard hole is sized to fit standard hex bits to double as a bit driver, the fastener that secures the deep-carry pocket clip works as a glassbreaker, and the pocket hook opener also opens bottles.
Despite the extra bells and whistles, the HEST is no gimmick. The blade is ground from a thick piece of German D2 steel, the hardware is all oversized for strength, and the sturdy titanium framelock is backed up by LionSteel's Patented RotoBlock system, which can be engaged to fix the lockbar in place for added security.
Open length: 7.63″
Closed length: 4.38″
Blade length: 3.25″
Blade Thickness: 0.197″
Cutting edge: 3.10″
Weight: 5.1 ounces
Made in Italy by LionSteel