2021 has barely begun and the first product releases of the year are already starting to trickle in. Let's take a look!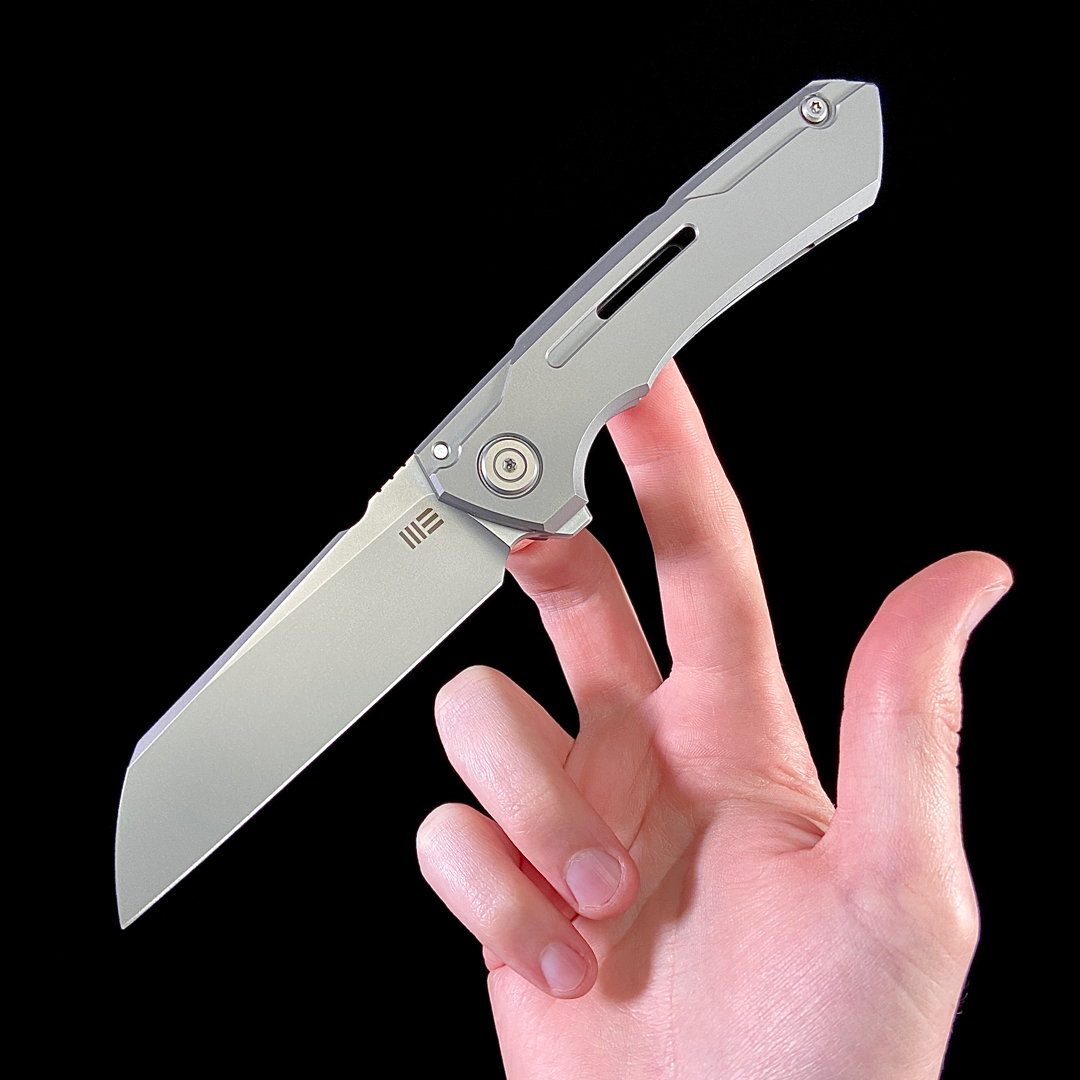 When knifemaker Snecx designed the original Buster, he set out to improve the titanium framelock by simplifying and strengthening it. Over the course of months, he obsessively iterated on various ideas before finding a brilliantly simple solution to two problems at once: by pressing a hardened steel pin into the lockbar such that it protrudes out of the lock face, he was able to combine the detent and the lockbar insert into a single, simple piece. As an added bonus, it also makes the knife smoother and eliminates the need for a detent ramp, too!
The WE Knives Mini Buster is a faithful translation of the original custom knife into a smaller production version, and well worth checking out if you appreciate knives packed with fine details.
Blade Length: 3.43″ (87.1 mm)
Closed Length: 4.54″ (115.4 mm)
Overall Length: 7.97″ (202.5 mm)
Blade Material: CPM-20CV Stainless Steel
Blade Thickness: 0.157″ (4.0 mm)
Blade Style: Sheepsfoot
Blade Grind: Flat
Blade Finish: Polished Bead Blast
Handle Material: Gray Titanium
Locking Mechanism: Frame Lock
Pivot Assembly: Ceramic Bearings
Pocket Clip: Titanium (Tip-Up, Right Carry)
Weight: 4.0 oz. (113 g)
Designer: Snecx Tan
Made in China
---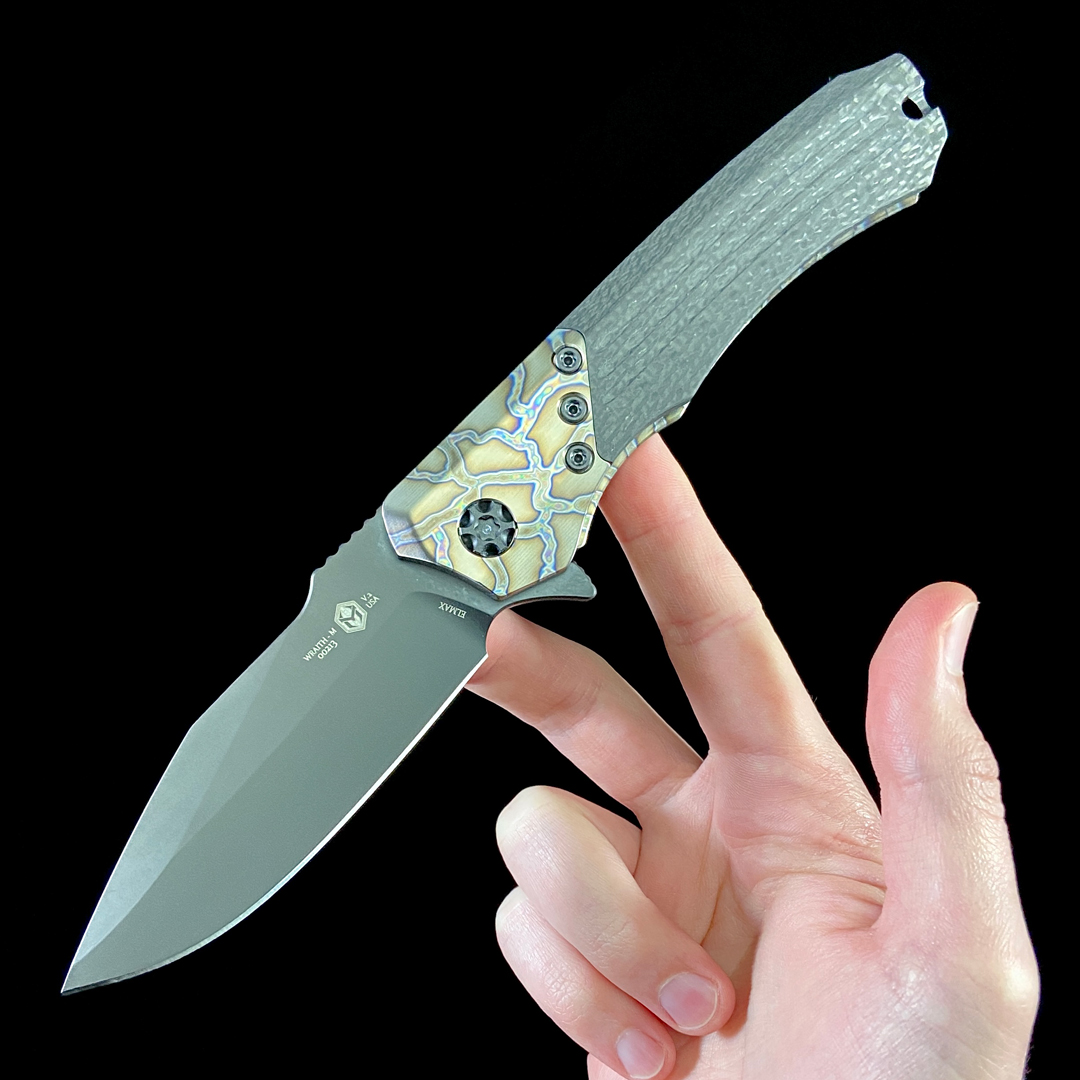 The Heretic Wraith delivers innovative design and precision craftsmanship as only Heretic Knives can: brash and beautiful. Built on an integral carbon fiber frame, the bolster and titanium framelock are bolted on to secure the 3.6" Elmax blade in position. Thanks to some clever milling, the framelock has an integrated overtravel stop, too!
Blade Length: 3.625″
Cutting Edge: 3.625″
Closed Length: 5.07″
Overall Length: 8.695″
Blade Material: Elmax Stainless Steel
Blade Thickness: 0.170″
Blade Style: Tanto
Blade Grind: Flat
Blade Finish: Black DLC
Handle Material: Integral Carbon Fiber with Chemtina Brass Bolster
Handle Thickness: 0.62″
Locking Mechanism: Frame
Pocket Clip: Titanium (Tip-Up, Right Carry)
Weight: 5.50 oz.
Designer: Tony Marfione Jr.
Made in the USA
---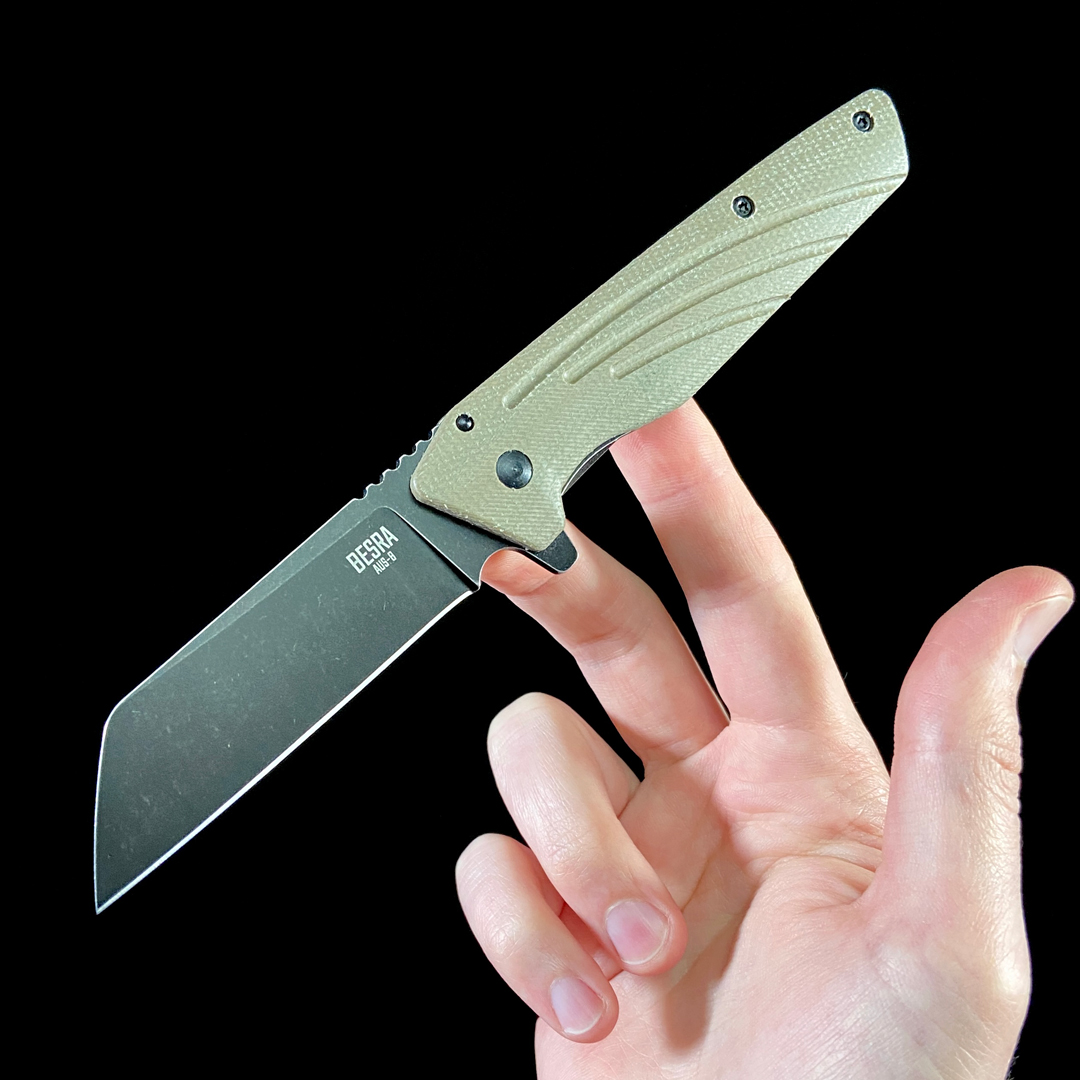 \Just in from Ontario Knives, the Besra is a follow-up to the popular Shikra flipper, both of which are set to become EDC classics. Featuring a winning combination of Micarta on one side with a titanium framelock on the other for under $50, the Besra shares everything that made the Shikra so special. The designs are solid, the materials are surprising, and the price is right!
Blade Length: 3.00″
Cutting Edge: 2.75″
Closed Length: 4.125″
Overall Length: 7.125″
Blade Material: AUS-8 Stainless Steel
Blade Thickness: 0.117″
Blade Style: Sheepsfoot Cleaver
Blade Grind: Flat
Blade Finish: Black PVD Stonewash
Handle Material: Linen Micarta with Black PVD Stonewashed Titanium Lock
Handle Thickness: 0.433″
Locking Mechanism: Frame Lock
Pivot Assembly: Caged Bearings
Pocket Clip: Deep carry Stainless Steel (Tip-Up/Down, Right Carry)
Weight: 2.33 oz.
Made in China
---