This week's roundup of great new knives includes a little something for everyone: balisong trainers that flip like the real thing, a "Swiss Army" knife upgraded with M390 blade steel, a new line of professional hunting knives from Buck, and a high-end art knife from an unexpected source. Read on and let's take a look!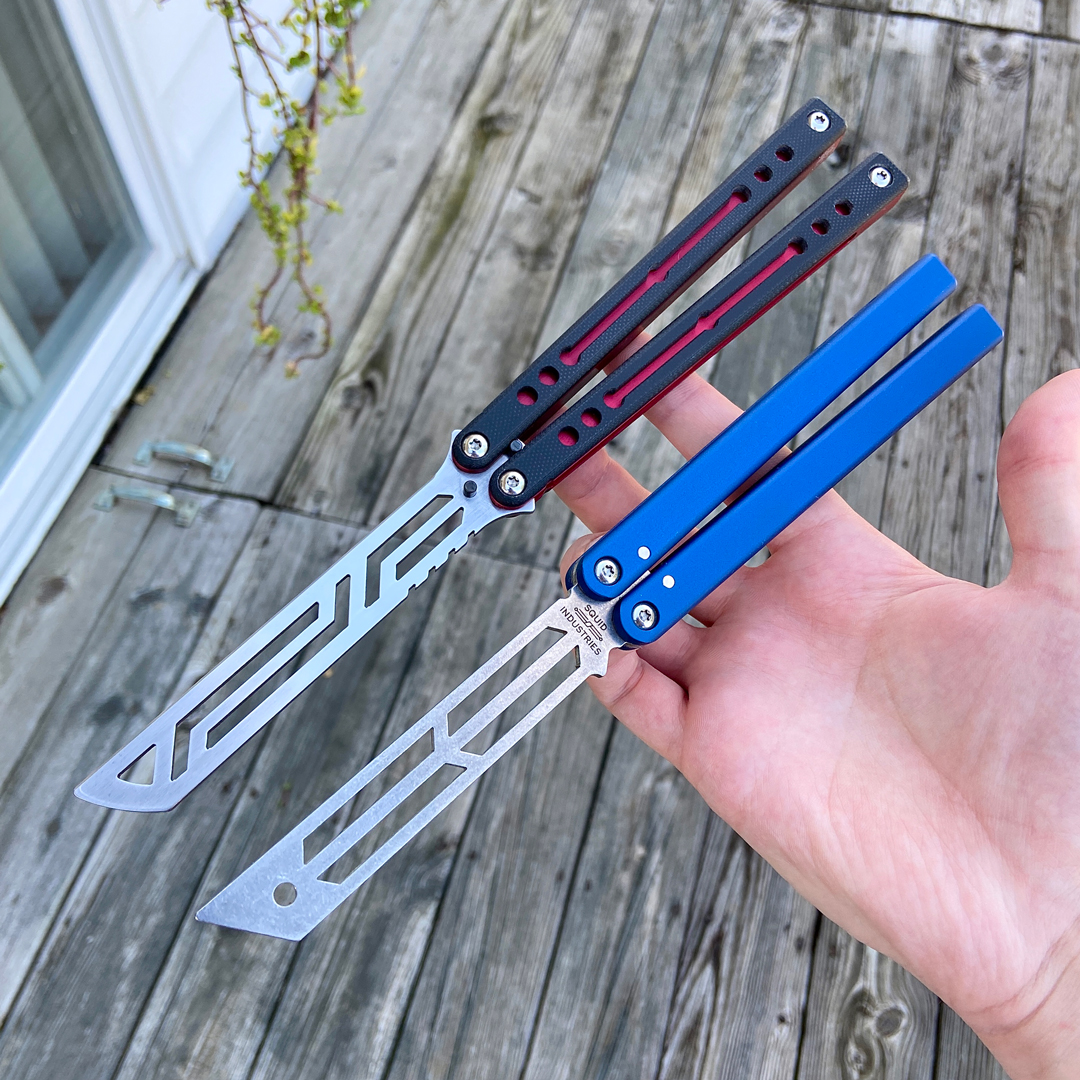 The first couple of knives on this list aren't technically new, but are so rarely in stock that I think they're worth mentioning: the Nautilus (top) and Triton (bottom) balisong trainers from Squid Industries.
Squid Industries got their start making balisong trainers, and are every bit as passionate about them as they are live-blade balis. Their trainer-first approach has allowed them to deliver great products across a wide range of price points, and the Triton and Nautilus are two of the most top-shelf flippers they make.
The Triton, with its heavier solid aluminum handles, feels a little slower to flip—not necessarily a bad thing—and makes incredible noises as it click-clacks around. I could see this dlubling as a percussion instrument after a little practice.
The Nautilus, on the other hand, is lighter, longer, faster, and easier to manipulate (in my opinion). The G10 scales add some reassuring grip, making it easier to catch and hold on to. In addition to the extra grip, fit, and finish, the extra money you spend on the Nautilus also gets you nicely chamfered edges on the blade spine and a "bite handle" feature that nips at your fingers when your technique gets sloppy. It's a nice feature when practicing, letting you feel your mistakes without actually cutting you.
Nautilus trainers are extremely limited and may sell out before you've even read this far, but if you act fast you may still catch a Triton in one of a few colors in stock now.
Blade Length: 5.2″
Closed Length: 5.75″
Overall Length: 10.0″
Blade Material: 304 Stainless Steel
Blade Style: Triton Trainer
Blade Finish: Stonewash
Handle Material: Channelled 6061-T6511 Aluminum
Handle Thickness: 0.50″
Locking Mechanism: Latch-less (None)
Pivot Assembly: Phosphor Bronze Washers
Pin Design: Zen Pins
Pocket Clip: None
Weight: 4.65 oz.
Made in the USA
---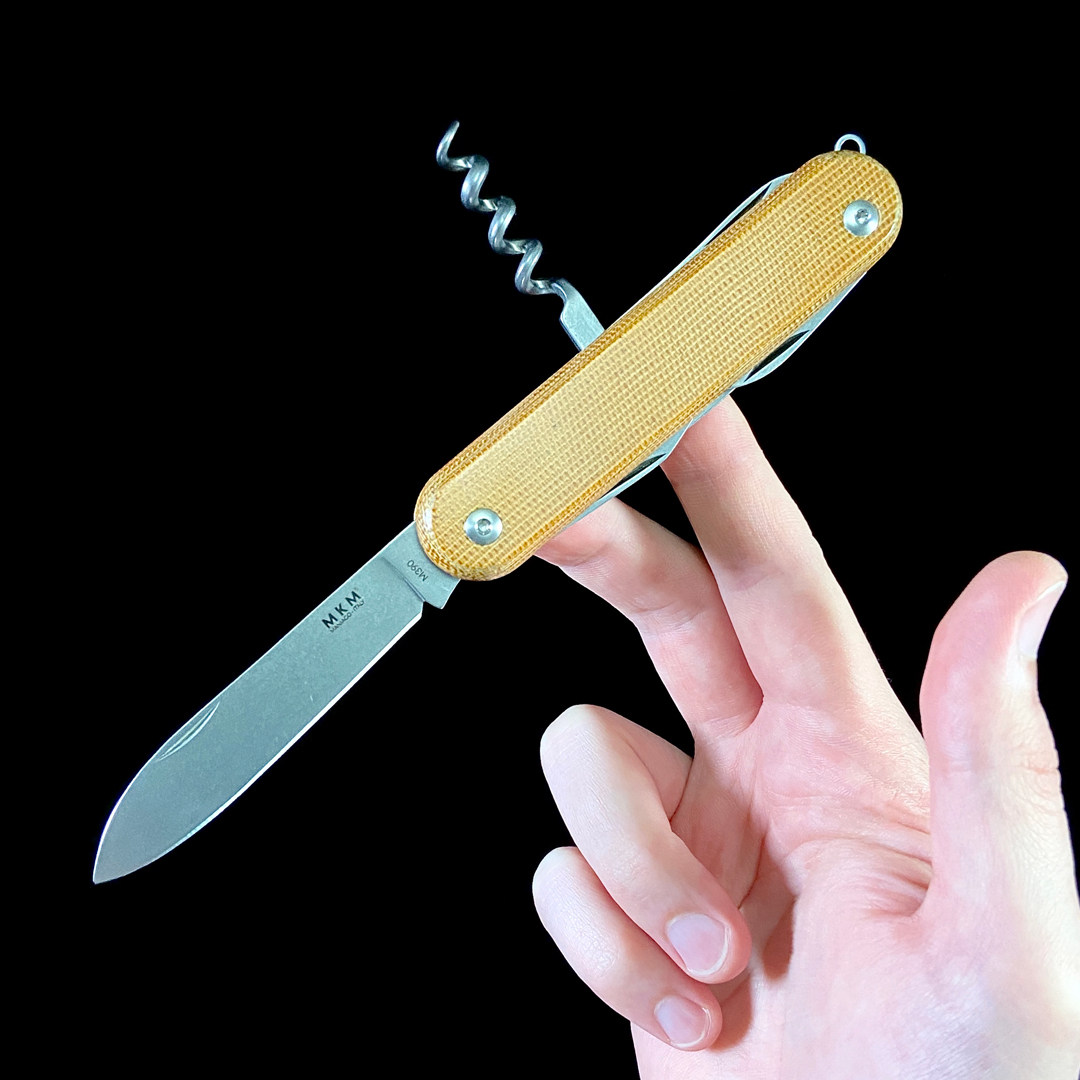 The Maniago Knife Makers Malga is a Swiss Army-style slipjoint that ticks off a wish list of upgrades to the classic formula. The essentials are still all here: a simple, comfortable cigar-shaped handle, a bulbous spear point slipjoint blade, and an assortment of supplemental tools to round out its capabilities. The first big upgrade is the blade steel, and it's not just a step up; it's a quantum leap all the way to M390! The second big upgrade is the handle scales, which are made from nicely polished Micarta, and can be removed and replaced easily since they're attached via threaded fasteners.
Oh, and it also has a fork! Between that, the corkscrew, and the M390 blade, the MKM Malga might just be the ultimate picnic knife!
Blade Length: 2.64″ (67 mm)
Closed Length: 3.94″ (100 mm)
Overall Length: 8.62″ (219 mm)
Blade Material: Bohler M390 Stainless Steel
Blade Thickness: 0.100″ (2.5 mm)
Blade Hardness: 58-60HRC
Blade Style: Pen
Blade Finish: Stonewash
Handle Material: Natural Canvas Micarta
Locking Mechanism: Slipjoint
Pivot Assembly: Washers
Pocket Clip: None
Weight: 2.79 oz. (79 g)
Made in Maniago, Italy
---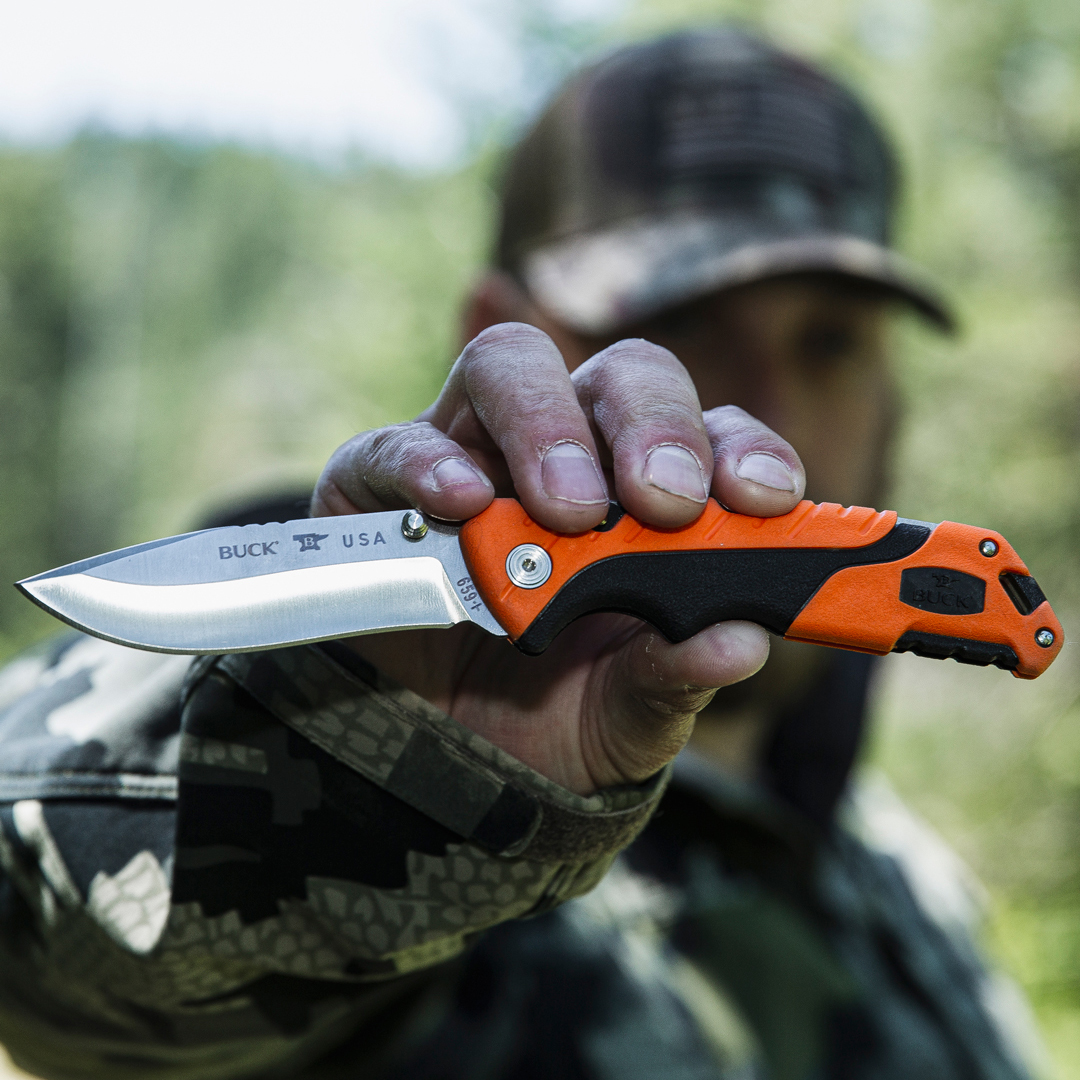 Introducing the Buck Pursuit Pro line: S35VN steel in a fixed or folding form factor to take your next hunting kit to the next level! Coming in at a competitive price point starting at just $89.99, the Pursuit Pro line is a deal for delivering top-shelf performance at a great price.
Buck is known for their careful heat treatments. Developed by Paul Bos to wring every bit of performance out of the alloy, the heat treatment helps the S35VN on the Pursuit Pro line to be strong, stainless, and relatively easy to sharpen. As compared to the 420HC steel on the standard Pursuit models, S35VN is a significant step up in edge retention, too.
No matter what kind of knife you need to equip, the Pursuit has you covered: it's available in large or small, fixed blade or lockback, and with or without a gut hook. Rounded, yet grippy overmolded handles keep things secure in slippery conditions, and are highly visible thanks to the orange-and-black color scheme.
The Buck Pursuit Pro line is made in the USA and available for pre-order now!
Product Level: Pursuit Pro Series
Blade Style: Drop Point with or without Guthook
Blade Steel: S35VN Stainless Steel
Steel Hardness: 59-61HRC
Handle Material: Glass Filled Nylon/Versaflex Rubber
Sheath Material: Polyester
Made in the USA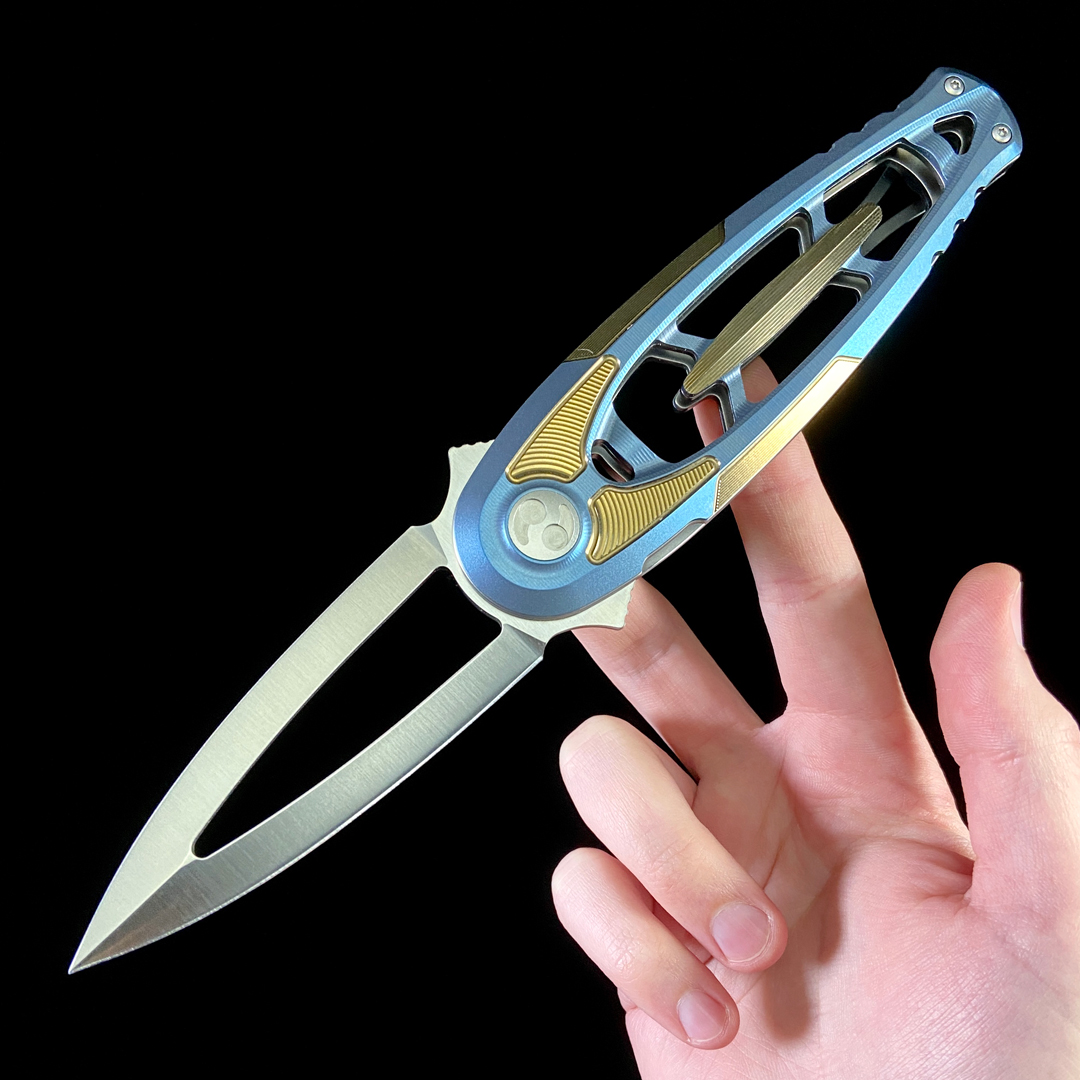 The high-end CRKT Hirin is an otherworldly titanium linerlock flipper that has been shaped, skeletonized, and anodized to showcase its single-edge dagger-ground M390 blade. CRKT has made a number of top-shelf limited edition knives before, but the Hirin is arguably the most impressive one yet. The design, from Japanese knifemaker Dew Hara, is an over-the-top homage to the imaginative prop design from shows like Star Trek, and was definitely a conversation starter around the KnifeCenter office. Made in Italy by LionSteel to their usual impeccable standard, it comes wrapped in an impressive leather presentation pouch and leaves quite a nice first impression. Limited to just 500 pieces, we can see this becoming quite the collector's item!
Blade Length: 3.39″ (86.11 mm)
Closed Length: 5.26″ (133.53 mm)
Overall Length: 8.69″ (220.68 mm)
Blade Thickness: 0.120″ (3.05 mm)
Blade Material: Bohler M390 Stainless Steel
Blade Style: Spear Point
Blade Finish: Satin
Handle Material: 6Al4V Titanium
Locking Mechanism: Liner Lock
Pivot Assembly: IKBS Bearings
Pocket Clip: Tip-Up, Right/Left Carry
Includes Leather Knife Pouch
Weight: 5.90 oz. (167.26 g)
Designer: Dew Hara
Made in Maniago, Italy by LionSteel