"Survival knife" is one of those terms that everyone interprets a little differently, probably because "survival" is such a broad idea that no two people are bound to see it the same way. What you need to survive has just as much to do with your surroundings and your mindset as it does your equipment. One thing we're sure of, however, is that you wouldn't want to make a go of it without a knife.
The whole idea behind carrying a survival knife is to be prepared for the worst, and you certainly wouldn't want to face it without mankind's most fundamental tool! The easier a knife is to carry, the more likely you are to have it on you when you need it.
There are certain requirements for a great survival knife that are ironclad: it must be reliable, it must be useful, and it must be easy to carry. Some may disagree, but for me that eliminates folding knives from the start. Too many moving parts; too many threaded fasteners; too many corners, gaps, and edges on the handle wearing out my hands. A good survival knife should be able to stand up to punishing situations and laugh in their face, while still being easy to use and carry without fatigue.
So, with that in mind, here's our list of the best survival knives available in 2020: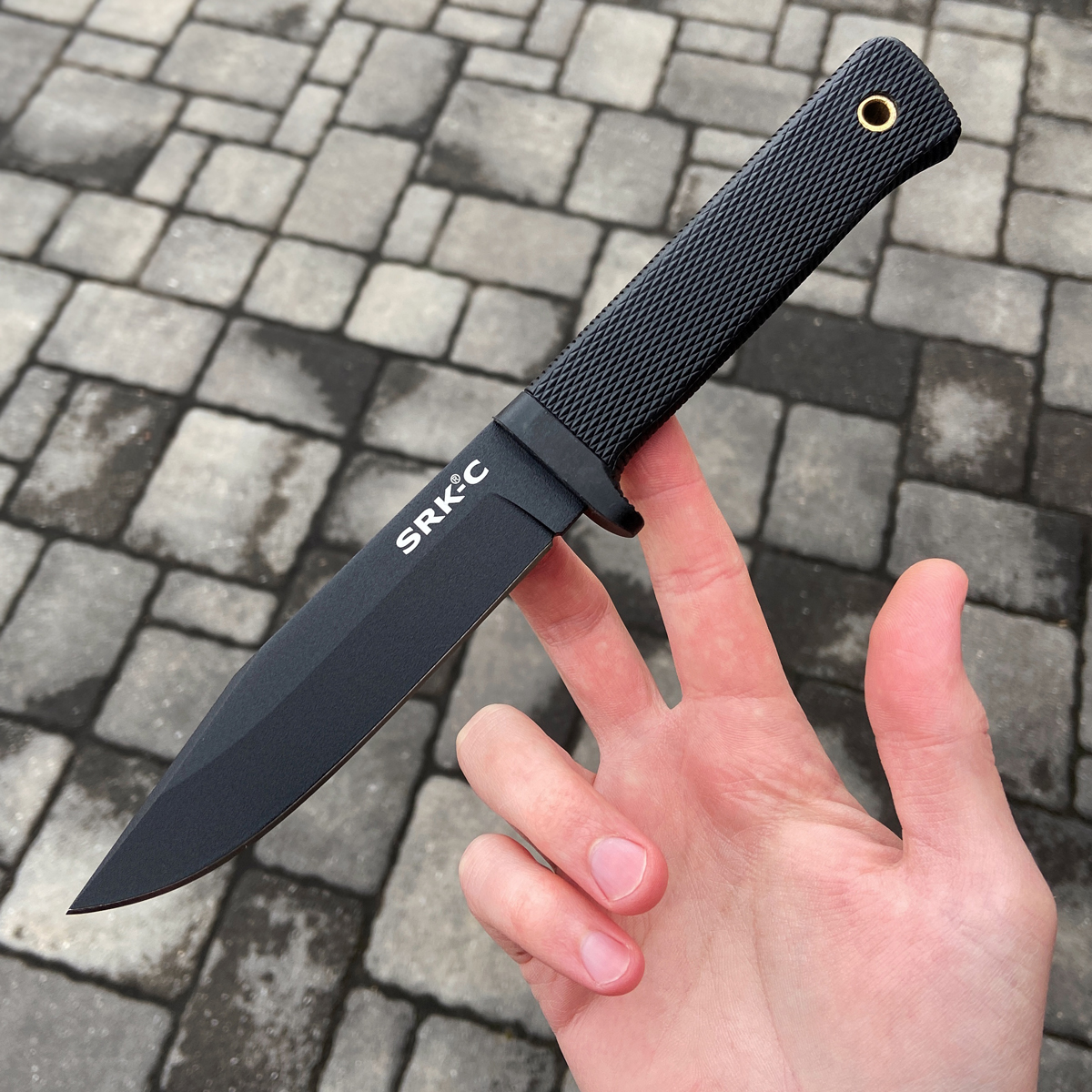 For under $50, the Cold Steel SRK-C is one of, if not the best budget survival knives on this list. It's not so inexpensive that you sacrifice reliability or general utility: the SRK platform is trusted and proven. The SRK-C is about an inch shorter than the regular SRK, and we like it because it makes the knife a little more nimble and a little easier to carry.
The knife is ready for the wild right out the box, with a five inch blade made from tough SK-5 carbon steel, powder-coated to protect it against corrosion. The handle is made out of what Cold Steel calls Kray-Ex – a rubber compound that provides plenty of traction while still feeling firm enough to treat with impunity. There's a nice finger guard molded into the handle, which gives the knife an added sense of security. The molded plastic sheath is utilitarian, and well-suited for belt or pack carry, whatever works best for you.
Blade Length: 5.0″
Blade Thickness: 4.0 mm
Overall Length: 9.50″
Steel: SK-5 Carbon Steel with Black Tuff-Ex Finish
Weight: 5.1 oz.
Handle: 4.50″ Long. Kray-Ex
Sheath: Secure-Ex
Made in Taiwan
---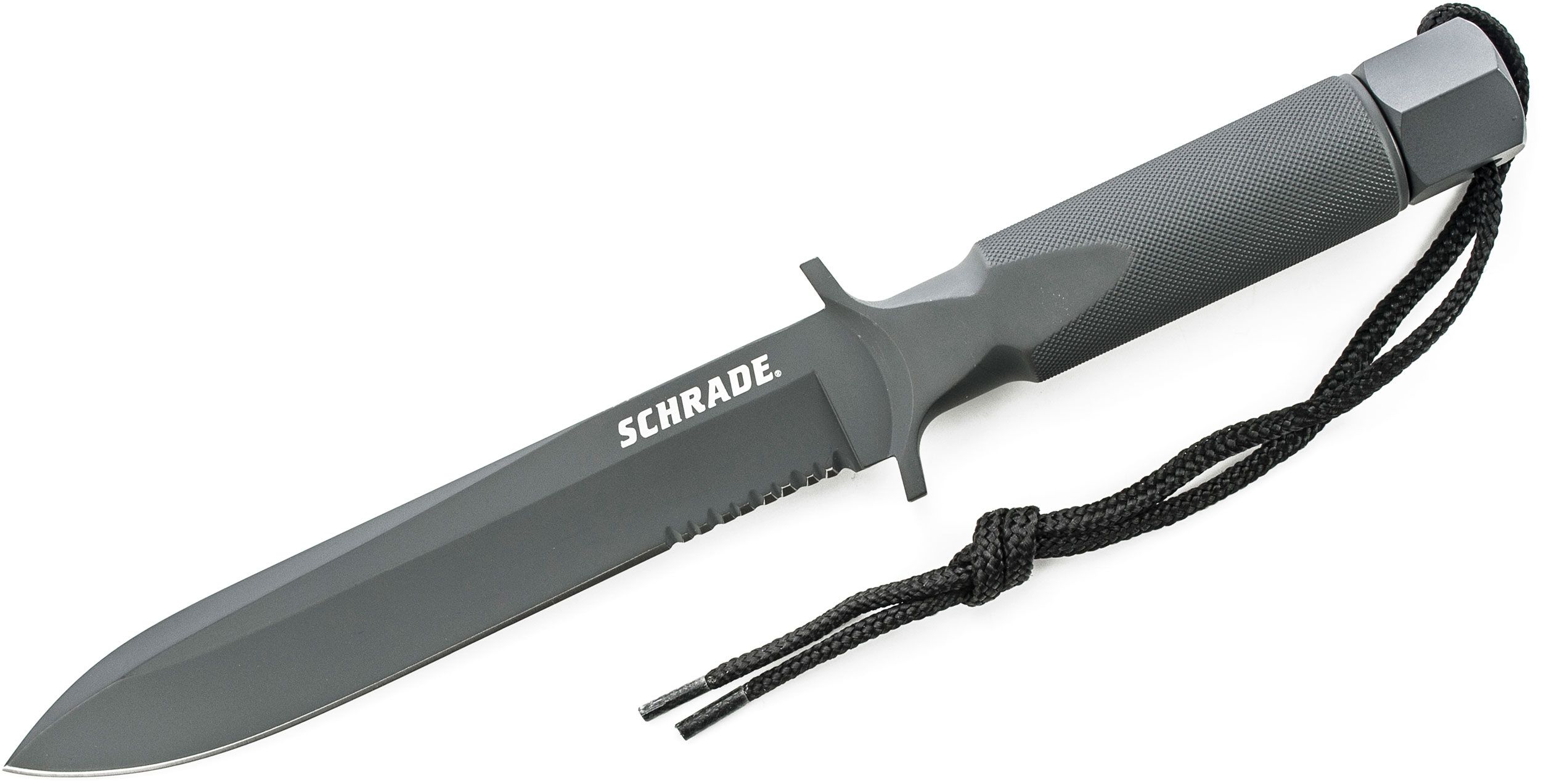 We would be remiss not to include a hollow-handle survival knife on this list. This kind of knife was popularized by the Rambo movies, and is still what many people think first when they think "survival knife." Unfortunately, most of the hollow-handle survival knives on the market break one of our ironclad rules: reliability. More often than not, a hollow-handle survival knife is constructed from two separate pieces: handle and blade, joined together at the joint where they meet. Whether the pieces are welded, pinned, or held with a screw, it's just not a strong way to put together a tool.
Luckily, the Schrade SCHF1 does not suffer that critical flaw. In fact, both the handle and the blade are made from a single piece of 1070 carbon steel. With no joint to fail, this is one tough knife. And thanks to the hollow handle, it packs a little extra utility, too: you can unscrew the sealed, threaded pommel to store survival items or the included bit driver kit.
While the construction of the Schrade SCHF1 is fit for the demands of a survival knife, some of the other design features lean a little more towards a combat role. If that's something you want in a survival knife, then this is an even better option. Personally, I prefer a survival knife to be more of an all-rounder, so the double guards, hollow grind, and partial serrations – all perfectly suited for a tactical knife – take away from the versatility I look for in a survival knife design. Still, the Schrade SCHF1 is one of the best made hollow-handle survival knives on the market today, and it's a bargain at just $68.95.
Blade: 7.5″ (19.0 cm)
Handle: 5.2″ (13.3 cm)
Steel: SAE-1070 High Carbon Steel
Weight: 1 lb. 1.8 oz.
One-Piece Steel Construction
Includes ballistic nylon sheath
Made in China
---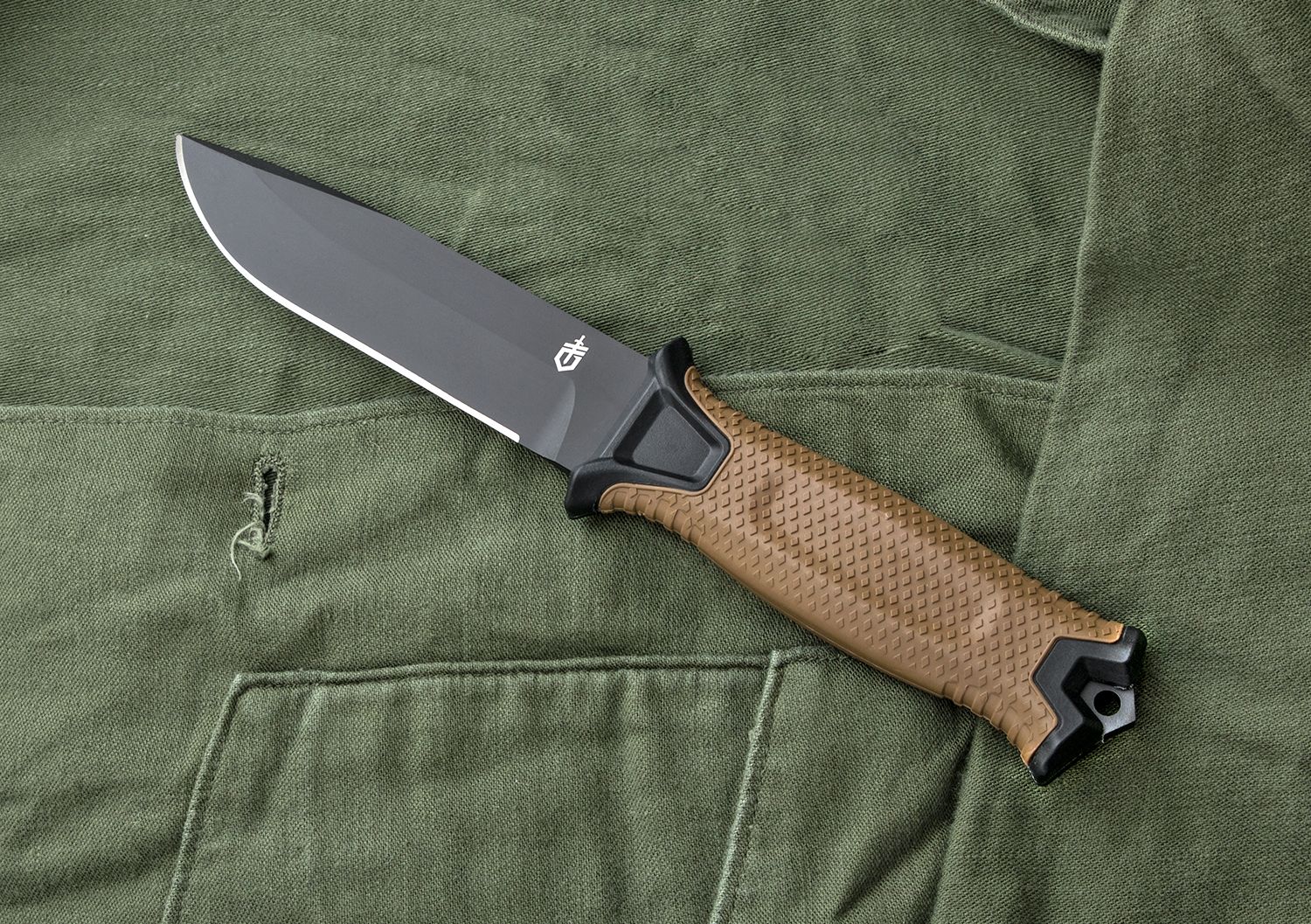 The Gerber Strongarm is another one of those knives that rides the line between combat knife and survival knife. I think of it as a "wrecking knife:" a tool that is at its best when used with brute force. This USA-made blade is a compact beast, with a 4.8" drop point blade, made from 420HC steel with a smooth ceramic coating.
The StrongArm is a good example of another guiding principle of a good survival knife: simple is best. The flat saber ground drop point blade just works. Whether carving, splitting, slicing, or sharpening, there's no extra points and edges to worry about like a tanto, no fragile tip to worry about like a clip point – just a well-balanced blade shape that does it all. The handle follows the same principle: it's straight, with a subtle swell and dual guards to keep your hand locked in place away from the edge. Unlike the straight, prominent guards on the Schrade SCHF1, the guards on the Gerber Strongarm don't really prevent you from choking up onto the blade if you need to really bear down into something.
The sheath that comes standard with the StrongArm is outstanding. The product engineers at Gerber really outdid themselves: it's completely ambidextrous and modular, snapping together in several configurations for secure attachment virtually anywhere.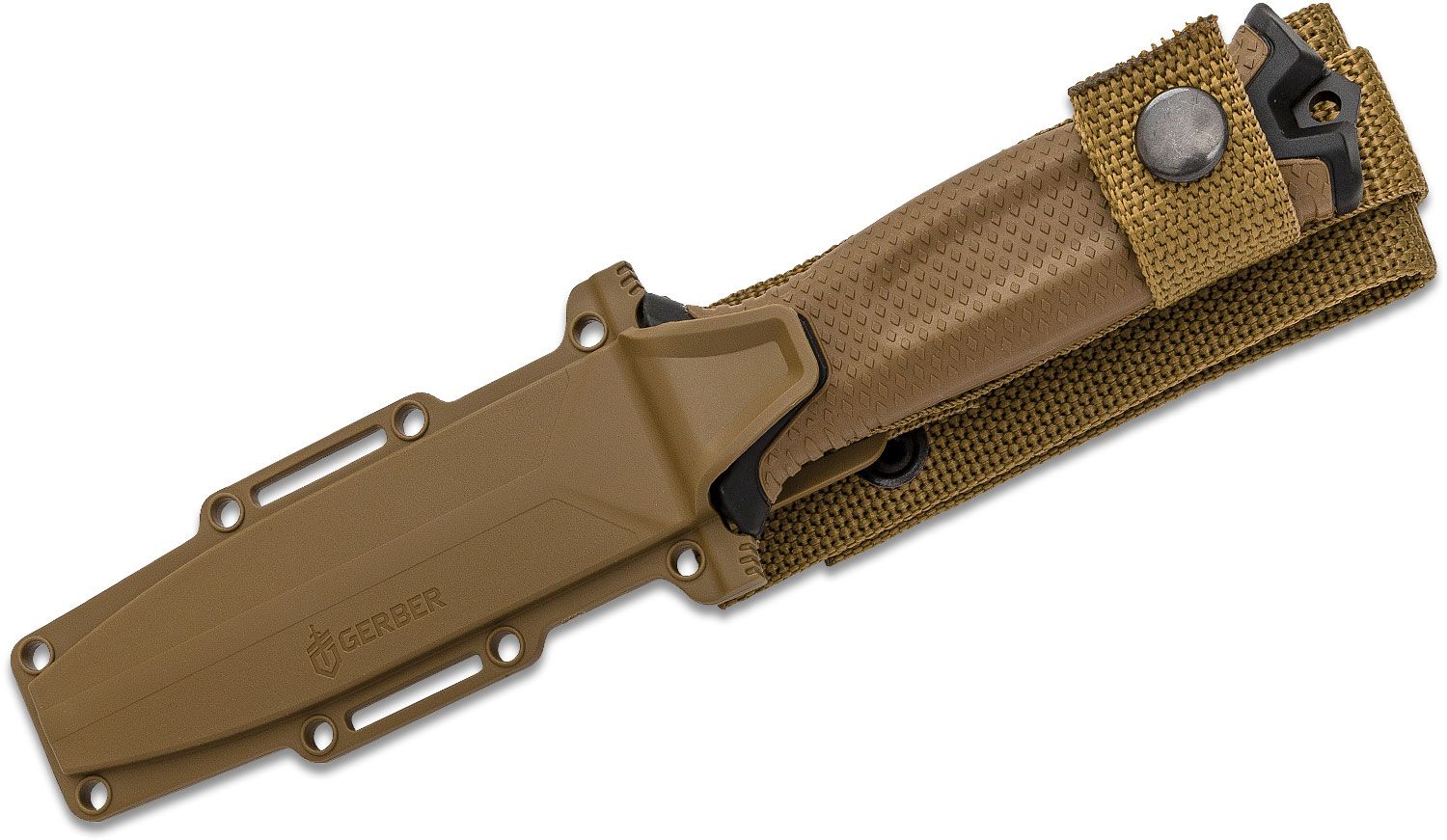 Blade Steel: 420 HC
Handle Material: Glass filled nylon with rubber overmold
Blade Length: 4.8 in (12.2 cm)
Overall Length: 9.8" (24.8 cm)
Knife Weight: 7.2 oz (204 g)
Overall Weight: 10.9 oz (309 g)
Made in USA
---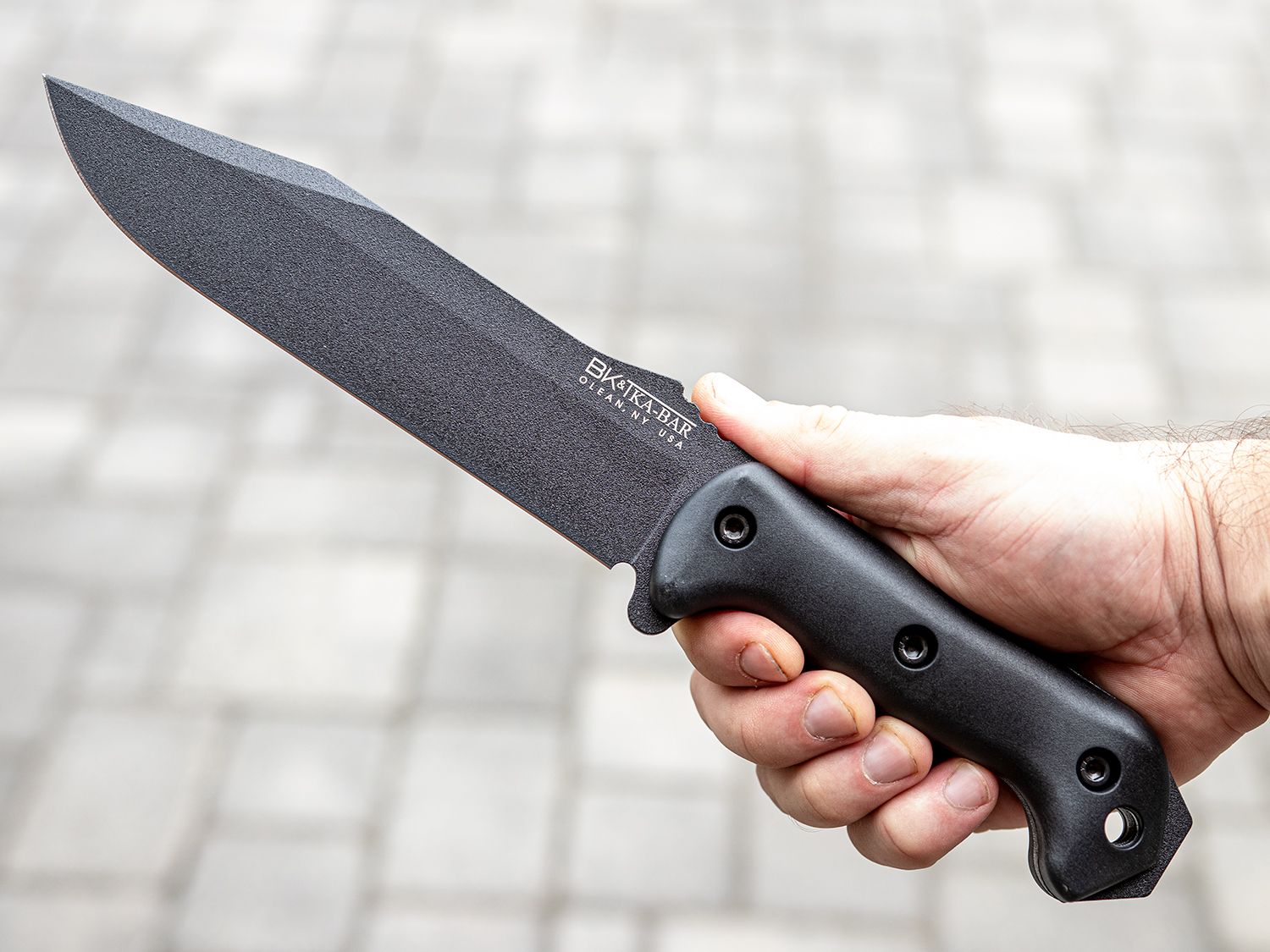 It's fair to say that Ethan Becker's designs have shaped the modern survival knife as we know it. The combination of an oversized, comfortable handle bolted to a thick, full-tang carbon steel blade is the blueprint for most heavy-duty knives on the market today.
The BK7 is a big knife, but not huge: it's bigger, tougher, and heavier than a companion knife, but definitely smaller and easier to pack than the belt-anchor that is the BK9. As you might expect from the name, the BK7 has a blade length of just over 7 inches, made from 1095CV steel. The alloy gives a good mix of toughness and edge retention, and the powder coat treatment on the BK7 helps protect it from rust. Even though the blade is 3/16 of an inch thick, the broad, high flat grind gives it surprising cutting power and strength to match.
If you've never held a Becker, you'll be surprised by just how comfortable and "locked in" they feel even though the handles are made from a smooth(ish) synthetic material. There's more to secure grip than aggressive texture, and Ethan Becker knows it. Aside from providing a comfortable grip for normal cutting work, the handle also nicely accommodates a choked-back chopping grip for a little extra reach and leverage.
Blade Length: 7″ 1095 CroVan
Overall Length: 12.75″
Blade Thickness: 0.188″
Blade Coating: Black epoxy powder coat
Grind: Flat saber grind
Handle Material: Grivory
Sheath: Black Nylon w/ kydex insert
Weight: 12.9 oz.
Made in USA
---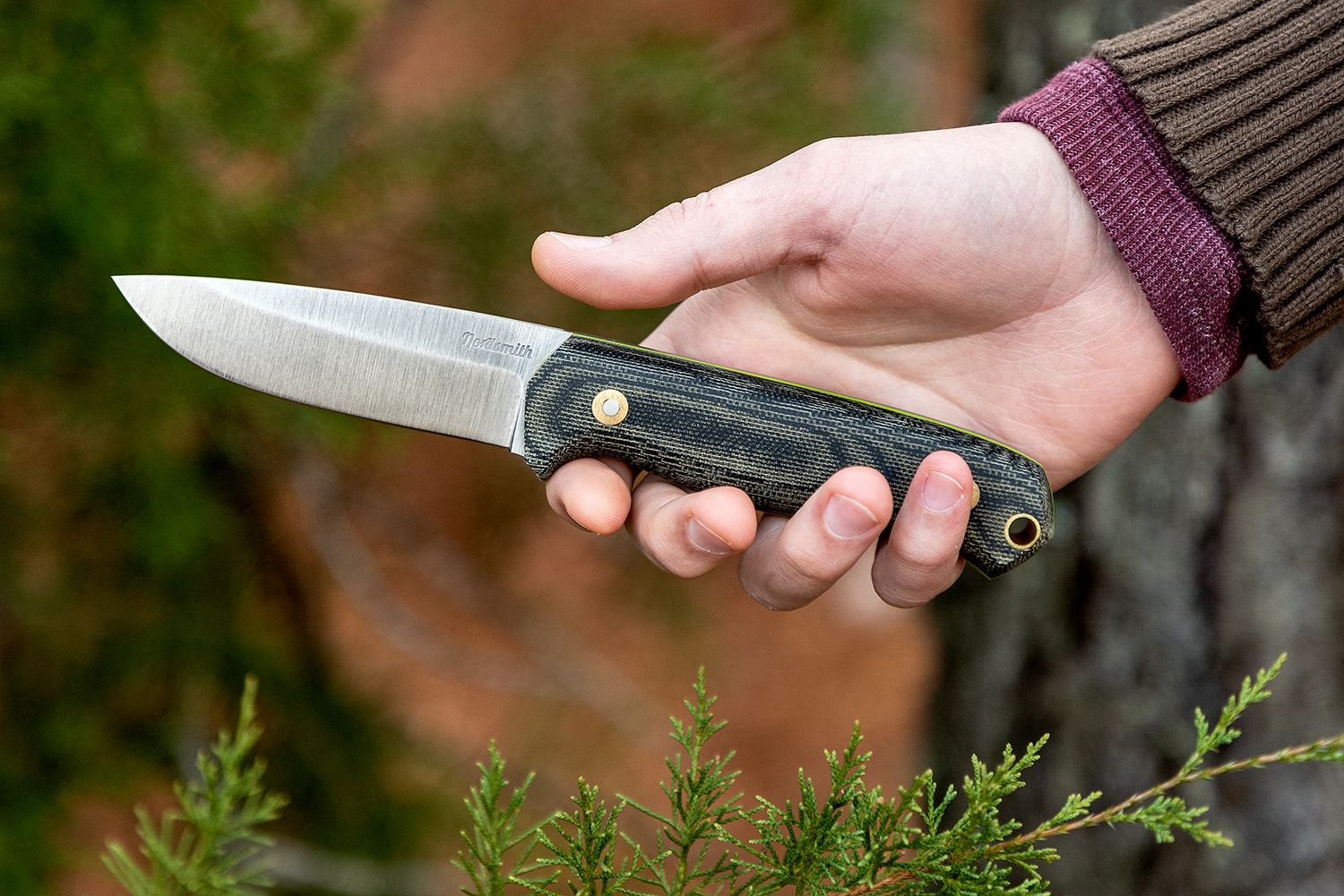 There are a lot of great survival knives on this list, and even more on the KnifeCenter shelves. Even so, none of them had everything that David C. Andersen wanted in a survival knife, so he designed his own. The Nordsmith Pilgrim LT is a "right-sized" survival knife that makes it easy to stay equipped to survive.
The blade length of just under 4 inches prioritizes control over brute force, and is still plenty long enough to tackle the work a survival knife needs to be able to handle. AEB-L blade steel is prized for its unique combination of high toughness and corrosion resistance, so there's no need to coat the blade to protect it against rust.
The handle is made from Micarta, a highly durable material made from layers of canvas pressed in phenolic resin. It makes for great grip, especially when wet, without the need for over-aggressive, fatiguing texture. The pommel comes to gentle point, so should you need to use it to thump on something, the force is concentrated on the metal tang. This is a design that David would trust his life with, so it's very much at home on this list!
Blade Length: 3.75″
Cutting Edge: 3.72″
Handle Length: 4.75″
Overall Length: 8.5″
Blade Material: AEB-L Stainless
Blade Thickness: 0.12″
Blade Grind: Flat
Blade Finish: Satin
Handle Material: Black Canvas Micarta
Handle Thickness: 0.82″
Liner Material: Toxic Green G10
Sheath: Black Leather
Weight: 6 oz.
Designer: David C. Andersen
Made in USA
---
Looking For More Great Survival Knife Options?
For an up-close look at these picks and more, check out our video feature on survival knives: