Interested to see the best new knives that hit our shelves this week? You've come to the right place. We've put together a list of all the standouts for the third week of March: an impressive selection of folding knives from WE Knife Co., Ontario, Kershaw, and Boker.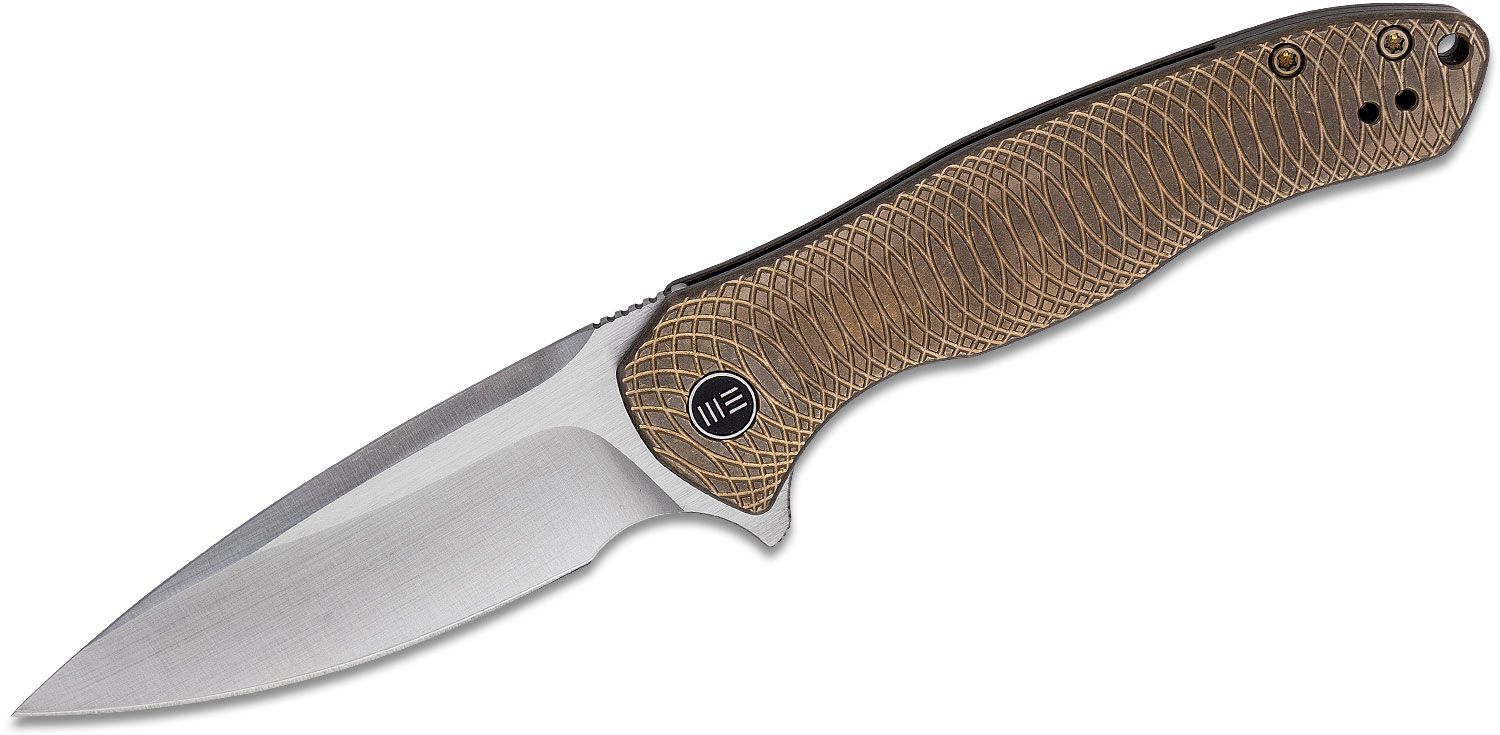 The WE Knives Kitefin is easily their best new design so far this year: a just-right edc knife that feels ultra-thin, yet confident in hand. WE has always impressed us with their manufacturing prowess, and they continue to refine their work. The Kitefin has everything you need, nothing you don't, and is executed with attention to detail for a competitive price.
The hollow-ground 3.2" S35VN blade comes down to a very thin edge, so you can expect the Kitefin to make quick work of everyday slicing jobs. The bent titanium clip works perfectly, and is a nice stylistic departure from the sculpted Ti clips that WE typically uses. Another plus of the Kitefin: it comes in several handle variations, and they all look and feel great, whether you opt for the ultralight marbled carbon fiber handles, the intricate milled & anodized ones, or the minimalist plain titanium look.
Blade Length: 3.24″ (82.2 mm)
Cutting Edge: 2.68″ (68 mm)
Closed Length: 4.25″ (108 mm)
Overall Length: 7.49″ (190.2 mm)
Blade Material: CPM-S35VN Stainless Steel
Blade Thickness: 0.102″ (2.6 mm)
Blade Grind: Hollow
Blade Finish: Polished Bead Blast
Handle Material: Black 6Al4V Titanium
Handle Thickness: 0.38″ (9.6 mm)
Locking Mechanism: Frame Lock
Pivot Assembly: Caged Ceramic Bearings
Pocket Clip: Deep Carry Titanium (Tip-Up, Right Carry)
Weight: 2.88 oz. (81.7 g)
Made in China
---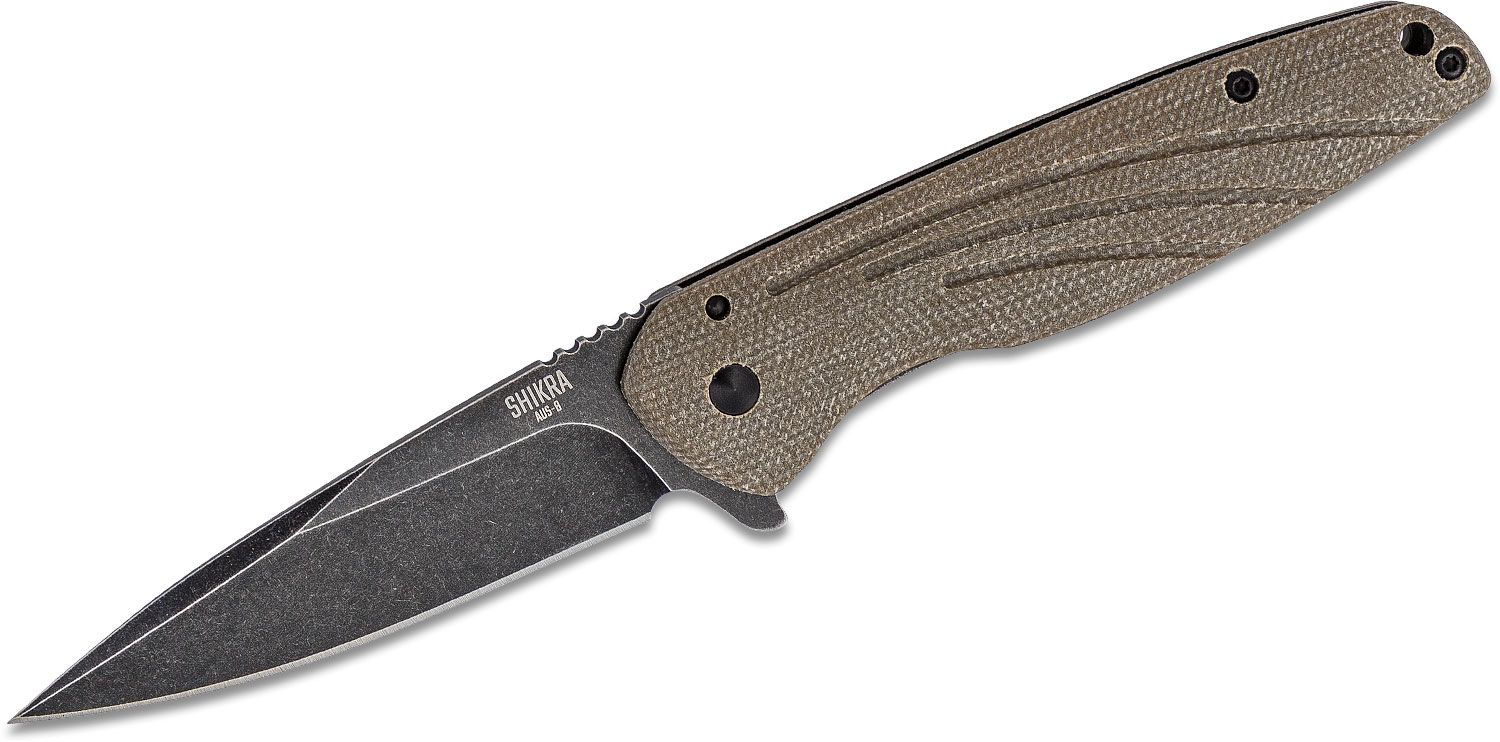 There's more to the Ontario Shikra than meets the eye. Like many of Ontario's best designs, the Shikra puts function ahead of flash to deliver a great value everyday carry knife.
The handle is slim, but sculpted to swell in just the right places to make it comfortable. The solid linen Micarta scale helps make the handle feel even more inviting, and keeps the weight down, too. The titanium framelock is solid, and the deep carry pocket clip works without fuss – just enough tension to hold on tight without having to yank at your pants every time you pull it out of your pocket.
The AUS-8 blade flips out confidently, and the way it's ground gives a nice balance between point precision and strength. I particularly like how the flipper tab works in the open position as a blade guard, without ever feeling "in the way" – a common foible with flipper designs. On sale now for $45.60, we think the Ontario Shikra is a compelling buy, especially if you're looking for a minimal, Micarta-handled folder.
Blade Length: 3.2″
Cutting Edge: 3.0″
Closed Length: 4.2″
Overall Length: 7.4″
Blade Material: AUS-8 Stainless Steel
Blade Thickness: 0.12″
Blade Finish: Black Stonewash
Handle Material: Linen Micarta and Titanium
Locking Mechanism: Frame Lock
Pocket Clip: Tip-Up/Down, Right Carry
Weight: 3.2 oz.
Made in China
---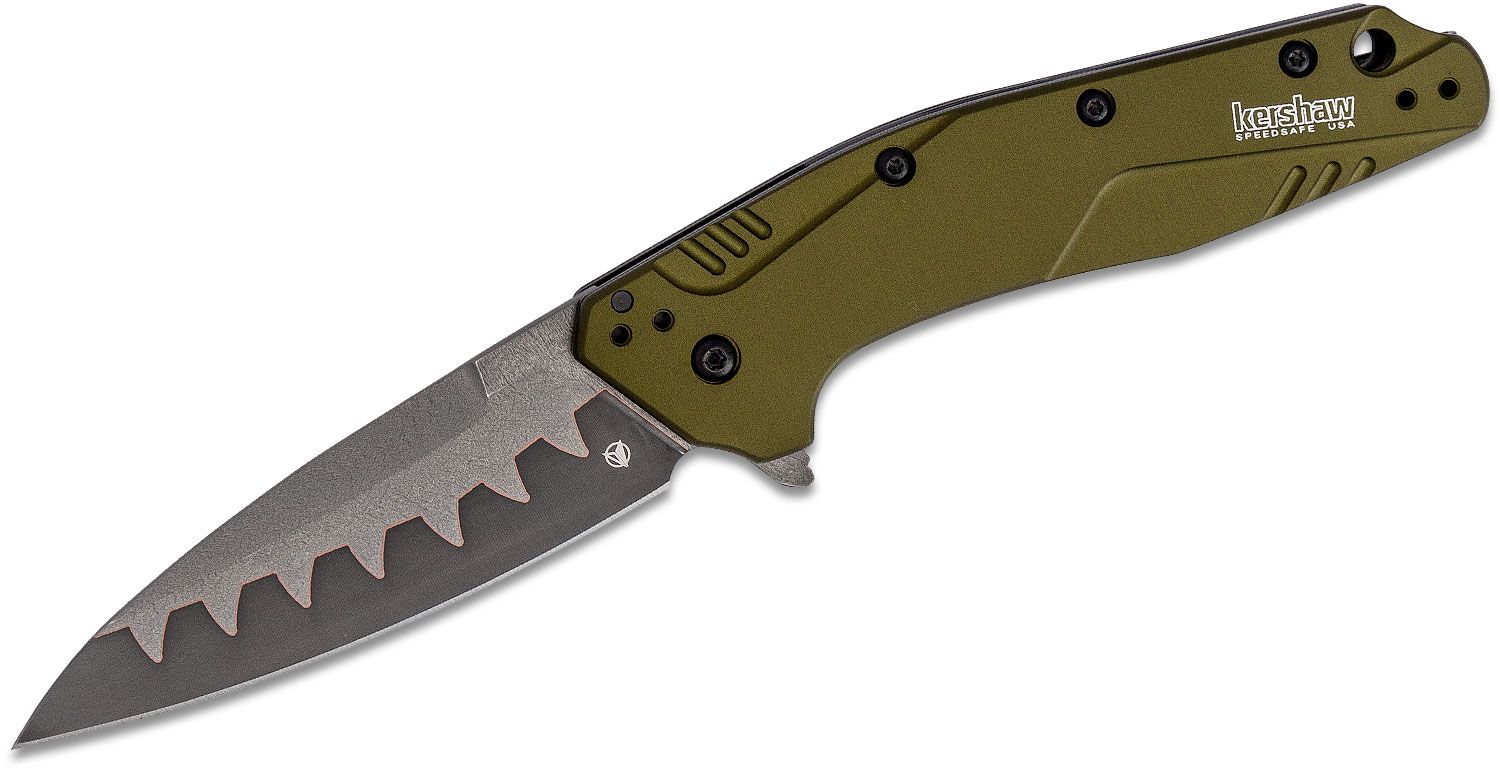 One of the coolest technologies in Kershaw's toolkit is their composite blade manufacturing process. Using a thin bead of sintered metal, they combine two dissimilar steels to take advantage of the properties of both. This new Dividend has an edge made from CPM-D2 for edge retention, and a spine made from N690 for strength and stain-resistance. The thin blade stock and excellent blade steel(s) should make for high-performance cutting performance.
The Aluminum handles have been retooled with a new pattern – overall, the style reminds us of a fighter jet with a "shark mouth" painted on its nosecone. It's a great look for a pocket knife, and easily the coolest version of the Dividend yet.
Blade Length: 3.0″ (7.6 cm)
Handle Length: 4.25″ (10.8 cm)
Overall Length: 7.25″ (18.5 cm)
Blade Steel: Composite Bohler N690 Stainless Steel and CPM-D2 Tool Steel
Blade Finish: Bead Blast
Handle Material: Olive Anodized Aluminum
Locking Mechanism: Liner Lock
Pocket Clip: Tip-Up/Down, Right/Left Carry
Weight: 2.8 oz. (82 g)
Made in the USA
---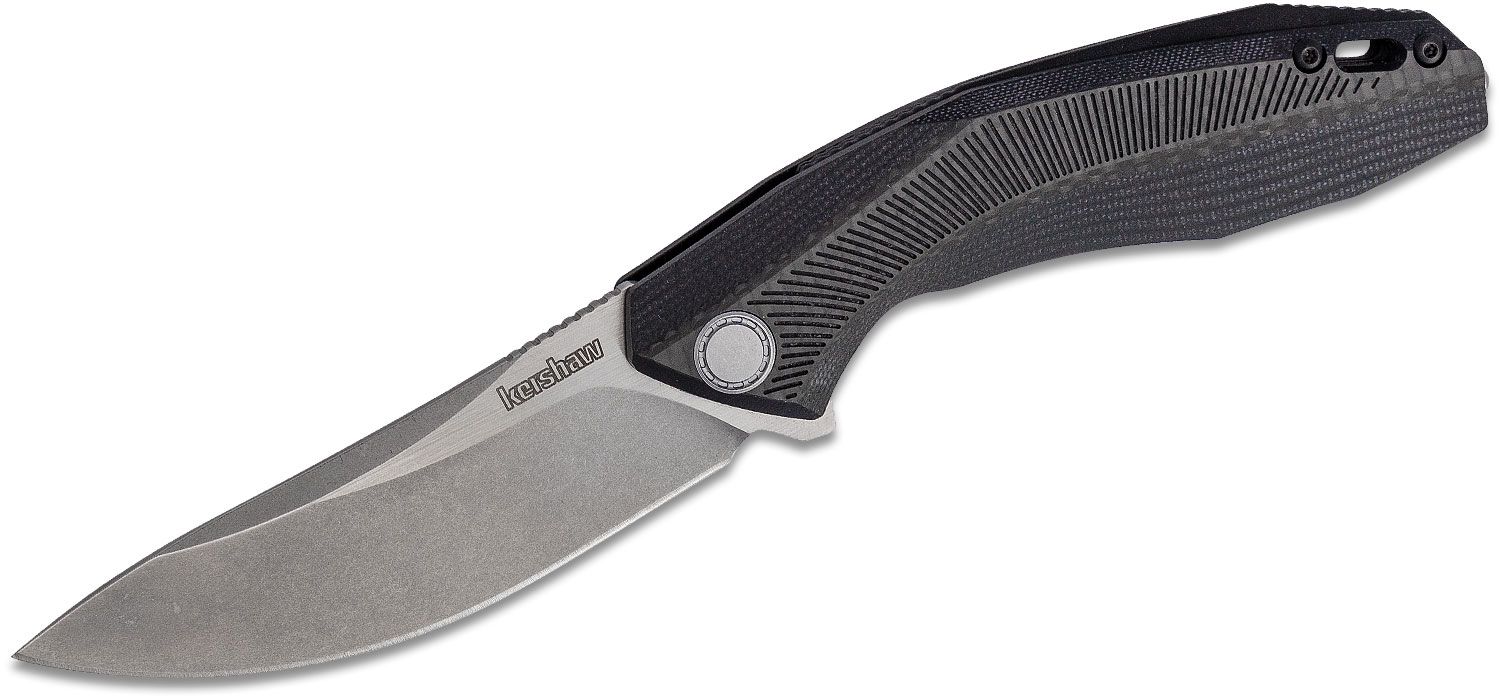 The Tumbler is the latest collaboration between Kershaw and Dmitry Sinkevich. Sinkevich's designs are some of the most popular in the industry. His work is sometimes sinuous, often futuristic, and always well-proportioned. With the Tumbler, he brings a high level of detail to a surprisingly low price.
First, the materials are a nice step up from the usual Kershaw import: we've got milled G10 handles with carbon fiber overlays, D2 blade steel, and a Sub-Frame lock. And if all that wasn't enough, the flipping action is truly outstanding. Even though the flipper tab is relatively low-profile, the way it's designed provides plenty of leverage to crack the blade open with authority. This is definitely one of those knives you'll find yourself fidgeting with till your finger gets sore – it's just that satisfying.
Blade Length: 3.25″ (8.3 cm)
Closed Length: 4.5″ (11.4 cm)
Overall Length: 7.4″ (18.7 cm)
Blade Material: D2 Tool Steel
Blade Finish: Stonewash
Handle Material: Black G10 and Carbon Fiber
Pivot Assembly: KVT Ball Bearing System
Locking Mechanism: Sub-Frame Lock
Pocket Clip: Deep Carry (Tip-Up, Right/Left Carry)
Weight: 2.6 oz. (75 g)
Designer: Dmitry Sinkevich
Made in China
---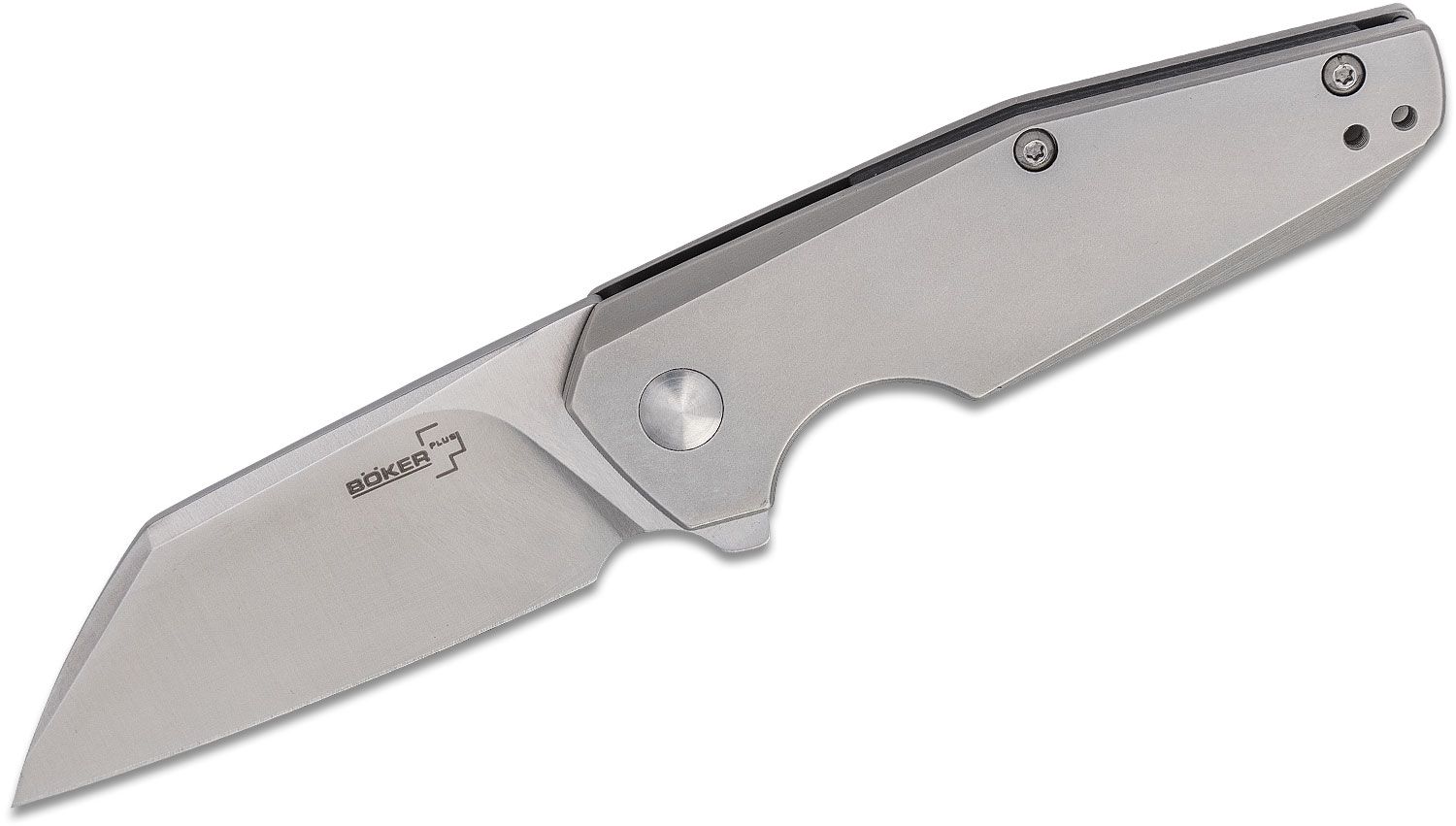 The last knife on this list is a collaboration between French designer Philippe Jourget and Boker Plus. We've been fans of Jourget's hard-edged yet comfortable designs for a while, but his previous production collaborations have been pricy and hard to come by; his custom work, even more so.
Luckily, the Petit flipper by Boker is neither of those things. Stainless handles and D2 blade steel help keep the value high, delivering solid performance without bloating the cost. The knife still manages to feel quite high-end, thanks to Jourget's confident design and Boker's excellent fit and finish work on these. The milled G10 backspacer is a nice touch, lending the handle a subtle, clean look that belies the price point.
It's a small knife – no surprise with a name like "Petit" – but it fits securely in the hand. Personally, I'm a fan of sheepsfoot blade shapes on small knives, because the lack of belly helps the blade feel precise and easy to control in a longer cut. Overall, if you're taken with the design, there's no reason to hesitate: Boker did this one right.
Blade Length: 2.8″
Closed Length: 3.3″
Overall Length: 6.1″
Blade Material: D2 Tool Steel
Blade Thickness: 0.10″
Blade Style: Wharncliffe
Blade Finish: Satin
Handle Material: Stainless Steel
Locking Mechanism: Frame
Weight: 4.0 oz.
Designer: Philippe Jourget
Made in China
Want to See More Great New Knives?