Check out our latest additions to the site – these incredible BLADE Show 2018 customs. Don't worry, though…we still have a few things left to add from the show, so the fun isn't over.
KnifeCenter is the original and largest online catalog of cutlery, and that includes the best custom knives in the world.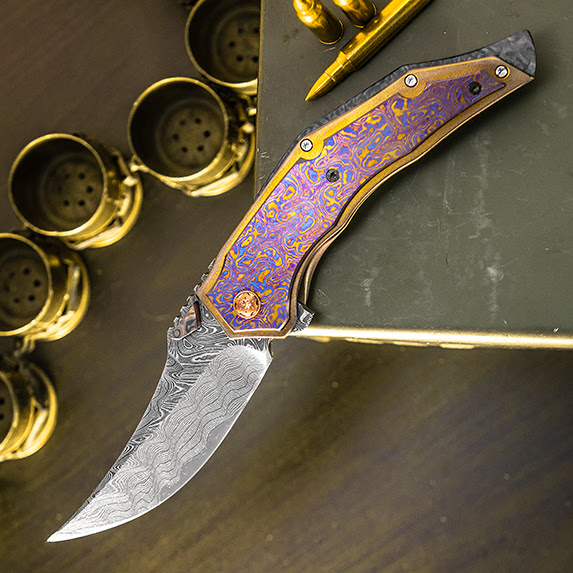 Kurt Merriken is a talented up and coming custom knifemaker and we're very excited to be able to showcase a couple of his knives. This full-time firefighter from Florida spends much of his free time grinding away, specifically on unusually large, intimidating folders. We picked up two very different yet equally impressive models from Kurt at the BLADE show: two elegant full dress Excursion Prototype flippers with Damascus and timascus and a Mutiny Reincarnated Prototype in liner lock configuration.
Biegler Bladeworks Custom Balisongs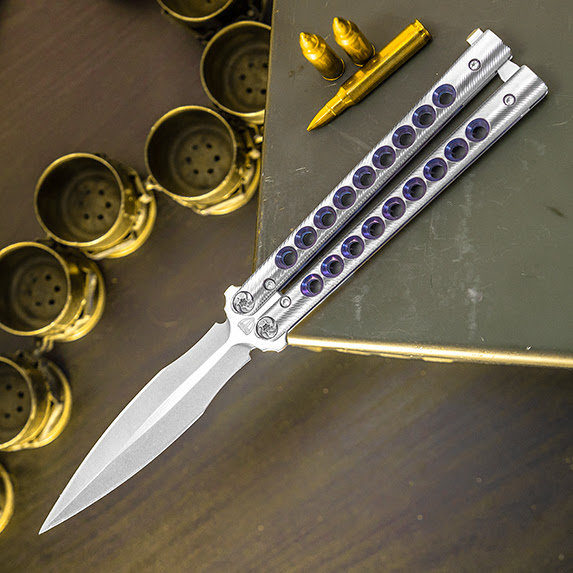 Brian Biegler is about to take the butterfly community by storm with his exceptional array of blade shapes and utterly amazing flipping action. These handmade balis are the cream of the crop, yet they won't set you back so much that you'll never actually use these premium tools.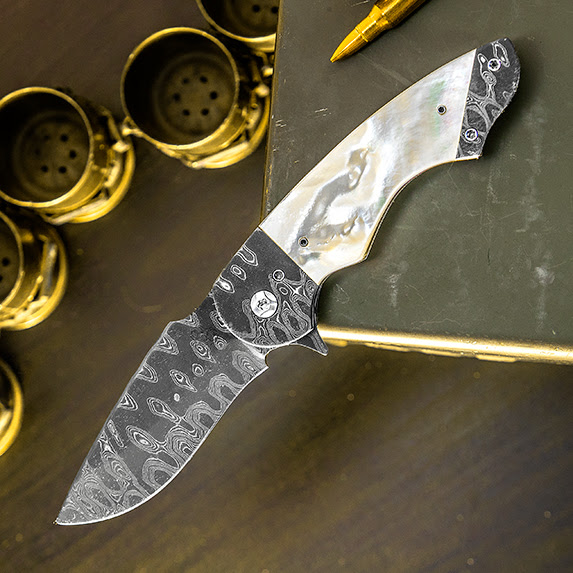 Butch Ball is a local designer for us, yet we always seem to be seeing him down in Atlanta instead of in Virginia. With that said, we picked up as many pieces as we could from Butch that exemplified the tactical yet stylish nature of his work and they're moving quickly, so act fast.
New Hotness from Custom Knife Factory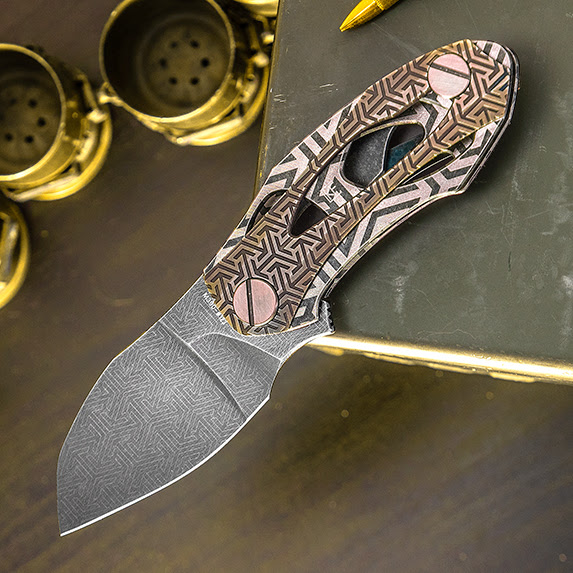 It was too much to try and fit all the different models we got from CKF at the show in the title, so we'll do it here. We have some customized one-off and full dress Decepticon 4s, Gavko SF Spinner Flippers, and Hoback Kwaiback collaborations, plus some production Bragga and Kadat flippers. We even have a handmade Decepticon from Alexey Konygin that was hand-delivered here to Virginia by Alexey himself. All of these pieces are absolutely amazing and will make worthy additions to your collection.
Les George Custom Rockeye and Mid-Tech Galvos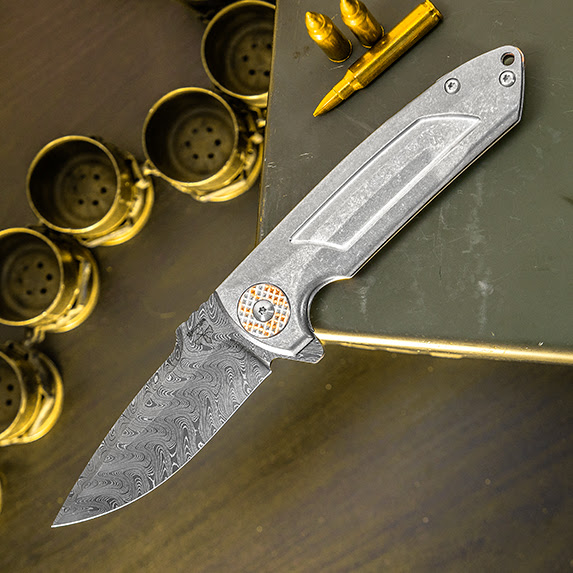 Les George is a true gentleman in this industry, but his work is anything but. It's designed for real-world tactical use with just the right amount of embellishment to not be over the top. We picked up a number of his Galvo boot knives in various finishes, as well as this stunning Damascus Rockeye that's outfitted with Chad Nichols Cu-Ti mokume pivot collars.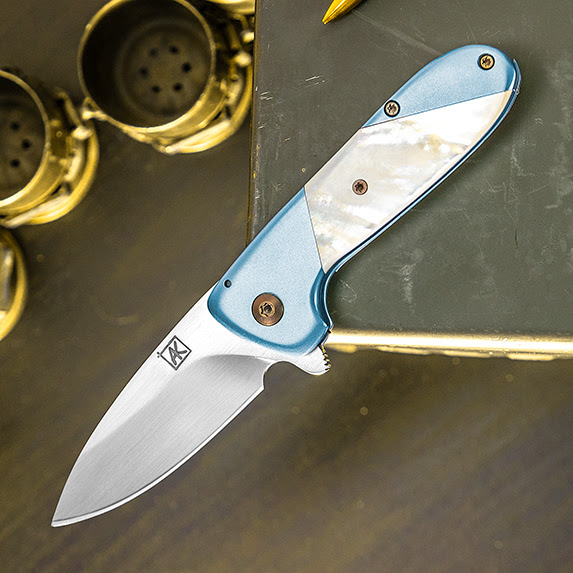 If there's one thing Alan Kritzman is not, it's greedy. These flippers are undeniably elegant and sophisticated and feature top-notch fit and finish, but they sure aren't priced like knives that were handmade in the USA. They will provide you with excellent value for your money and give you a knife you'll look forward to using each and every day.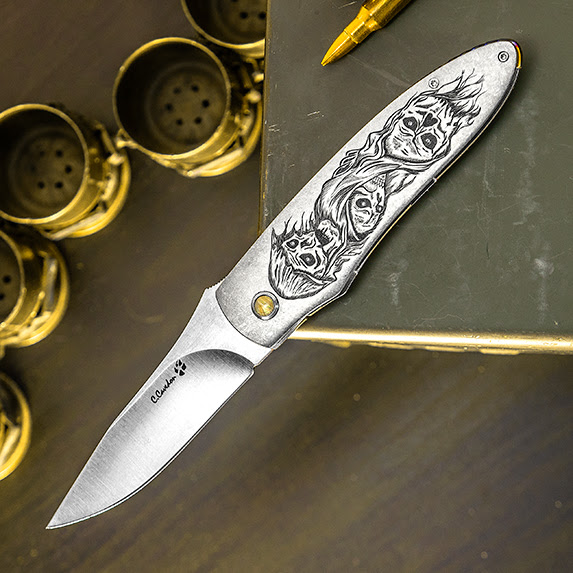 Carlo Cavedon manufactures knives under the company name CavedonArt – and that perfectly describes his work. His knives are extremely beautiful, often featuring hand engraving to take it to the next level. We're lucky to be able to offer these two amazing pieces to you.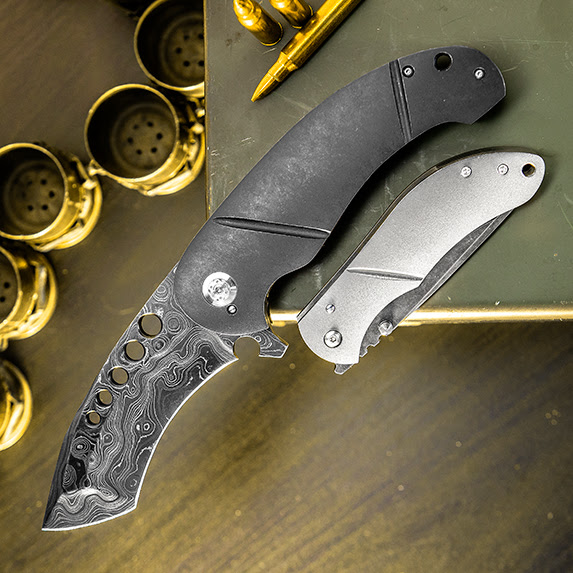 Melvin Lozada is a custom knifemaker who tires easily of making the same design so he's always progressing onto something new and improved. We have a few new models here including the Anubis, Bandido 3.0, and a skeletonized fixed blade. We also have some tried and true designs in the shape of a Rhino 5.0 and this beautiful Damascus Chronos flipper.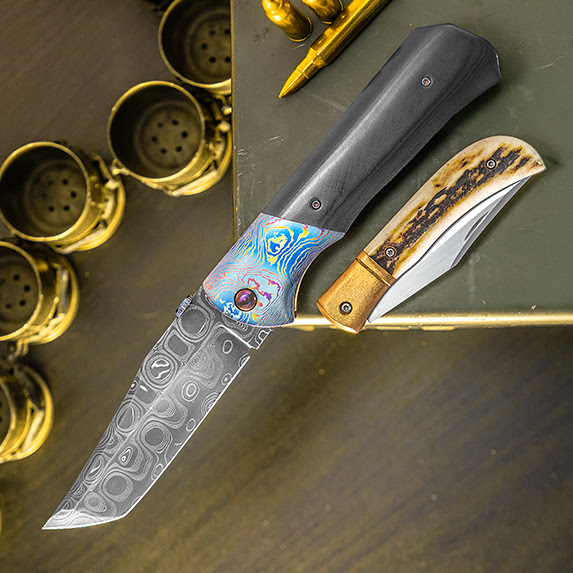 2018 is the year of the slipjoint and Chuck Gedraitis is 100% on board. We picked up a number of his new compact slipjoint models in addition to a single tactical Marauder XL model that's large, in charge, and outfitted with only the best materials Chuck could find.
We still have a few more things from BLADE Show to get up on the site including pieces from Greg Lightfoot, Rick Hinderer, Kendall Hughes, Scorpion 6, and Spartan Blades. We get new Customs and Mid-Techs in every day, so please email us at support@knifecenter.com with any inquiries.