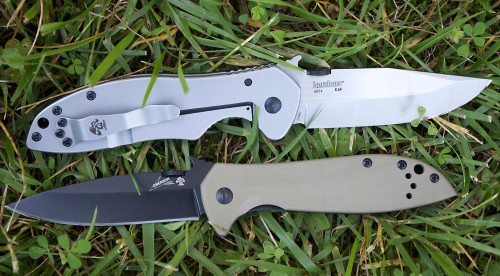 Kershaw and Ernest Emerson
– a match made in Knife Lovers heaven! This is a remarkable release by
Kershaw. Kershaw
has mastered the quality import market with materials and mechanisms that rival some of the finest knives anywhere, but produced at incredible bargains.
Emerson
was a pioneer in the world of knife making creating designs that have been standards for decades. His original hit folder was the CQC7, or Close Quarters Combat Knife, and this new release of the model by Kershaw certainly approaches the domestic versions. Yes, these are made in China. No, they are not pieces of junk. The materials are great and the manufacturing quality is excellent.
The pricing in unbelievable
. We have a few different sizes of
Emerson designs released by Kershaw
and more on their way. We think these will be hits for a very long time so you may want to get the various models as soon as possible –
they're all under $40!
 See the whole selection of in-stock
Kershaw made Emerson
designs at 
www.knifecenter.com