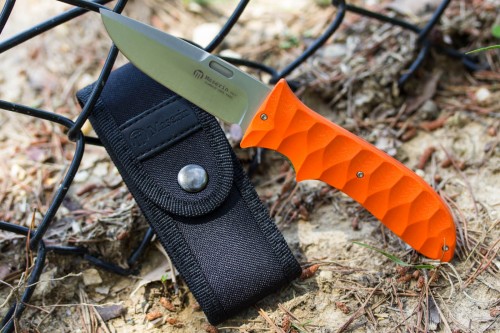 I love the feel of this knife, with its grooved, contoured handle and thumb ramp, it just feels very natural in the hand. The flared guard protects both the index finger and thumb while providing ample purchase even without jimping. Opens very smoothly and the linerlock keeps the blade in snugly in place while still being easy to disengage. With the button snap Nylon sheath it can be carried both vertically and horizontally, making this a great knife for every day carry. Check out this new Maserin design at www.knifecenter.com.
Description
ME384G10A

: 384/G10A GTO
Maserin
Designed by Italian knifemaker Attilio Morotti
, the GTO is a medium size folder featuring a 3-3/4″ N690 stainless steel blade and orange G10 handles. N690 is an Austrian made steel is a great value with solid edge holding capability and tremendous corrosion resistance. The grooved, contoured handles with thumb ramp feels very natural in your hand. The opening action is smooth while the linerlock securely locks your blade in place. Includes a button snap Nylon sheath that can be carried both vertically and horizontally.
Blade Length: 3-3/8″
Closed Length: 4-5/8″
Overall Length: 7-7/8″
Blade Material: N690 Stainless Steel
Handle Material: Olive Wood
Locking Mechanism: Liner Lock
No Pocket Clip
Sheath: Nylon
Weight: 3.6 oz.
Made in Italy