If you've been keeping up with our social media channels this week, you know we've been putting out some pretty incredible pieces we collected at this year's BLADE Show. Here is the roundup that we sent out to the masses this week!
KnifeCenter is the original and largest online catalog of cutlery, and that includes the newest knives in the world.
Michael Raymond Custom Integral Starlit Folder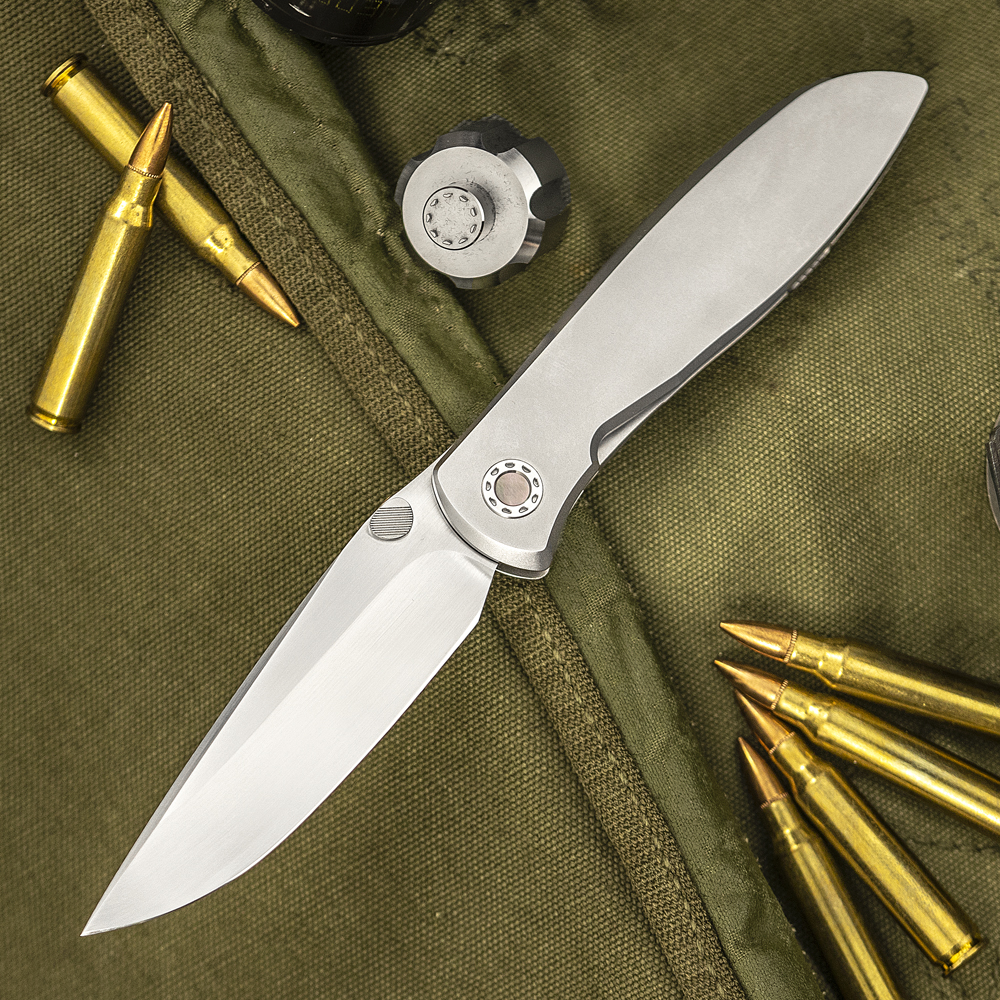 This BLADE Show 2018 Special Starlit features a Bohler M390 stainless steel blade with a uniform, hand rubbed satin finish that comes in at 62HRC. The blade was heat treated using a rapid oil quench technique and deep cryo treatment, then Rockwell tested. This is all done in small batches to ensure accuracy. In the custom knife realm, Michael Raymond is second to none when it comes to overall quality and superb fit and finish.
Ken Onion Slacker and Jeff Park Bones Mid-Tech Flippers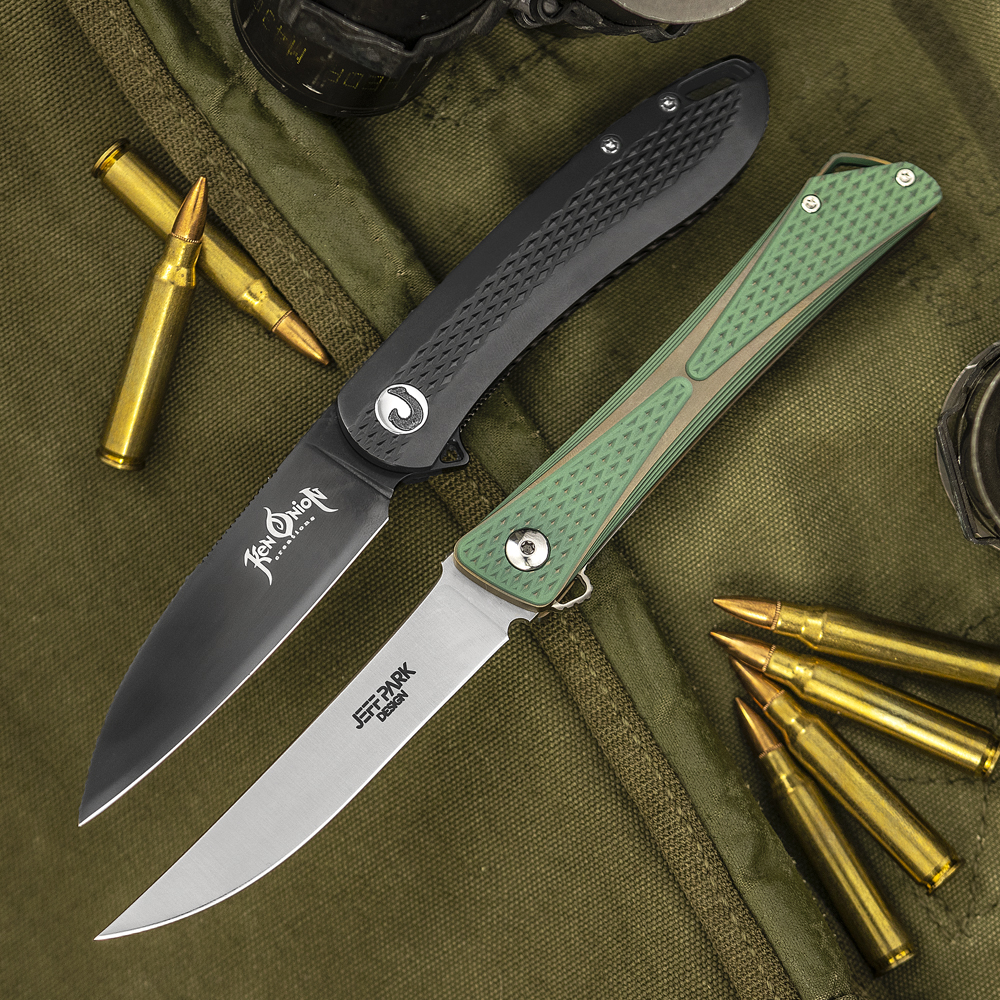 We're not sure why Ken Onion called this design the Slacker, because it's definitely working for us! It's rare that we have Ken Onion customs and mid-techs on hand, so we were super excited to scoop up these bad boys at BLADE Show. We also managed to get our hands on several of Jeff Parks' Bones model, his first original design after spending twelve years working with Ken in Hawaii.
Jared Price Custom Wren Flipper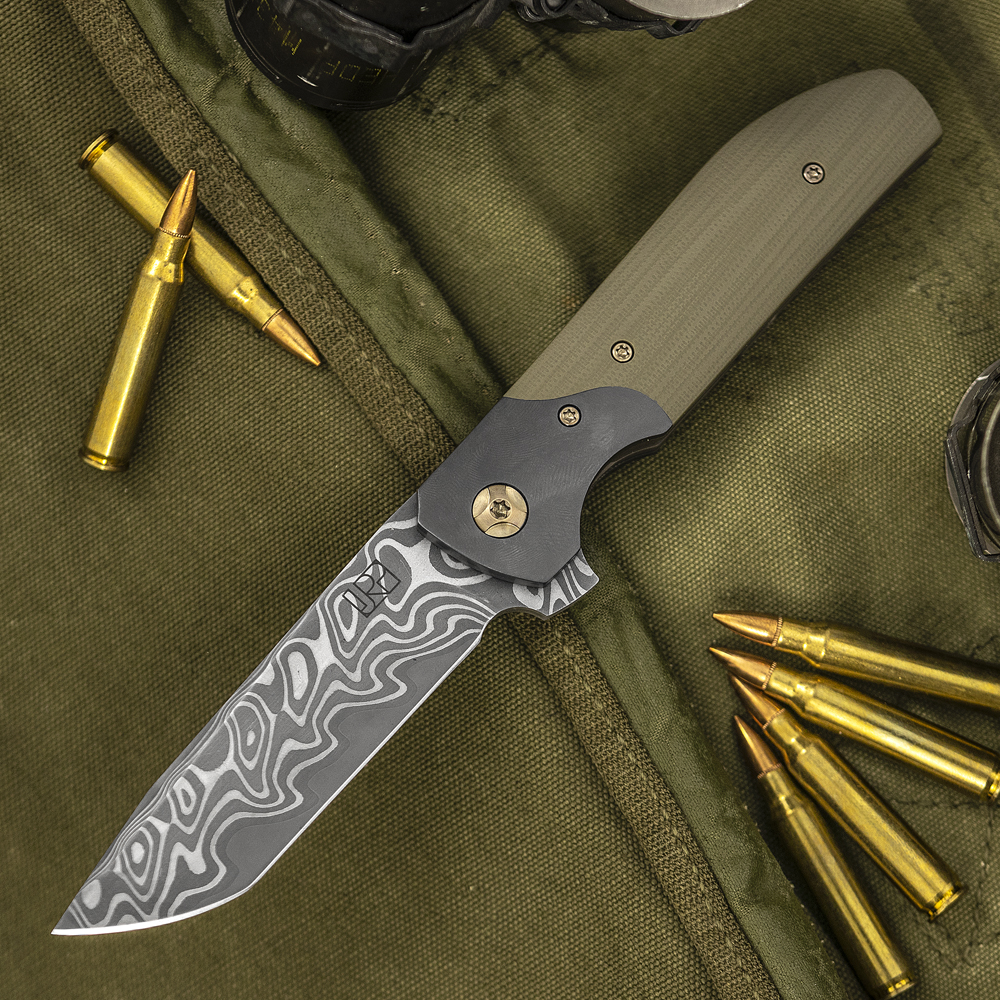 This Wren flipper is the other prize score from the 2018 BLADE Show, and one of the first three of its kind. It was handbuilt by Jared in Missouri and is perfect in just about every way. From the blade look to the handle, the ergonomics to the fit and finish, we cannot find a single negative thing to say about this knife.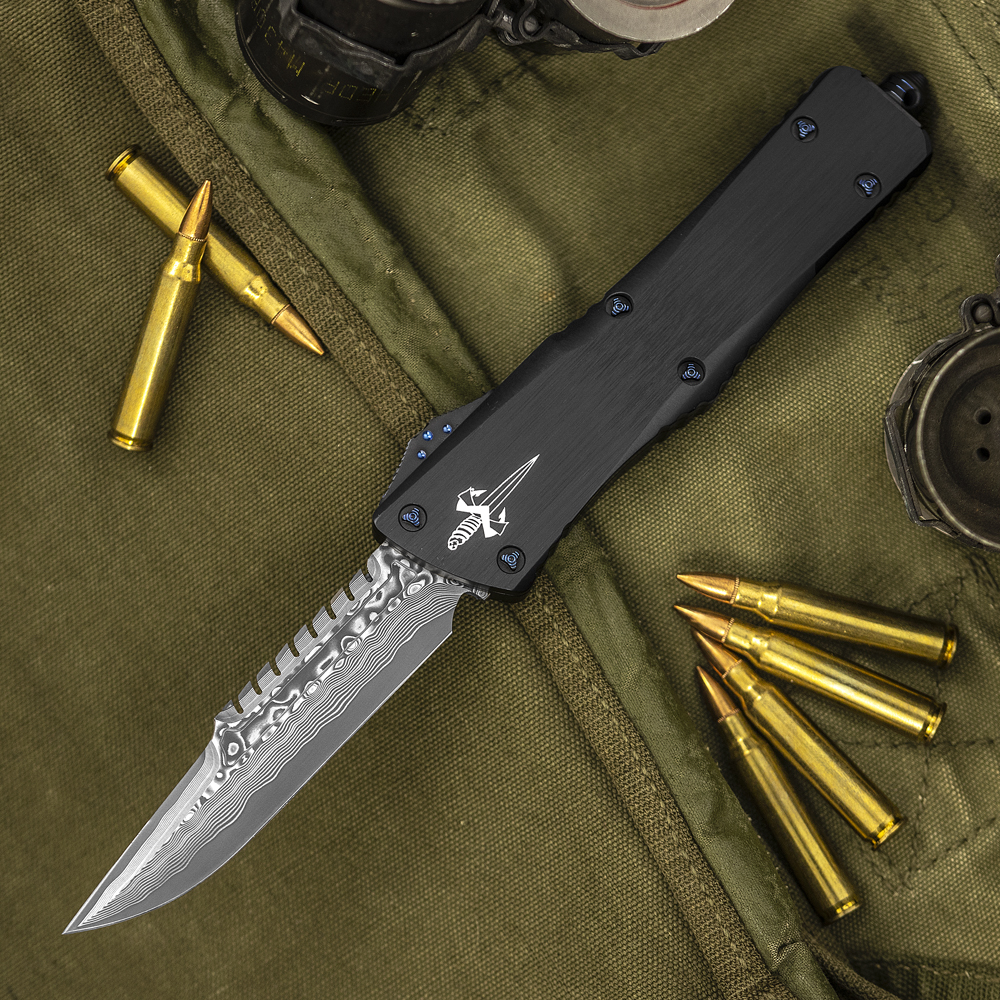 We picked up five different Marfione customs at the Show, and there's some really exciting variety to be found here. We have a beautiful variation of the Warhound flipper and a SOCOM Elite with brass handle inlays. If you prefer an OTF, we brought back a Cypher and two different Troodon models.
Andrew Demko Custom AD15 MG Folders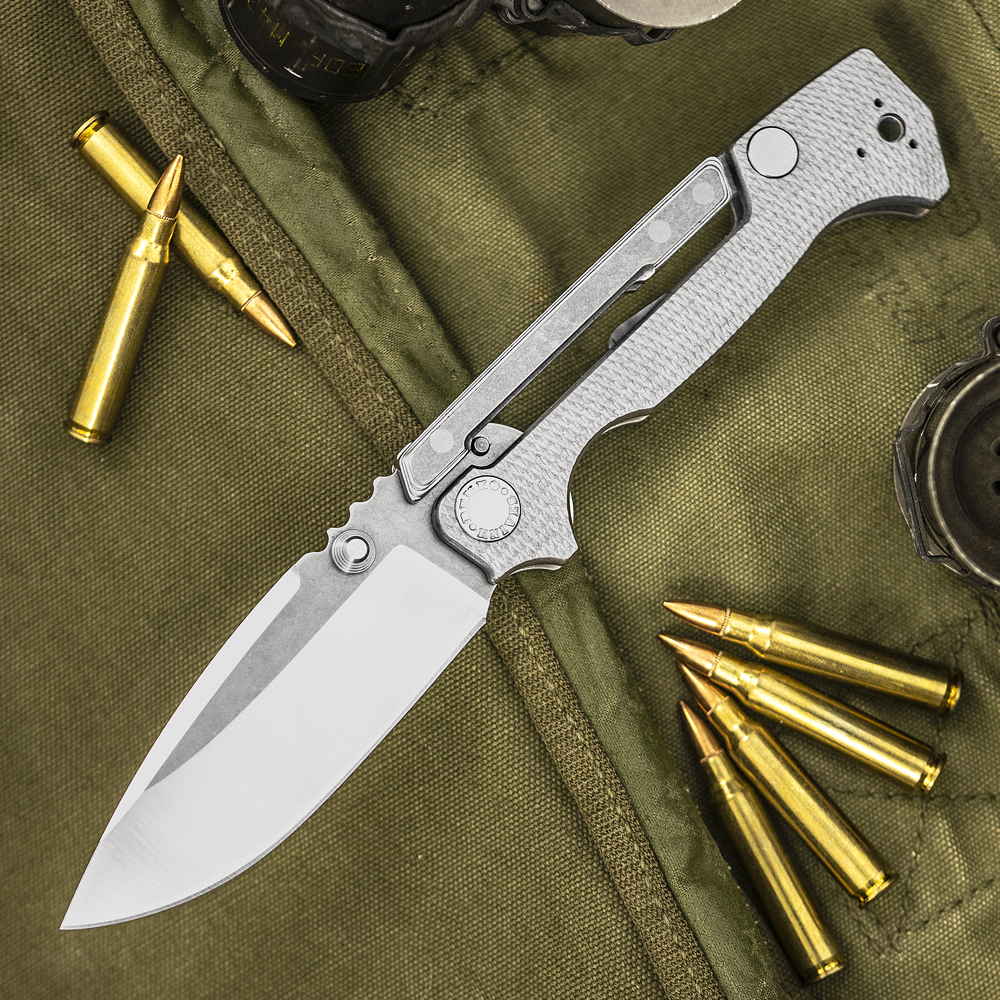 If you're looking for a custom knife from Andrew Demko without the full-custom price, he's just come out with the knife for you. The Machine Ground AD15 is still handbuilt by Andrew, but it features a more precise grind and his ultra-strong Scorpion Lock. We were able to get ahold of a couple new variations that featured milled titanium and colored G10 handles.
Jens Anso Custom Monte Carlo and Orso Prototype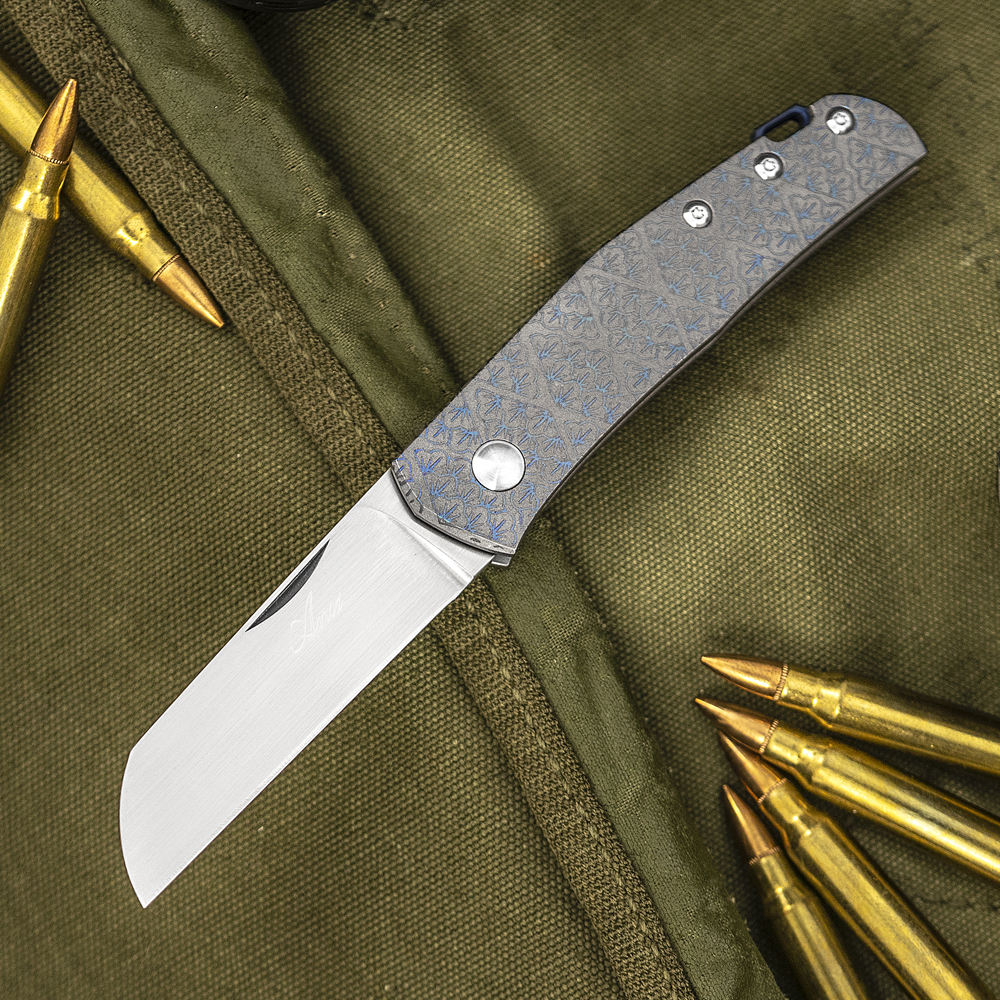 The Monte Carlo is a superb gentleman's folder that was handmade by Jens for the 2018 BLADE Show, and we consider ourselves extremely lucky to have it to offer to you. It features a non-locking blade and nail nick opening in a size that allows it to be carried in just about any country, regardless of their strict knife laws. On the other side of the spectrum, the Orso is one of Jen's most recent designs which represents a fine return to his sleeker, curvier blade style.
Darrel Ralph Custom MOAB Hackers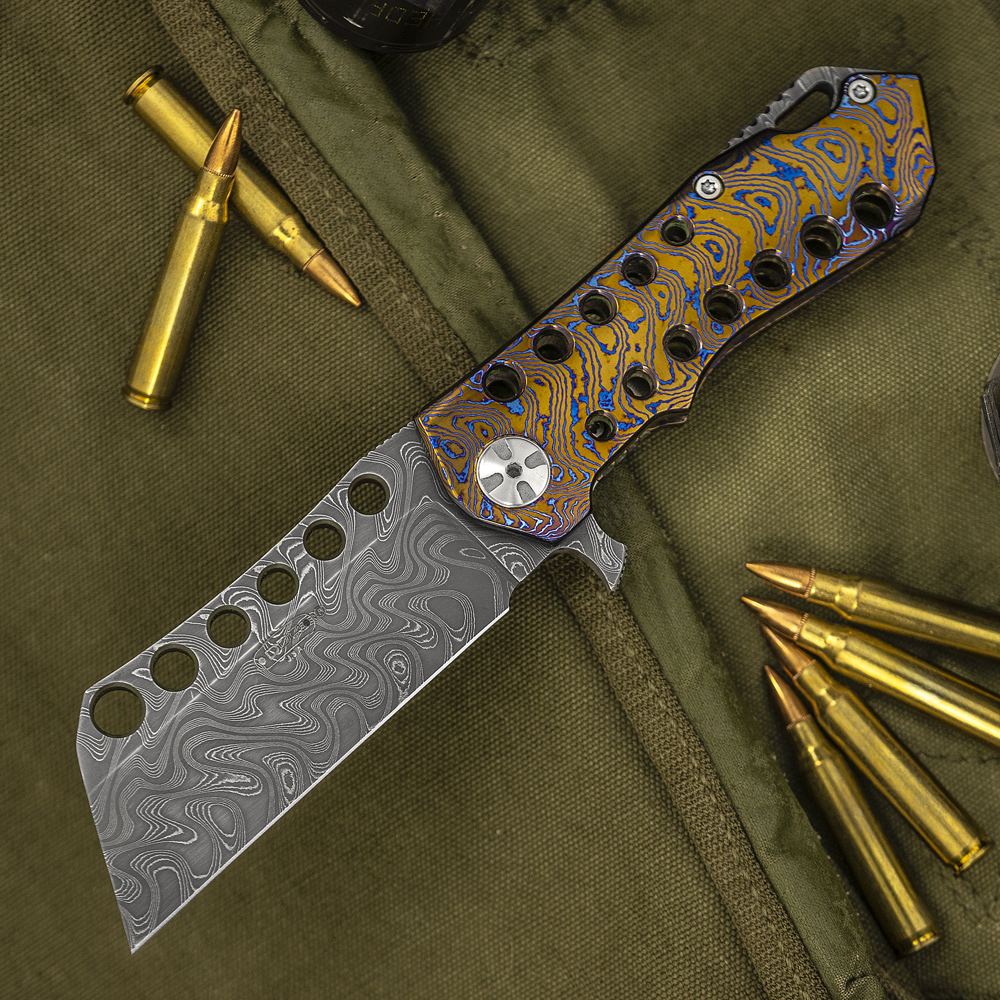 The MOAB (Mother of All Blades) Hacker combines an intimidating blade with an ergonomic handle for a knife that you are bound to love. These each feature a Chad Nichols Stainless Damascus cleaver style blade with a milled hole pattern that seems to be a theme on this knife. We have a couple "full dress" models in addition to a "half-dress" one. Darrel thought of everything with these knives and we're incredibly lucky to be able to offer them to you!
Jason Guthrie Custom Damascus Scouts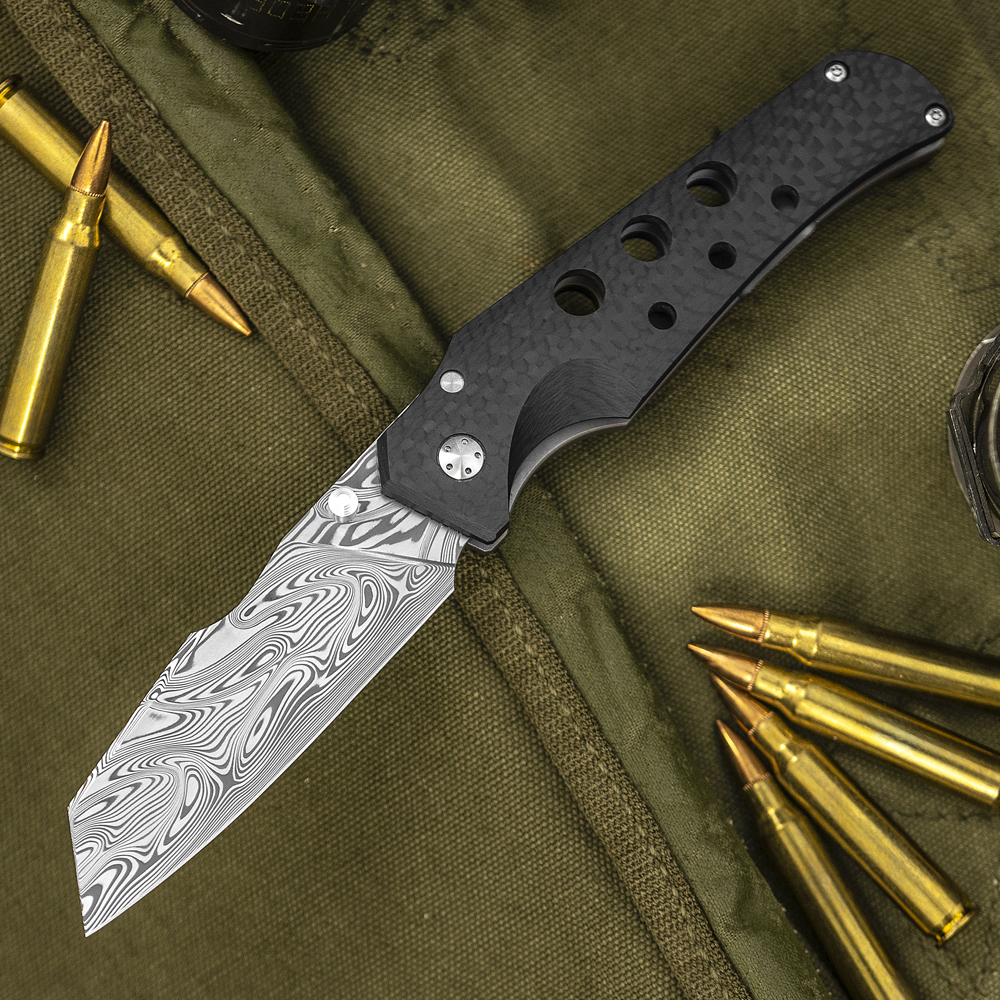 The Scout is a smaller version of Jason Guthrie's Ranger model, yet all aspects of this folding knife are just as capable as the original. This folder sports a "classic tactical" appearance with clean lines, high tech components, and a shape everyone will find appealing. The Scout is offset with beautiful Damascus blades and A+ material combinations.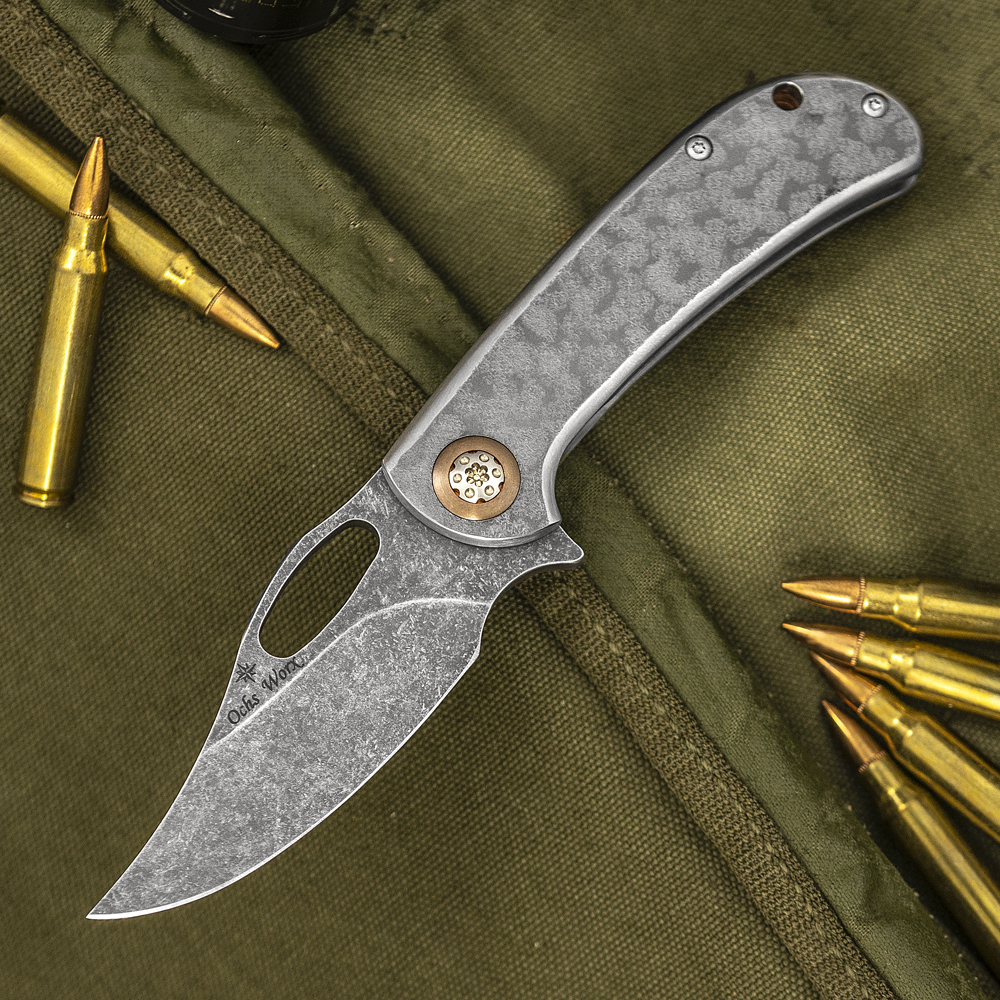 Eric Ochs is one of the premier custom knifemakers in the industry today. He researches his blade and handle materials thoroughly to ensure they can withstand the abuse he designs his knives to take. Almost all of Eric's designs are created for useful simplicity and balance while providing superior grip and control. His pieces are extremely difficult to come by, so we were thrilled to be able to grab several at the show.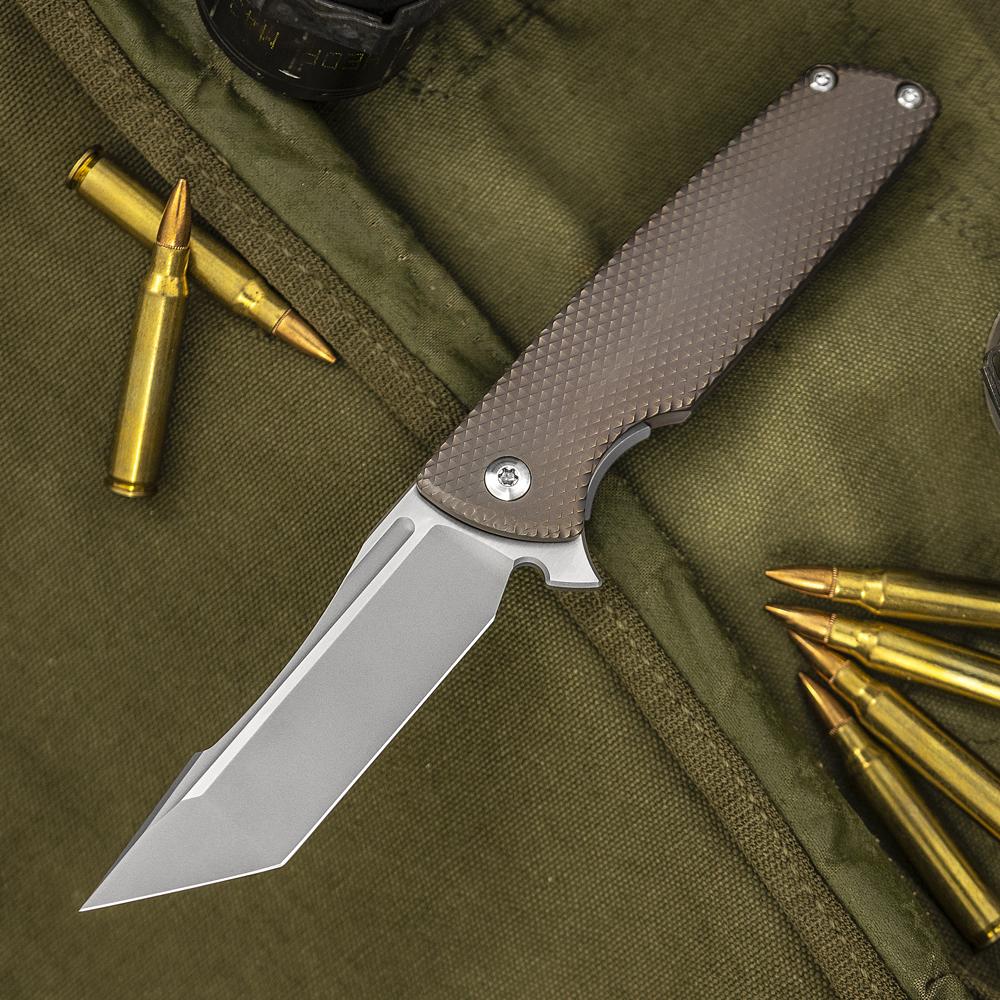 SharpByDesign represents the custom knives of Brian Nadeau. Brian is relatively new to the knife community, but has already amassed quite a following – and for good reason. His knives are absolutely some of the best available for their quality, innovative designs, and sheer beauty. Brian has already been awarded some of the industry's most prestigious awards and, based on what we saw at the BLADE Show, there are sure to be plenty more to come.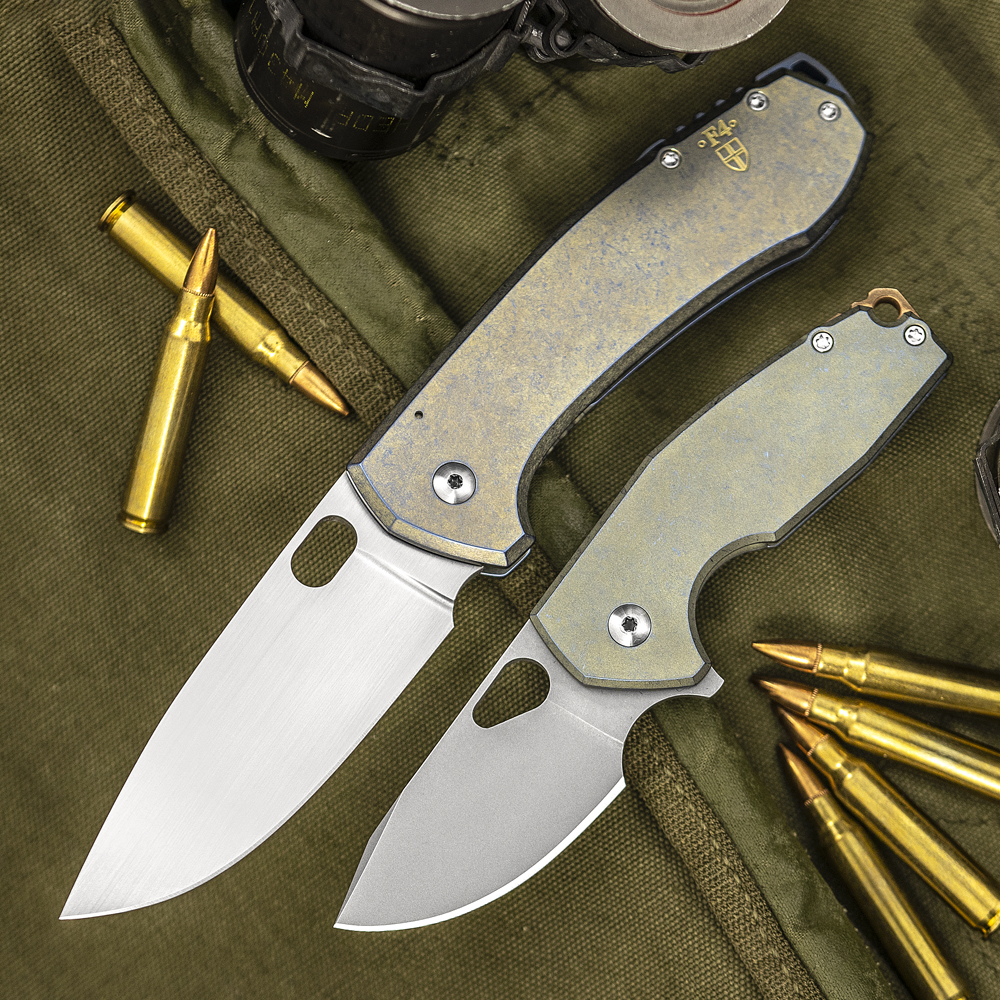 Jesper Voxnaes of Vox Knives is a man that needs no introduction. Like his close friend and country mate Jens Anso, Vox has collaborated with some of the best production companies in the world so his designs are not new to the US market. However, landing your hands on a custom knife handmade by Jesper is a tall order and we consider ourselves extremely lucky to have two to offer you.
We have many more coveted custom pieces from BLADE yet to add. This includes (but is definitely not limited to): Enrique Pena, GTC, Jeremy Marsh, Mick Strider, and Todd Begg Knives. We get new Customs and Mid-Techs in every day, so please email us at support@knifecenter.com with any inquiries.