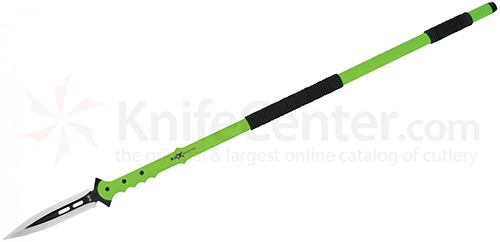 Whether you are slaying zombies, hunting a wild boar, or in need of the ultimate conversation piece, the United Cutlery M48 Apocalypse Spear is the answer.  At ~ 44 inches long, the M48 is not overly cumbersome and the light-weight FRN (Fiberglass Reinforced Nylon) shaft also make this a very portable spear.  This spear features an extremely sharp Black Oxide-Coated 2Cr13  stainless steel blade and also comes with a Snap Sheath for safe and easy storing.  Get yours BEFORE the Apocalypse at www.knifecenter.com.
More from United Cutlery on the M48 Apocolypse…….
You can spear-head the survival efforts of the looming zombie apocalypse when you face it with this wicked M48 Apocalypse survival spear! This mean spear measures in at a whopping 44 1/8" from end to end, featuring a razor-sharp 8" blade that is nearly half an inch thick! With a stainless steel blade this powerful, this spear was built for durability and strong use, even in the grueling conditions of the zombie apocalypse. Practical applications abound with this massive spear, including uses such as breaching, prying, and impaling practically anything–zombies or otherwise! The handle is meticulously crafted of 30% fiberglass in the design of a cane and is nearly indestructible. Includes rubber sheath.
Specifications
Blade Material: Black Oxide-Coated 2Cr13 Stainless
Handle Material: Paracord-wrapped 30% Fiberglass Reinforced Nylon
Overall Length: 44-1/8″
Blade Length: 8″
Sheath: TPR Snap Sheath
Made in China