When you think of some of the best hunting knives and camping knives in the business, Buck Knives springs to mind faster than the action on one of their folders. The Buck name is synonymous with the outdoor knife world, mostly because of Buck Knives' century-long endeavor to produce high-quality tools that give people what they need. Back in 1902, Hoyt Buck, a blacksmith apprentice at the time, started making knives by hand with worn-out file blades – a method still used today by many knifemakers and an appropriate beginning for a company that now offers one of the best-selling folding hunters on the market.
With such a long history of making great knives, weeding through their entire knife collection to find the top five best Buck Knives was no easy feat. Luckily, when it comes to knives there's nothing we won't do to make sure you have the best performing tools in your arsenal. Check out KnifeCenter's picks for the top five best Buck Knives – you won't be disappointed!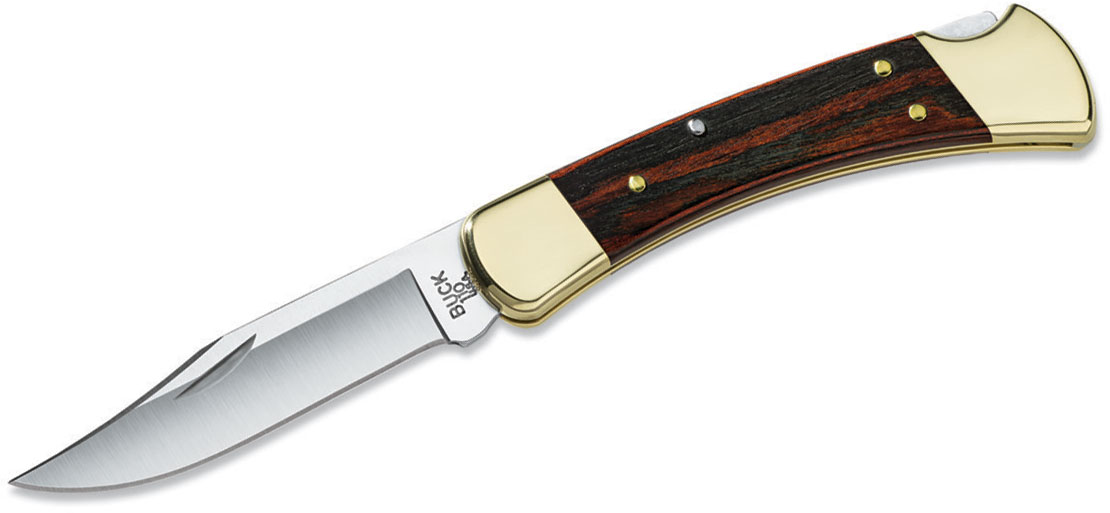 Let's start off with Buck Knives' most iconic knife, the Buck 110 Folding Hunter. It is so widely recognized that knife enthusiasts and non-knife users alike think of this particular model when they hear the words "Buck Knife". Just like other proprietary eponyms such as Kleenex and Xerox, the phrase "Buck Knife" has been used to describe almost any lockback of this style.
This is undoubtedly one of the best-selling knives that Buck offers, and it remains one of the most recognizable and popular knives ever created. This knife design changed the game when it was first conceived in 1963 when Buck decided to develop the ultimate folding utility and hunting knife. The Buck 110's sturdy design gives hunters a great tool without all the bulk of a fixed blade. It's no shock that this knife is one of the most copied knife designs out there, but nothing can stand up to the real deal. With its strong lockback mechanism and refined aesthetics, the Buck 110 has been a top pick by knife enthusiasts for years.
Buck 119 Special Hunting Knife

This classic Buck knife is essentially the Buck 110's bigger brother in fixed blade form, which is reason enough for it to make our best knife list. Back in the day, Hoyt and Al Buck built these knives by hand in their original shop, and they're still made in America today. This heavy-duty fixed blade knife is the perfect size for big game hunting and skinning. Even better, the Buck 119 is an extremely affordable knife. You'll have a hard time finding a better USA-made fixed blade for the money.
Buck 347 Vantage Pro Large Folding Knife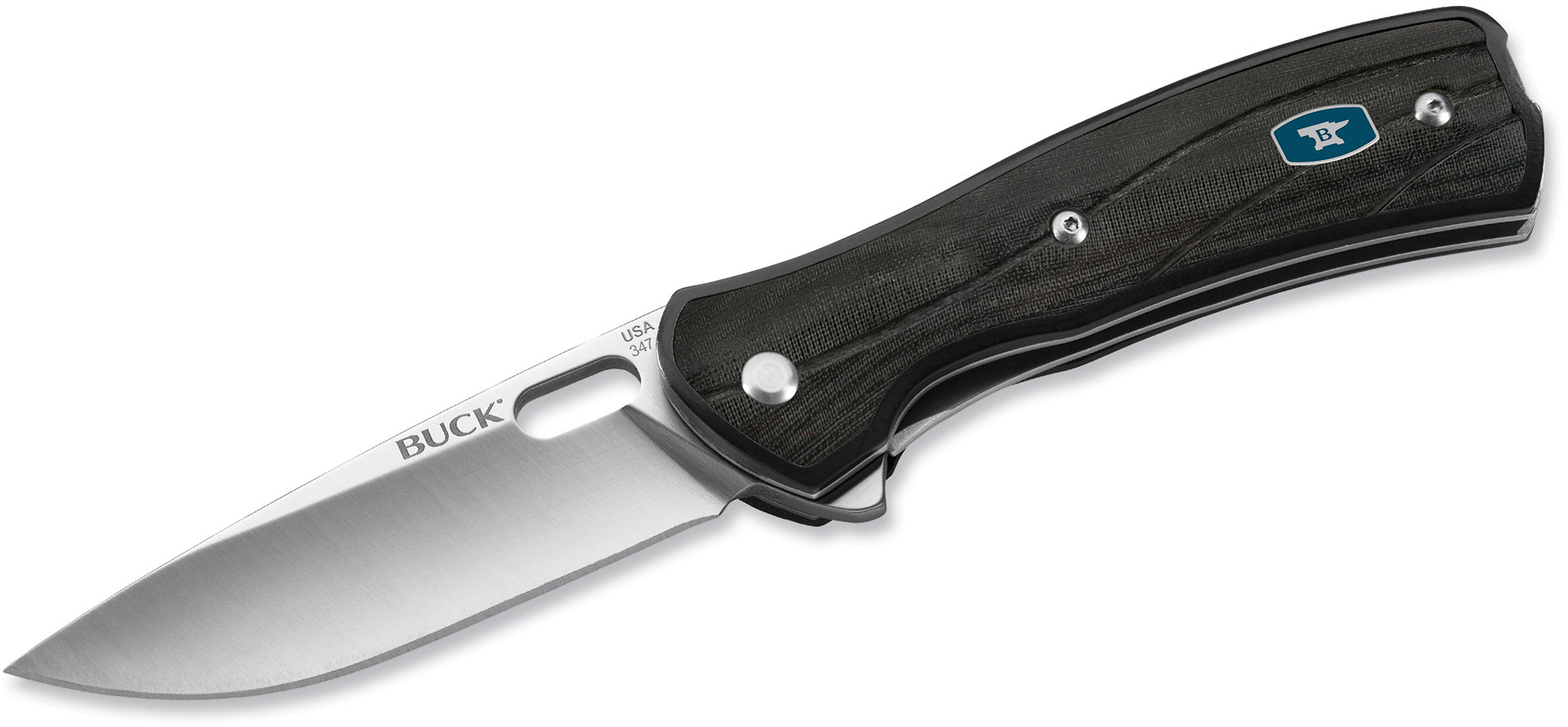 If the Buck 110 is the standard to which old school Buck knives are held, the Vantage Pro is the face of the new school. This knife offers great features like an ambidextrous flipper and comes equipped with high quality S30V blade steel and machined G10 handle scales. This modern folding knife boasts great ergonomics, and the deep-carry clip makes it a great EDC knife option that will practically disappear in your pocket. In our opinion, the Vantage is one of the best everyday carry knives available on the market.
Buck 301 Stockman Rosewood Dymondwood Handle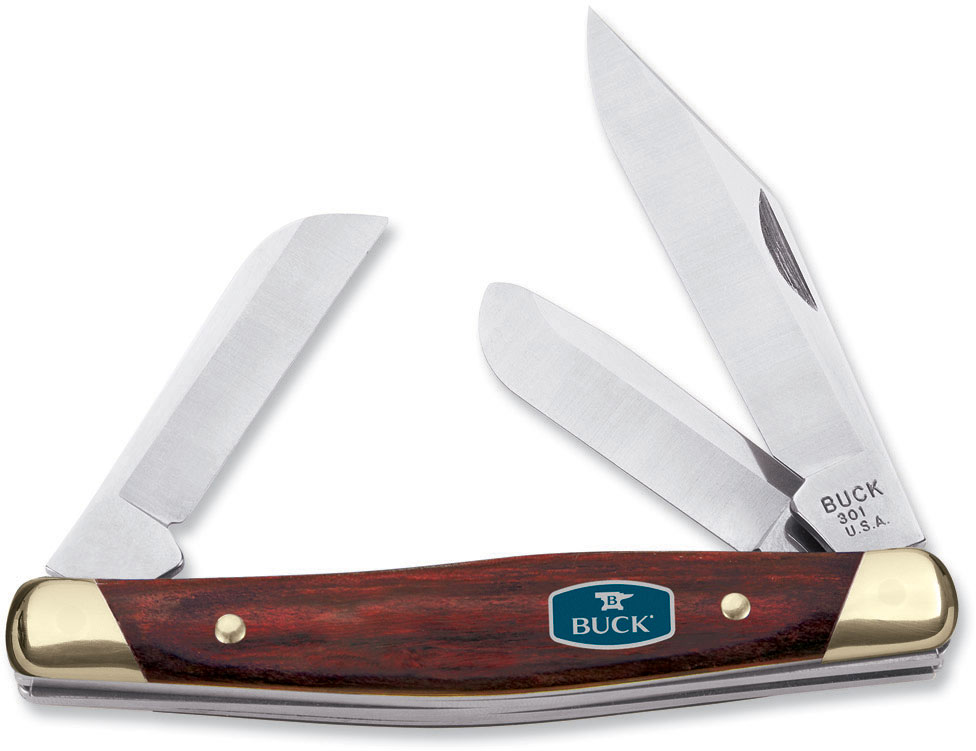 The Buck 301 is a shining example of a Stockman slipjoint, which is undoubtedly one of the greatest pocket knife designs of all time. If you're looking for versatility, you've found it – the three distinctive blades (clip point, spey, and sheepsfoot) ensure you have the right tool for just about any job. These blades feature Buck's famously capable 420HC steel. For those out there turning up their nose at 420HC, Buck is known for getting more out of that steel than any other knife company thanks to the heat treat protocol developed by the late Paul Bos. These blades are put through a very rigorous heat treat process and quality performance testing, then they're tempered using a unique heating and freezing system. The Rosewood Dymondwood handle scales offer a stunning contrast to the brass bolsters, which gives this EDC knife both function and finesse.
TOPS/Buck CSAR-T Tactical Folding Knife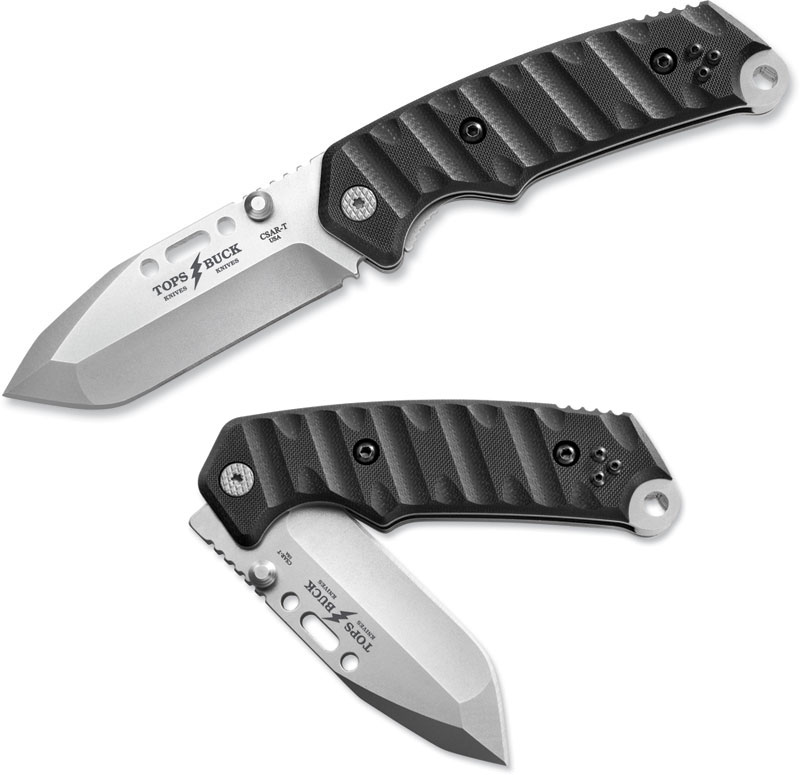 Buck's collaboration with TOPS Knives is unlike any knife Buck has ever produced before. The CSAR-T is a rugged tactical folding knife with a solid 154CM steel blade. The compound grinds provide a reinforced tip to protect against chipping or breaking when using the knife to puncture. This combat knife's liner lock and milled G10 handle ensure a solid build that's as durable as they come. We always love seeing two great knife brands come together to bring us products we're proud to sell, which describes the CSAR-T to a T. This is a great hard use knife that is ready to take on any task.
Buck Knives is a staple of the knife community. It's not just their history that has earned them a reputation as one of the best knife brands of all time, it's also their continued drive to produce reliable knives and tools that put performance first. As Buck says themselves, "behind every Buck knife is over 110 years of experience and craftsmanship." Our top five best Buck knives list perfectly represents their efforts – who agrees? Can you think of a better Buck knife that should have made our top five? We're skeptical, but we still want to see what you come up with. Let us know over on our Instagram, Facebook, and Twitter!