Good things come to those who don't wait to jump on sweet Black Friday deals – and you only have until 11:59 PM ET on November 26th to snatch up one of Shun's best knives, the 8″ Classic Chef's Knife, for only $99.95!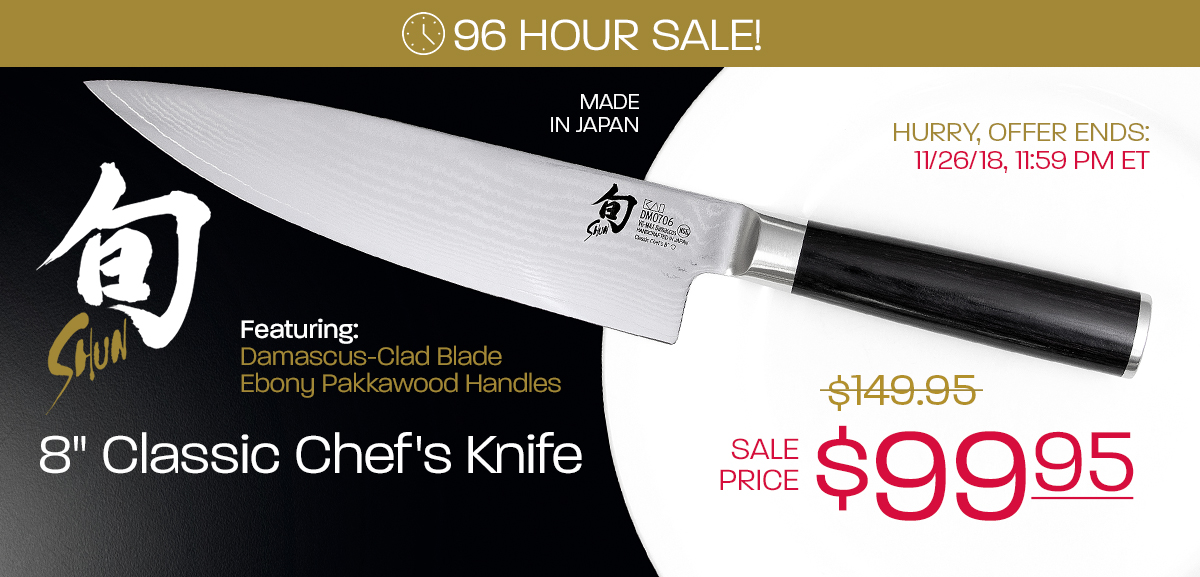 For anyone curating their knife block or looking to upgrade their kitchen cutlery, the only right way to do it is to add this knife. This all-purpose kitchen knife is the perfect length for preparing fruits, veggies and meats, and the wide blade will keep your knuckles off the cutting board during long chopping sessions. With its curved belly, this Chef's knife can be gently rocked through fresh herbs and spices to produce a very fine mince. Shun's Classic lineup features thinner blades, which makes this model super light and less tiring to use compared to European-style Chef's knives.
The blade is Damascus-clad with Shun's proprietary high-performance VG-MAX steel, which provides incredible edge retention. The D-shaped ebony Pakkawood handles are also going to complement any knife block or acrylic stand – you'll want to show off this knife.
The perfect gift for the cook in your life, and definitely something anyone would want to see under the tree this year, the 8″ Classic Chef's Knife is handcrafted in Japan. You won't find a better deal on a knife of this quality out there this Black Friday, so buy one now before this limited time offer is over!