Cold Steel is probably most well known for some of their over-the-top knife demonstration videos. Those videos have a flair for the dramatic and a lot of their knives have that same flair, taking cues from martial arts and tactical needs. However, they also make a lot of really good utility options. Here we'll take a look at a broad spectrum of the best Cold Steel folding knives that are available as of right now in 2019.
The Best Cold Steel Knives Folding Knives
Cold Steel Tuff Lite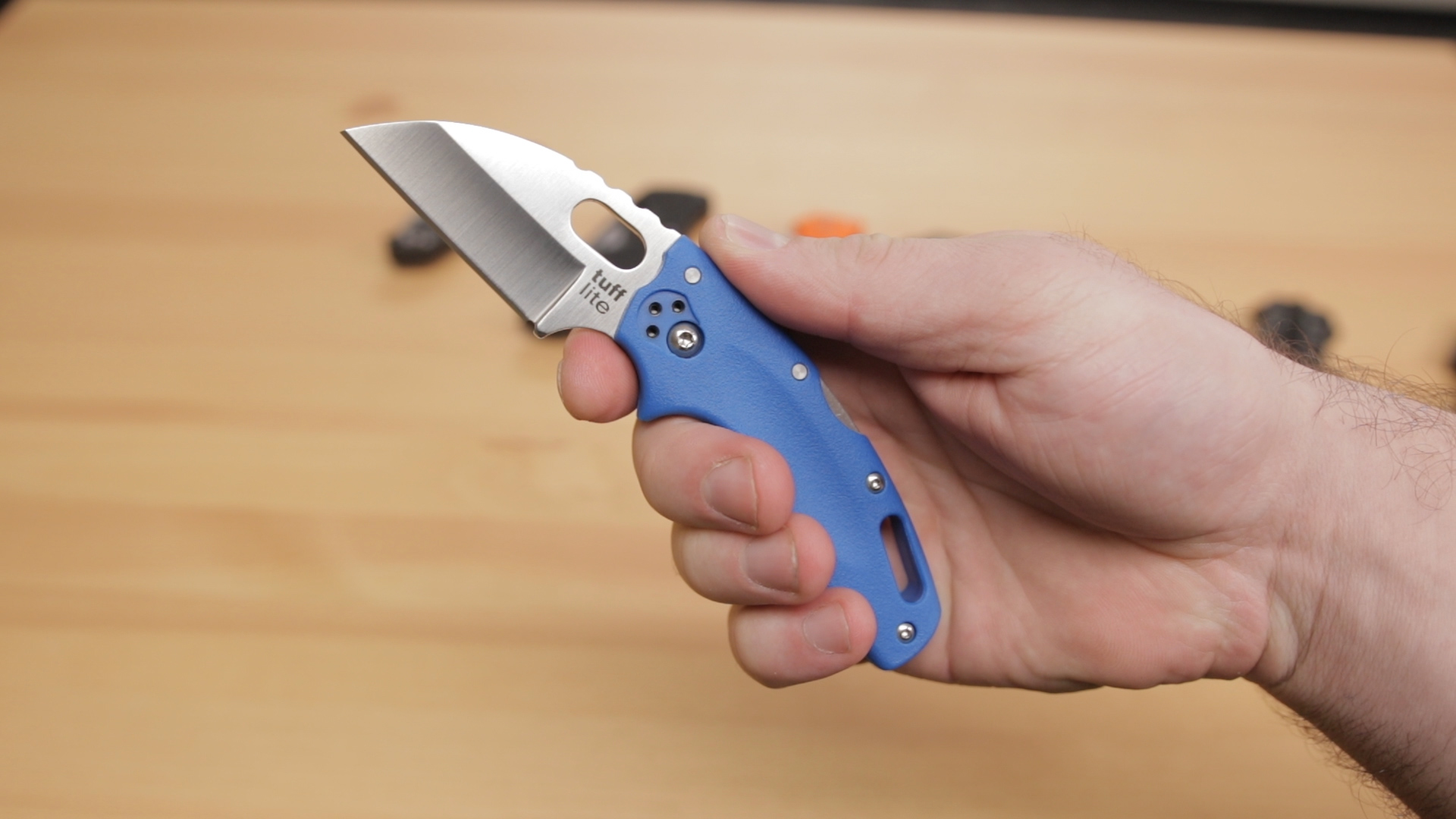 The Cold Steel Tuff Lite is a very compact knife with an integrated choil which allows you to get a nice, full grip and really put its Wharncliffe blade to bear.  The blade is made From AUS-8 steel with a hollow grind and Cold Steel gives us one of the best factory edges in the business. We also get a two position pocket clip set up for tip down carry as well as a large lanyard slot.
But the real star is the lock, and while it may look like an ordinary lockback, it is actually Cold Steel's Tri-Ad lock. This lock was actually developed by Andrew Demko. He has a very close relationship with Cold Steel and his influence can be felt across the range.
Where it differs from a standard lock back is it has got more going on underneath the hood that actually makes it stronger. For one, they've added a stop pin to the knife. When you're putting it to hard use, that helps to redistribute the forces around the handle making it less susceptible to breaking. They've also angled some of the surfaces of the lock interface. This will make the lock self-adjusting over time. Whereas an older lockback can sometimes feel a little loose over time, an older Tri-Ad Lock is going to be just as solid as it was when you first got it.
While a lot of companies will put their proprietary locking mechanisms only on their higher-end knives, the fact that you can get the Tri-Ad lock in such an affordable piece as the Tuff Lite is fantastic. The price to performance to weight ratio of this knife is really hard to beat.
Pro-Lite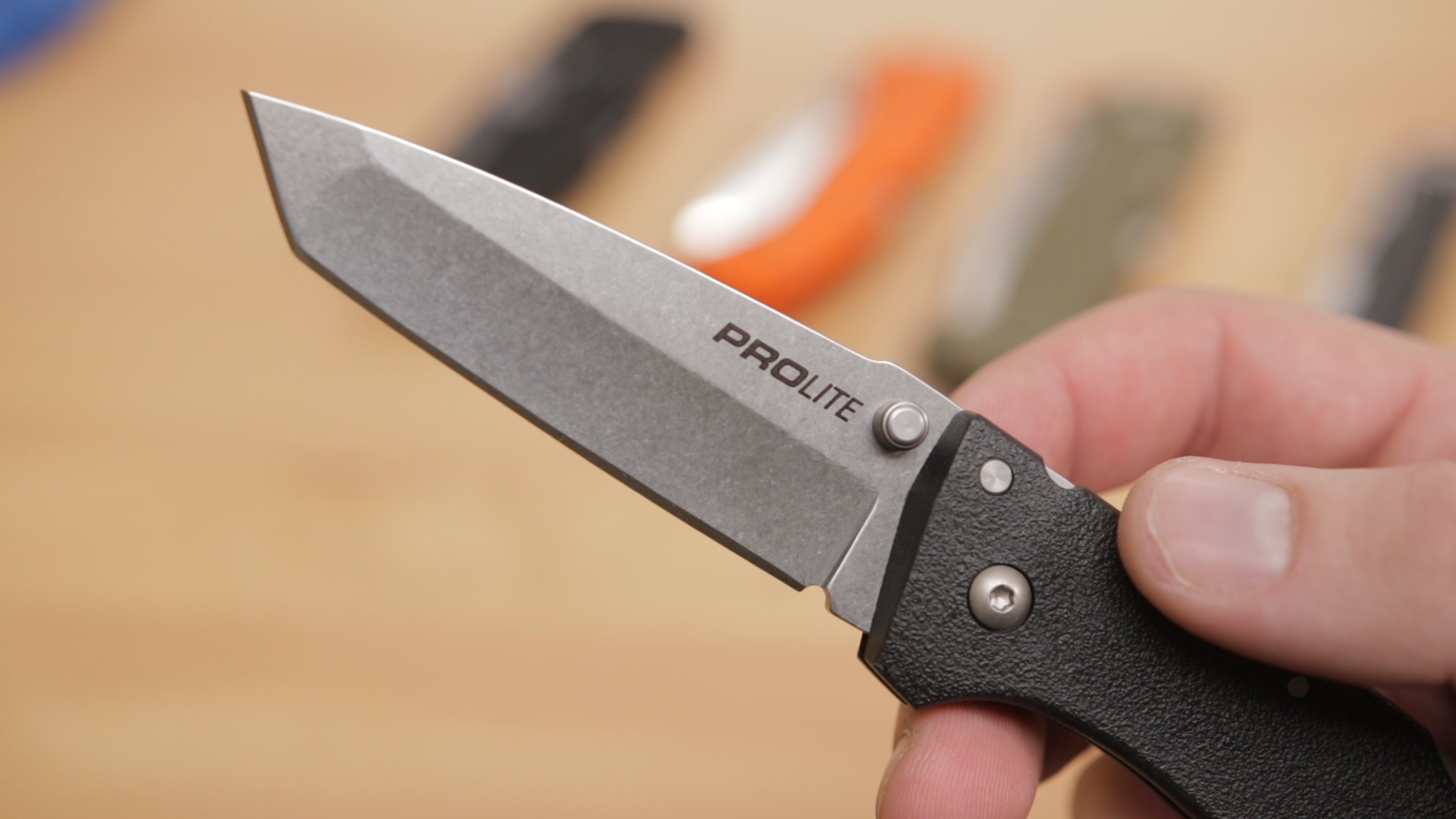 Another great workingman's knife from Cold Steel is the Pro-Lite Series. You can get it in a couple of different blade options such as tanto, clip point or drop point, giving you options for whatever role your knife has to play.
Materials include stonewashed German 4116 steel and, like the Tuff Lite, synthetic handles which keep the weight down. They also sport a nice texture that helps keep your traction, and again, we've got that excellent Tri-Ad lock to keep things secure.
Another advantage of a locking system like this is that it's not biased to right or left-handed use. It is a very ambidextrous design made more so because we have a reversible pocket clip for left or right carry and a reversible thumb stud as well. This allows you to set the knife up to your preferred method of carry.
Recon 1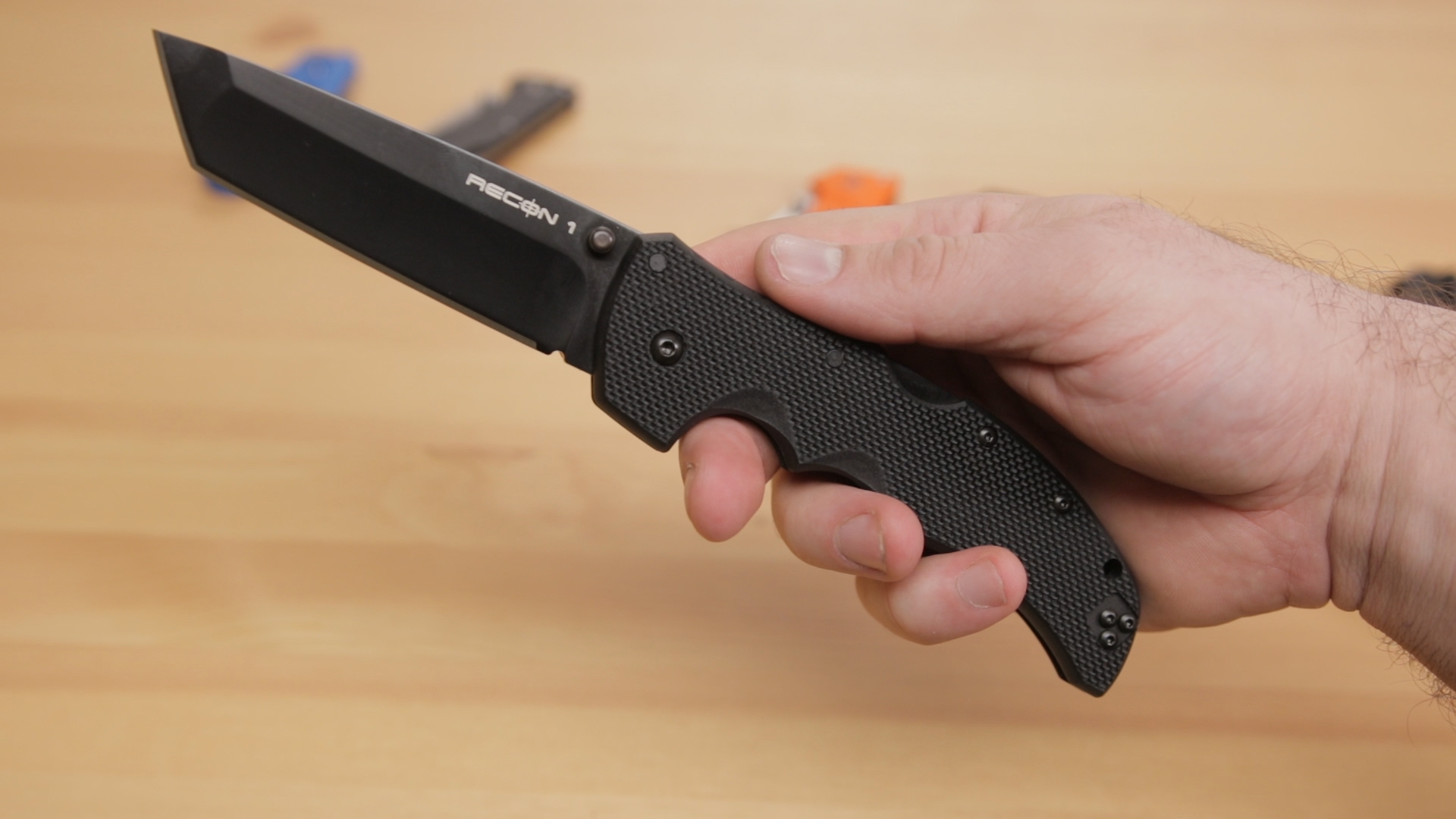 One of Cold Steel's longest-serving models is the Recon 1, shown here with a tanto blade profile. This is definitely a higher-end knife featuring S35VN steel as well as G10 handle scales. These upgraded materials are a nice step above the Pro-Lite models, but it doesn't sacrifice the ability to be used hard. The Recon series has put in a lot of man-hours over quite a few years and this latest version is the best one yet.
The S35VN steel will hold a great edge and it even has a black DLC coating which will help protect the blade and make it look great for even longer. The Tri-Ad lock is not the only thing that helps with the security on this blade. It also features a very aggressive texturing for grip and prominent finger grooves. The way the grooves work together with the thumb ramp makes it very easy for you to maintain full control over this formidable blade.
SR1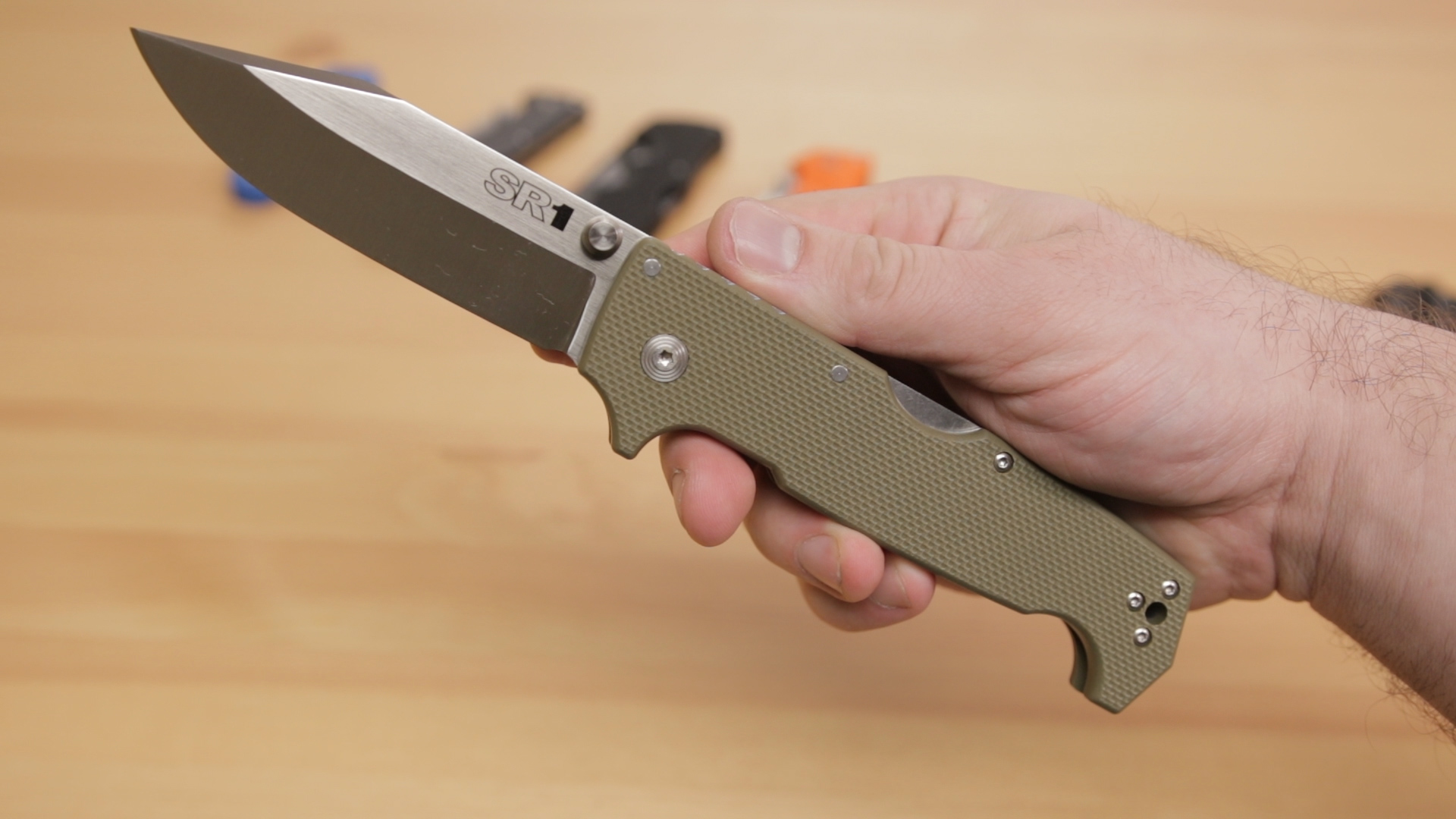 Based one of the premier fixed blades and Cold Steel's lineup (the SRK) is the SR1 folder.  The SRK fixed blade has long been a favorite of hardcore survivalists so they made sure the SR1 folder could live up to its family reputation of dependable performance, and they didn't lose a lot of strength when the went to the folder format.
The Tri-Ad lock provides the platform on which the rest of the knife gets its strength. Nicely textured G10 scales provide a locked-in grip and the thick S35VN blade provides a ton of stability. You have your choice of clip point or tanto profile with a mid-heigh flat grind. Cold Steel didn't take the grind too high up because they wanted to maintain a lot of strength but it still slices quite nicely thanks to their fantastic factory edge.
The knife is perfectly balanced as well. Whereas a lot of folders can be handle heavy, they've actually managed to keep the balance point right around the index finger. Even though you get a big, chunky blade, it is easy to maneuver because you're not fighting the weight it.
If you want a little bit more control, the SR1 does have a nice finger guard (an essential feature on any kind of survival knife) with a nice area in front that allows you to choke up right behind the edge, allowing you to do fine work very easily.
Ultimate Hunter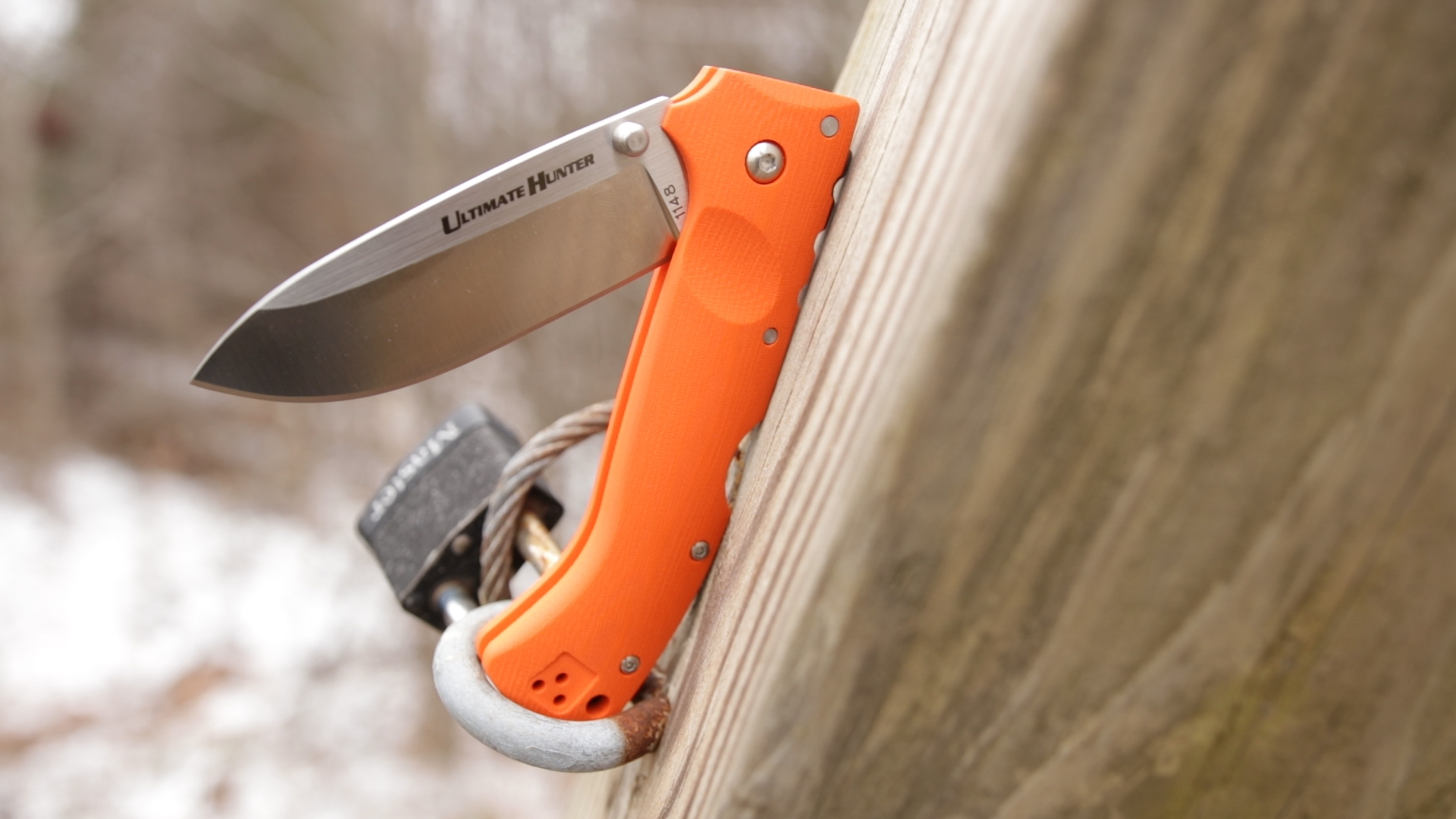 Next up we've got a knife that has a lot of the same attributes as the SR1 in an easier to carry package: the Cold Steel Ultimate Hunter. This is actually one of our all-time favorite pocket knives for use in the outdoors. They have taken a classic drop point hunting profile and translated it into a folding knife that will be great for camping, hiking, bushcraft or survival. 
We've still got that nice Tri-Ad lock, but instead of textured flat G10, they've contoured it with a smooth finish. Because of that, this is one of the most comfortable folders out there and it allows you to put it to really heavy work without it digging into your hand as much as some other designs. We've also got nice color options of black or orange G10.
The S35VN drop point blade has versatility in mind. It's a bit thinner and also comes with a higher grind than the SR1's blade, making for a great middle ground between strength and slicing efficiency. 
AD-15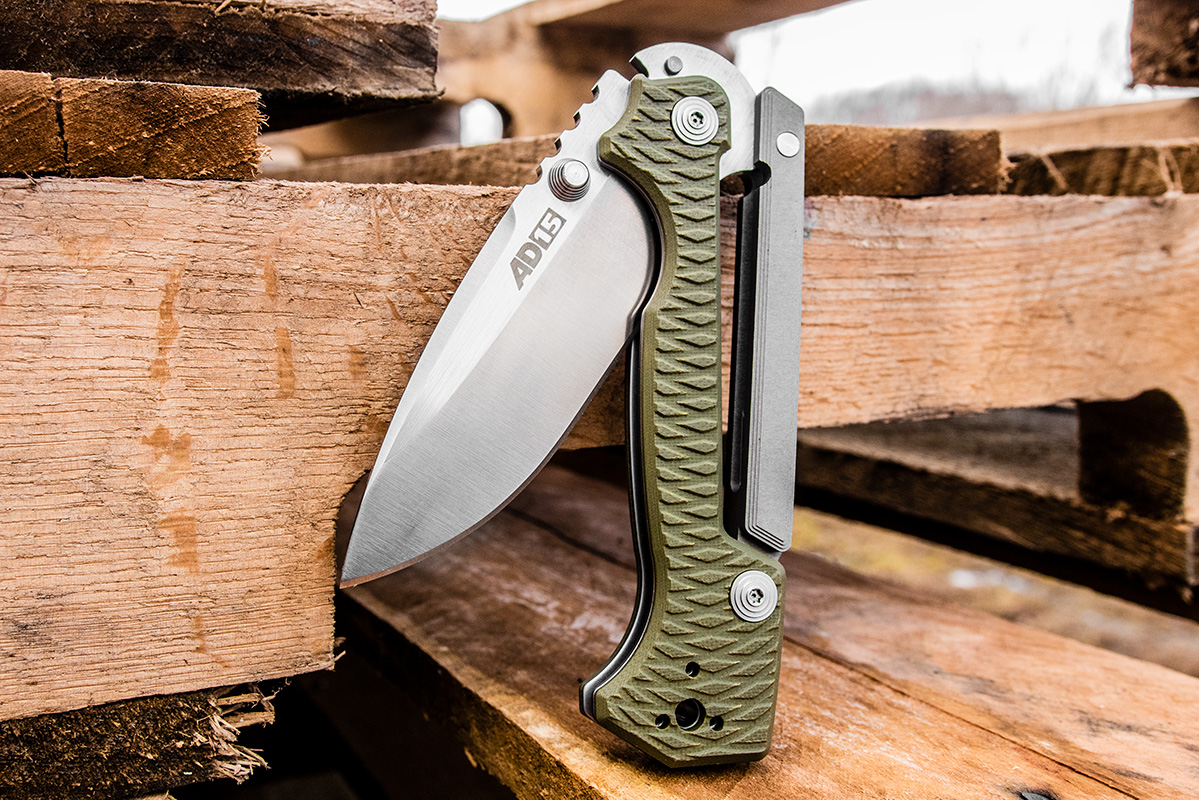 Next is one of the hottest releases from Cold Steel in a long time and that's the AD-15. These are modeled after Andrew Demko's custom versions of the AD-15 and they come with the same lock that made them famous, that being the Scorpion Lock. This lock does bear some similarities to a lockback design but it operates very differently.
To disengage the blade you actually lift up on the yoke that forms the spine of the handle and then fold the blade shut. The opening action is still just as easy as any other thumb-stud equipped knife. It does take a little bit of getting used to in order to operate it but once you do it's very easy to open and close very quickly and easily. Because of the thumb studs and the nature of the locking yoke, the AD-15 is still is a very ambidextrous design.
One of the other nice things about this lock is that it gets better the harder you use it. The tighter you squeeze, the less likely it is to come open accidentally. Also, because of the way it operates, you're actually able to keep your fingers out of the closing path of the blade when you're disengaging which is a huge advantage and inherently safer than some other systems.
With Cold Steel's reputation, they certainly could have chosen to put this new lock on something a little wilder or more aggressive. We're happy that they put it on something that is so usable. The wide drop point blade featires s35vn steel with a flat grind and a swedge. The handle feels nice and comfortable and you can just tell when you hold it that this is a knife that can hold up to hard work.
Small Luzon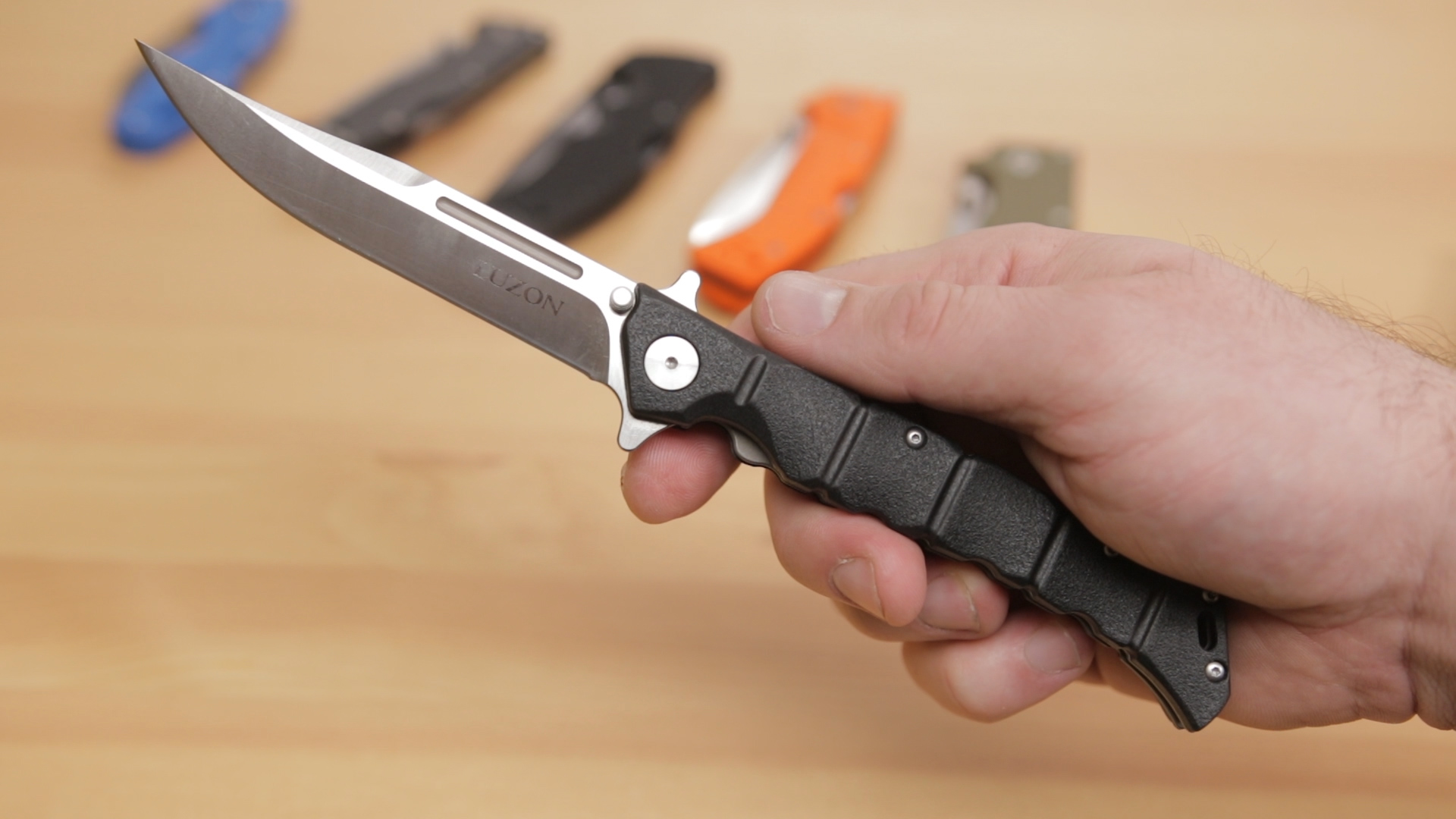 Cold Steel certainly made a splash with the introduction of the AD-15 and the same thing can be said with the Luzon Series. There is a six-inch version of this knife that is just out of this world, but we find the slightly smaller four-inch version to be much more practical. It still has plenty of Cold Steel swagger but it's an easy to carry size that you could use to get a lot of work done.
The shapes of these knives were actually inspired by balisongs from Cold Steel Founder Lynn Thompson's personal collection, so if you like the butterfly knife style but want a more standard folding knife the Luzon's have it. The great thing about this series is that they are affordable as well with synthetic handles and 8Cr13MoV steel. You're getting a good amount of performance for what you're paying and the lock up is still solid.
Rather than the Tri-Ad lock we've got a liner lock and on the backside we actually see one of Cold Steel's latest innovations. Making that liner lock even tougher is a secondary slide lock which actually holds the liner lock in place when the blade is open. Thanks to that secondary mechanism we get an extra layer of safety on an already fantastic lock.
FGX Balisong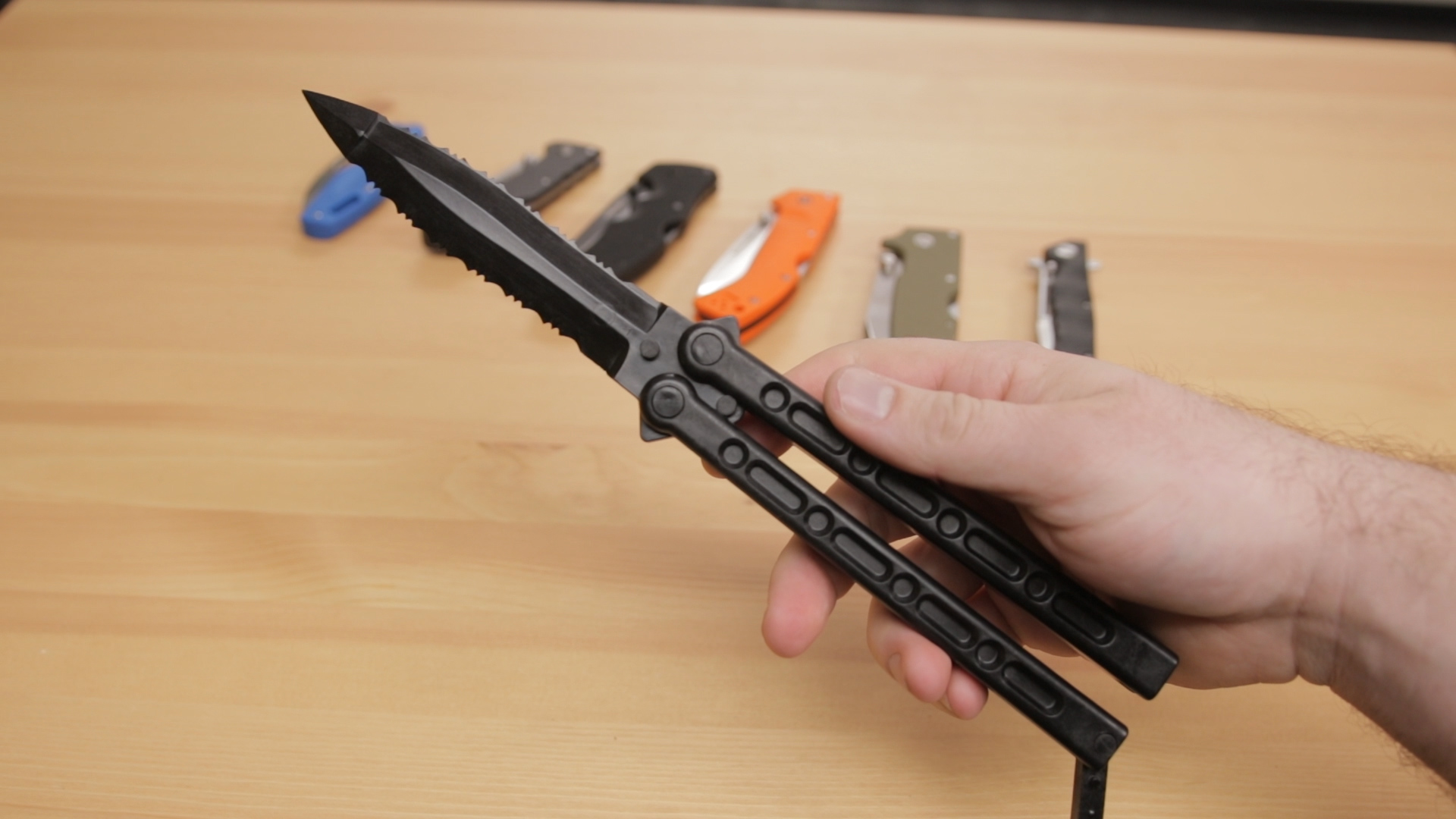 And now for something completely different. We're starting to get into things that Cold Steel does just because they can, and we love them for it. Nothing epitomizes this like the FGX Balisong.
In the construction of this knife, Cold Steel uses no metal at all. This butterfly knife is made with all synthetic materials but we do have some pretty aggressive serrations on this blade which ensures it can still cut.
At first look, the FGX may seem like a novelty but we actually like it for a few reasons beyond the cool factor. It's never going to flip as nicely as a high-end balisong but it does flip well enough to make a capable trainer. This is something that you'd have no qualms flipping over concrete because if you drop it you won't mess up your high-end blade and it will help teach you to respect the blade when you're flipping. If you do happen to make a mistake with this knife it will cause you some discomfort, but you won't have to worry as much as you would with a live blade.
Espada XL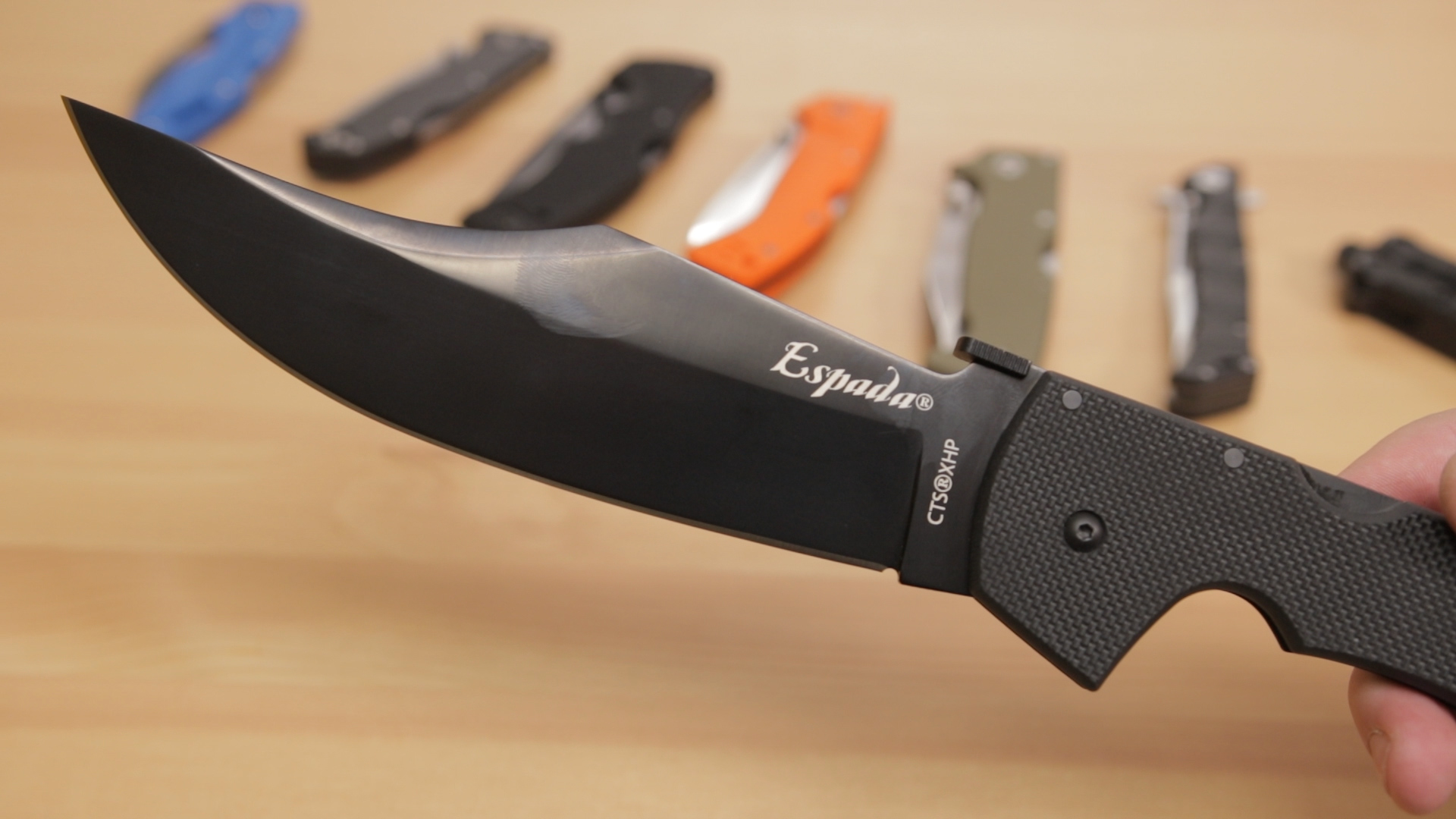 It wouldn't be a complete Cold Steel list without something completely over-the-top, and right now our favorite is the Espada XL from the Espada Series. This is a two-handed pocket knife with a Tri-Ad lock and CTS-XHP steel with a DLC coating. Knives like this are why we love Cold Steel because, while some of you out there might think this is a novelty, they've built it to exacting specifications to make it an actual hard-working tool.
The handles on this Espada XL are actually modeled after the Recon series and it has that same nice texturing on the black G10. Because of the length of the handle, you can also choke back on this in a number of different ways. Holding it back at the end actually makes it swing very nicely in chopping motions.
We've also got another area where Andrew Demko has left his stamp on a Cold Steel knife, and that's with his patented Ambidextrous Thumb Plate. Not only does this allow right or left handed opening, it actually allows it to function in a similar fashion some of their tactical competitors by allowing you open the blade as you're extracting it from your pocket. If you don't think that fits in your pocket, you might be surprised.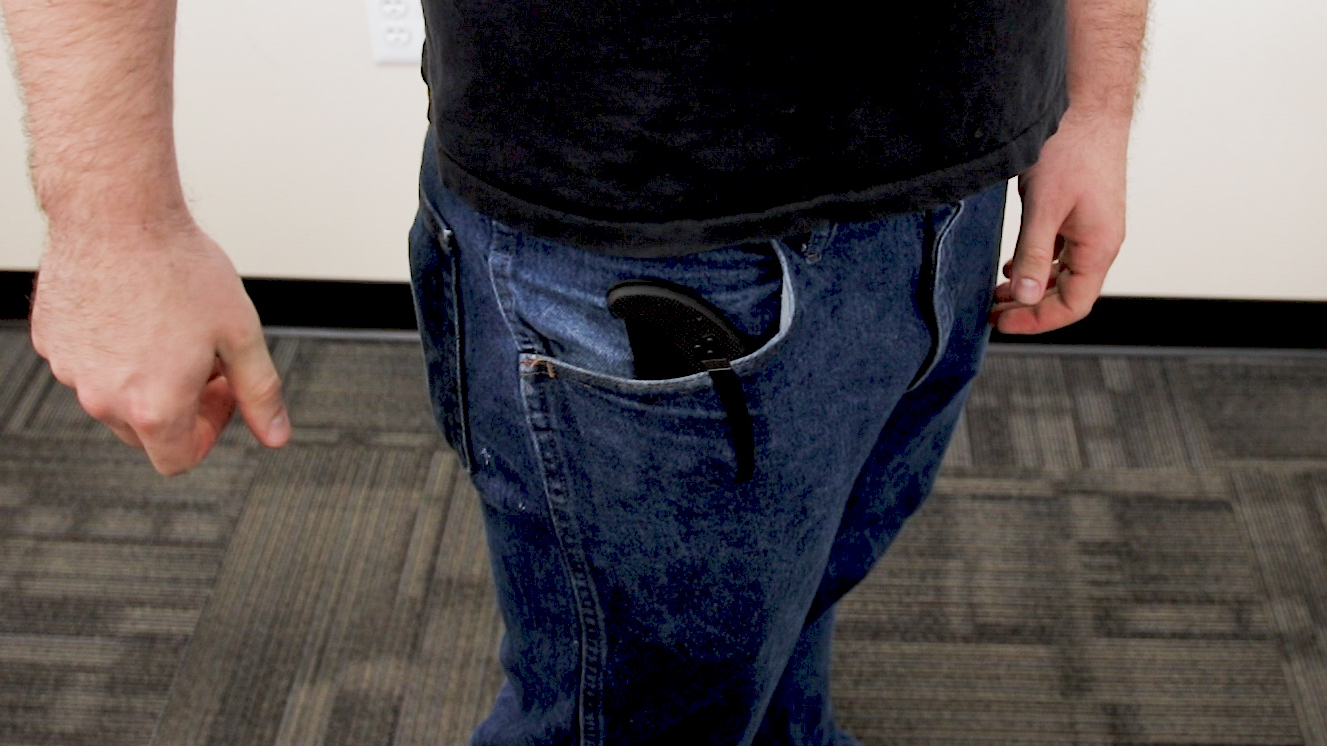 We love nearly anything Cold Steel does, but we think that these items listed above are some of the best items from Cold Steel that you can get in 2019. If you want to get your hands on any of these or any of their other great products click here to head over to knifecenter.com.