We get asked all the time about sharpening knives. While this is not a service the Knife Center offers directly, we are pleased to recommend Winston-Salem Knife Sharpening for all professional knife sharpening services. Keep reading to find out more about what this company can do for you, and be sure to let Dexter know that you found him through Knife Center!
Winston-Salem Knife Sharpening
Why choose Winston-Salem Knife Sharpening?  Business owner Dexter Ewing is the best choice for all your sharpening needs. While maintaining a presence in North Carolina, Ewing is able to serve customers nationwide. He brings a host of experience to his business of ensuring customers' sharpening needs are met in a professional and timely manner.  His list of attributes include:
Over 25 years experience as a knife enthusiast/collector
25 years working in the knife industry writing about knives. Over 20 of those years spent writing for knife magazines such as Knives Illustrated and BLADE Magazine.
Currently serves as Field Editor for BLADE Magazine, focusing on articles relating to sharpening, factory knife trends, knife technology, and knife evaluations. He has served this role for close to 20 years.
Member of Work Sharp Pro Staff – field consultant for the company in providing editorial content relating to sharpening for the company's website. See https://blog.worksharptools.com/work-sharp-pro-staff-dexter-ewing/
Instructed the inaugural "How To Sharpen Any Knife" BLADE University seminar at the 2018 BLADE Show in Atlanta, GA. He has been invited back to teach the same seminar again at the 2019 BLADE Show
Recommended by Knifecenter.com – https://www.knifecenter.com
Began Winston-Salem Knife Sharpening in the summer of 2014 with the intent of providing high quality and professional sharpening services to his community.
Winston-Salem Knife Sharpening is supported in part by Work Sharp.
Can expediently sharpen any type of knife and most cutting tools
Knowledgeable on the various grades of steel used for knives in general. He has experience sharpening blades made of the more wear resistant alloys found in high end outdoor and tactical knives.
Also specializes in sharpening for the medical research field, with some surgical tools.
With all this experience and knowledge, why would you trust anyone else with your sharpening needs?  No other sharpening service in the Piedmont Triad can claim this much experience.  The difference is clear.  Trust Winston-Salem Knife Sharpening.  The only name you need to know for all your sharpening needs.
336-682-7543 Voice/Text
Please contact in advance to schedule drop-offs or to send your items by mail. No mobile sharpening capabilities. See below for services offered.
Winston-Salem Knife Sharpening
Dexter Ewing
Winston-Salem, NC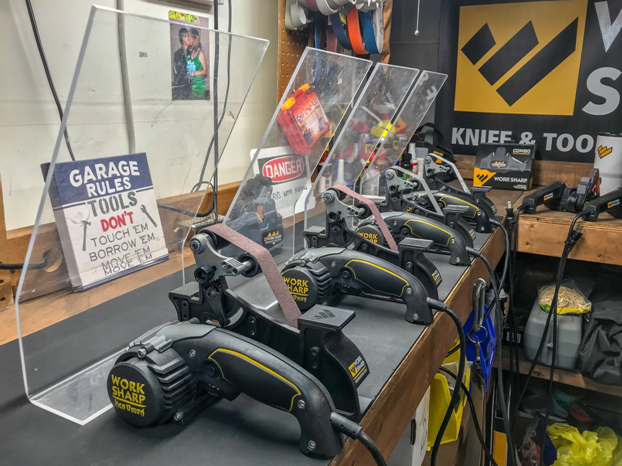 Services Offered
KITCHEN KNIVES – paring knives ($5 each), all other larger knives ($15 each). Serrated regardless of blade length ($3 each)
SCISSORS – household type ($5 per pair). Surgical ($3 per pair).
TACTICAL KNIVES – all blade shapes including recurves, tanto's, (generally $10 or $15)
HUNTING KNIVES – fixed and folding (generally $10 or $15)
MULTI-BLADE POCKET KNIVES – Case, Victorinox ($10 each)
PRUNING TOOLS – pruners, loppers, and hedge clippers ($10), includes clean up of blades and lubing upon reassembly
WOODWORKING TOOLS – Chisels, planer blades, and drill bits (regular twist and masonry). Prices available upon request.
MOWER BLADES – $5 a blade
ESOTERIC ITEMS – food processor blades, paper cutters, commercial can openers as found in restaurants, rodent decapitators as used in medical research field, ice picks, darts, Prices available upon request
Items Not Covered
Chain saws
Circular saw blades
Crosscut saw blades
Contact Info
336-682-7543 voice and text
Please contact me ahead of time to schedule drop off of items to be sharpened and to mail items in for service. Be sure to let Dexter know that you found him through Knife Center!