The Bailout is a tactical spinoff of Benchmade's popular ultralight Bugout Series, but a few tweaks have been made to emphasize even more strength than that original model. It's designed for operators that need a solid tool that doesn't take up a lot of space or weight, but it works just as well for folks that need a tactically oriented EDC or backup blade without the overbuilt bulk that many tactical knives can fall victim to.
The Blade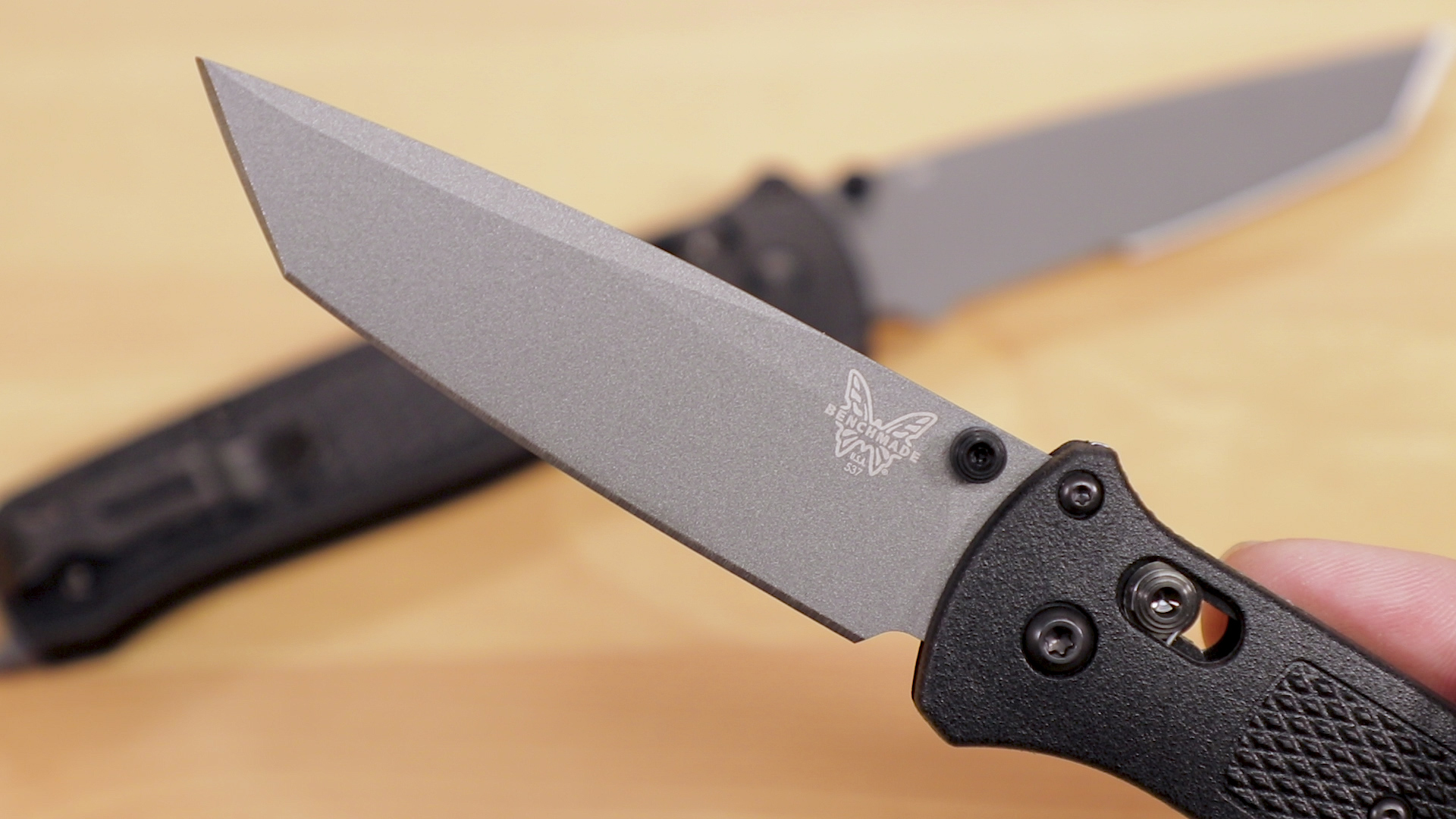 The blade is CPM-3V with a nice acute tanto profile. You can get it with a plain edge or partially serrated combo edge. This steel is plenty tough and it still brings very good edge retention to the table. Even better is a grey Cerakote finish. This finish not only protects the blade but because it's gray instead of black like the handles, it sets up a little bit of contrast for more visual interest while still keeping things stealthy and low-profile.
They were going for strength with the Bailout design but they didn't want to sacrifice cutting ability so they kept the blade itself nice and thin. Just like on the Bugout it still has a nice high flat grind for effortless cutting and because it's a tanto profile, the tip is even more useful for scraping and other precision or chisel-like motions. We also get a nice swedge along the spine. It comes all the way up and stops right before the tip itself so you don't actually lose any strength in the tip. Still, it will help with cutting efficiency especially as it's moving through softer material or targets.
The Lock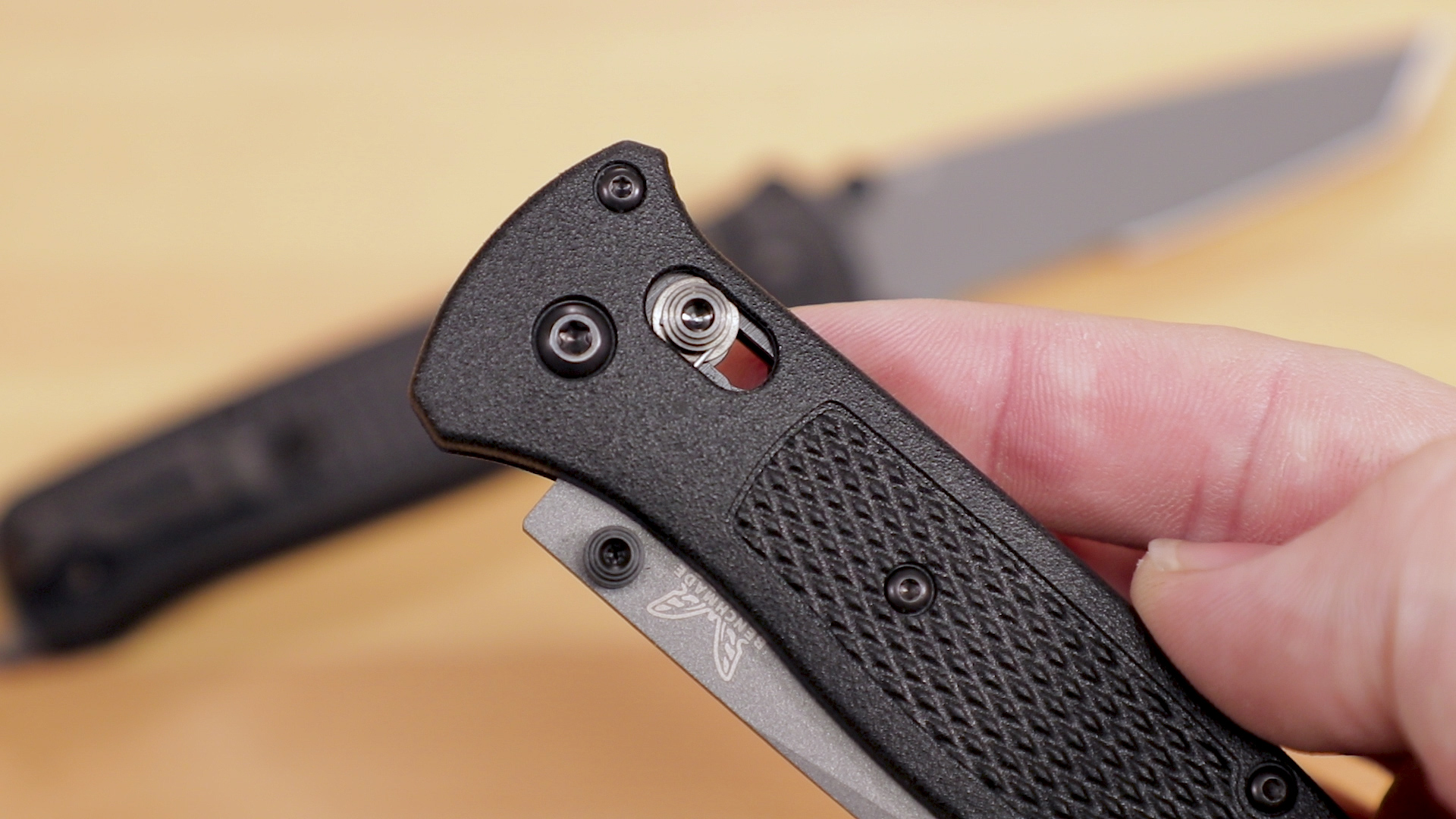 Making deployment and operation on the Bailout easy is Benchmade's signature Axis Lock. This "through handle" design uses a hardened bar to lock up against the tang of the blade. It's very strong and it's one of the most elegant solutions we've ever seen for a truly ambidextrous locking mechanism.
Another thing we like is that it allows you to twist the blade open or closed with a flick of the wrist, but even if you deploy it more deliberately with the included dual thumb studs it lets you keep your fingers away from the path of the blade which is an inherently safe way of operating this sharp tool.
The Handles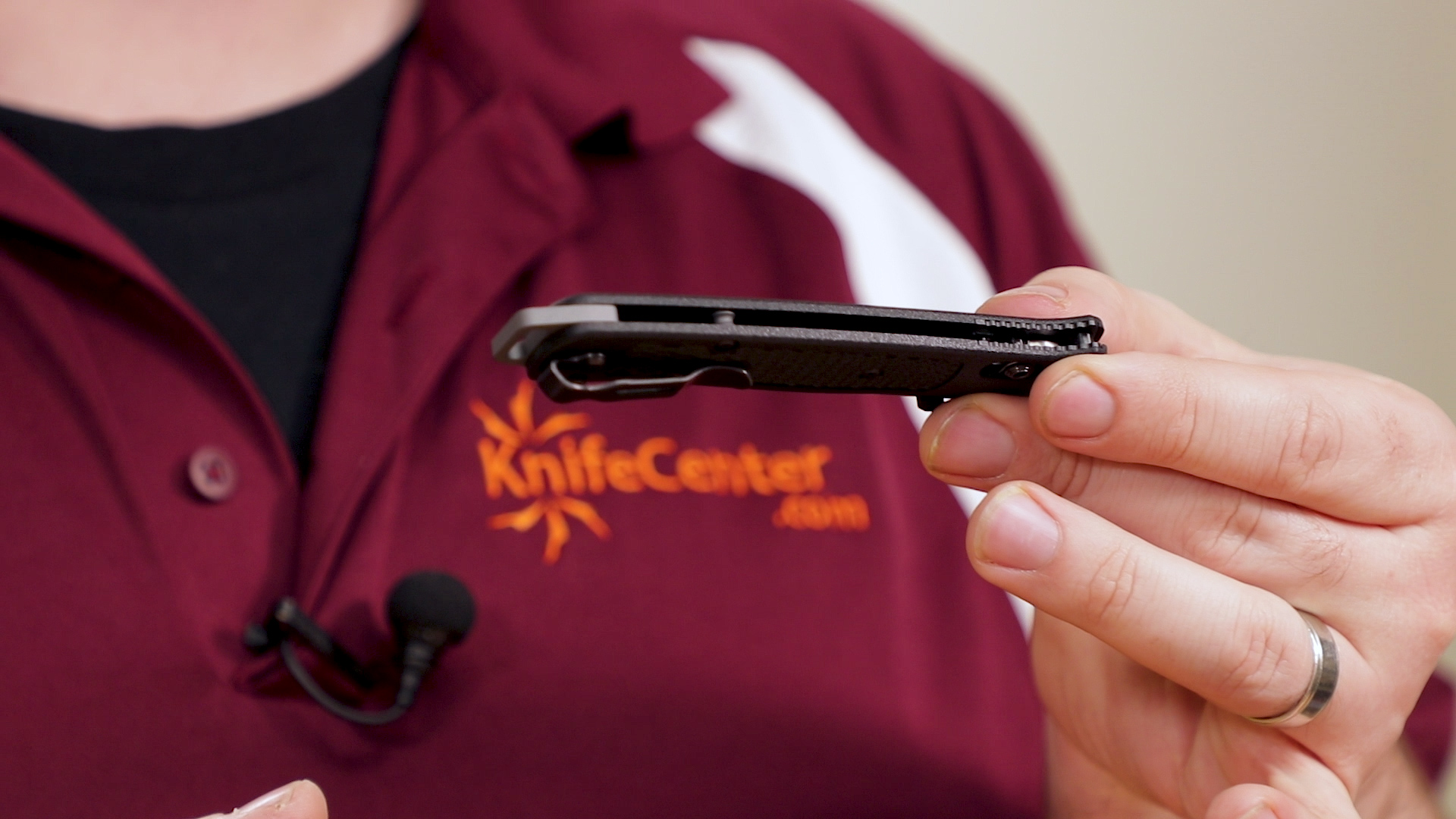 Like the Bugout, the Bailout is all about the handles and ultralight packaging. It's only 0.39 inches thick without the pocket clip and the entire package weighs only 2 oz. It still has an open-backed construction but they made a few other tweaks. For one we have a slight ramp at the front and that helps you to place your thumb when engaging the knife in a more tactical grip.
Even more noticeable is the back end which now features a protruding metal end spacer that incorporates a large lanyard slot with a gray finish to match the blade. Apart from adding accessories, this piece can be useful for striking as well as some light scraping needs although the edges are not crisp which makes it more comfortable in the hand.
Rounding out the back end we get a short deep-carry pocket clip and it is reversible. Just like with the Axis Lock, this knife is a great option for left or right-handed users alike. The end spacer does stick out above the top of the clip so it isn't quite invisible when you have the knife in your pocket, but the loop does make it very easy to extract the knife since it gives something for your fingers to pinch onto very easily. This allows you to deploy the knife in a heartbeat but, because of the thinness, you'll never know it's there until you need it.
We think the Bailout is a great addition to Benchmade's lineup and it brings tactical attitude to everyday friendly packaging.
To get your hands on one click here head over to KnifeCenter.com