Uncertain times call for gear you can rely on – gear that can see you through to the other side. We've got a brand new Becker fixed blade to show you this week as well as one of our favorite new lighter designs of recent years brought to you by Exotac. On top of that, a selection of emergency LED lanterns, survival kits, multi-tools, a capable machete, and more.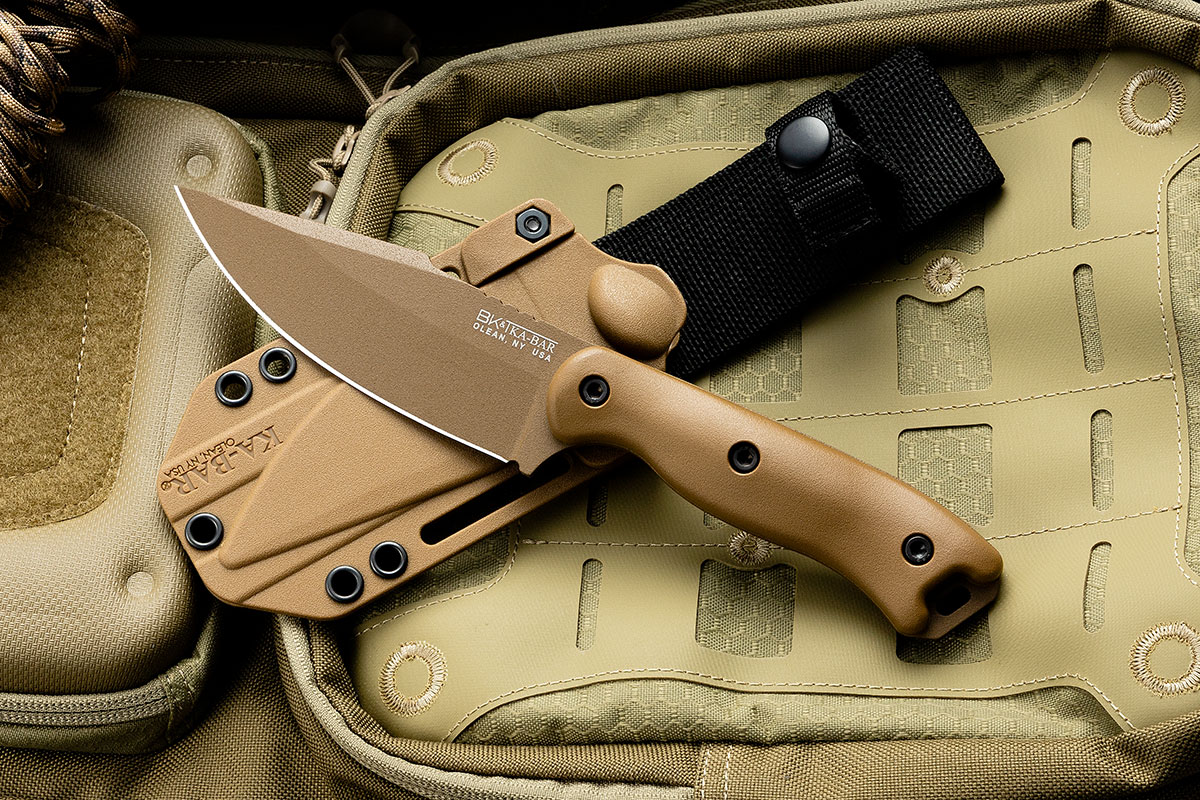 The first new Becker design in a while is a home run! The BK18 Harpoon features a highly effective blade with an acute tip for piercing, the agility for precision cutting and a long, sweeping edge that is perfect for skinning or removing large chunks of material. It also comes with one of the best factory sheaths on the market – secure yet easy to extract and reinsert as needed, with durable and versatile mounting hardware.
Blade Length: 4.56″
Overall Length: 9.38″
Blade Material: 1095 Cro-Van
Blade Thickness: 0.165″
Blade Hardness: 56-58
Blade Style: Harpoon Point
Blade Grind: Flat
Handle Material: Tan Zytel
Sheath Material: Celcon Polymer
Made in the USA
---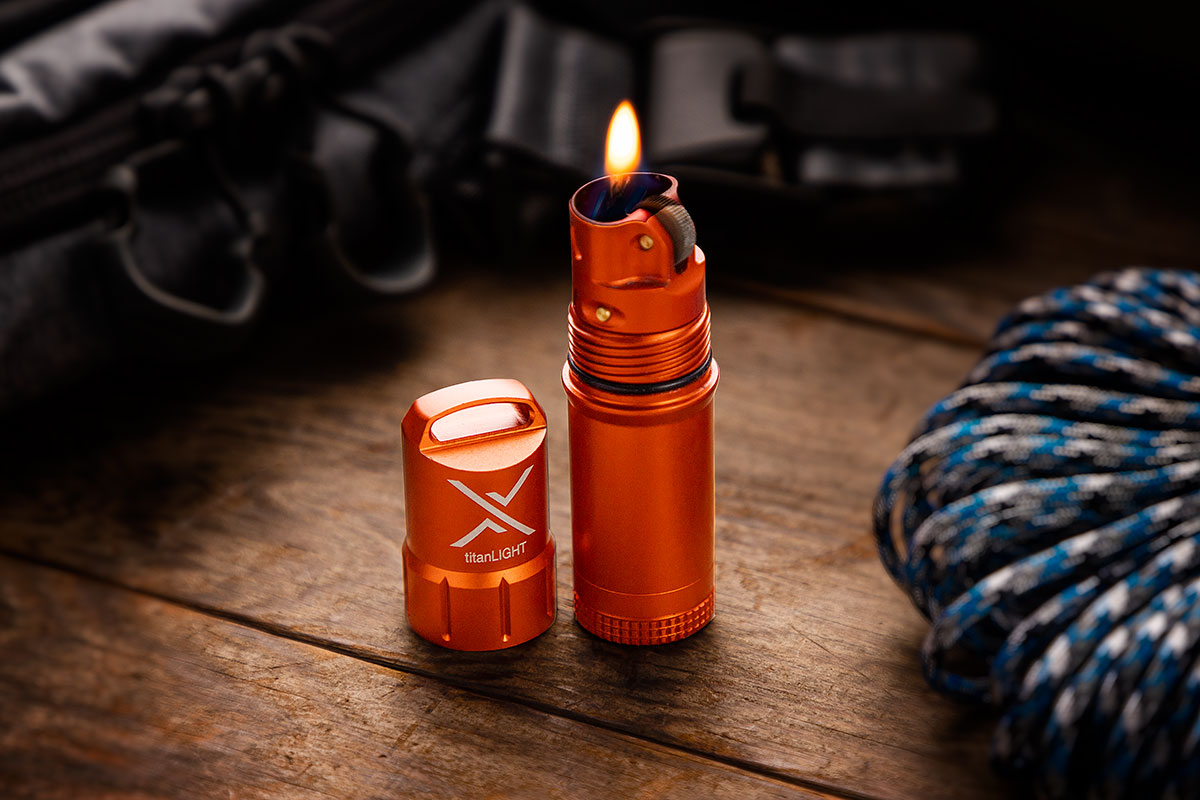 The fire-starting gurus at Exotac have turned their attention to the flint-and-wick style of lighter and have come up with a winner, fixing some of the shortcomings that can plague this type of design. It uses standard Zippo (or equivalent) fuel but thanks to double O-rings it won't dry out if you let it sit too long. The quickTHREAD cap takes only a single revolution to remove so you can strike a flame quickly, and the aluminum construction (in multiple colors!) will stand up to years of use in the field. What could be better? Oh, that's right, it is made in the USA as well!
High-Spark flint wheel
Waterproof to >1 meter
1-revolution quickTHREAD cap
Convection assist combustion
Machined aluminum construction
Easily replaceable flint
Lanyard attachment location
Flame guard
Lighter fluid not included
Made in the USA
Diameter: 1.0″
Weight: 2.0 oz
Strikes per Flint: Up to 500
---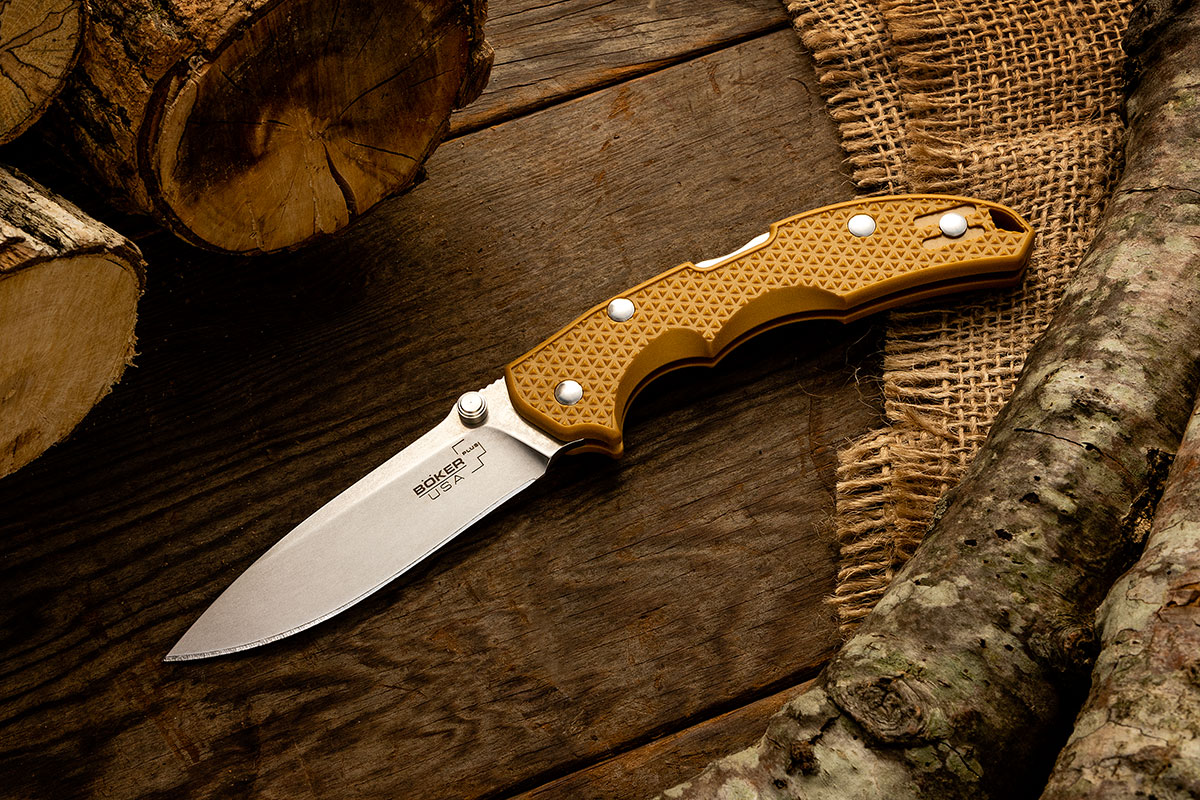 An American-made lockback knife for just under $50, the simply titled "USA," from Boker Plus is a capable and handy pocket knife that is perfectly suited to EDC and utility jobs. It features a reversible pocket clip, thumb studs for opening, and lightweight and grippy FRN handles in orange, brown, or black. With a razor-sharp 154CM blade on the business end, this is a bargain not to be overlooked.
Blade Length: 3.375″
Overall Length: 7.5″
Blade Material: 154CM Stainless Steel
Blade Style: Drop Point
Handle Material: Fiberglass Reinforced Nylon (FRN)
Locking Mechanism: Lockback
Pocket Clip: Tip-Up, Left/Right Carry
Weight: 2.1 oz.
Made in the USA
---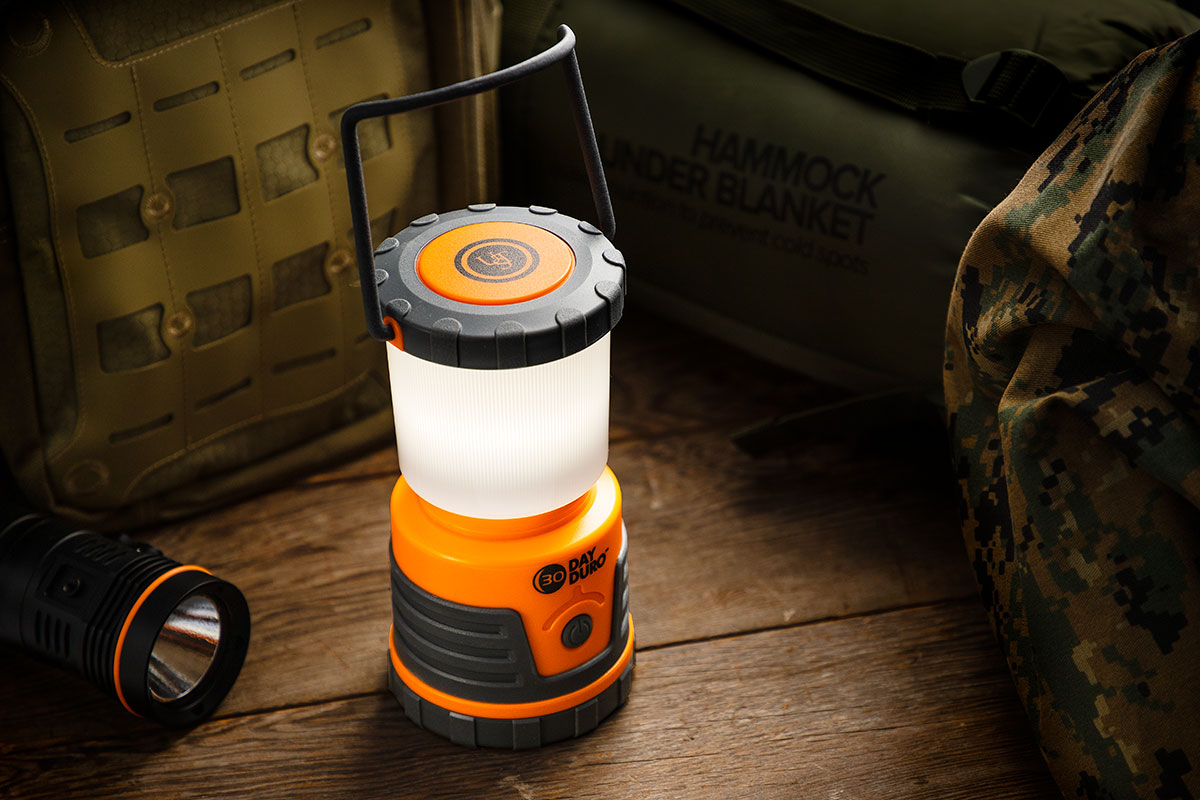 Light the way with our selection of LED lanterns. Not just for camping, these can be a lifesaver in a power outage or other emergency situation. We've got battery powered models, solar rechargeable, and even a few candle lanterns thrown in for good measure. Plenty of options to see you through the worst, including lights like the UST 30 Day Duro (pictured above) which can run continuously for a full 30 days!
Bright, clean light—up to 700 lumens
Lifetime LED is unbreakable and never needs to be replaced
Rubberized housing enhances impact-resistance
Water-resistant
Removable globe provides forward-area light
Built-in recessed hook at lantern base for hanging as a downlight
Bulb Type: 3 x 1.4W Nichia, white LEDs
Material: High-impact ABS plastic
Batteries: 3 x D Alkaline batteries (not included)
Lantern Modes

High (White – 700 lumens – 22 hour runtime)
Medium (White – 140 lumens – 106 hour runtime)
Low (White – 30 lumens – 30 day runtime)
SOS (15 day runtime)

Dimensions: 7.2″ x 3.75″
Weight: 1.13 lbs. (with batteries)
Made in China
---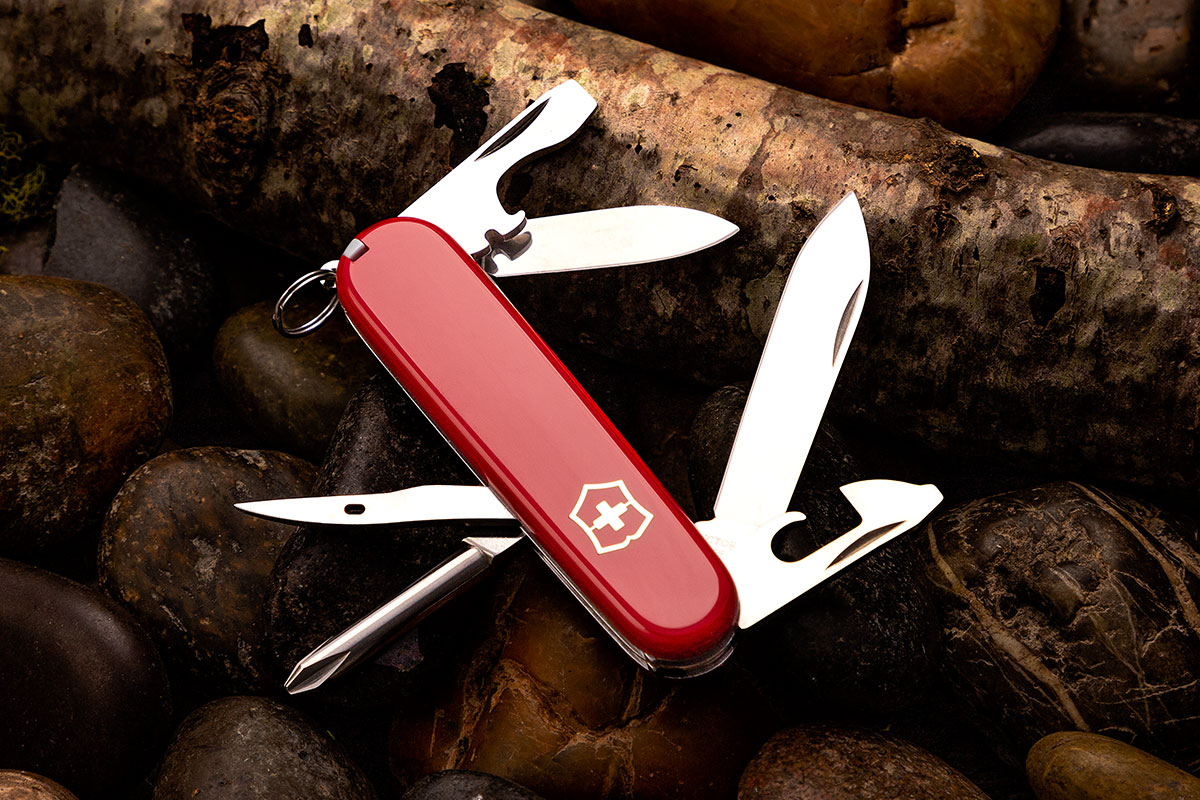 Every pocket deserves a Swiss Army Knife, a tool ready for the unexpected in a topsy-turvy world. Available in several colors including the classic red (naturally!), the Tinker is one their most essential models. With dual blades, bottle and can openers, screwdrivers, toothpick and tweezers, and more, it has just enough capability in a size that is easy to carry just about anywhere.
Toolset

Small and large blade
can opener
screwdriver 3 mm
bottle opener
wire stripper
screwdriver 5 mm
reamer, punch and sewing awl
Phillips screwdriver 1 / 2
toothpick
tweezers
keyring

Specifications

Length: 3.58″
Handle Material: ABS / Celidor
Blade Lockable: No
One Hand Blade: No
Weight: 2.2 oz.
Made in Switzerland
---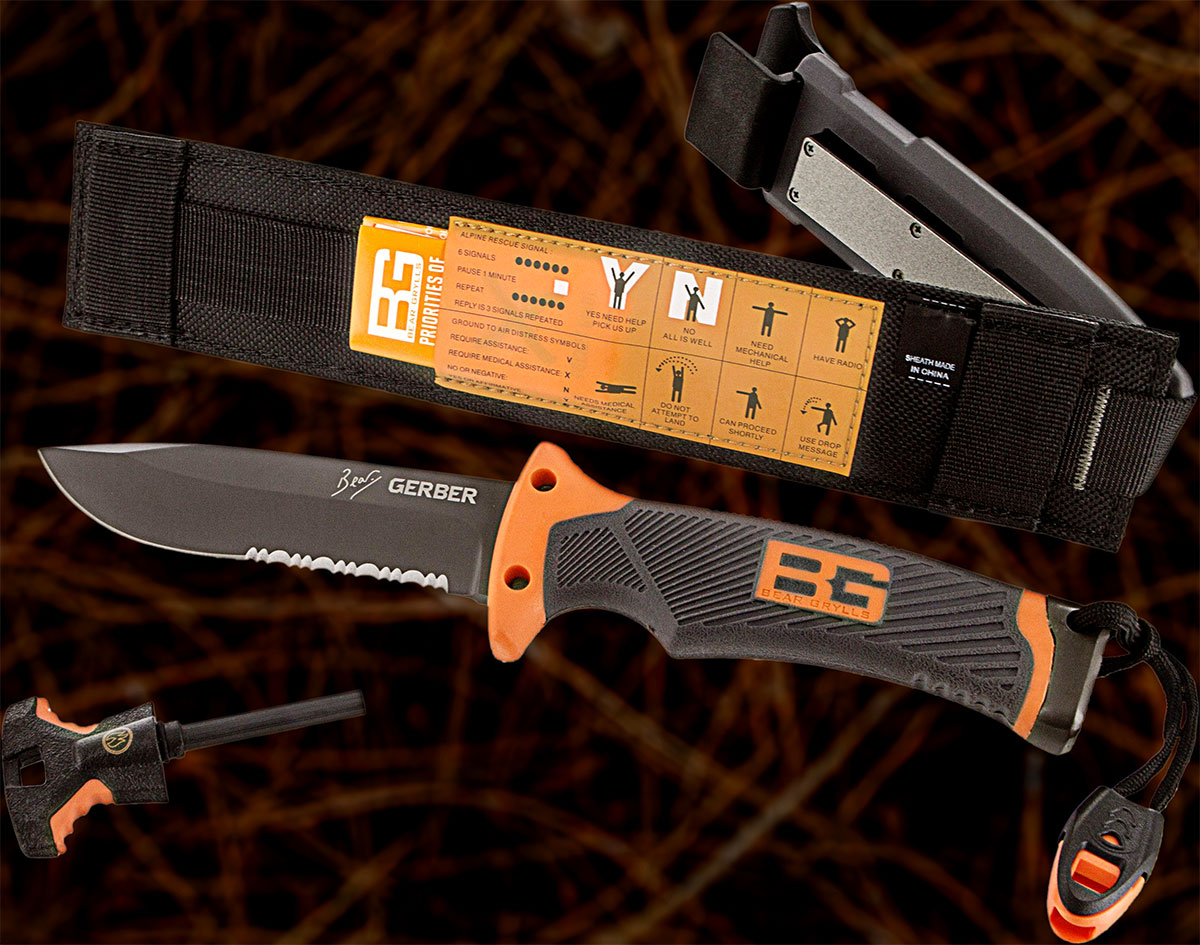 From his service with the British Special Forces to years hosting survival television, Bear Grylls is no stranger to tense situations. The Gerber Gear line that bears his name attempts to bring those sensibilities to affordably priced knives, hatchets, machetes, multi-tools, and more survival gear so that even those getting started can get their hands on capable gear without busting their budget.
Knife Features:

1/2 Serrated High Carbon Stainless Steel Drop Point Blade – Ideal for edge retention and cutting rope
Ergonomic Textured Rubber Grip – Maximizes comfort and reduces slippage
Stainless Steel Pommel – At base of handle for hammering
Emergency Whistle – Integrated into lanyard cord

Sheath Features:

Fire Starter – Ferrocerium rod locks into sheath, striker notch incorporated into back of knife blade
Nylon Sheath – Lightweight, military-grade, mildew resistant
Land to air rescue instructions
Diamond Sharpener – Integrated into sheath for on-the-go sharpening
Priorities of Survival – Pocket guide contains Bear's survival essentials

Specifications

Item # 31-000751
Open length: 10″
Blade Length: 4.8″
Weight: (with sheath): 14.7 oz.
Weight (no sheath): 11.2 oz.
Made in China
---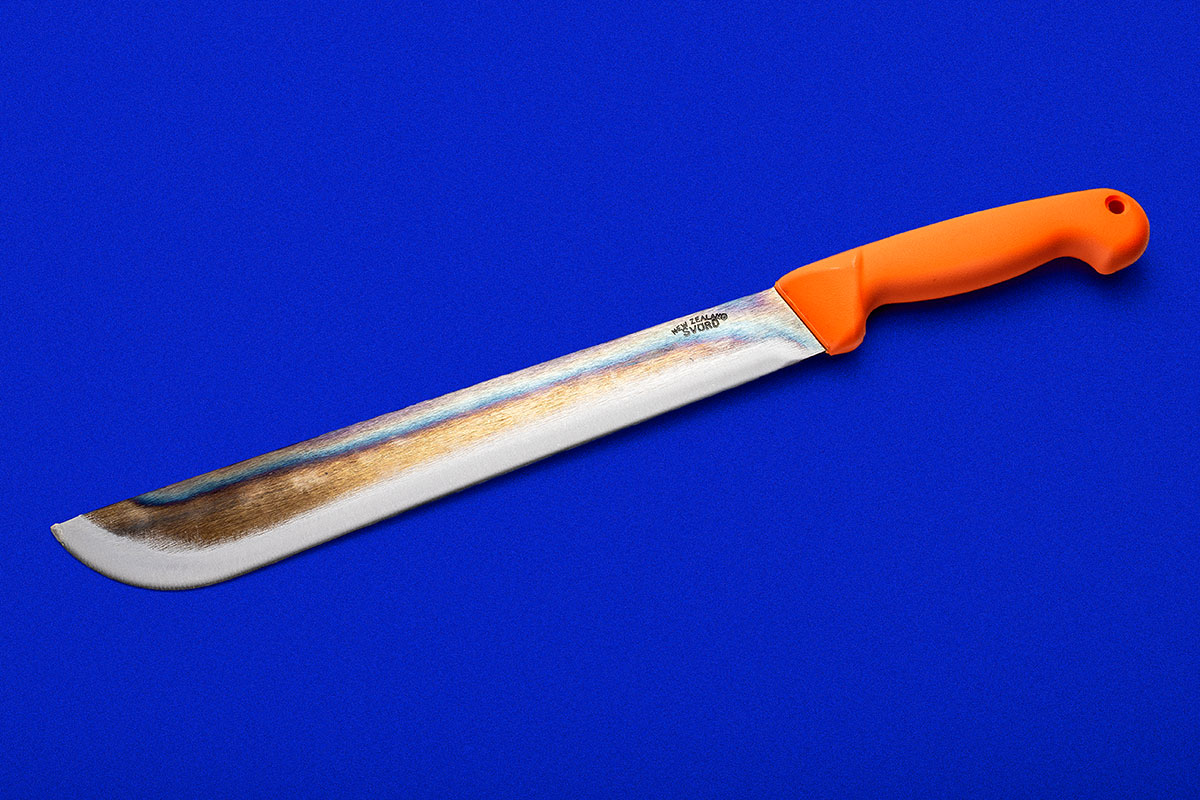 A solid machete is an essential bit of kit no matter the season. We have been impressed with this solid and lightweight option from Svord. The twelve-inch blade is just long enough, features a convex grind for strength, and sports a properly apocalyptic blade finish! Throw this in your pack or on your belt and you have the single best survival tool on the planet.
Blade Length: 12.00″
Blade Material: Swedish High Carbon Tool Steel
Overall Length: 17.25″
Handle Material: Orange Polypropylene
Sheath Material: Black Polyurethane
Weight: 9.8 oz.
Made in New Zealand
---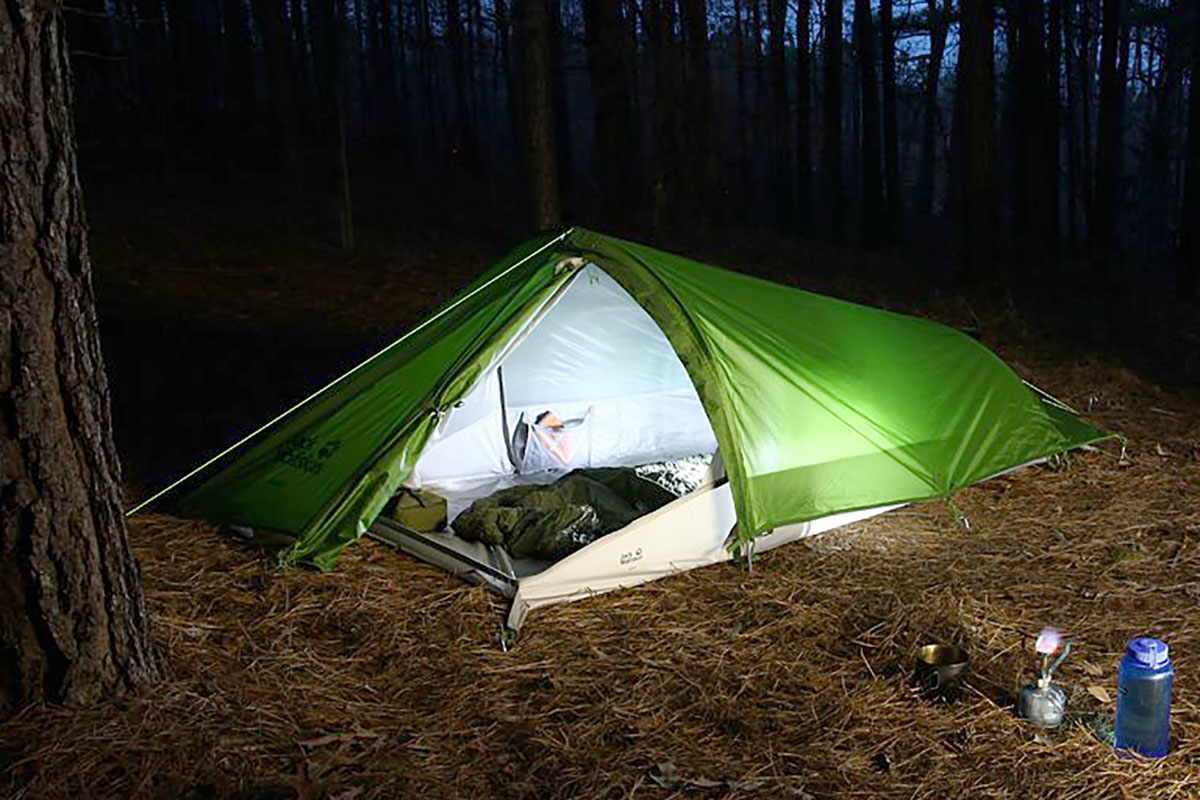 A perfect solo tent for when you just need to bug out, this is the tent that Randall's Adventure Training instructors rely on for shelter in remote locations. It is built to move fast, sets up quickly, and keeps you dry. It features a bathtub floor, internal storage pockets, an included repair kit, and the inner mosquito netting can be used with or without the rain fly.
Features

Bathtub floor
Inner mosquito netting can be pitched without fly
Single door
Internal storage pockets
Repair kit
9 standard stakes and 4 heavy-duty stakes

Materials

75D Polyester: lightweight, robust, fast-drying and UV-resistant fabric with PU coating, used for tent flysheets
40D Mosquito Mesh: fine-gauge, lightweight mosquito mesh (inner tent)
150D Hydrofilm Polyester: durable, waterproof-coated groundsheet fabric
DAC 7001 Aluminum: very lightweight aluminum tent poles (9 mm)

Specifications

Pack size (uncompressed): 5.5″ x 16″
Pack weight: 3.5 pounds
Inside dimensions (usable space): 84″ x 35