If there was a theme for August, it was this: updates and variants galore. We saw a number of new versions of classic models land on our shelves, including a couple of KnifeCenter exclusives. We've also selected some all-new pocket knives, custom work, and a couple of hard-working fixed blades. Read on to see our picks for the best new knives August had to offer.
The Knives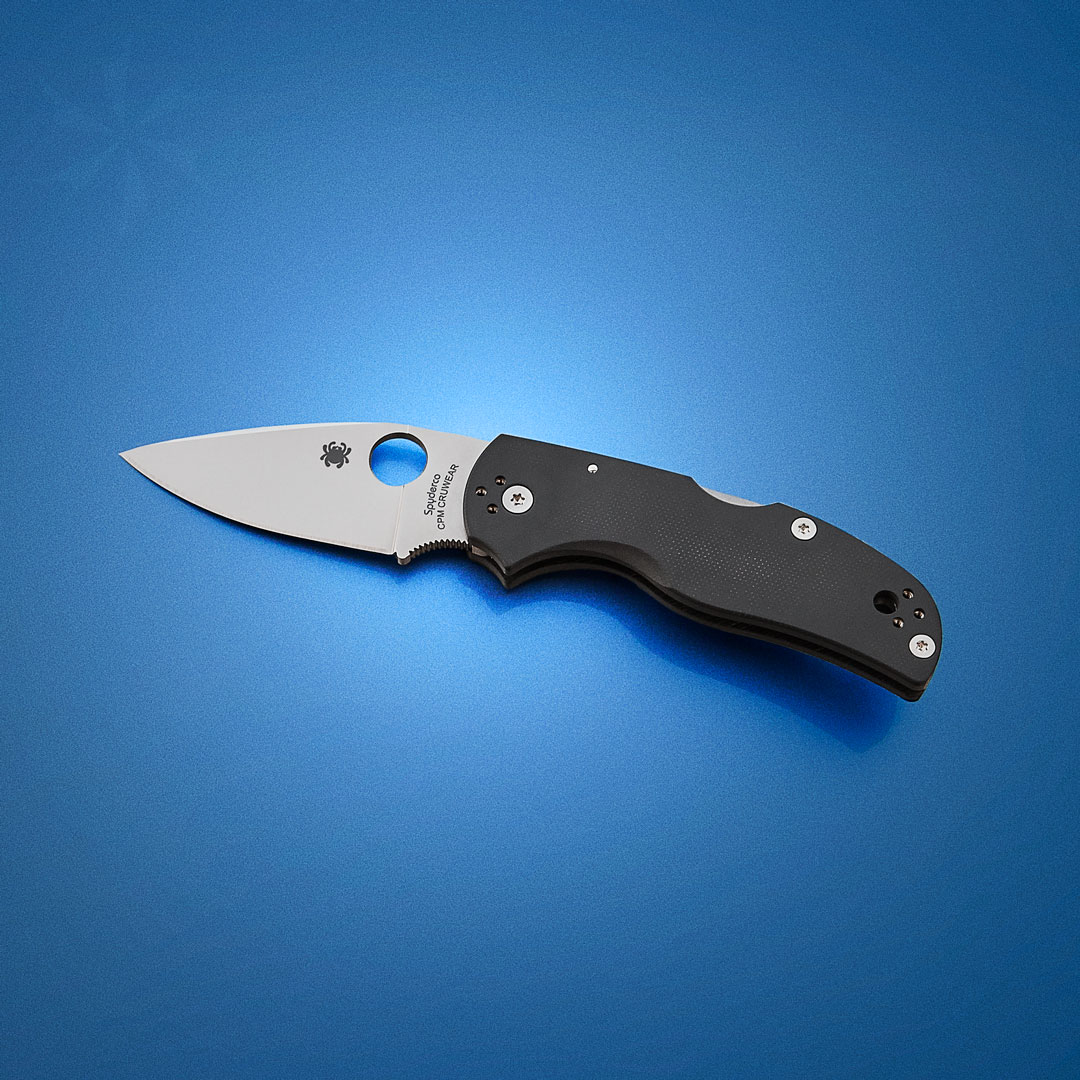 First up is the Spyderco Native 5 with smooth black G10 handles and a CPM-CruWear blade. The Native 5 has always been a great design, and with great all-around steel like CruWear, it's even better. According to Crucible, the maker of the steel itself, you can achieve higher wear resistance than D2, and greater toughness than M2 with this material.
The smooth G10 on this KnifeCenter exclusive offers a nice upgrade, too. It's not a polished finish, but it does have an almost silky feel in the hand. Nice and smooth, very comfortable, and it's kind to your pockets when you go to draw the knife.
And of course, it hits all the same great notes as the standard Spyderco Native 5: the forward finger choil for more grip, strong lock back, four-position pocket clip, and good cutting geometry.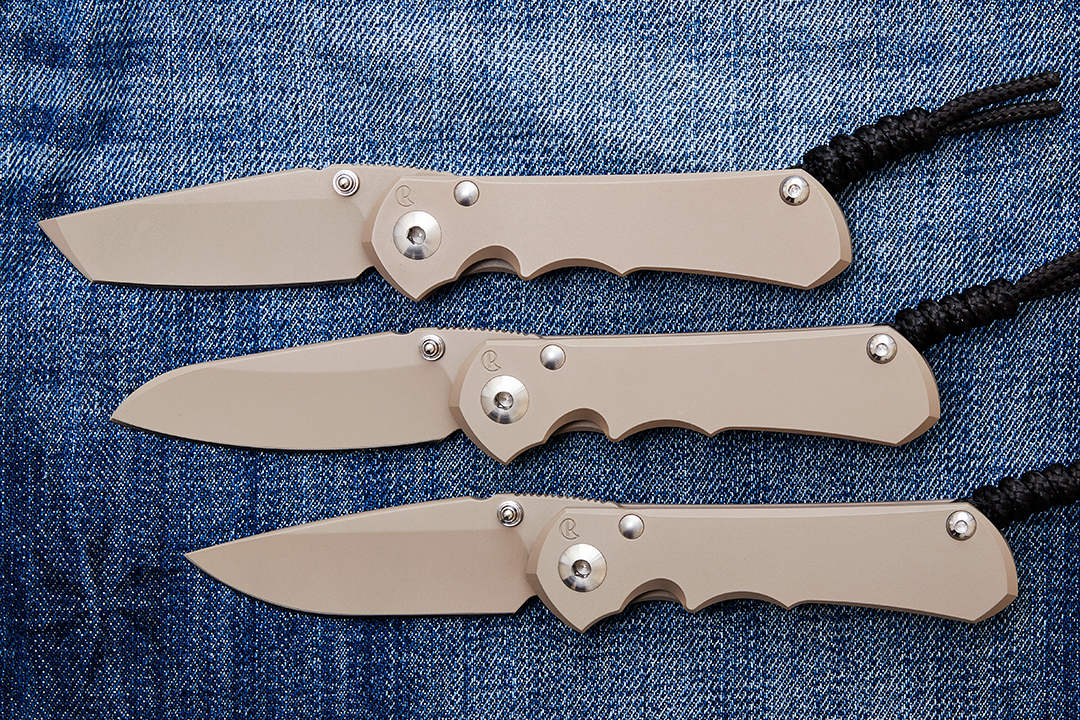 Now, the Inkosi was always a knife that could stand up to heavy-duty jobs. But now, with the frame and the blade both covered with this flat dark earth KG Gun Kote, this knife is tougher than ever. It's safe to say there's never been an Inkosi like this. It has a subtle, military-esque look with the matte finish.
One of the hallmarks of the Chris Reeve Knives Inkosi – as opposed to the Sebenza – is a shallow hollow grind that keeps things a little bit thicker behind the edge for more overall strength. The Inkosi blades are ground on a twenty-inch radius wheel. If you know anything about knife making, you know that's positively huge. It gives sort of a blend between a traditional hollow grind and a flat grind.
Despite the fresh look, it's the same Inkosi we're familiar with from Chris Reeve Knives, with the same superlative build quality and attention to detail. Our FDE run includes both sizes (large and small) and all three blade shapes (drop point, tanto, and Insingo) – all made from CPM-S35VN blade steel and titanium frames.
We're really excited to have these new KnifeCenter exclusive Chris Reeve Inkosi models. There's none other like them, and you can only get them from us.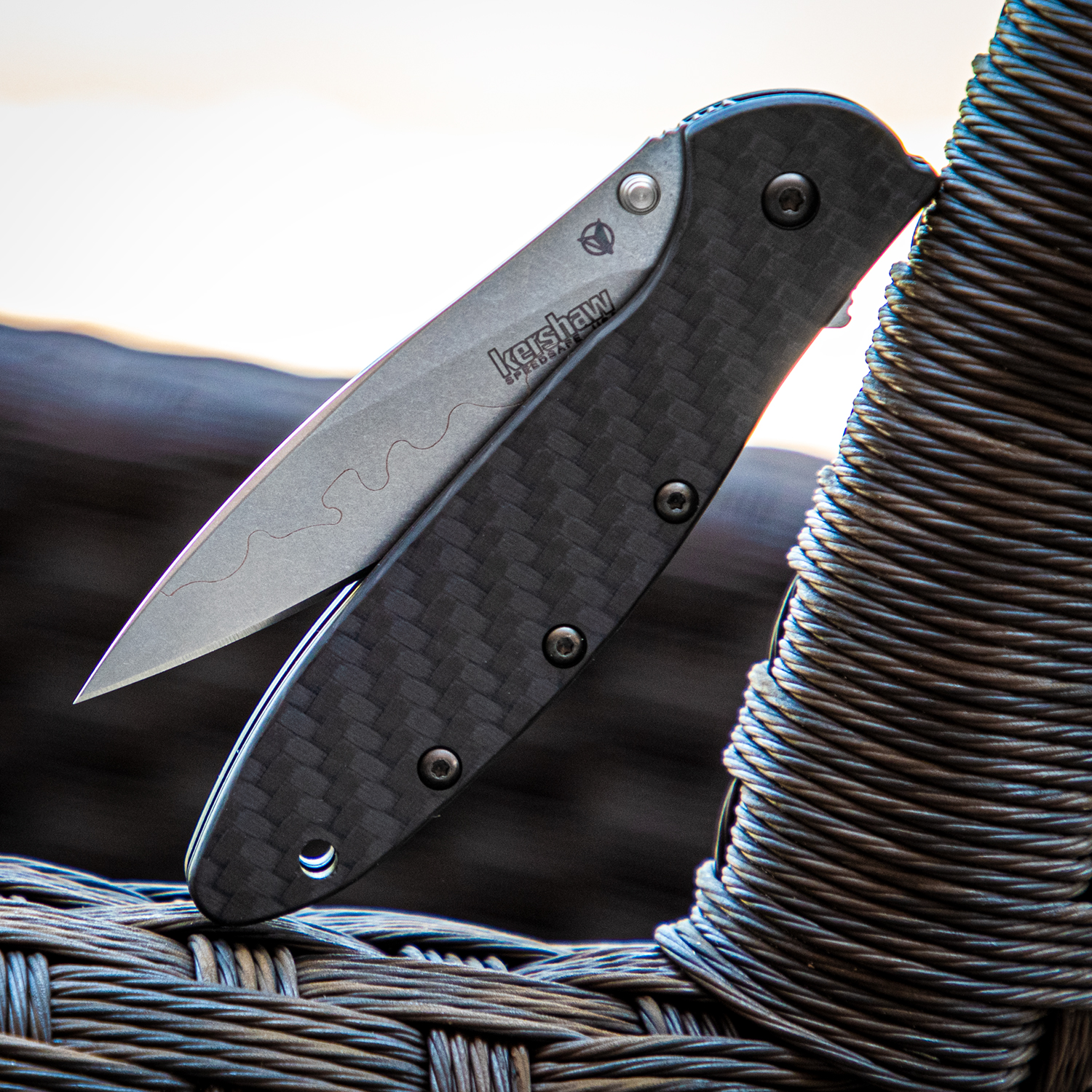 Another updated classic to hit our shelves this month is this limited-edition Kershaw Leek. It uses some tried and true elements from their parts bin to create one of our favorite variants yet. We've got a liner lock, carbon fiber scales, and a blade constructed using their proprietary composite blade technology: 14C28N steel at the spine for strength, paired with CPM-D2 for edge retention. The two pieces are braze welded together – visible as a brassy line between the two parts – and then tumbled to a uniform stonewashed finish. In our mind, this is a prototypical executive knife, and now it's even better thanks to upgraded materials.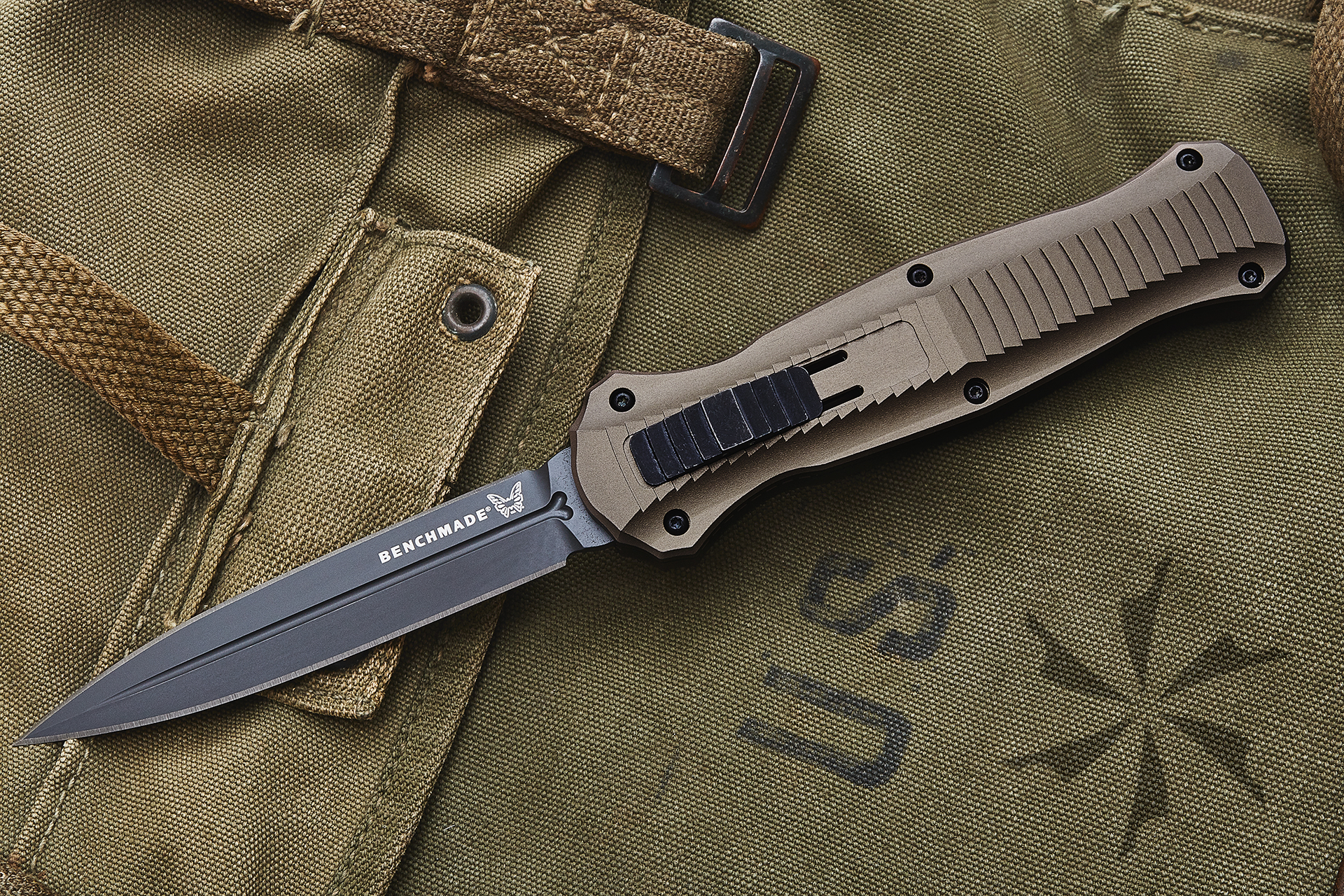 Moving from spring assisted to fully automatic, let's take a look at a limited edition Benchmade Infidel. This version has been upgraded with bronze aluminum handles and S30V blade steel in a smoke grey finish. The action of this knife is right up there with the best in the industry, and the fit and finish is fantastic. These are limited to only 3000 units, and we'll be a little sad once these are gone because this version has a style that really elevates it above the base model.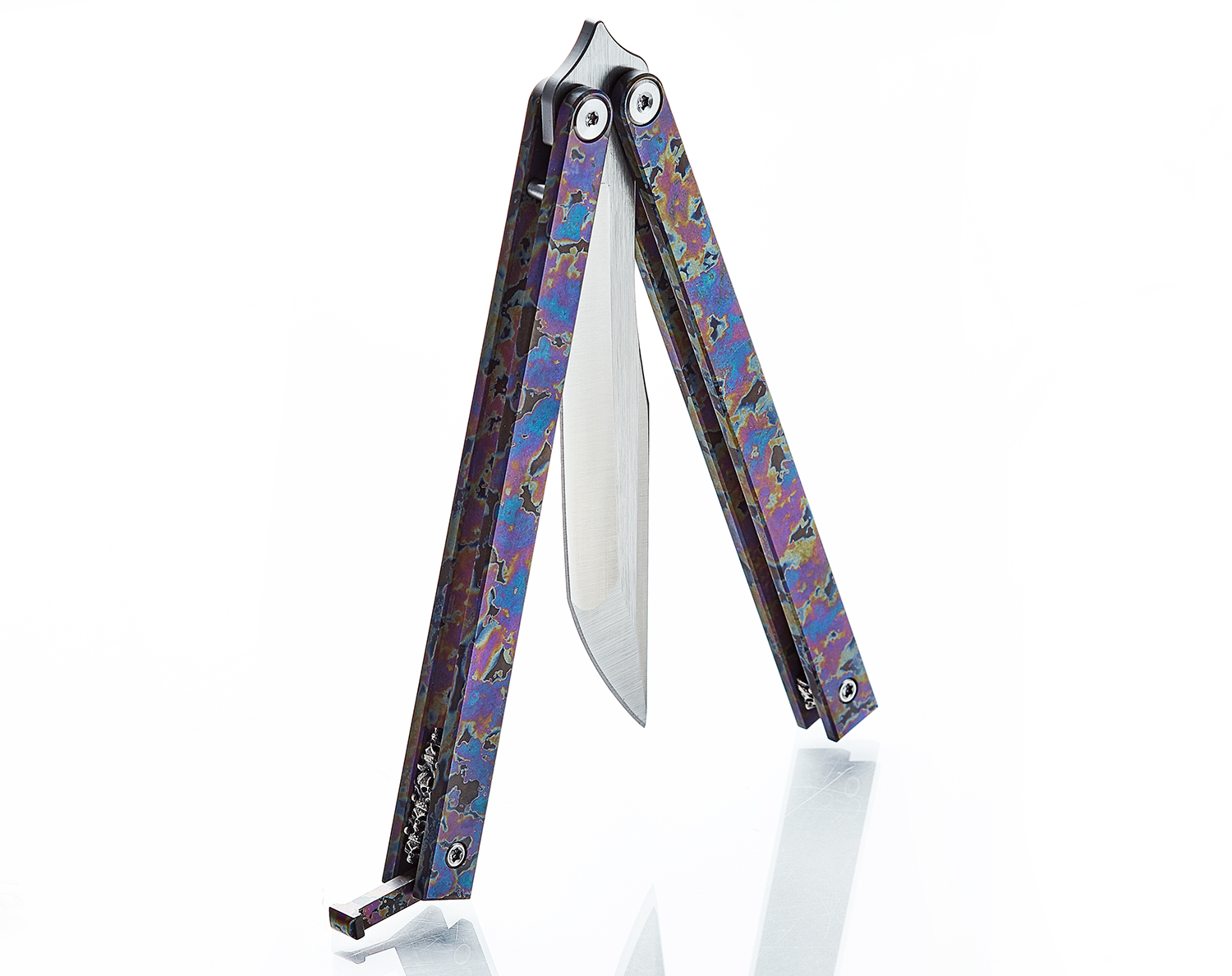 Next up is the Joker Balisong from Michael Zieba. It almost goes without saying that Zieba's butterfly knives are silky smooth and precisely made from top-notch materials. Look a little closer, though, and they're packed with personality. The handles on this model feature rainbow anodized titanium – clearly inspired by the comic book villain from which the knife borrows its name. One side of the backspacers features skulls wearing jester caps; on the other is embedded the phrase "Why so serious?" You have to appreciate the little tongue in cheek reference there, and this is one of Zieba's prettiest balisongs to date.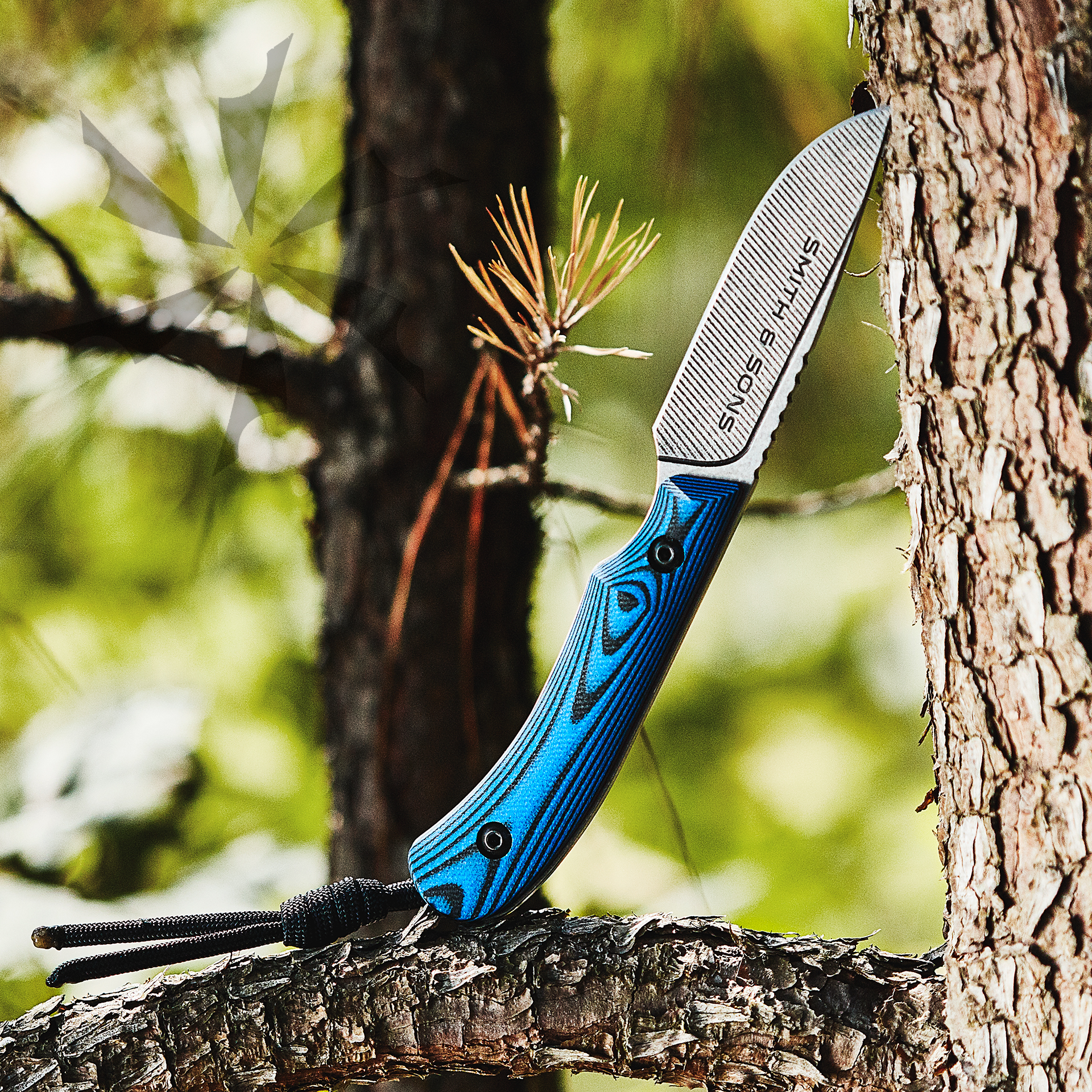 The Axiom is a small knife that flexes fluidly between roles. It would be perfect for EDC, or as a small companion knife for hunters/campers, or maybe even as a main knife for day hikers who want to keep bulk down. The blade is made from AEB-L, a highly stainless steel that should still be easy to touch up in the field. The drop point blade has a subtle ridged pattern, intended to reduce surface friction a little bit and help things to release from the blade.
The handles are contoured very nicely, and I can (just) get a comfortable full four-finger grip on this knife. There are several different color variants to choose from as well. One other detail worth mentioning is the lanyard attachment point which is hidden in the pommel – a clean look compared to the typical drilled lanyard hole. Naturally, they come with a nice leather sheath, too. Overall, the Smith and Sons Axiom is a really cool design from a very underrated brand, and absolutely worth checking out.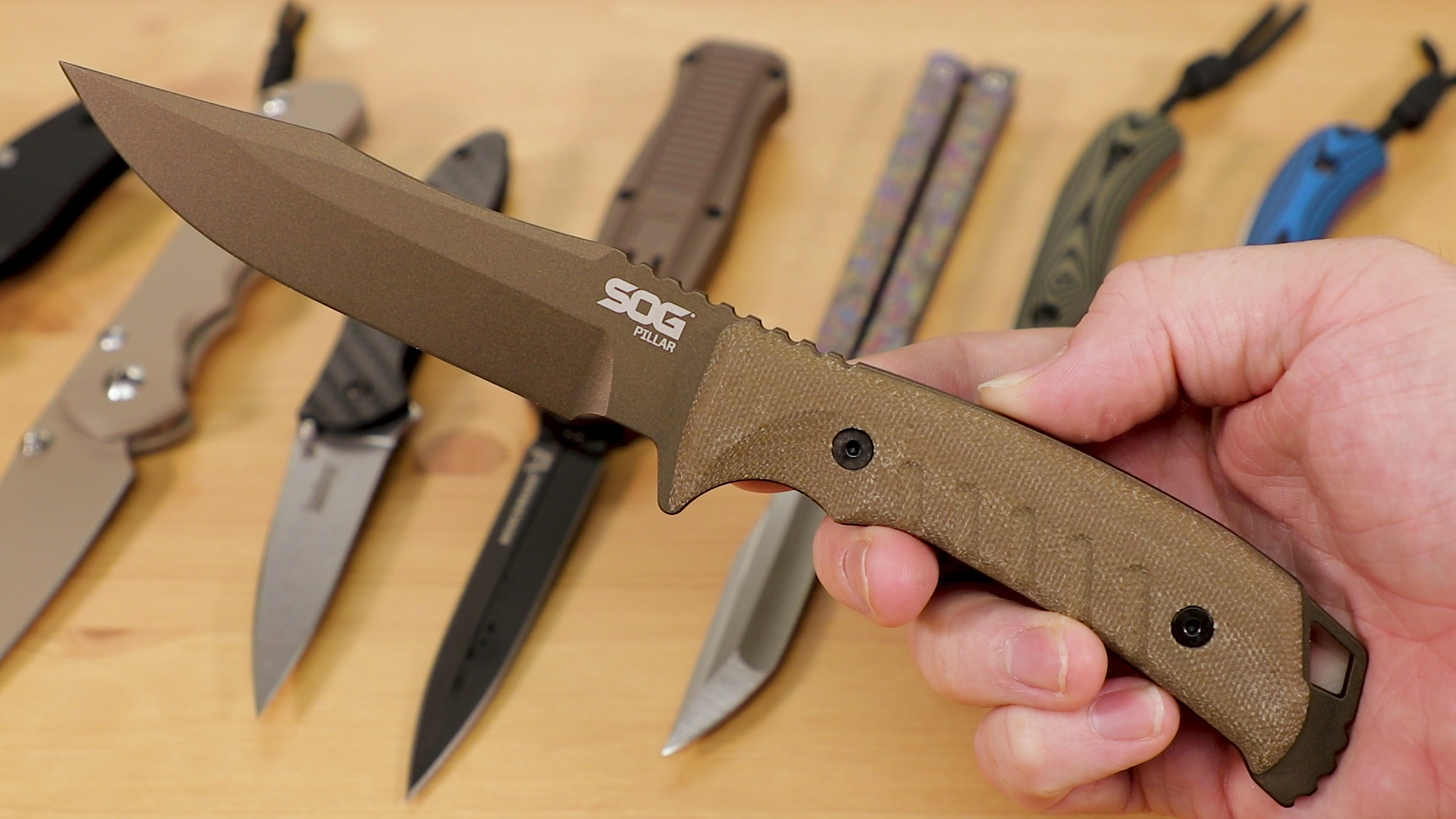 Returning to the theme of updates, check out this limited edition Pillar from SOG knives. The canvas Micarta scales are now tan rather than black, paired with an S35VN blade treated with a bronze Cerakote finish. The color combo is phenomenal, almost shimmering in the sunlight, and it will help protect the knife in harsh environments, too. The Pillar really hearkens back to the Vietnam-era survival knife designs that built the SOG brand, and we hope this refreshed version brings even more attention to this outstanding fighting/utility knife. Made in the USA, it represents a really nice bargain on a fantastic tool.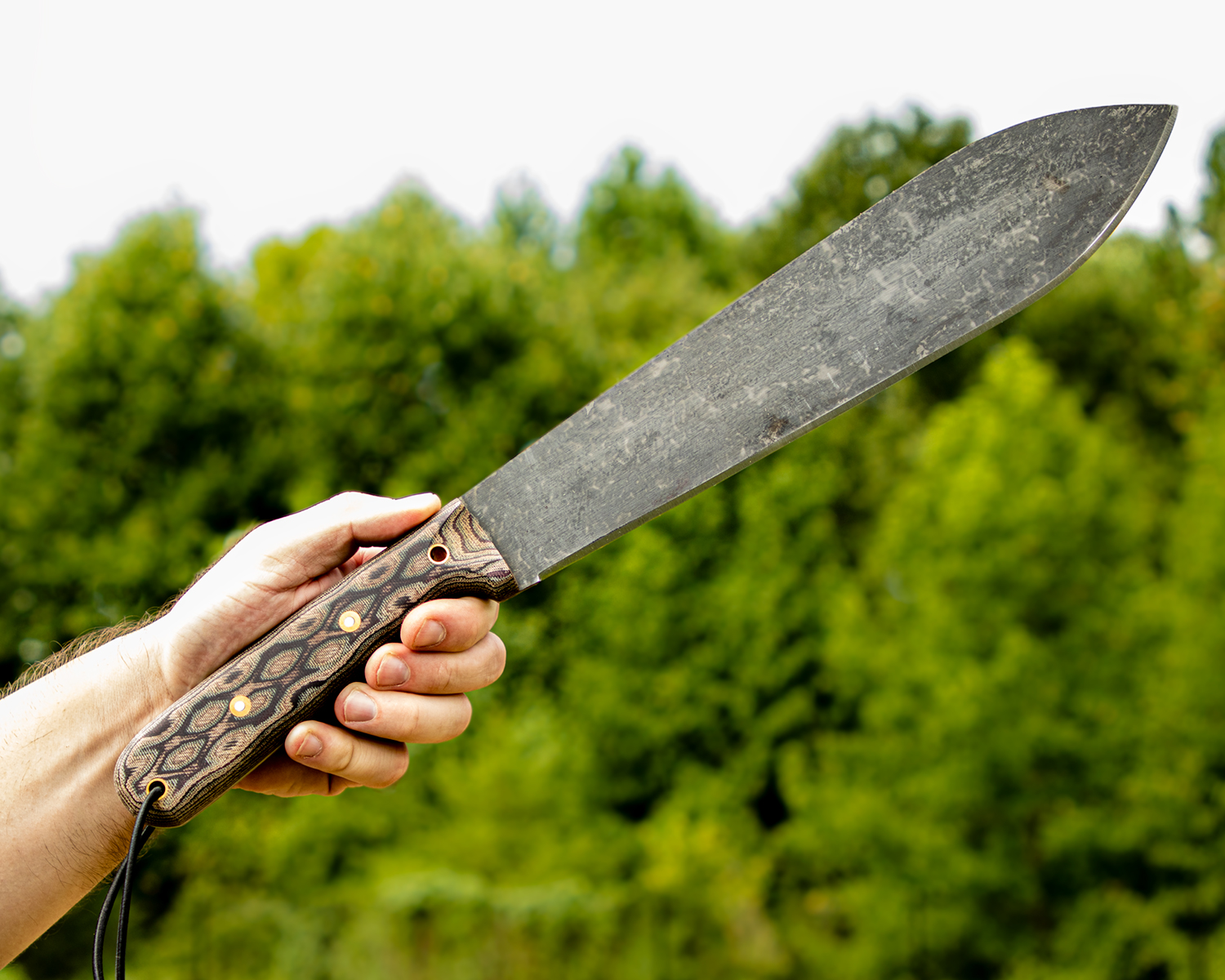 Last up this month is a knife that, though not strictly new, is new to us. The Overland Machete from L.T. Wright Knives is a little pricier than most machetes out there, but that's because they're handmade right here in the USA with a lifetime warranty – so you can bet it's gonna be higher quality than just about any machete out there. The twelve-inch, 1075 steel blade swings neatly through brush, and yet it actually has enough strength and momentum to work well as a chopper, too. L.T. Wright designed this machete to be a one-tool option if you need it to be. You can choke up for carving work, and the spear point blade shape enables drilling if need be. It's even got multiple lanyard points so you can swing it safely. It comes with a well-made leather sheath with swiveling belt loops, also made in America.
So, what's your favorite new knife of August 2019?
Now, we'd like to hear from you. Agree or disagree with any of our choices? Let us know in the comments below what your picks would have been. In the meantime, to get your hands on any of these, or see what other new models we've got in, click here to head over to KnifeCenter.com, and be sure to sign up for our knifeREWARDS program while you're there, because if there's anything better than a new knife, it's getting free money for a knife you'd be getting anyway!