Today we're taking a look at some of our favorite Case knives of all time. When it comes to classic American pocket knives there is no company out there more closely tied with this tradition than Case. They're primarily known for their non-locking slipjoint pocket knives but they also make modern folders and even fixed blades as well. However, we're gonna focus on their best folding knives and we'll show you a few of their classic patterns to illustrate.

One thing you'll quickly see is that each of their patterns are available with a wide variety of different handle materials and embellishments and you'll see some of the highlights as we go through the models. This variety not only makes them fun to collect, but Case Knives make great, affordable user knives too. With such a breadth of options, it's easy to find one perfectly suited to your preferences. Most of their pocket knives use their proprietary Tru-Sharp stainless steel but some can still be had in CV or chrome vanadium steel for those who like a traditional carbon steel blade.
The Knives
The Peanut
We'll start small with the Peanut, a knife with a special place in the hearts of many. This knife may seem tiny (and it certainly is) but with a small clip point blade and an even smaller pen blade, it's still capable enough to get most people through the day with ease.
This model has a nice half stop in the travel of the blade, which is one of those nice features that not all traditional pocket knives have, and even among Case knives it's a nice stand out. The material on the knife pictured above is smooth chestnut bone. As with any natural material, each one is going to look a little bit different and that's all the better for collecting or using, by virtue of knowing you have a knife that's uniquely yours and unlike any other one out there.
The Barlow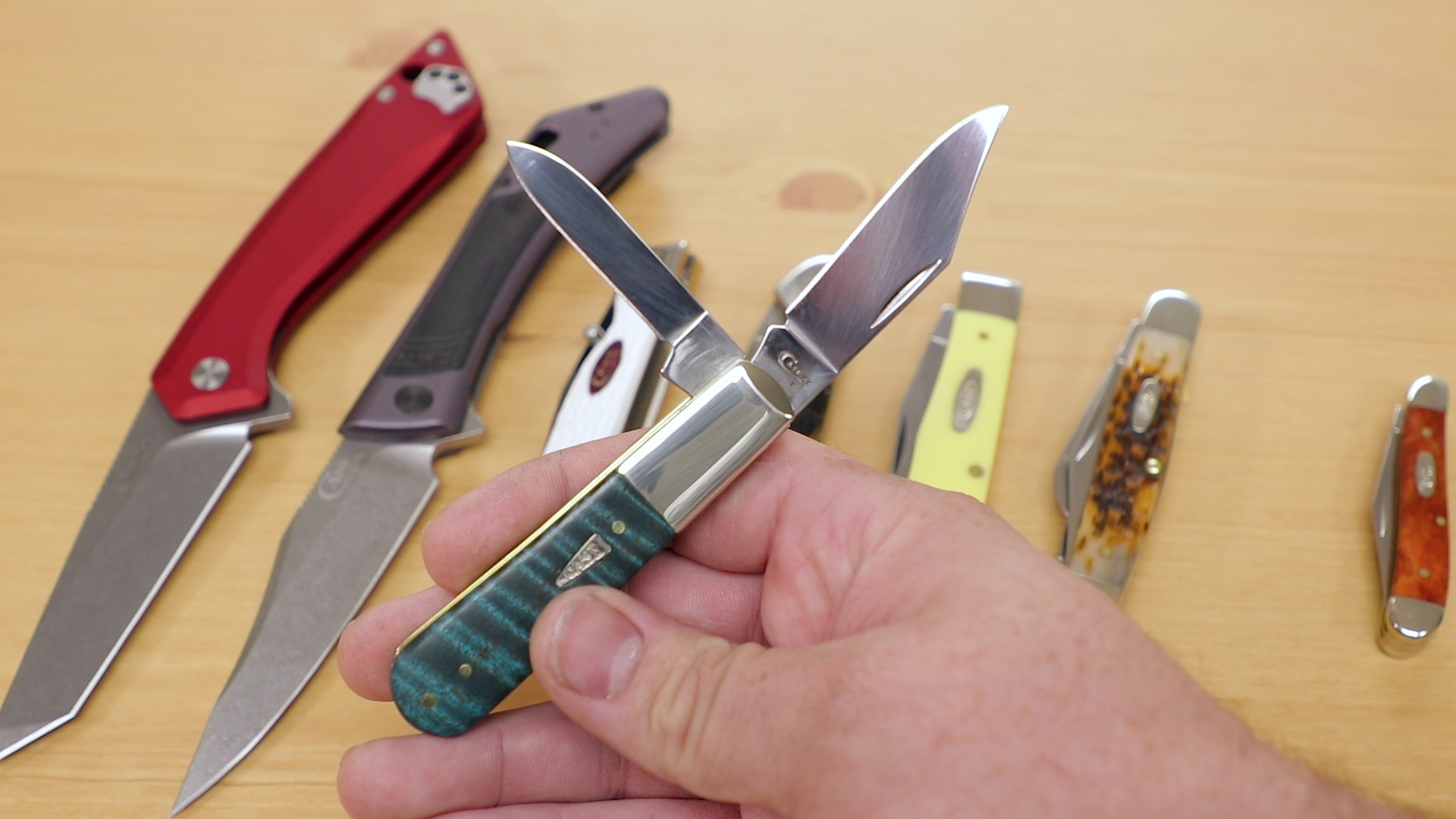 Next up is the Barlow, which was typically a very blue-collar option for working folk. Nowadays they've become highly collectible and they're subject to just as many fancy variants as anything else. They typically have either one or two blades and they come with an oversized bolster at the folding end of the simply shaped handle. Traditionally this was to impart enough strength to the knife pivot even if the handle material was not of the highest quality. That is no longer the case today. Rather it simply makes for a stunning look and it's a great place for engravers to really show off their work.
The version pictured features wood handles – gorgeous curly maple with a nice turquoise dye. The blades on this model also feature half stops and some also feature a secondary pen blade although not all Case Barlows are fitted with this one. The main blade is available with a clip point or a spear point blade to cater to different preferences.
The Stockman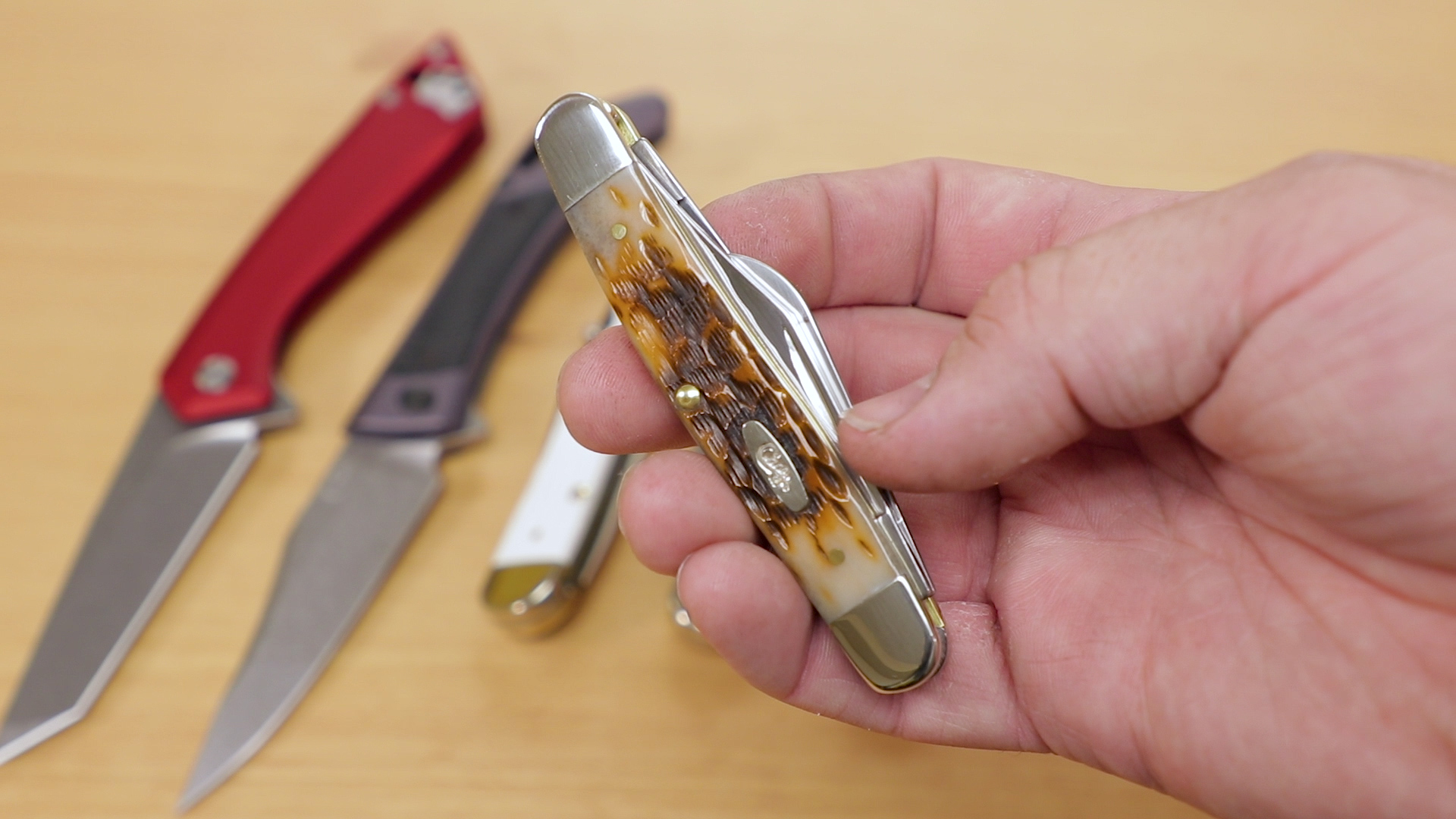 Now for the three-blade Stockman model. Shown above in one of Case's classic materials – jigged amber bone. The Stockman is a versatile pattern that's great for EDC, wood carving and even for small game or farming. The main clip point blade is an all-around workhorse and a secondary sheepsfoot blade is great for scoring or for aggressive cuts. The small spey blade on the other side was traditionally used for cattle castration with a tip that was designed to resist puncturing.
Case offers several sizes of Stockman so you have plenty of options to suit your desires. What's great about having three whole blades on your pocket knife is you can set them up for different uses and you know you will always have a razor-sharp edge when you need it.
The Trapper
Next up is the Trapper, and as the name suggests, it's a pattern that's useful for small game and hunting needs. This design features two blades of roughly equal size that open from the same end – typically a clip point and a spey blade.
The same qualities that make the spey blade great for ranchers mean that it's ideally suited for efficient skinning. Because that tip is not likely to dig in you'll be able to get long sweeping cuts with ease. Especially with the longer length on the Trapper pattern, the spey blade makes a great option for rescue operations as well. If you ever need to cut yourself, or someone else, out of a seatbelt or remove clothing from around an injury, the blunt tip can help avoid any accidental secondary injuries.
Available in several different handle variations, the knife pictured features a yellow synthetic material. This shade has become quite famous over the years and is now considered a classic color for not just Case, but other manufacturers too.
The CopperLock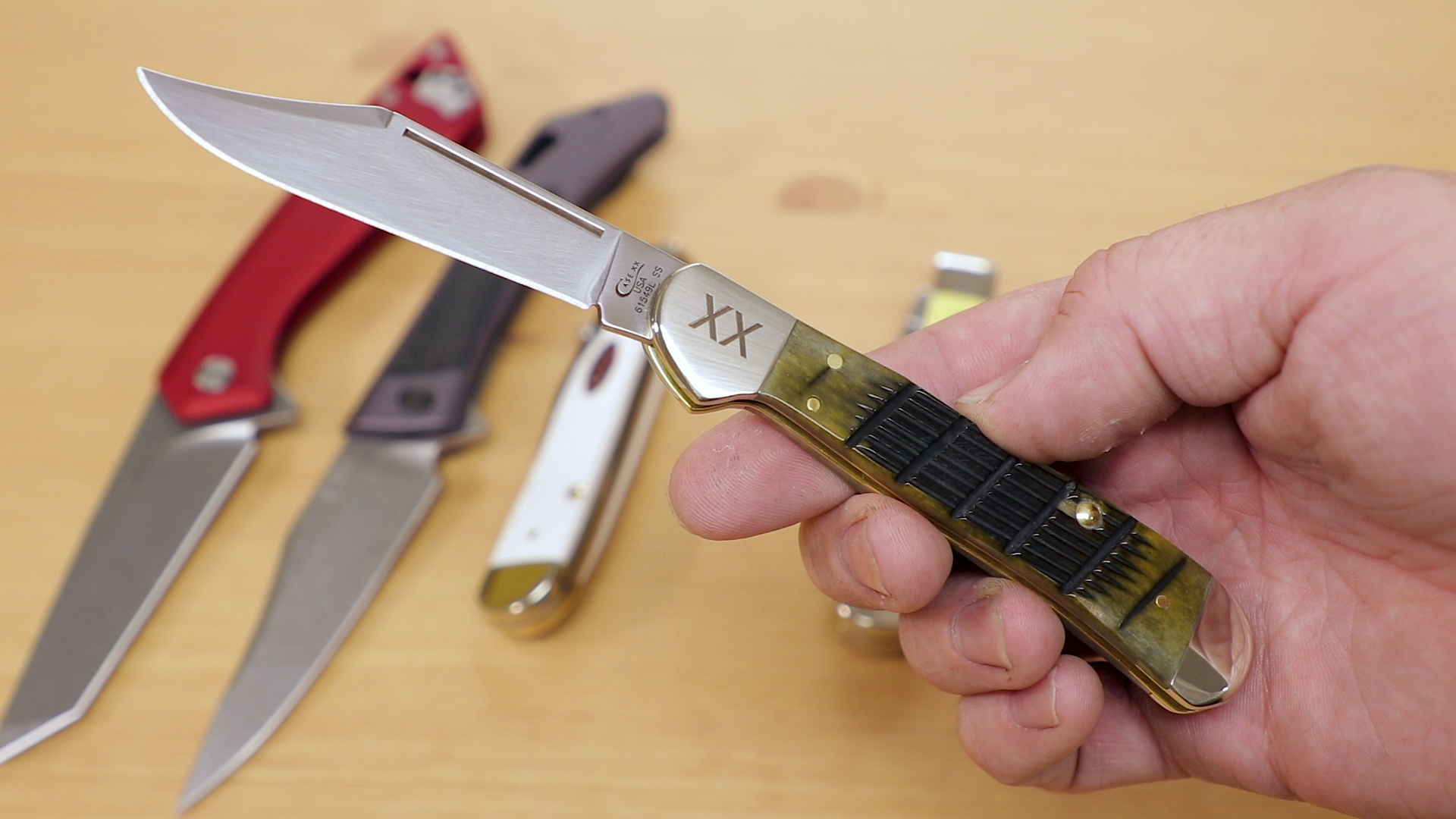 In addition to these great slipjoints, Case have also branched out over the years into locking models. The CopperLock series is perhaps the most famous and is available in a few different sizes. With a solid, mid-mounted lock back, the standard size Copperlock pictured above features fence row jigged olive-green bone. If you don't like the feel of the smooth versions, jigging patterns go a long way to adding grip to the knife, especially with a style as deep as we can see on this CopperLock.
The clip-point blades on these knives are quite useful and they open nicely thanks to the long pull that runs the length of the straight spine. If you like the way a classic pocket knife looks but want the added safety of a lock then the CopperLock is going to be a great choice.
The Kickstart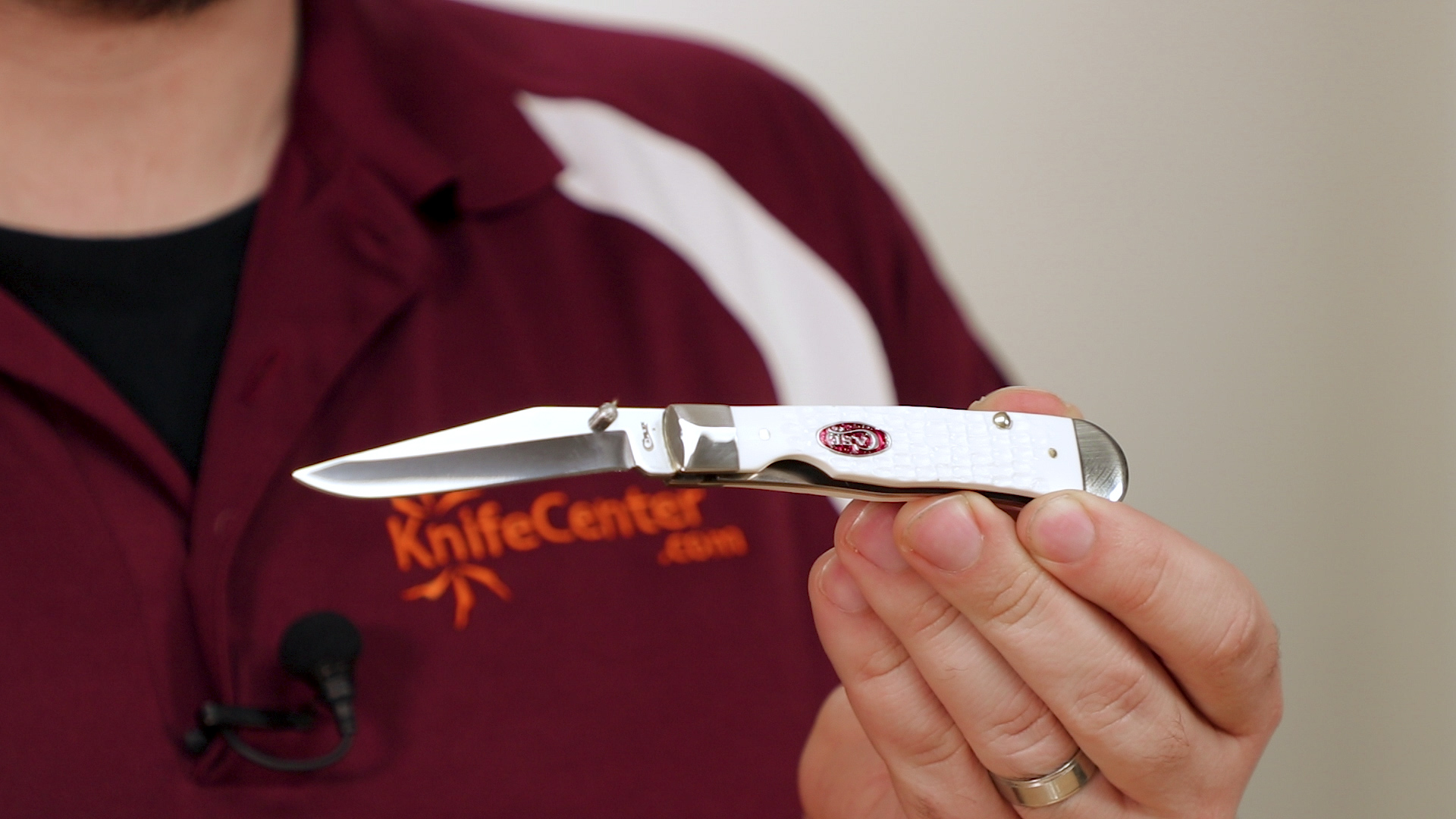 In addition to honoring their heritage, Case have also been looking to the future with new opening mechanisms. To that end, they've introduced the Kickstart Series, essentially classic patterns now equipped with a pocket clip and an assisted opening mechanism. The TrapperLock pictured above pops open nicely with one hand while still maintaining that classic Case look. It even has a liner lock to help keep things secure.
As another way of blending the old and the new, the pictured model is part of the Sparxx series of handles, featuring synthetic material that's been jigged to emulate the look and texture of the bone versions.
There are a couple of models out right now equipped with this Kickstart opener but we expect to see even more in the future.
The Shark Tooth and the CG01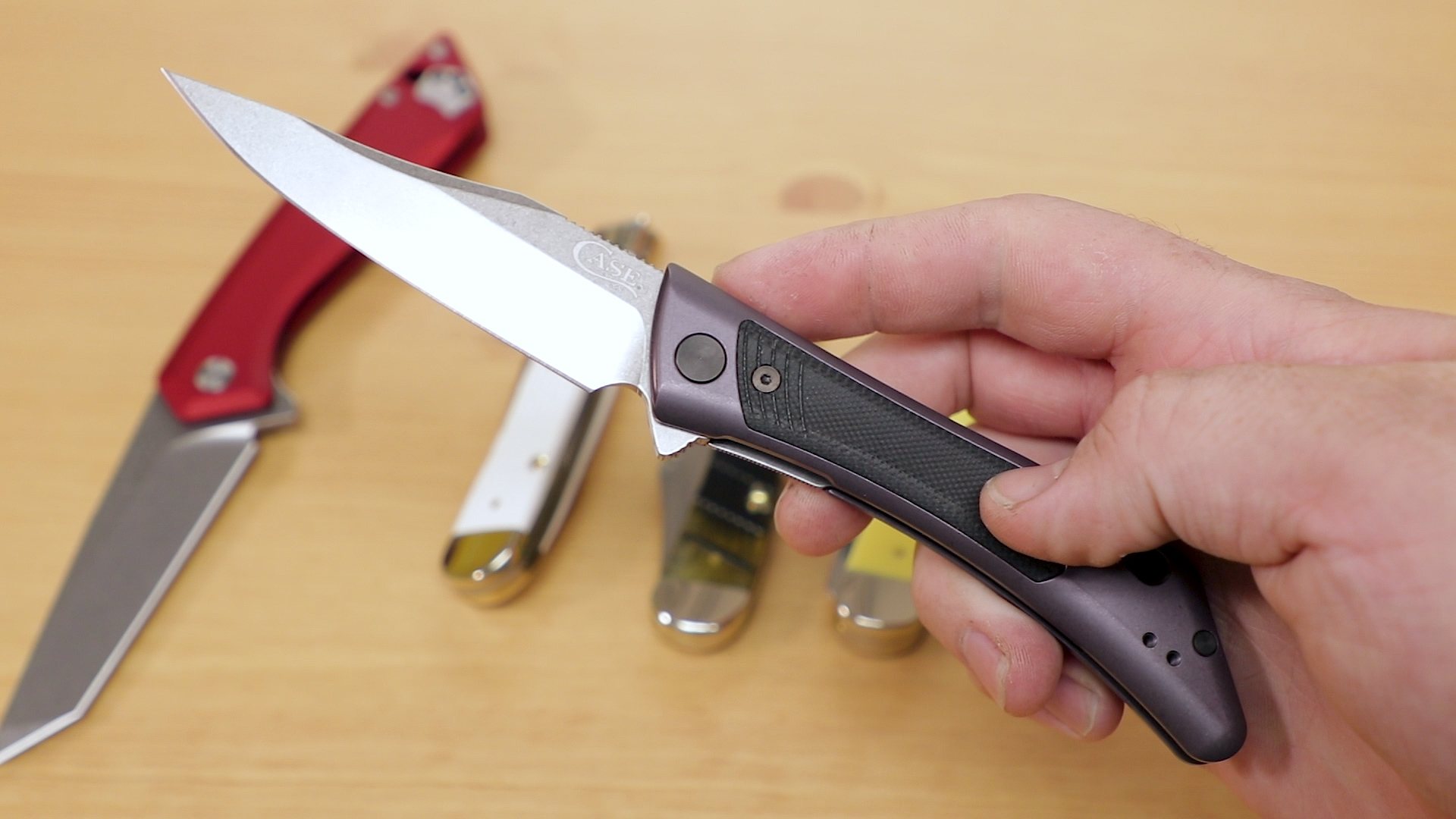 If you want something even more modern from Case then check out these two knives – the Shark Tooth flipper and their collaborations with Southern Grind, the CG01 series. Both feature crisp manual flipping action, aluminum handles, and a stonewashed S35VN blade. The Shark Tooth blade features a nice acute tip that will be great for piercing and for smaller cuts where intricate detail is needed. It also has G10 inlays and a liner lock to keep things secure. It has a really nice feel in the hand and is quite light, making it easy to carry with you every day.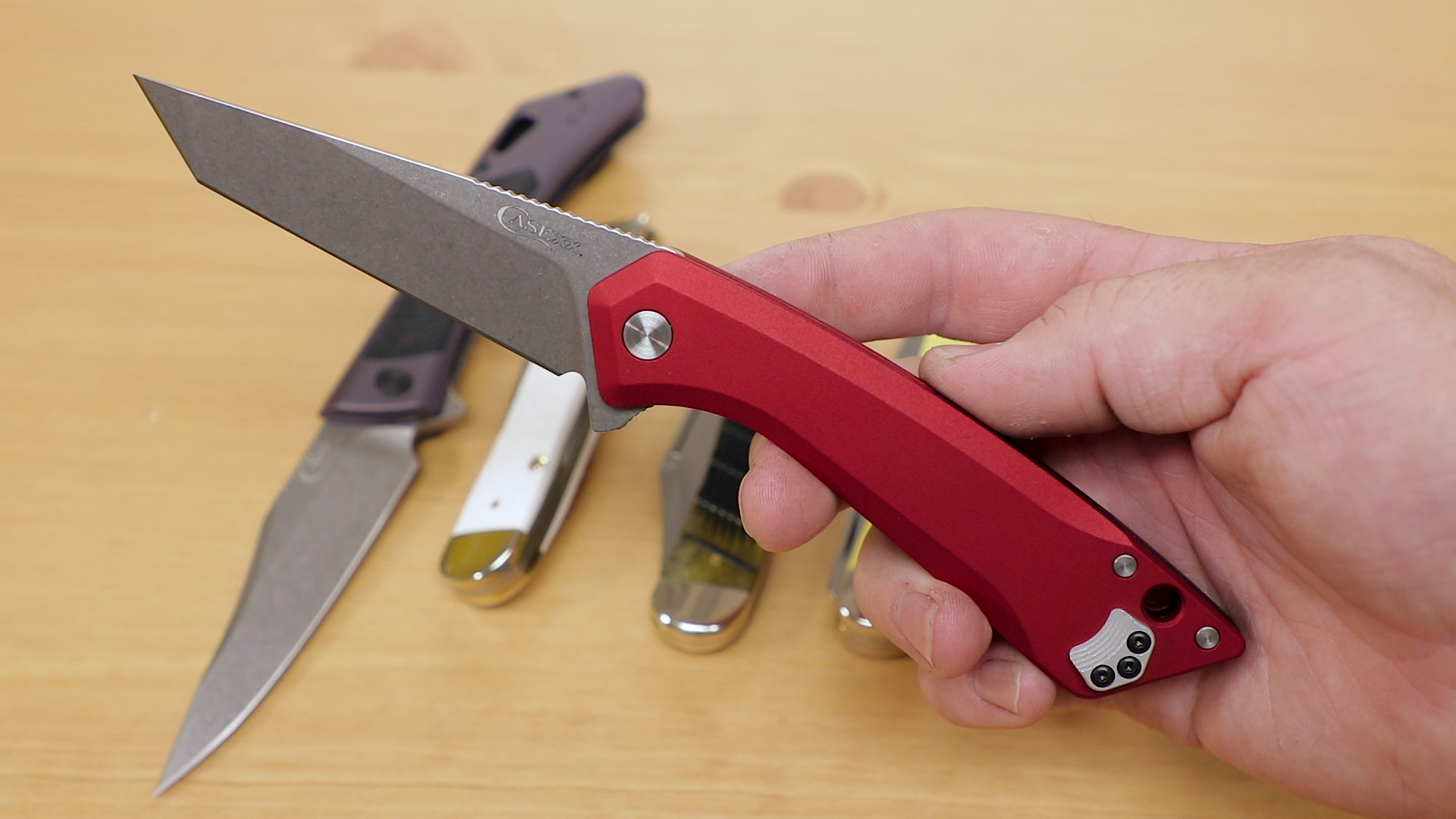 The Southern Grind CG01 knives can be had either with tanto or drop point blades. Their frame lock is very sturdy and I'm really impressed by the colored finish. It looks great and it feels very durable. These are just the first of what we expect will be many modern flippers from Case. We love their slipjoints but we're glad to see them branching out at the same time.
When it comes to American-made pocket knives that are great for collecting or using, it is hard to beat a Case knife. From their affordably priced offerings all the way up to their premium collaborations with Tony Bose, there's something in their lineup for everyone. To get your hands on one of these or any of the other great case knives that are out there click here head over to KnifeCenter.com.