BLADE Show Week heads outdoors with some newly updated HUNT series fixed blades from Benchmade. Troy Hellman takes us through the thought process and motivation behind the improvements to these capable hunting and camping knives.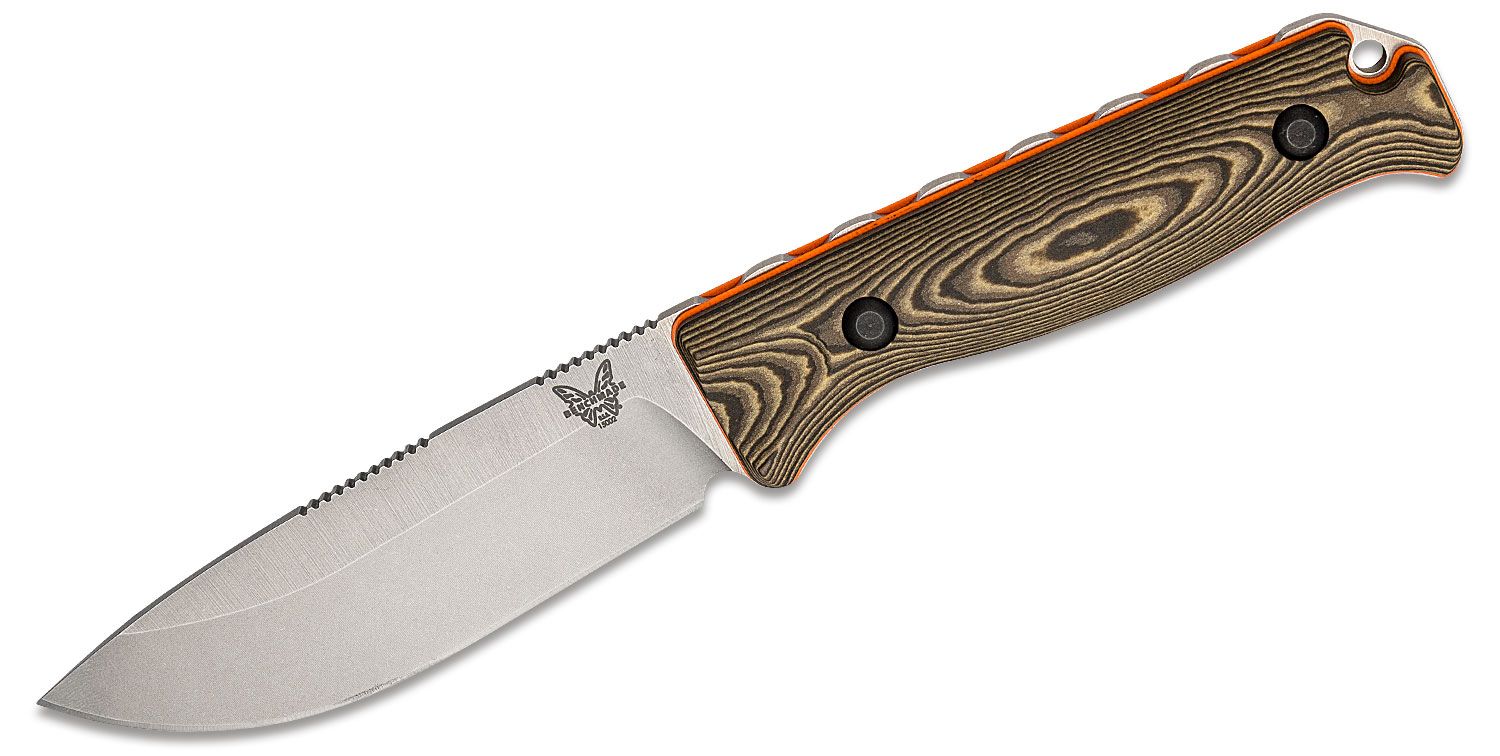 In addition to refinements to the profile, Benchmade have also released a higher end version of the Saddle Mountain Skinner fixed blade. It features a number of upgrades, including a Richlite handle with orange G10 liners and S90V blade steel. I'll focus on this knife here, as the same things apply to the base S30V/Dymondwood version.
The handle does boast a few tweaks that make it more comfortable in the hand and less likely to snag when using it in a skinning/gutting situation. They are not what I would call "hand-filling" at least in the sense of what a bushcrafter might look for, that being a fat grip that is built for hours of woodcarving. Rather, the Saddle Mountain focuses on agility, with a thinner (but still nicely contoured) handle providing a nimble and secure hold on the knife.
The blade sees a number of improvements as well, most noticeably it no longer features a recurve at the heel of the edge. This is going to make sharpening easier, and since S30V and S90V can both hold an edge for quite a while, Benchmade found that the added edge-length provided by a recurve wasn't really necessary anymore.
The slicing efficiency of these new-generation models is also vastly improved over the previous iterations. They have gone with thinner blade stock this time around, just under 1/8″ thick (they were previously closer to 5/32″) and kept the flat grind nice and high for a keen profile. The S90V versions take things a step further than the S30V models, combining the thinner blades with a more acute 14-degree per side edge angle (dubbed SelectEdge), rather than the standard 20-degree edge. This combined with the already impressive edge holding of S90V makes this version a true performance powerhouse.
Blade Length: 4.20″ (10.67 cm)
Blade Thickness: 0.120″ (3.048 mm)
Handle Thickness: 0.66″ (16.76 mm)
Blade Material: CPM-S90V Stainless Steel
Blade Hardness: 59-61HRC
Blade Style: Drop Point
Weight: 4.30 oz. (121.90 g)
Weight with Sheath: 5.68 oz. (161.02 g)
Overall Length: 8.70″ (22.10 cm)
Sheath Material: Boltaron
Class: Hunt
Made in the USA
---
To see more of the new HUNT models, including updates to the Steep Country and Hidden Canyon designs, check out our full video interview below. We've even snuck a surprise in at the end for you!