Today, we're going to be taking a look at kitchen knives and helping you to build your perfect kitchen knife collection. Let's do this!
First off, you'll want to decide whether you want to build your kitchen collection one at a time, or as a block set. Block sets can get you a lower price per blade, but the advantage of doing things piecemeal is that you can get the exact assortment of knives that suits your hands and your cooking style. There are a ton of different blade types and options to choose from, but to keep things simple, we're going to focus on some of the more common types you'll want to look at.
We'll be picking and choosing knives from a variety of different brands and series to show you what it would be like to customize your own knife set. If you like the style of any of these knives and would prefer all your kitchen knives to match, all of these knives are available in block sets at the Knife Center, as well.
The first knife you'll want to consider will be the centerpiece of your culinary blade kit, the workhorse that is going to get the bulk of your work done. A popular option is the German-style Chef knife. From cutting meat to slicing veggies, there isn't much you can't do with a good chef knife at your side.
A popular alternative to the traditional Chef knife is the Eastern-inspired Santoku. Typically a little shorter than the German Chef knives, the sheepsfoot blade is designed for versatility. Generally speaking, while both styles are almost interchangeable, German-style Chef knives tend to be better optimized at rocking motions and slicing meat. The Santoku will usually be nicer when it comes push cuts and chopping vegetables.
No matter which you choose, you'll probably want something with a blade in the 7-8 inch range. This is large enough to tackle most jobs you'll need in a home kitchen but is still agile and easy to use. Wusthof and Henckels are by far the recognized leaders of the German style, while Shun and Miyabi carry the torch for the Asian style.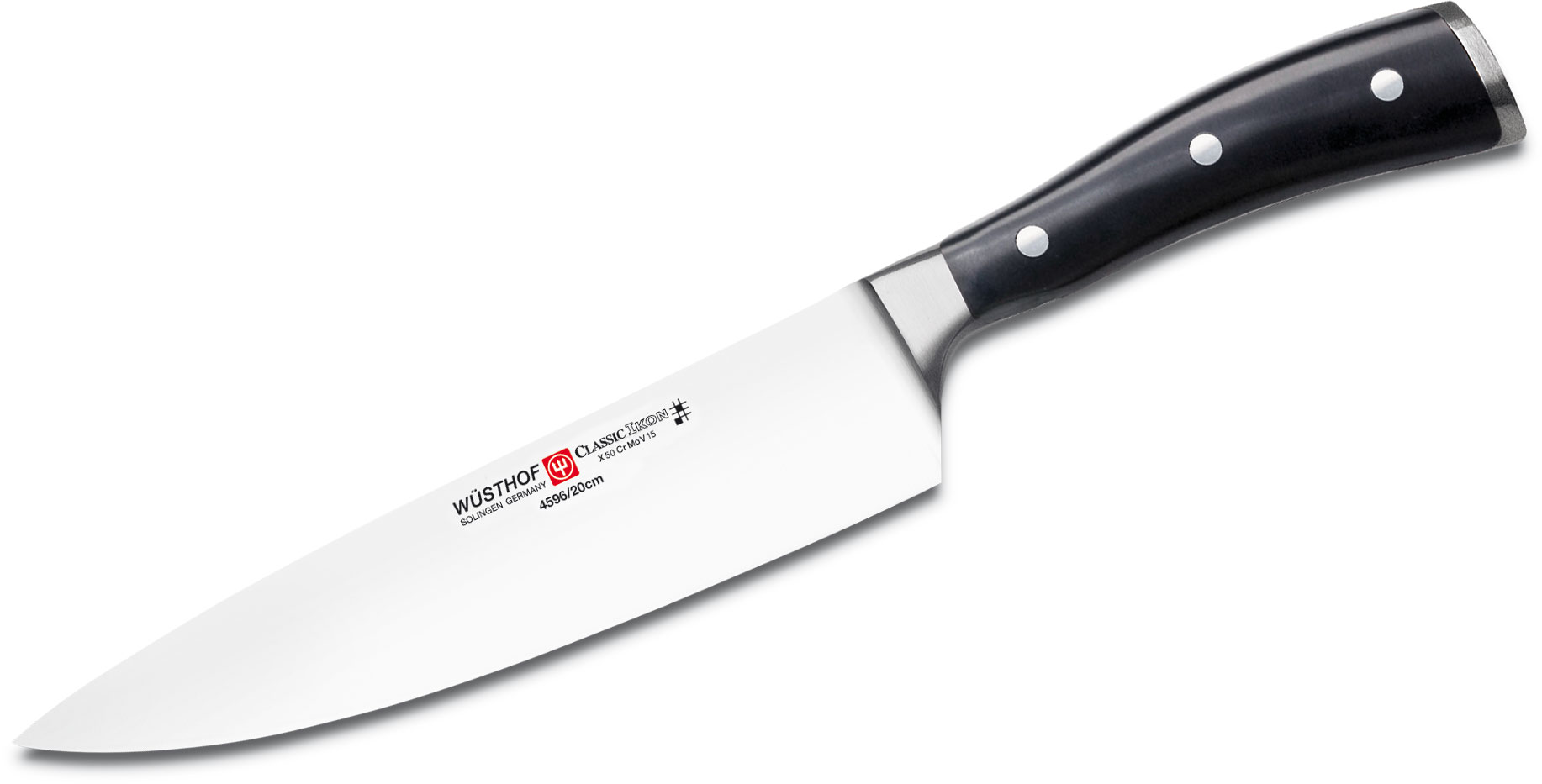 This Wusthof Classic Ikon 8" Chef Knife is one of our favorite German Chef knives, which takes the classic forged triple-rivet look and turns up the style. It has a natural feeling handle and is made with nice, tough stainless steel. The edge might not be the longest lasting out there, but it is durable and easy to maintain. Some Chef knives come with a full bolster here at the heel of the knife, but the Ikon does not. The edge comes all the way which is going to ensure it can make full contact with your cutting board, especially after it has been resharpened a few times.