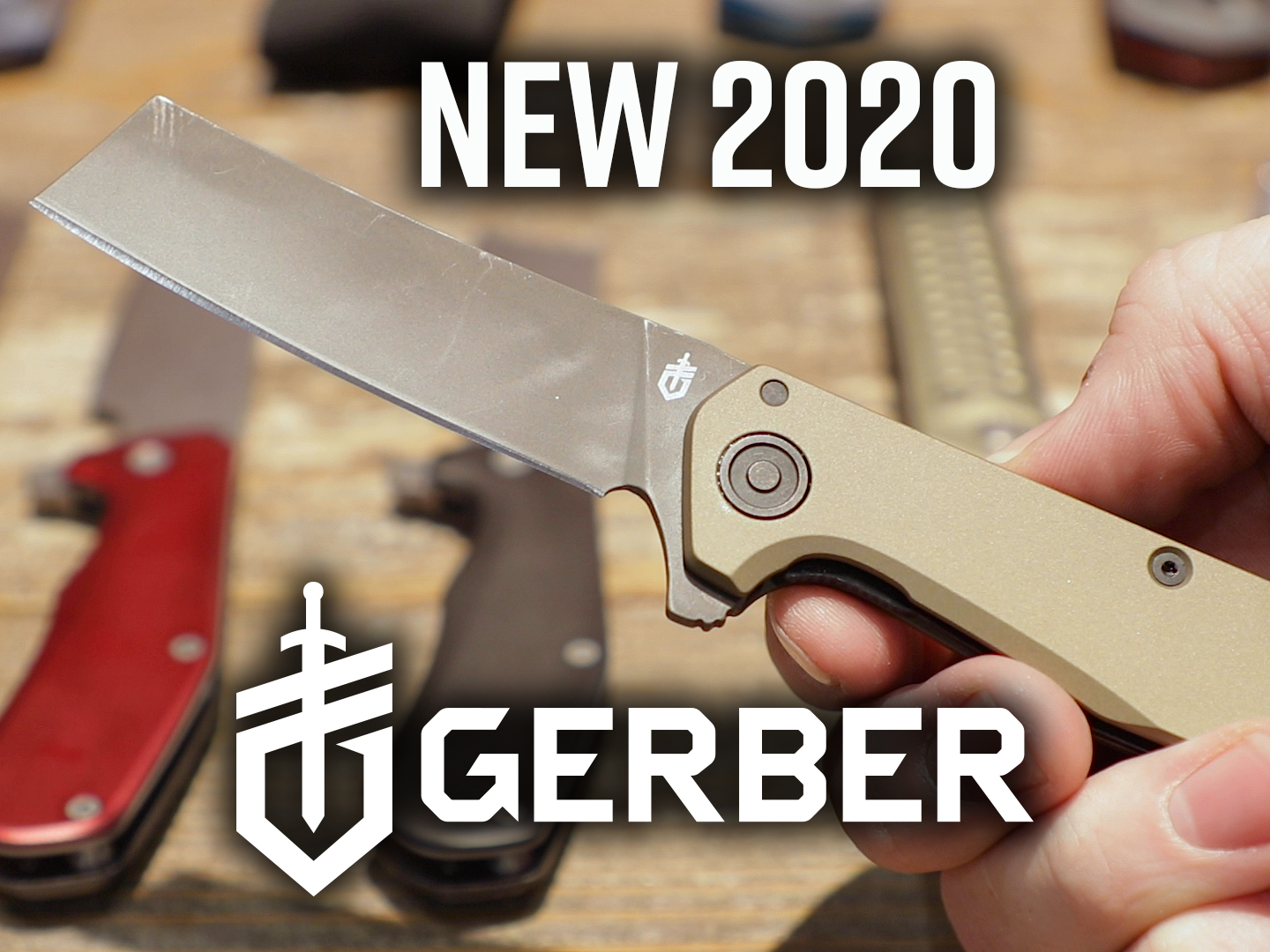 Gerber's new knives continue to lean into what worked well for them last year: a reinvigorated product line built with customer feedback in mind. Gerber is one of the biggest cutlery brands out there, so we're excited to see them testing the waters in the premium EDC market, while continuing to offer USA-made products as well as smartly-designed budget knives.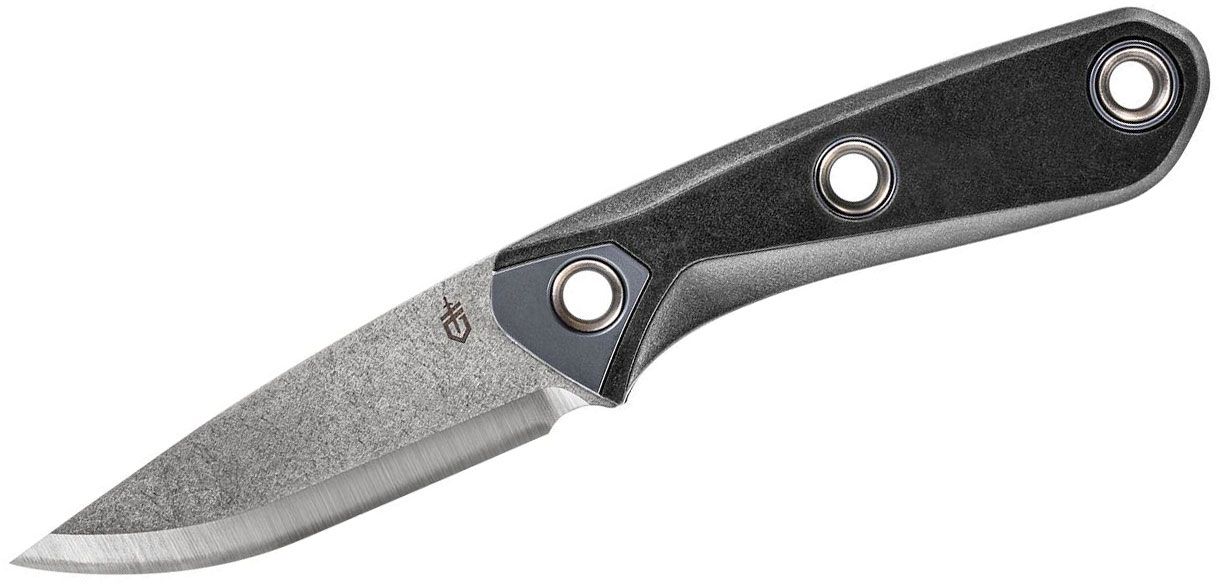 The design process for this new USA-made fixed blade started by consulting with bushcraft instructors across the country to find out exactly what they needed in a belt knife. The result is the Gerber Principle, a Scandinavian-ground blade made to fit the hand in whatever grip the task demands. The handle has smooth rubber over-molding for comfort, and a 3.1″ blade made from 420HC steel. Typical for Gerber, the sheath is also well thought-out, with modular carry attachments that allow scout-style (horizontal) carry, vertical carry, or MOLLE attachment.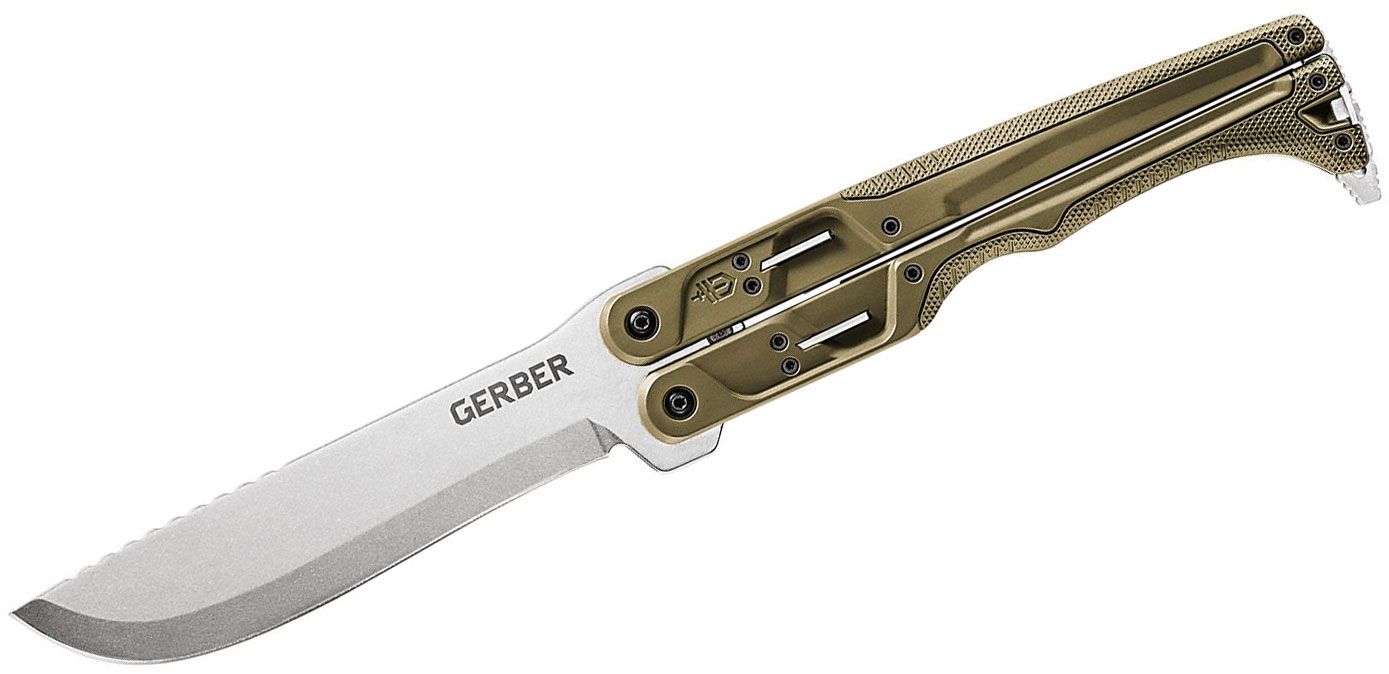 No, it's not a butterfly knife. Can we call it a bali-chete? The Gerber DoubleDown is built to take on the jobs of a knife, a machete, and a hatchet. The 6.8″ blade has quite a bit of reach thanks to the long handles, so you get plenty of momentum for chopping if you choke back on your grip, and plenty of control for carving or slicing if you choke up.
The DoubleDown is made specifically with splitting kindling in mind, featuring jimping designed to keep a baton strike from glancing off the blade. Not many manufacturers encourage people to baton with their blades (let alone their folding ones), so we take our hat off to Gerber for giving the people what they want! Despite how the knife looks, it can't easily be flipped open or closed, due to the "quad-lock" safety built in, which keeps the handles from folding unintentionally. We're excited to see how these perform in the hands of our customers – Gerber seems confident that these Portland, Oregon-made tools can take whatever you can throw at 'em.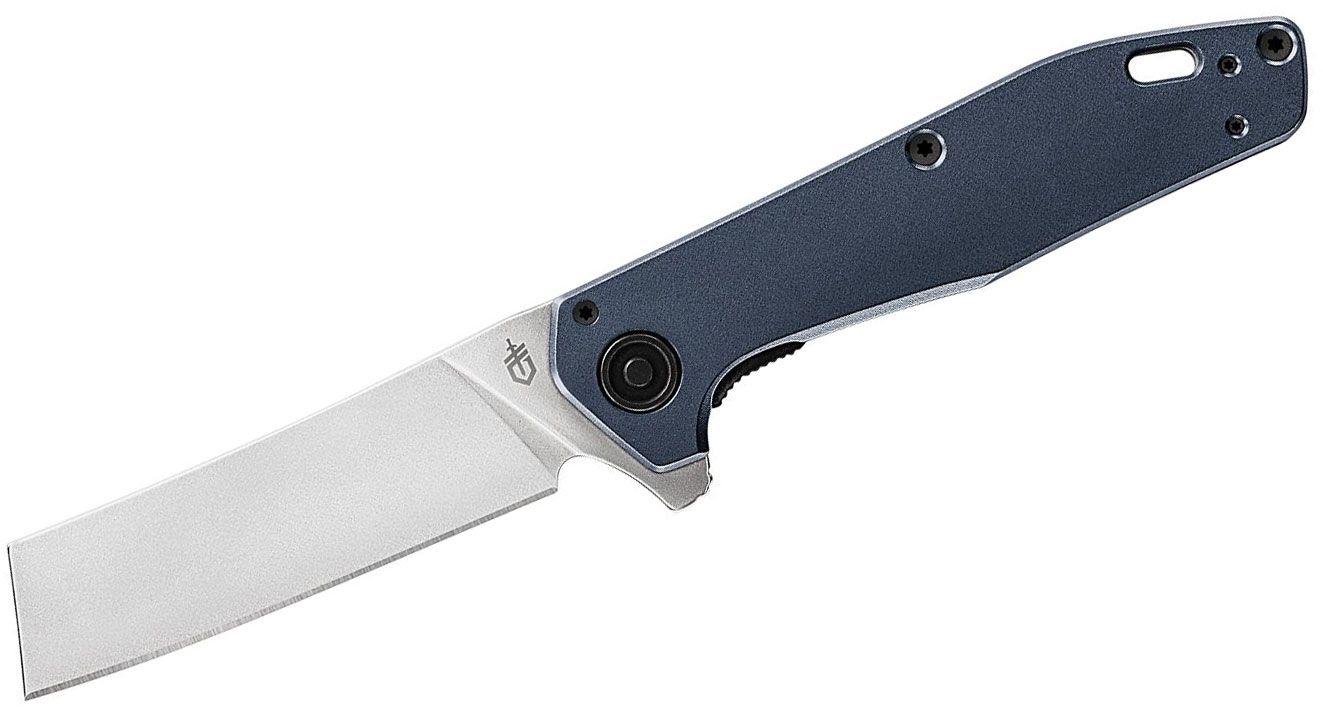 The Fastball was our favorite new Gerber folder last year: a winning combination of detail-oriented design, quality materials, and solid execution. It was a pitch to the knife enthusiasts who expect a lot from their daily carry knives, and it landed. This year, Gerber is pushing the design even further: upgrading the steel from S30V to 20CV, upgrading the backspacer from plastic to aluminum, and giving it a cool new cleaver-inspired blade shape. The flipping action and finishing on these are on point (even if the blade lacks one). Suffice it to say we're excited to get them in stock. Until then, they're available for pre-order if you want to be first in line when they arrive.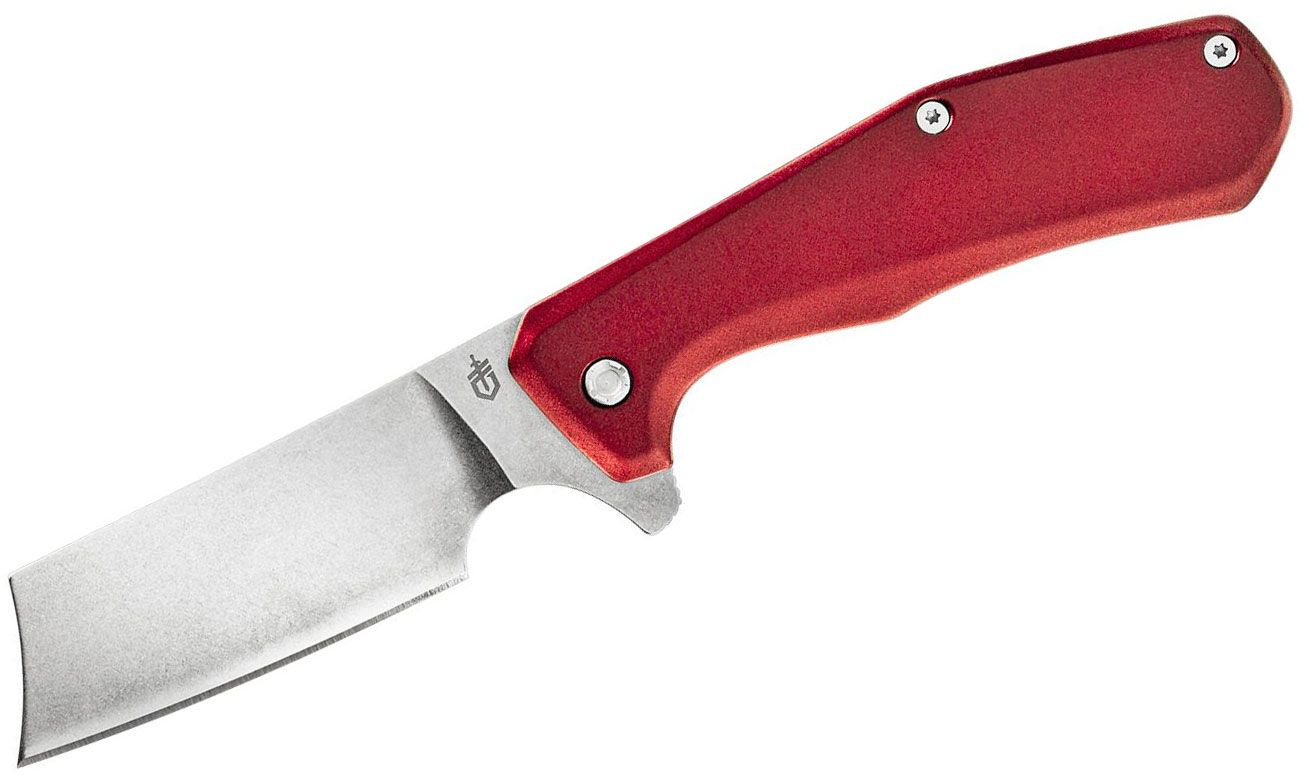 Moving from the USA-made products into Gerber's import line, we turn to the all-new Asada: a compact folding cleaver with full-sized appeal. The 3-inch blade of the Asada isn't tiny, but it's small enough to make it easier on the pocket than the similar-looking FlatIron folder. The Asada will be available with either 7Cr17M0V blade steel with an aluminum scale, or D2 with Micarta. Both versions feature a steel frame lock, a ball bearing pivot, and snappy flipper deployment.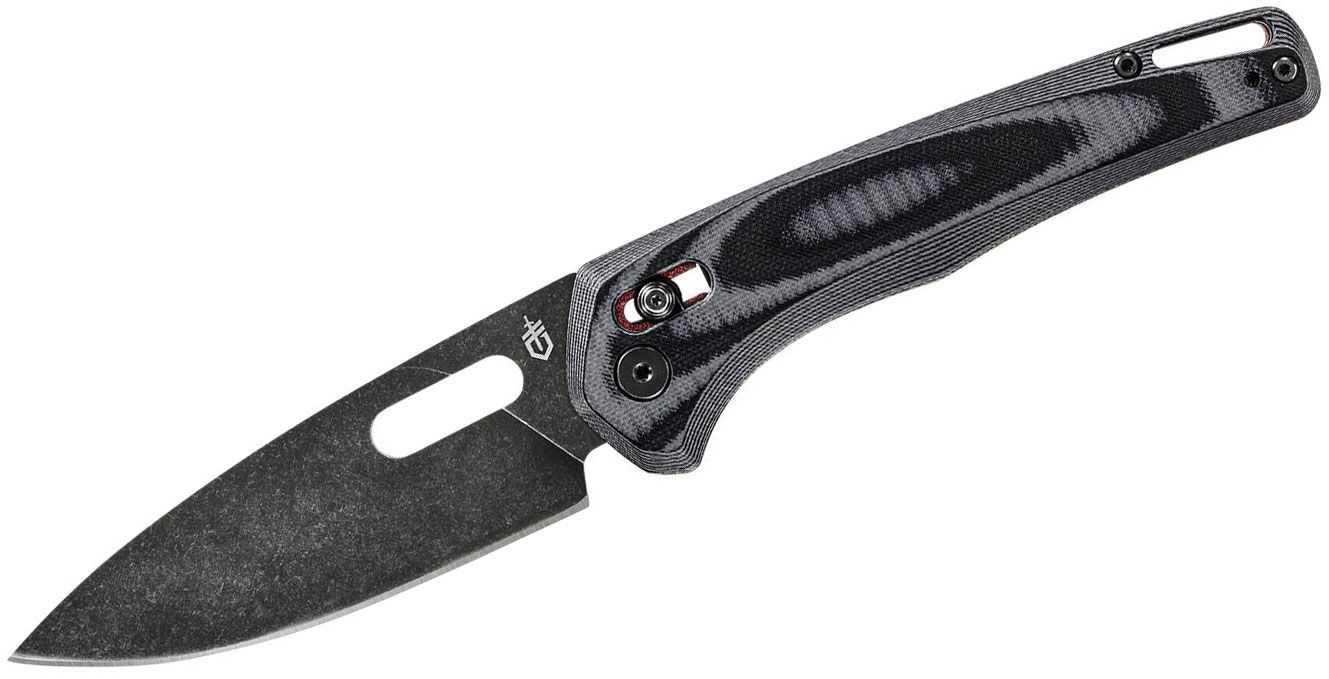 At $36.95 (as of today), the Gerber Sumo might be the most affordable folding knife with a crossbar lock on the market. That alone is enough to get excited about, but the design is solid, too: a useful drop point blade shape and comfortable handle should make this a compelling buy for anyone looking for a strong, capable budget folder.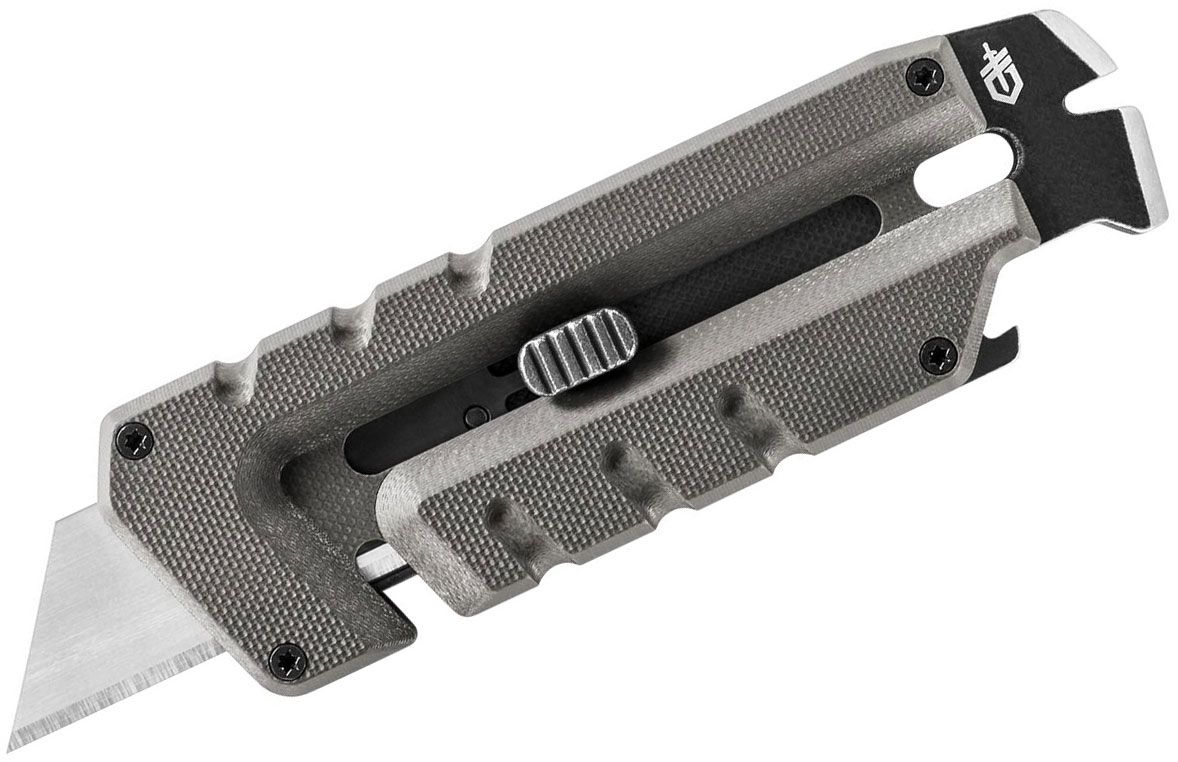 Finally, Gerber also unveiled a new series of hybrid multi-tools. Built around replaceable utility blades, these tools are small enough to drop in a pocket without fuss. Each features a sliding mechanism for deploying and retracting the blade safely, and has a pry/open end for when the job requires a little more torque. The Prybrid X takes Xacto-style hobby blades, and the Prybrid Utility takes standard utility razor blades.
What New Gerber Are You Looking Forward To?
We're looking forward to all the new knives from Gerber – what are you waiting on? Keep your eye on our new items page as these products begin to trickle in, or you can always pre-order something if you want to be first in line for new stock.