We sat down with Spyderco's Eric Glesser to talk new knives and new steels, including a new alloy developed especially for Spyderco blades. Read on for pictures and video of the first Spyderco fixed blades and pocket knives to come in 2020.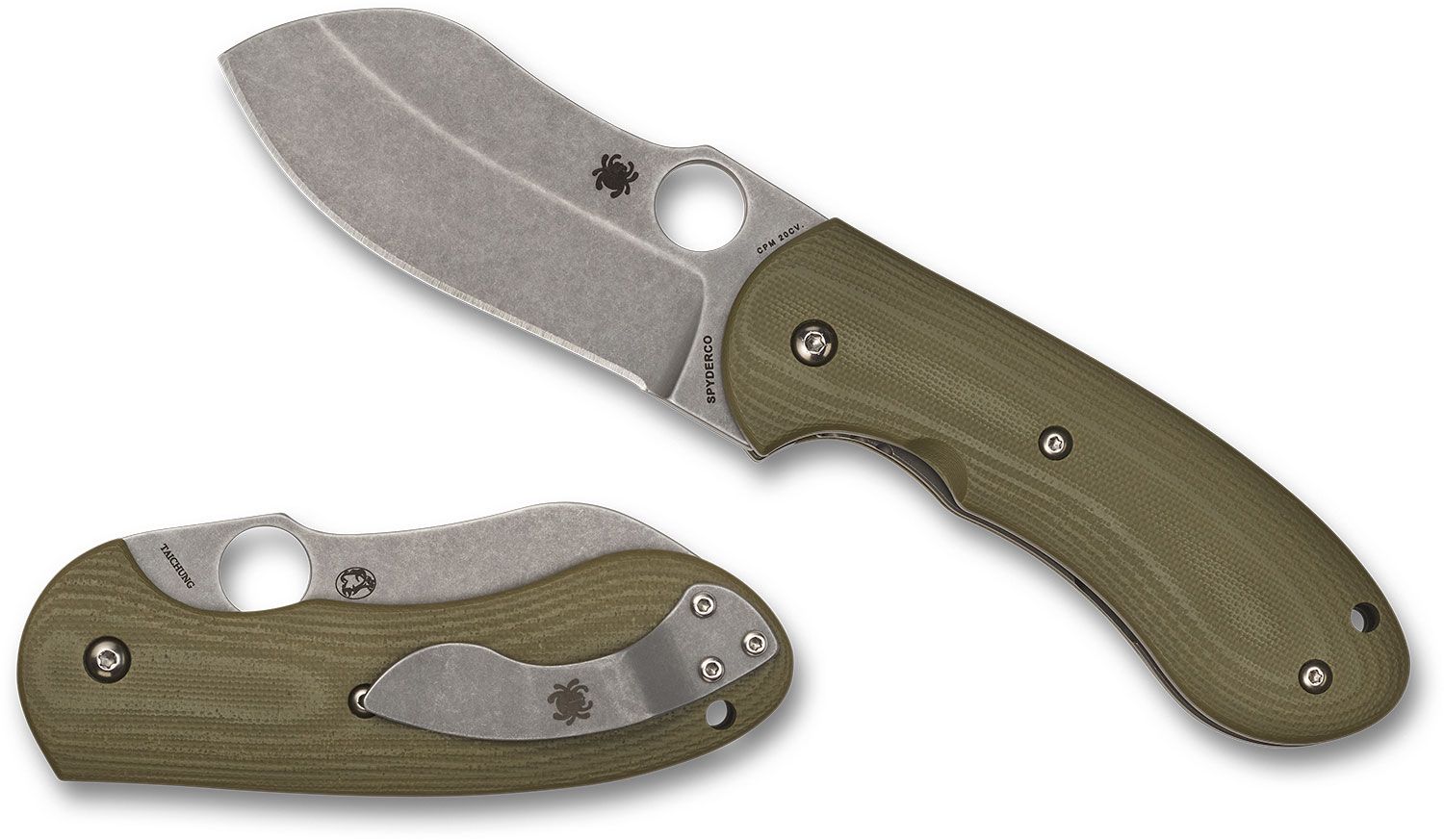 Starting things off with a bang is the Bombshell, Spyderco's first "flash batch" of 2020, a term that describes new designs that are individually serialized and never to be re-released. It's perfect for the Bombshell, a big, burly, premium folder that doesn't have the broad appeal of, say, a Spyderco Delica. It's also perfect for those who love Burch's custom knives but may never be able to find or afford one otherwise – at $280, it's not cheap, but it's got the design, materials, and craftsmanship to justify the cost. The Bombshell is a faithful re-creation of one of Burch's custom knives, with contoured G10 scales, thick titanium liners, a custom clip, and a thick 3″ CPM-20CV steel blade. Due to the limited availability of the Bombshell, we won't be offering pre-orders, but stay tuned to our website, email newsletter, and social media for news of its release.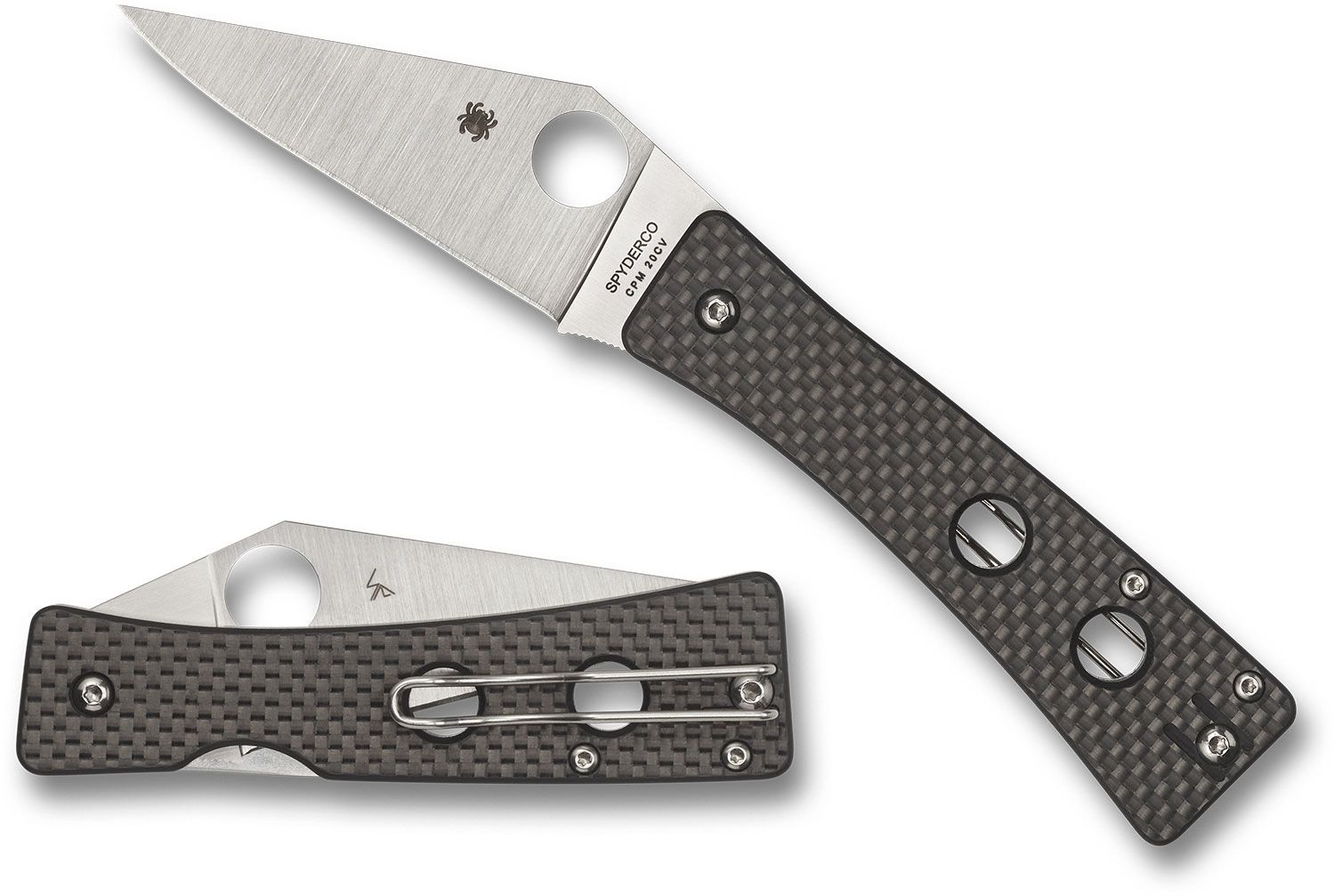 The original Spyderco Chokwe – a folding knife based on a fixed blade design from central Africa – is a personal favorite, but it's long been discontinued. It's an unusual-looking knife, even by Spyderco standards, but the blade shape cuts with precision, and the handle doesn't feel as boxy as it looks. The Watu builds on the original Chokwe design, with a compression lock and smaller 3.25″ blade, which should work better for more people. With thin 2.6mm blade stock made from CPM-20CV steel, this should be a great performer, too.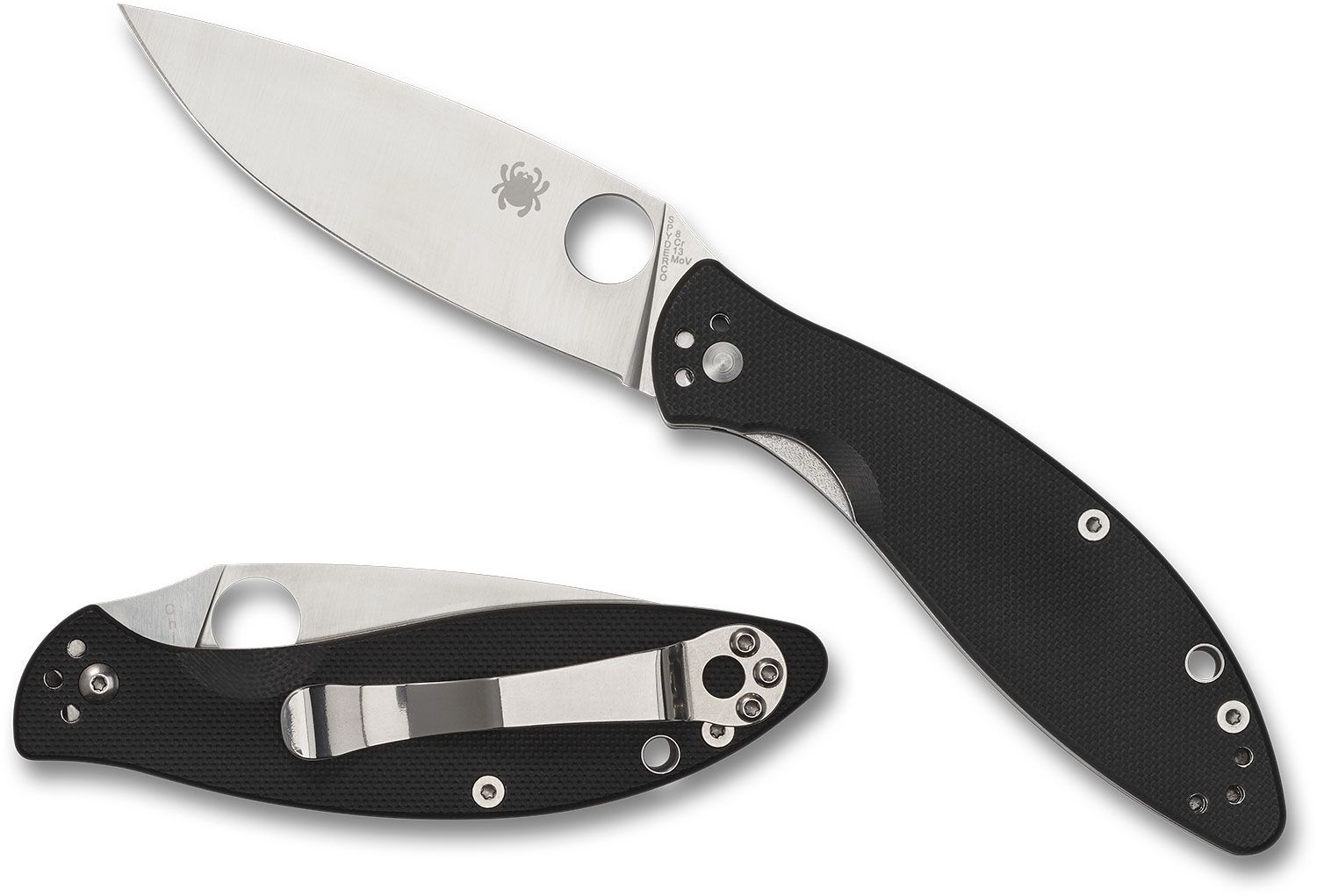 The Astute takes Spyderco's value line in a different direction. Previously, Spyderco's made-in-China knives – from the popular Tenacious to the ergonomic Efficient – have been relatively wide and heavy. The new Astute, on the other hand, is slim and light. The 8Cr13moV blade is just 2.5mm thick and 3" long, which helps keep its total weight down to just 2.6 ounces. We're fans of the big-bellied blade shape and the way the edge stretches all the way back to the handle. Overall, it reminds us a bit of a Canadian belt knife pattern and should make a great daily carry option. For under $50, the Astute is shaping up to be our new favorite budget Spyderco design.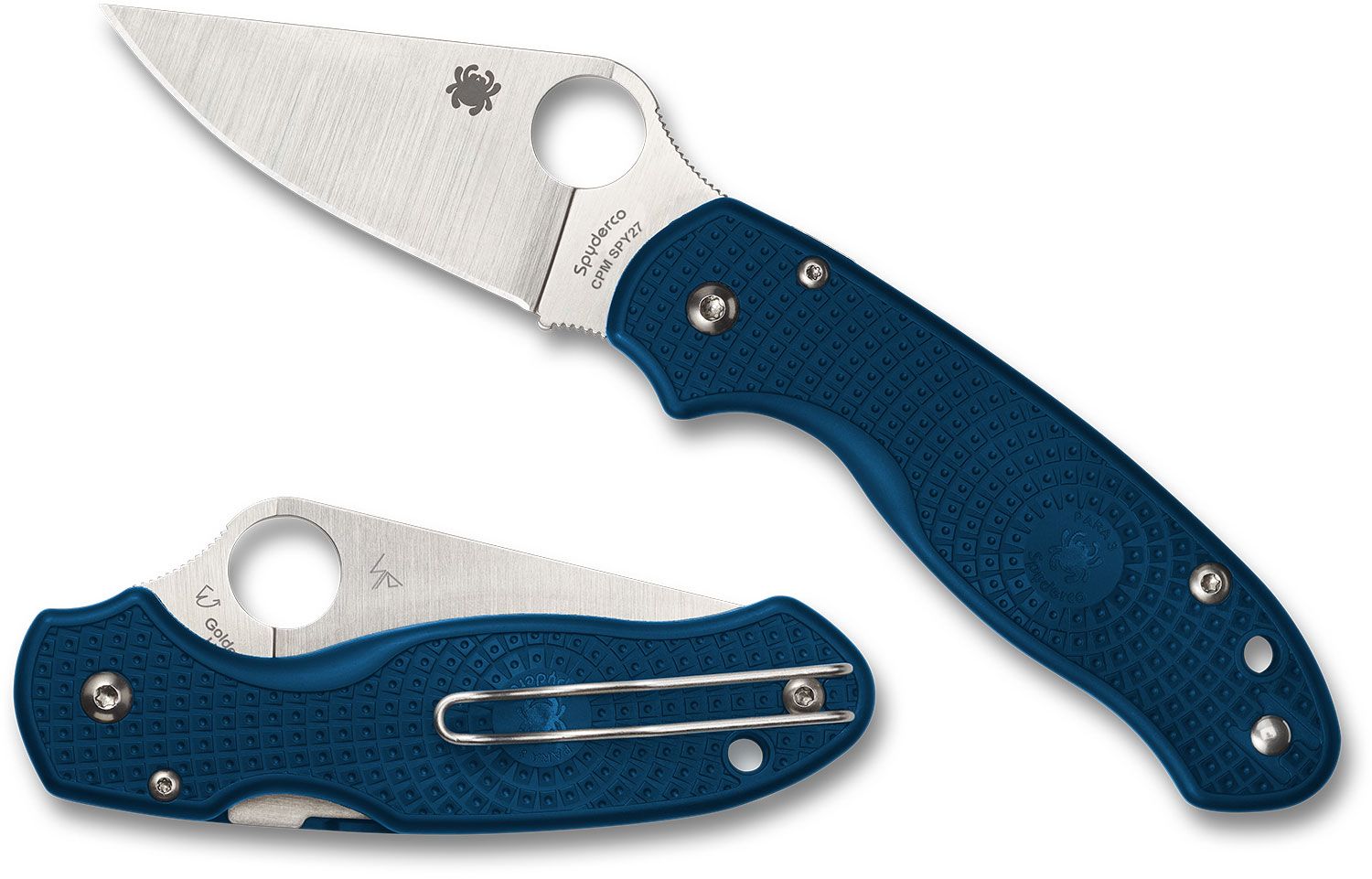 The next few knives aren't exactly new, but they are exciting because of what they bring to the market: a brand new blade steel developed exclusively for Spyderco knives. Dubbed CPM-SPY27, it is made by American steelmaker Crucible Industries and will make its debut on the Native 5, Para 3, and Manix 2 lightweight. These are NOT sprint runs, and will enter regular production alongside their other models.
The "27" in SPY27 is the atomic number of Cobalt, a metal that lends its characteristics to the alloy. Spyderco is going all-in on the Cobalt theme with these releases: all SPY27 models will feature a "cobalt blue" handle color. According to Eric Glesser, we can expect performance similar to S30V or S35VN, but as always with knives, the devil is in the details. We're looking forward to getting our hands on these for some real-world testing!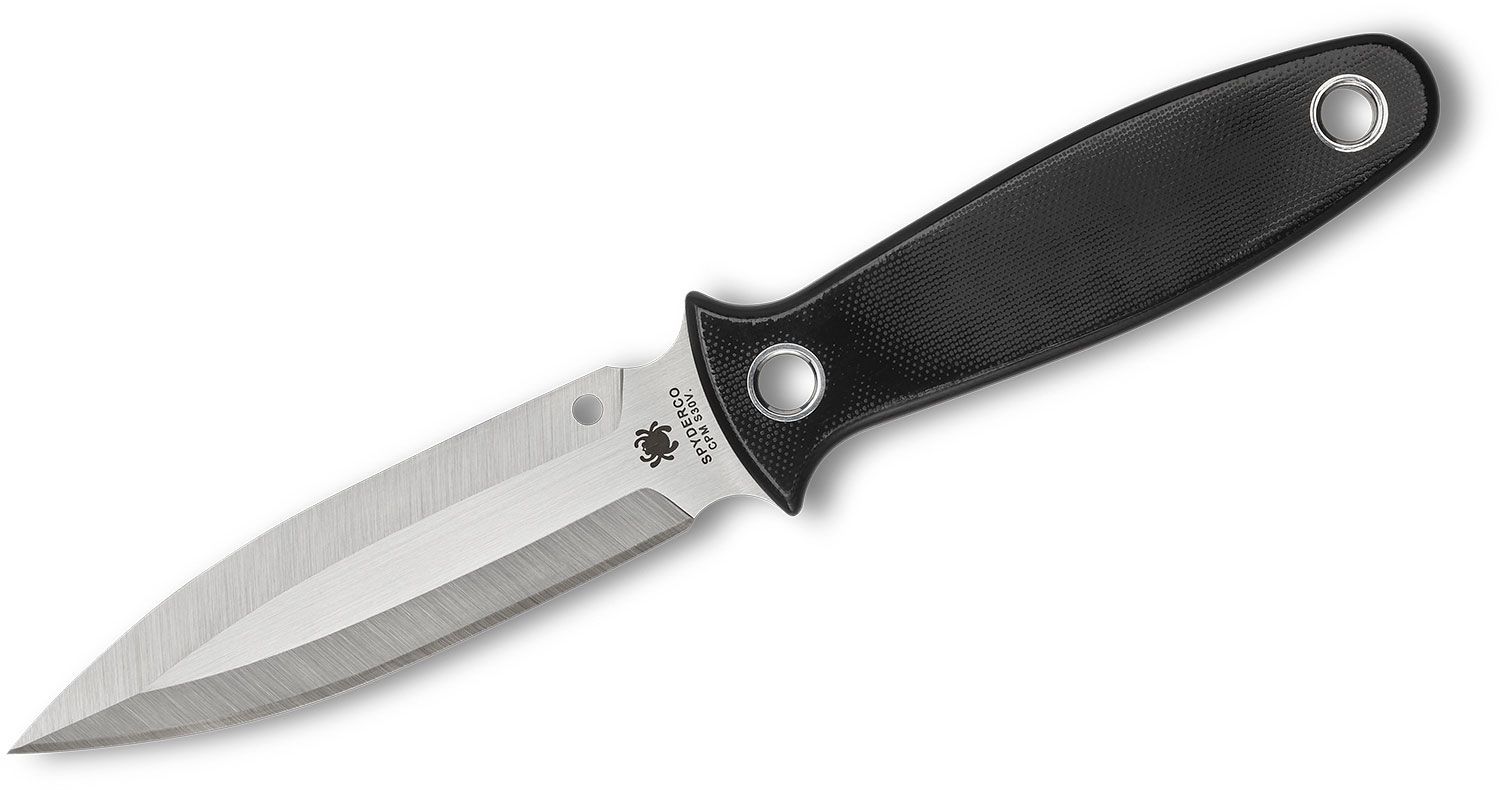 Few people know blades better than knife designer and BladeSports cutting champion Gayle Bradley. The Nightstick is his take on the classic boot dagger, built for speed, balance, and comfortable carry. It's got a thin, smooth G10 handle that helps it ride quietly anywhere it needs to: belt, boot, or waistband. The 4.1" S30V blade is symmetrically dagger-ground but only sharpened on one side, with a trademark Spydiehole on the other to help visually index the cutting edge from the false one. Comes with a Boltaron sheath and versatile G-Clip.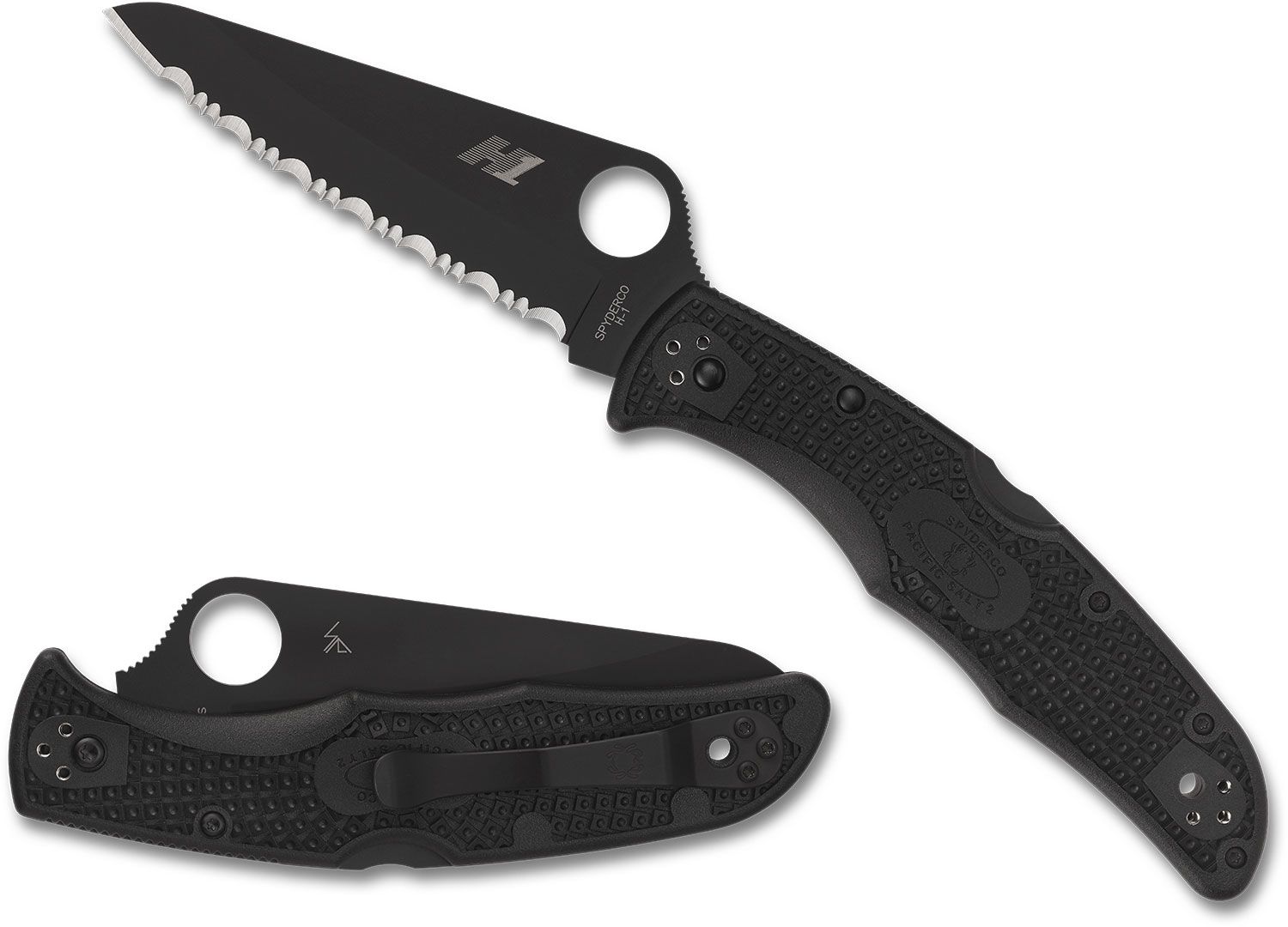 The Pacific Salt 2 is the next step in the wave of incremental improvement sweeping through Spyderco's line of rust-proof folding knives. The handles now share the same profile and bi-directional texturing as the popular Endura series knives. This should make them a little more grippy – a plus for those actually using their Salt knife in saltwater. Just like the original Pacific Salt, the Pacific Salt 2 is built without liners, to eliminate the possibility of trapping rust under the handle scales. The 3.8" blade is hollow ground from H1, which has proven to be the most rust-resistant blade steel on the market. We have black-handled versions with either serrated or plain edge blades available for pre-order now!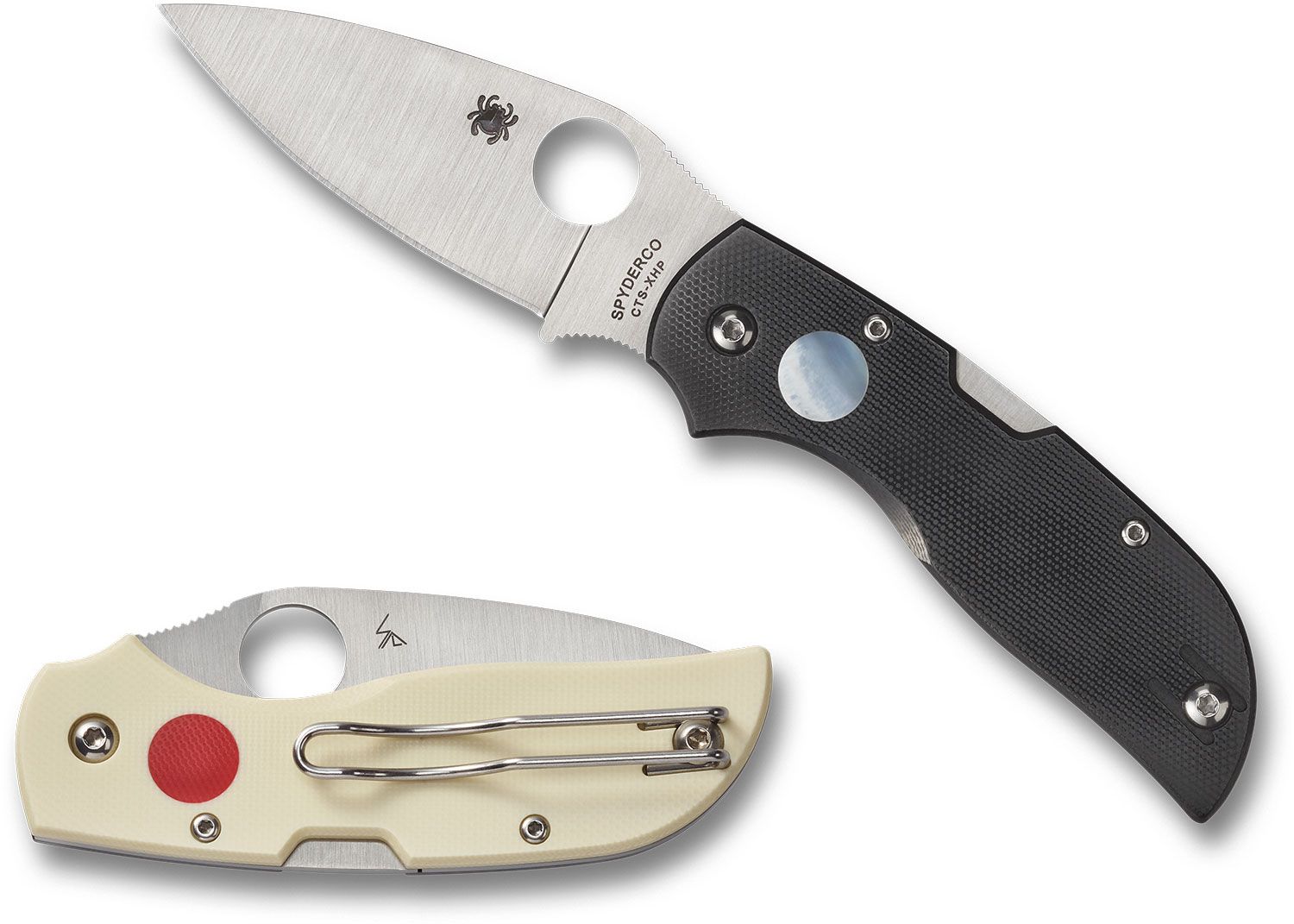 The Chaparral is simply one of the best designs Spyderco makes, and we hope the unique beauty of this new "Sun & Moon" version will encourage more people to give one a try. One side is ivory G10 with an inlaid red G10 "sun;" the other, smooth blade G10 with a pearl "moon" inlay. It gives the knife a sort of yin-yang vibe with the two opposing sides, and it's a great look for a small-ish, dressy knife built to be comfortably carried anywhere. Great thin blade stock (2mm!), CTS-XHP steel, and accommodating ergonomics.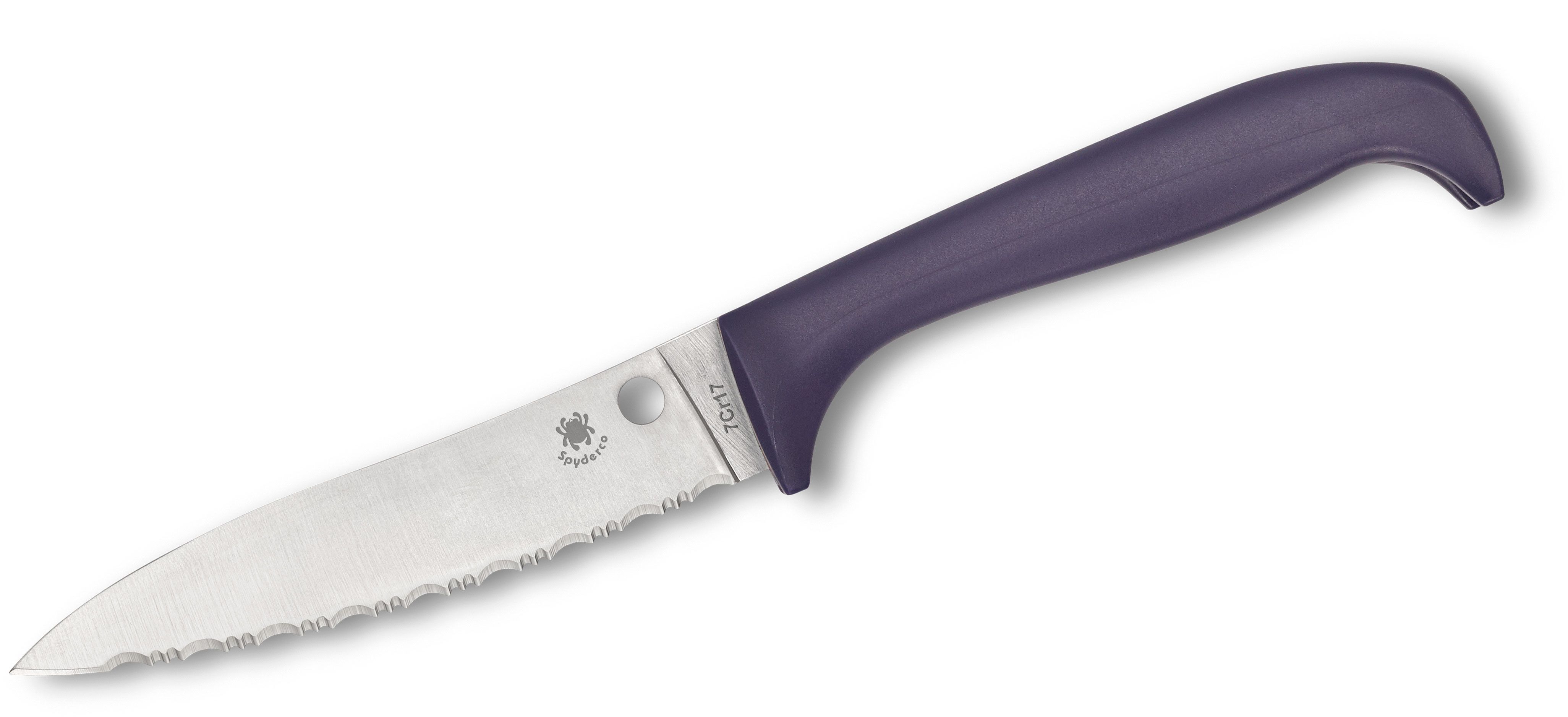 Finally, a new kitchen/utility knife designed to stand flat on your countertop thanks to subtle "legs" molded into the handle – hence the name "counter puppy." In use, it gives these fixed blade paring knives a tidy, clean look, and helps protect the edge (and your hands) from accidental scrapes. We think these would make for an excellent set of steak knives, since they'll stand safely next to a fork and spoon at a table setting. We've got them available for pre-order now, and are expecting the first batch very soon.