The latest addition to the KnifeCenter-exclusive lineup is the CJRB Crag, one of the best folding cleavers on the market at any price. Let's take a closer look at this shockingly affordable knife, the upgrades exclusive to this version, and why you should consider adding a folding cleaver to your collection.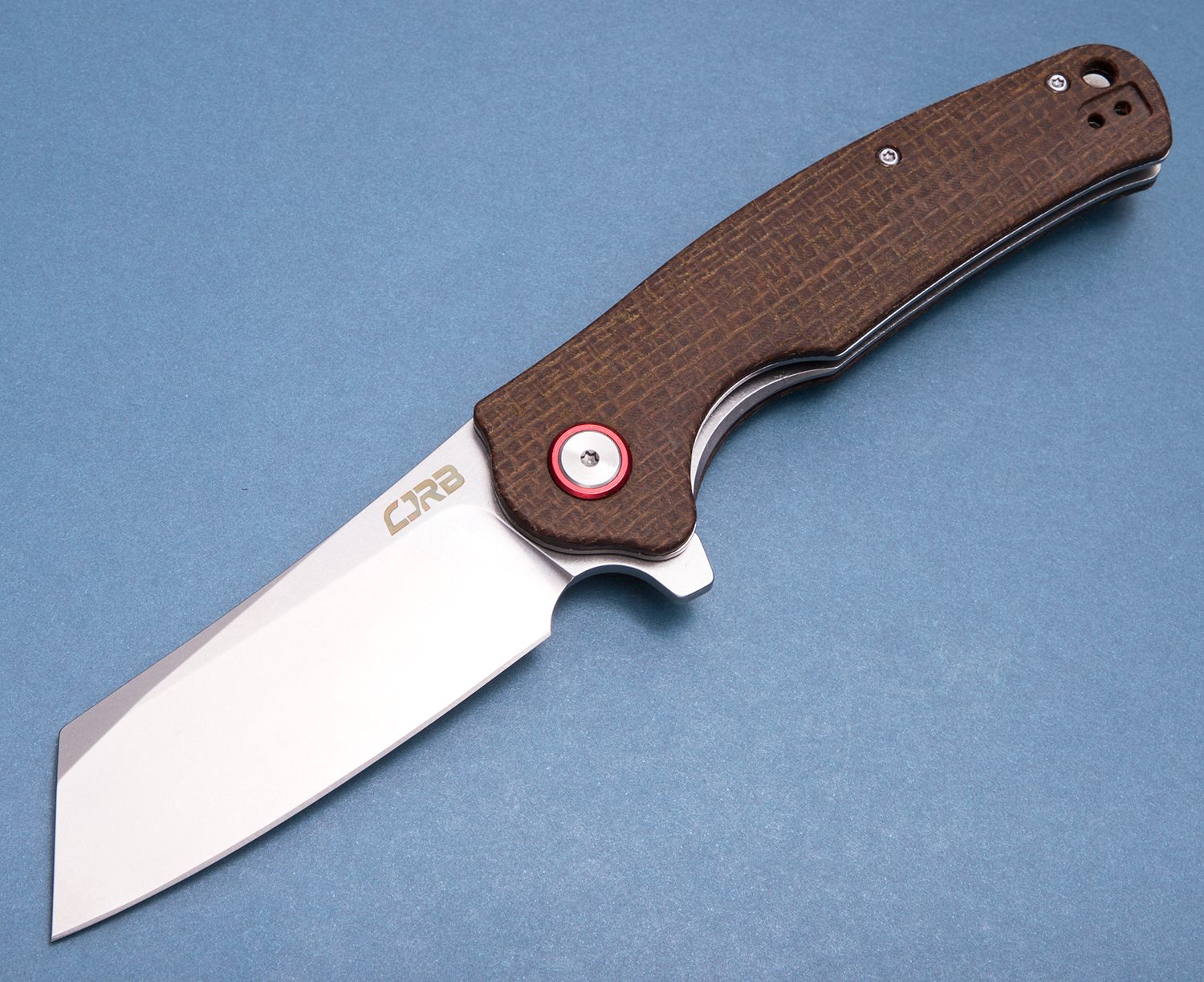 CJRB is the budget subsidiary brand of Artisan Cutlery, and they make some of the best value knives on the market, period. Here's what you get for the Crag's retail price of $44.95: a stonewashed 3.4-inch D2 blade, contoured burlap Micarta handle scales, red anodized aluminum pivot collar, ceramic ball bearings in the pivot, a ceramic detent, skeletonized stainless steel liners, and a deep carry pocket clip. Truly, we're in a golden age of budget blades—it wasn't long ago that knives with these kind of specs would cost you three-to-four-times as much, but CJRB is dedicated to making premium performance attainable.
All that said, there's more to knife design than checking off a list of features. The reason we worked with CJRB to bring you this exclusive version is that we think the Crag is one of the best folding cleavers available at any price.
What is Burlap Micarta?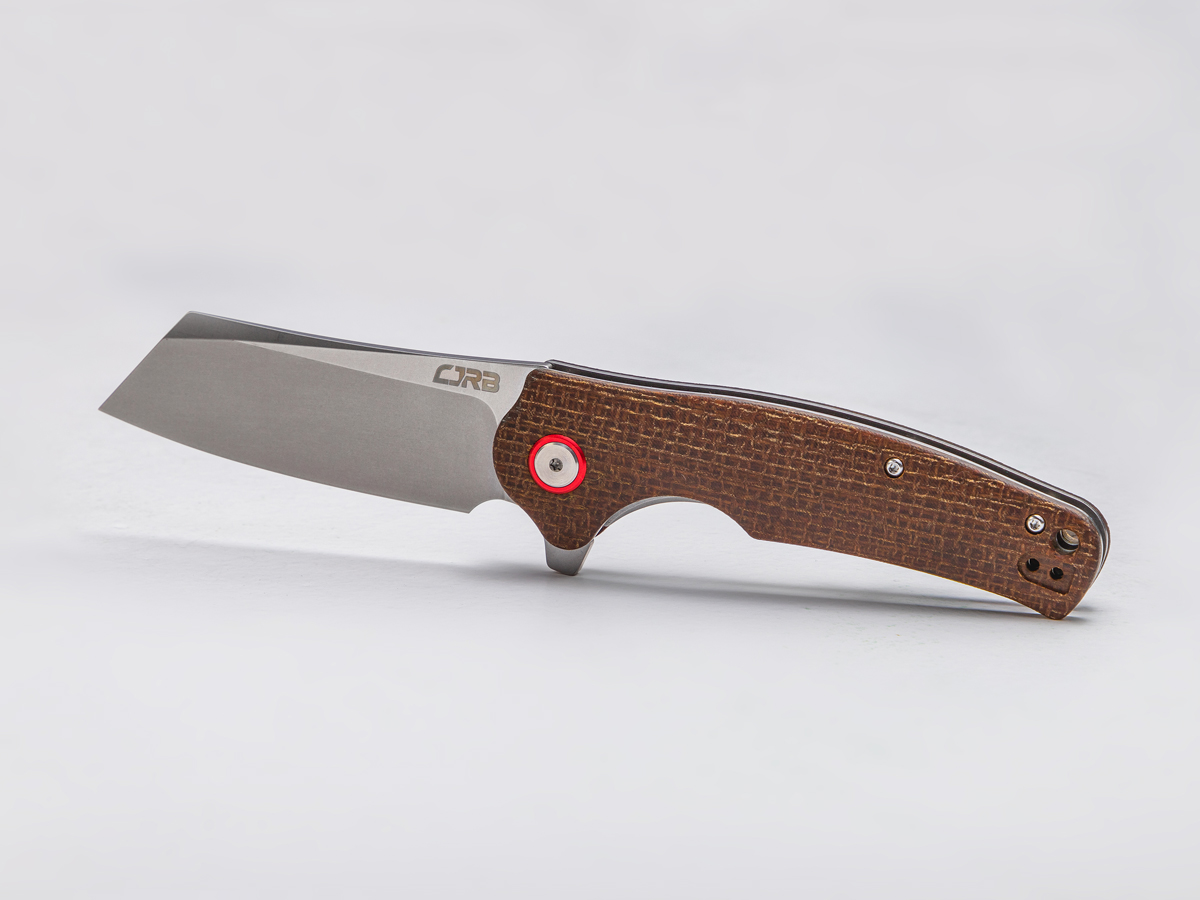 The Crag is a large knife but not a huge one. Thanks to its contoured burlap Micarta scales the Crag is a little on the thicker side, but it works on a such wide and burly-looking design. Plus, it adds a measure of comfort you just don't get with the standard flat-sided versions.
Burlap Micarta is made from sheets of natural burlap fabric, pressed together and sealed in resin to make a uniquely beautiful, yet tough-looking handle material. If you've never handled Burlap Micarta before, the texture is a little more variegated than the typical canvas or linen stuff, offering a bit more grip without feeling rough. It won't warp or crack even if it gets wet, and it's easy on your pocket (my poor frayed jeans are grateful!). It matches the hard-working character of the Crag, and it's tough enough to handle anything you can throw at it.
Cleaver Blades and Cutting Power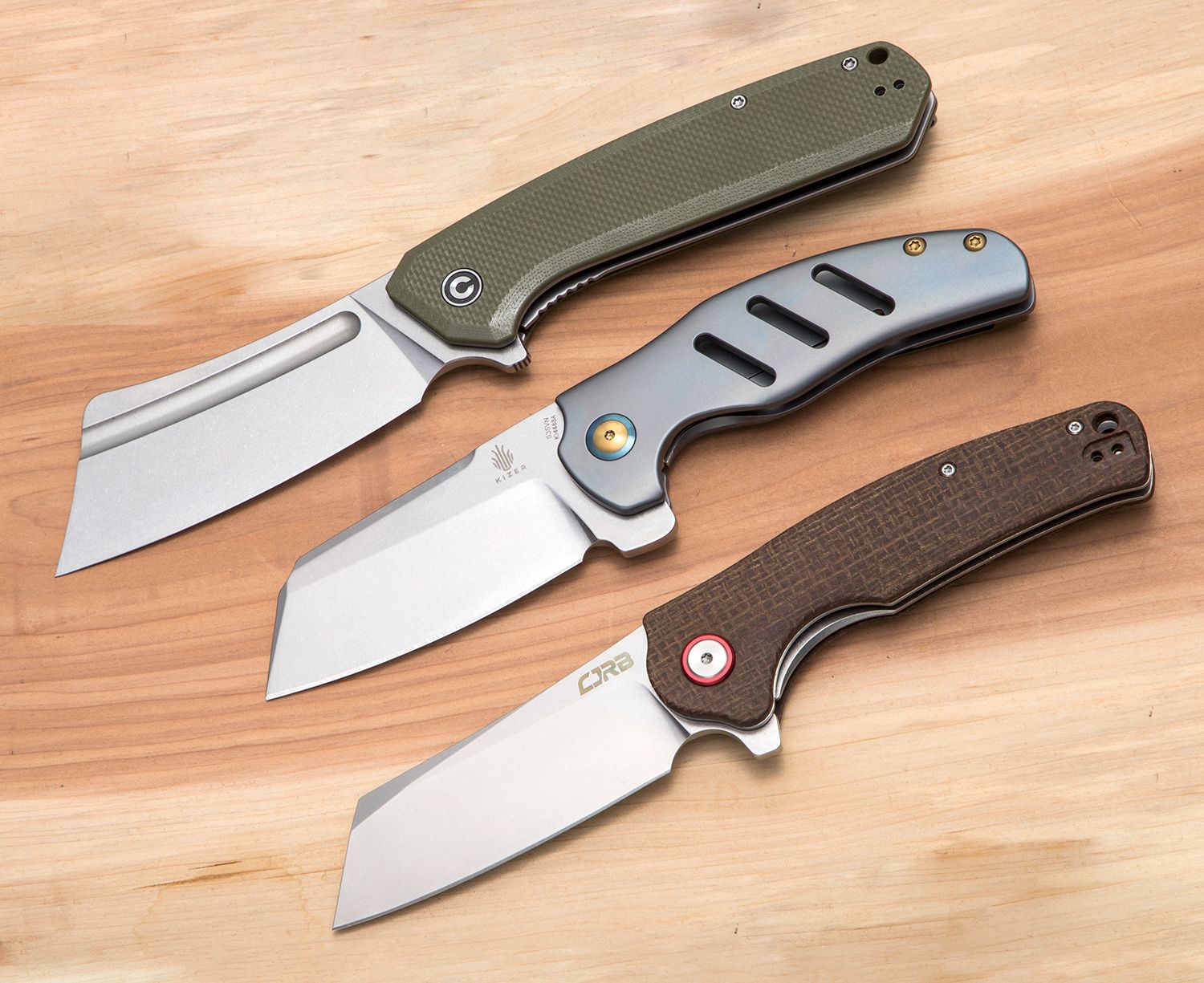 So, let's talk about folding cleavers. You can tell just by looking at them that a cleaver-style blade isn't going to excel at piercing cuts—it's just too wide at the point. Where a quality pocket cleaver pulls ahead, however, is in push cuts. The broad blade gives a nice gradual approach to the edge for shearing power, and the sheepsfoot-esque edge profile has a subtle curve that doesn't easily slip out of a cut when you're bearing down. As a result, the Crag is a cardboard slicing monster, with more than enough meat behind the tip to handle a little torque. With D2 blade steel providing exceptional edge retention for the price, this knife is ready to get some serious work done.
One last thing that makes the Crag special is its satisfying, wrist-snapping action. All the extra mass in the blade means that once you get it moving, it doesn't want to stop. Straight out of the box it rockets open and glides closed.
Overall, it's easy to recommend the Crag. Like I said, we think it's one of the best folding cleavers on the market right now. Dressed in these contoured burlap Micarta scales, it's even better. Let me know your thoughts on the Crag and folding cleavers in general down in the comments below!