SOG continues to impress with a compact yet beefy folder, Gayle Bradley has a new fixed blade for Spyderco, Kizer introduces an affordable folder ready for the line of duty, and more this week.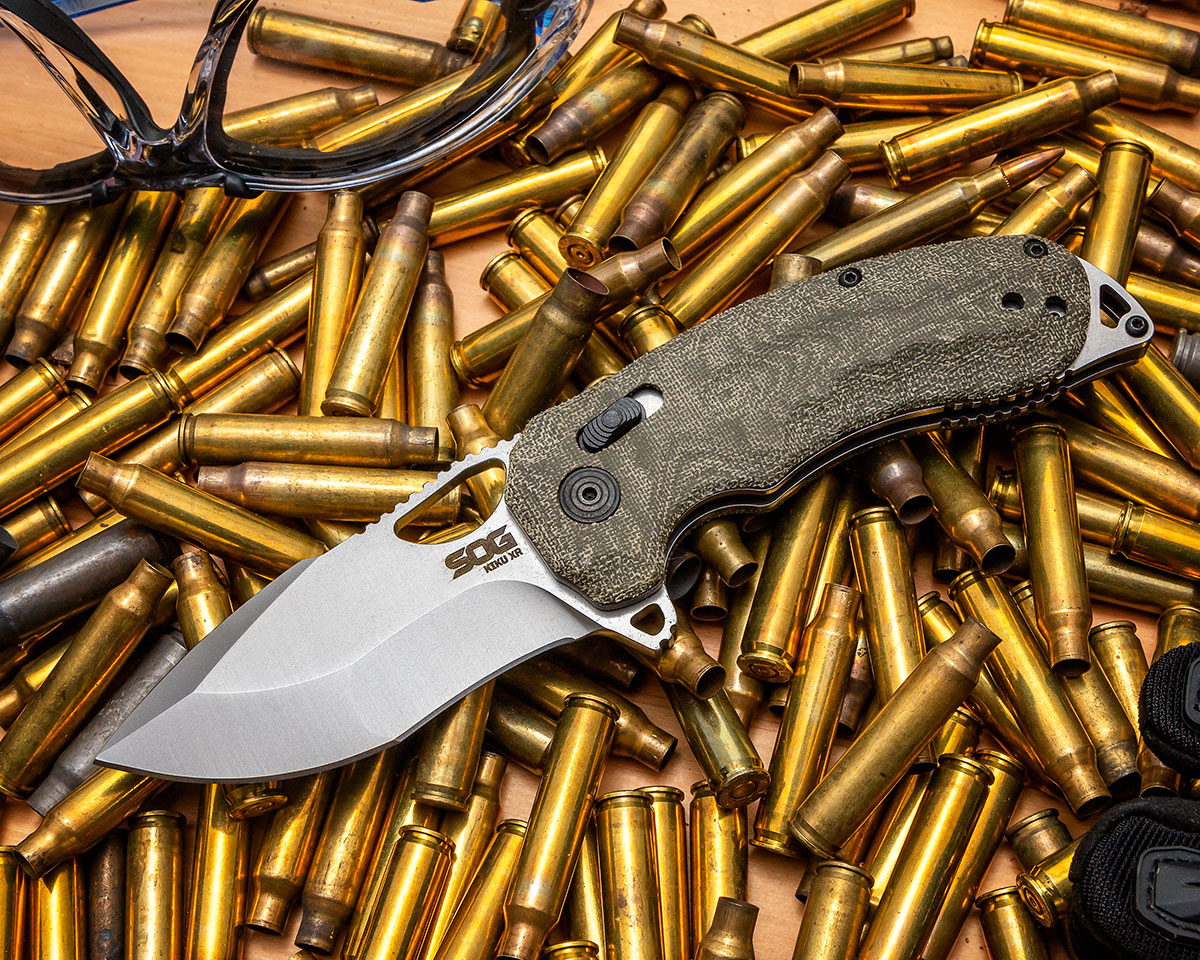 SOG's new Kiku XR is a vicious pocket bulldog with bite to back up its bark! The stout recurved tanto blade, carved Micarta or G10 handle, and unique lanyard hole won't be for everyone, but it's perfect for those who want a seriously sturdy small tactical knife. CTS-XHP blade steel should provide excellent edge retention, and the ambidextrous XR Lock is strong, snappy, and satisfying to use.
Blade Length: 3.03″
Closed Length: 4.30″
Overall Length: 7.30″
Blade Material: CTS-XHP Stainless Steel
Blade Thickness: 0.150″
Blade Hardness: 61-63HRC
Blade Style: Tanto
Blade Grind: Compound
Handle Material: Micarta or G10
Locking Mechanism: XR Lock
Pocket Clip: Tip-Up, Right/Left Carry
Weight: 5.6 oz.
Designer: Kiku Matsuda
Made in China
---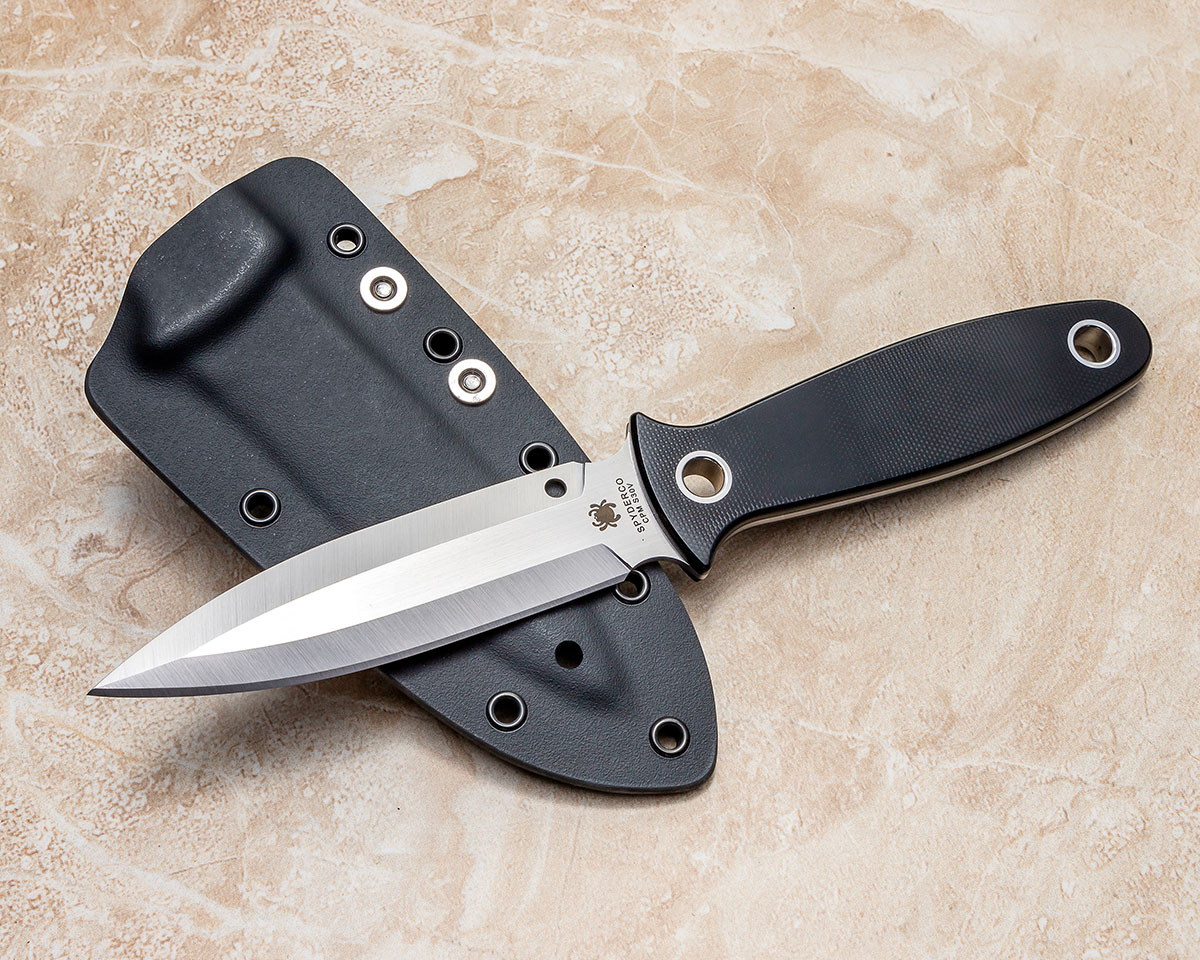 The new Nightstick from Gayle Bradley is highly refined with all the details in order. Slim and smooth G10 handles mean it won't be a nuisance to carry and the G-Clip equipped sheath holds the knife securely with no rattle that will give you away. And of course, the single-edged dagger profile is perfectly symmetrical and razor-sharp – everything we've come to expect from Spyderco!
Blade Length: 4.14″ (105 mm)
Cutting Edge: 3.75″ (95 mm)
Overall Length: 8.37″ (213 mm)
Blade Material: CPM-S30V Stainless Steel
Blade Thickness: 0.10″ (2.5 mm)
Blade Style: Dagger
Blade Grind: Flat
Blade Finish: Satin
Handle Material: Black G10
Sheath Material: Boltaron w/ G-Clip
Weight: 3.8 oz. (108 g)
Made in Taiwan
---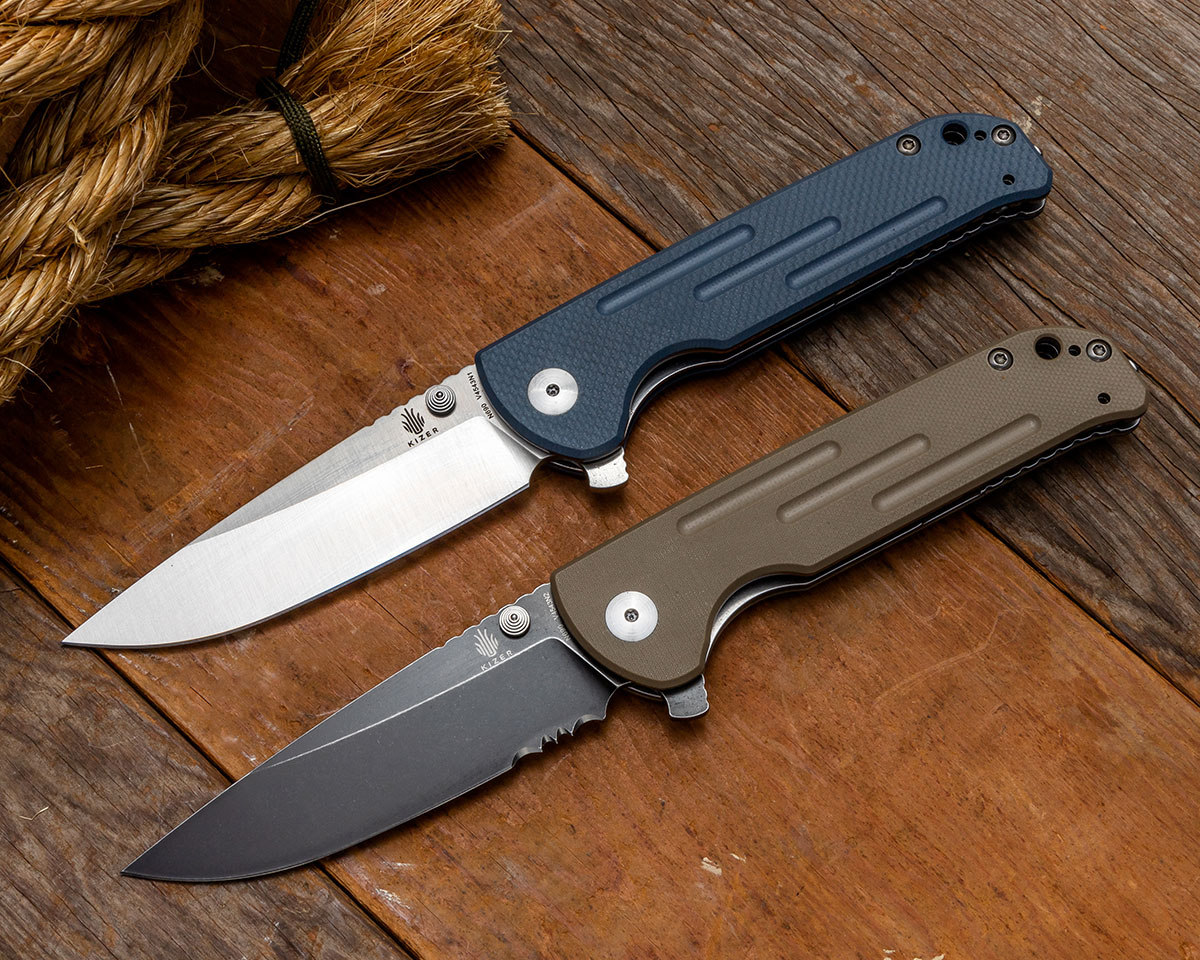 The Justice offers a great combination of features. This duty-ready knife features a versatile shape so it is just as good at opening boxes as it is at more daunting tasks. It also features a glass-breaker and surprisingly good flipping action on durable washers that aren't as prone to grit as bearings can be. Plus, being part of Kizer's Vanguard tier of products, you can get all of this capability without breaking your budget.
Blade Length: 3.70″
Cutting Edge: 3.625″
Closed Length: 4.875″
Overall Length: 8.625″
Blade Material: N690 Stainless Steel
Blade Thickness: 0.126″
Blade Style: Drop Point
Blade Grind: Flat
Handle Material: G10
Handle Thickness: 0.486″
Liner Material: Stainless Steel
Locking Mechanism: Liner Lock
Pivot Assembly: Washers
Pocket Clip: Deep Carry Stainless Steel (Tip-Up, Right/Left Carry)
Weight: 4.94 oz.
Designers: Azo & Nhut Huynh
Made in China
---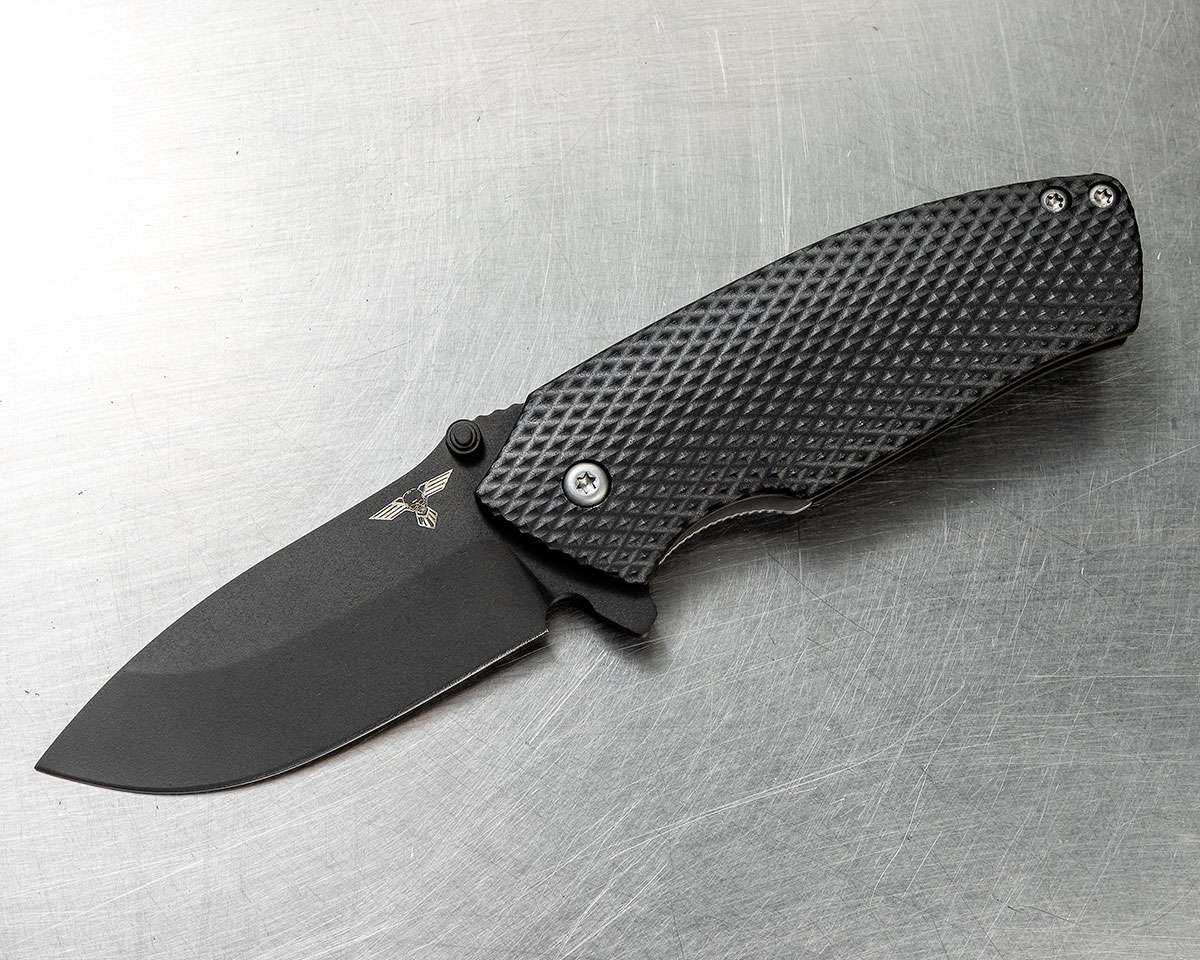 The centerpiece of Justin Gingrich's titanium folder is his signature Delta Lock, which is one of the most solid locking mechanisms we have ever seen. The innovative multi-directional locking interface distributes force in five different directions, plus the V-shaped tang acts as a glassbreaker when the knife is closed. Combined with a versatile blade and attractive dimpled finish on the titanium handle, this is a premium knife with a heart of iron. We even have a few versions that were anodized by Justin himself, so be sure to check out this awesome design.
Blade Length: 3.25″
Closed Length: 4.875″
Overall Length: 8.125″
Blade Material: CTS-BD1
Blade Style: Drop Point
Blade Grind: Hollow
Handle Material: Titanium
Handle Thickness: 0.5″
Locking Mechanism: Delta Lock (patent pending)
Pocket Clip: Tip-Up, Right Carry
Weight: 7.5 oz.
Designer: Justin Gingrich
Made in China
---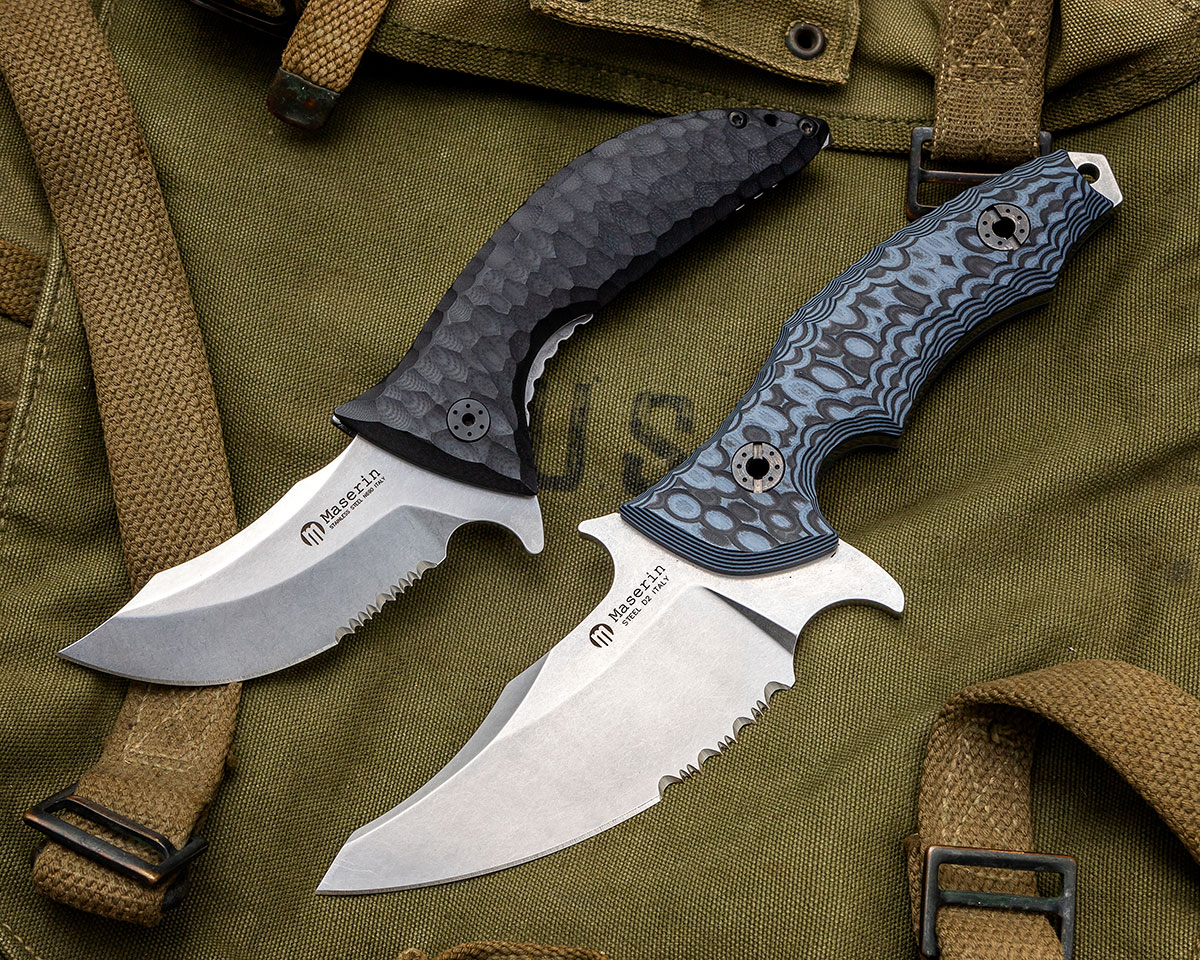 Maserin has introduced a pair of new designs from Alessandro Zanin that are perfect for self-defense and CQC. Don't let the wild shape scare you off – the fixed Badger and folding Ghost are highly specialized designs are agile in the hand, fearsome to behold, and built to last with a flair only the Italians can manage!
---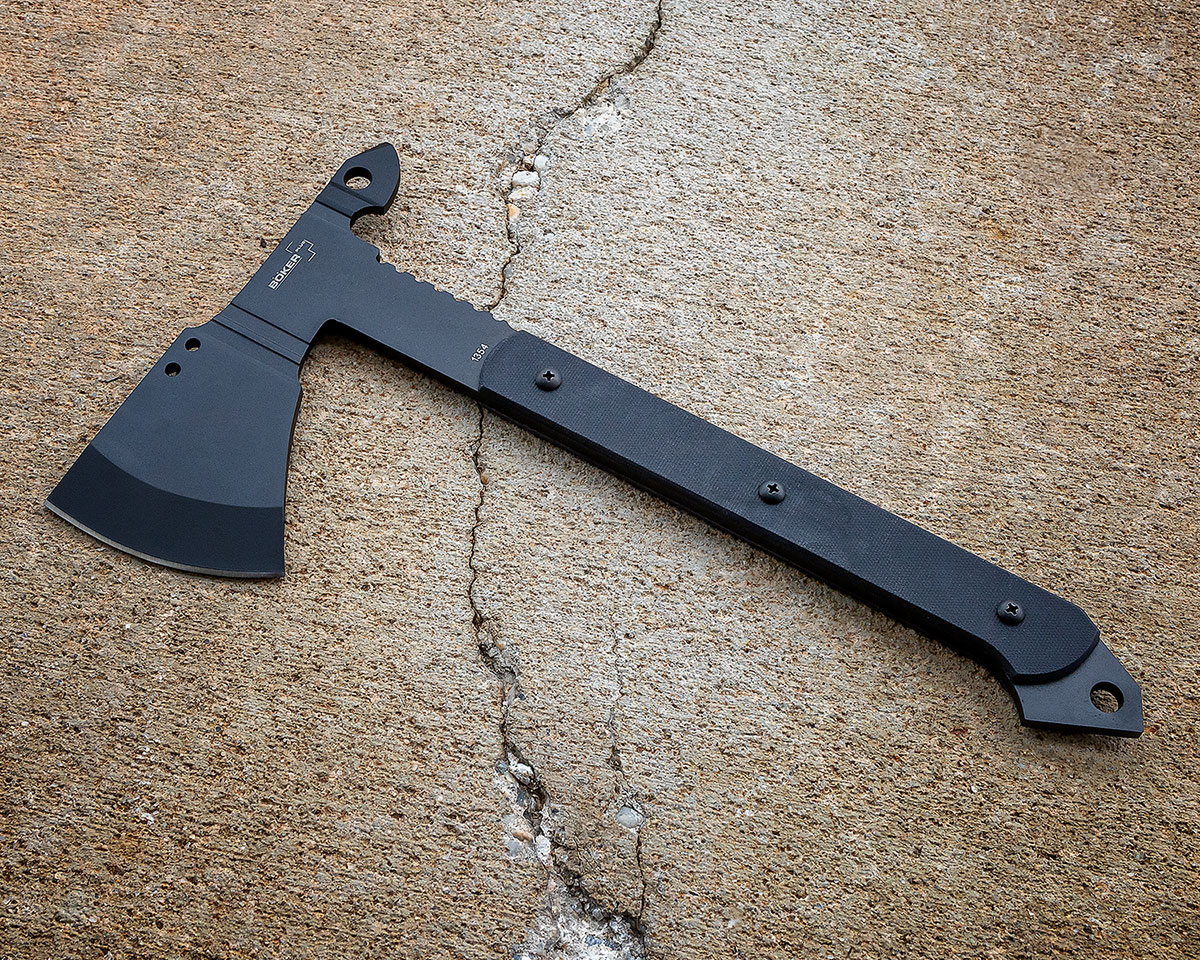 Designed by the renowned Jesper Voxnaes and constructed from a single slab of high-toughness SK5 carbon steel, Boker's impressive T-Hawk is functional, versatile, and nigh indestructible. The broad head is powder coated to keep rust away and is shaped for a blend of swinging power and precision for smaller jobs. G10 handles provide just enough grip, but for those who want to minimize weight, they can be removed and lengths of both olive and orange paracord are included to wrap the tang however you wish.
Blade Length: 3.5″
Blade Steel: SK-5 Carbon Steel, 57-60 HRC
Thickness: 6 mm
Head Width: 7.7″
Overall Length: 13.75″
Handle Material: SK-5 Carbon Steel with G10 Scales
Finish: Black Powder Coating
Sheath Material: Nylon
Weight: 27.8 oz.
Made in China
---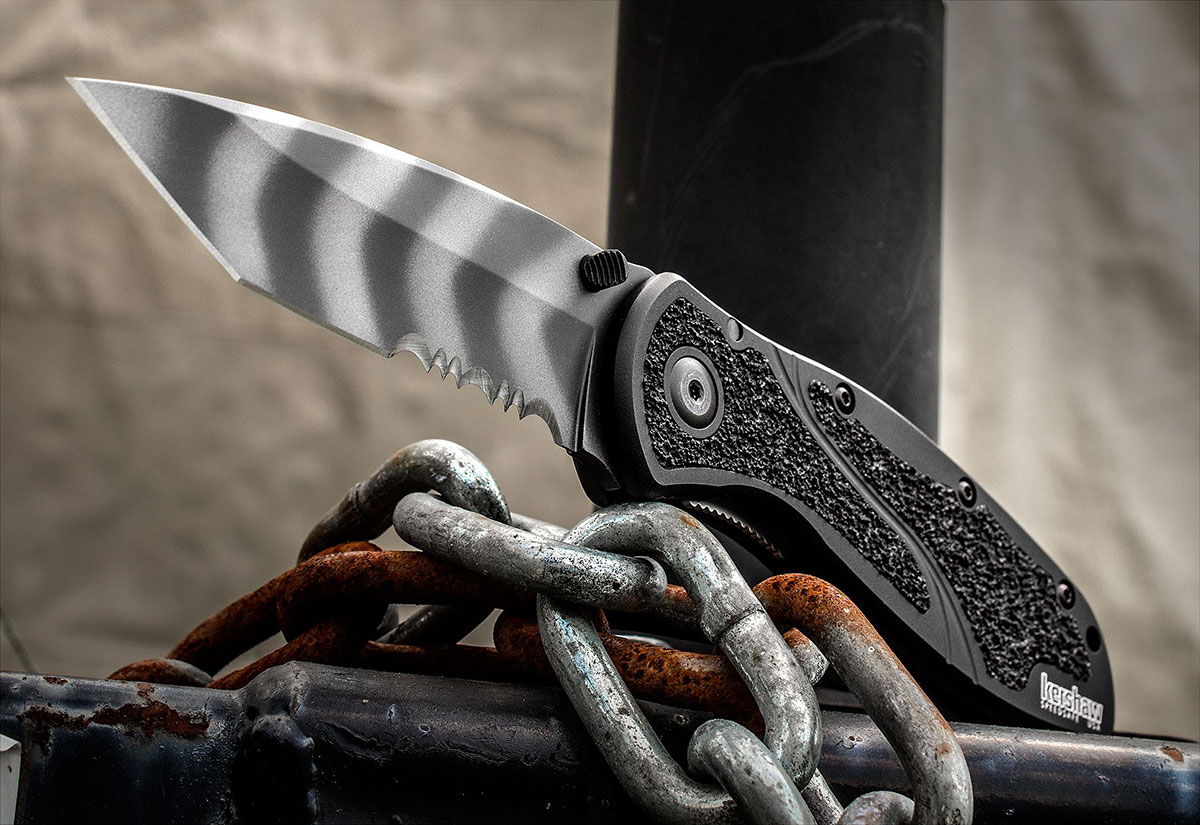 Kershaw's USA-made Blur is one of Ken Onion's best-loved designs thanks to its ergonomic handle, swift SpeedSafe deployment, and affordable price point. Available in a huge variety of handle colors, blade finishes, blade shapes, and edge types, you can add one to your arsenal in a configuration that works for you.
Blade length: 3.4 in. (8.6 cm)
Closed length: 4.5 in. (11.4 cm)
Overall length: 7.9 in. (20 cm)
Blade Shape: Tanto or Recurve Drop Point
Lock: Liner Lock
Clip: Reversible (tip-up/tip-down, right)
Handle: 6061-T6 anodized aluminum, Trac-Tec inserts
Weight: 4.0 oz (113.4 g)
Designer: Ken Onion
Made in USA