The biggest news this week is the drop of two great new KnifeCenter Exclusive models, one from SOG and one from Victorinox Swiss Army. Check them, and more great tools, below!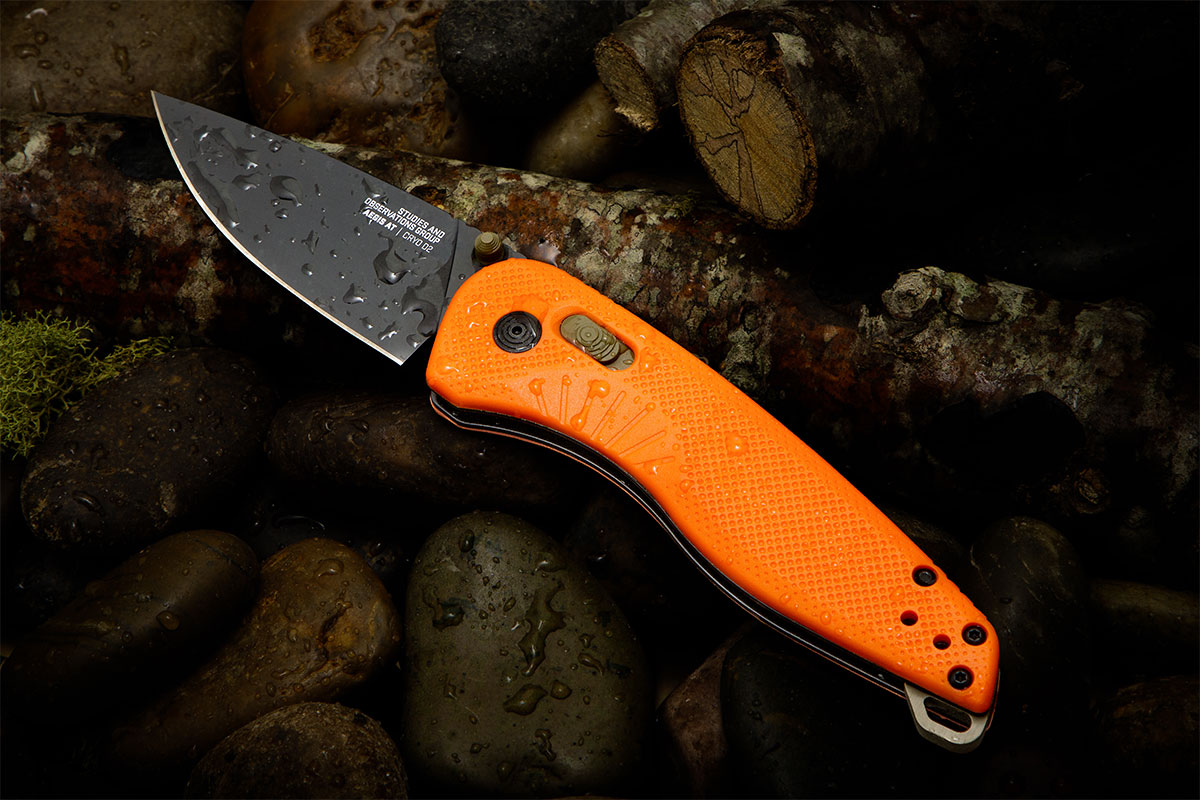 The new AT versions of SOG's Aegis line bridge the gap between EDC and the outdoor arena, especially with our new KnifeCenter Exclusive orange version! We've got black coated and cryo-treated D2 with a full flat grind and appropriately thin blade stock for efficient slicing. Whether you are a hunter, camper, hiker, or even an everyday warrior, there is a lot to love about this knife with its ambidextrous controls and snappy spring-assisted action.
Blade Length: 3.13″
Closed Length: 5.01″
Overall Length: 8.14″
Blade Material: D2 Tool Steel
Blade Thickness: 0.12″
Blade Style: Drop Point
Blade Grind: Flat
Blade Finish: Black Titanium Nitride
Handle Material:Glass Reinforced Nylon
Locking Mechanism: AT-XR Lock
Pivot Assembly: AT Assisted Technology
Pocket Clip: Deep Carry Stainless Steel (Tip-Up, Right/Left Carry)
Weight: 5.15 oz.
Tan Colored Accents
Ambidextrous Spine-Mounted Safety
Made in Taiwan
---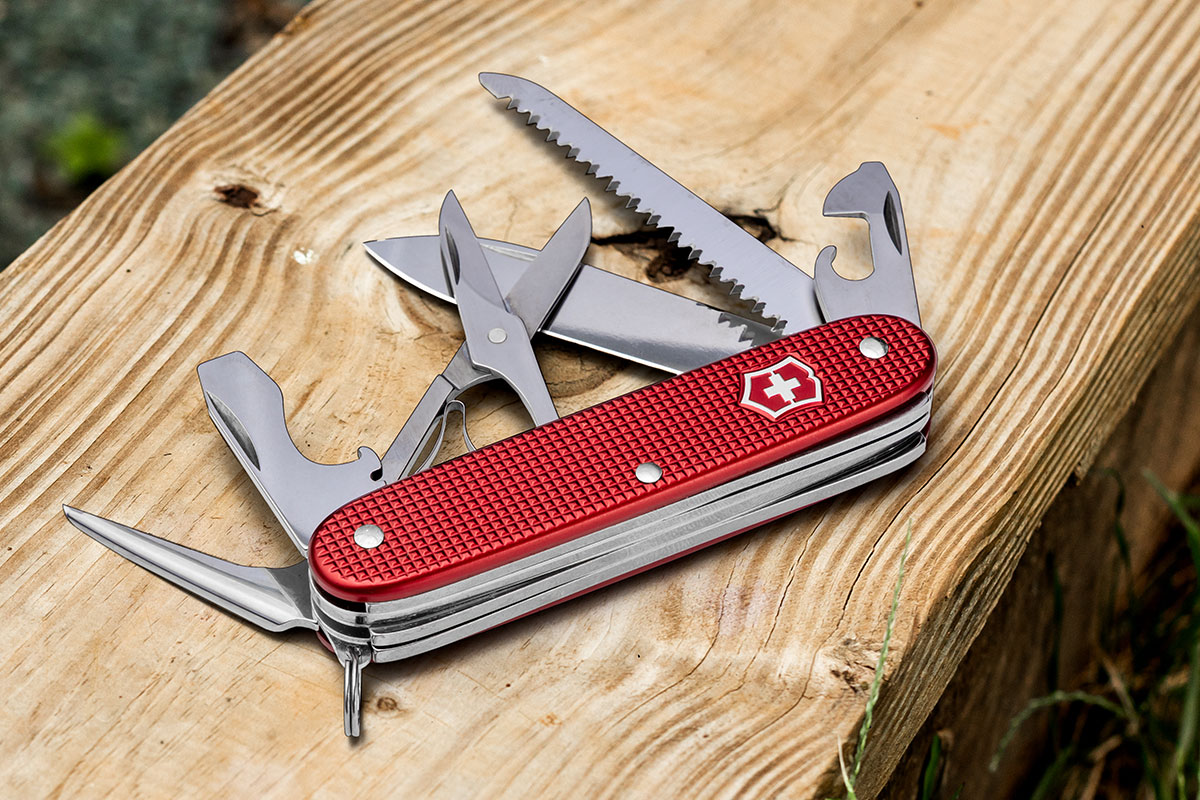 The latest KnifeCenter Exclusive to join our roster is this Red Alox Farmer X, one of the most anticipated new Swiss Army Knife in years. Long a favorite of outdoorsmen and bushcrafters, the classic Farmer model has now been upgraded with scissors. This precise implement joins other camping and hiking essentials like the wood saw and sharpened awl that makes a great scraper, and the Alox handles provide texture and a sturdy foundation for a pocket knife that is built to last.
Tools

Large Blade
Reamer, Punch
Can Opener with 3 mm Screwdriver
Bottle Opener with 7.5 mm Screwdriver
Wire Stripper
Wood Saw
Scissors
Keyring

Specifications

Model: Farmer X Alox
Length: 3.66″ (93 mm)
Handle Material: Alox Aluminum
Blade Lockable: No
One Hand Blade: No
Made in Switzerland
---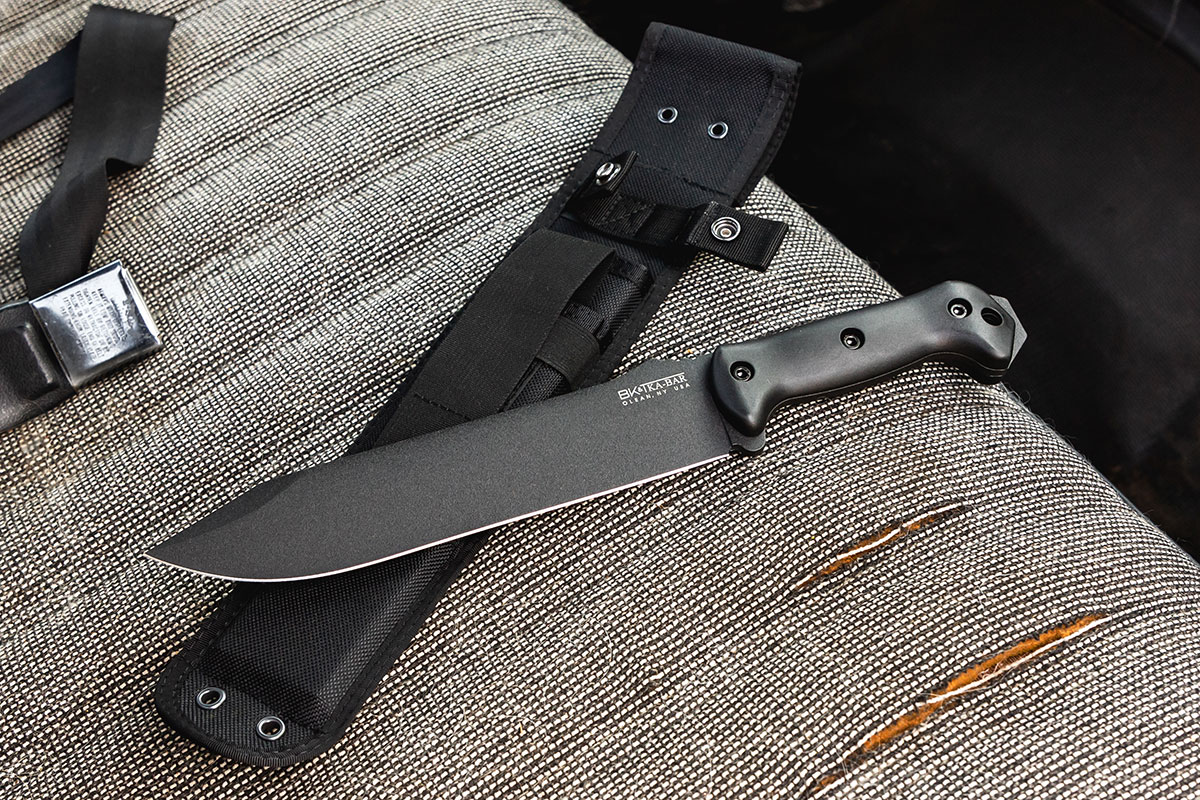 Beckerheads call this knife "The King" because there is very little it can not do. Made in the USA by KA-BAR, this "Combat Bowie" has made its way into countless survival packs and bug-out bags because it has the reach to chop and split wood, but is still maneuverable enough to do small things like carve traps or make feathersticks. Combined with an amazing handle and the tough 1095CV carbon blade, this knife just doesn't quit. For an American-made "one tool option" survival knife, this Becker is truly hard to beat for the money.
Blade Length: 9″
Blade Steel: 1095 CroVan
Overall Length: 14.75″
Blade Thickness: 0.188″
Blade Coating: Black epoxy powder coat
Grind: High, flat saber grind
Handle Material: Grivory
Sheath: Black Nylon
Weight: 1.15 lbs
Made in USA
---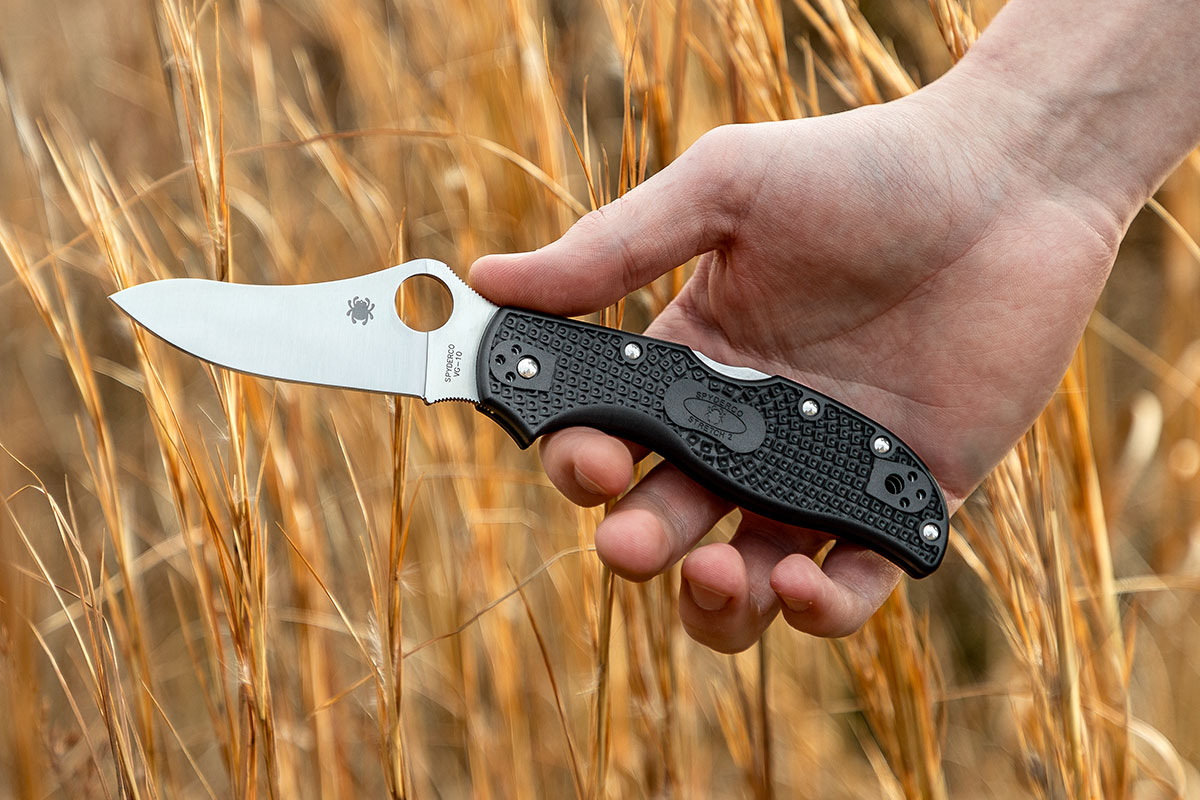 Spyderco's answer to the folding hunter, the Stretch 2 offers their lightweight FRN construction, strong mid-back lock, and their useful finger choil for extra control. Rather than a typical Spyderco leaf-shaped blade, we get a swoopy profile with the tip very much like a drop point. With fully ambidextrous hardware, this is an easy recommendation for not just hunters, but anyone who likes a hardworking blade.
Blade Length: 3.45″
Closed Length: 4.71″
Overall Length: 8.16″
Cutting Edge: 2.97″
Blade Thickness: 0.118″
Blade Material: VG10 Stainless Steel
Blade Style: Drop Point
Blade Grind: Full Flat
Blade Finish: Satin
Blade Edge: Plain
Handle Material: Fiberglass Reinforced Nylon (FRN)
Handle Color: Black
Locking Mechanism: Lockback
Pocket Clip: Tip-Up, Tip-Down, Left/Right Carry
Model Number: C90PBK2
Model Name: Stretch 2
Weight: 3.7 oz.
Made in Japan
---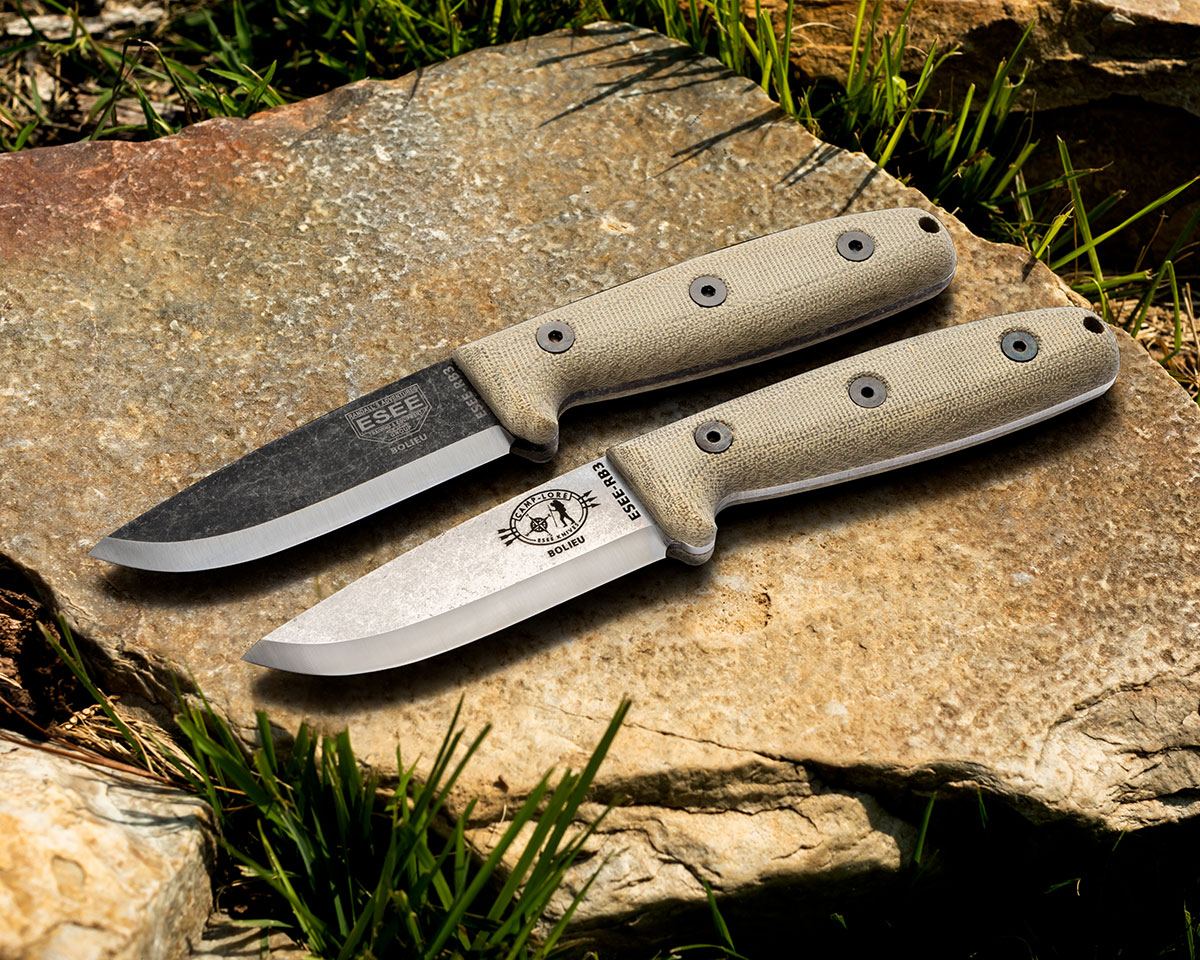 The RB3 from ESEE is a perfectly sized bushcrafter from the Camp-Lore line, made in the USA with a lifetime warranty. What is not to love?! Put it in your hand and you will instantly appreciate the rounded Micarta handles. Put it to wood and you will fall in love with the razor-sharp Scandi grind! With a classic leather sheath, this knife is sure to find a home on your belt in every adventure ahead of you.
Blade Length: 3.50″
Handle Length: 4.625″
Overall Length: 8.125″
Blade Material: 1095 Carbon Steel
Blade Thickness: 0.125″
Blade Hardness: 55-57HRC
Blade Style: Drop Point
Blade Grind: Scandi
Handle Material: Micarta
Sheath Material: Leather Drop Sheath
Weight: 6.0 oz.
Designer: Reuben Bolieu
Made in the USA
---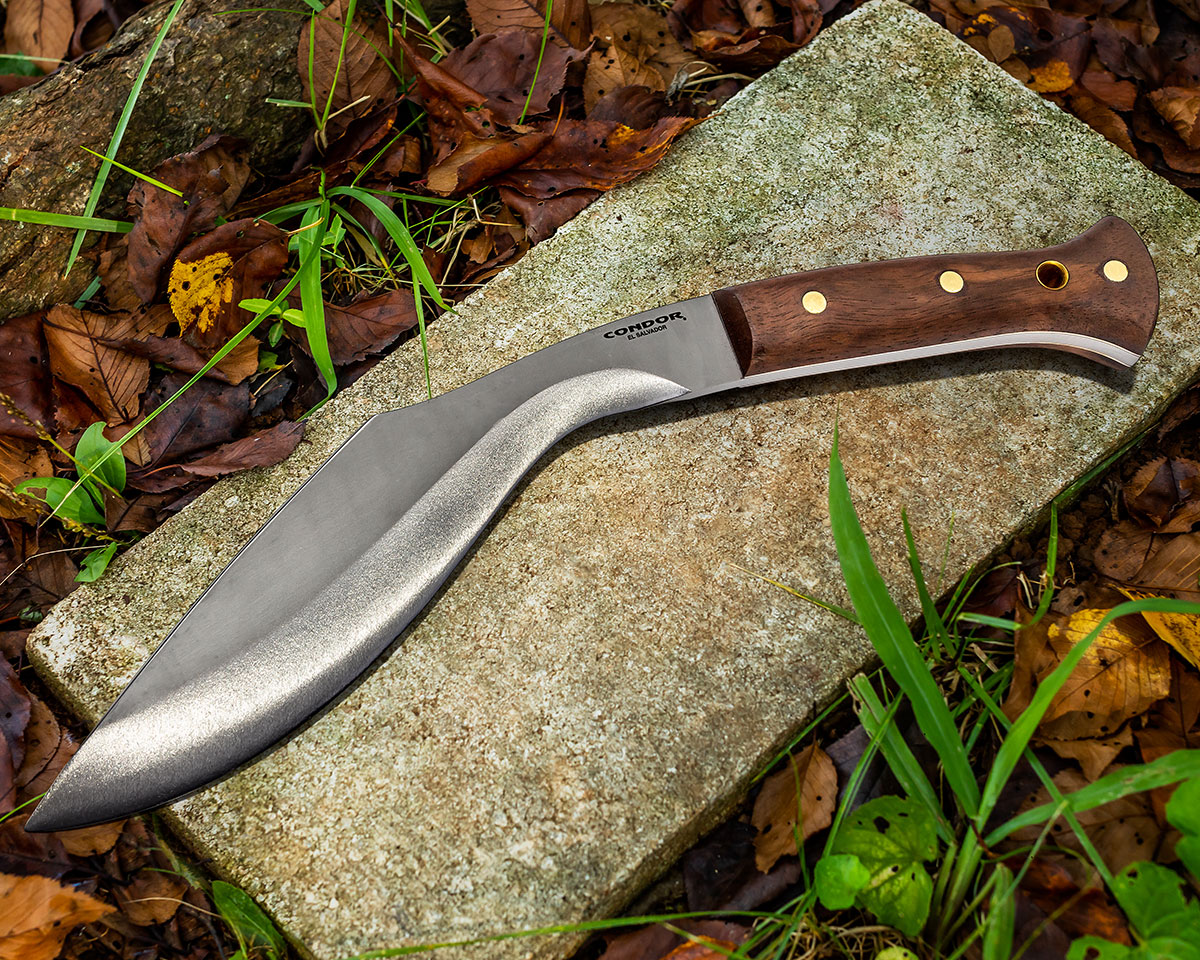 When you want a good machete, go to the places where they rely on them to survive. Made in El Salvador, Condor's selection of historically inspired machetes and heavier choppers are known for their rugged build quality and dependable performance. From kukris to golocks and parangs and more, browse our entire in-stock collection here.
---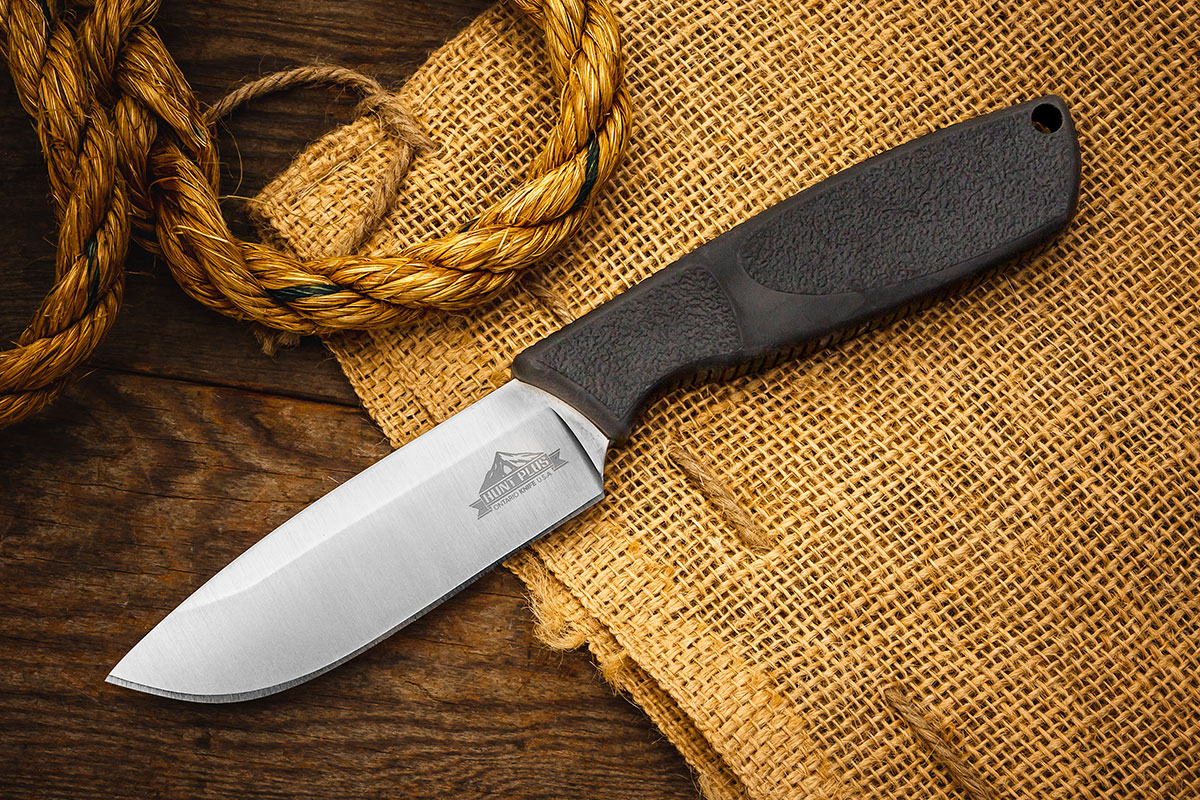 Made in the USA, budget-friendly, and totally worth the price. That is what you get with the Hunt Plus lineup from Ontario. The combination of a synthetic handle molded over a full tang blade offers grip and rock-solid construction. With blade options for skinning, survival, and camp cooking, the affordable outdoor utility blades you have been waiting for are here.
---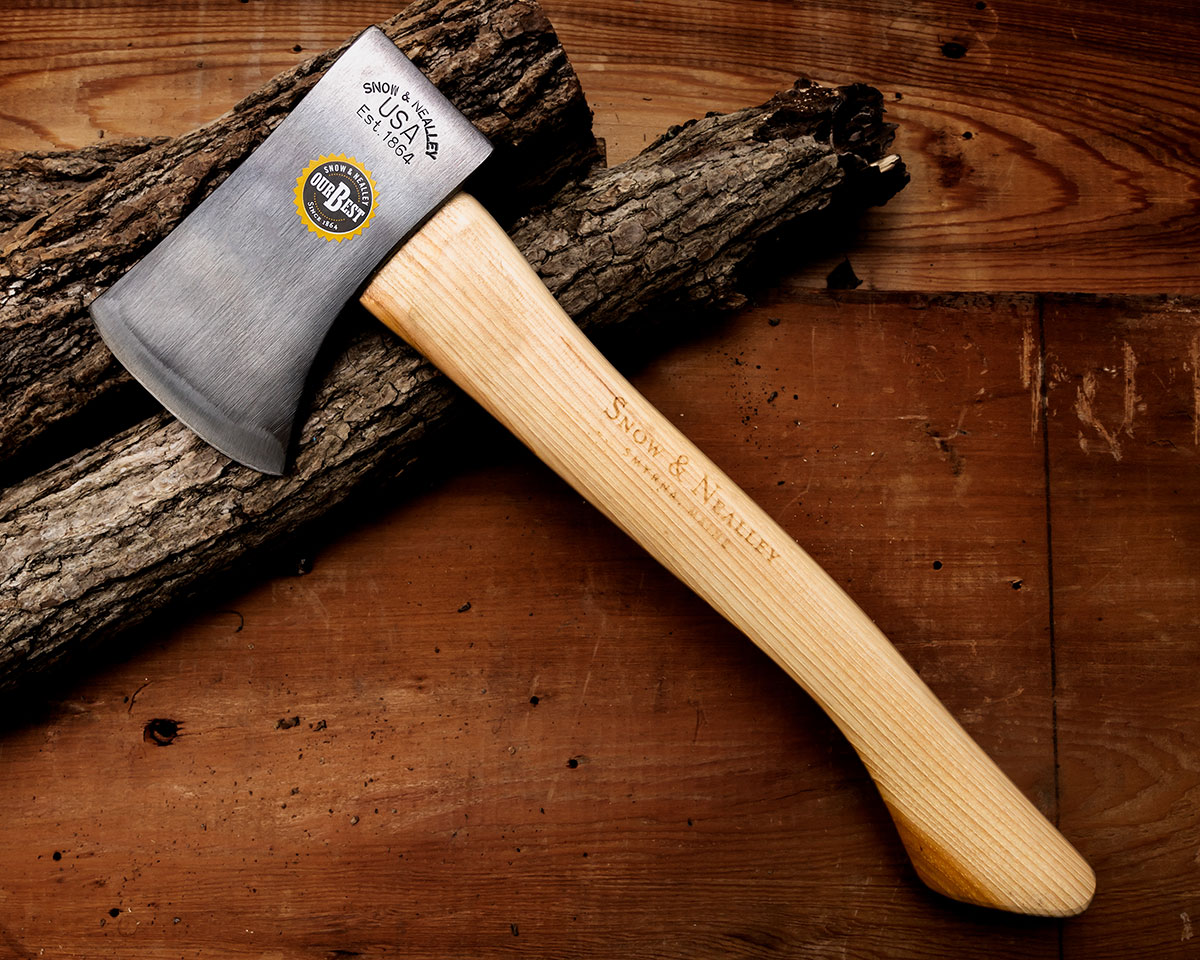 Quality, American axes and hatchets are harder to come by these days, which is why we are thrilled that Snow & Nealley is still putting out top-quality tools right here in the USA. Founded in Maine during the logging boom of the 1860's, to this day all they care about is producing small-batch quality at surprisingly reasonable prices.