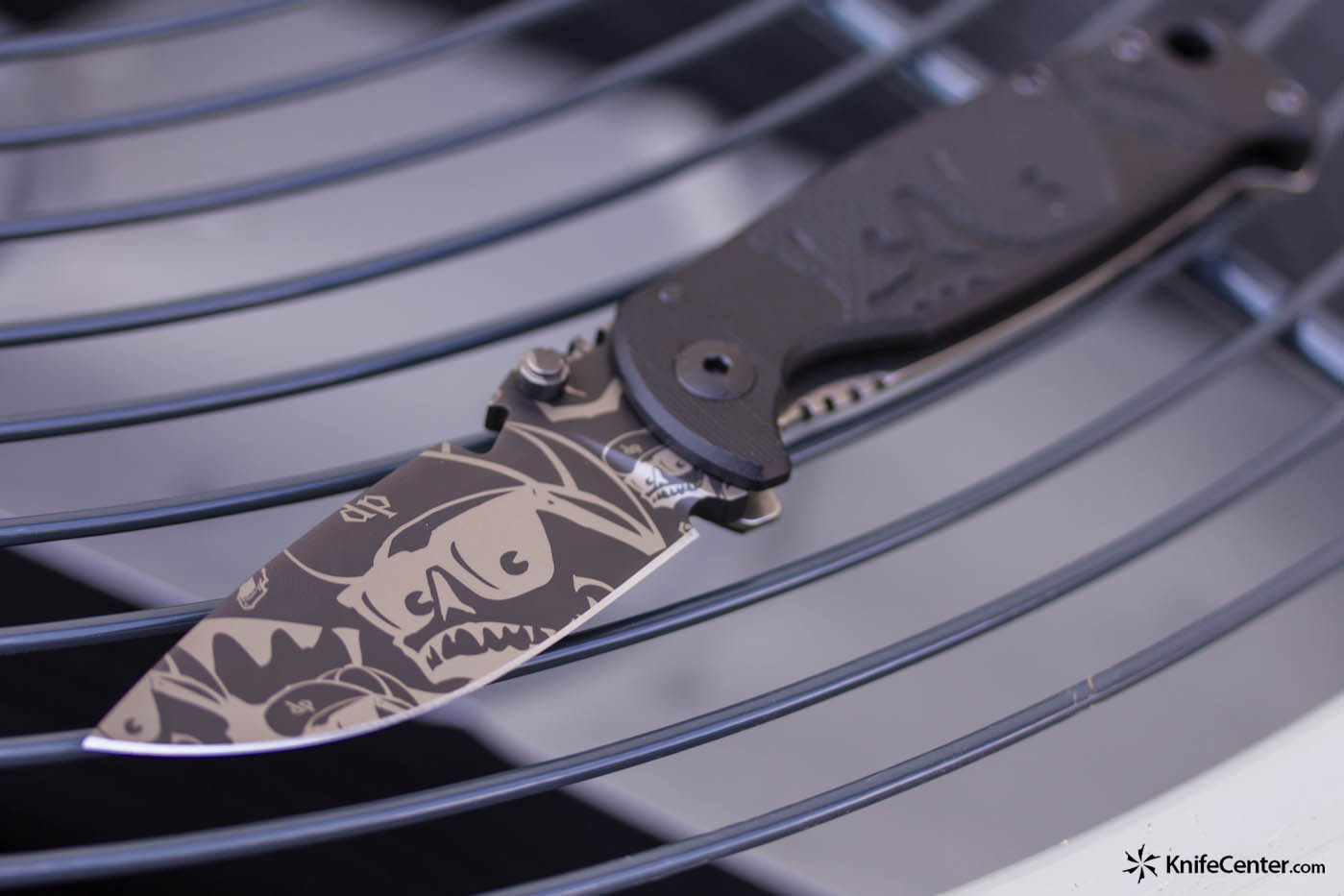 This is a well made and well engineered
folding pocketknife
that will serve you well and last decades if not generations. The KnifeCenter likes the
DPx products
in general and this
folder in particular
. Each knife is numbered xxx/250 so you will know which one you received. The
Niolox steel
is well thought of in the knife collector community with a high wear resistance and sharpenability. The
handle material is G10
– a common and effective material for its lightness and toughness, and titanium for the locking side. This is a common handle configuration in the knife industry and it really gives a great combination of utility and strength of lock. The titanium side of the handle has a piece that literally flexes over towards the blade so that, in the open position, it rests against the base of the blade locking it open. Simply moving it out of the way with your thumb allows the blade to close. It is a very strong lock when open and very easy to release to close. The pocket clip is designed for
deep pocket carry
. There is a pointed tungsten carbide glass breaking piece at the tail end of the handle as well. All in all, this is a real classic that you should consider adding to your collection or your pocket! Check it out at
www.knifecenter.com
Here's some more information from DPx Gear:
Our founder and owner created
Mr. DP
as a logo and symbol that he could hand out at military check points and rebel camps. The laughing skull is famous from Afghanistan to Zanzibar as evidence that RYP has been there. It is also the mascot of a very famous Special Forces ODA that toppled the taliban, it is found tattooed on adventurers, and now its on the knife that RYP invented and patented. When the
DPx HEST/F
first came out, a number of them were made in the "Mr. DP" configuration which quickly sold out.Now the style is back in the 2.0 configuration. The Blade is Niolox, a stainless steel that is
TiCN PVD coated
then laser engraved to bring out the image of Mr DP. On the G10 side of the frame (the
HEST/F
has no scales, only two frame parts of G10 Polymer and Titanium Alloy) we have used the CNC to engrave Mr. DP's glasses into the professional grade texture of the black American made G10.The
Titanium alloy frame
side is stonewashed, the screw sets are 7/64 standard hex, and the glass breaker is tungsten carbide.
Features
German Niolox® steel blade with 60 HRC
Black TiCN PVD coated blade with laser engraved Mr. DP pattern
Stonewashed combat style pocket clip with Mr. DP logo
Single-spoke RotoBlock design for ease of use
All screws standardized U.S. size
Tungsten carbide glass breaker
Hex driver
Stonewashed finish 6Al4V Grade 5 titanium alloy frame lock
American-made G10 handle scale with custom Mr. DP CnC pattern
Unique wire strippers jimping and hard lashing points
Thumb grip/bottle opener/quick open feature
Patents Pending
Specifications
Blade Length: 3.10″
Blade Thickness: 0.19″
Handle Color: Black
Handle Material: G10
Overall Length: 7.63″
Rockwell Hardness: 60
Configuration: Right-handed
Weight: 4.15 oz.