This week it's a mix of old- and new-school knifemaking, with an Axis-style crossbar locking knife from Gerber at an unbeatable price, a modern flipper from Civivi with a nod to traditional knifemaking, the latest Reate collaboration, and a celebratory slipjoint from Maserin that turns up the charm. Let's take a look!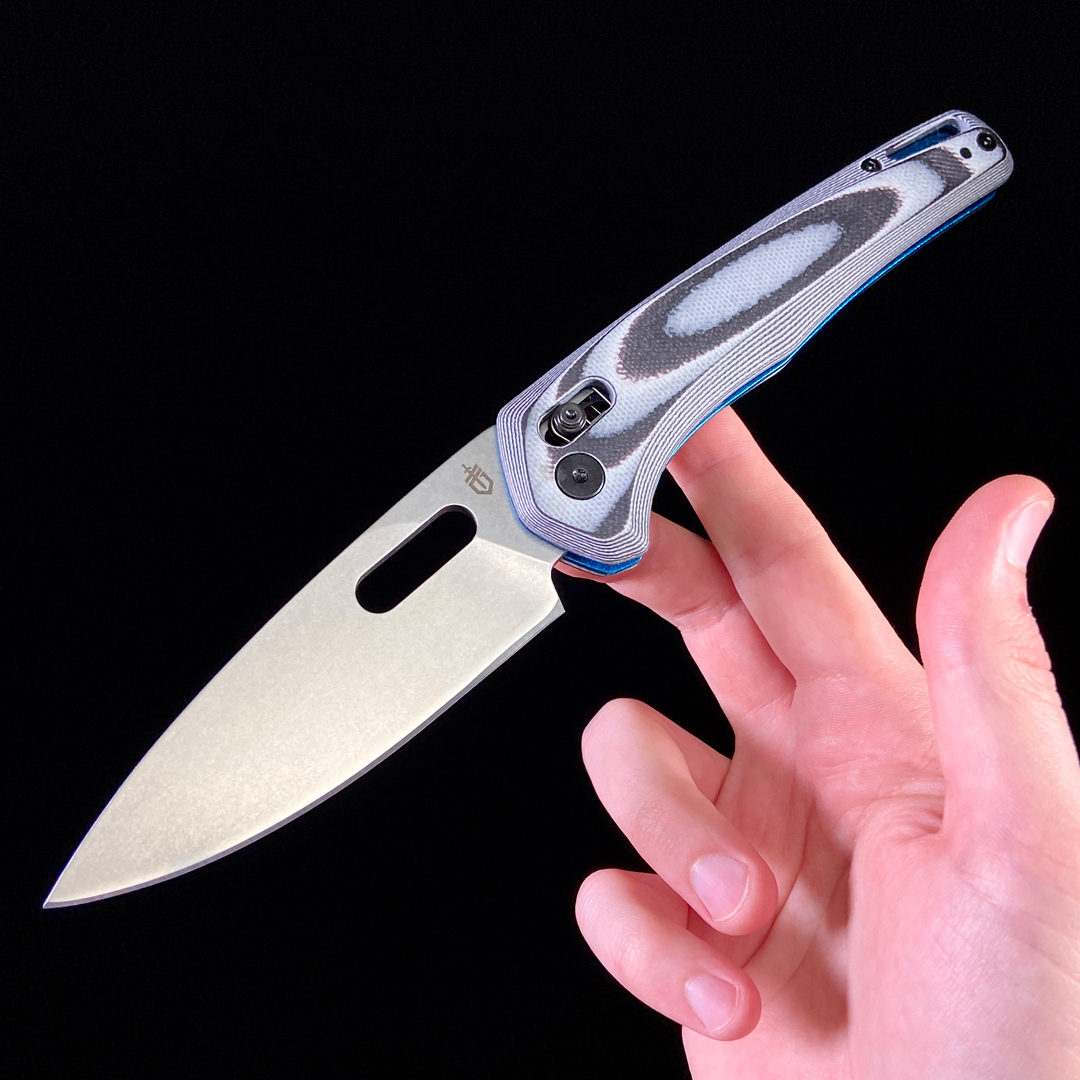 Here at the KnifeCenter, we're proud to stock excellent tools at every price, and the Gerber Sumo is shaping up to be an excellent budget knife. If you're looking for a low-cost, high-strength folder with fidget-friendly deployment, do not overlook Gerber's new Sumo folder. The banner feature here is its upscale crossbar-style lock: an innovative design that we've watched trickle out to different knifemakers once Benchmade's patent expired some time ago. The crossbar lock — which Gerber is calling a "Pivot Lock" — has a number of advantages: it's completely ambidextrous, strong, safe, quick, and easy to operate one-handed.
The blade steel is nothing special, but the blade shape is perfect for all manner of hard work. Coupled with the thick, sculpted G10 handle we think it would make a great camp knife or large EDC.
Blade Length: 3.875″
Overall Length: 9.02″
Blade Material: 7Cr17MoV Stainless Steel
Blade Style: Spear Point
Blade Finish: Stonewash
Handle Material: Black/White Layered G10
Locking Mechanism: Pivot Lock
Pivot Assembly: Bearings
Weight: 5.02 oz.
Made in China
---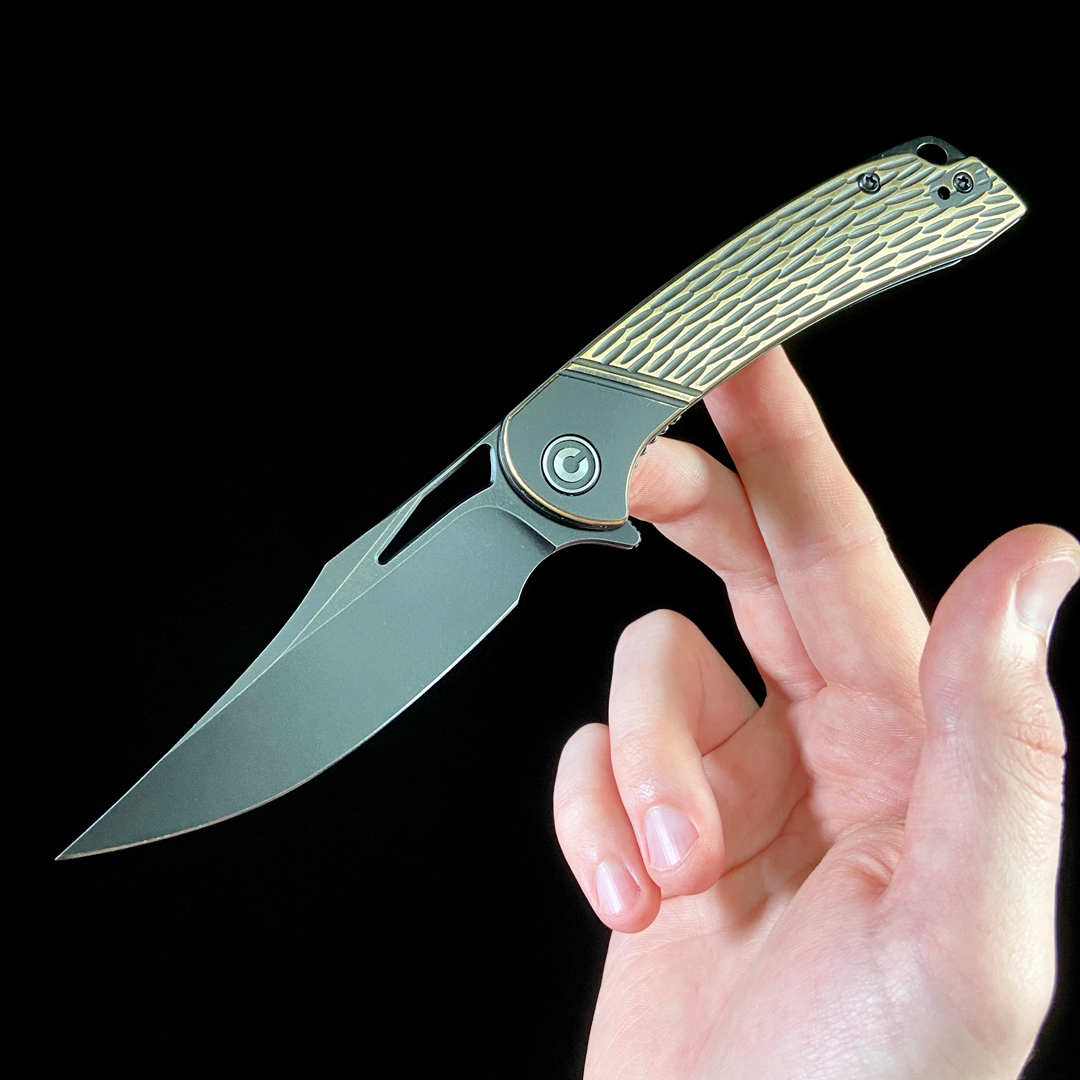 The Civivi Dogma isn't exactly new, because we've had the plain jane G10 versions in stock for about a month. What is new, however, are the striking brass and copper scales pictured here! Coated in black then partially buffed back to bare metal, it's a bold new look for a very old-school handle material. The jigged handle texture definitely adds to the classic feel, but the quick ball-bearing flipper deployment is as modern as they come.
Civivi's willingness to play around with traditional materials and techniques, like brass and jigged handle scales, really cements their place as a brand offering "enthusiast-grade" knives at an accessible price.
Blade Length: 3.46″ (88.0 mm)
Closed Length: 4.24″ (107.7 mm)
Overall Length: 7.70″ (195.7 mm)
Blade Material: D2 Tool Steel
Blade Thickness: 0.118″ (3.0 mm)
Blade Hardness: 59-61HRC
Blade Style: Clip Point
Blade Grind: Hollow
Blade Finish: Black Stonewash
Handle Material: Milled Black Polished Copper
Handle Thickness: 0.47″ (12.0 mm)
Liner Material: Stainless Steel
Locking Mechanism: Liner Lock
Pivot Assembly: Caged Ceramic Bearings
Pocket Clip: Deep Carry Stainless Steel (Tip-Up, Right/Left Carry)
Weight: 5.01 oz. (144 g)
Made in China
---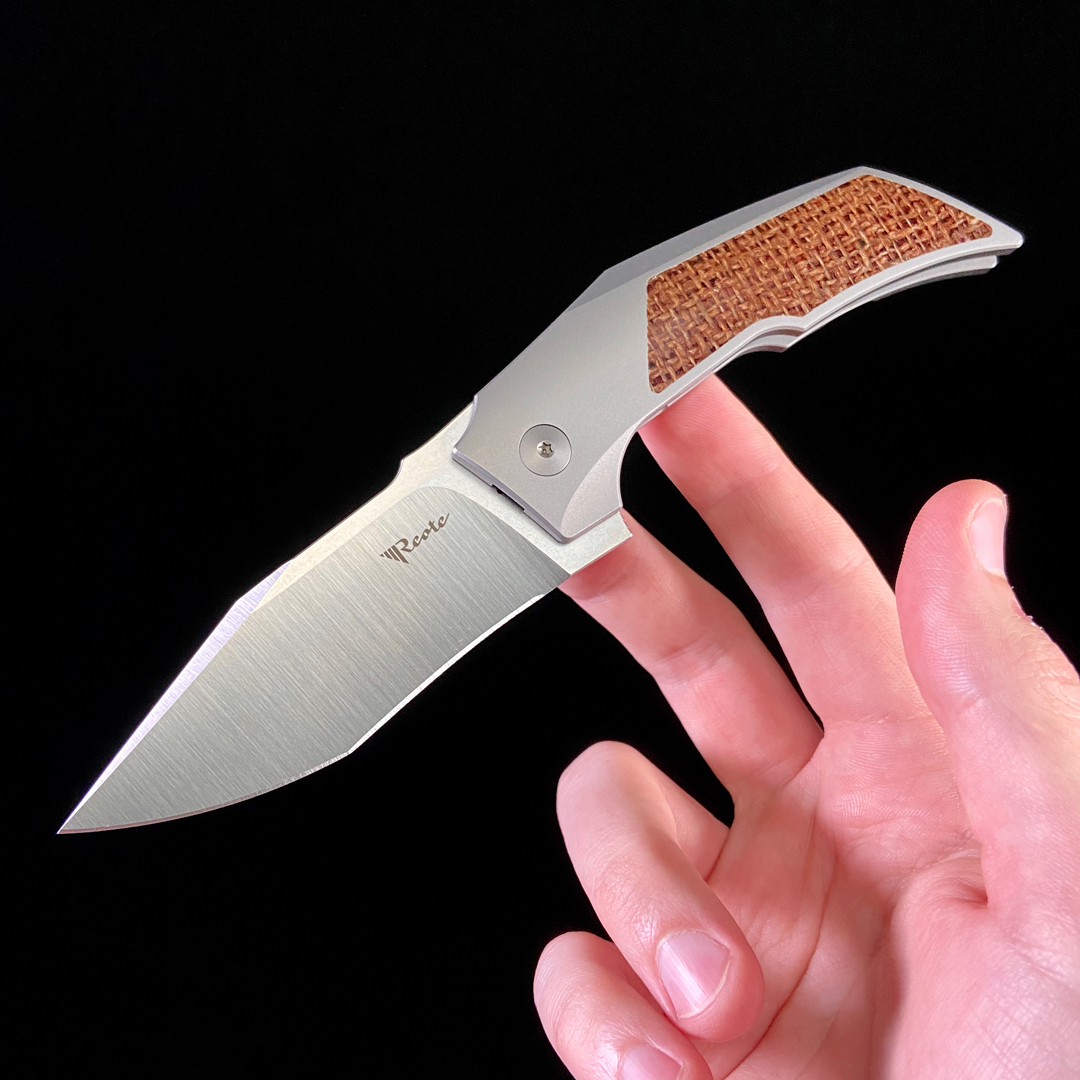 Designed by Tashi Bharucha, the Reate T3000 is made with superlative attention to detail and is sized just right for everyday carry. Falling into place between the smaller T2500 and larger T4000, the T3000 has a 3" M390 blade and is available with a selection of Micarta inlays, including the burlap pictured here.
Tashi Bharucha's designs always manage to look muscular, streamlined, angular, and organic all at the same time. The result here in the T3000 is a unique looking knife with comfortable, locked-in ergonomics and a spectacularly satisfying flipping action. Even though the competition at this price point is fierce, Reate never fails to exceed our expectations!
Blade Length: 3.0″
Cutting Edge: 2.85″
Closed Length: 3.93″
Overall Length: 7.0″
Blade Material: Bohler M390 Stainless Steel
Blade Thickness: 0.157″
Blade Hardness: 61HRC
Blade Style: Recurve Tanto
Blade Grind: Flat
Blade Finish: Satin
Handle Material: 6Al4V Titanium with Burlap Micarta Inlays
Hardware Finish: Blue Anodized
Handle Thickness: 0.44″
Locking Mechanism: Frame Lock
Pivot Assembly: Ceramic Bearings
Pocket Clip: Titanium (Tip-Up, Right Carry)
Weight: 3.53 oz.
Designer: Tashi Bharucha
Made in China
---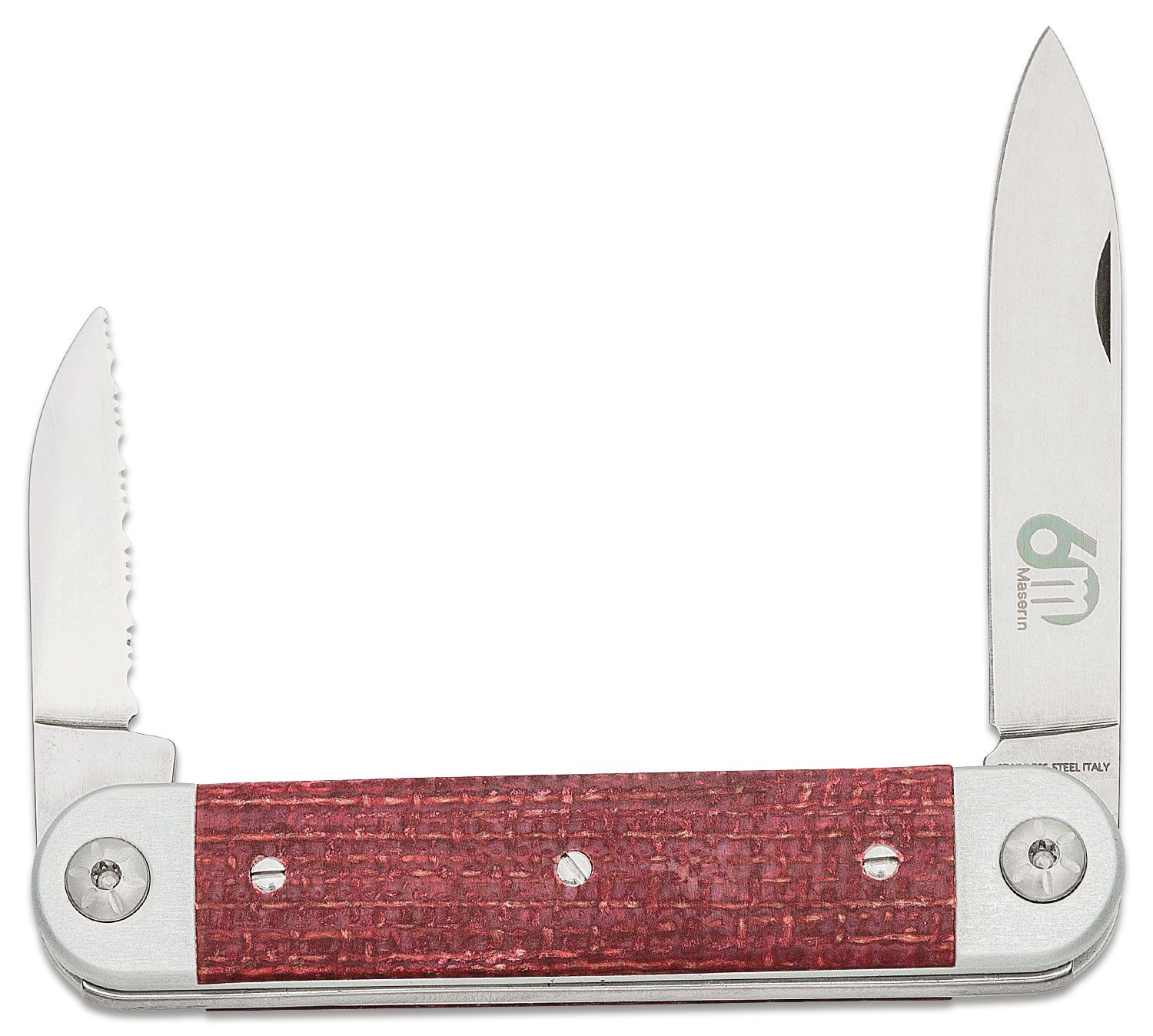 Maserin is celebrating their 60th anniversary with the release of the Sessantesimo slipjoint. Even if it wasn't for a special occasion, the Sessantesimo is worth talking about. There are a lot of modern slipjoints out there these days, but most of them have forgotten what really makes vintage slipjoints special, namely: lazer-thin blade grinds and hand-finished details.
Well, the Sessantesimo is proof that Maserin hasn't forgotten! It features two blades — a plain edge main blade plus a serrated pen blade — on the same spring. Building a two-blade slipjoint with a single backspring is a challenge, since the blades have to fold up side-by-side without getting in each other's way. Here on the Sessantesimo, both blades work beautifully, with crisp half-stops for safety. Every surface on the handle has been neatly rounded, and the blade tangs are hidden for a seamless look and comfortable carry. Really, the only concession to modern knifemaking is the use of threaded fasteners instead of pinned construction. If you're looking for a dress knife or a polite slipjoint to carry alongside another knife, don't skip over the Sessantesimo!
Pen Blade Length: 2.50″
Cutting Edge: 2.25″
Serrated Blade Length: 1.625″
Cutting Edge: 1.25″
Closed Length: 3.45″
Overall Length: 7.75″
Blade Material: 420 Stainless Steel
Blade Thickness: 0.087″
Blade Hardness: 56HRC
Blade Styles: Pen and Serrated Sheepsfoot
Blade Grind: Flat
Blade Finish: Stonewash
Handle Material: Gray Anodized Aluminum with Yellow Micarta Onlays
Handle Thickness: 0.37″
Locking Mechanism: Slipjoint, Half-Stop Safety
Pivot Assembly: Washers
Pocket Clip: None
Sheath Material: Leather
Weight: 1.35 oz.
Weight with Sheath: 1.98 oz.
Made in Italy
---