This week, we received more than a few pleasant surprises, including a rare blade grind from Boker, a satisfying front flipper from Civivi, the ultimate Buck 110 Folding Hunter, and a total redesign of a cornerstone of SOG's lineup. Read on for a closer look!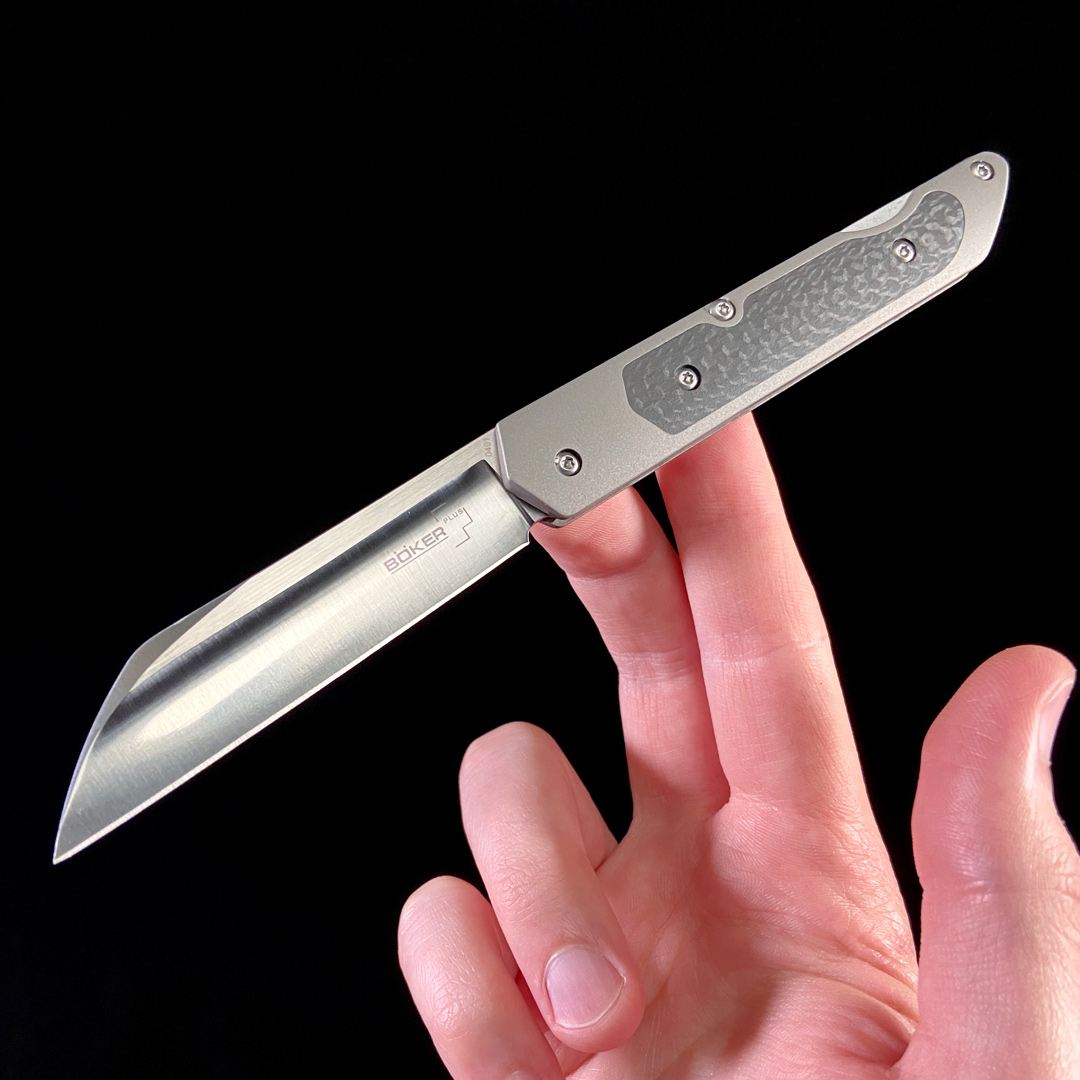 Ever heard of an "S-grind?" It's a little hard to tell from this picture, but the VG10 Wharncliffe blade on the new Boker Genios has one. S-grinds are more commonly seen on high-end kitchen knives, where they help prevent food from sticking to the blade while cutting. I like to think of it as an oversized fuller carved out of the middle of the blade, creating a hollow space behind the cutting geometry that helps reduce friction as the blade passes through material. It's a complex, uncommon blade grind and it definitely caught our attention here at the KnifeCenter.
In fact, the Genios is packed with unique features. The contoured titanium handles hide a patented low-profile backlock mechanism, allowing the handle to remain elegantly slim. Without the need for a bulky backspring housing, the knife also folds up extremely compactly, the perfect fit for the handsome leather pocket slip it ships with. Overall, if you're looking for a gentleman's knife that stands out without being flashy, the Genios should be at the top of your list.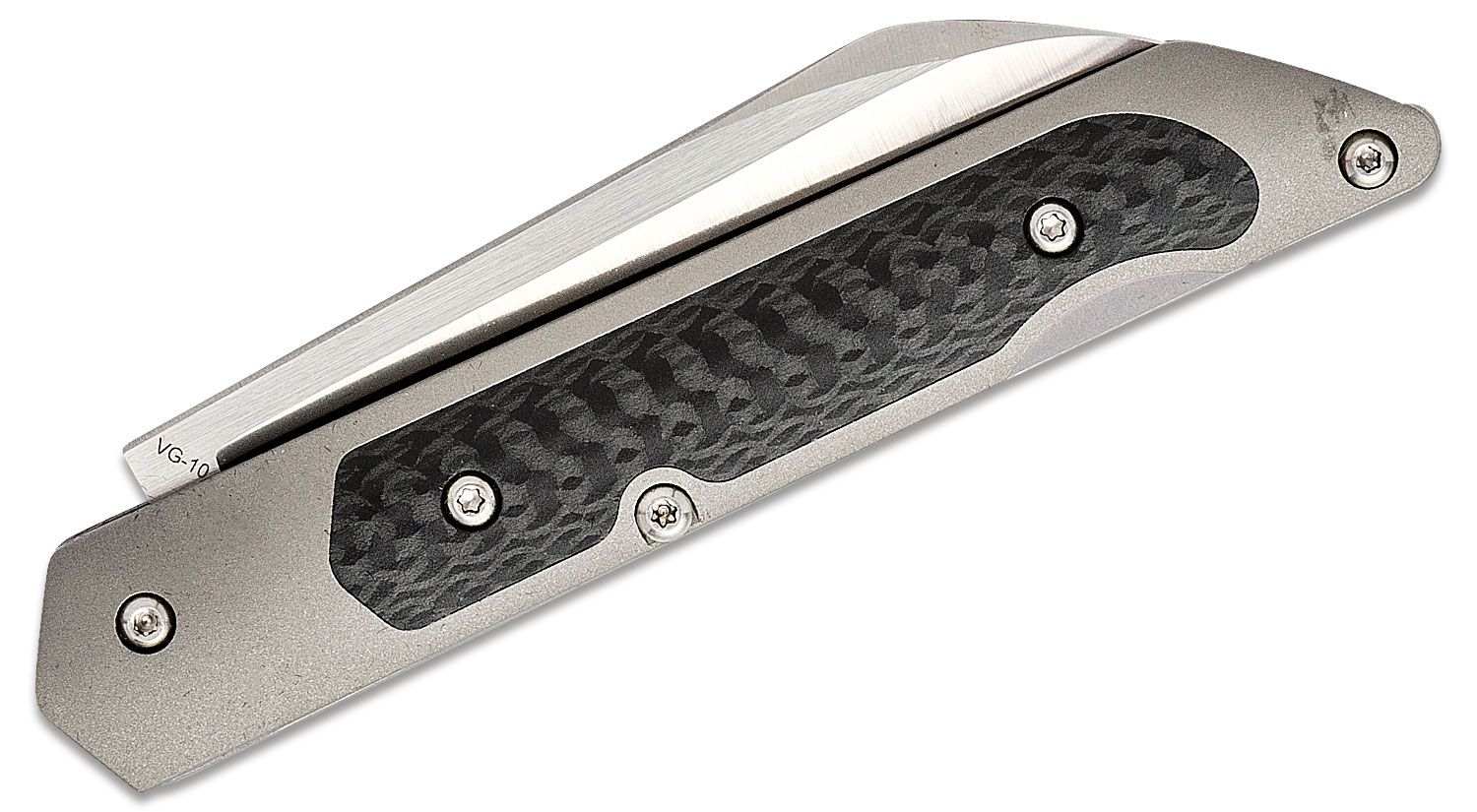 Boker Genios Specs:
Blade Length: 3.0″
Closed Length: 3.9″
Overall Length: 6.9″
Blade Material: VG-10
Blade Thickness: 0.10″
Blade Finish: Satin
Handle Material: Titanium w/ Carbon Fiber Inlays
Locking Mechanism: Lockback
Sheath Material: Black Leather
Weight: 1.6 oz.
Made in China
---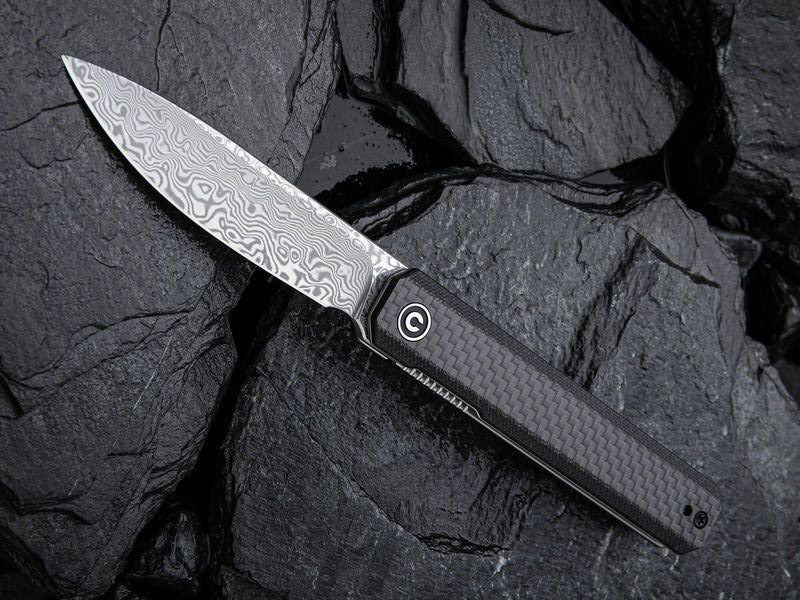 Hot on the heels of the popular Civivi Chronic comes the Exarch: a clean, minimalist take on the executive knife. The main difference between the two knives is the deployment: the Chronic had a traditional flipper, wheras the new Exarch features a front flipper. If you've ever struggled to open a front flipper in the past (as I have), have no fear: the action on the Exarch is truly excellent. You can slow roll it or snap it open with ease – the detent is just right and the ball bearing pivot allows it to glide with little resistance. As with all Civivi knives, the materials and construction are top-notch.
With nothing sticking out the back of the knife, the Exarch tucks neatly into whatever pocket you clip it to. And if the Stainless Damascus + carbon fiber/G10 variant pictured here isn't your thing (or you'd just prefer to save some $$), it's also available with D2 steel and G10 handles.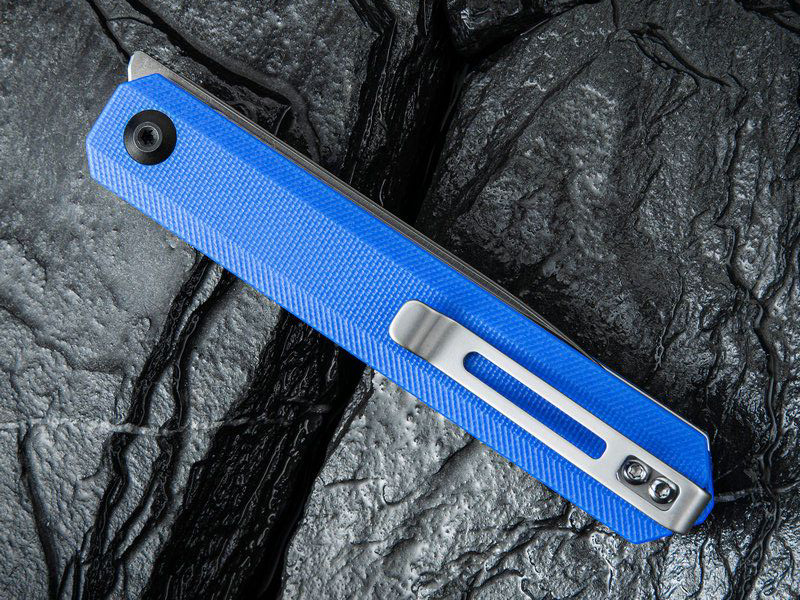 Civivi Exarch Specs:
Blade Length: 3.22″ (81.8 mm)
Closed Length: 4.11″ (104.3 mm)
Overall Length: 7.33″ (186.1 mm)
Blade Thickness: 0.118″ (3.0 mm)
Blade Style: Drop Point
Blade Grind: Hollow
Handle Thickness: 0.47″ (12.0 mm)
Liner Material: Stainless Steel
Locking Mechanism: Liner Lock
Pivot Assembly: Caged Ceramic Bearings
Pocket Clip: Stainless Steel (Tip-Up, Right/Left Carry)
Weight: 2.61 oz. (74 g)
G10 Backspacer
Made in China
---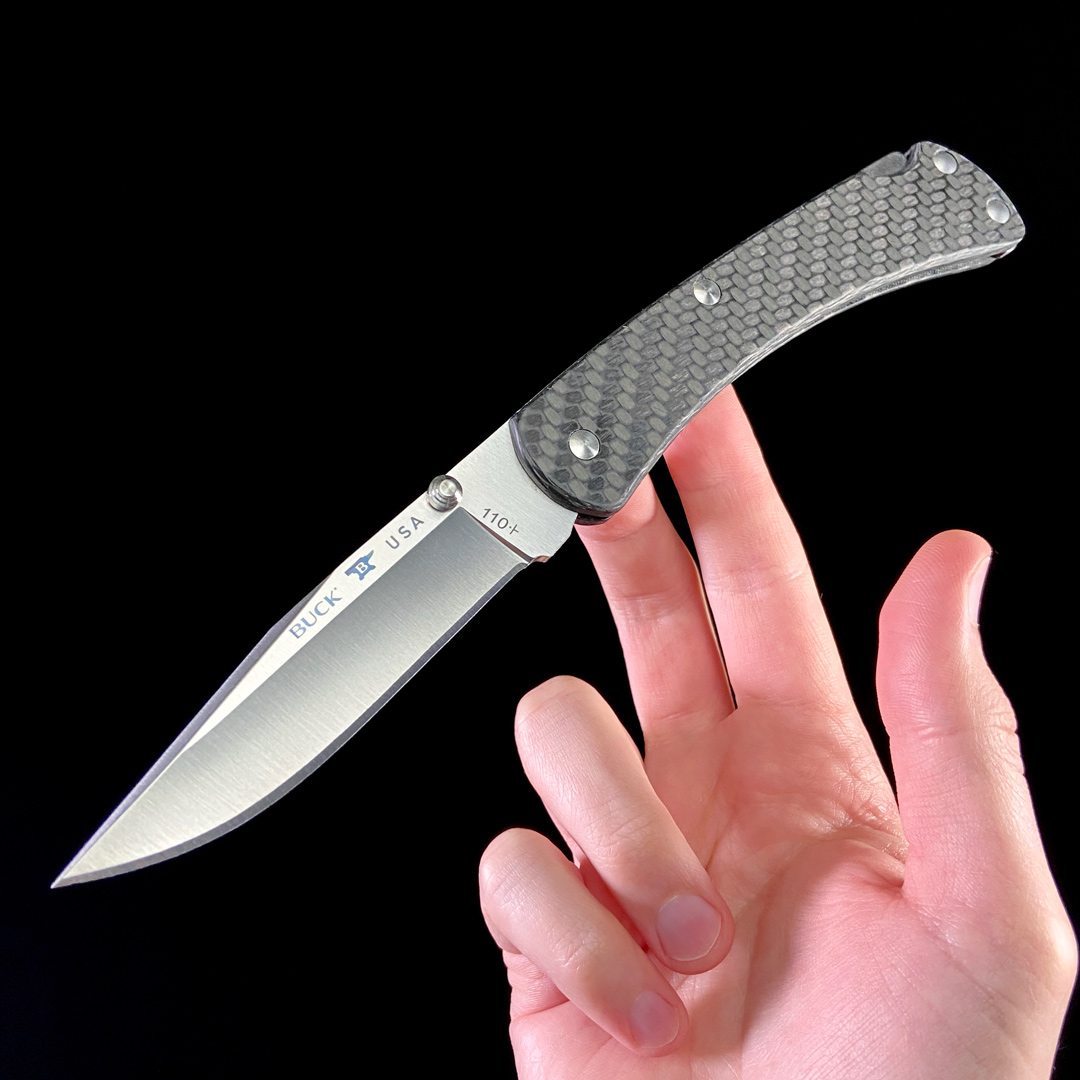 We've been excited for the Limited Edition Buck 110 Slim CF since it was unveiled at SHOT Show, and now it's finally here! This is arguably the ultimate modern 110 Folding Hunter. It's got modern construction, modern materials, and modern features like one-handed opening and a pocket clip.
The 3¾ inch blade is made from S3VN blade, supercharged with a Paul Bos heat treatment. The handle scales are solid carbon fiber for high strength and low weight, and the knife is held together with threaded fasteners, not pins, so it's possible to take it apart should you ever need to do so. To top it off, it's equipped with an elegant pocket clip mounted on standoffs that allows for deep-pocket carry. Really, the only drawback to this knife is the fact that it's a limited edition – only 500 worldwide! Don't delay if you want the ultimate version of the quintessential folding hunter.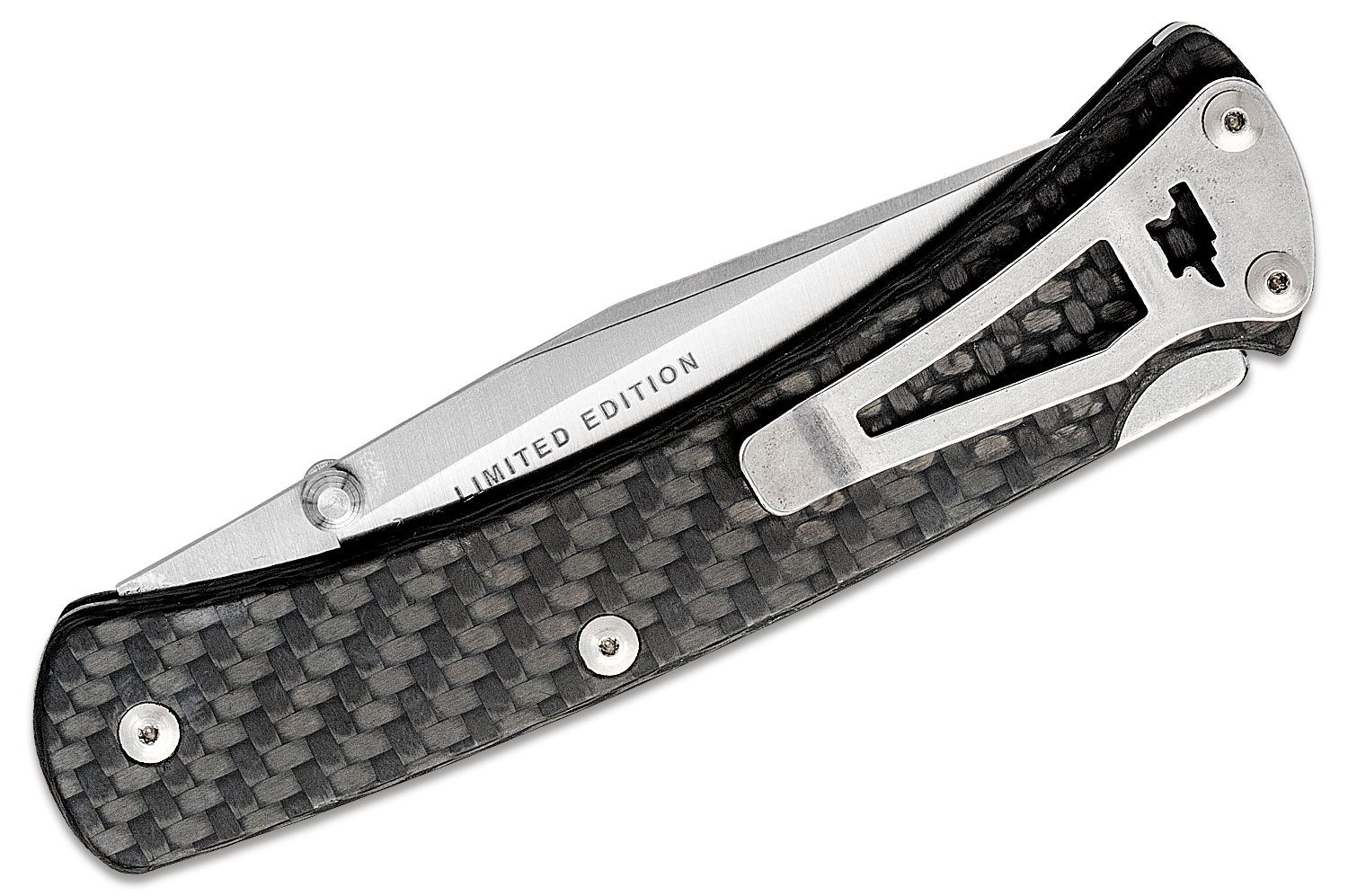 Buck 110 Slim CF Specs:
Blade Length: 3.75″ (9.5 cm)
Closed Length: 4.875″ (12.4 cm)
Overall Length: 8.625″ (21.9 cm)
Blade Material: S35VN Stainless Steel
Blade Thickness: 0.120″
Blade Style: Clip Point
Blade Finish: Satin
Handle Material: Carbon Fiber
Pocket Clip: Stainless Steel (Tip-Up, Right/Left Carry)
Weight: 3.0 oz. (85.0 g)
Dual Thumb Studs
Made in the USA
---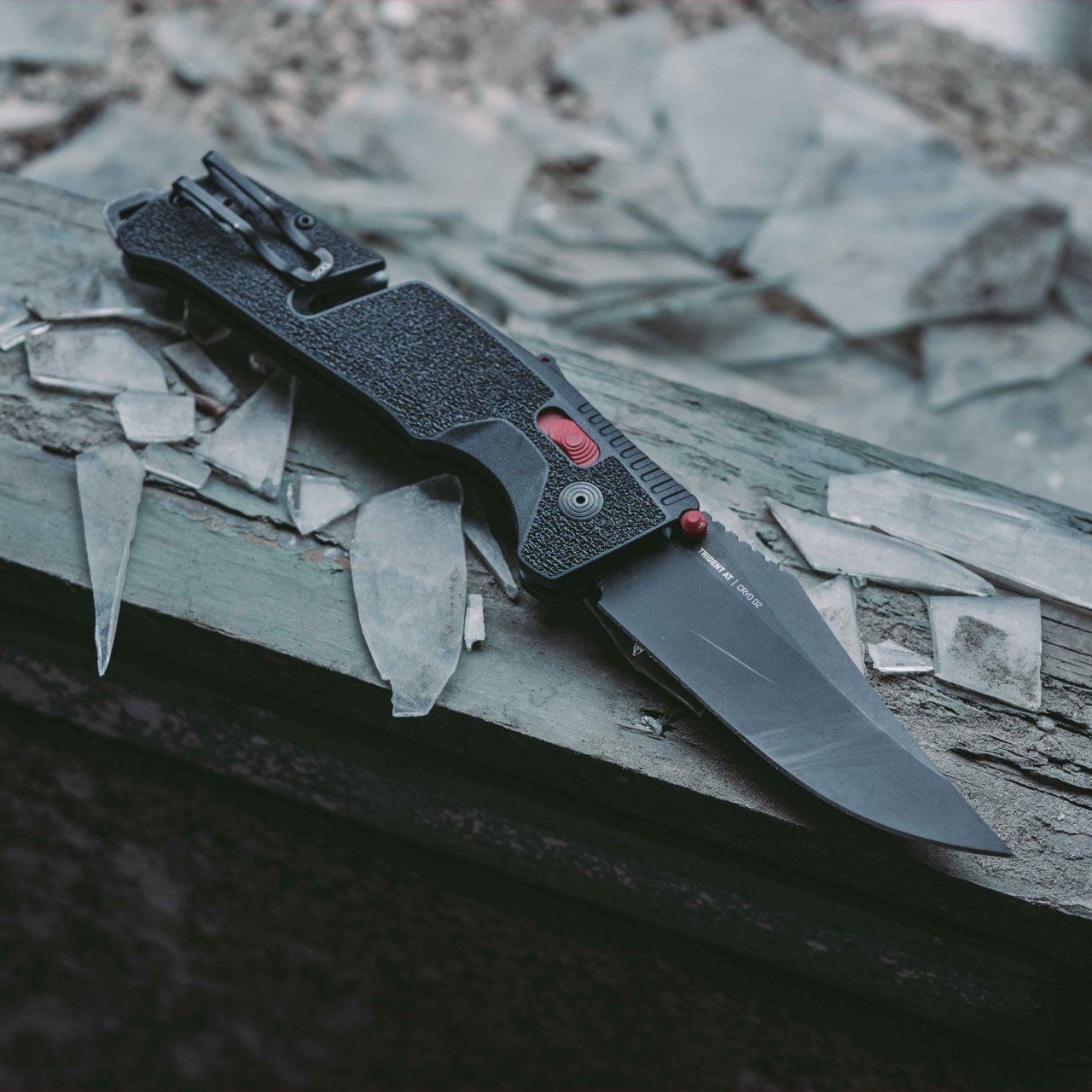 We just stocked a trio of newly redesigned SOG blades, but our favorite of the bunch has to the Trident. The Trident has been a staple in SOG's lineup, easily identified by the cutout in the handle that allows the blade to double as a strap/line cutter while the knife is closed. For this 2020 redesign, SOG took everything that made the original great and turned it up to 11. This new Trident is bigger, stronger, faster, and just better in every way than its predecessors.
The first thing that stands out when you handle the new Trident is the assist. It's seriously fast, and tuned almost like an automatic knife – no chance of misfires here. Normally I'm not a huge fan of assisted opening knives, but on a large tactical/rescue folder like this it makes a lot of sense. Other features include a carbide glassbreaker in the forward side of the handle, deep-carry pocket clip, spine-mounted safety, and SOG's crossbar-style XR lock. Choose between a selection of eye-catching (or blacked-out) color schemes, and either a tanto or clip point blade made from cryo-treated D2 blade steel. If you need a tactical knife with rescue capability, don't overlook this one.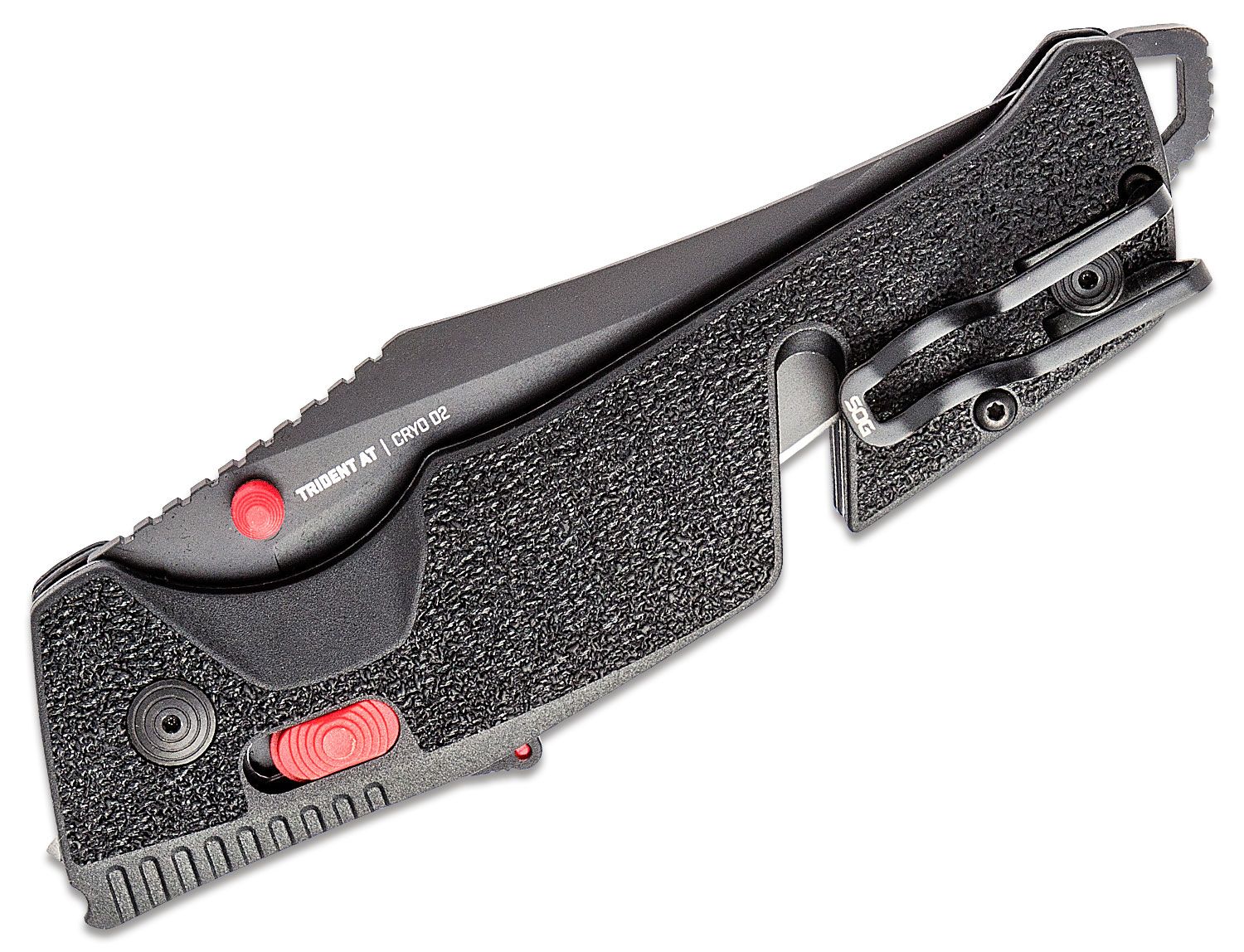 SOG Trident AT-XR Specs:
Blade Length: 3.70″
Closed Length: 5.33″
Overall Length: 9.03″
Blade Material: D2 Tool Steel
Blade Thickness: 0.12″
Blade Style: Clip Point
Blade Grind: Flat
Blade Finish: Black Titanium Nitride
Handle Material: Black Glass Reinforced Nylon
Locking Mechanism: AT-XR Lock
Pivot Assembly: AT Assisted Technology
Pocket Clip: Deep Carry Stainless Steel (Tip-Up, Right/Left Carry)
Weight: 5.15 oz.
Red Colored Accents
Ambidextrous Spine-Mounted Safety
Made in Taiwan
---