This week SOG continues to show us they are back with a vengeance with their reimagined Trident, Spartan Blades impresses us with their new collabs with KA-BAR, and some new "glowy" Spyderco classics light things up. That and more after the jump.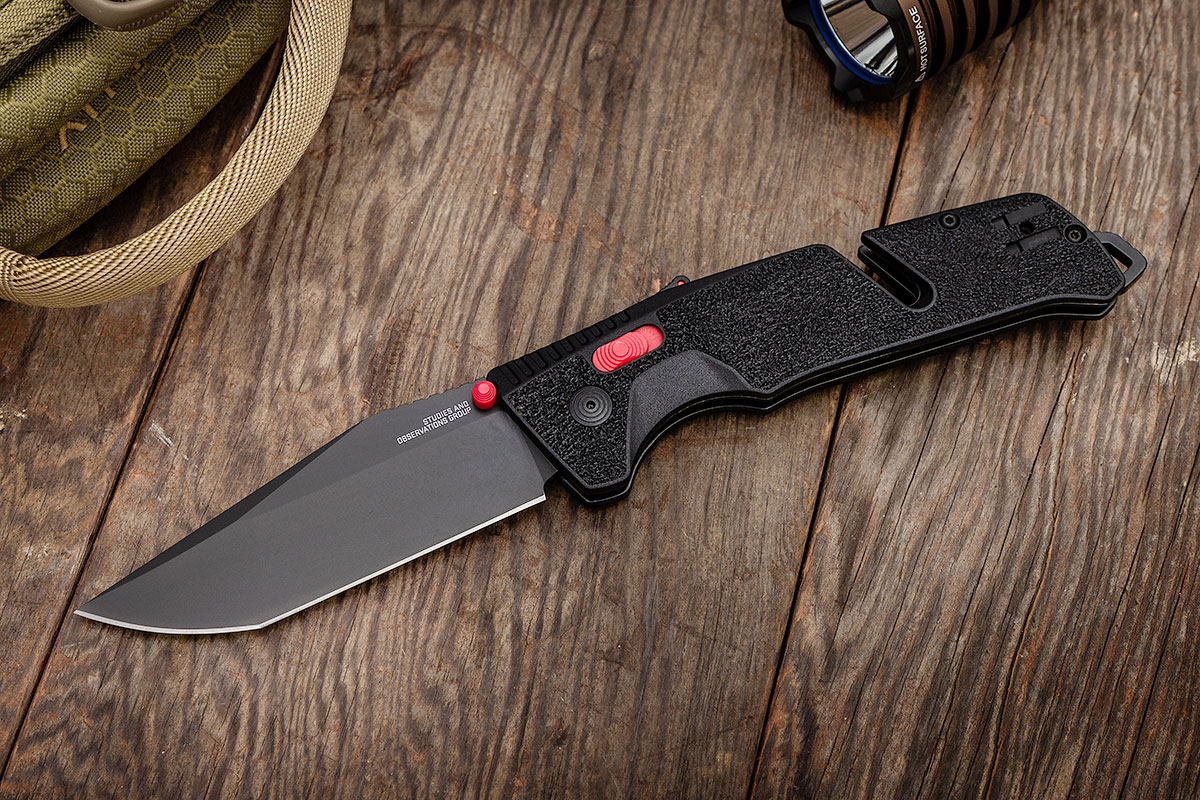 SOG's brand reinvigoration continues with the new Trident AT, an assisted-opener built around their capable XR crossbar lock. Even with its newly refined shape and stronger lock, this remains one of our favorite tactical rescue knives with two blade shapes to choose from and a cutout in the handle that lets you use the closed knife as a seatbelt cutter. It even has a subtly integrated glass-breaker at the front of the handles. It doesn't get in the way at all and it is right there when you need it!
Blade Length: 3.70″
Closed Length: 5.33″
Overall Length: 9.03″
Blade Material: D2 Tool Steel
Blade Thickness: 0.12″
Blade Style: Tanto or Clip Point
Blade Grind: Flat
Blade Finish: Black Titanium Nitride
Handle Material: Glass Reinforced Nylon
Locking Mechanism: AT-XR Lock
Pivot Assembly: AT Assisted Technology
Pocket Clip: Deep Carry Stainless Steel (Tip-Up, Right/Left Carry)
Weight: 5.15 oz.
Ambidextrous Spine-Mounted Safety
Made in Taiwan
---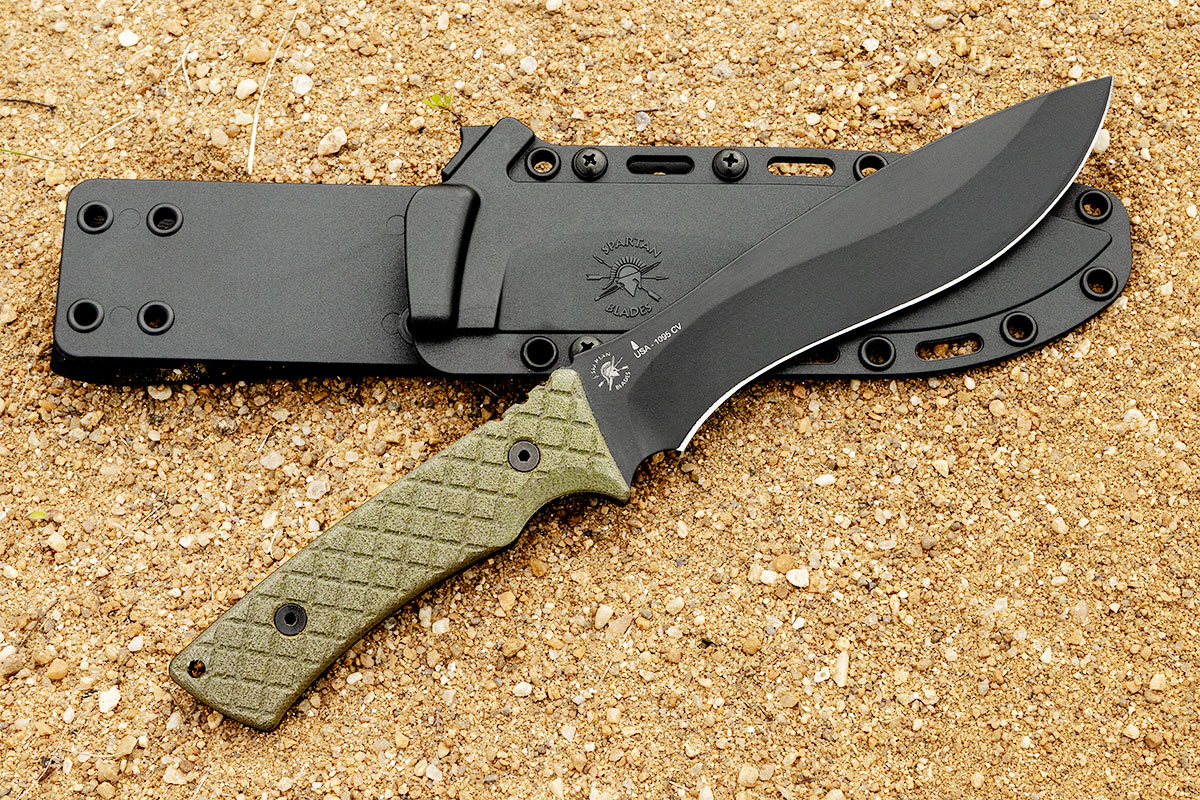 A Spartan Blade has never been this affordable thanks to these "Silver Line" collaborations with KA-BAR! Designed by the Spartan crew and built by KA-BAR in their Olean, NY facility, these knives have the pedigree and rock-solid performance you would expect. The smaller Alala makes a great backup knife, the mid-sized Damysus is an all-around champ, while the larger Machai sports a wicked recurve and aggressive tactical blade. All three are ready for action!
Blade Length: 6.625″
Cutting Edge: 6.0″
Handle Length: 4.9375″
Overall Length: 11.5625″
Blade Material: 1095 Cro-Van Carbon Steel
Blade Thickness: 0.187″
Blade Hardness: 56-58HRC
Blade Style: Recurve
Blade Grind: Flat
Blade Finish: Black Powder Coat
Handle Material: Canvas Micarta
Handle Thickness: 0.54″
Sheath Material: Injection Molded with Active Retention Thumb Lever
Weight: 10.8 oz.
Weight with Sheath: 15.7 oz.
Designer: Curtis Iovito
Made in the USA
---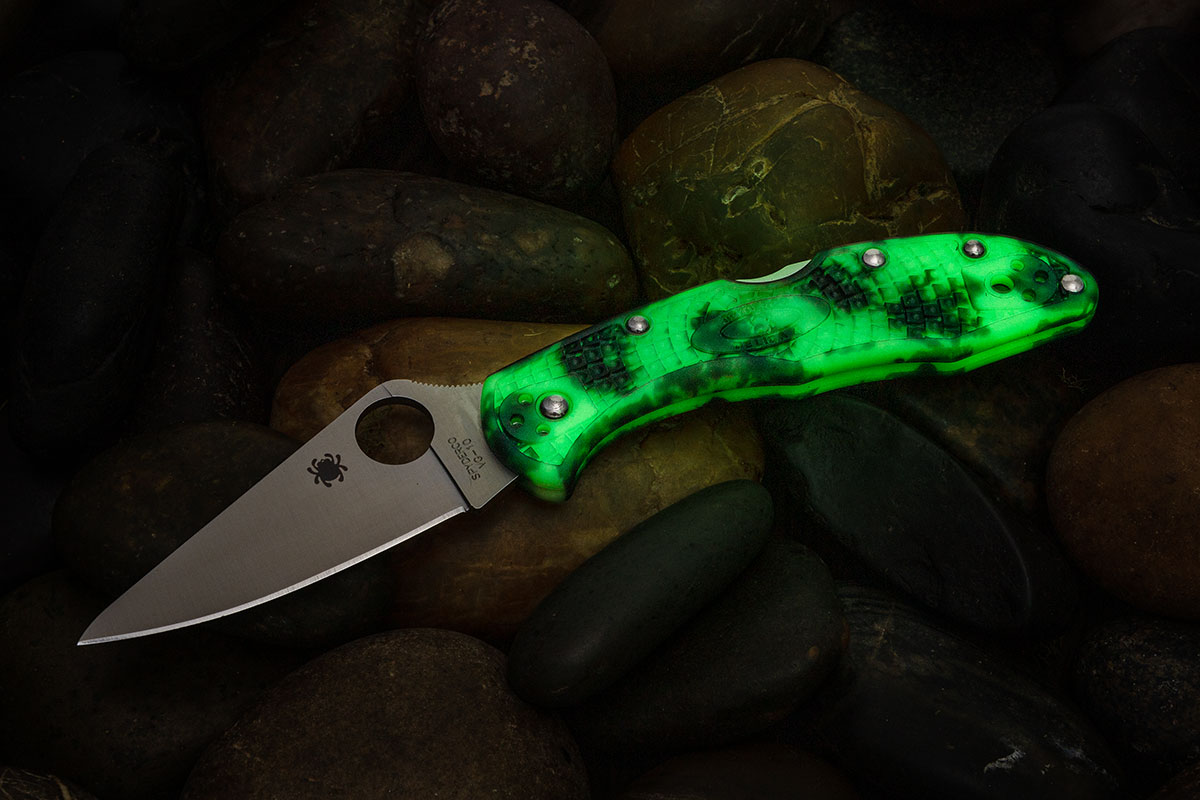 For those who love Spyderco's popular folding knife models but want something that sets their knife apart, the Zome-style FRN handles on these Delica and Endura variants will add a touch of style to your pocket. The handle scales are molded in a light base color and then individually hand-dyed by expert Japanese artisans, so no two knives are alike. These new variants kick things up even higher with Glow-In-The-Dark base material so they really stand out at any time, day or night!
Endura

Length Overall: 8 3/4″ (222 mm)
Length Closed: 5″ (127 mm)
Hole Diameter: 1/2″ (13 mm)
Blade Length: 3 3/4″ (96 mm)
Cutting Edge: 3 7/16″ (88 mm)
Blade Thickness: 1/8″ (3 mm)
Blade Steel: VG10
Weight: 3.6 oz. (103 g)
Handle Material: FRN
Made in Seki-City, Japan

Delica

Length Overall: 7 1/8″ (181 mm)
Length Closed: 4 1/4″ (108 mm)
Hole Diameter: 1/2″ (13 mm)
Blade Length: 2 7/8″ (73 mm)
Cutting Edge: 2 9/16″ (65 mm)
Blade Thickness: 3/32″ (2.5 mm)
Blade Steel: VG10
Weight: 2.5 oz. (71 g)
Handle Material: FRN
Made in Seki-City, Japan
---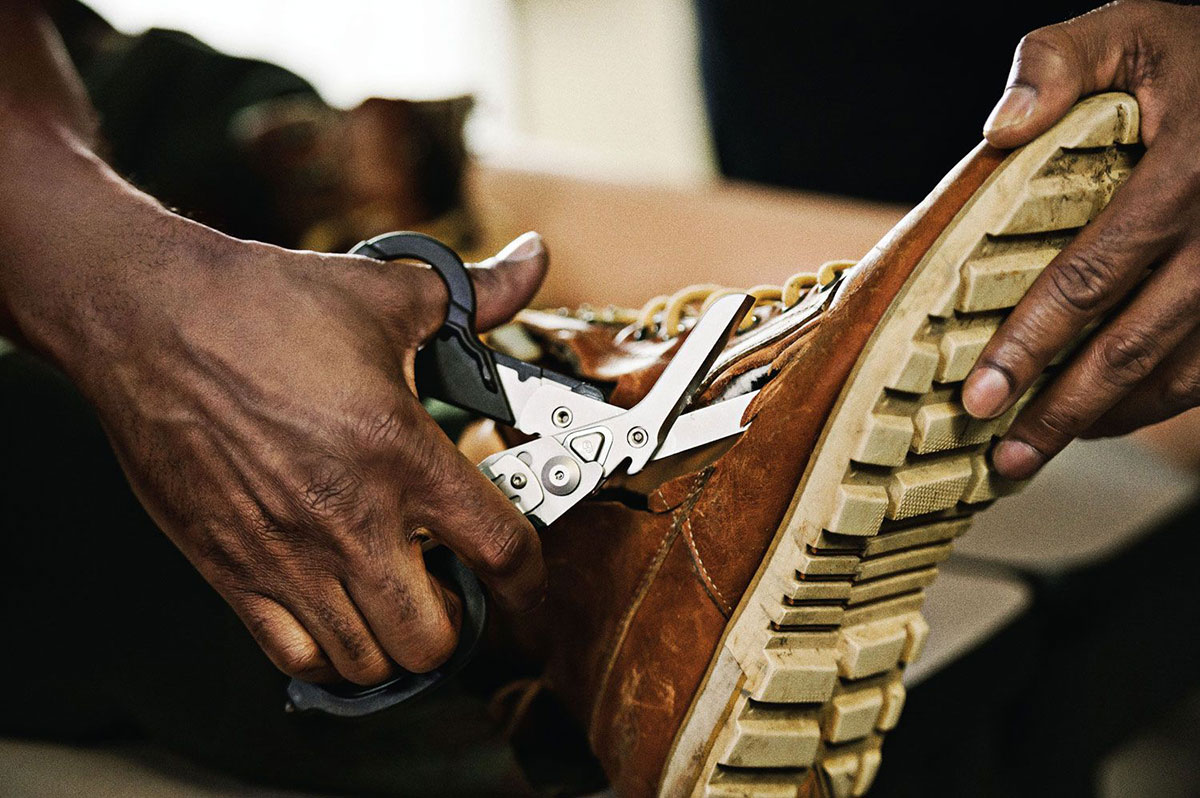 An essential part of any preparedness kit, the Leatherman Raptor is built around a solid set of medical shears. It has just the right selection of tools without it being overkill and it can fold down to fit the included sheath or in your pockets. Developed with EMTs, fire professionals, and special operations medics, the Raptor keeps all the proven essentials at the ready, because you never know when you might need them.
Tools

420HC Stainless Steel Folding Medical Shears
Strap Cutter
Ring Cutter
Ruler (5 cm)
Oxygen Tank Wrench
Carbide Glass Breaker

Features

Stainless Steel
Glass-filled Nylon Handle Scales
Utility Polymer Holster
Lanyard Hole
Replaceable Pocket Clip
25-Year Warranty

Measurements

1.9 in | 4.8 cm (Shear Length)
5 in | 12.7 cm (Closed Length)
5.8 oz | 164 g (Weight)
---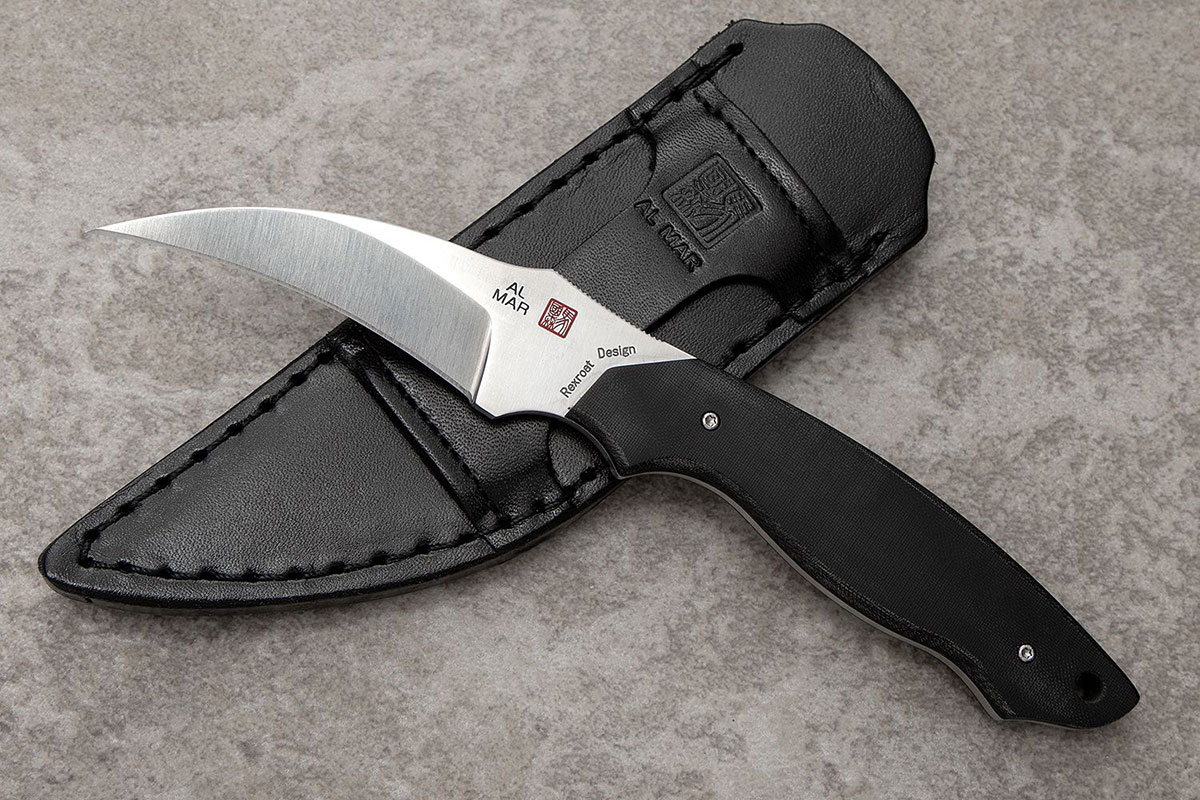 Few designers have been as influential in the tactical arena as the late Al Mar, with designs like his SERE folder providing a template for countless imitators to follow. While new brand ownership has moved production to China, we still have a selection of their premium Japanese-made knives in stock. Almost all of them are on sale right now so you can get your hands on one before our supply dries up!
---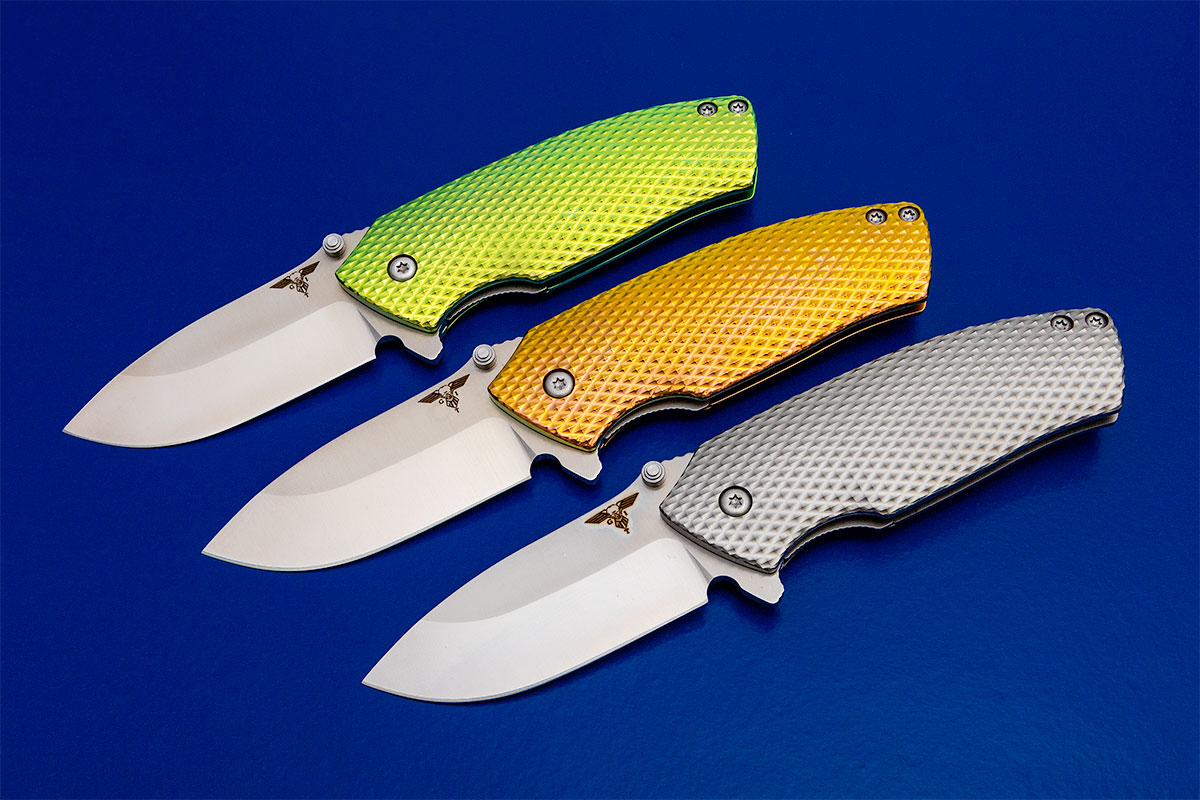 The centerpiece of Justin Gingrich's titanium folder is his signature Delta Lock, which is one of the most solid locking mechanisms we have ever seen. The innovative multi-directional locking interface distributes force in four different directions, plus the V-shaped tang acts as a glass-breaker when the knife is closed. Combined with a versatile blade and attractive dimpled finish on the titanium handle, this is a premium knife with a heart of iron. We even have a few versions that were anodized by Justin himself, so be sure to check out this awesome design.
Blade Length: 3.25″
Closed Length: 4.875″
Overall Length: 8.125″
Blade Material: CTS-BD1
Blade Style: Drop Point
Blade Grind: Hollow
Blade Finish: Satin
Handle Material: Titanium
Handle Thickness: 0.5″
Locking Mechanism: Delta Lock (patent pending)
Pocket Clip: Tip-Up, Right Carry
Weight: 7.5 oz.
Designer: Justin Gingrich
Made in the USA
---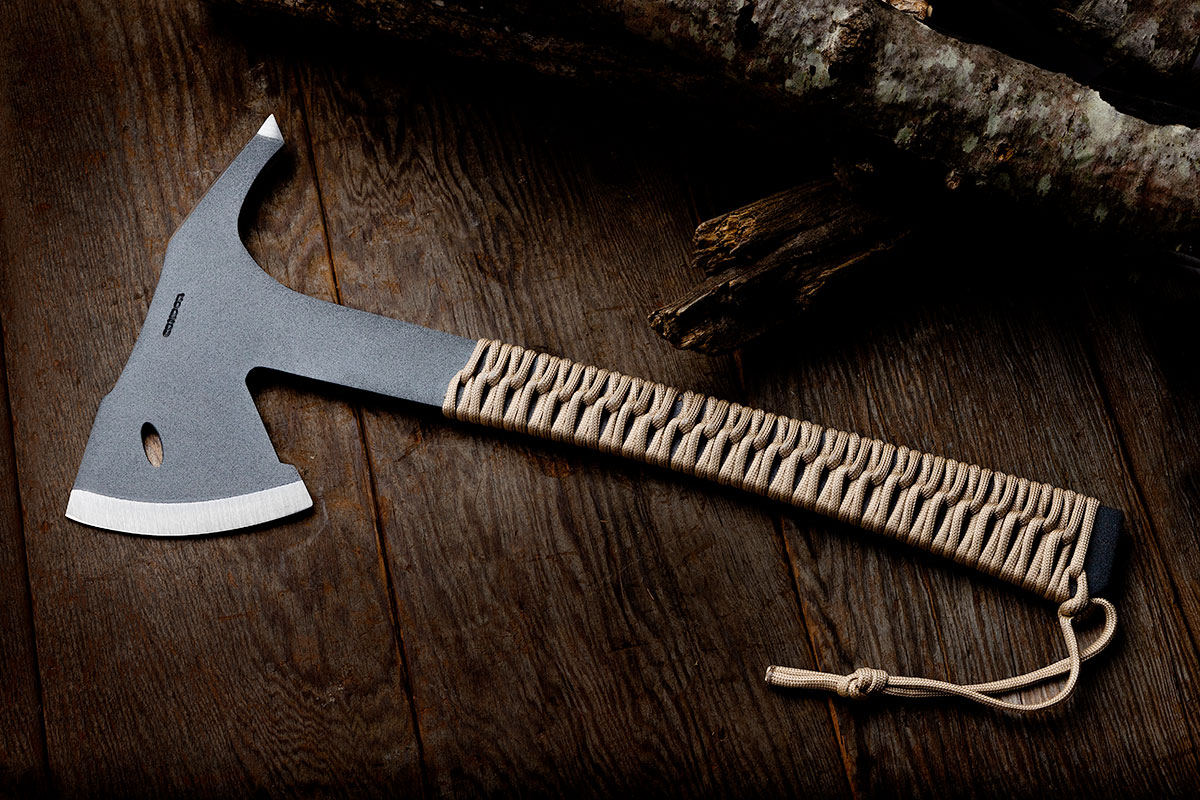 With the Condor Sentinel in your hands, you'll have what it takes to break through barriers and dismantle nearly any obstacle in front of you. The tough 1075 carbon steel construction can stand up to the worst you can throw at it while the grip comes from wrapped paracord, ensuring you have enough traction to swing hard and spare cordage on hand for emergencies. Putting this package over the top is a quality Kydex sheath designed by Julio Diez of 710 Custom Sheaths.
Head Size: 3.625″
Overall Length: 14.375″
Blade Thickness: 5.0 mm
Blade Material: 1075 High Carbon Steel
Blade Finish: Black Traction Powder Coat
Handle Material: Paracord Wrapped, Desert Tan
Sheath: Kydex with Leather Belt Loop by 710 Custom Sheaths
Weight: 1.80 lbs.
Made in El Salvador
---
This subtle flipper hides its ferocity in plain sight with classy good looks and a low price tag. A liner lock underpins stainless steel bolsters and grippy milled G10 handle scales. Housed within is a reverse tanto blade that flips out with ease thanks to the Ultra-Glide pivot. This knife proves that you don't need a premium knife to get a capable one!
Blade Length: 3.3″
Closed Length: 4.5″
Overall Length: 7.8″
Blade Material: 8Cr13MoV Stainless Steel
Blade Style: Reverse Tanto
Blade Finish: Satin
Handle Material: Tan G10 with Stainless Steel Bolsters
Locking Mechanism: Liner
Pivot Assembly: Ultra-Glide
Pocket Clip: Tip-Up, Right Carry
Weight: 4.16 oz.
Made in China