We get so many new knives here at the KnifeCenter every week, it can be hard to keep up. So, starting today, we're publishing a weekly roundup here on the blog to help cut through the chaos. We'll be taking a look at a few of our favorite new products, every week! Today's picks include a long-awaited Spyderco variant, eye-catching Kizer designs, an Integral titanium framelock with a surprising price tag, and a few new Kershaw folders. Let's take a look.
---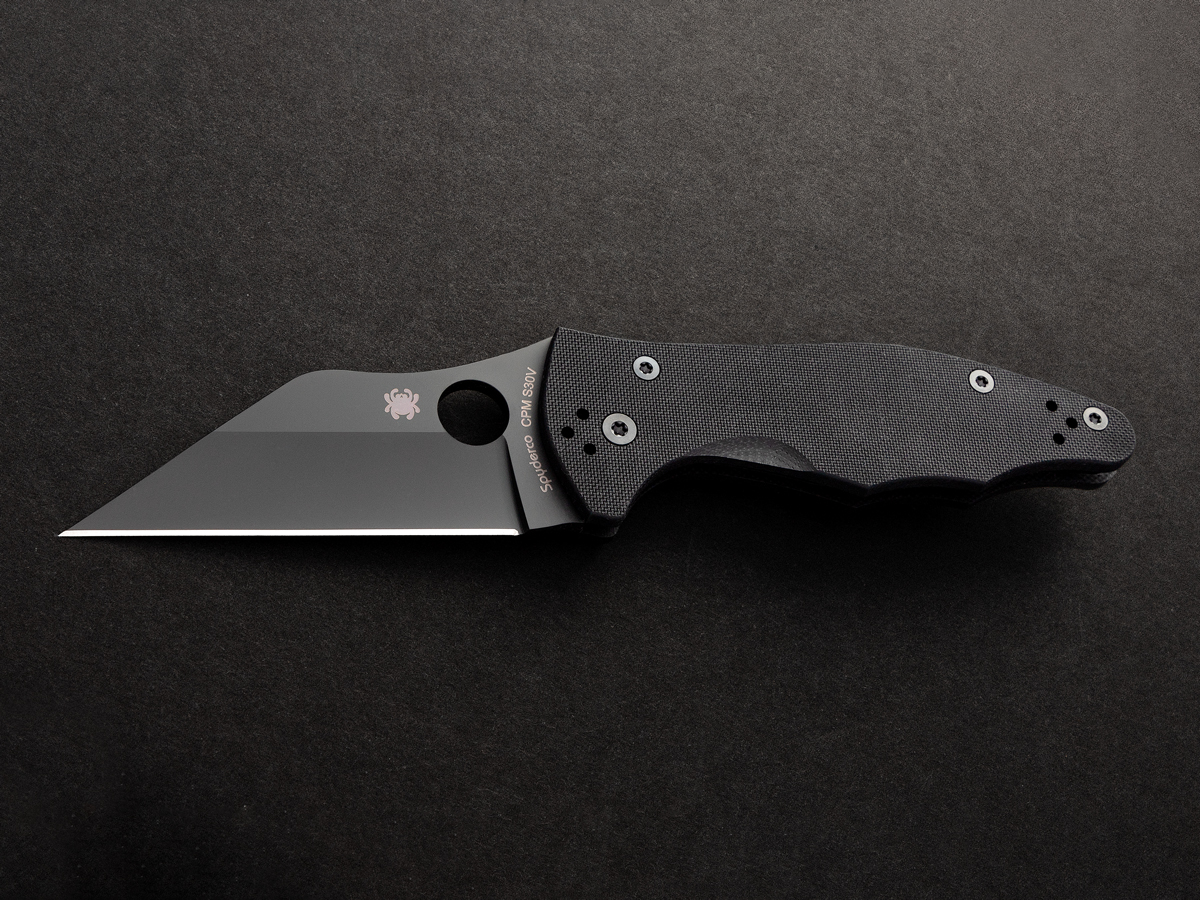 Spyderco customers have been asking for an all-black Yojimbo 2 for as long as the design has existed, and this week, Spyderco delivered! It is really, truly blacked-out: everything but the edge is DLC-coated to reduce reflections, from the pocket clip to the liners. Designed by martial blade expert Michael Janich, the hollow-ground Wharncliffe blade of the Yojimbo 2 has the same cutting power at the tip as it does at the heel of the blade, for powerful slashing and piercing cuts.
Like many of Spyderco's best designs, the Yojimbo 2 makes more sense to your hands than it does to your eyes. The ergonomics accommodate forward and reverse grips equally well, and the "dip" in the spine of the blade feels like a natural place to rest your thumb or forefinger when guiding the tip in a detailed cut. And, despite the tactical design inspiration, the Yojimbo 2 also makes an excellent utilitarian everyday carry knife. The perfectly straight edge is easy to control, and the tip has a high degree of precision.
Blade Length: 3.20″
Closed Length: 4.49″
Overall Length: 7.69″
Cutting Edge: 3.00″
Blade Thickness: 0.145″
Blade Material: CPM-S30V Stainless Steel
Handle Material: G10
Locking Mechanism: Compression Lock
Pocket Clip: Tip-Up/Down, Right/Left Carry
Model Number: C85GPBBK2
Weight: 4.1 oz
Made in the USA
---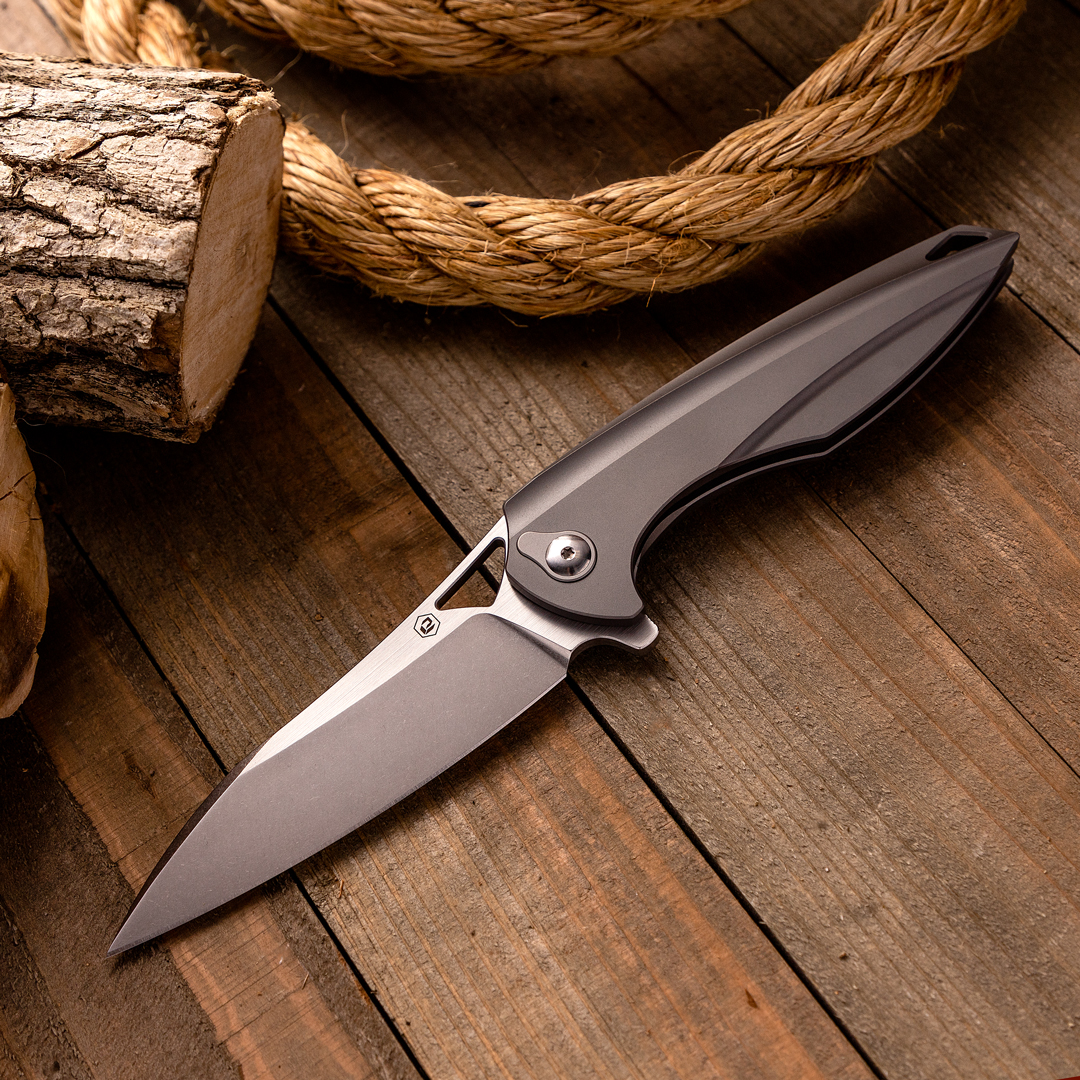 Bladerunners Systems is best known for their Balisongs, but they're branching out into conventional folders and fixed blades with their new E-Volve line. They've released a handful of designs so far, but the Eon is definitely their most ambitious design yet: an integral framelock designed by Elijah Isham. "Integral" construction means that the handle is milled from a single billet of material – in this case, titanium. There's no need for fasteners to hold the knife together, which is why the handle of the Eon looks so clean.
Everything is well-executed here: the M390 blade is keenly ground, the sculpted titanium clip works well, and the ball-bearing flipper deployment is smooth and quick. Perhaps the most noteworthy feature of the Eon is its price: $289.99. Not cheap to be sure, but a bargain when compared to other top-shelf integral titanium folders on the market.
Blade Length: 3.625″
Cutting Edge: 3.50″
Closed Length: 4.50″
Overall Length: 8.25″
Blade Material: Bohler M390 Stainless Steel
Blade Thickness: 0.160″
Blade Grind: Flat
Handle Thickness: 0.52″
Locking Mechanism: Frame Lock
Pivot Assembly: Bearings
Pocket Clip: Sculpted Titanium (Tip-Up, Right Carry)
Weight: 4.47 oz.
Designer: Elijah Isham
Made in China
---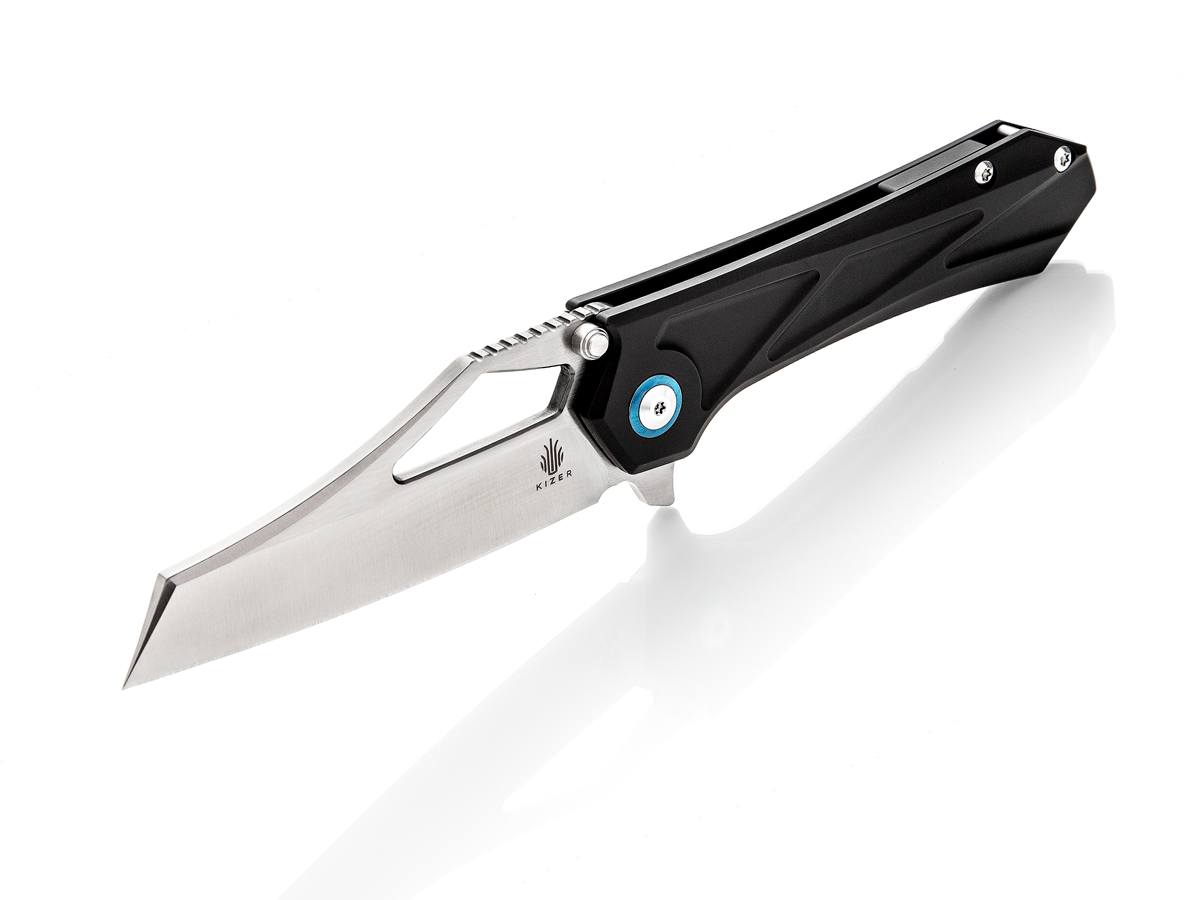 Whatever your preferred opening method, the Kizer Maestro has you covered: thumbstud, thumb hole, or flipper. Thanks to Kizer's in-house design wizard Azo, the Maestro is formidable and fidget-friendly at the same time.
This design stands out to us because of its striking looks and well-executed details. The handle feels much less angular than it looks – broad chamfers help ease the ergonomics and the titanium scales have been milled inside and out to reduce the weight as much as possible. The S35VN blade has a little of that "pocket cleaver" vibe that's been popular lately, but it's still nice and pointy at the tip, unlike many of those other cleaver-esque designs. Overall, it's a great folder if you want something big and bold that doesn't compromise function for style.
Blade Length: 3.625″
Cutting Edge: 3.69″
Handle Length: 4.75″
Overall Length: 8.31″
Blade Thickness: 0.16″
Blade Material: CPM-S35VN Stainless Steel
Blade Grind: Flat
Handle Thickness: 0.51″
Handle Material: Titanium
Locking Mechanism: Frame Lock
Pocket Clip: Tip-Up, Right Carry
Designer: Azo
Includes Polishing Cloth
Weight: 5.00 oz.
Made in China
---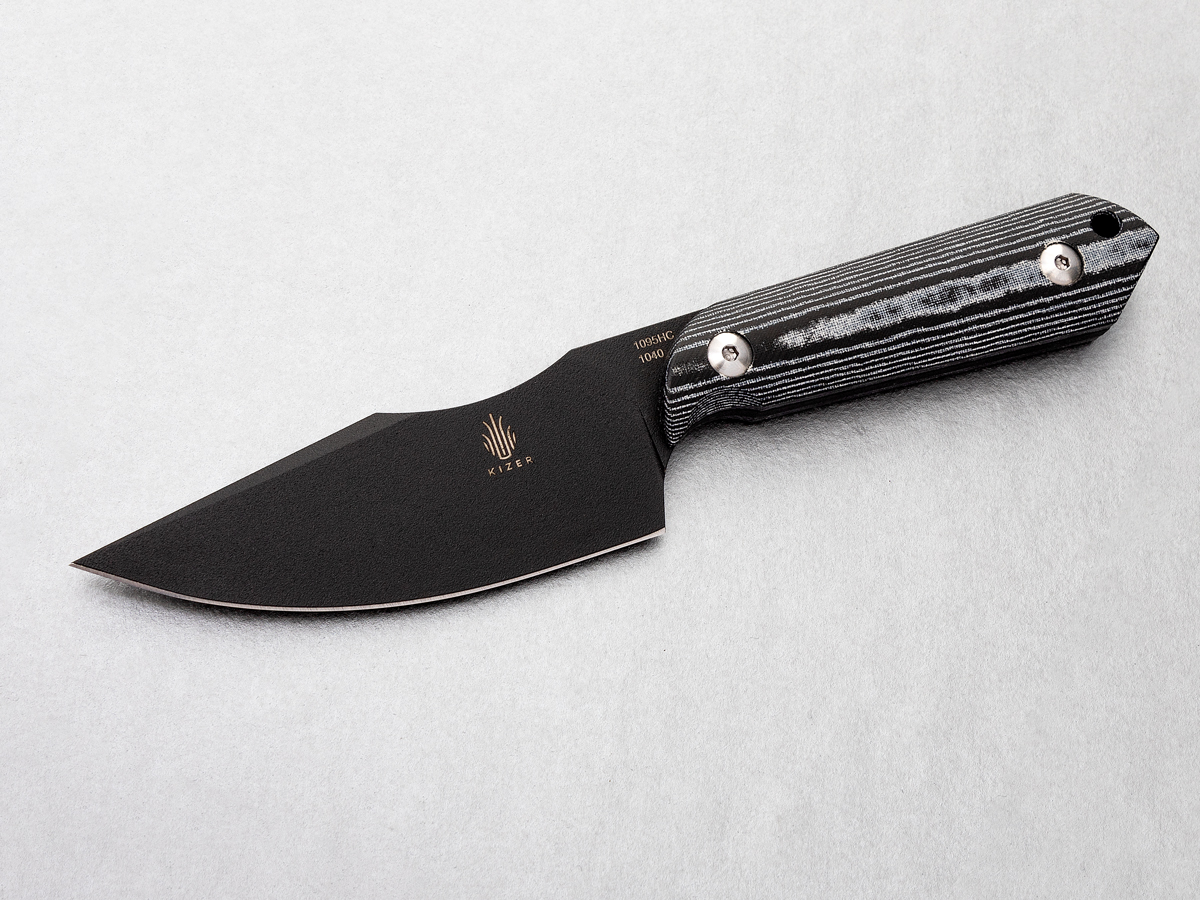 The other new Kizer that caught our attention was this little fixed blade: the Harpoon, designed by James Buckley of Maverick Customs. Personally, I'm always drawn to knife designs that allow the entire edge to make contact with a cutting surface, like a kitchen knife. I could also see this working well as a skinning knife, with lots of belly for long slices and a relatively broad blade for holding in a pinch grip. Notice that concave spot on the spine of the blade? It's perfectly positioned to cradle your thumb when you really need to bear down into a cut.
The layered Micarta handle is straight, simple, and short enough to make this a great option for everyday carry. A neatly molded kydex sheath comes set up for scout-style (horizontal) carry.
Blade Length: 3.875″
Cutting Edge: 3.69″
Handle Length: 3.82″
Overall Length: 7.625″
Blade Thickness: 0.13″
Blade Material: 1095 Carbon Steel
Blade Finish: Black Powder Coat
Handle Thickness: 0.60″
Handle Material: Black Micarta
Includes Polishing Cloth
Sheath: Black Kydex
Designer: James Buckley of Maverick Customs
Weight: 4.20 oz.
Made in China
---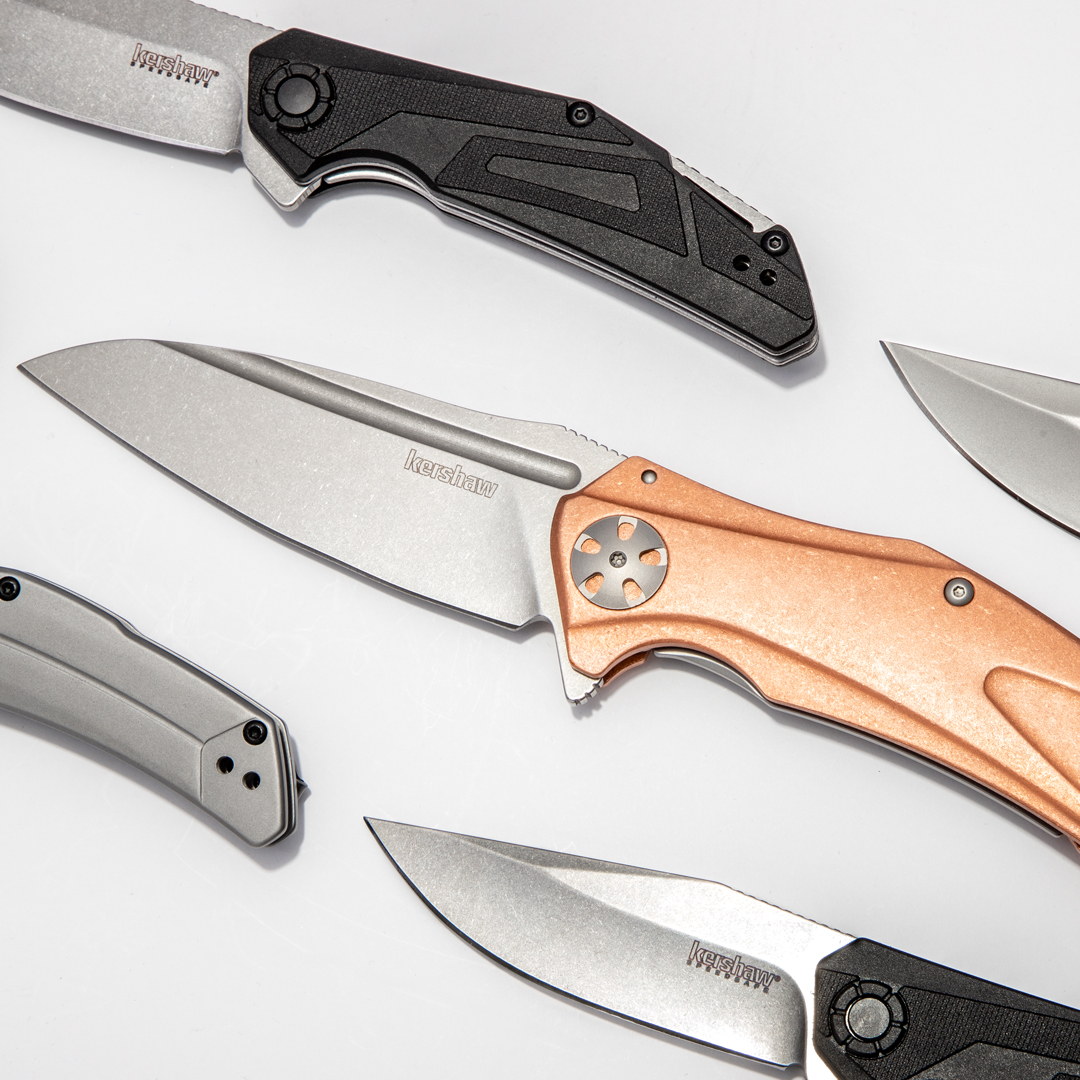 New Kershaw folders! Five of 'em, to be specific:
With 3.7 inches of D2 blade and solid copper handles, the Copper Natrix XL is thicc with two Cs, phat with a P-H, and chonky – yes, that's chonky with an O. This pocketknife weighs in at 8.6 ounces – heavy metal, indeed. If you like a substantial knife, the Natrix XL Copper definitely has plenty to offer: cracking manual flipper deployment, a sturdy Sub-Frame lock, and an attractive, highly refined design.
The new Copper Leek, on the other hand, is only an ounce heavier than the standard Leek. It's a reassuring heft, and the satin-finished copper scales should take on a lovely & unique patina over time. There's just something about the Leek's sleek design, snappy SpeedSafe-assisted opening, and ultra-pointy 14C28N blade – truly a modern classic.
The Camshaft looks to be another good value folder from Kershaw. For just over $20, you get a useful 3-inch clip-point blade, deep carry pocket clip, SpeedSafe assisted flipper opening, and grippy GFN scales. Even Kershaw's most affordable knives have a stylish design, and the Camshaft is no exception.
The Kershaw Believer, with its 3.25-inches of blade, is a little bit bigger than the Camshaft. A little sturdier too, thanks to a frame lock. There are nice high-end touches here that belie the Believer's budget price, like the custom-looking pivot hardware and lockbar overtravel stop. Thankfully, the custom hardware is just for style – it still accepts standard Torx bits should you need to adjust something yourself.
The design of the Comeback is subtle, clean, and still unique. Aside from the Copper Natrix XL, this is the only manual-action knife on this list – a KVT ball-bearing flipper. The pocket clip is mounted on a spacer, which gives the Comeback a classy look in your pocket, and is reversible for left- or right-hand carry.
Next Week: More New Knives!
We hope you enjoyed this new knives roundup, and we'd love to hear your feedback as we head into next week. Let us know your thoughts in the comments below – what knives caught your eye this week?