With lots of new products trickling in after their announcement at SHOT Show in January, February was a busy month here at the KnifeCenter. We've added hundreds of new items, but here are a few of the most anticipated and best new knives that hit our shelves this month.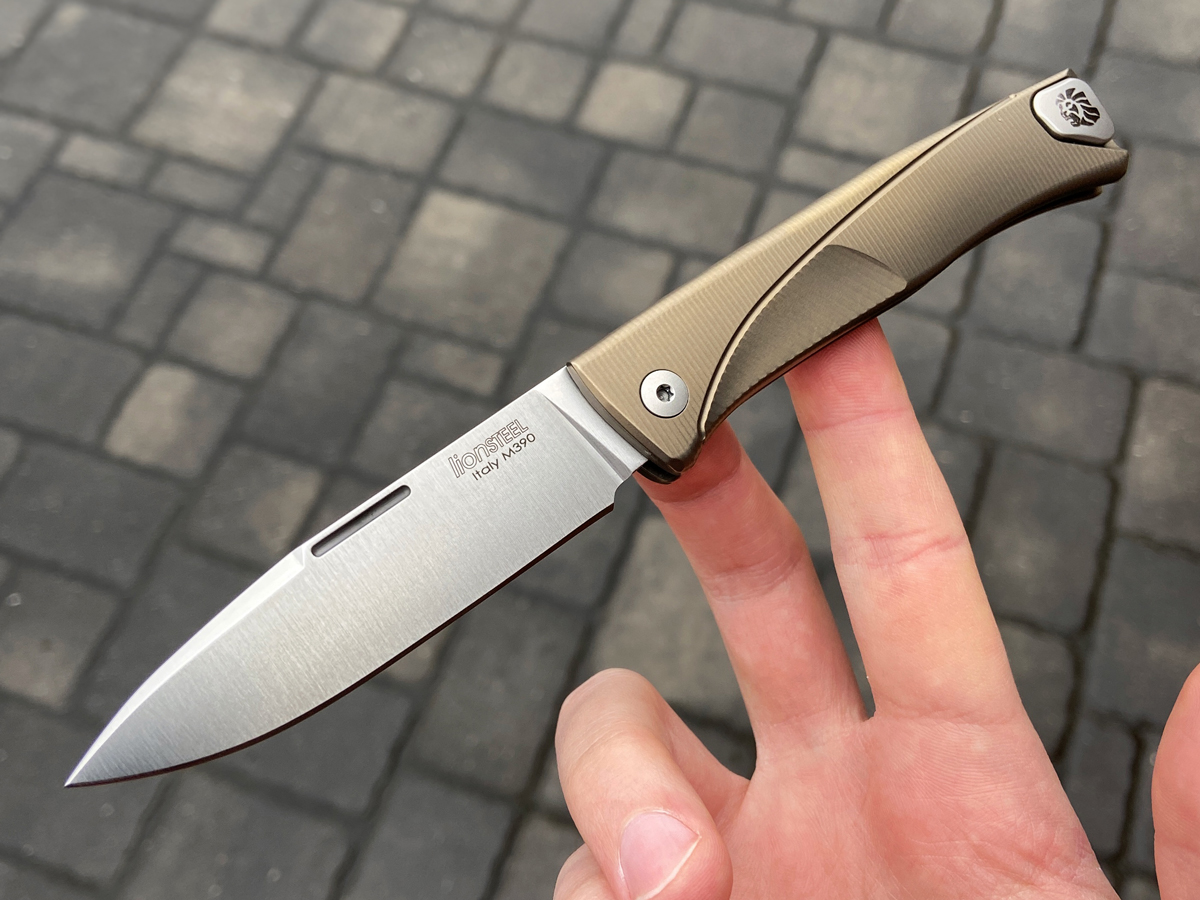 The new LionSteel Thrill is an integral slipjoint, which means that both the handle and the backspring are made from a single piece of metal. It's a time consuming and expensive way to put together a knife, but the payoff is a product that is stronger, more rigid, and cleaner looking, since there's no need for any fasteners to hold the handle together.
The 3-inch M390 blade opens and closes with snappy, satisfying action, and a hardened steel backspring plate ensures it stays that way. In a nice nod to traditional slipjoint design, LionSteel also included their retractable clip, so you still get that seamless feel in hand without sacrificing the modern convenience of a pocket clip.
Blade Length: 3.15″ (80 mm)
Cutting Edge: 2.95″ (75 mm)
Closed Length: 3.94″ (100 mm)
Overall Length: 7.09″ (180 mm)
Blade Material: M390 Stainless Steel
Blade Thickness: 0.130″ (3.3 mm)
Blade Grind: Flat
Blade Finish: Satin
Handle Material: Solid 6Al4V titanium or aluminum
Handle Thickness: 0.55″ (14 mm)
Locking Mechanism: Slipjoint
Pocket Clip: HWAIL Hidden Clip System (Tip-Up, Right-Carry)
Weight: 3.10 oz. (88 g) for titanium or 2.33 oz. (66 g) for aluminum
Designer: Michele Pensato
Made in Italy
---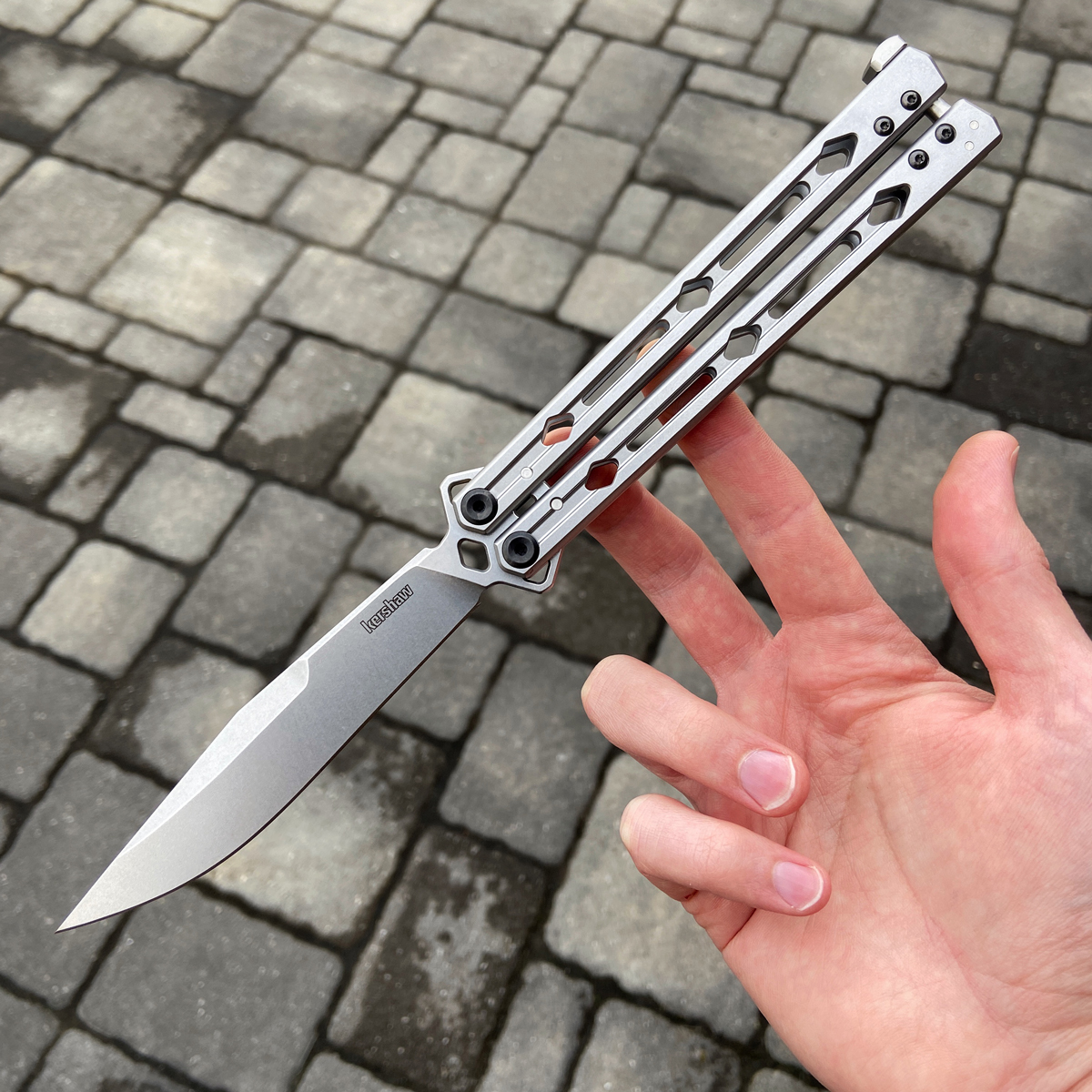 The new Kershaw Lucha aims to shake up the middle of the balisong market with its well-balanced – literally! – characteristics. Priced at $119.95, it lands squarely between the entry level flippers and the beginning of the high-end stuff. The materials are decent for the price: steel handles, ball bearing pivots, and 14C28N blade steel. Where the Lucha really stands out is in overall design and execution. It's well-balanced, fluid, and put together exceptionally well. The Lucha is machined to tight tolerances in the same USA manufacturing facility that produces all the best Kershaws, and for the price we think it's the new balisong to beat.
Blade Length: 4.6″ (11.7 cm)
Closed Length: 5.8″ (15 cm)
Overall Length: 10.25″ (26 cm)
Blade Material: Sandvik 14C28N Stainless Steel
Blade Style: Clip Point
Blade Finish: Stonewash
Handle Material: Bead Blasted Stainless Steel
Locking Mechanism: Latch
Pivot Assembly: Dual KVT Ball Bearings
Weight: 5.9 oz. (168 g)
Made in the USA
---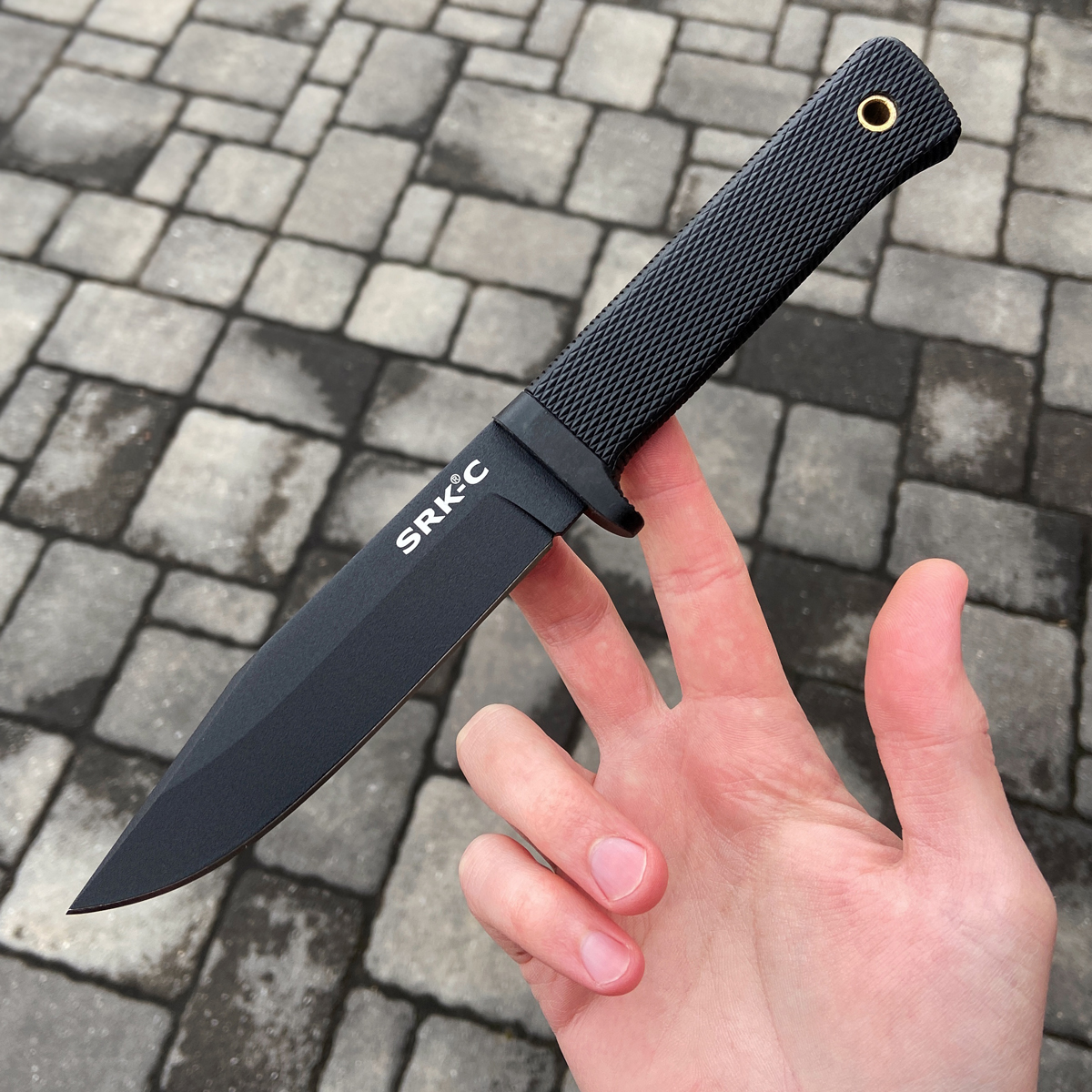 The new Cold Steel SRK-C (for "compact") scales things back just enough to make a meaningful difference. It's the same Cold Steel SRK you know and love, just smaller – shrinking from 6 inches of blade down to 5, and from 5mm blade stock down to 4mm blade stock. The reduction in stock thickness is perhaps more significant than the change to blade length, since it changes the cutting geometry quite a bit. The SK-5 carbon steel and flat saber grind mean it's still plenty strong, but the thinner blade should perform better in slicing cuts. Overall, the SRK-C takes a proven tactical/survival knife design and optimizes it for less extreme tasks – we think it would make an excellent affordable belt knife or companion knife on your next camping trip. 
Blade Length: 5.0″
Blade Thickness: 4.0 mm
Overall Length: 9.50″
Steel: SK-5 Carbon Steel with Black Tuff-Ex Finish
Weight: 5.1 oz.
Handle: 4.50″ Long. Kray-Ex
Sheath: Secure-Ex
Made in Taiwan
---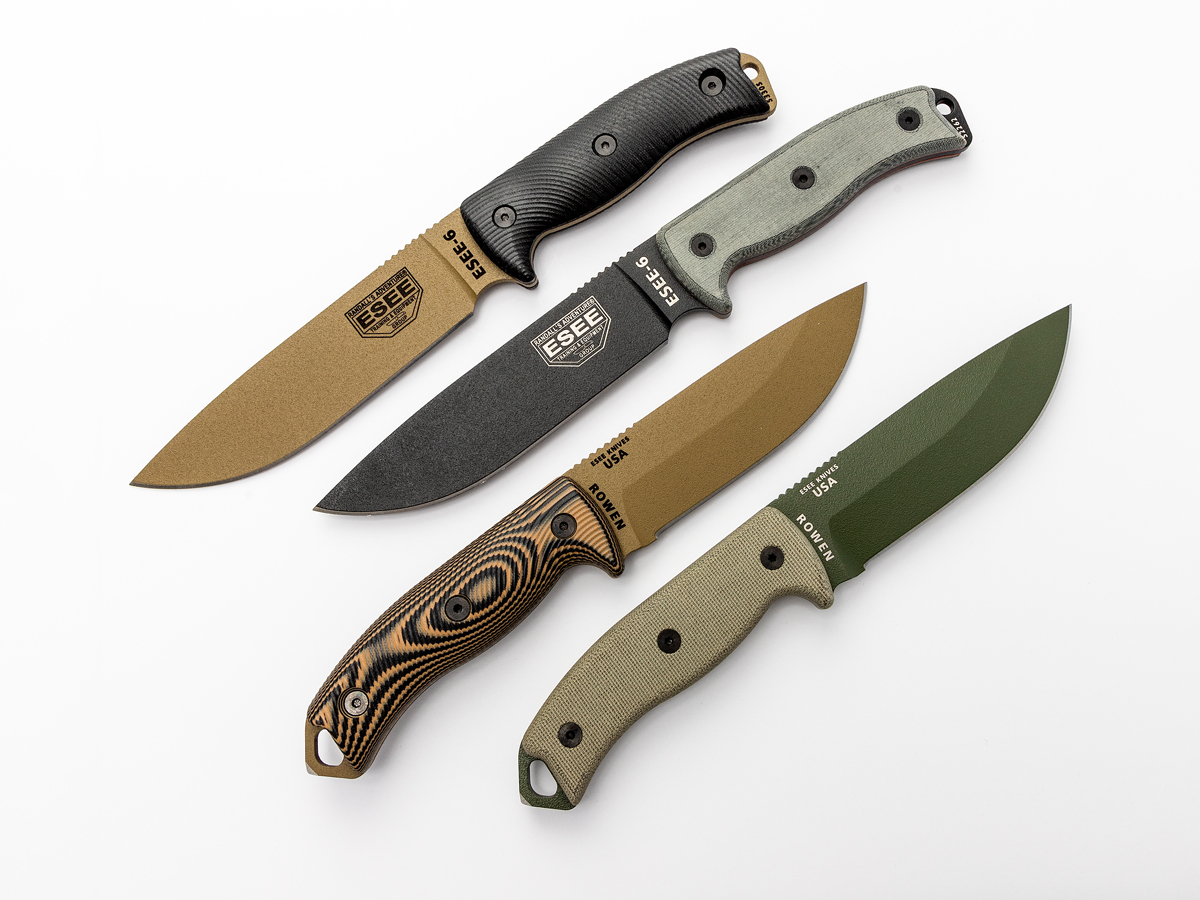 We've already gone over the 2020 ESEE upgrades here in-depth on the blog, but we couldn't leave them off this list. ESEE rolled out new 3D-machined contoured handles across their entire line of classic fixed blades, from the everyday carry friendly ESEE-3 up through the survival sized ESEE-6. Now, for just a few dollars more over the standard slab-sided handles, you can get Micarta or G10 scales that enhance the long-term comfort and grip of your ESEE knife. And what's more, they still fit the same excellent ESEE sheaths! The blades themselves are unchanged, with one notable exception: the ESEE-3 is also available with a stainless S35VN blade. ESEE's 1095 carbon steel blades have a bulletproof reputation for strength and reliability, so we're excited to see what they can do with S35VN steel as well.
---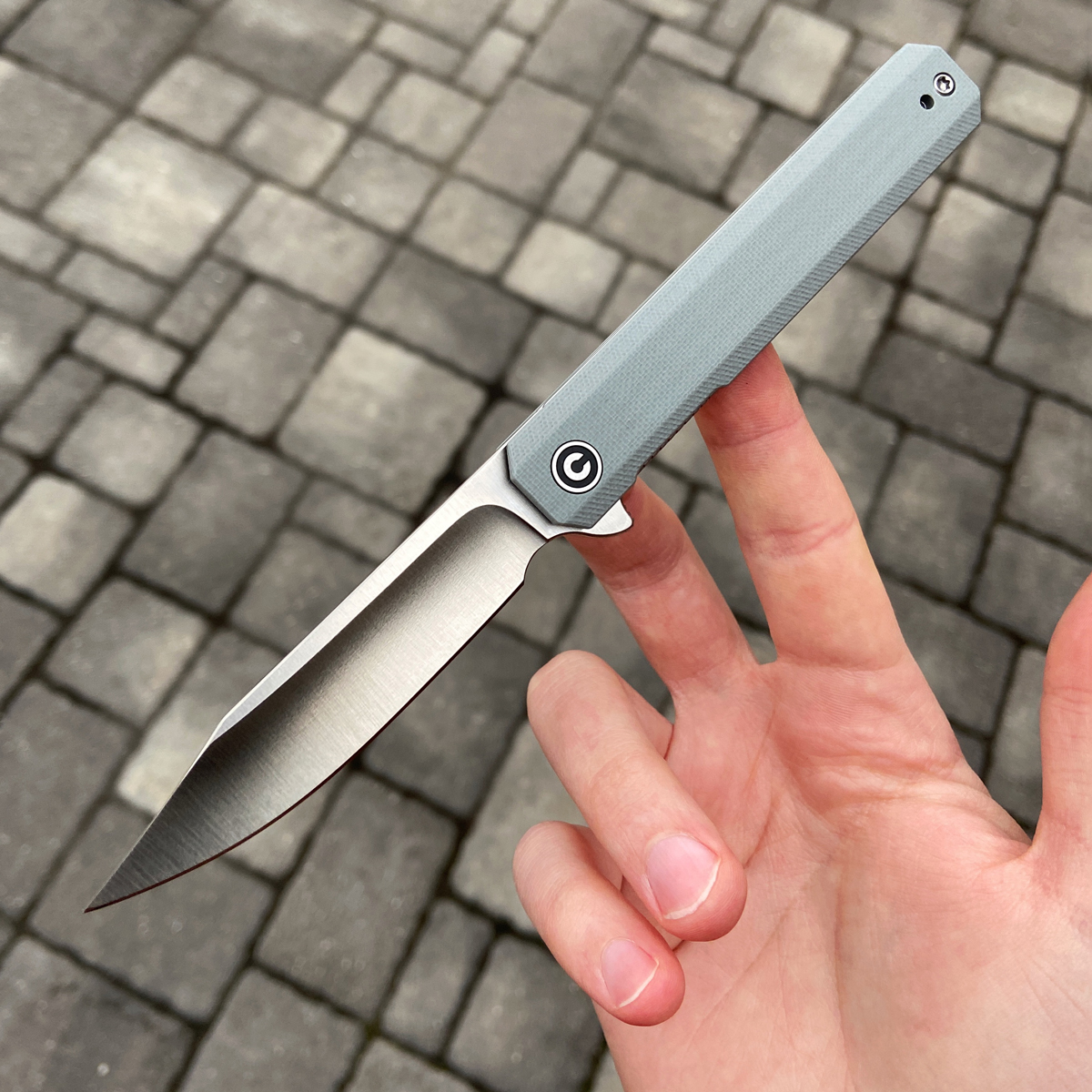 The new Civivi Chronic stands out from the rest of their catalog for its ultra-slim build. These long, lean, lightweight folders have been popular lately – known as "executive knives," they can slip into slacks or even a shirt pocket comfortably, but we could see the Chronic working well for just about anyone. It's available in a number of configurations, from colorful G10 versions with 9Cr18MoV blade steel, to classy ones with carbon fiber and Damascus. Civivi is making some of the best value folding knives on the market right now, and the Chronic is easy to recommend.
Blade Length: 3.22″
Closed Length: 4.10″
Overall Length: 7.32″
Blade Material: 9Cr18MoV Stainless Steel or Stainless Damascus
Blade Thickness: 0.12″
Blade Grind: Hollow
Handle Material: G10 or G10/Carbon Fiber Laminate
Handle Thickness: 0.47″
Locking Mechanism: Liner
Pivot Assembly: Caged Steel Ball Bearing
Pocket Clip: Stainless Steel (Tip-Up, Right/Left Carry)
Weight: 2.50 oz.
Made in China
---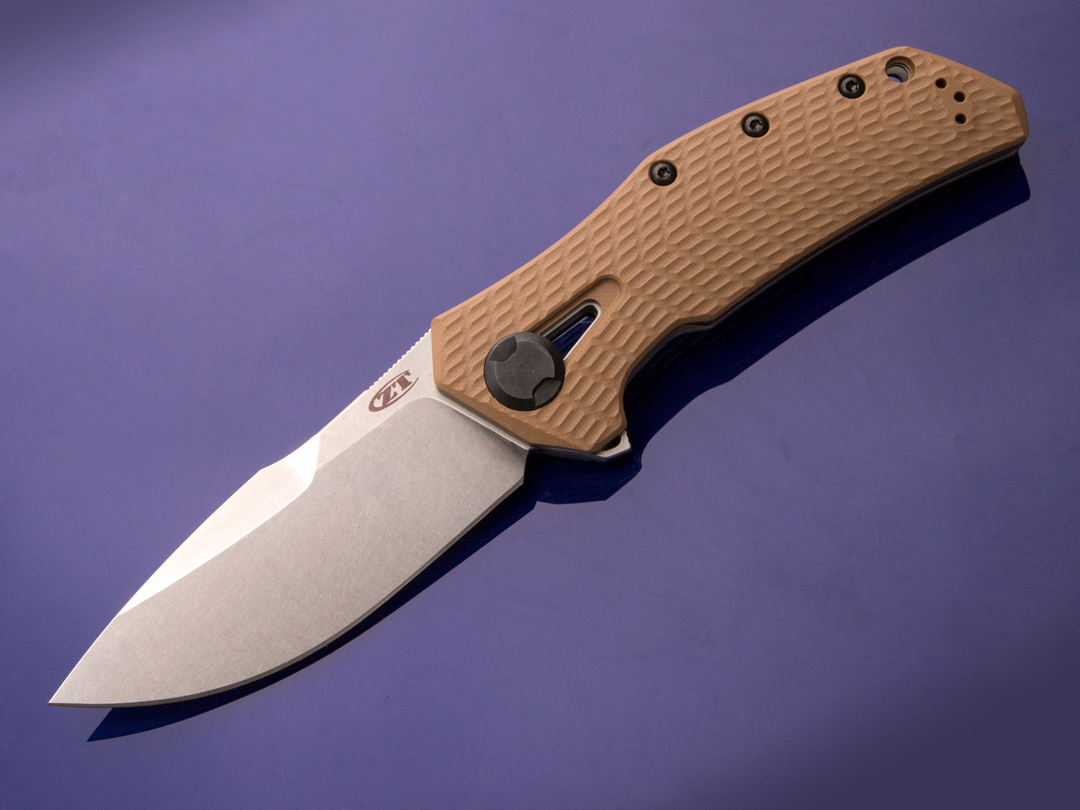 The ZT0308 landed at the KnifeCenter this month with a resounding THUMP. This beautiful brute of a knife reminds us of the original 03XX-series designs that cemented ZT's reputation for overbuilt, American-made excellence in the first place. The 3.75" 20CV blade is thick, yet broad enough to offer plenty of shearing potential. The titanium/G10 handle features an all-over milled pattern inspired by the ZT0300; grippy yet not sharp enough to wear out your pockets. Unlike the ZT designs of yore, the new 0308 is manual, rather than assisted-opening. The KVT ball bearings and manual flipper crack the blade open with authority.
Blade Length: 3.75″ (9.5 cm)
Closed Length: 5.2″ (13.2 cm)
Overall Length: 8.9″ (24.1 cm)
Blade Material: CPM-20CV Stainless Steel
Blade Thickness: 0.156″ (3.96 mm)
Blade Finish: Stonewash
Handle Material: Coyote Tan G10, Bead Blasted Titanium Lock Side
Locking Mechanism: Frame Lock
Pivot Assembly: KVT Ball Bearing System
Pocket Clip: Tip-Up, Right/Left Carry
Weight: 6.9 oz. (195.6 g)
Made in the USA
---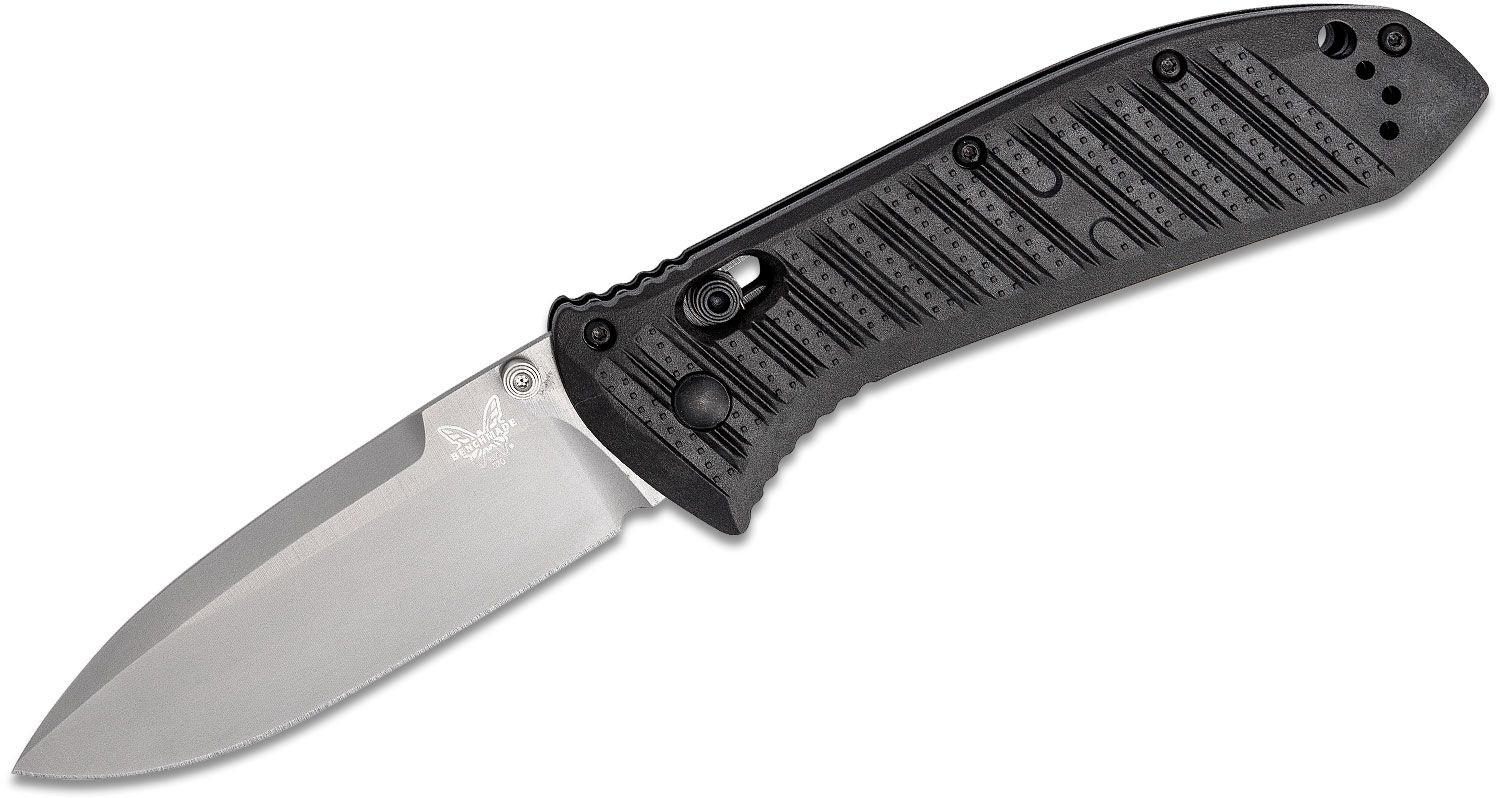 At just $131.75, the new Presidio II is actually less expensive than the old Presidio II model. That alone would be worth celebrating, but thanks to CF-Elite plastic scales it's also lighter, weighing in at just under 5 ounces. The S30V blade is 3.7 inches long, secured with Benchmade's trusty AXIS lock. The Presidio line has always felt like the Griptilian's tougher brother – the handle has a more aggressive guard to protect your fingers from the edge in a thrust, the full steel liners add some extra strength, and the spear point blade shape is more dagger-like.
Blade Length: 3.72″ (9.45 cm)
Blade Thickness: 0.124″ (3.15 mm)
Handle Thickness: 0.63″ (16.00 mm)
Overall Length: 8.72″ (22.15 cm)
Closed Length: 5.00″ (12.70 cm)
Blade Material: CPM-S30V Stainless Steel
Weight: 4.97 oz. (140.90 g)
Pocket Clip: Deep Carry (Tip-Up, Right/Left Carry)
Lock Mechanism: AXIS Lock
Made in the USA