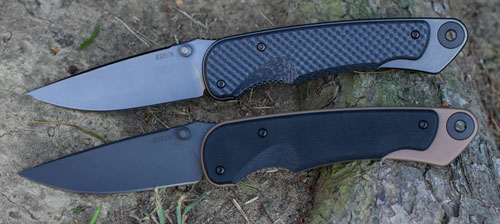 Here at the KnifeCenter, we strive to offer you the best edged tools available and we believe these Akribis folders fit that bill nicely. Spartan Blades is well known in the industry for their stout, well built fixed blade designs. The fit and finish on any Spartan Blade is very Chris Reeve-esque with great attention paid to the ergonomics and cutting angle of each knife. The Akribis is their first folding knife and we are very excited about this one. It features titanium handles, with a Rick Hinderer lock bar stabilizer, available in meteorite grey or flat dark earth and your choice of G10 or carbon fiber scales. The 3-1/2″ blade is made from S35VN stainless steel and also comes in your choice of a meteorite grey or black PVC blade coating. The opening action is buttery smooth and the loud click of the lock bar engaging is one sweet sound you'll definitely appreciate. This is a hard use, tactical folder that's as at-home in your jeans or khakis as it is on your LBE. There's no doubt you will be proud to show this knife off to your friends, check them all out at www.knifecenter.com.
More about Spartan Blades: 
Curtis Iovito and Mark Carey, Co-Founders of Spartan Blades, LLC, possess over 40 years of combined military service and experience. Since their retirement from US Army Special Forces they have been involved in the development, marketing, and program management of tactical gear and ballistic armor products. For years Curtis has designed and made custom knives for his friends in Special Forces and for other companies. Mark and Curtis have combined their shared love of knife making, military experience and knowledge of the tactical equipment market to form Spartan Blades, LLC with a singular mission:
"Manufacture finely crafted tactical and field knives"
It is the intent of Spartan Blades to provide the modern warrior and outdoorsman with knives that will serve them in a variety of missions and environments. Our intent is not to provide a cool knife or the next great pry bar, but rather produce a knife that is highly functional, made from only premium materials and techniques that looks great too!
All Spartan knives are manufactured by us in North Carolina with only US origin materials. Our Sheaths are made by US / US veteran owned businesses using only the best US Origin / Berry Amendment compliant materials. Both Mark and Curtis have spent a lifetime in the service of, and working to advance the interests of our country. Spartan Blades will do the same by only manufacturing in the U.S.A. with the highest quality domestically produced materials. Additionally, Spartan Blades utilizes other veteran owned small businesses in meeting our manufacturing mission.
Spartan Blades, LLC is located in Aberdeen, NC just west of Ft Bragg, NC; "Home of the US Army Airborne and Special Forces".