Some models never feel old. We've got some great knives this week that still feel as fresh as when they did when they first came out, from Benchmade's Crooked River and Morakniv's Eldris, to some newer faces too, including some DogBite fixed blades and a Condor machete designed by Julio Diez.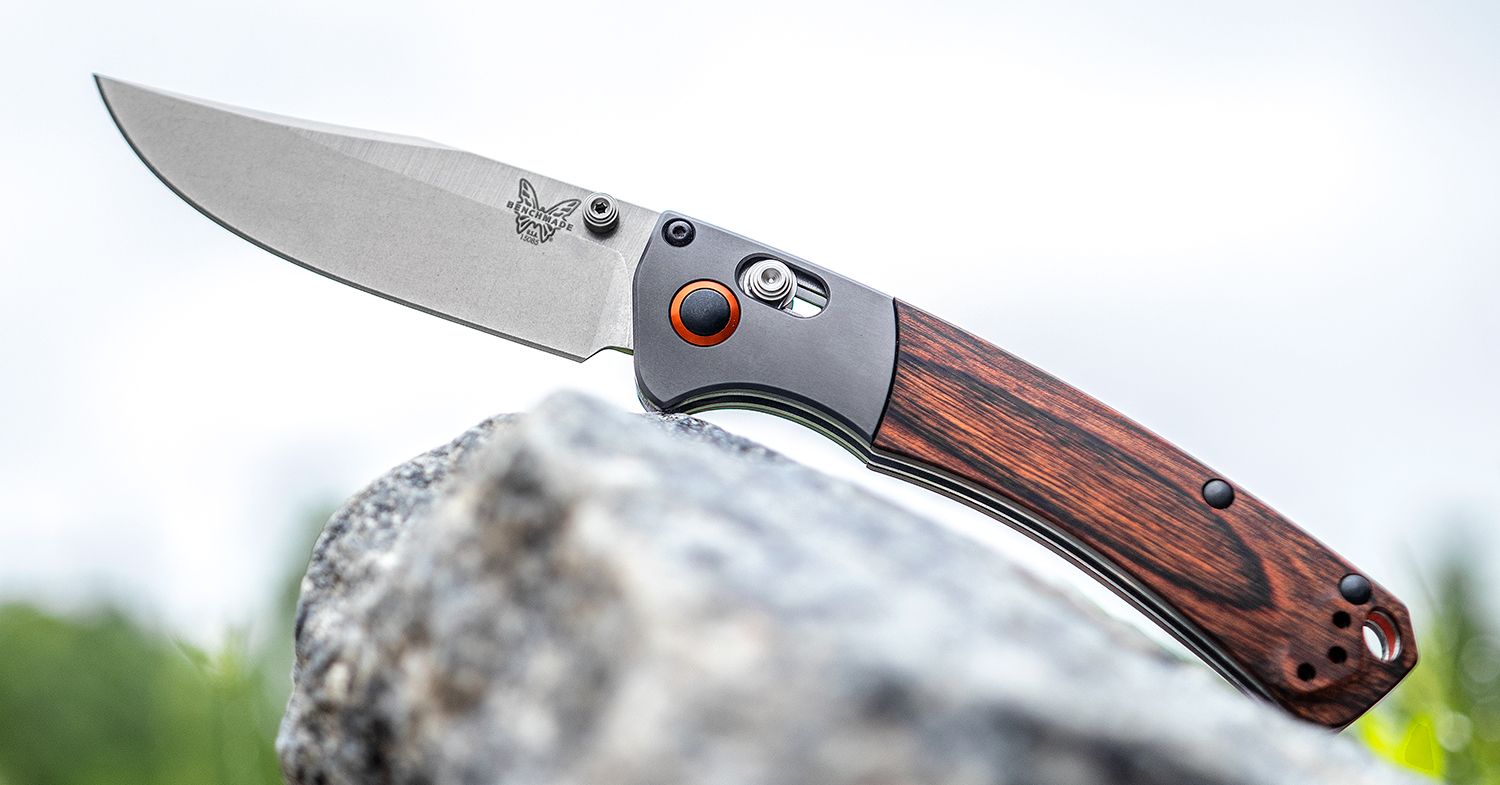 A modern twist on a classic icon, Benchmade Crooked River knives combine traditional shape with modern technology for a supremely beautiful piece that will perform just as well. Just look at those gorgeous stabilized Dymondwood scales, the sweeping clip point blade, and the strong Axis Lock that lets you flip the blade open and closed to your heart's content. Orange accents are the icing on the cake that really set this knife over the top. With long-lasting S30V steel, this is a knife that will be carried and appreciated for years to come.
LARGE

Blade Length: 4.00″
Blade Thickness: 0.124″
Handle Thickness: 0.60″
Blade Material: CPM-S30V Premium Stainless Steel
Blade Hardness: 58-60HRC
Blade Style: Clip Point
Weight: 5.41 oz.
Overall Length: 9.30″
Closed Length: 5.33″
Pocket Clip: Split Arrow (Tip-Up, Right/Left Carry)
Class: Blue
Made in the USA

SMALL

Blade Length: 3.40″
Closed Length: 4.50″
Overall Length: 7.89″
Blade Material: CPM-S30V Stainless Steel
Blade Thickness: 0.114″
Blade Hardness: 58-60HRC
Blade Style: Clip Point
Blade Finish: Satin
Handle Thickness: 0.52″
Handle Material: Contoured Dymondwood or Gray G10 with Anodized Aluminum Bolsters
Locking Mechanism: AXIS Lock
Pocket Clip: Deep-Carry Tip-Up, Right/Left
Weight: 3.29 oz.
Designer: Benchmade
Made in the USA
---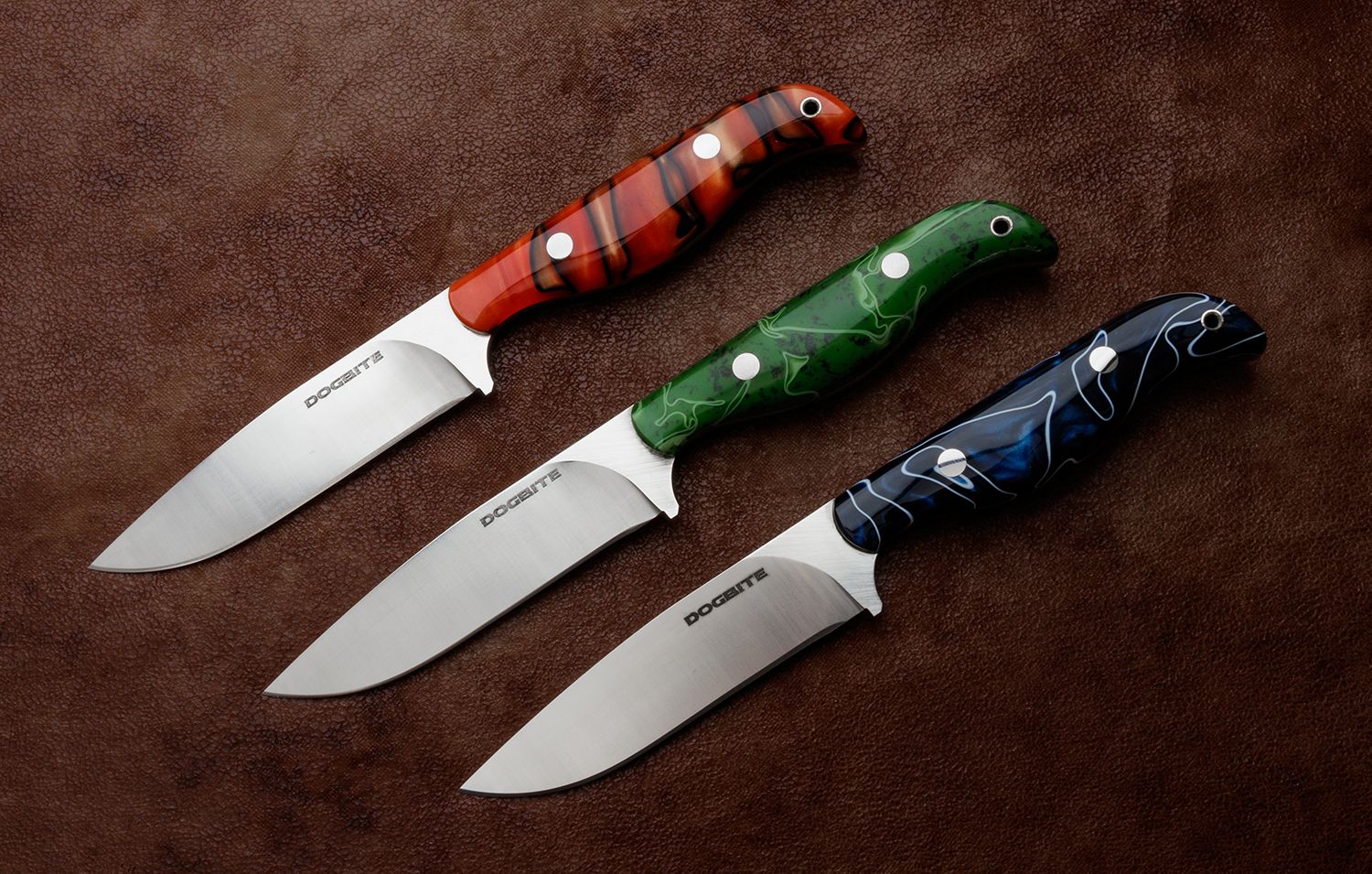 There truly aren't many jobs that the DogBite All-Around isn't suited for. The drop point blade is a solid performer, equally adept at skinning as it is opening boxes or preparing a meal. Kirinite makes a great choice of handle material too. Not only does it look great, but they are contoured and work equally well in precise holds and when gripping tight – a hard trick to pull off!
Blade Length: 4.25″
Cutting Edge: 3.98″
Handle Length: 4.21″
Overall Length: 8.46″
Blade Material: 440C Stainless Steel
Blade Thickness: 0.13″
Blade Style: Drop Point
Blade Grind: Flat
Blade Finish: Satin
Handle Material: Kirinite
Handle Thickness: 0.84″
Sheath Material: Tan Leather
Weight: 4.0 oz.
Made in the USA
---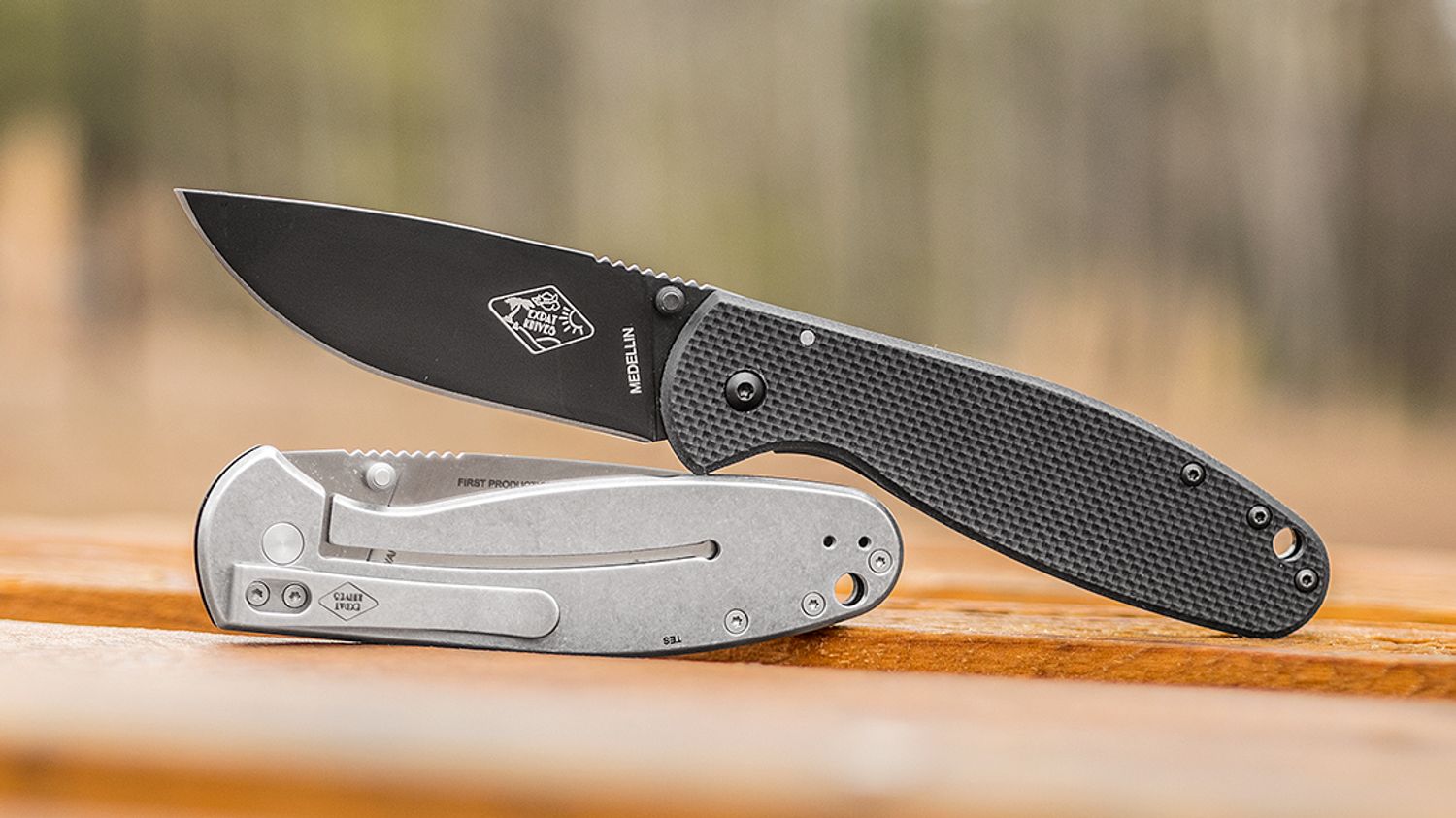 Much like ESEE's Avispa and Zancudo models, the Medellin series features sturdy stainless steel frame locks across the board. With their AUS-8 steel blades and a G10 scale for grip, these folding survival knives have lived up to every expectation we had of them. Not only is it robust, it's versatile design makes it work well in the wilderness, on the beat, and even back at home as your next EDC.
Blade Length: 3.50″
Cutting Edge: 3.50″
Closed Length: 4.80″
Overall Length: 8.38″
Blade Material: AUS-8 Stainless Steel
Blade Thickness: 0.115″
Blade Style: Drop Point
Blade Grind: Full Flat
Blade Finish: Satin or Blac
Handle Material: Black FRN with Stainless Steel Lock
Locking Mechanism: Frame
Pocket Clip: Stainless Steel (Tip-Up/Down, Right Carry)
Weight: 4.1 oz.
Made in Taiwan
---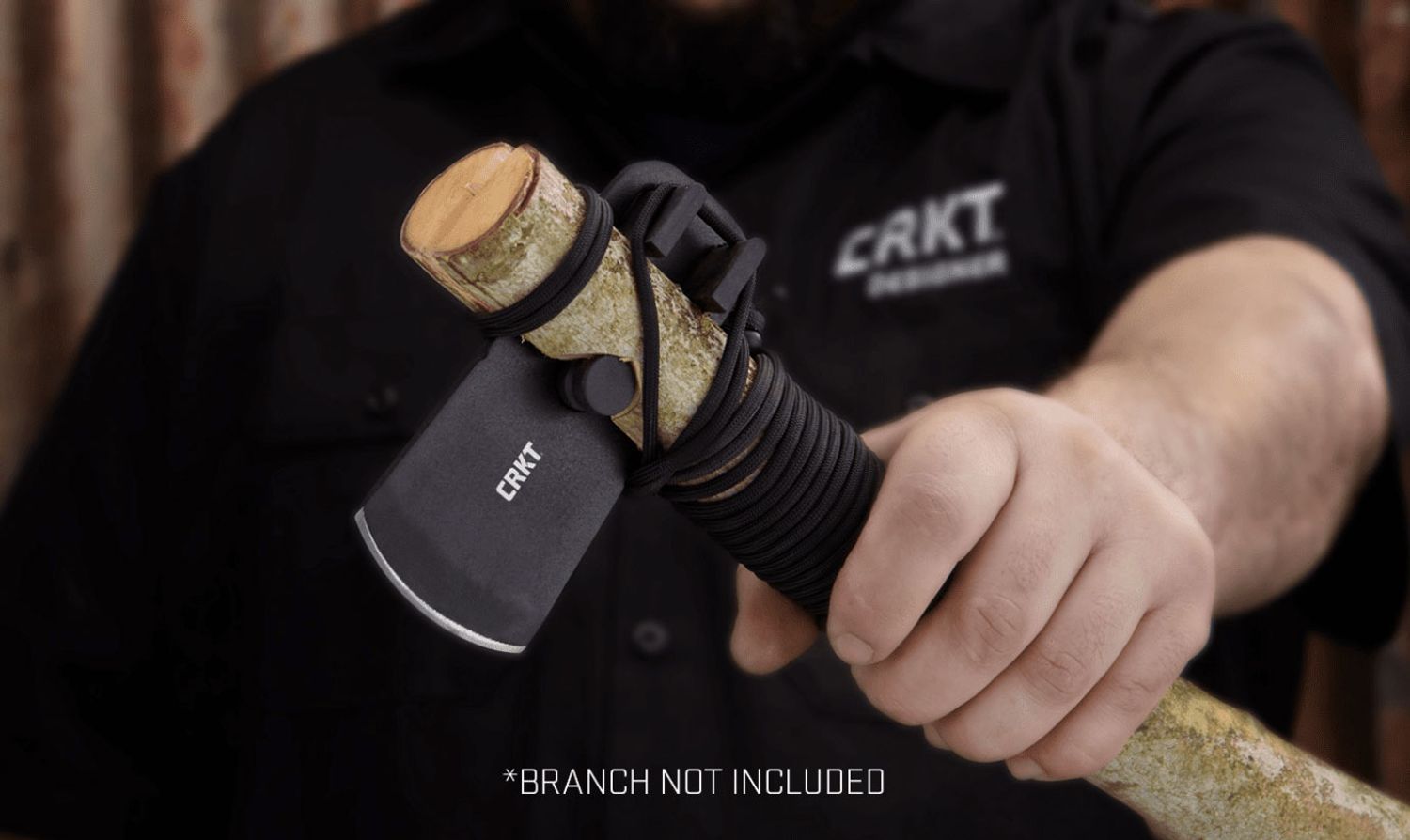 Designed by Charles Cook out of Dundee, Oregon, the Persevere will be your secret weapon around the campsite or in, god forbid, a true survival situation. This easily carried kit includes everything you need to transform an ordinary tree limb into a competent life saving, wood splitting, shelter building device. It stows away easily in a small nylon pouch that can be carried on the belt or in a pack. Glenn Klecker pioneered the design and CRKT and Chuck Cook made it available to the masses. We love this little tool!
Black Powder Coated Axe Head with Glass Reinforced Nylon Pins
Black Cord with Tie Bead
Woven Polyester Sheath with Belt Loop
Blade Length: 5.416″
Blade Material: 65Mn Carbon Steel
Blade Thickness: 0.160″
Blade Hardness: 52-56HRC
Blade Style: Axe Head
Blade Finish: Black Powder Coating
Sheath Material: Black 1680D Woven Nylon
Weight: 6.8 oz.
Designer: Chuck Cook
Made in China
---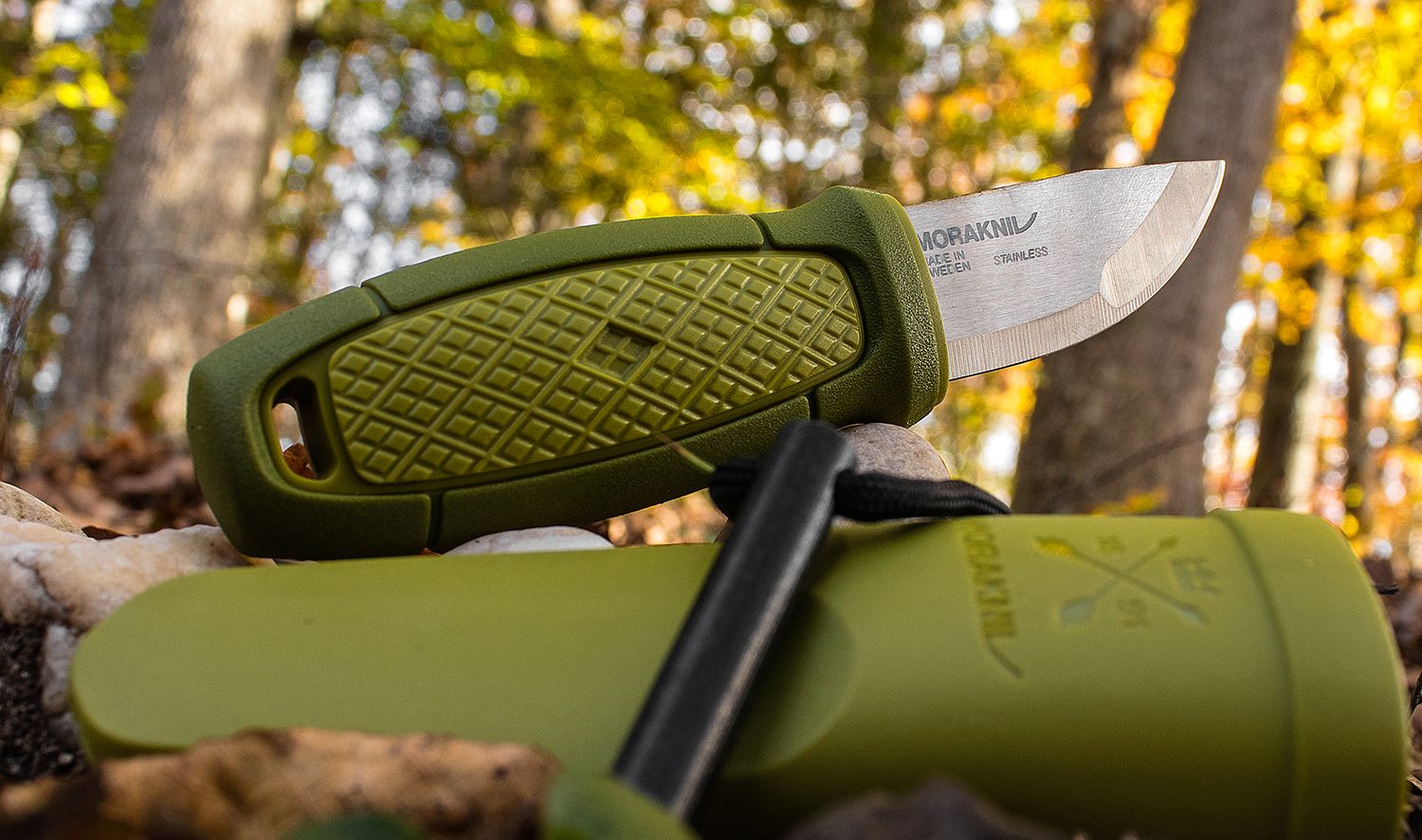 The Eldris is a pocket-sized knife that is great for whittling and small precise jobs around camp. It features a fire starter-compatible spine, a Scandi ground 12C27 blade, and the symmetrical handle shape that guarantees a secure hold in any grip. Available in a variety of handle colors, the Eldris also has some great accessories available, including a secondary lock and collar that converts it to a handy little neck knife.
Blade Length: 2.2″
Overall Length: 5.6″
Blade Thickness: 0.08″
Weight: 2.8 oz.
Sheath: Polymer
Made in Sweden
---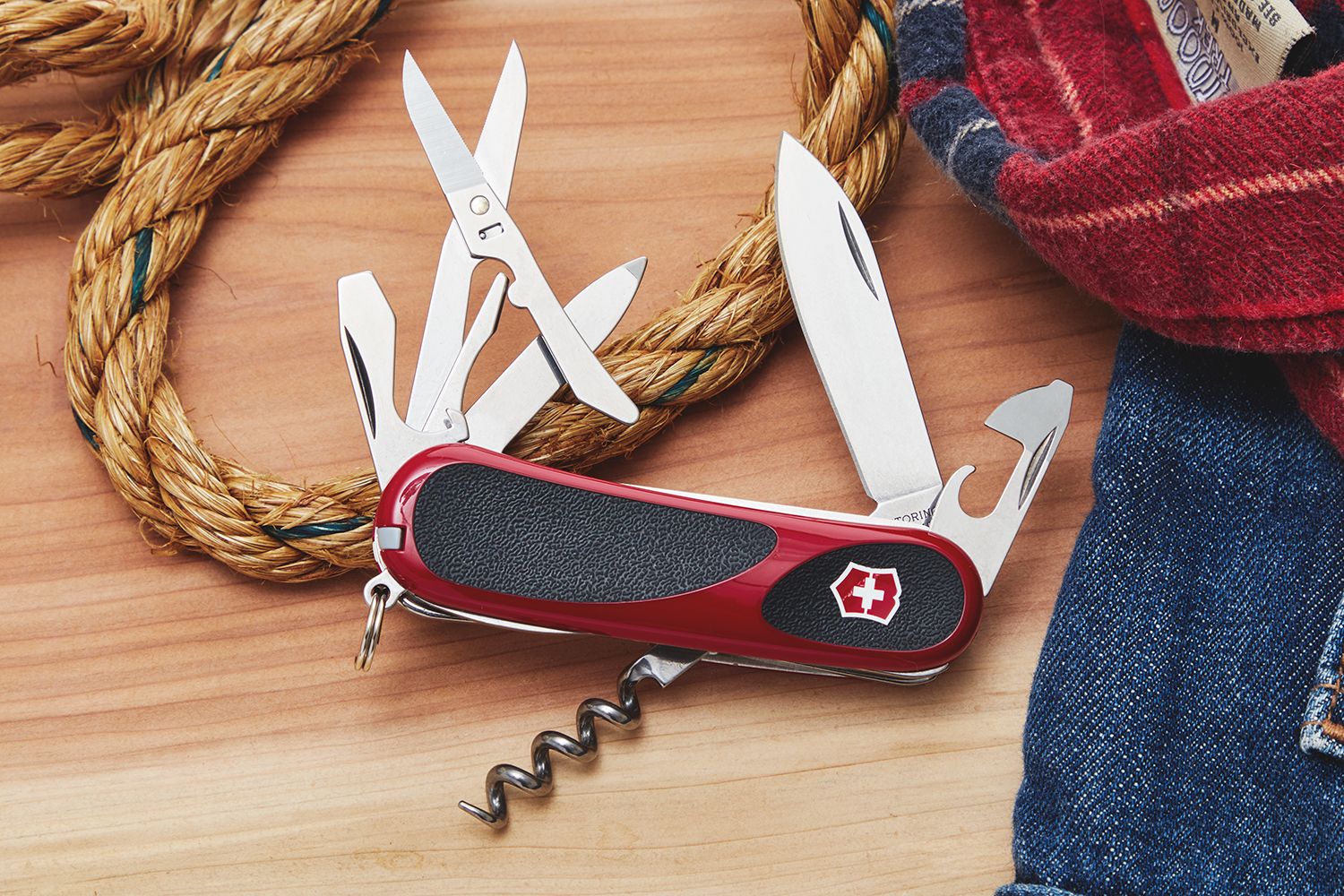 There is no better companion than a Swiss Army Knife, and with contoured handles and rubber grip inserts, there is no better SAK for outdoor use than the EvoGrip series. Available with red or yellow handles, there is an assortment of models with all the tools you could possibly need, including scissors, saws, screwdrivers, files, pliers and more!
Ergonomic handles with rubber inserts
Large blade
Can opener with small screwdriver
Nail file with nail cleaner
Bottle opener with large locking screwdriver & wire stripper
Lever design serrated edge scissors
Corkscrew
Punch
Reamer
Toothpick
Tweezers
Keyring
Lifetime warranty
---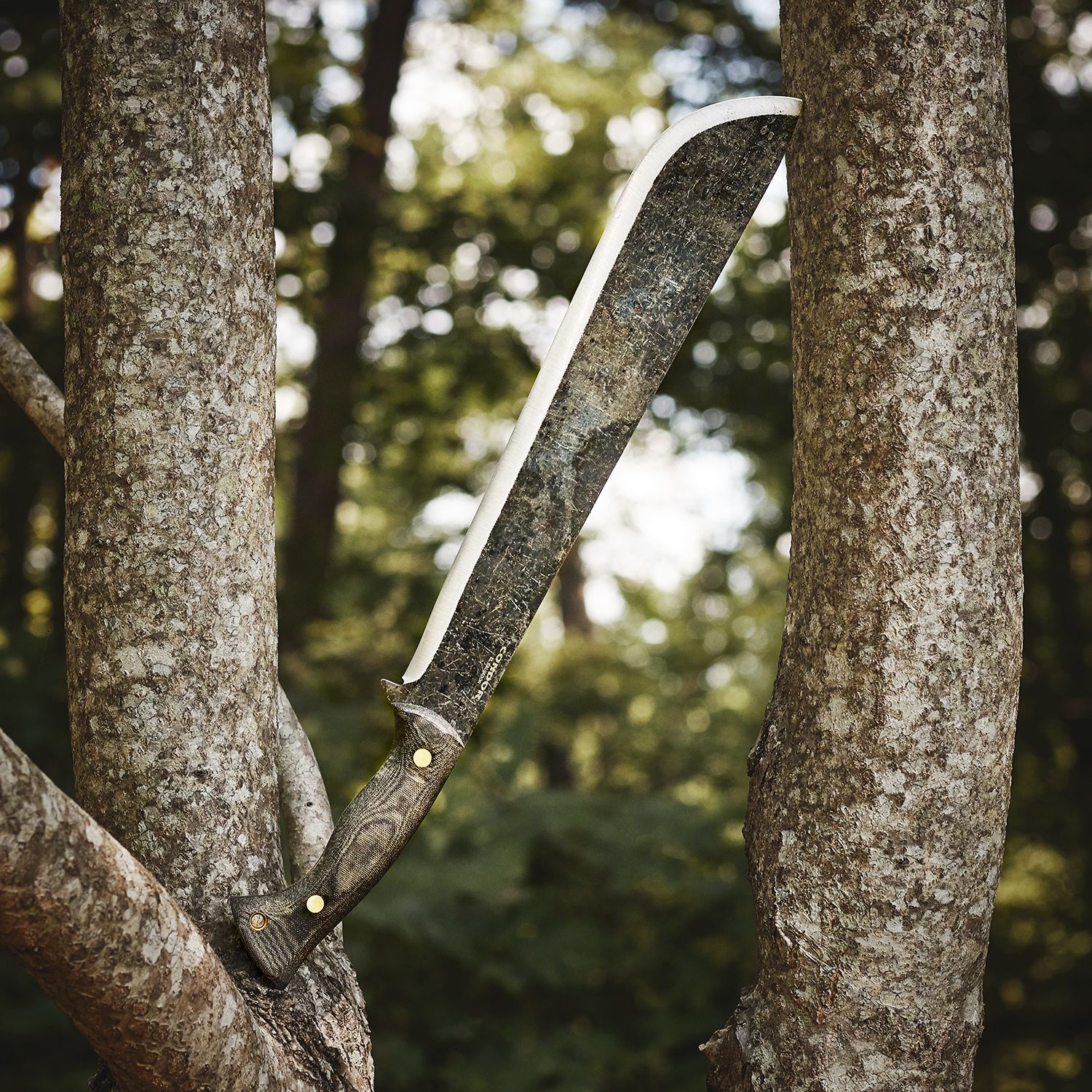 What would you carry in the post-apocalypse? A solid machete is a great tool to have when everything goes haywire, and the Condor Wastelander makes a perfect companion. The robust Micarta handle flares out at the butt end and includes a finger guard for safe handling. The blade is over 12" of pure cutting power and at 0.12" thick, it is tough enough to take any abuse and then give as good as it gets.
Blade Length: 12.69″ (322.1 mm)
Handle Length: 5.52″ (140 mm)
Overall Length: 18.21″ (462.1 mm)
Blade Thickness: 0.12″ (3.0 mm)
Blade Material: 1075 High Carbon Steel
Blade Style: Machete
Blade Grind: Convex
Blade Finish: Natural
Handle Material: Micarta
Sheath: Kydex with Leather Belt Loop
Weight: 26.46 oz. (750 g)
Designer: Julio Diez
Made in El Salvador
---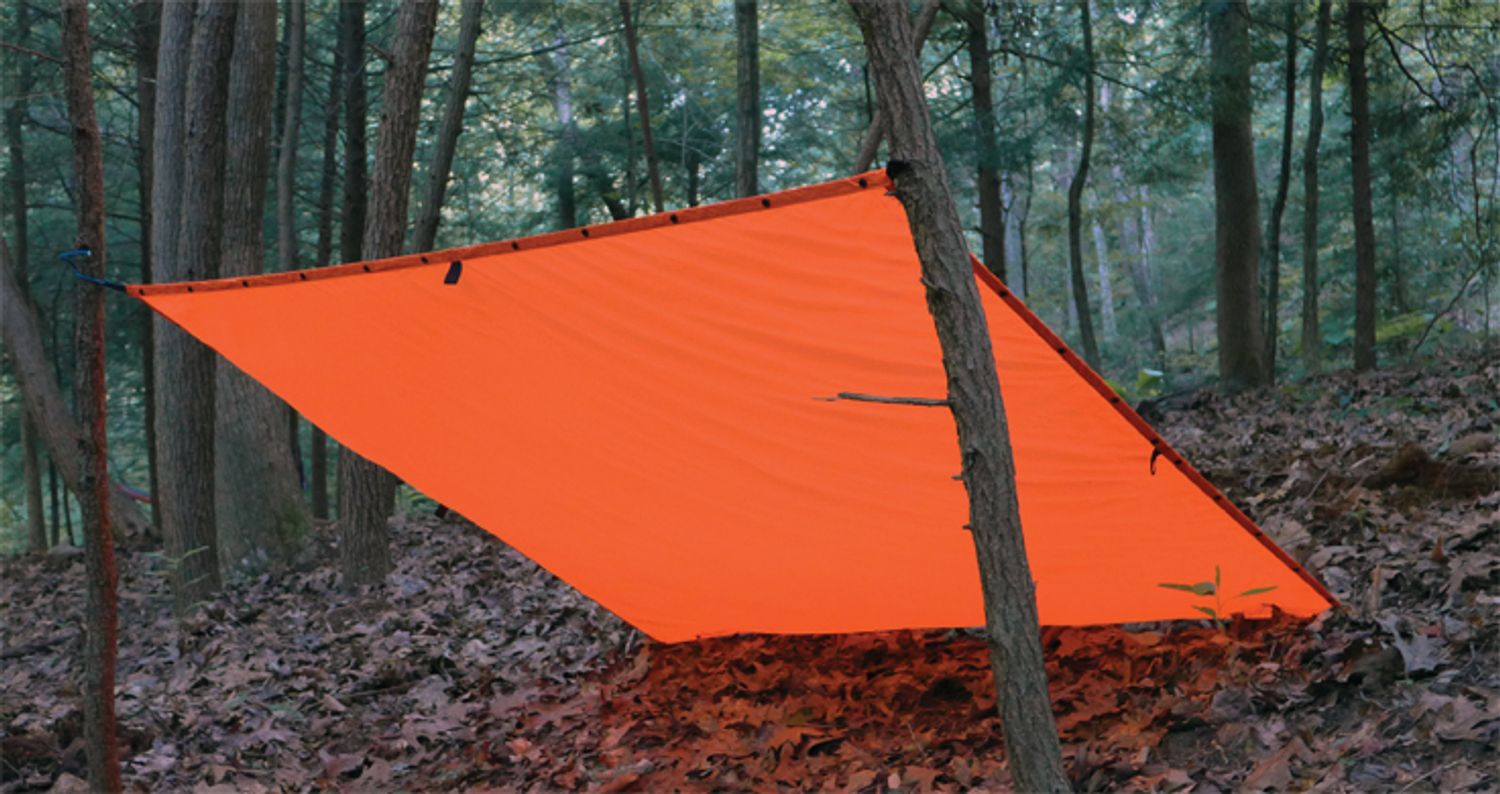 It is hard to think of a more versatile piece of survival gear than a good tarp. This 5 ft. x 5 ft. ESEE Survival Signal Tarp is constructed of sturdy 300 denier nylon and can be used to keep gear dry, as an improvised bag or hammock, and of course as a makeshift shelter. Plus, the bright orange coloration makes it a great signal panel in an emergency, making it a must have for the serious outdoorsman's pack.
Dimensions: 5 ft. x 5 ft.
Material: 300 Denier Nylon
Weight: 6 oz.
Made in the USA