It looks great, but is Damascus Steel any good? For sure! Made from two or more metals, the performance of a Damascus blade is directly tied to the base steels used to make it, which can be carbon steel or stainless. Knives with Damascus steel can climb in price very quickly, but there are still some affordable options out there that should still perform quite well. These are some of the best Damascus pocket knives for under $100 that you can get in 2020!
Alabama Damascus used to be the only name in town as far as quality affordable Damascus. It is made in America, typically from 5160 and 15N20 carbon steels. It isn't stainless so you will have to keep it clean and lightly oiled, but the result is a very tough blade that can take a nice fine edge. Although some of their steels can be folded into very precise, repeatable patterns, their so-called "random pattern" steel is what you see most often.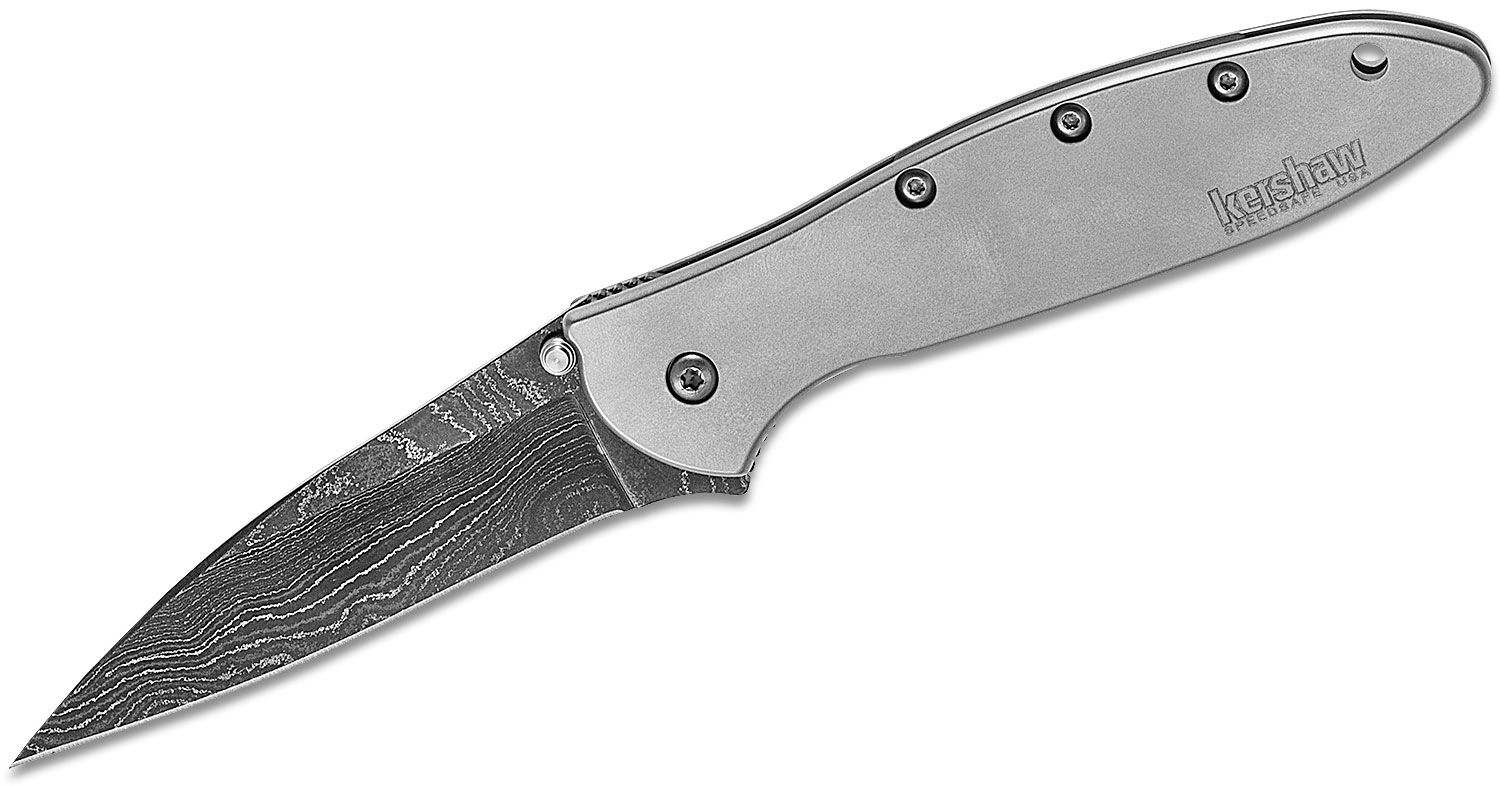 Kershaw uses this steel in several of their models, many of which can be had for less than 100 bucks. Case in point is the indomitable Kershaw Leek. The plain stainless steel handles keep things classy, and make a perfect complement to the rippling Damascus blade. With refined aesthetics, this is a great option for a Gentleman's Knife, and it is great for fidgeters too. This Ken Onion design features SpeedSafe assisted opening action, activated by a flick of the flipper tab, providing fast and consistent action.
SPECS
Blade Length: 3″
Blade Steel: Alabama Damascus
Blade Style: Modified Wharncliffe
Blade Grind: Hollow
Blade Finish: Acid Etch
Closed Length: 4″
Handle Material: 410 Stainless Steel
Lock: Frame Lock
Pocket Clip: Stainless Steel, Tip-Up Right or Left carry, Tip-Down Right carry
Weight: 3.1 oz.
Designer: Ken Onion
Made in the USA
---
CIVIVI Stainless Damascus: Plethiros
A newcomer to the budget Damascus realm is CIVIVI, itself the budget sister-brand to the more premium We Knife Co. Their new stainless Damascus is definitely making waves. Their proprietary-process steel it is based on 9Cr18MoV stainless steel – essentially 440C – meaning solid performance with a huge selection of models under the 100 dollar price point.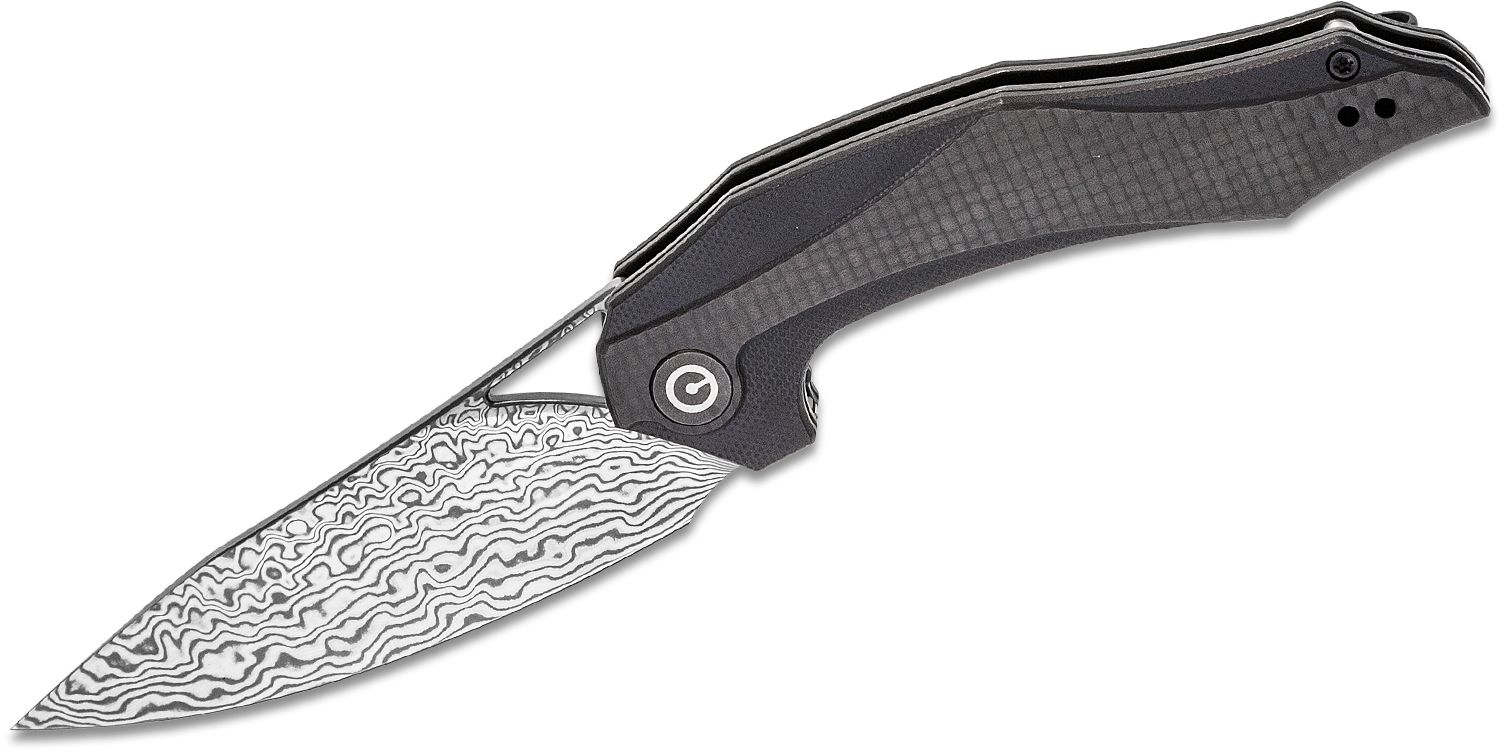 One of our favorites is the Plethiros, a design by Elijah Isham. The cool-factor is undeniable with a striking shape that still manages to be useful. The long sweeping edge is a slicing dream and the deployment of the blade is equally noteworthy. Like most CIVIVI knives, the pivot features an effortlessly smooth ball-bearing system which allows the front-facing flipper tab (which disappears when open) to launch the blade in an instant.
The handles do their part to look as fancy as the blade steel too, featuring a black G10 base with a layer of carbon fiber on top. The carbon fiber is selectively milled away to reveal the G10 underneath. The contrast of the CF weave, the plainer G10, and the swirling maelstrom of the blade is sublime.
SPECS
Blade Length: 3.45″ (89 mm)
Closed Length: 4.45″ (112 mm)
Overall Length: 7.90″ (201 mm)
Blade Material: Damascus
Blade Thickness: 0.120″ (3.0 mm)
Blade Hardness: 59-61HRC
Blade Style: Drop Point
Blade Grind: Flat
Blade Finish: Acid Etch
Handle Material: Black G10 with Carbon Fiber Overlays
Handle Thickness: 0.51″ (13.0 mm)
Liner Material: Stainless Steel
Locking Mechanism: Liner
Pivot Assembly: Bearings
Pocket Clip: Deep Carry Stainless Steel (Tip-Up, Right/Left Carry)
Weight: 3.17 oz. (90 g)
Designer: Elijah Isham
Made in China
---
Some companies combine modern Damascus steel techniques with the older laminating steel techniques. By using a high-performance core of steel sandwiched between two layers of Damascus cladding on the outsides, they can achieve the good looks of Damascus for less money. After all, the cladding doesn't need to hold an edge, so they can select cheaper steels that look great without sacrificing the performance of the core.
This process can be done with a variety of core steels, but VG-10 stainless is by far the most common. You see it a lot in kitchen knife construction, but it does show up in the world of folders too. Most cost a bit more than the $100 ceiling we are looking at today, but the G. Sakai Money Clip is affordable at just $68 at the time of this writing.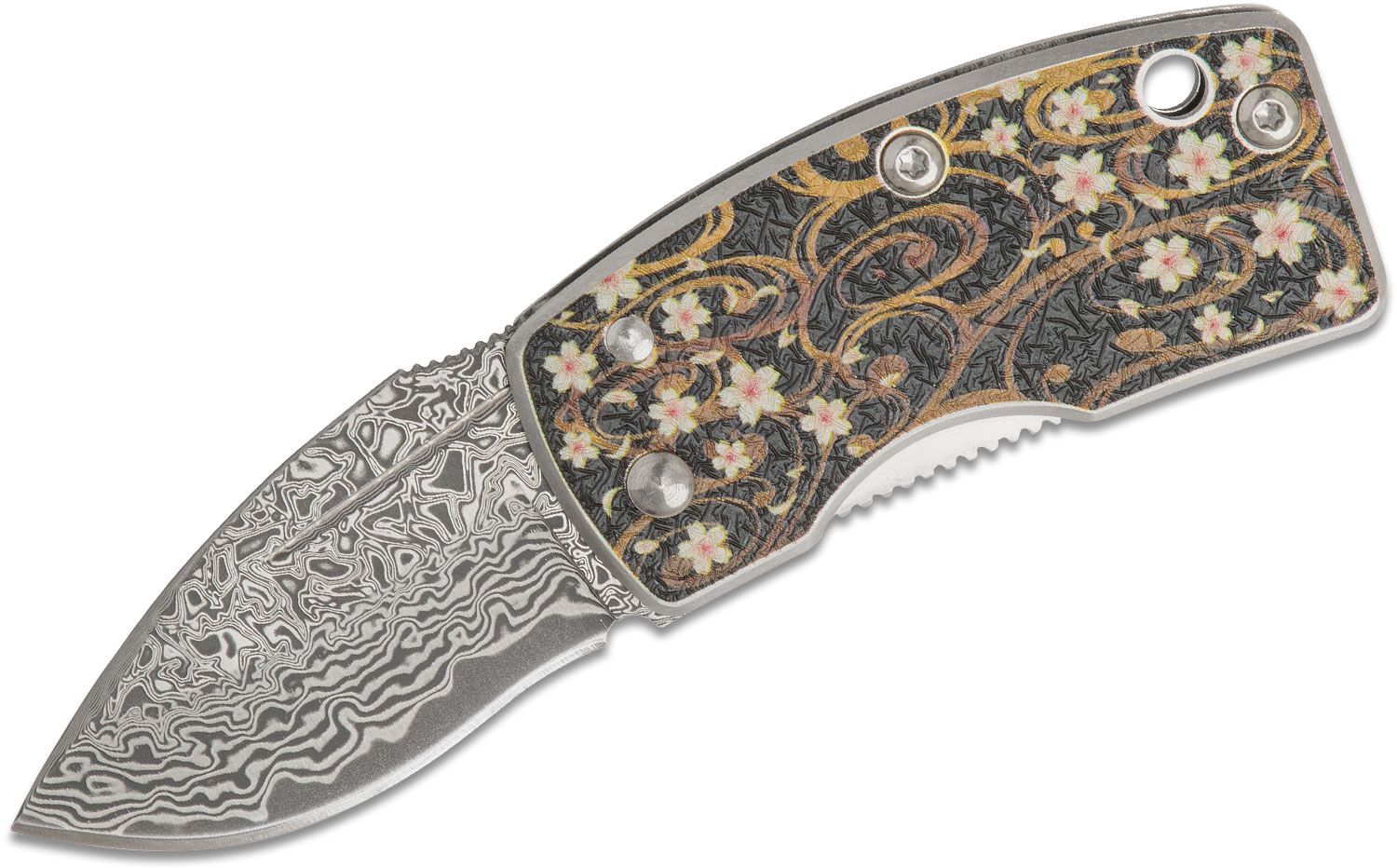 It features a smaller blade – just enough for day-to-day utility of opening boxes and packages and other small cuts. It is certainly capable, with a framelock for security and a "katana" nail nick for opening the blade, but its true purpose is to be a piece of art! Made in Japan, the stainless steel handles are truly ornate, featuring Japanese Ukiyo-e art – literally "pictures of the floating world." They are truly stunning and are available with several patterns, as well as with non-Damascus VG10 blades for even less money.
SPECS
Blade Length: 1.61″
Cutting Edge: 1.54″
Closed Length: 2.16″
Overall Length: 3.78″
Blade Material: Damascus Steel
Blade Thickness: 0.08″
Blade Style: Drop Point
Blade Finish: Acid Etch
Handle Material: Stainless Steel
Locking Mechanism: Frame
Pocket Clip: Tip-Down, Right Carry
Weight: 1.4 oz.
Made in Japan
---
To see more types of Damascus steel that are out there, including Damasteel, Chad Nichols and Devin Thomas Damascus, be sure to check out this video for even more awesome knives.