This week, it's a return to form with a future classic from Spyderco and an irresistably cool Ontario budget folder, plus a video overview from David C. Andersen of all the greatest new knives, big and small. Read on and let's dive in!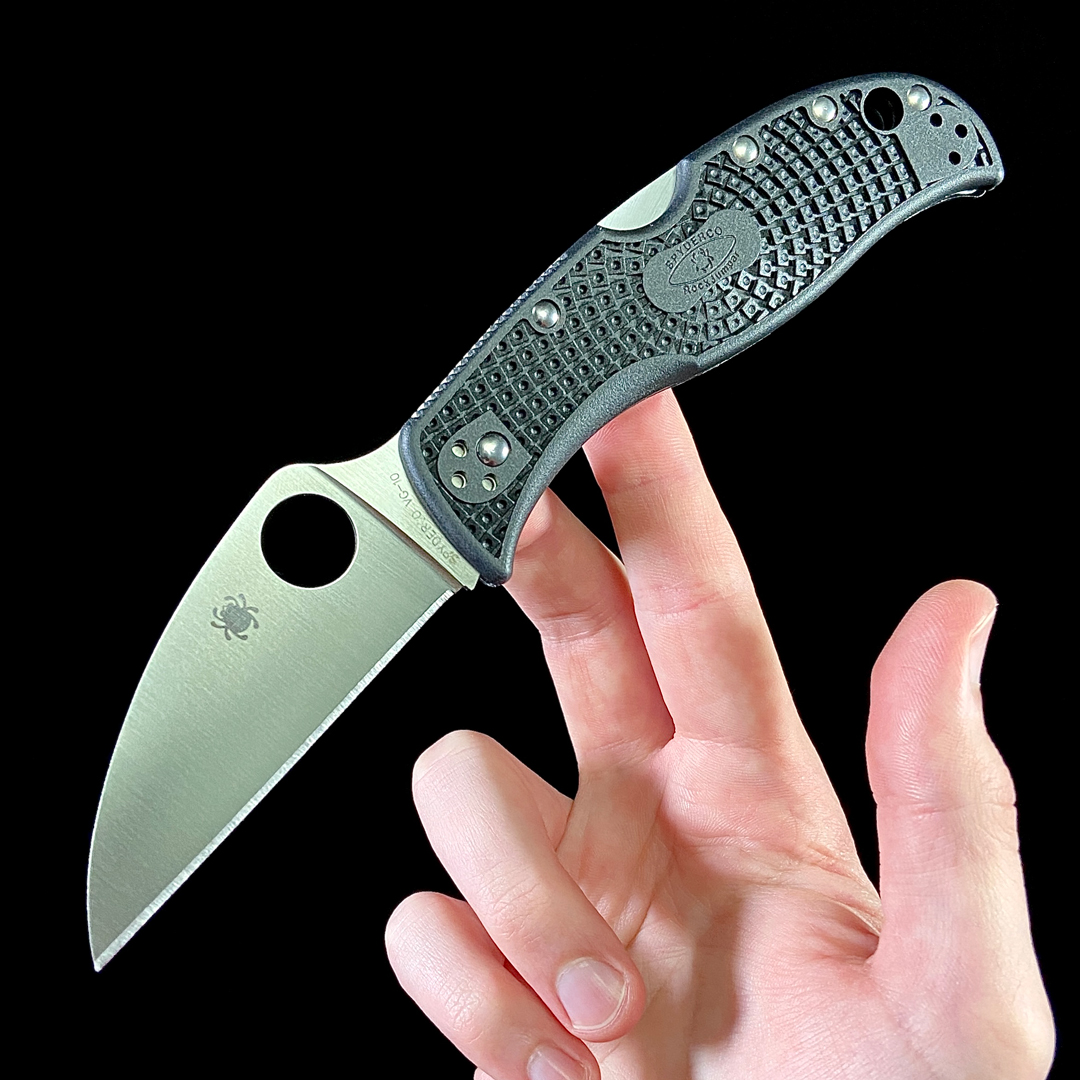 The Spyderco Rockjumper just rappelled down onto our shelves, joining the ranks of Spyderco's Seki City, Japan lineup alongside classics like the Delica and Endura. The Rockjumper was designed with climbers and outdoor enthusiasts in mind, but really it's perfect for anyone who needs a cutting tool built to excel in challenging conditions.
The key advantage of the Rockjumper is its highly efficient design, which carefully shrinks the unsharpened "dead zone" between handle and edge without sacrificing safe one-handed operation. As compared to the aforementioned Delica and Endura—both of which have noticeable lengths of unsharpened ricasso on the blade—the edge of the Rockjumper stretches virtually all the way back to the handle, allowing for thoughtless cutting. No matter where you contact the blade, as long as you're pushing the right way you're sure to get a clean cut.  
Available with either a plain edge or fully serrated VG-10 blade, a back lock, and 4-way reversible pocket clip, this Wharncliffe folder is ready to work.
Blade Length: 3.08″ (78 mm)
Closed Length: 4.42″ (112 mm)
Overall Length: 7.49″ (190 mm)
Cutting Edge: 2.83″ (72 mm)
Blade Thickness: 0.118″ (3.0 mm)
Blade Material: VG10 Stainless Steel
Blade Style: Wharncliffe
Blade Grind: Full-Flat
Blade Finish: Satin
Handle Material: FRN
Handle Color: Black
Locking Mechanism: Lockback
Pocket Clip: Stainless Steel (Tip-Up/Down, Right/Left Carry)
Model Number: C254PBK
Model Name: Rockjumper
Weight: 3.1 oz. (88 g)
Made in Japan
---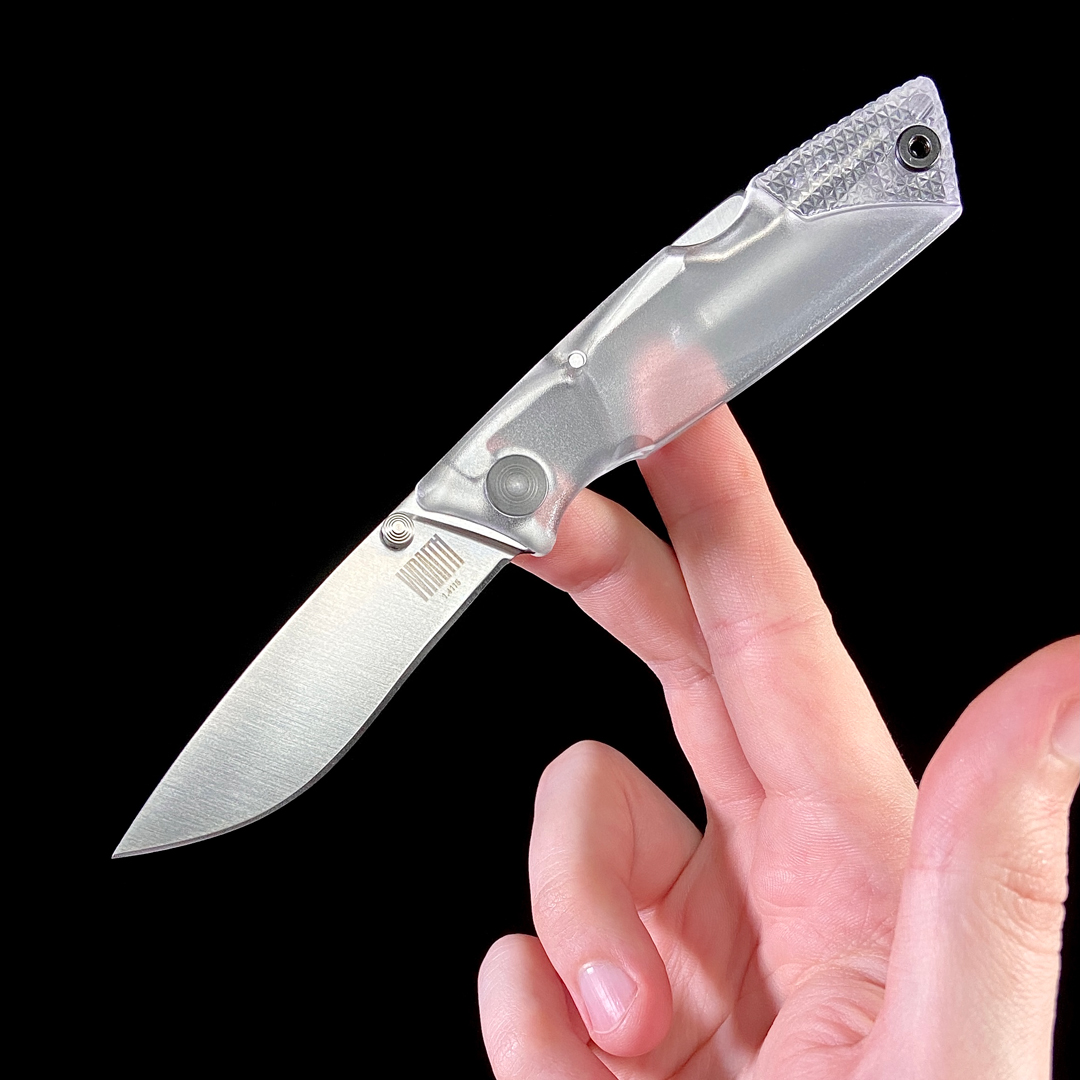 Ever wanted to see the mechanics of a folding knife in action? With Ontario's new "Ice" Wraith, you can! The original Wraith is an excellent, if unremarkable budget folder—a simple lockback design that offers a pretty compelling package for the price. This Ice Wraith, on the other hand, is seriously cool!
Occasionally, we'll see "demonstrator" knives like this made specially for retailers to showcase an unusual or innovative lock design, but this is the first time this see-thru look has been broadly available on a production knife in years, if not decades. By swapping out the plain black handles for translucent plastic, Ontario has elevated this humble everyday carry knife into a show-stopper. There's just something irresistible about watching the backlock snap securely into place from the outside. The 2.6-inch 1.4116 steel blade is well-equipped for everyday cutting tasks, and for just $22.75 it's an irresistible deal!
Blade Length: 2.60″
Closed Length: 3.90″
Overall Length: 6.50″
Blade Material: German 1.4116 Stainless Steel
Blade Hardness: 57-59HRC
Blade Style: Drop Point
Blade Finish: Satin
Handle Material: Clear Plastic
Locking Mechanism: Lockback
Pocket Clip: Tip-Up, Right/Left Carry
Weight: 1.50 oz.
Made in Taiwan