We've got tons of cool tactical pocketknives and combat fixed blades to show you this week, including some nice budget options from Spyderco and CRKT, a new collaboration from Microtech and Bastinelli Creations, as well as SOG's new flagship folder and more.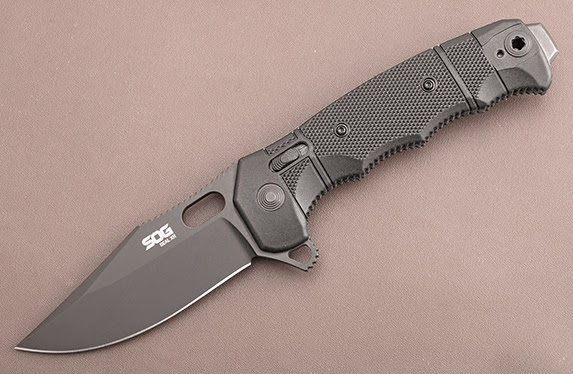 SOG's new XR Lock is the beating heart of this tactical beast, bringing sublime action and hardy lockup to the American-made S35VN blade. The SEAL XR flipper is truly a worthy cousin to their famous fixed blade Bowie knives with razor sharpness, a ball-bearing pivot, impressive grip, and a "Persuader" tool on the end of the handle for prying and thumping
Blade Length: 3.9″
Overall Length: 9.2″
Closed Length: 5.3″
Blade Material: S35VN Stainless Steel
Blade Style: Clip Point
Blade Finish: Black TiNi
Handle Material: Black Glass Reinforced Nylon
Locking Mechanism: XR Lock
Pocket Clip: Tip-Up, Reversible
Weight: 8.2 oz.
---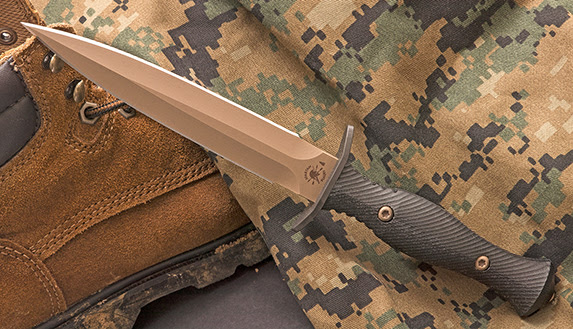 Balanced, agile, fearsome. Three words that perfectly describe this Bill Harsey-designed dagger, which might be the epitome of combat knife design. Premium materials are along for the ride, including PVD coated S35VN steel and a G10 handle that wraps around the tang for a supremely comfortable hold. Take your pick of a nylon sheath or Kydex, both MOLLE compatible and designed to keep your blade within reach at a moment's notice.
Blade Length: 6.0″
Cutting Edge: 5.25″
Handle Length: 4.75″
Overall Length: 10.75″
Blade Material: CPM-S35VN Stainless Steel
Blade Thickness: 0.188″
Blade Hardness: 58-60HRC
Blade Style: Double Edge Dagger
Blade Grind: Flat
Blade Finish: PVD – ZrN (FDE – Flat Dark Earth)
Handle Material: 3D Contoured Double Black CE Canvas Micarta
Handle Thickness: 0.94″
Sheath Material: Nylon or Tan Kydex with Pull The Dot Belt Loops
Weight: 6.72 oz.
Weight with Sheath: 11.43 oz.
Designer: William "Bill" Harsey
Made in the USA
---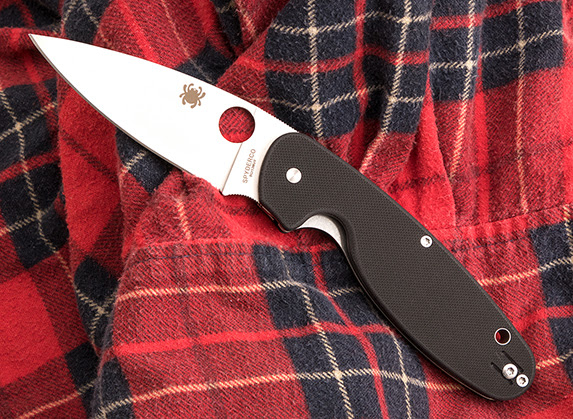 An affordable brute, the new Spyderco Emphasis is built for long days outside the wire. A full metal backspacer anchors the handle and Spyderco's signature leaf-shaped blade is ready to slice and pierce to your heart's content. Trust the sturdy liner lock to keep things secure, and you won't have to worry about making it home safely.
Blade Length: 3.61″ (92 mm)
Cutting Edge: 3.26″ (83 mm)
Closed Length: 4.81″ (122 mm)
Overall Length: 8.31″ (211 mm)
Blade Thickness: 0.118″ (3.0 mm)
Blade Material: 8Cr13MoV Stainless Steel
Blade Style: Leaf-Shaped
Blade Grind: Full Flat
Blade Finish: Satin
Blade Edge: Plain or Partially Serrated
Handle Material: Textured G10
Handle Color: Black
Locking Mechanism: Liner Lock
Pocket Clip: Tip-Up, Left/Right Carry
Model Number: C245GP
Model Name: Emphasis
Weight: 4.8 oz. (136 g)
Made in China
---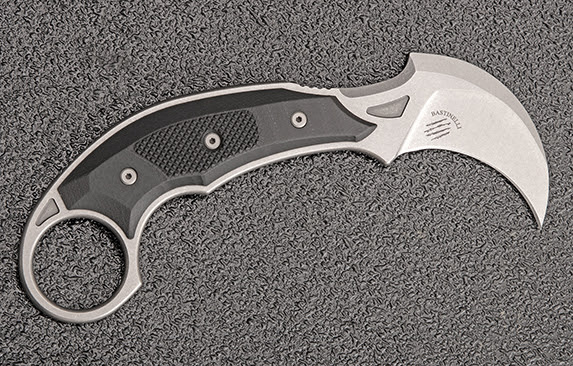 A collaboration design between Bastinelli and Microtech, the Iconic might just be the perfect karambit – compact, yet packing an incredible punch. Beveled G10 handle scales look and feel great, and the full tang construction ensures a lifetime of service. Currently sporting CTS-204P steel, the hawkbill blade has the edge retention you crave in a premium tool.
Blade Length: 2.25″
Cutting Edge: 1.625″
Handle Length: 4.25″
Overall Length: 6.0″
Blade Material: Blade steel for 2019 will be Carpenter CTS-204P – while metal supplies last, blades can also be M390 or Elmax
Blade Thickness: 0.125″
Blade Style: Hawkbill
Blade Grind: Flat
Blade Finish: Stonewash
Handle Material: Black G10
Handle Thickness: 0.45″
Sheath Material: Carbon Fiber Finish Kydex with Belt Adapter
Weight: 3.0 oz.
Weight with Sheath: 6.1 oz.
Designer: Bastien Coves
Made in the USA
---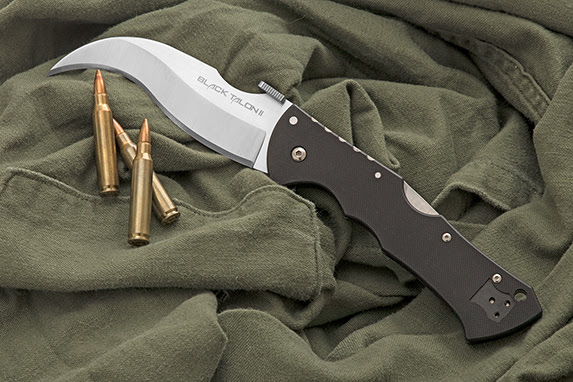 If you like a hawkbill blade, but prefer a more traditional handle, then the Black Talon II from Cold Steel is a great choice. With sinuous curves and a needle-sharp tip, it will be a wicked cutter, and CTS-XHP steel ensures the edge will last. Backing it all up is one of the strongest locks on the market, the Andrew Demko-designed Tri-Ad, making this a trustworthy addition to your collection.
Blade Length: 4″
Blade Thickness: 3.5 mm
Overall Length: 9-1/2″
Steel: Carpenter CTS-XHP Alloy
Weight: 4.8 oz.
Handle: 5-1/2″ Long. G10
Pocket Clip: Ambidextrous Pocket / Belt Clip
Made in Taiwan
---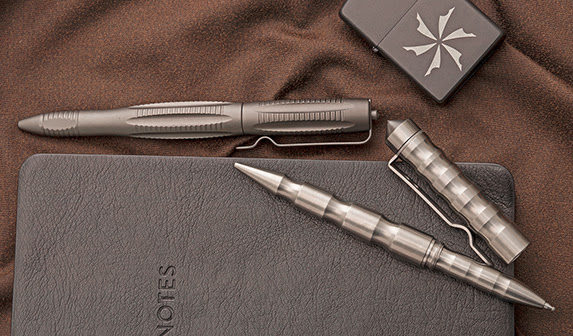 You should be carrying a pen anyway, so what better way to add a self-defense tool to your pocket than integrating a tactical pen into your everyday carry? Boker, one of the world's premier knife makers, has turned their attention to these writing implements and we are proud to offer their wide selection to you. From kubotan-style pens to bolt-action mechanisms, to models that integrate a smartphone stylus, there are plenty of options for anyone.
---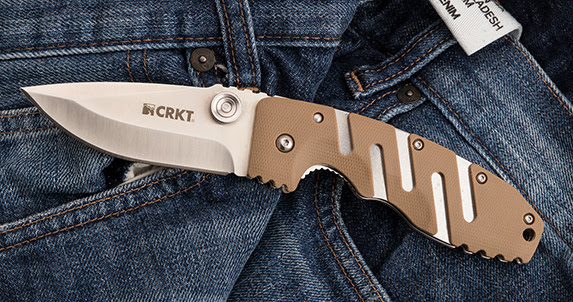 The CRKT Ryan Model Seven pocket knife is designed for folks who have no time for excuses. When one lock isn't enough, this folder is equipped with a secondary LAWKS system for an extra layer of safety. This knife is even a great option when wearing heavy work gloves thanks to the oversized thumb-lug that makes it easy to open the blade in any scenario. At the current low price of just under $20, anyone can afford one too, so there is no excuse to be without a capable blade.
Blade Length: 3.43″
Cutting Edge: 3.15″
Closed Length: 4.65″
Overall Length: 7.99″
Blade Material: 8Cr14MoV Stainless Steel
Blade Thickness: 0.13″
Blade Style: Drop Point
Handle Material: Zytel
Handle Thickness: 0.53″
Liner Material: Steel
Locking Mechanism: Liner
Pocket Clip: Tip-Down, Right Carry
Weight: 5.4 oz.
Made in China
---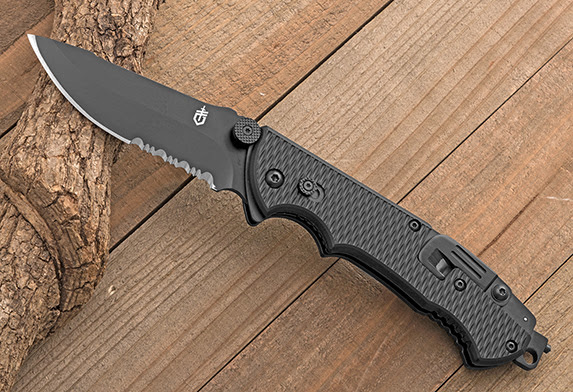 The Combat Life Saver from Gerber and Rick Hinderer has everything the rescue or tactical operator needs in one convenient package. The black finished blade features partial serrations for cutting of fibrous material like rope or fabric, but that is just the start of the capabilities on offer. The rear of the handle includes a seat belt cutter for cutting through webbing, an oxygen tank wrench, and even a window breaker so you that nothing can hold you back. With a lifetime warranty to back it up, the Gerber Hinderer CLS will be there when you need it.
Item # 22-41870
Overall Length: 8.5″
Blade Length: 3.5″
Closed Length: 5.0″
Lock Mechanism: Liner Lock
Blade Material: 440A Stainless Steel
Blade Type: Partial Serrated
Opening Style: One-handed opening
Weight: 5.8 oz.
Lifetime Warranty
Made in Taiwan