Some cool new stuff this week, including the new Italian-made Reactor tactical folders from Maserin, the new Compound OTF from Hogue, sporting hybrid aluminum and G10 handle construction, plus a new karambit design, the Korbin, from our friends at RMJ Tactical.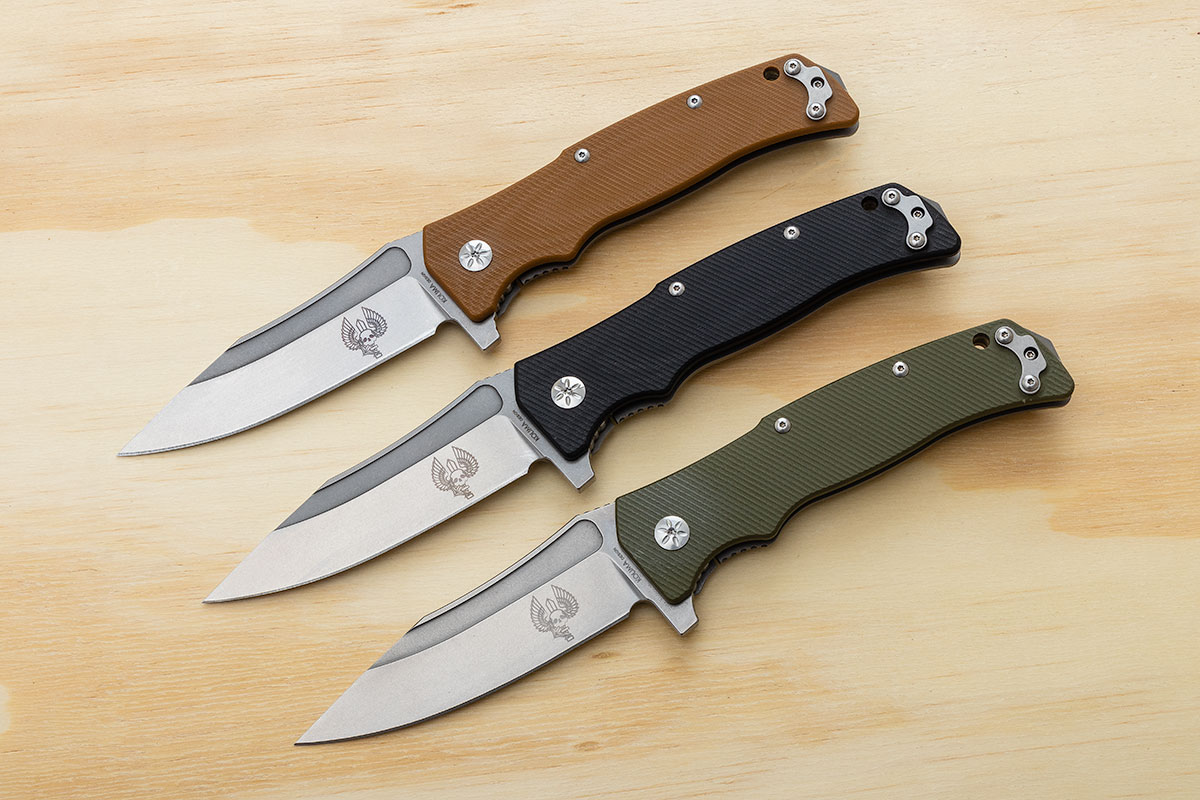 Offering nearly four inches of blade in a slim frame, the Maserin Reactor makes it easy to carry a big knife every day. The rugged D2 steel blade can be flipped open easily, but we also appreciate the ability to use the long fuller to open it with your thumb when you want to be more deliberate. The G10 scale and titanium framelock are built strong, and a glass breaker on the butt of the knife ups the versatility of this supercharged tool.
Blade Length: 4.13″
Cutting Edge: 3.90″
Closed Length: 5.43″
Overall Length: 9.65″
Blade Material: D2 Tool Steel
Blade Hardness: 58-61 HRC
Blade Thickness: 0.16″
Blade Style: Clip Point
Blade Finish: Stonewash
Handle Material: G10 & Titanium
Handle Thickness: 0.48″
Locking Mechanism: Frame
Pocket Clip: Reversible Tip-Up Carry
Weight: 5.6 oz.
Designer: Nicolai Lilin
Made in Italy
---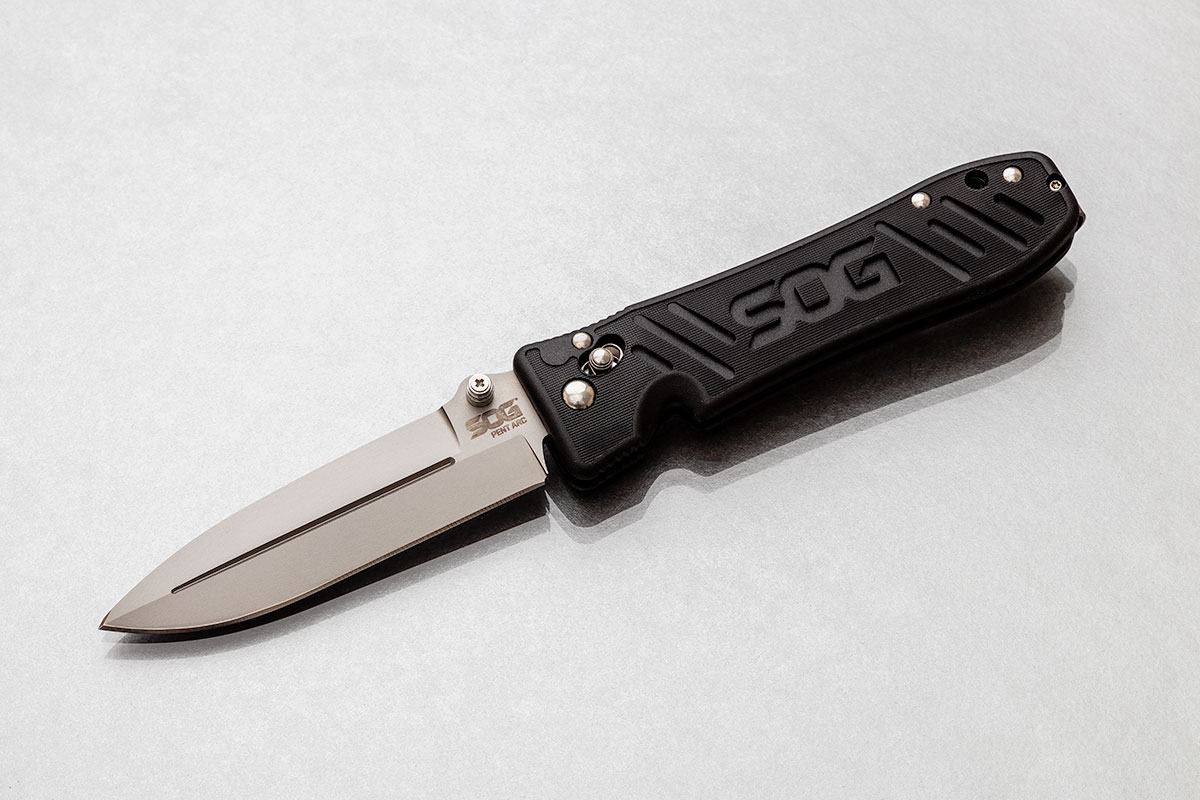 This SOG Pent Arc is a purpose-built knife is crafted by the masters in Seki City, Japan, channeling their rich history of fearsome blades into this pocketable EDC and tactical warrior. The dagger profile features a broad false edge on the spine, with a hint of it right behind the tip being sharpened for maximum penetration. Backing this up is SOG's Arc-Lock, which enables smooth one-handed opening, strong lockup, and fully ambidextrous operation.
Blade Length: 4.0″
Closed Length: 4.80″
Overall Length: 8.80″
Blade Thickness: 0.14″
Weight: 4.4 oz.
Blade Steel: VG10 Stainless Steel
Finish: Bead Blast
Handle: GRN
Country of Origin: Japan
---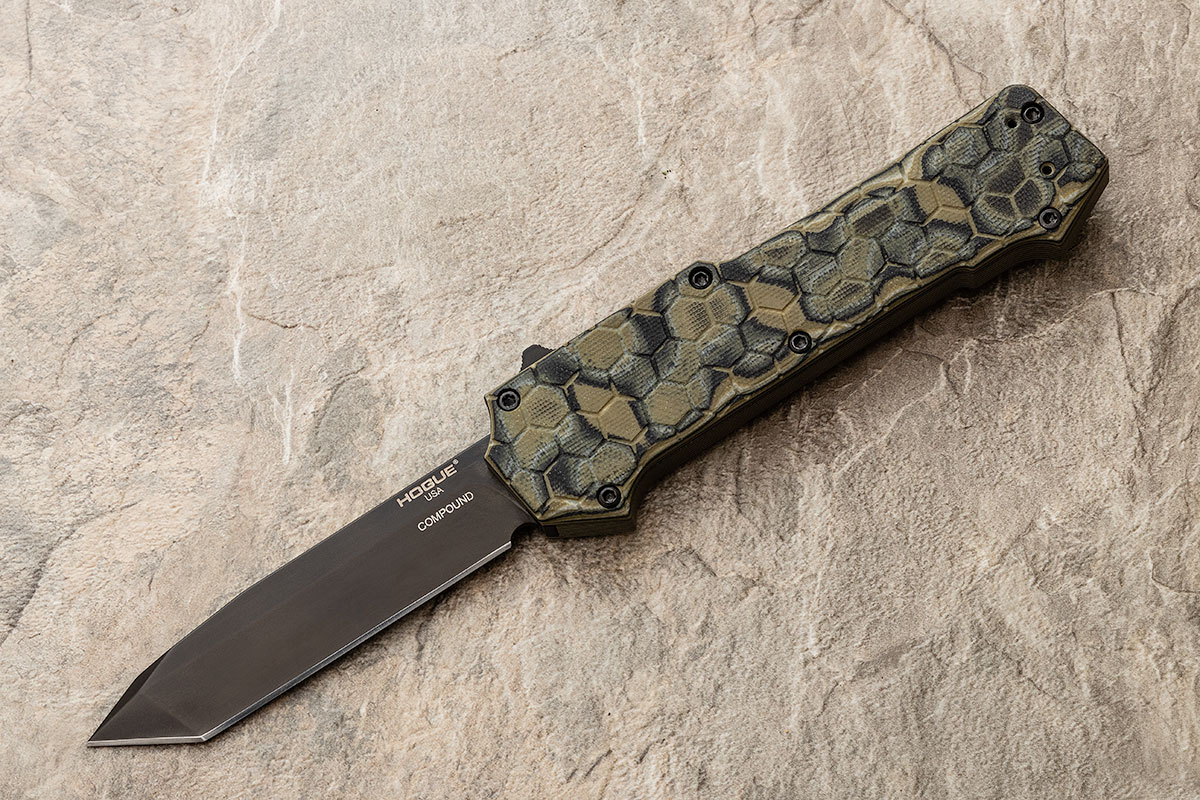 The new Hogue Compound OTF automatic knives feature a hybrid aluminum and G10 frame for a distinctive and strong handle without adding a lot of weight. Their engineering is top-notch, we love the hexagonal milling they've applied and the assortment of G-Mascus colors that are available. Whether you pick the tanto or clip point profile, S30V offers more edge retention than many competing automatics on the market today.
Blade Length: 3.50″
Closed Length: 4.90″
Overall Length: 8.40″
Blade Material: CPM-S30V Stainless Steel
Blade Thickness: 0.125″
Blade Hardness: 58-61HRC
Blade Style: Clip Point or Tanto
Blade Grind: Flat
Blade Finish: Stonewashed or Black PVD
Blade Treatment: Cryogenically Treated
Handle Material: Black G10 with 6061-T6 Aluminum Chassis
Locking Mechanism: Thumb Slide
Pocket Clip: Stainless Steel (Tip-Down, Right/Left Carry)
Designer: Allen Elishewitz
Weight: 3.6 oz.
Made in the USA
---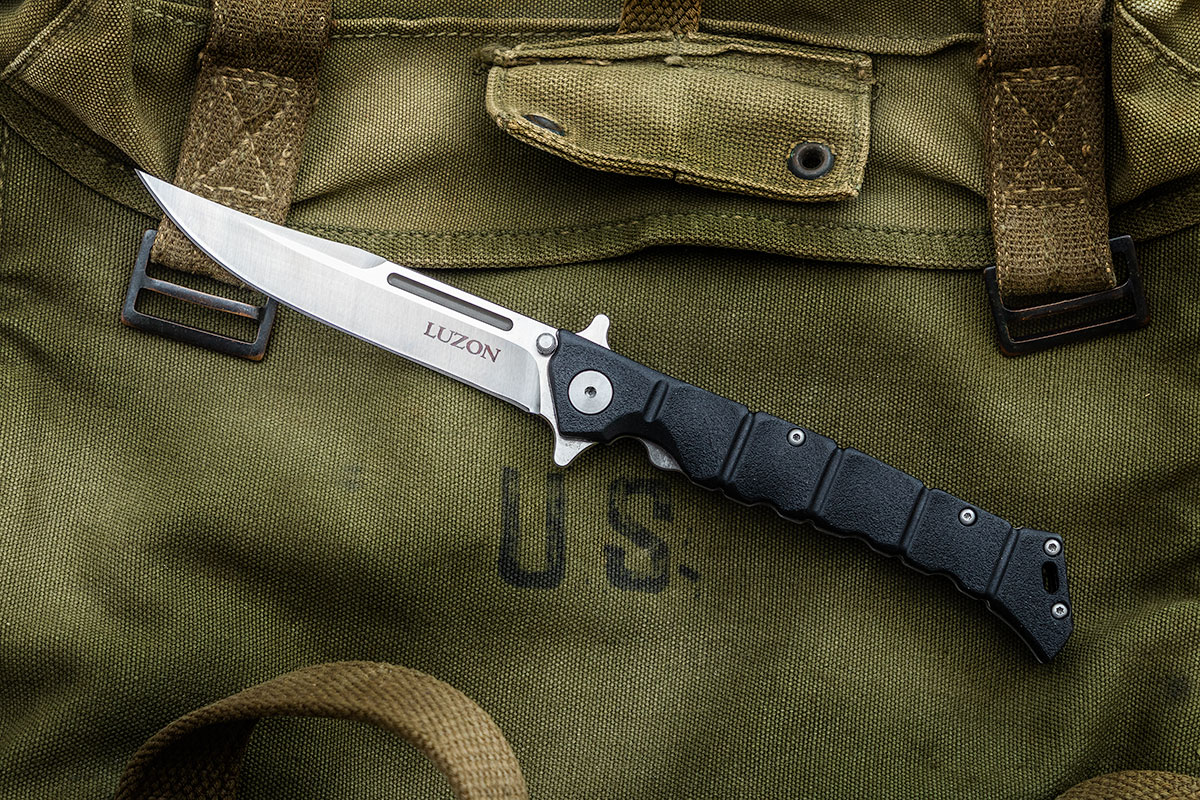 Modeled after butterfly knives in Cold Steel Founder Lynn Thompson's personal collection, the Luzon won't hurt your wallet, but it certainly is formidable – even the smaller variant sports a 4-inch blade, with the large featuring a full 6-inches of steel! Keeping everything in check is a strong liner lock with a patent-pending secondary safety that makes this knife extremely resistant to the shocks of hard living.
Item Number

Medium: 20NQL
Large: 20NQX

Weight

Medium: 3.7 oz.
Large: 9.8 oz.

Blade Thickness

Medium: 2.75 mm
Large: 3.5 mm

Blade Length
Handle

Medium: 5.0″ Long – Black GFN
Large: 7.5 0″ Long – Black GFN

Overal Length

Medium: 9.0″
Large: 13.50″

Steel: 8Cr13MoV Stainless
Pocket Clip: GFN
Made in China
---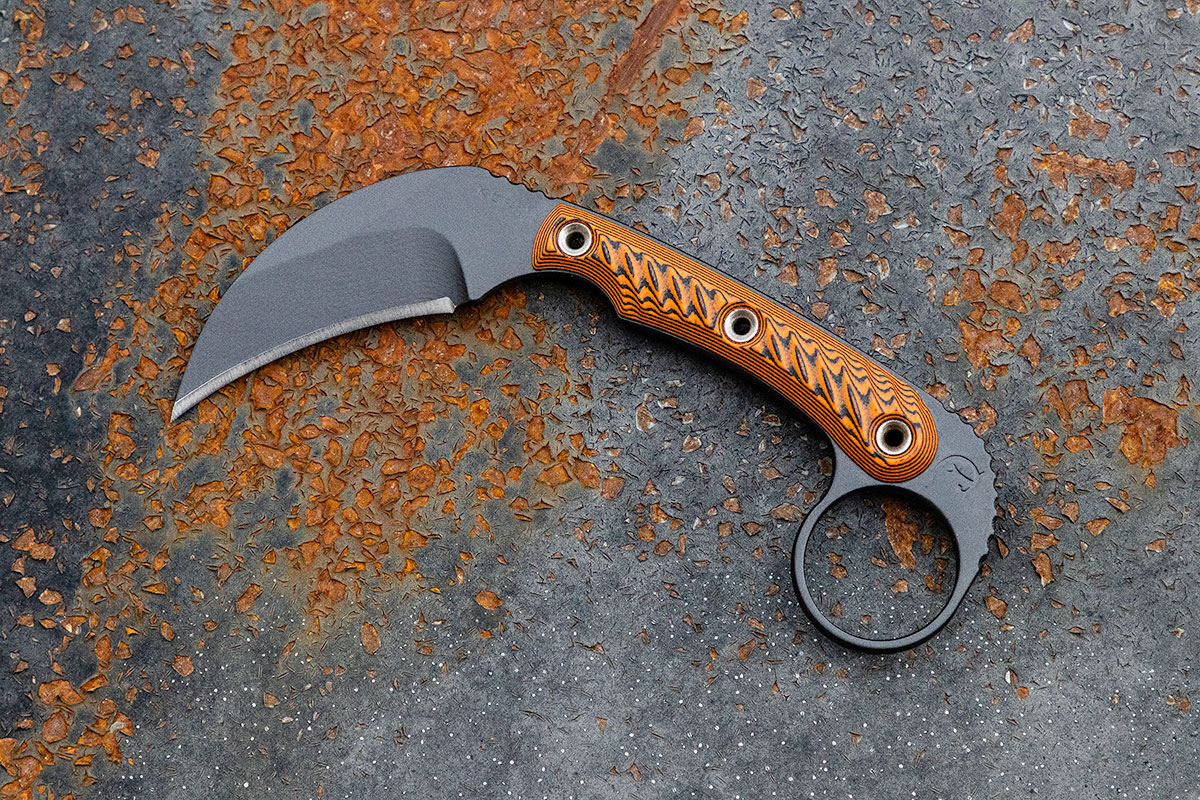 Lightweight, fast to hand, and with no moving parts to fail, the RMJ Korbin Karambit is the perfect addition to any defensive kit. Constructed with Cerakote-finished Nitro-V steel and milled G10 handle scales mounted with flared tubes, it certainly has the quality you are looking for. Included is a Kydex sheath with an ingenious mounting solution – a two-way belt adapter that can hold the sheath vertical or horizontal without needing to change up any parts.
Blade Length: 2.875″
Cutting Edge: 2.125″
Handle Length: 4.25″
Overall Length: 6.125″
Blade Material: Nitro-V Stainless Steel
Blade Thickness: 0.135″
Blade Hardness: 59-60HRC
Blade Style: Hawkbill
Blade Grind: Flat
Blade Finish: Tungsten Cerakote
Handle Material: 3D Machined G10
Handle Thickness: 0.555″
Sheath Material: Kydex with Two-Way Belt Adapter
Weight: 2.9 oz.
Weight with Sheath: 4.7 oz.
Made in the USA
---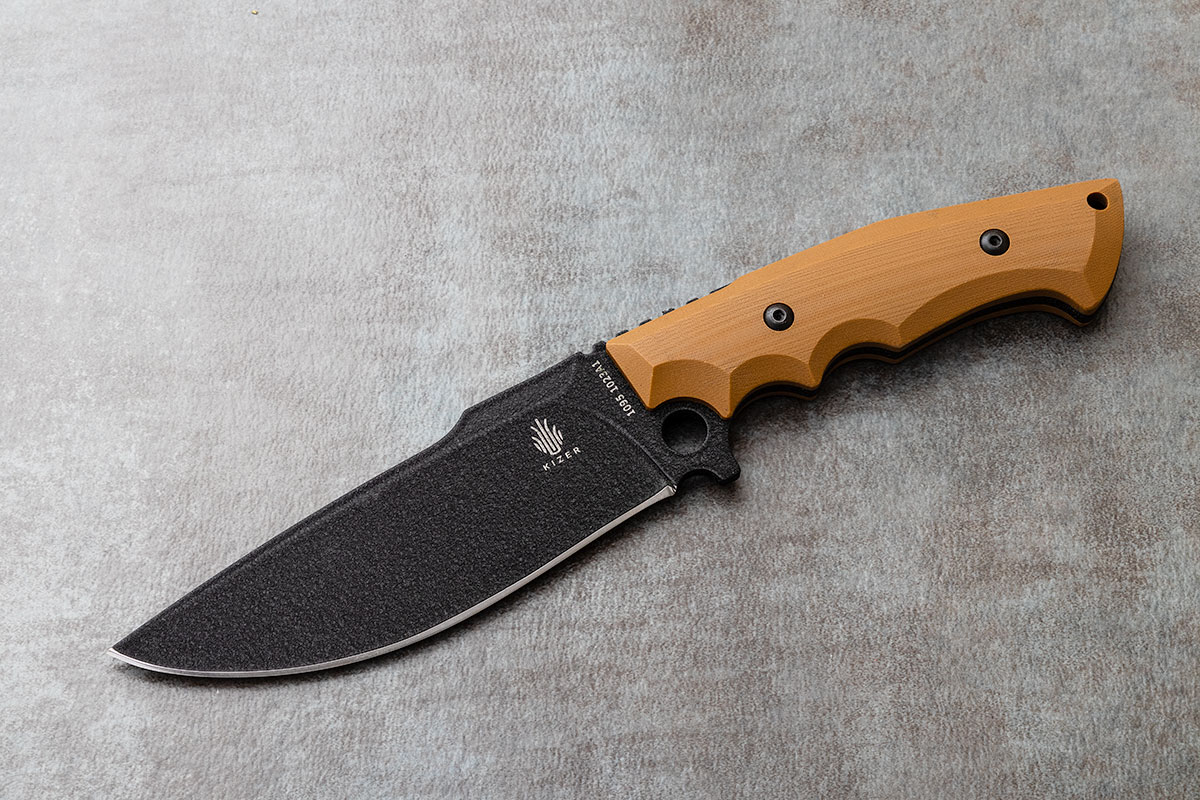 A fixed blade for any contingency, the Kizer Salient was designed for hard use on the modern battlefield, balanced for speed and accuracy. Your grip is locked in place thanks to expertly shaped G10 scales with prominent finger grooves and a finger guard integral to the coated 1095 blade. That blade certainly makes a statement, with a full-bellied, broad drop point profile that can flex beyond combat and into the camping and survival realms as well.
Blade Length: 6.17″ (156.8)
Overall Length: 11.97″ (380 mm)
Blade Material: 1095 Carbon Steel
Blade Thickness: 0.18″ (4.5 mm)
Blade Style: Drop Point
Blade Finish: Black
Handle Material: G10
Sheath Material: Kydex
Weight: 13.4 oz. (380 g)
Designer: Morgan Koens
Made in China
---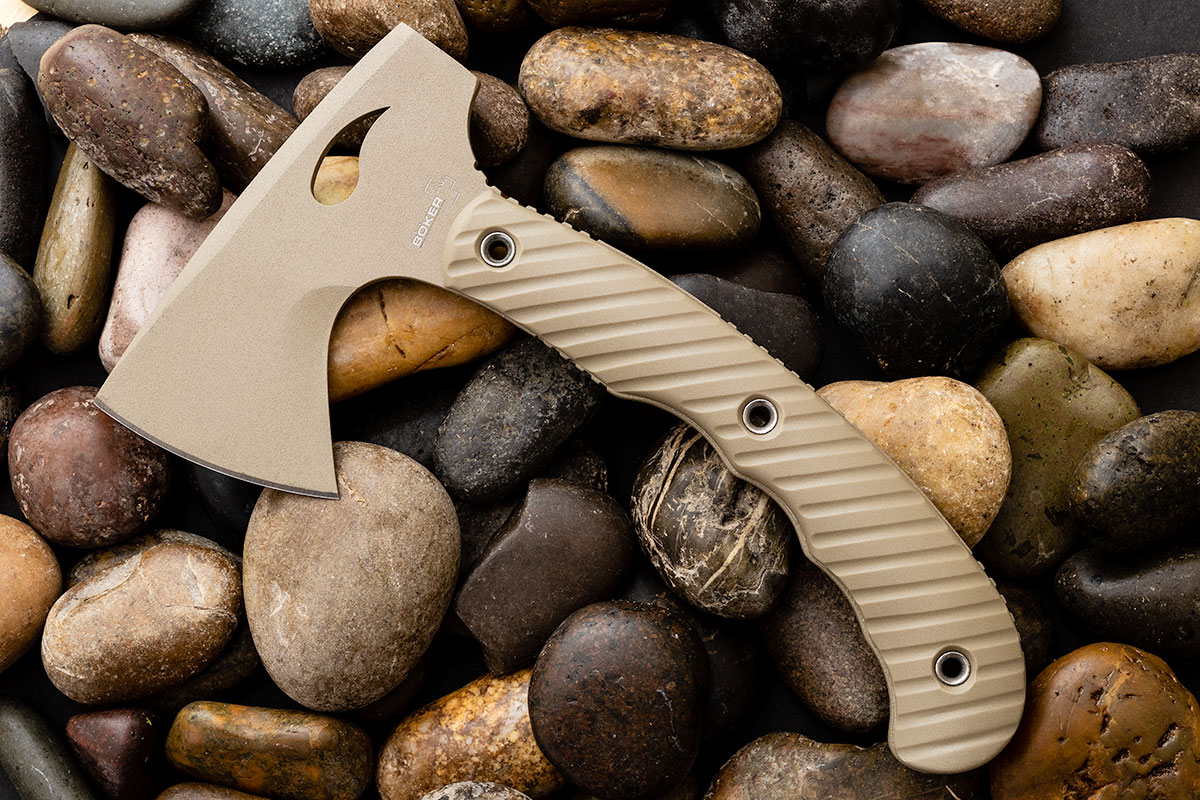 The new Boker Escape Hawk may seem small, but the offset handle is shaped to perfectly transfer the energy from your swing into your target. SK5 carbon steel grants high levels of shock resistance so you can thrash this tool to within an inch of its life and it will be ready for more. This tactical tomahawk doesn't let its compact nature hold it back – it will soon become a vital part of your loadout.
Blade Length: 2.56″
Overall Length: 9.00″
Blade Thickness: 0.24″
Blade Hardness: 57-60 HRC
Blade Finish: Desert Tan
Blade Material: SK5 Carbon Steel
Handle Material: Fiberglass Reinforced Nylon (FRN)
Sheath: Kydex
Designer: Peter Fegan
Weight: 13.10 oz.
Made in China
---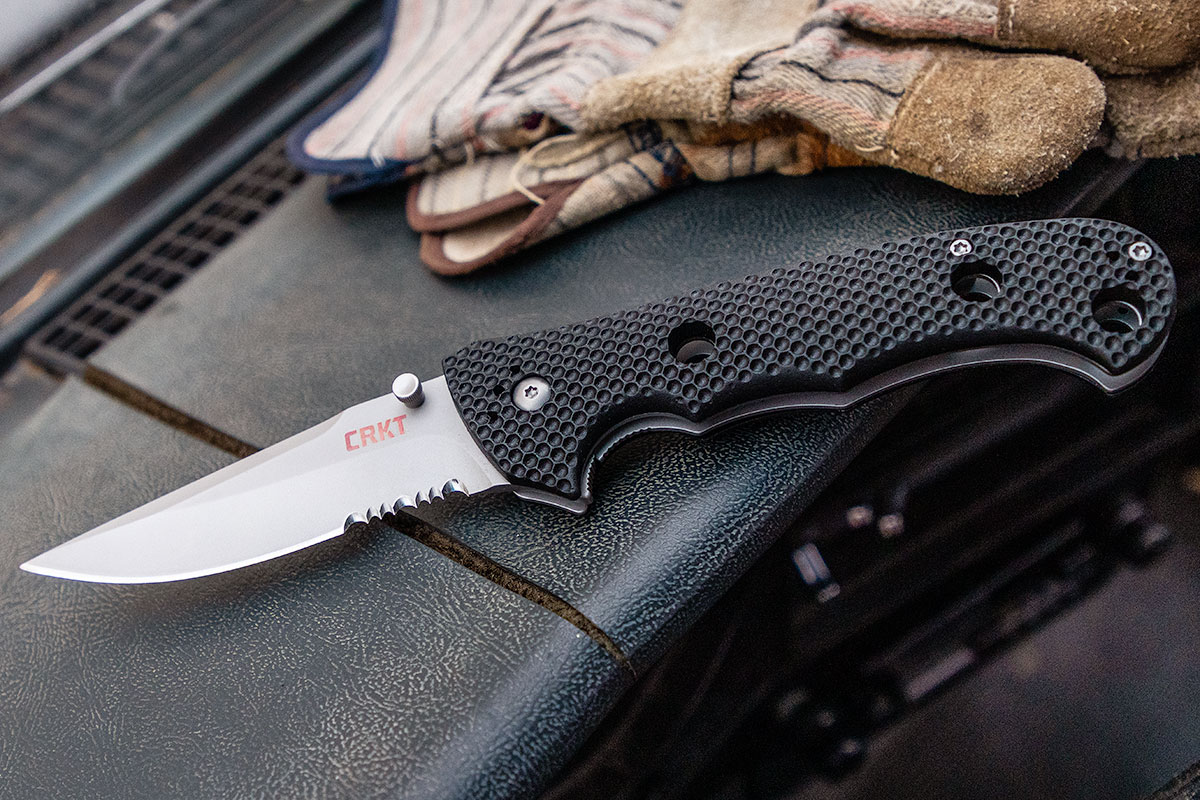 For a beefy knife on a budget, look no further than the CRKT Hammond Cruiser. Girthy contoured handles are built atop their durable InterFrame construction which provides a locking liner for security. As if that weren't enough, they've also included their patented LAWKS secondary safety for even more peace of mind. With an easy-opening blade measuring 3.75-inches and a price under $20, the bang for your buck is hard to beat.
Blade Length: 3.75″ (9.5 cm)
Blade Thickness: 0.14″ (0.35 cm)
Blade Shape: Clip Point
Steel: 8CR14MoV Stainless Steel, 55-57 HRC
Handle Length: 5.25″ (13.1 cm)
Handle Material: Zytel
Lock: Liner with secondary LAWKS safety
Pocket Clip: 4 position – left/right, tip up/down
Weight: 6.1 oz. (173 g)
Designer: Jim Hammond
Made in China