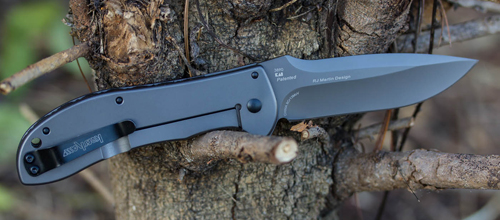 RJ Martin has a knack for functional blade shapes and comfortable, ergonomic handles. Many of his custom and limited production knives sell for $500 and up, so to get one of his designs at this price is remarkable. Kershaw, as well as Boker and some other manufacturers, is very adept at taking high end custom designs and turning them into production pieces. No corners were cut designing, engineering, and manufacturing the 3890 Scrambler. The assisted opening blade can only be opened with the flipper mechanism since it lacks conventional thumbstuds. The SpeedSafe mechanism is quick, strong, durable, and proven. It can be found on countless different Kershaw designs.
The best way to describe the Scrambler is that it is an extremely sleek looking and functioning knife. There's no jimping on the blade spine which I can live without, but some people might call it a crime that they left out this important part of ergonomics. However, the shape of the handle locks this knife into your hand just fine. The machining work on the backspacer, as well as the G10 handle with stainless steel bolsters, adds to the aesthetics of the knife making it a folder you will be proud to carry every day. The frame lock mechanism, ultra stout pocket clip, and coating on the steel parts of the knife add to the design's strength and wearability. This is a knife you should have in your collection and it can be found at www.knifecenter.com.
More about Kershaw Knives: 
From award-winning technologies and advanced materials to the solid sound of the blade lockup, when you're carrying a Kershaw, you know you're carrying the real thing.
The real thing means value and plenty of it. With Kershaw, you get incredible bang for your hard-earned buck. Even our inexpensive models are impressive. In fact, everything about a Kershaw is solid, crafted, reliable. That's why we can back each of our knives for the life of its original owner against any defects in materials and construction with our famous Limited Lifetime Warranty.
And yes, people do own their Kershaw knives for a lifetime. (Although, occasionally, a Kershaw has been known to get accidentally left at a campsite, lost in the garage, or permanently borrowed by a friend.)
The point is, you can always look to Kershaw for every day carrying knives that can tame any cardboard box and liberate any purchase from its plastic packaging, sporting knives that make hunting, fishing, watersports, and camping even better, work knives that won't let you down, and tactical knives that ensure you're ready for anything.
OUR FOUNDING MISSION
Kershaw was founded in 1974 to design and manufacture tools that knife users would be proud to own, carry, and use. This has meant that every Kershaw knife must be of the highest quality. Whether it's a hardworking pocketknife, a special collectors' edition, or a precision kitchen knife, Kershaw always chooses appropriate, high-quality materials and is dedicated to intensive craftsmanship. Along with extremely tight tolerances and state-of-the-art manufacturing techniques, this ensures that Kershaw knives provide a lifetime of performance.
A COMMITMENT TO INNOVATION
Kershaw pioneered the use of many of the technologies and advanced materials that are today standard in the knife industry. Our SpeedSafe assisted opening knives were first-to-market. We introduced the concept of knives with interchangeable blades in our Blade Traders. Recently, our Composite Blade technology, which combines two steels into one blade, gives knife users the best of both worlds by enabling us to use steel known for edge retention on the edge and steel known for strength on the spine. And we will keep on innovating, bringing new and better technologies and materials to today's knifemaking industry and knife-using public.