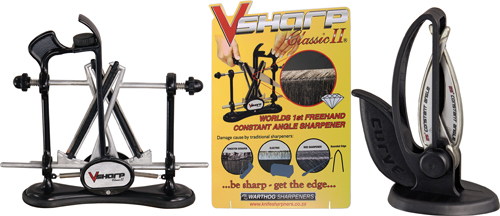 Pull-through sharpeners are by far the easiest to use of any sharpener type. All you need to do is set it up and pull your blade through for fast, simple, and effective results. The Warthog Sharpeners V-Sharp Classic II is a new, adjustable angle design with multiple diamond sharpening rods you can use with all your different knives. The Curve is a compact, easy to use, highly portable model that always provides the right amount of pressure to the edge when you pull it through. What sets these apart from every other pull-through sharpener on the market is that these include a blade guide for precisely lining up the edge with the sharpening rods. Warthog Sharpeners are designed to be used by anyone to quickly achieve a functional edge, no matter your sharpening experience. You can find these excellent new sharpening products at www.knifecenter.com.
More about Warthog Sharpeners: 
~Inventors ~Brothers ~Manufacturers
Being avid hunters and outdoorsmen, they found knife sharpening to be quite time consuming and required some level of skill. Frustrated with every other sharpener on the market, they decided to create something that would be easy for them to re-sharpen their knives while on a hunt or camping.
Equal Pressure + Constant Angle = Perfect Edge
After welding together several scrap pieces of metal rods to make the frame, they added sliding metal rods and attached them to springs in order to maintain both angle and pressure. It looked like an awkward metal mess, but it worked. They combined the two most important dynamics in sharpening – Angle & Pressure, and put them into one compact sharpener. It was at this point they discovered the elusive dynamic to sharpening. The most important dynamic they discovered was PRESSURE.
Equal pressure, combined with constant angle will get any edge sharp, provided you keep the blade straight. Which is what makes the V-Sharp so incredibly unique – its Blade Guide. The Blade Guide keeps your blade straight as you pull down and the springs apply the same pressure while pulling through the rods.
10 Years of Keeping Customers Sharp
For the past 10 years, the Warthog V-SHARP has been keeping edges on blades for Hunting & Fishing Guides, Chefs, Butchers, Taxidermist and anyone else that depends on a sharp knife for a living.
The V-Sharp was primarily designed for working knives and does not require any electricity or prior knife sharpening skill, which makes it a great addition to any camp or kitchen!