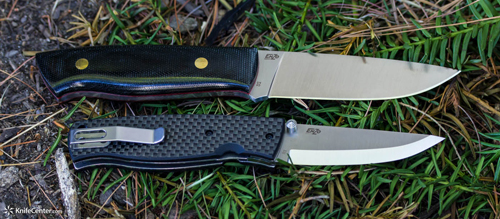 Finnish knives, commonly bunched all together as Puukko designs, are built solely with the user in mind. The knives are attractive, comfortable, sturdy, and best of all, sharp! EnZO designs, and most Puukkos for that matter, generally feature a Scandi grind, which is like a flat ground blade without the secondary bevel. The edge of the blade generally goes up about half way up the width of the blade, or higher, making for a sharper edge that is also easier to resharpen. EnZO knives are perfect for bushcrafting as well as everyday carry since the handles are perfectly sculpted to provide the best ergonomics possible for every hand size. EnZO knives are some of the highest quality designs we have in the Puukko category and best of all, they won't break the bank. Check out these awesome new knives from Finland at www.knifecenter.com.
A little more about Puukko Knives: 
A puukko is a traditional Finnish fixed-blade knife. A do-everything tool for the hunter and outdoorsman, its simple, functional design is highly regarded by savvy knife users worldwide. Folding adaptations are also available with the same high points in their design. They concentrate on ergonomics, simplicity, and best of all; sharpness! Puukkos combines classic lines and rich tradition with incredibly practical function for some of the best user knives on the market, bar none.