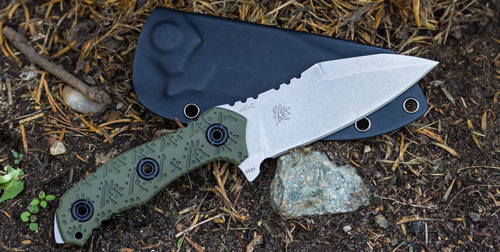 Very rarely do we get knives in the door that we have to double, then triple check the price to make sure we got it right. That's just the case with the new Boker Plus Colubris, an all-around fixed blade designed by DJ Urbanovsky. When you get this knife in your hand, it's a lot like the Ontario RAT folders, you just can't believe what you're getting for the price. True, the blade is made from 440C steel but the way Boker heat treats and finishes these blades, you end up with a great user steel that will hold an adequate edge. Other than the knock on the steel, we wouldn't change a single thing about the knife. The G10 handle is ergonomically contoured for a comfortable grip in multiple positions and the aesthetic dimpling/texturing provides good purchase. The modified Wharncliff blade is angled for deep, effective slicing and has enough belly for most of your utility work. I strongly feel a fixed blade knife is only as good as it's sheath, and the friction fit Kydex sheath you get with the Colubris is right on point. It perfectly fits the knife with little to no rattling sound, and comes with a multi-position Boker belt clip, which functions exactly the same as a Spyderco G-Clip. Check out this awesome new Boker Plus knife at www.knifecenter.com.
More about the Colubris from Boker: 
D.J. Urbanovsky from American Kami brings us this exceptional piece. The characteristic blade of his new Colubris can be best described as a modified Wharncliffe, where the cutting edge shows a slight upward curve, to maximize the versatility without limiting the effectiveness of free hand pulling cuts or slash cuts. The olive drab G-10 scales provide a secure grip, which is enhanced with the milled logos and notches in the scales and tang. The protruding end of the blade tang can be used as an impact tool for added versatility. The blade is crafted of 440C stainless steel with a stonewash finish. Includes a Kydex sheath with belt clip for various carrying options. Blade length: 4 1/4″. Overall length: 8 7/8″. Weight: 8 oz.