Read on to see the best new knives that hit our shelves in the last week, including a hot new USA-made Spyderco, an impressive upgrade from Benchmade, a retooled version of one of the toughest hard-use knives in Cold Steel's catalog, and a charming oddity from Victorinox. Let's take a closer look.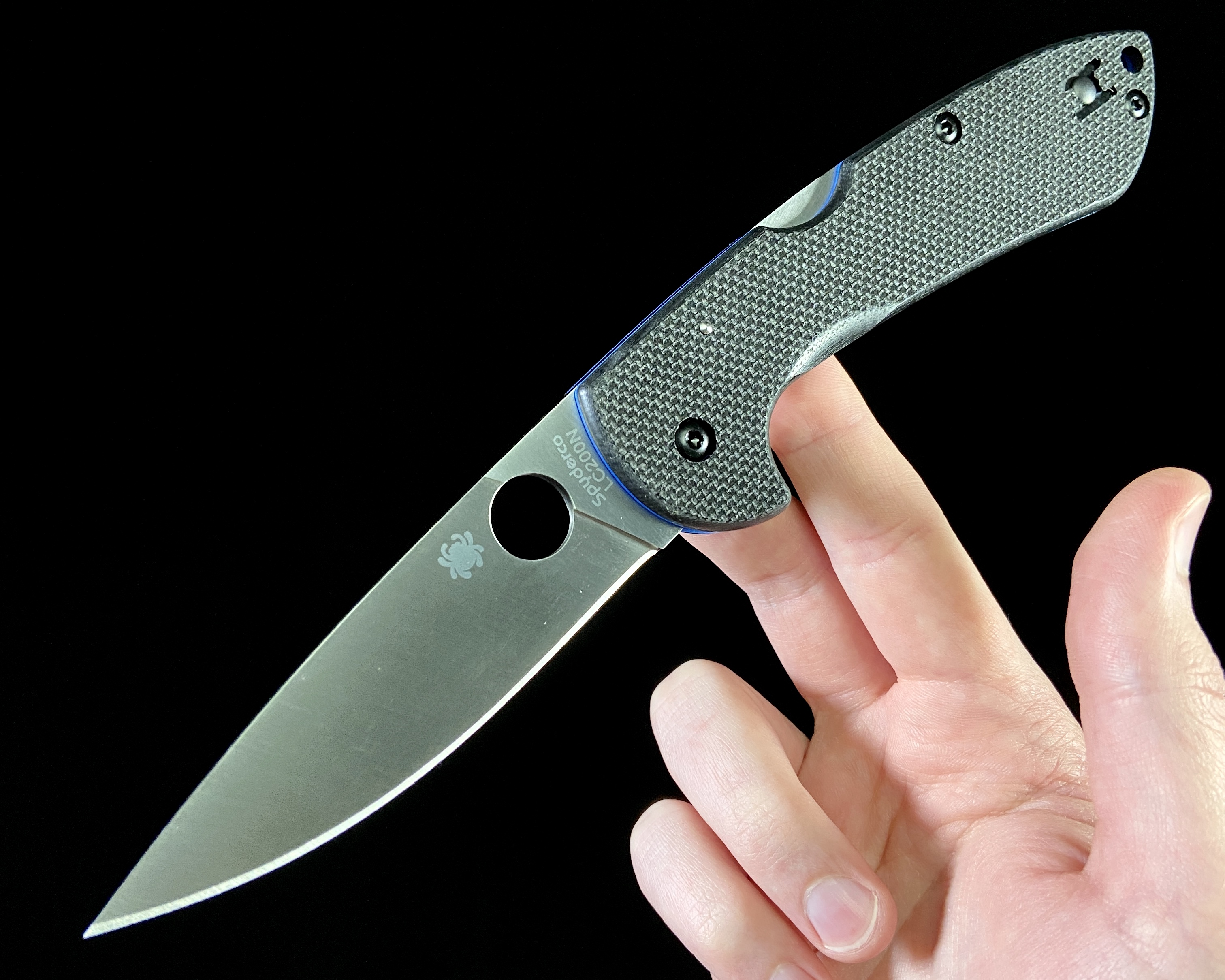 As of today, the new Spyderco Siren is selling out faster than we can keep them in stock, and we can see why. Firstly, it features one of the coolest blade steels on the market: LC200N. Famously used by NASA for making ball bearings in demanding aerospace applications, LC200N has corrosion-resistance beyond almost everything else on the market and decent edge retention, to boot.
Beyond the gee-whiz choice of steel, the design itself is worth getting excited about. Designed by Lance Clinton, a kayak fisherman by trade, the knife is a folding take on his Waterway fixed blade. The graceful drop point blade shape is utilitarian, and the prominent guard and aggressive texture on the G10 handles should suit anyone who wants a failsafe grip. To make the knife even more rust-resistant, there are no steel liners; just a layer of bright blue G10 inside, instead. Even if you never take it fishing, the Siren is worth considering if you want a sturdy, straightforward USA-made knife that you can use for anything without hesitation.
Blade Length: 3.61″
Cutting Edge: 3.42″
Closed Length: 5.14″
Overall Length: 8.75″
Blade Thickness: 0.125″
Hold Diameter: 0.50″
Blade Material: LC200N Stainless Steel
Blade Style: Drop Point
Blade Grind: Full-Flat
Blade Finish: Satin
Handle Material: Black G10
Locking Mechanism: Lockback
Pocket Clip: Tip-Up, Left/Right Carry
Weight: 3.60 oz.
Made in the USA
---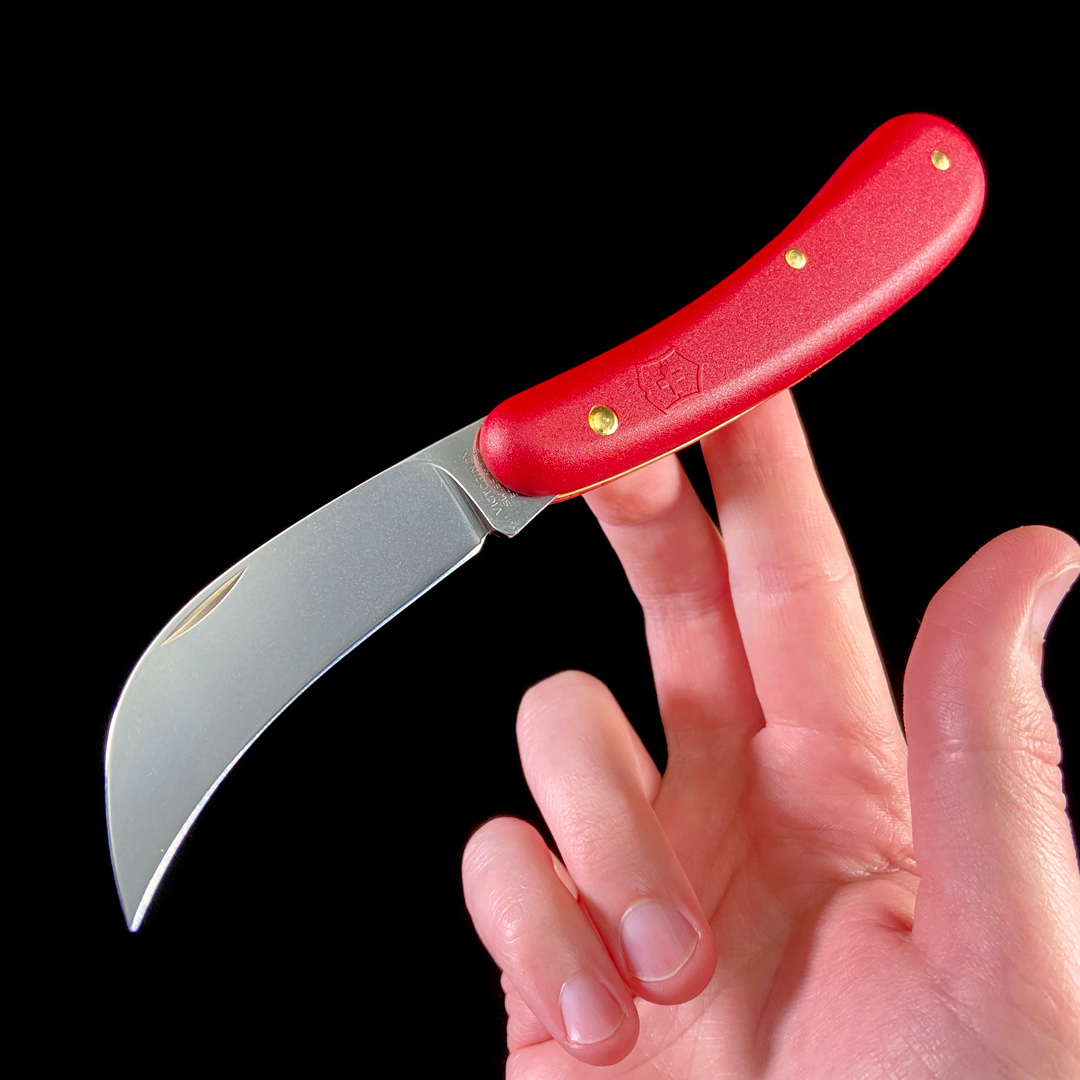 These new Victorinox Swiss Army pruning knives are too cool not to share. The wide swayback-style handles are dressed in classic Swiss Army Knife red, with a subtle texture that makes them a little more reassuring in wet or glove-covered hands. The hawkbill blade is wide enough to pull open without using the nail nick, and the brass liners are a classy touch. Though it's built for the garden, it's such a charming blade I could see it working its way into more than a few everyday carry rotations, too.
Like all Victorinox knives, it's precision-made in Switzerland and affordable at under $40. Interestingly, the small and large versions use the same handle but have different blade shapes: the "small" has a more slender, less recurved blade while the "large" has a broad, swooping hawkbill blade.
Item #: 1.9201
Model: Pruning Knife
Blade Length: 2.8″
Length: 4.3″
Handle Material: Red Zytel
Blade Lockable: No
One Hand Blade: No
Weight: 2.6 oz.
Made in Switzerland
---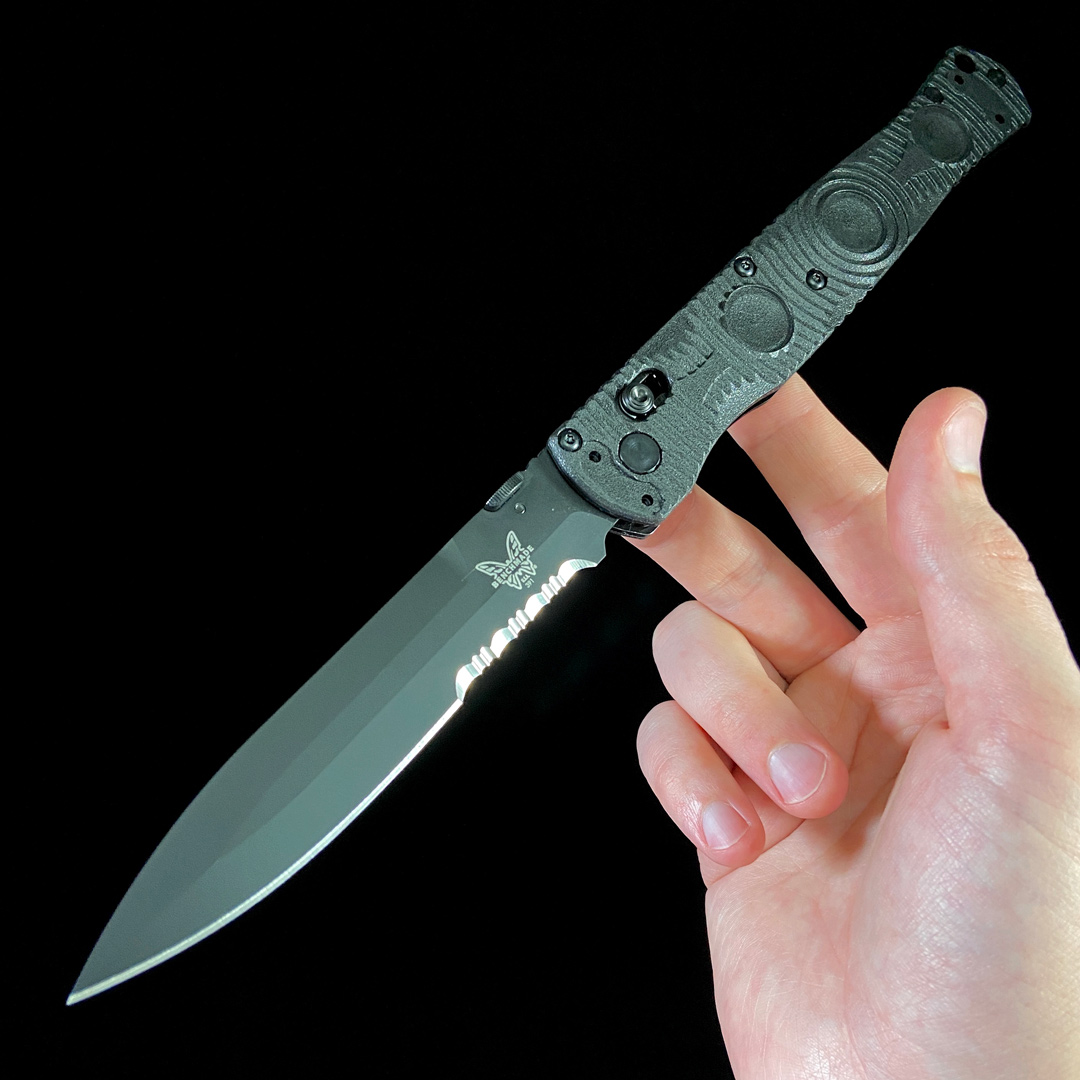 The SOCP fixed blade dagger has been a mainstay in Benchmade's Black Class (Military/Law Enforcement) line for years. Designed by Greg Thompson for close-quarters combat, the fixed blade has been a popular duty belt option for anyone who needs an intuitive last-ditch self-defense tool. This year, Benchmade upgraded the folding SOCP in a big way: equipped with an AXIS Lock, a carbide glass breaker, D2 steel, CF-Elite handle scales, and a 4-way position deep carry pocket clip, this folding fighter has never been better.
In hand, the SOCP is one intimidating knife. The 4.5" blade gives you tons of reach, yet it folds down to a neat, compact package for discreet carry. The CF-elite scales are also quite nice, with added strength and stiffness thanks to the addition of carbon fiber to the plastic. It's available now in either plain edge, partially serrated, or a red Cerakote trainer version.
Blade Length: 4.47″ (11.35 cm)
Blade Thickness: 0.121″ (3.073 mm)
Handle Thickness: 0.508″ (12.90 mm)
Blade Material: D2 Tool Steel
Blade Hardness: 60-62HRC
Blade Style: Spear Point
Weight: 4.10 oz. (116.23 g)
Pocket Clip: Deep Carry (Tip-Up, Right/Left Carry)
Lock Mechanism: AXIS Lock
Overall Length: 10.13″ (25.73 cm)
Closed Length: 5.66″ (14.38 cm)
Designer: Greg Thompson
Carbide Glass Breaker
Made in the USA
---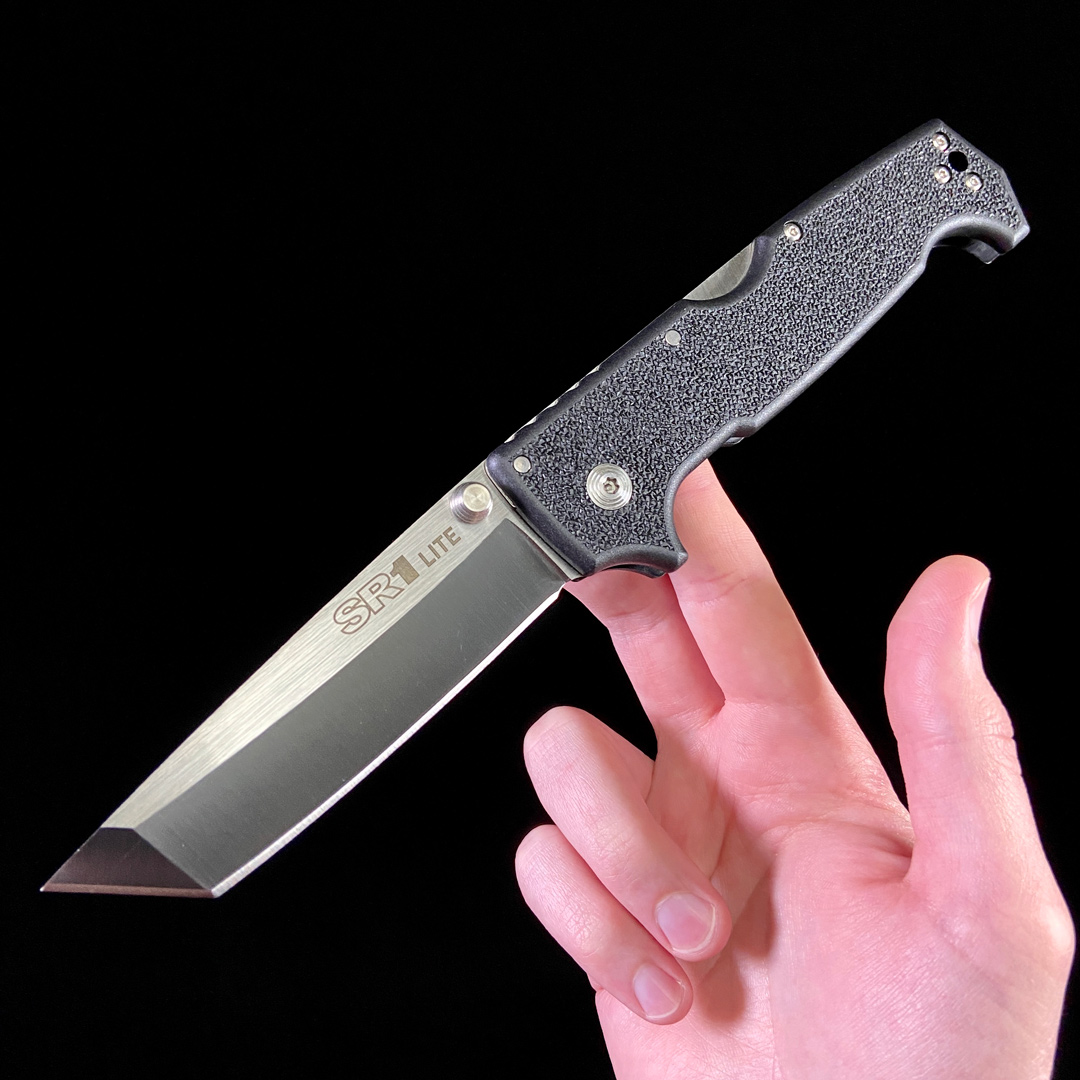 Cold Steel continues their mission of putting more knives into more hands with the SR1 Lite – a lighter and more affordable version of the premium heavy-duty folder. Instead of the pricy S35VN steel and G10 handles on the original version, the SR1 Lite features 8CR13MoV steel and Griv-Ex handles. As a result, this beast of a blade will only set you back $59.49.
The SR1 Lite is available in either tanto or clip point profiles, both of which use massively, almost unbelievably 4.8mm thick blade stock. We're not saying you should abuse these knives, but I'm not sure what would constitute "abuse" of such a tremendously thick slab of steel. This first batch is going fast, but we still have a number of the SR1 Lite Tantos in stock!
Item Number: 62K1A
Name: SR1 Lite Tanto
Blade Length: 4.0″
Blade Thickness: 4.8 mm
Overall Length: 9.375″
Steel: 8Cr13MoV Stainless Steel
Weight: 6.3 oz.
Handle: 5.375″ Long. Griv-Ex
Locking Mechanism: Lockback
Pocket Clip: Tip-Up, Right/Left Carry
Made in Taiwan
See All Our Best New Knives Up Close and In-Hand!