The theme this week is "new and improved!" With killer new handles on excellent knives like the White River Camp Cleaver, the Spyderco Endura and Delica, and the Mora Basic series, there is a lot to love.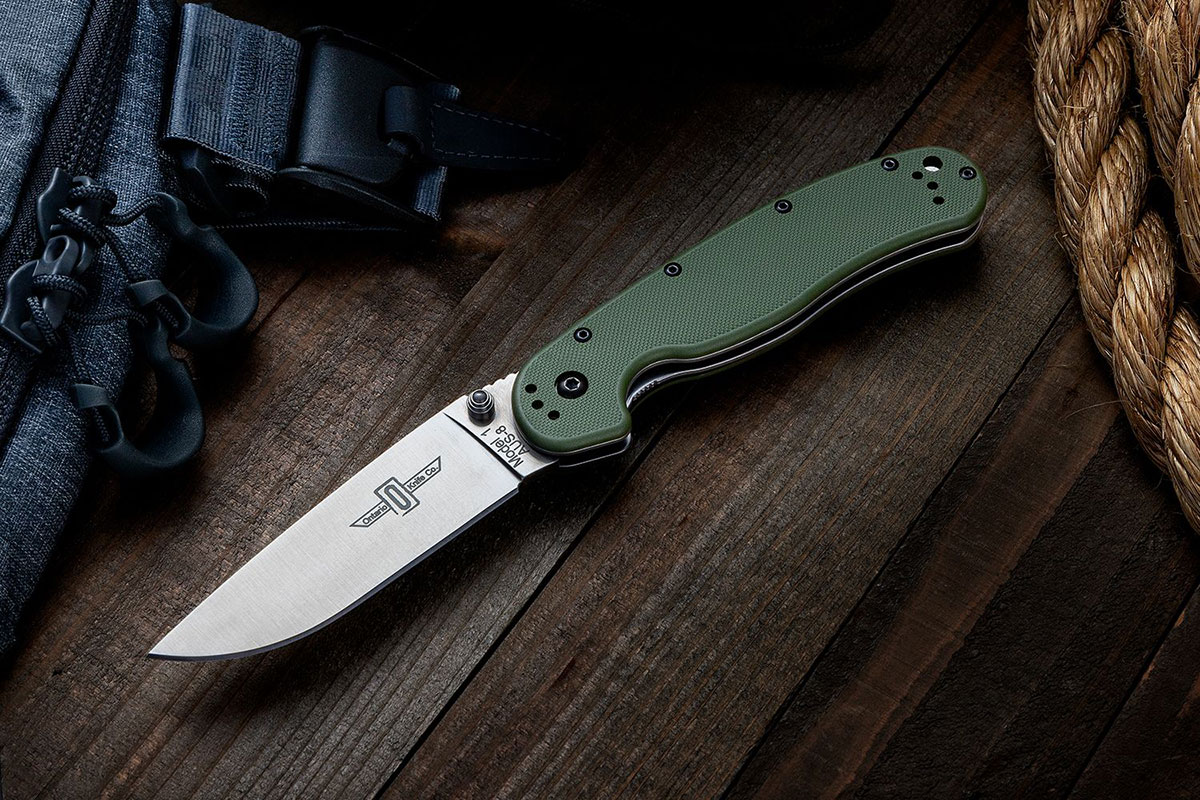 The Rat Model 1 is widely regarded as one of the best budget folding knives you can get for the money, and that is even more true right now with this special-priced variant. Durable AUS-8 stainless steel pairs with a foliage green handle – perfect for campers, hikers, preppers, hunters, or anyone who needs a good blade on a budget. At this price you can afford to stock up on this classic. Stash them anywhere you might need a knife or keep them on hand as gifts for the future.
Blade Length: 3.6″
Closed Length: 5″
Overall Length: 8.62″
Steel: AUS 8 Stainless Steel
Blade Hardness: 57-59 RC
Blade Style: Drop Point
Blade Finish: Satin
Handle Material: Foliage Green FRN
Weight: 5 oz.
Made in Taiwan
---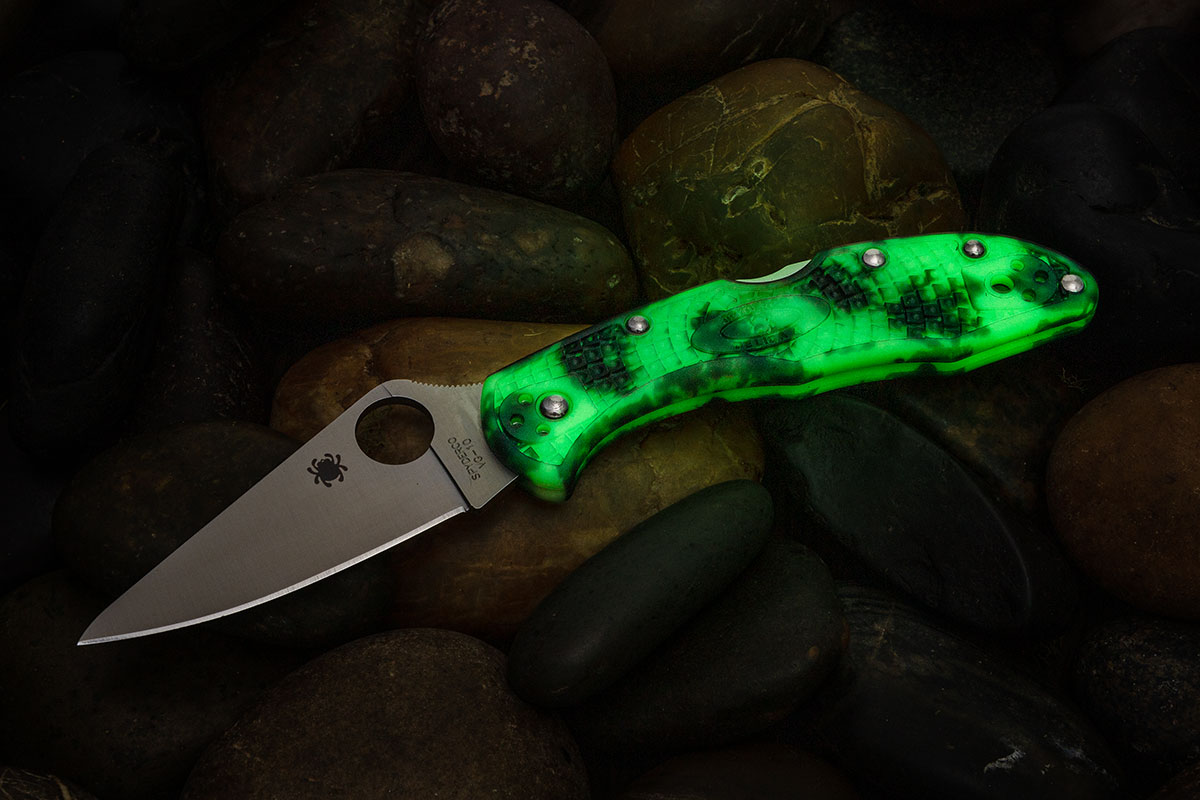 These spiced-up Spyderco models look great anywhere… camping, EDC, tactical, and thanks to new glow-in-the-dark base material, even day or night! The handles are then individually hand-dyed by master Japanese artists with classic Ai Zome technique so that no two are identical. Behind the good looks are the performance-driven features you expect from these excellent models – VG10 stainless steel, bi-directional grip texture, four-position pocket clip, ambidextrous opening, and a sturdy back lock.
Endura

Length Overall: 8 3/4″ (222 mm)
Length Closed: 5″ (127 mm)
Hole Diameter: 1/2″ (13 mm)
Blade Length: 3 3/4″ (96 mm)
Cutting Edge: 3 7/16″ (88 mm)
Blade Thickness: 1/8″ (3 mm)
Blade Steel: VG10
Weight: 3.6 oz. (103 g)
Handle Material: FRN
Made in Seki-City, Japan

Delica

Length Overall: 7 1/8″ (181 mm)
Length Closed: 4 1/4″ (108 mm)
Hole Diameter: 1/2″ (13 mm)
Blade Length: 2 7/8″ (73 mm)
Cutting Edge: 2 9/16″ (65 mm)
Blade Thickness: 3/32″ (2.5 mm)
Blade Steel: VG10
Weight: 2.5 oz. (71 g)
Handle Material: FRN
Made in Seki-City, Japan
---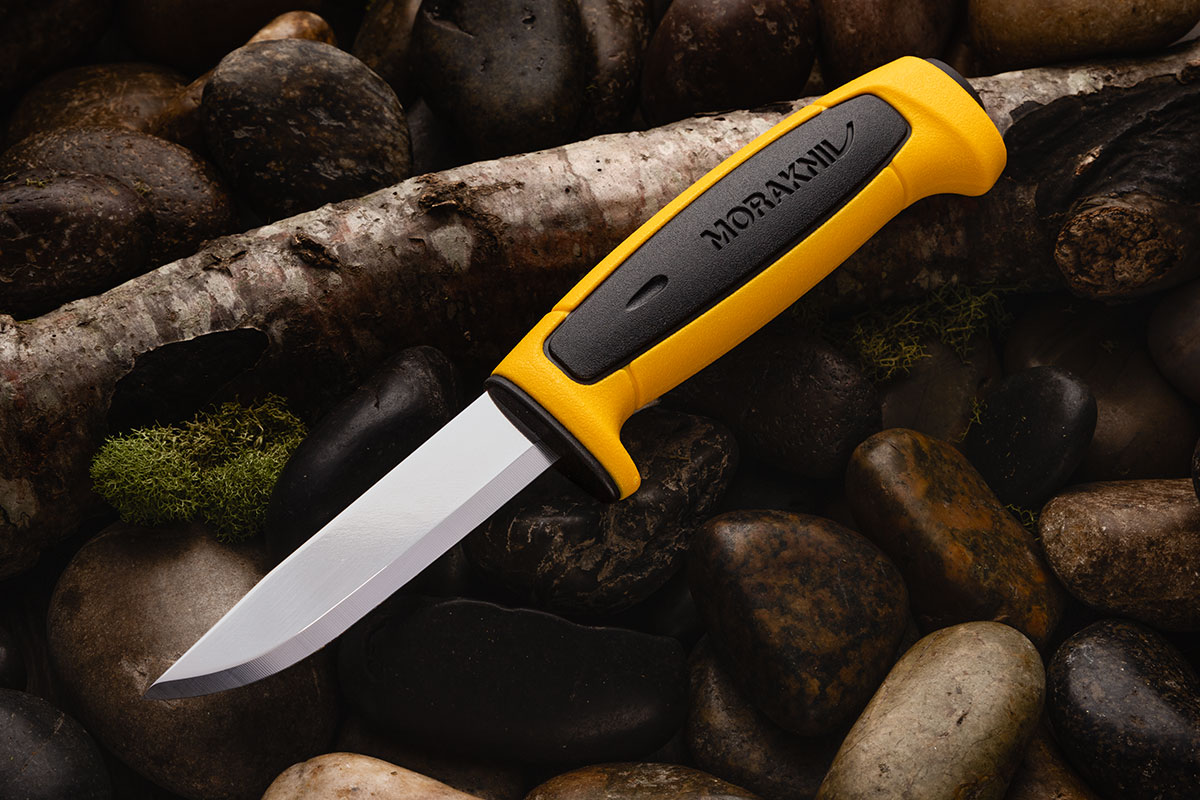 Dollar for dollar, nothing beats a Mora when it comes to utilitarian fixed blades. Their performance and fit-and-finish for the money is a true delight. The 511/546 "Basic" series is so-called because it is pure function. The 3.6" blade is highly controllable, razor-sharp, and pairs with a solid handle with an integrated finger guard for safety. Take your pick of stainless or carbon steel as well as handle colors. The new black and yellow 2020 editions look especially great!
Blade Length: 3.625″
Handle Length: 4.5″
Overall Length: 8.25″
Blade Thickness: 0.077″
Blade Shape: Clip Point
Blade Grind: Scandi
Blade Finish: Satin
Blade Material: Stainless Steel
Handle Thickness: 0.855″
Handle Material: Yellow/Black Polymer
Sheath: Plastic
Weight: 2.8 oz.
Made in Sweden
---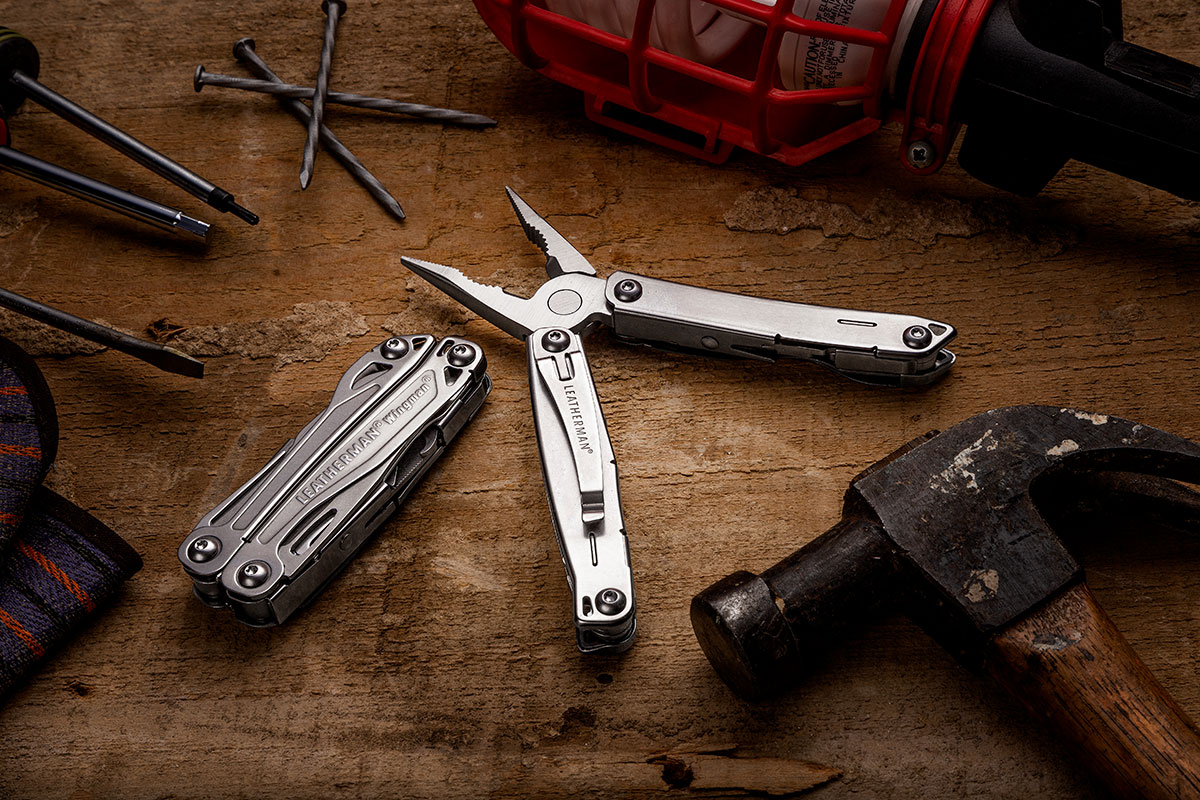 With Father's Day coming up soon, a good multi-tool is always a great gift option, and with the Wingman and Sidekick on sale for less than $50 the timing couldn't be better. Solidly built around a set of combination pliers, a genre Leatherman invented, the toolset is mostly the same between these two models with minor differences. Pick the Wingman for the urban jungle with its scissors and combo-edge blade or the more outdoors friendly Sidekick which features a wood saw and plain-edge blade instead.
Tools

Bottle Opener
Can Opener
Medium Screwdriver
Package Opener
Phillips Screwdriver
Ruler (1 in/2.54 cm)
Small Screwdriver
Spring-action Needlenose Pliers
Spring-action Regular Pliers
Spring-action Wire Cutters
Wire Stripper
Wood/Metal File

Wingman

420HC Combo Edge Knife
Spring-action scissors

Sidekick

420HC Plain Edge Knife
Wood Saw
---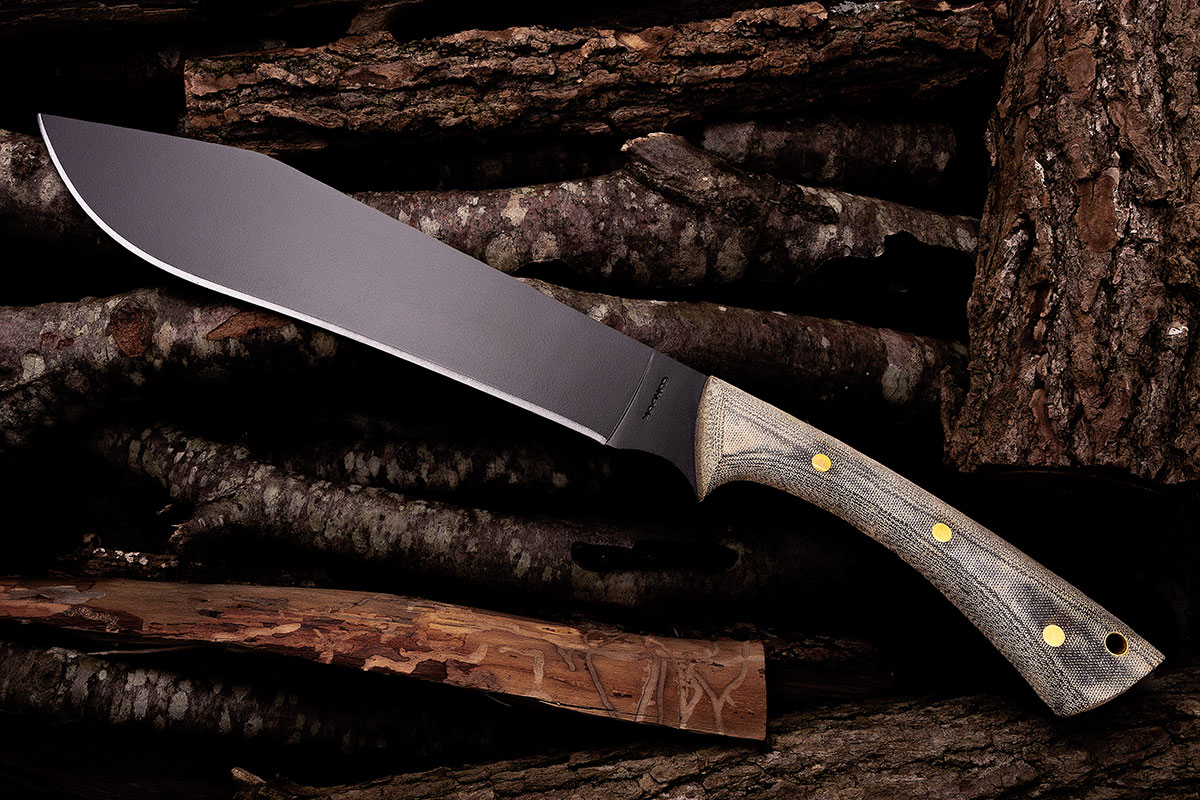 The Boomslang has recently been discontinued, which is a shame. This has always been a solid camp knife that can fulfill the roles of machete, chopper, and even woodcarver thanks to the broad finger choil that lets you choke up on the blade for more neutral balance. The Micarta handles offer just the right amount of grip and a shape that lets you choke back for maximum leverage as you chop. Being a Condor, it also comes with a high-quality leather sheath for protecting and carrying your blade. Pick one up now before they are gone.
Blade Length: 11″
Blade Thickness: 3/16″
Overall Length: 17-3/4″
Blade Material: 1075 High Carbon Steel
Blade Finish: Epoxy Black Powder Coating
Handle: Micarta
Sheath: Handcrafted Welted Leather
Weight: 1.35 lbs.
Designed by: Joe Flowers
Made in El Salvador
---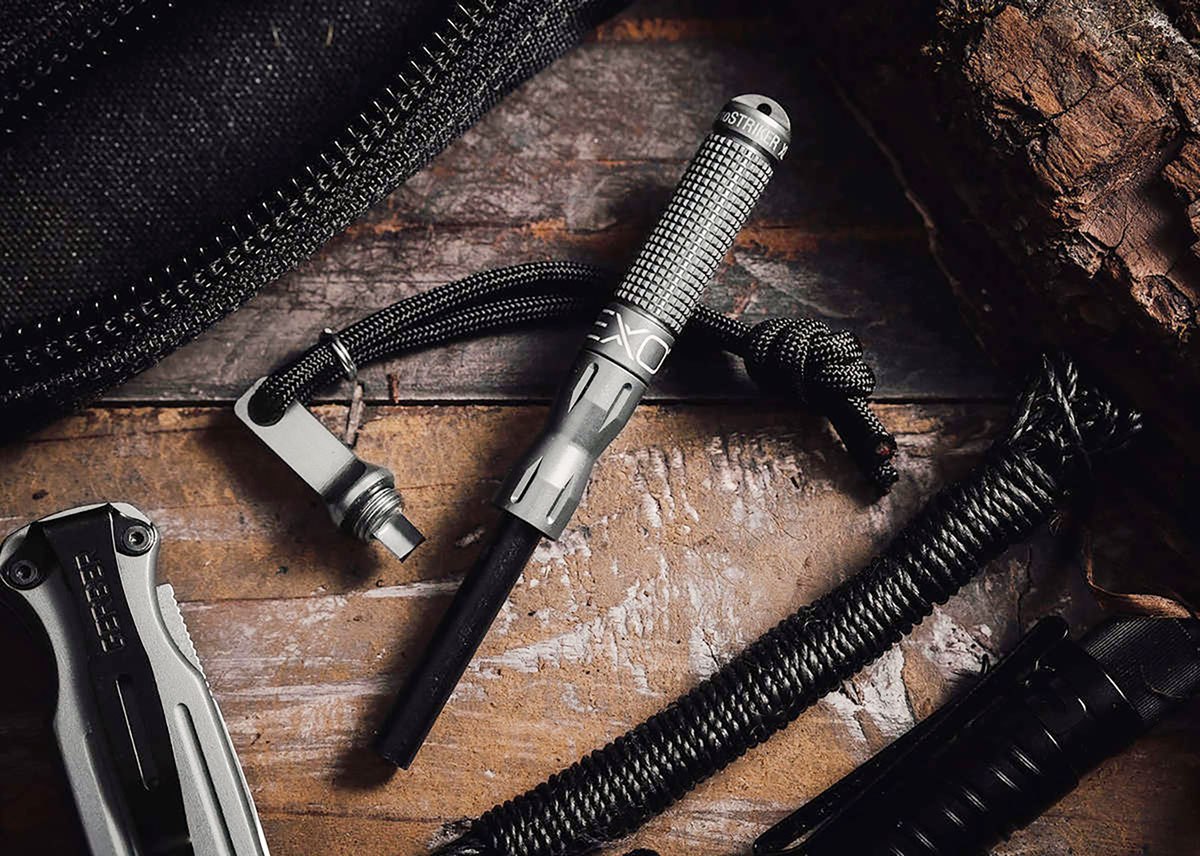 Exotac may be the best thing that has happened to firestarters in recent memory. Their aluminum handled firesteels are manufactured in America and feature solid construction. The fireROD even has a small chamber for storing tinder so you always have something dry to catch the sparks which are sure to fly! We also love the nanoSTRIKER series which is perfect for your keychain. Pick some up and add it to your kit today.
---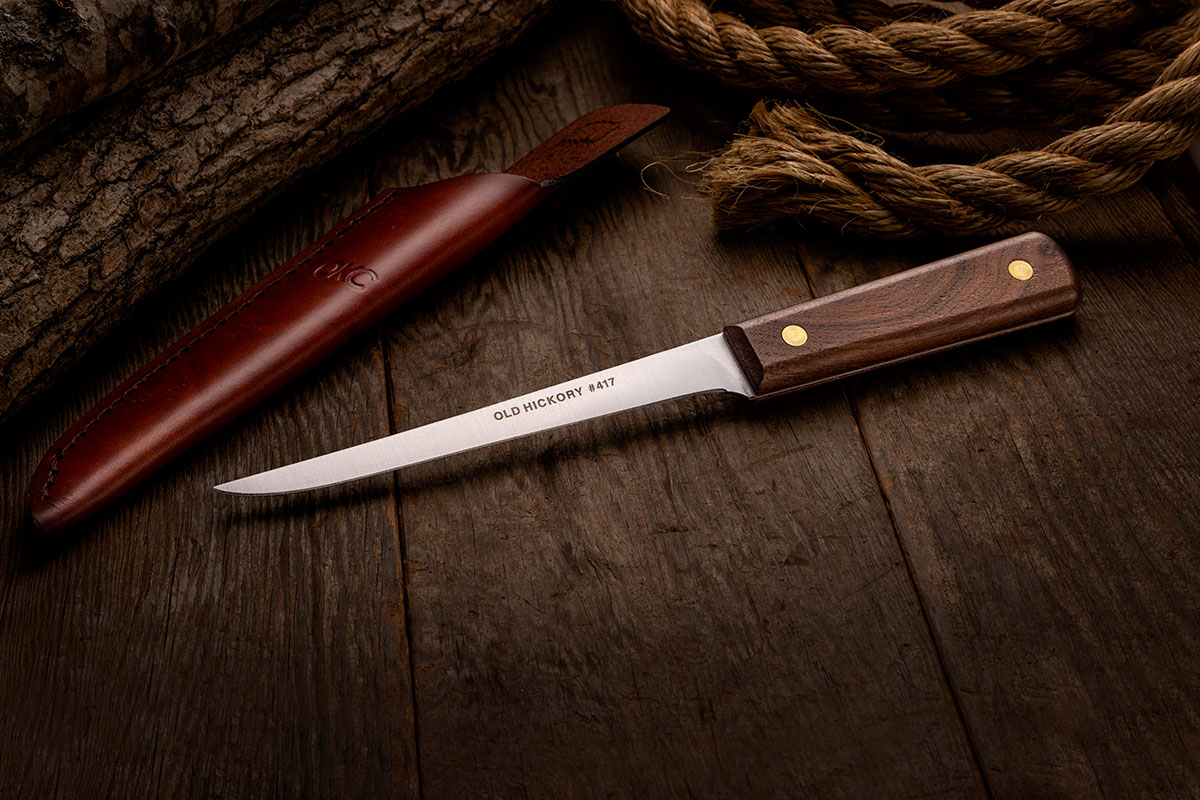 Old Hickory has always given you a lot of performance for the money, and this new "Outdoor" Fillet Knife variation is no exception. This knife is American-made, includes a leather sheath, and features 440C stainless steel rather than carbon steel. It will work great in your tackle box, of course, but will also find a home in your kitchen as a boning knife and protein processor. If you'd prefer carbon steel, check out the new Old Hickory Mini Fillet which also comes with a handy sheath.
Blade Length: 6.25″
Cutting Edge: 6.0″
Handle Length: 4.75″
Overall Length: 11.0″
Blade Material: 440C Stainless Steel
Blade Thickness: 0.075″
Blade Hardness: 53-58 HRC
Blade Style: Fillet
Blade Grind: Flat
Blade Finish: Satin
Handle Material: Hardwood
Handle Thickness: 0.640″
Sheath Material: Leather
Weight: 3.1 oz.
Weight with Sheath: 5.0 oz.
Made in the USA